Tinder has become one of the most popular dating apps over the years and a lot of people have this single question – is Tinder free?
My guide here aims to clear away all the doubts and tell you more about Tinder Free Vs. Paid.
In this guide, we'll:
OFL Top Recommendations based on 100,000+ Survey

"Serious Relationships"
"Discreet Hookups"
"Best Course for Men"
"Quick Flings"
"Normal Hookups"
"Our Quiz"
Without further delay, let's get down with it!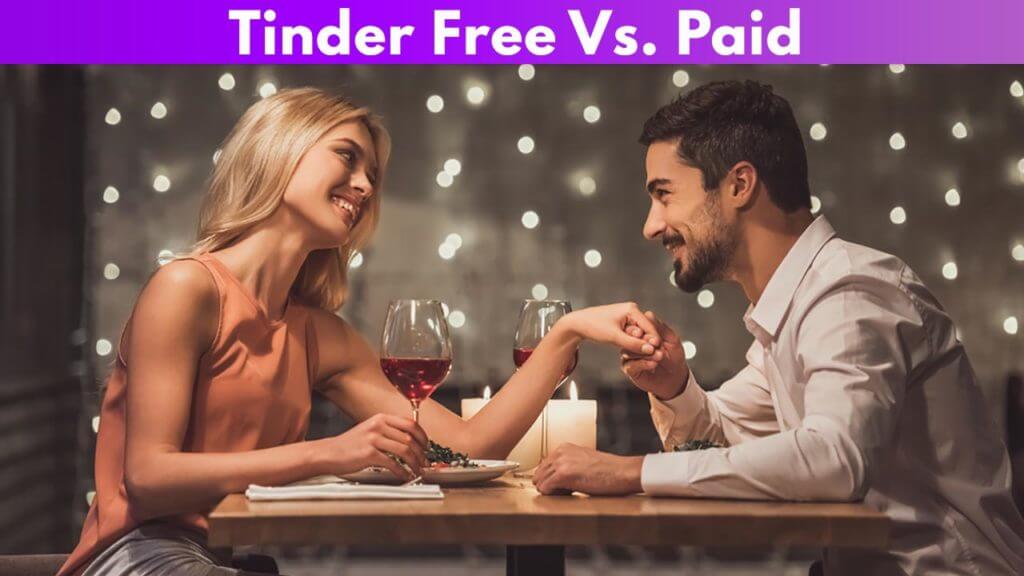 Free VS Paid Tinder in Video Form
Audio (podcast) form for those of you on the go
Getting to Know Free Tinder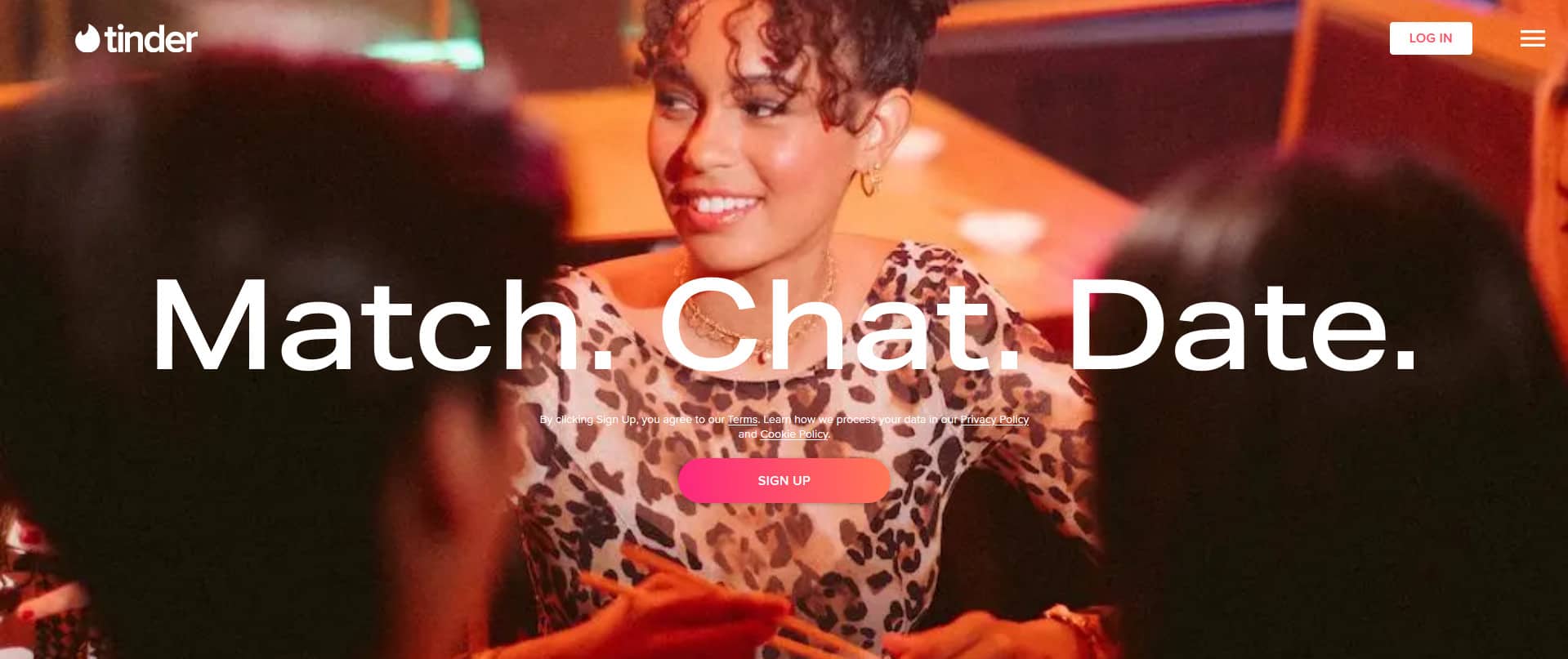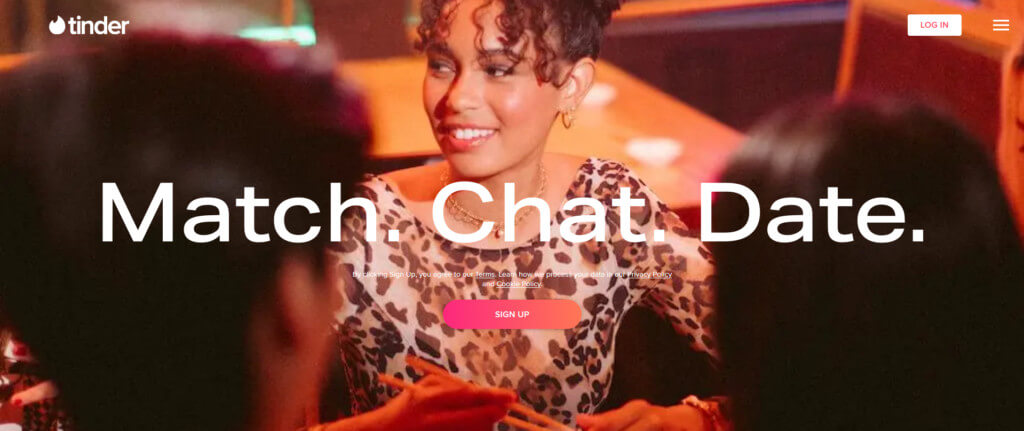 In the first part here, my focus will be on Tinder free trial.
As I said, the app can be used with no costs at all, and you can get plenty of success if you are using it the right way – and we shall also discuss that part later.
Understanding what Tinder is all about will help with knowing its specific niche of users, as it ranges from people looking for a quick fling to Serious relationships.
Contrary to popular assumptions, Tinder is not only for hookups (like BeNaughty or Ashley Madison) nor is it only for serious relationships (like eHarmony).
When it comes to dating, nothing should be overly complicated- I mean, you meet someone, exchange a few words and you get a hint whether you can imagine that person as a potential partner.
That's precisely the very essence of Tinder, the simple philosophy presented in three words only- "Match. Chat. Date."
Knowing that a predominant number of people has already shifted their entire life to portable gadgets, the team behind this awesome dating app optimized the entire platform using a mobile-first approach.
So, let's see what you get when you install a Tinder-free dating app.
Wide assortment of options- at no cost!
The downloadable app itself incurs no costs, and it is available both for Android and iOS devices.
OFL Top Recommendations based on 100,000+ Survey

"Serious Relationships"
"Discreet Hookups"
"Best Course for Men"
"Quick Flings"
"Normal Hookups"
"Our Quiz"
Although it's primarily meant to be used on mobile devices, it can be used as a desktop version as well, but without the magic of swiping.
Upon downloading the Tinder free app, what can a person do further?
He/she can register, upload a profile photo, and find members who are near his/her location.
So far so good, but is that all?
Of course not, as a free member can also swipe, and has 1 super like daily.
As you can see, this is more or less the basic set of services and options, but when in hands of an expert (yes, it's you I'm talking about!), it becomes a powerful weapon!
What Can a Free Member Do?
Now, let's see how the journey for those who want to explore the app at no cost looks like and what do they get as regular subscribers.
Registration is done either directly or via FB or Google, in which case the app extracts the available data and completes your profile.
As for the info you can display on your profile- those are age, distance, mutual friends, and interests, as well as a brief bio.
You need to allow geolocation so that the app could work properly and supply you with suggestions based on your location.
To search members, you can apply various filters, such as age sex, and distance, but have this in mind, the non-paid membership allows you to set distance up to 10 miles only.
Then, you can swipe and match, but only in case when both of you have right-swiped each other.
Chatting comes next, and with a basic package, you can type, send, and view messages.
Push notifications are part of this membership as well, and you get informed when you either get a new message, "like" from a potential match, or even a match.
I also mentioned one Super-like per day, more of them comes with an upgraded membership.
Moreover, the standard subscription allows you to control whom you see.
The option is called Balanced Recommendations, and it displays profiles based on different factors, for example, activity.
Also, if you find someone irritating, you don't want to have any conversation with that person, you can block such users/ unmatch from them- but do know that this cannot be undone.
In case you get a bit tired of swiping, and all, you can disable the "Show me on Tinder " option.
This will allow you to connect and send messages to the ones you have previously matched with, but you won't be visible to the others.
But here's the one which CAN make a significant difference – smart photos.
Using the algorithm, which follows which one of your photos is most frequently right-swiped, this option will set your most swipe-worthy pic to be the first one, and it will increase your chances for more right swipes by approximately 12%.
If you ask me, this is more than a decent portion of options, provided that you have a good strategy and know-how to get the best of it.
Tinder Plus and Tinder Gold – Next Level

You have all the above-mentioned tools at your disposal, but still, there's that peculiar feeling that something's missing.
The feeling is right, as several additional options come with paid subscriptions.
These extra perks are unlocked when one opts for a paid membership, and there are two types of them- Plus and Gold.
Before we compare these two paid options, let's check out which benefits are triggered when a person decides to upgrade his/her status to either Plus or Gold.
An even wider spectrum of services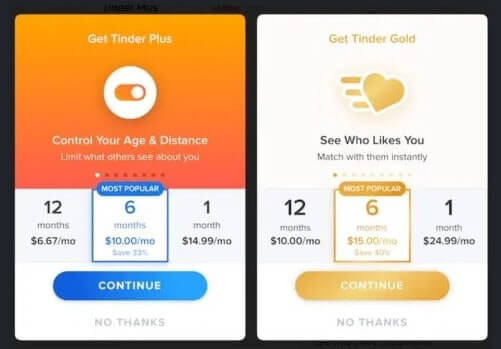 As you may assume, the entire package described under free membership is available here as well, but it's improved with numerous additional features.
Among the crucial privileges which become available, a member gets unlimited likes and right swipes, as well as the possibility to see others who liked him/her.
Then, these subscriptions allow you to be on top of the line and gain access to Top Picks, as well as the chance to match instantly.
You know that moment when you realize that you've accidentally left-swiped someone you're interested in, don't you?
That's the right moment to freak out, or should I say, it USED TO BE the moment to do so, but luckily these two memberships allow you to undo that step.
The option is called "Rewind your swipe", and it comes in quite handy when these misfortunate swipes in the wrong direction happen.
Also, you get access to members from all over the globe, not just those who live in the same location as you.
And yes, I have to add that these subscriptions are ad-free, so no more those annoying ads to distract you from enjoying so many hot suggestions.
Now, that's what you can call a humongous arsenal of awesome dating tools, isn't it?
Now, we can take a closer look at each of these paid options so we can decide if paying for Tinder is worth it, after all.
Taking a Closer Look at Paid Features
The highlights I've mentioned above were just to give you a rough picture of what to expect from a paid subscription.
Now, let's analyze all those extra options and see is it worth paying for Tinder.
Will it boost chances significantly than the free version or does it make no particular difference?
Let's find out!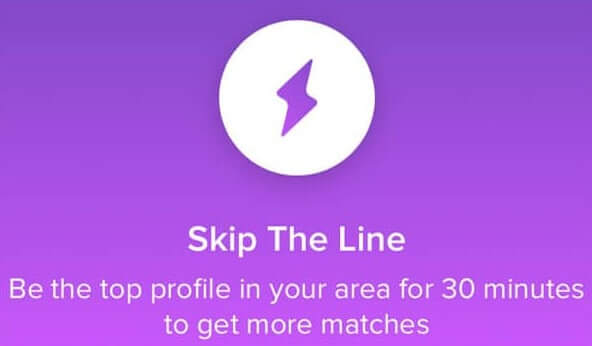 If you want to speed up the process and grow chances to get noticed on this massive and very active platform, you can set your profile to be placed on the top of the queue for thirty minutes.
This way, the number of potential viewers and swipes (I mean, right swipes) will grow significantly.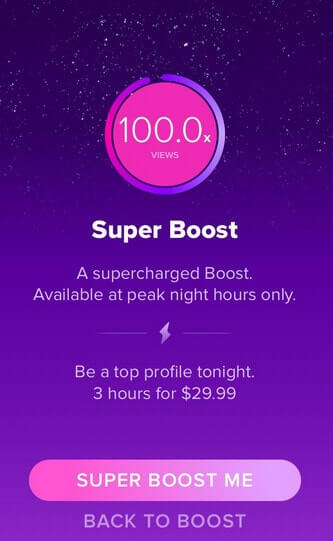 But, if you REALLY want to be seen by a whole sea of members, you could try luck with this great option, widely known as the ultimate Tinder Hack.
This upgrade will locate your profile first on the line, and it will boost the chances by jaw-dropping 100 times, during prime time.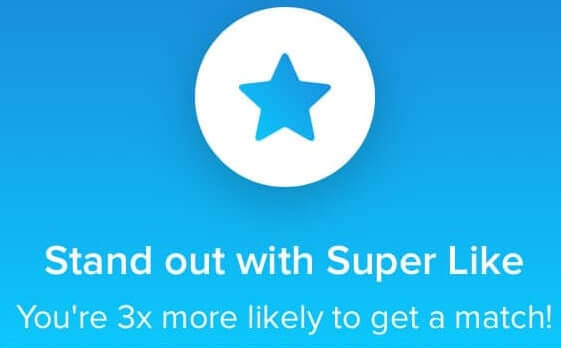 Speaking of super stuff, you know that you have one free Super-like daily and you can send it to whomever you like.
But if you opt for a premium subscription, you get an unlimited amount of these and you have the opportunity to show someone you think he/she stands among the crowd.
The blue star you see- that's the icon that represents this feature.
Similar to Balanced Recommendations for standard membership, this one, which is paid service accessed only via the premium versions Tinder offer, will give you an insight into the most recently active members, with whom you have matched.
How about someone else selecting the very best for you, a sort of ultimate top list made just for you?
That's precisely what this feature does and it also saves plenty of time needed to find those potential candidates.
To make this feature work for you, be honest when creating a profile and adjusting all the settings because that's how YOU can improve chances for top picks to be ultimately ideal ones.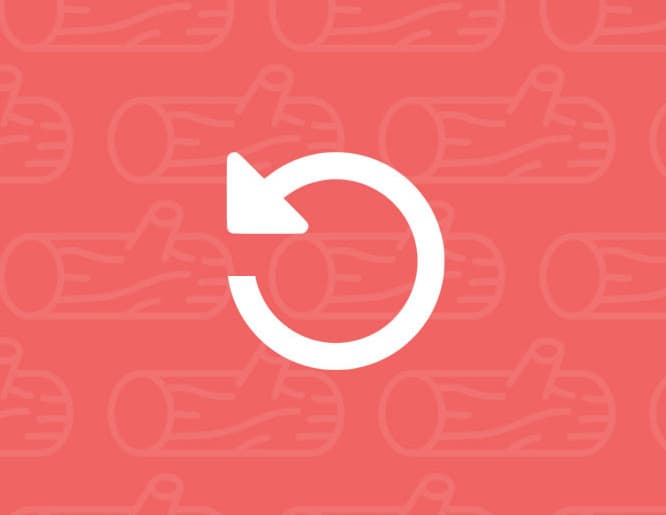 Like I've already described, this one helps correct that accidental mistake, but it also comes in handy in case you've simply changed your mind.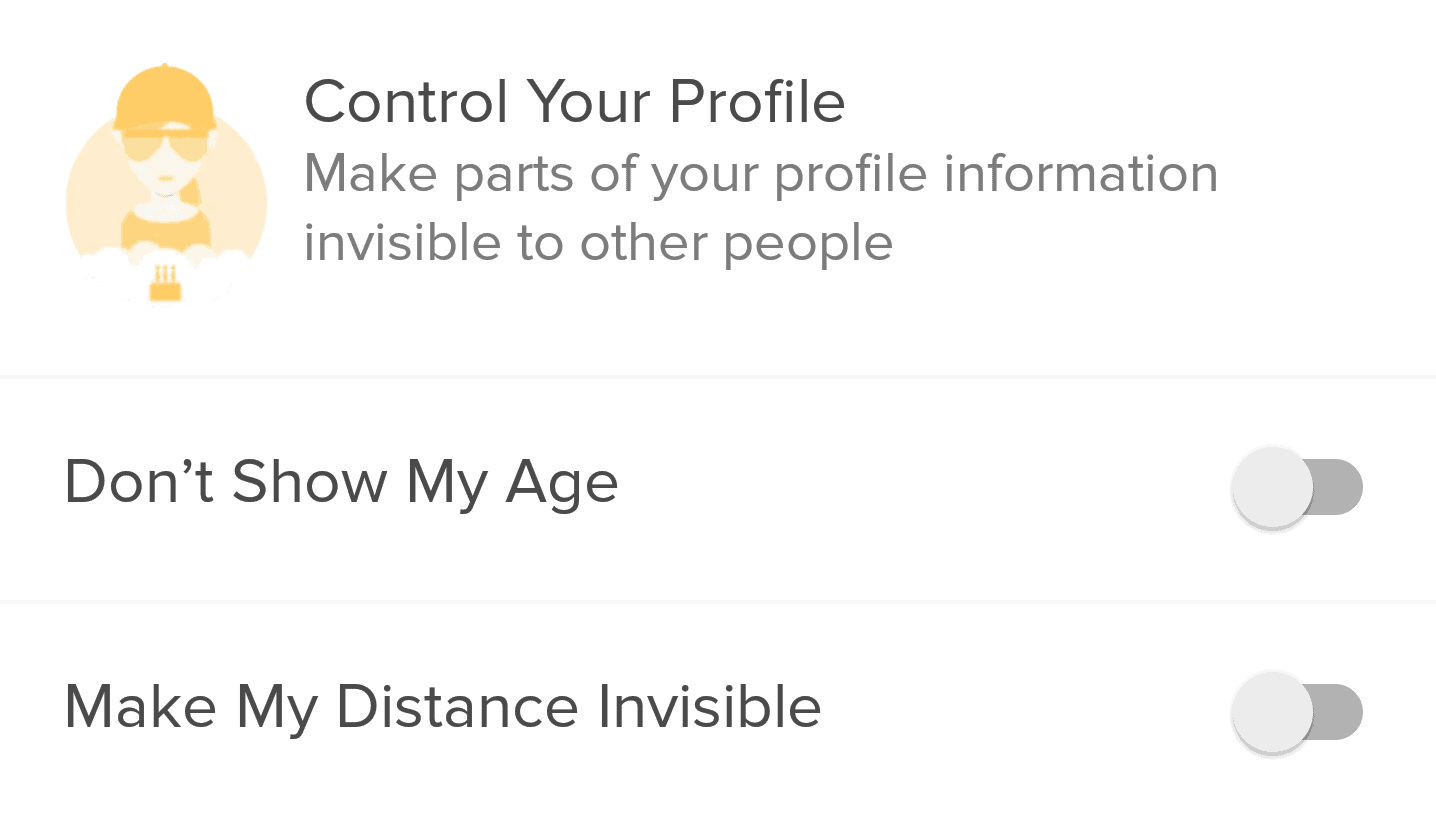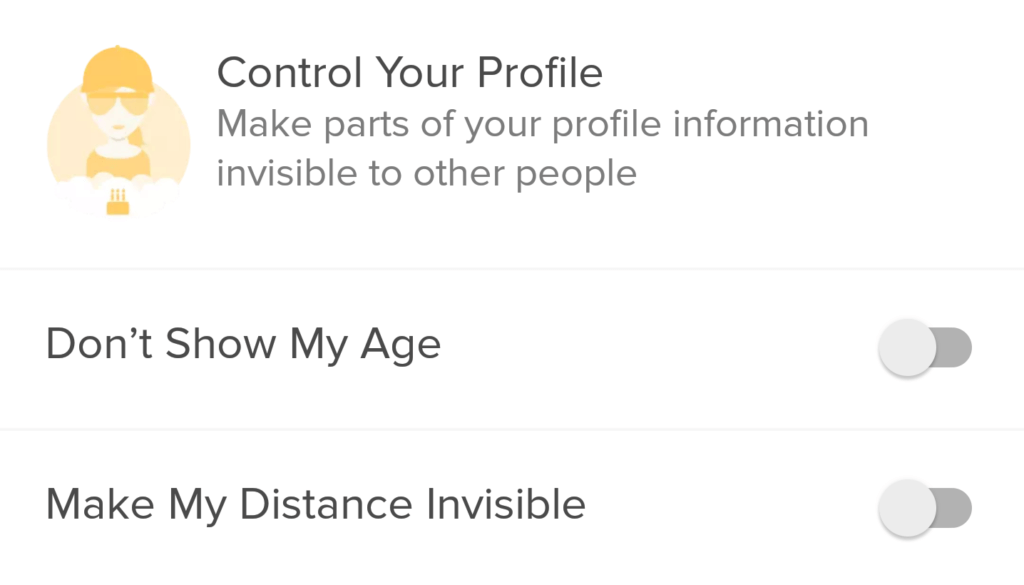 Though distance on your Tinder profile itself is useful to hide from time to time (like when you travel), hiding age can, unfortunately, cause lots of troubles, but anyways, just so you know- both options are part of paid membership.
And no, the list doesn't end here, there are more excellent options!
Let's continue exploring them.
8. Passport/Swipe Around the World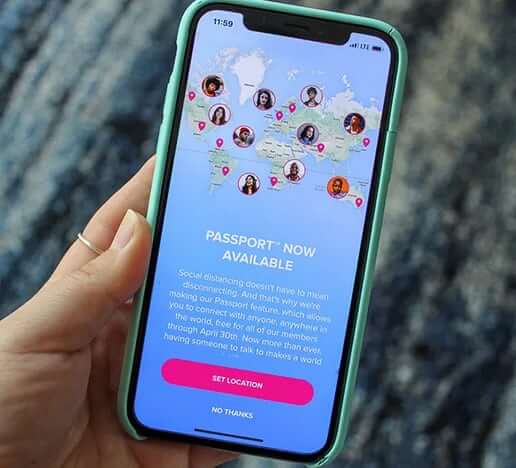 The suggestions you get are location base, which can lead to that déjà vu feeling when you start being offered the same profiles over and over again.
But, with this great feature, you get some sort of passport that allows you to switch your location and explore international dating.
I mean, who says that the love of your life is just around the corner?
It could be on the other side of the world, and thanks to this option, you get the chance to find out.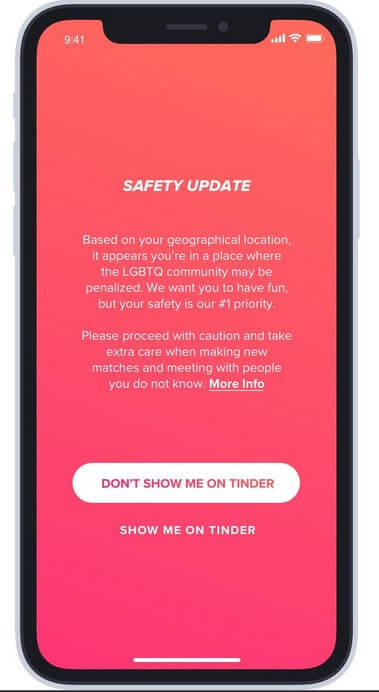 You already know that this app is used not only by heterosexuals but also by people who belong to the LGBTQ community as well.
With this convenient feature, which is btw also available on both the iOS (App Store) and Android (Google play store), members of this community can get a notification on whether the place they are traveling to is safe for people of these gender identities or sexual orientations.
The notification (pop-up) is received upon entering the grounds of such a country, and without any doubt, it adds more value to safety in online dating.
When the notification appears, a user can choose whether to remain displayed among suggestions (in terms of profile visibility).
To be precise, data regarding sexual orientation and gender identity will be hidden until a member is still in that area.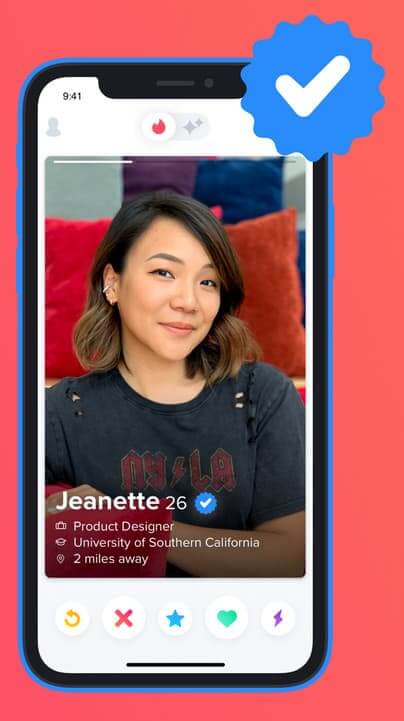 The whole philosophy around this dating page is relying on visuals, it leaves room for various abuses and not-so-moral activities, to say so.
Catfishing is one of the biggest problems every dating app has, but the team behind Tinder has found an excellent way to eliminate it (or at least minimize it considerably).
This convenient feature allows users to perform self-authentication.
What does that mean?
They are asked to pose for a series of real-time selfies, and these pics are then compared with already uploaded ones.
If there's no matching, a scammer is caught, and chances are he/she is already catfishing actively.
How to recognize verified profiles?
Look for the blue checkmark, it is usually displayed beside a member's username.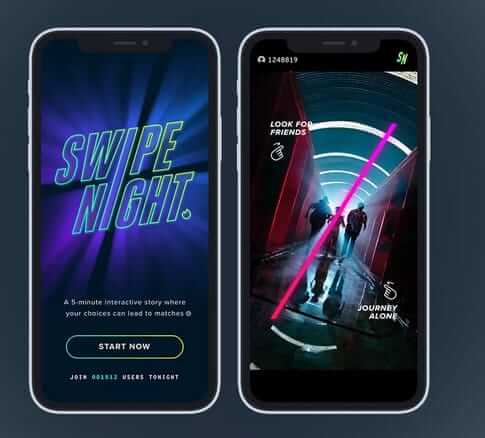 To show that dating online is as funny and adventurous as playing a game, this dating site came up with an excellent idea- to match these two and offer quite a dynamic experience.
How does it work?
With this feature, users can participate in the choose-your-own-adventure story by swiping left or right.
What they decide determines the outcome of the mission, and those who made similar decisions while playing will be matched together.
Awesome, isn't it?
Being an app that is mostly used by the young generation and university students, Tinder came up with a great plan on how to connect students with other students.
Those who select this app can display their school colors, and they will be able to swipe through profiles of their classmates, as the app will display the profiles of other users from campus.
How about other campuses?
Have no worries, that also comes as a part of services unlocked with this feature, so yes, you will be able to explore students from other schools as well.
Oh, those seconds and minutes when you wait for your phone to beep or blink, as you are expecting a message from your match- seem like an eternity, don't they?
But, how can you be sure if he/she has read it, after all?
YOU CAN, with this practical feature, which can be purchased in batches of 5, 10, and 20.
The greatest thing of all about this option- your match won't even know that you are utilizing this feature once you activate it for a convo.
Safety is one of the biggest challenges when dating online, and preserving it is a key focus of all designers of matching apps.
Being one of the most active and most visited platforms, Tinder gathers a huge base of free members and subscribed ones, which is why it has its raised protection standards.
Thanks to strategic cooperation with the personal safety app, Noonlight, Tinder has incorporated a panic button in its app.
With this feature, Tinder members can share when, where, and who they will go out with, so in case something goes the unexpected way, the integrated app will allow them to send a discreet signal.
The emergency services will then be alerted by the app so that they could track the member's whereabouts.
Tinder Gold vs Plus – What's the Main Difference?
So, both options bring a completely new perspective of using Tinder, such as an unlimited number of likes, 5 super likes daily, and swipe rewind.
Also, you get 1 boost monthly, as well as the possibility to take advantage of the passport option so you can see users from all over the globe in your swipe list.
Moreover, both of them remove the ads.
So, what differs them?
With Tinder Gold, you get two extra perks- a chance to see who liked you first as well as exclusive access to Top Picks.
The app will enable you to view all your likes on the screen in the form of a gallery and check if those members like you back.
Top Picks will also display some keywords for those members without having to open his/her profile.
So, no need to wait for a match, as this subscription allows you to swipe right instantly and send messages to the other members.
And yes, Gold is pricier than Plus.
As you can see when you compare Tinder Plus vs Gold, they offer pretty much the same assortment of services, but there's a slight difference.
Provided that it can only boost chances, additionally, I'd say it's okay to give it a try to this membership as well.
You could try it for a month or two, just to see if it makes any significant difference to you personally, and then decide whether you need it or not.
BONUS TIP
What I need to point out is that I gave you the ultimate and complete list of all features available on Tinder, but it doesn't mean that all members can use them.
How so?
A certain number is limited to a specific geolocation, but the Tinder team is doing its best to make them available to anyone, regardless of where they live.
How Much Does Tinder Cost?
Now that you have the answer to that big question, does Tinder cost money? let's take a closer look at the price list.
Tinder Plus Cost
If you are a member under 28 and you are interested in Tinder Plus, the monthly subscription will be 9.99 USD.
But if you opt for a 6-month plan, then its 34.99 USD (5.83 USD / Month), while the 12-month option saves even more- 54.99 USD (4.58 USD / Month).
Those who are over 28 will have higher fees- 19.99 USD for a month, 60.00 USD for 6 months (10.00 USD / Month), or the best deal- 80.00 USD for 12 months (6.67 USD /).
Gold Subscribers
As for Tinder Gold, pricing for those under 28 is as follows- a month is charged 14.99 USD, six-month membership costs 52.99 USD (8.83 USD / Month), while a subscription for the entire year is 82.99 USD (6.92 USD / Month).
Again, those over 28 are charged more- 29.99 USD for one month, 112.99 USD for 6 months (18.83 USD / Month) and 149.99 USD for a 12-month plan (12.50 USD / Month).
Quite interesting, in both options members who are 28 years old or older are supposed to pay a slightly higher fee than younger users, but worth mentioning that residents of certain states are exempted from this price tier.
How to Make Great Success with Free Tinder?
Comparing basic and premium membership it may seem that the other option is the only one that can make you successful on Tinder.
But, hold on a sec and take a look at your profile, the info you've left, the pics you've uploaded.
Are you satisfied with them?
How about the approach you make- are you using the right intros and icebreakers, or you stick to some shallow people's sense of humor cliché phrases?
Yes, before you just opt to be paid member, you can revise your profile and see if everything looks perfect.
It needs to be up to date, and it needs to reflect the real you, as well as your honest wishes and desires.
This revision costs absolutely nothing, but in return- you will get a well-polished profile and I can guarantee you will have more and better suggestions.
So, I suggest trying this first before deciding to have a paid subscription.
Final Thoughts on Tinder Free Vs. Paid
Now that we have broken down every single difference between the Tinder free Vs. Paid and you have no more doubts on is Tinder free or not, it will be easier for you to determine which one suits you the best.
Yes, I could agree that a little bit more success comes with the paid version, but it's not like you don't have any chances with a basic membership.
If you put some effort and equip your profile well, you will stand among the crowd, and perfect matches will keep coming and coming.
After all, it costs absolutely nothing to give it a try, right?
Happy Tindering!
Frequently Asked Questions