Since meeting with someone in real-life has become continually difficult, we came up with online platforms and sites to meet people.
In this Tinder Plus review, we will consider the following:
So let's get down to the "Plus" side of Tinder.
OFL Top Recommendations based on 100,000+ Survey

"Serious Relationships"
"Discreet Hookups"
"Best Course for Men"
"Quick Flings"
"Normal Hookups"
"Our Quiz"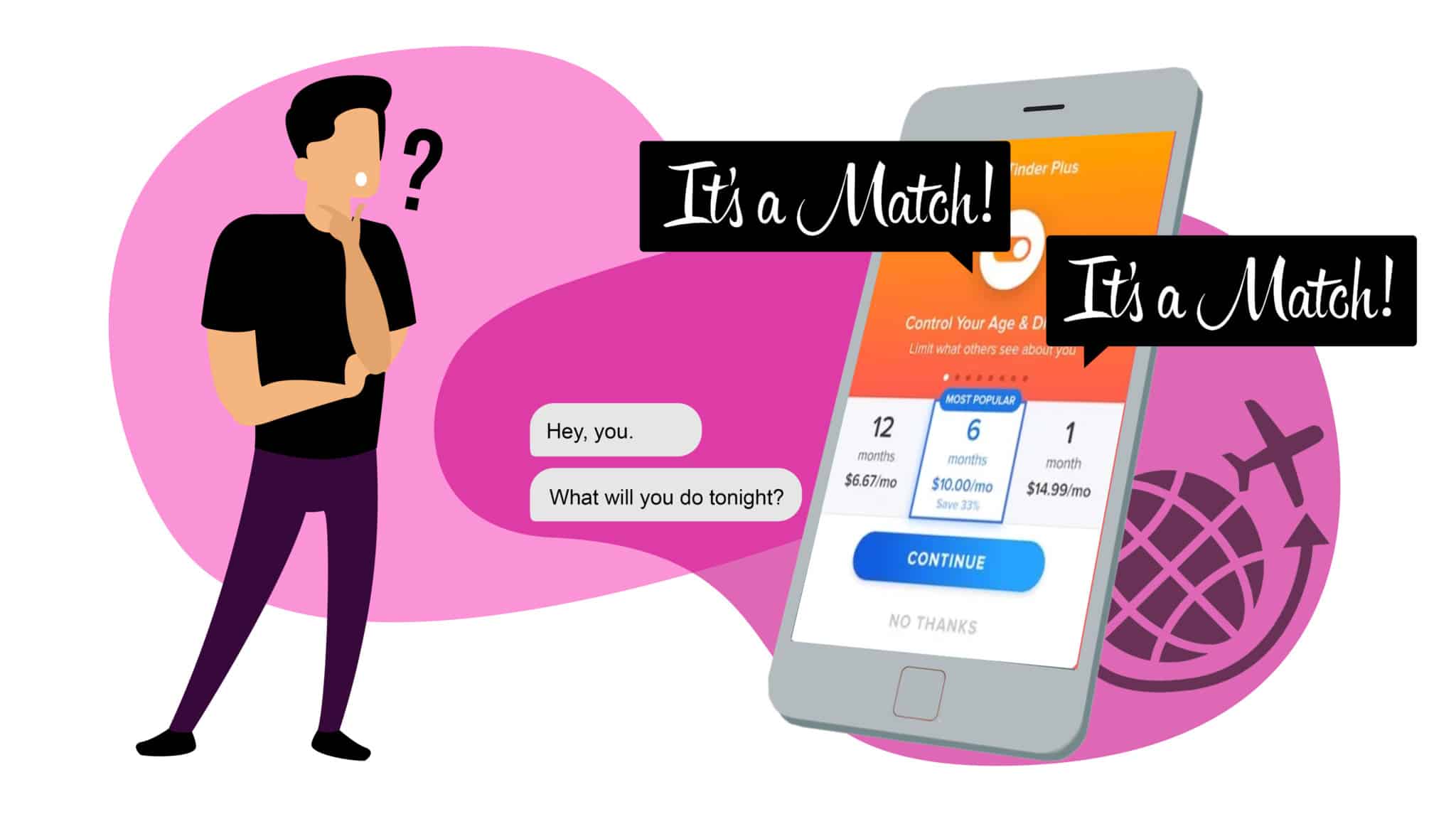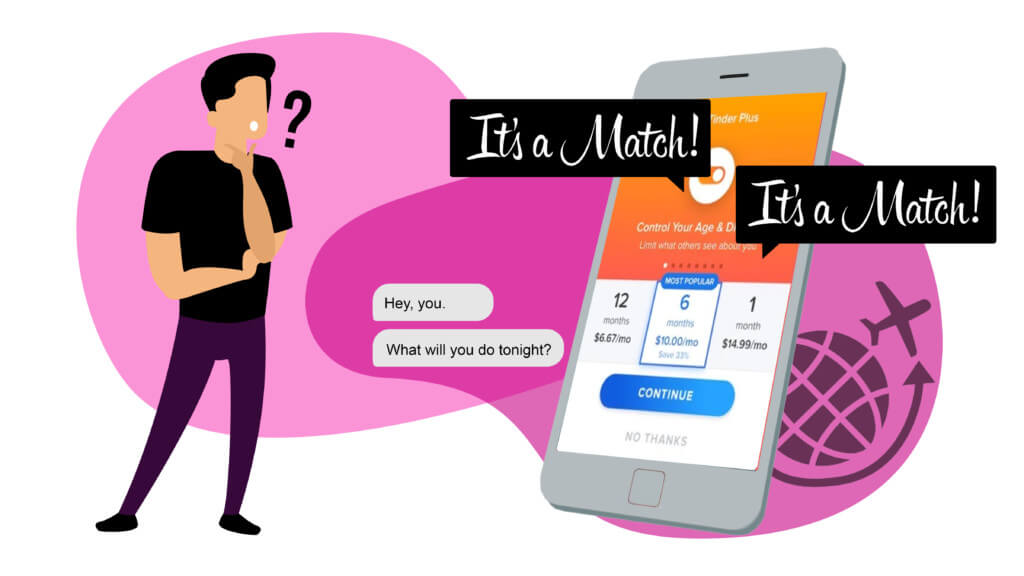 So far, we all know how Tinder works more or less and if not, let's take a brief peep into what is Tinder used for? and does Tinder cost money?.
To put it simply, Tinder is a location-based dating app developed for mobile phones which helps you find a date.
Tinder is the most popular dating app out there – whereas dating apps like eHarmony focus solely on those seeking serious relationships and others like BeNaughty or Ashley Madison are tailored for people seeking one-night-stands or hookups, Tinder manages to cater for both of these categories of persons effectively.
With a Tinder sign-up, the app enables for a swiping motion – left and right – thus showing your interest in a person which shows up on your phone's screen.
Contrary to the fact that your heart is on the left, swiping left on Tinder means you do not like the person, while as a matter of fact, swiping right means you like what you see.
The main idea behind the app is that you swipe someone right, they swipe you right back and then you are a match.
After this, the two of you can engage in a conversation via chat options incorporated in the app.
Of course, Tinder offers many other options such as personalizing your profile by giving your personal information, providing a photo and a short biography.
You can also check if you share any Facebook connections with the person you like, and so on.
Basically, it's all out there, and it's up to you whether and how to use it.
OFL Top Recommendations based on 100,000+ Survey

"Serious Relationships"
"Discreet Hookups"
"Best Course for Men"
"Quick Flings"
"Normal Hookups"
"Our Quiz"
The more active you are, the sooner you will find a date.
Tinder has some premium packages that compete with each other with their distinct features which are Tinder plus vs gold.
Right now, we are focusing on Tinder plus.
Since basic is never enough, Tinder decided to upgrade the app by adding some real treats.
This is how we were presented with Tinder Plus, AKA Tinder ++.
Throughout the remaining part of the article, we will give you a detailed Tinder Plus review and we will also try to show you if Tinder Plus is truly worth it.
Tinder Plus is a paid service enabled by Tinder which allows for an unlimited number of matches, as opposed to the basic version.
As with the majority of good stuff in life, you can get Tinder Plus for a certain price, but we will get to that later.
The Plus in the name already suggests that we get a little bit extra than with the basic version.
Tinder plus benefits are a big addition and difference to what Tinder has to offer in the basic option.
Change your location
Tinder's Passport feature is a great novelty that allows you to notify the app that you changed your location, even if it's only temporary.
If you maybe wonder why this is so important, then imagine this scenario.
You are traveling somewhere, either for work or pleasure.
This Tinder Plus option allows you to change your current location with a new one which immediately opens up a new portal for you.
In practice, this means that even if you travel across the country, your Tinder will show the users at your current location, not from the previous one.
And, who knows, you may even find your perfect match among these new faces.
Unlimited swiping
With the basic version of Tinder, only a limited number of swipes is allowed, which inevitably reduces your chances of success, that is, meeting a potential date.
With the perks of Tinder plus, you can swipe left or right all day long, without worrying that you will exhaust your daily allowance.
These are a perfect tool if you are a bold and daring individual who likes to be direct when letting people know you like them.
The idea behind this option is to let people know you like them very, very much.
So, don't be shy, super like away the one you find interesting!
Just do not super like way too many people since that might cause confusion.
And, besides, it's not fair.
However, know that the upgrade to Tinder Plus includes a limited number of super likes.
You only get five of these per day.
Still, you can purchase some more additional super likes any time you like.
Tinder boosts
Once you choose Tinder boost option, your profile gets prominent placement in the queues for all the users in your current area.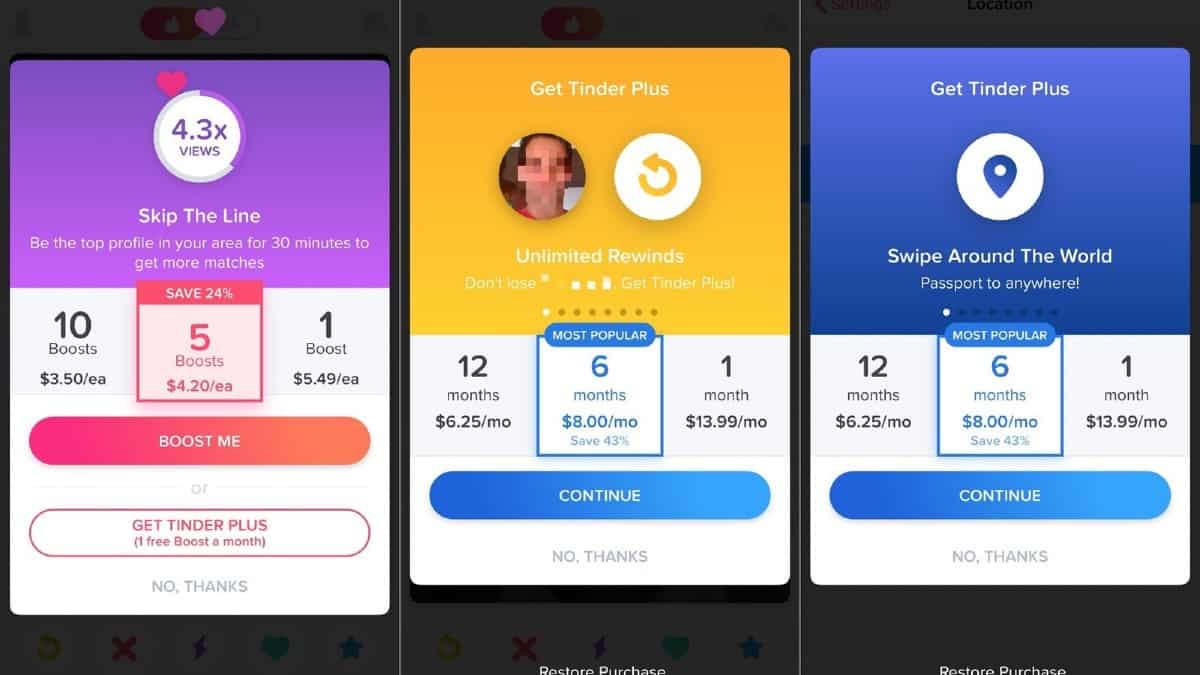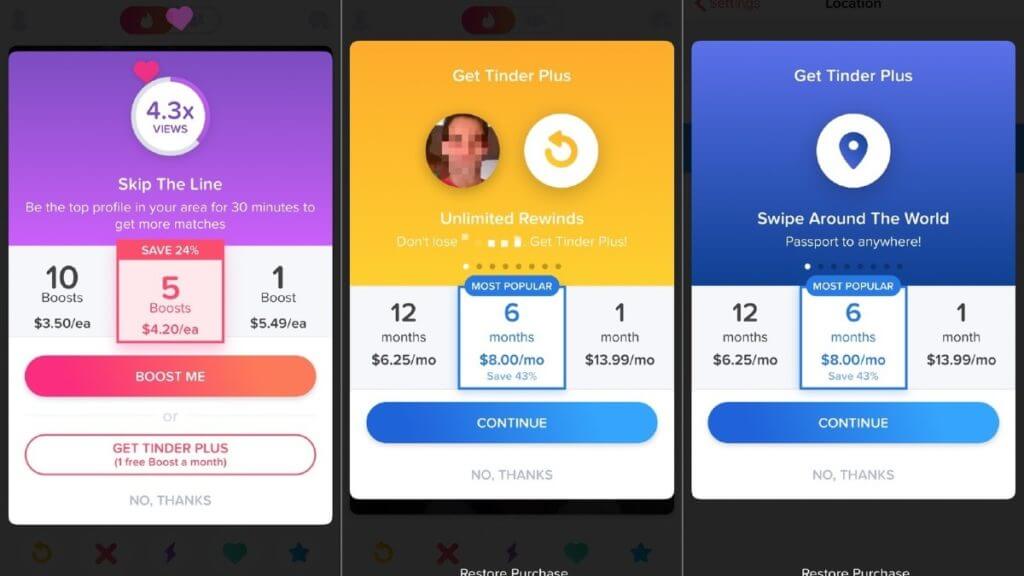 You can do this once a month for free and this prominent placement lasts for 30 minutes.
Be smart here; Tinder prime time is around 8 to 10 p.m., so you know when to go with Tinder boost action.
If you are unwilling to wait one full month to make yourself prominent again, you can purchase additional Tinder boosts and thus greatly improve your chances of being liked by a potential match.
Limit your visibility
Another important option you get when upgrading to Tinder Plus is the possibility to limit who can see your Tinder profile.
With this option on, only the people you liked can see your profile.
In the ever-growing privacy concern, this limitation of visibility comes in handy, since you can protect yourself from unwanted contact.
Control age and distance
We have already established that, just like any other dating app, Tinder also requires you to provide some basic personal info such as your first and last name, age, and the like.
With the basic Tinder version, these are all fully visible to other users.
With this upgrade, you can hide your age, for example, and thus be in full control of what anyone can see on your profile.
As is the case with limited visibility, this is particularly important from the privacy point of view.
Unlimited rewinds
Here is a little (horror) story for you.
You see someone you like every day when walking back from work or a supermarket, but you cannot muster up the courage to approach and start a conversation.
(Honestly, it is natural to be a bit concerned about preserving your face.)
Then, one day, your Tinder shows their profile on your screen.
And, because of all the excitement, you swipe LEFT! Oh, what a disaster! After this, you can only keep vaguely smiling at each other as you walk by and that's it.
However, with rewind unlimited, you can reverse the wrong swiping and have the possibility to swipe right this time.
The good thing is that no matter how many times you swipe wrong, this option has no limits so you can reverse the wrongdoing any time you want.
Ads-free browsing
Ads are a major fun spoiler no matter what it is that you are doing online.
Just imagine how annoying it must be when you are looking for a soul mate and an ad on how to get rid of bunions in 7 days pops up?
A major buzz kill, is it not?
Luckily, Tinder Plus has a solution to this problem as well.
So, once you upgrade to Tinder Plus, the ads will be gone for good and you will be able to conduct your search without being bothered with unwanted content.
Having gone through all of these details, we can summarize this heading by saying that Tinder Plus offers some great advantages to its users compared with the basic option.
Tinder Plus is designed with a specific purpose to help you find a perfect match wherever you are in a given moment.
Since we cannot but admit that there are pros and cons with everything in life, we will provide some great things and some downsides of the upgrade in the next few paragraphs.
Your profile will be visible to a larger number of locals
Passport option improves your chances to meet people as you go. This means that you are not limited by the current location.
You can even trick the app into "thinking" that you are at a certain place while hiding your actual distance. This is how you can like people from across the globe and make a perfect excuse that you are too busy to meet. They do not need to know that you are on another continent.
With the upgrade, it is possible to preserve your privacy even better than before. For example, now you can hide your age, distance, etc.
As opposed to pro no. 1, you can also restrict who can see your profile on Tinder, which is also great for privacy reasons.
Unlimited swipes are a highly useful tool that significantly improves your chances of finding a match.
One boost a month, if you use it wisely, helps you advertise yourself to the other users in the best possible way.
The additional super likes that you get make sure that you get a chance to let someone know you really like them. This will only contribute to you finding a match even sooner than before.
Some of the features from the upgrade might be useless if you are not a frequent traveller.
It costs money, so if you are only up for some free stuff, then you will not be a huge fan of the upgrade.
Sadly, unlimited swipes can actually be the two sides of the same coin. You can end up swiping left and right all day long without any positive outcome.
Mere upgrade to Tinder Plus does not necessarily guarantee that you will find a match instantly. Your profile still must be spotless, with an eye-catching photo and an appealing biography.
Is Tinder Plus truly Worth it?
As life has taught us so far, a man is not made to be alone.
We are meant to walk this earth hand in hand with another human being, spending the good and the bad times together.
Unfortunately, the quest for another human being can at times be a true nightmare.
Why not then use all the help you can get nowadays in this search of yours?
At the very beginning of the article when we first defined the app, we established that this is a paid-for upgrade that we are talking about.
It is only natural for you to wonder what Tinder plus cost is.
Knowing this will help you answer the question, is Tinder plus worth it?
The Tinder Plus price is a topic that Tinder has been criticized about, i.e. not the Tinder subscription price itself but the fact that you have to pay for it in the first place.
Still, we will dare to say that the price is a trifle compared to what you can get in the end.
Nevertheless, let us go back to our main topic.
What you need to know about the Tinder plus cost is that Tinder divides its users into two age groups here.
The first group is for users who are not older than 30 years, while the second group is comprised of users with more than 31 years of life.
The users under 30 years have to separate $9.99 on a monthly basis, while those who are 31+ and would like to upgrade to Tinder Plus will have to settle for $19.99 per month.
And, no, this is not discrimination of certain age group as some tend to believe; this is taking into consideration the fact that people under 30 are not generally so well-situated financially as those who are older than 30.
The good thing is if you opt for a Tinder membership subscription that lasts longer than a month, then Tinder grants some discounts for you.
For example, users in the group under 30, can get significant discounts if they choose a subscription lasting six months or one full year.
In the case of subscribing for 6 months period only, the rate is $5.99 per month.
On the other hand, if you are so determined to find your perfect match that you purchase the annual subscription, then the monthly rate is $4.58.
Since the pricing is different for different age groups, the 6 and 12 months subscriptions we presented will not be valid for both age groups.
Additionally, Tinder charges differently for users on different locations (adapted according to how much a certain country is developed), so if you want to see the current valid price, it would be best to check it yourself in your app.
Now that we have dealt with the Tinder Plus cost, let us see if Tinder Plus is truly worth your trouble.
And what does Tinder plus do that differentiates it from Tinder premium?
To do this, we will briefly remind ourselves of what it is that you get when upgrading to the Tinder Plus version.
Change your location
Tinder's Passport feature will allow you to swipe left and right whether you are in your hometown or on a different continent. This is how the app boosts your potential to find a match.
Unlimited swiping
With this option, you can swipe away as much as you like, increasing the chance that someone likes you back.
Additional super likes
This is for the bold and daring version of yourself which does not have a problem approaching someone, even if it was online, and telling them how super interested in them you are.
Tinder boosts
This helps you put yourself out there and be noticed during the most popular hours on Tinder (we already hinted at what timing we are talking about).
Limit your visibility
With this function, you can hide from unwanted profile check-ups from people you do not want to check your profile at all.
Control age and distance
Again, this is a highly useful tool in terms of privacy, since you can only disclose the details you want to be available to others.
The rest of the details can be safely hidden.
Unlimited rewinds
There is no more fear or stress that you will swipe left someone who definitely deserves to be swiped right.
Even if you do make this mistake, you just rewind and swipe the person in the right direction.
And finally,
Ads-free browsing
Finally, you can swipe and search without worrying that your endeavors will be interrupted by a commercial you definitely did not want to see at that point.
Now that we have listed the benefits of Tinder Plus, we think that at the same time we replied to the question of whether Tinder Plus is truly worth it.
If you still have any concerns and doubts, feel free to make the upgrade and see it for yourself.
It is a lonely world out there. There are some bad things lurking for you and sometimes they really come to get you. It is a true nightmare when you have to go through all of this alone.
So throughout the ages, people have been struggling to find someone to hold hands with for better and for worse.
As social codes and norms changed, choosing a partner has also gone through various changes and modes that today some of these seem even amusing.
From bang in the head and drag it to your cave to sophisticated and passionate dances, we have reached the point where we meet people via computer or phone.
A variety of options is available today for you to meet someone you like. You can still go out and meet people in person.
This is certainly an interesting option, which has multiple benefits and drawbacks at the same time.
For instance, you can like someone at first sight but only be disappointed later on.
When meeting people online, the risk of being disappointed is either slightly delayed or completely eliminated since you will first have time to chat with the person.
It has multiple options to present yourself to people and to show that you like them.
And if this wasn't enough, you can now upgrade to Tinder Plus and get so many advantages with this version.
You can swipe as much as you like, you can go back and reverse the mistake you made by swiping left instead of right or you can hide some details you do not want to be publicly available.
Since we have presented to you a perfect tool to show yourself just as much as you want to others, we think it's time for you to upgrade to Tinder Plus.
Feel free to send that super like to the cutie you have been checking out for days even months.
Swipe away, like away and enjoy the company of your new match!
Frequently Asked Questions