While chat rooms were all the rage back in the late 90s and early 2000s, they've faded somewhat in popularity.
But you will still find online group chatrooms that remain a somewhat different way to meet new people.
The Antichat app is one of these types of apps and while people use it mostly to make new friends, some also use it as a dating app.
Also called the Anonymous chat app, Antichat certainly has tools you can put to good use to find someone.
OFL Top Recommendations based on 100,000+ Survey

"Serious Relationships"
"Discreet Hookups"
"Best Course for Men"
"Quick Flings"
"Normal Hookups"
"Our Quiz"
These include private chat rooms, private messages, general messaging, and public chat rooms amongst others.
In today's review of Anonymous chatting or Antichat, we will assess and evaluate it from a dating site perspective.
To do that, we analyze the app with the following in mind:
So let's see just how effective the Antichat app is if you are looking for love (like eHarmony or Tinder) or a hookup (like BeNaughty or Ashley Madison).
Is your dating app giving you the best chance for success?
Make sure to take our online dating site/app quiz to find out.
It's a fact that people who follow our dating site suggestions have on average 2 extra dates per month.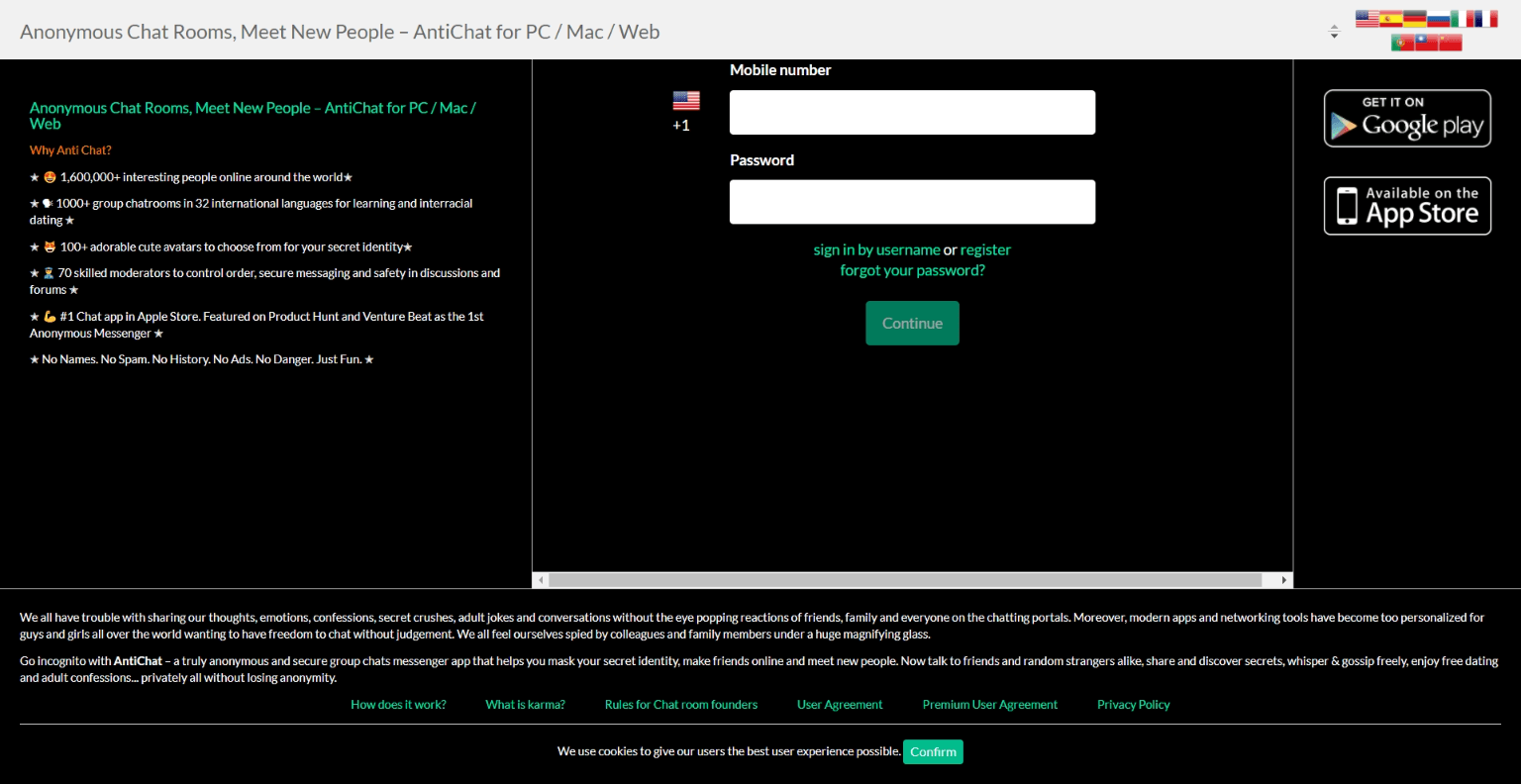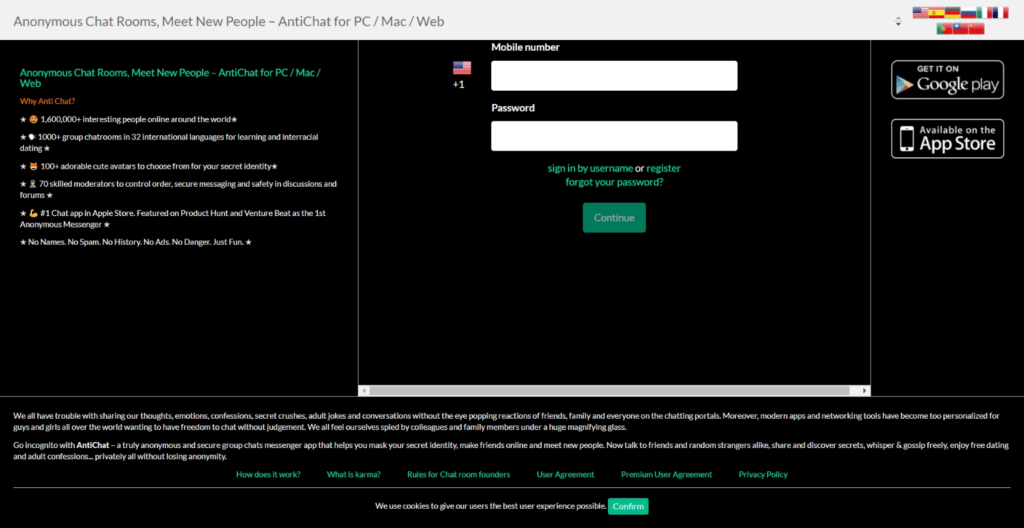 Ease of Use – 4/5
Effectiveness – 2/5
Key Features – 2/5
Pricing – 4/5
Over 1.6 million users
Both group chatting and private chatting available
Can be used for free
Not as effective as a dating app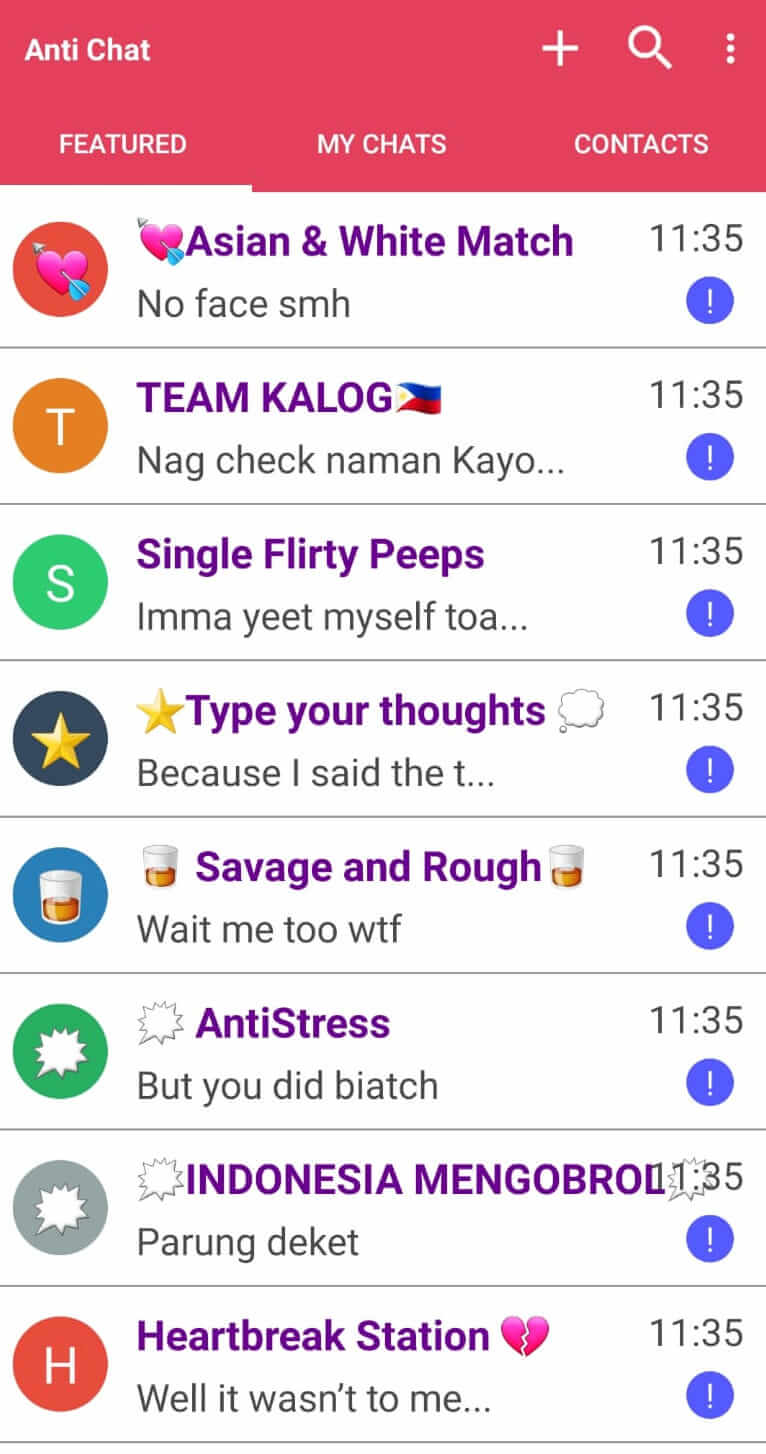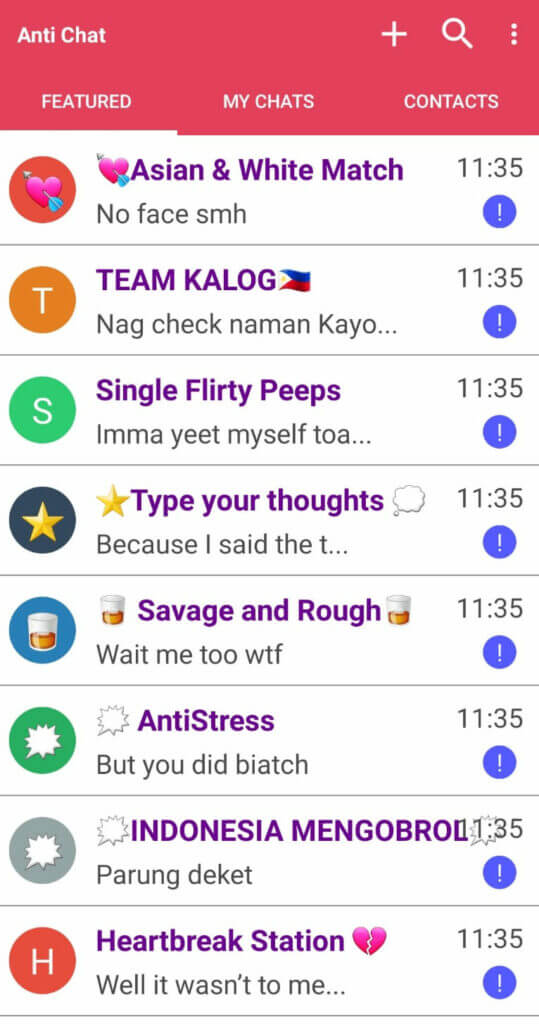 Who's It For/Demographics?
All the best apps when it comes to chatting are generally targeted at younger users.
As we will see a little bit later in this section, that's also the case here but I was pleasantly surprised to see users across all age ranges.
Since its inception almost two decades ago, AntiChat has built up a steady user base around the world.
OFL Top Recommendations based on 100,000+ Survey

"Serious Relationships"
"Discreet Hookups"
"Best Course for Men"
"Quick Flings"
"Normal Hookups"
"Our Quiz"
In fact, on the Antichat website, the claim is that 1.6 million users have registered as users of the app.
Here are a few more interesting stats and facts about Antichat:
A quarter of the user base hails from the United States
That's 400000 Americans who use the app to chat
80000 users are active on the app each week
That's 320000 users a month
It's been downloaded for Android devices over 1 million times
It scores a rating of 4.6 on the App store
Gender ratio and user age ranges
When conducting app reviews, it's crucial to provide an insight into the user ratio between men and women.
That's not always that easy to find but luckily, my research indicates that the breakdown for Antichat is as follows:
60% of users are male
40% of users are female
As for age ranges, 18 to 34-year-olds dominate the app.
In fact, they make up for over half of all the users.
Let's break down all the age ranges and see just how many users they contribute to Antichat.
25 to 34-year-olds: 30% of all users of which 17% are male and 13% are female
18 to 24-year-olds: 23% of all users of which 13% are male and 10% are female
35 to 44-year-olds: 20% of all users of which 18% are male and 12% are female
55 and older: 14% of all users of which 9% are male and 5% are female
45 to 54-year-olds: 13% of all users of which 8% are male and 5% are female
As I mentioned earlier, younger users do dominate but I was pleasantly surprised to see the older groups also contributing.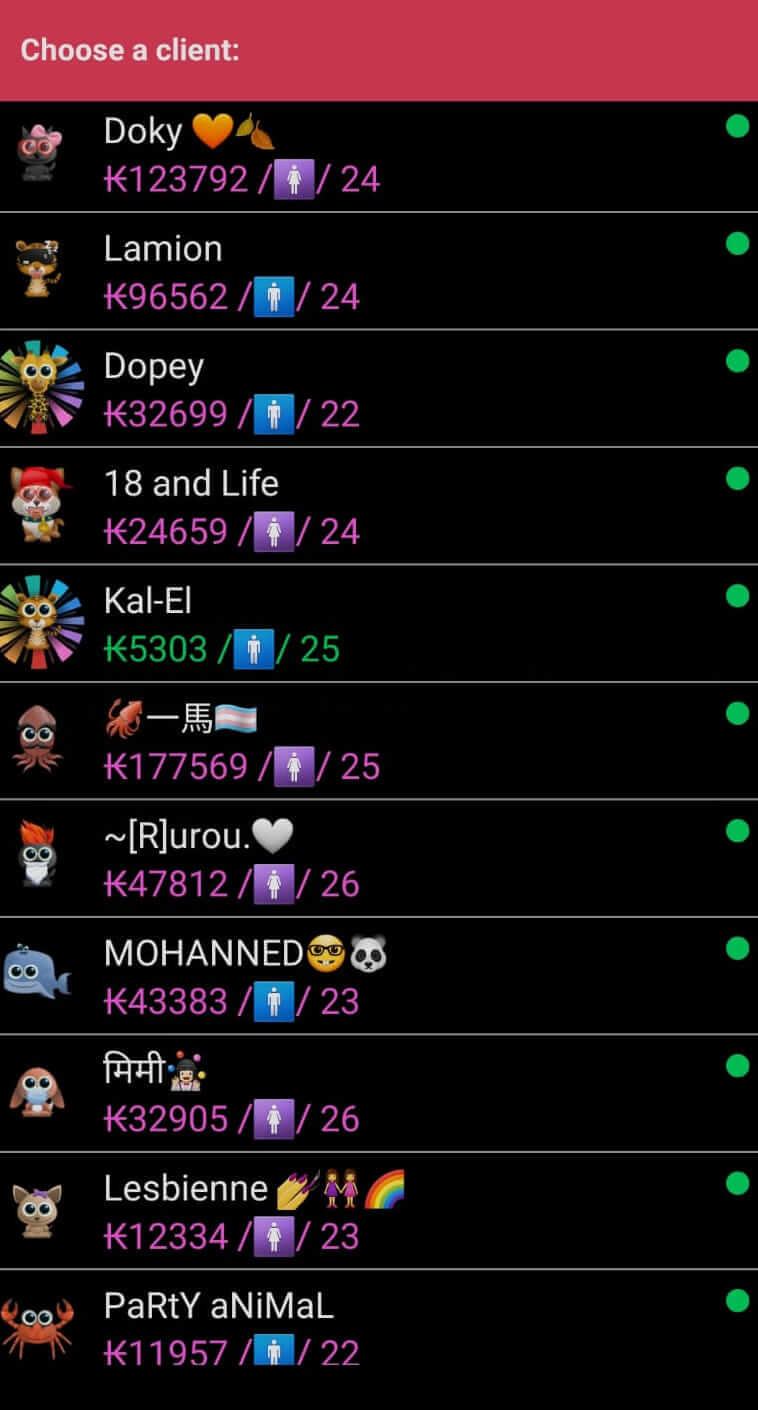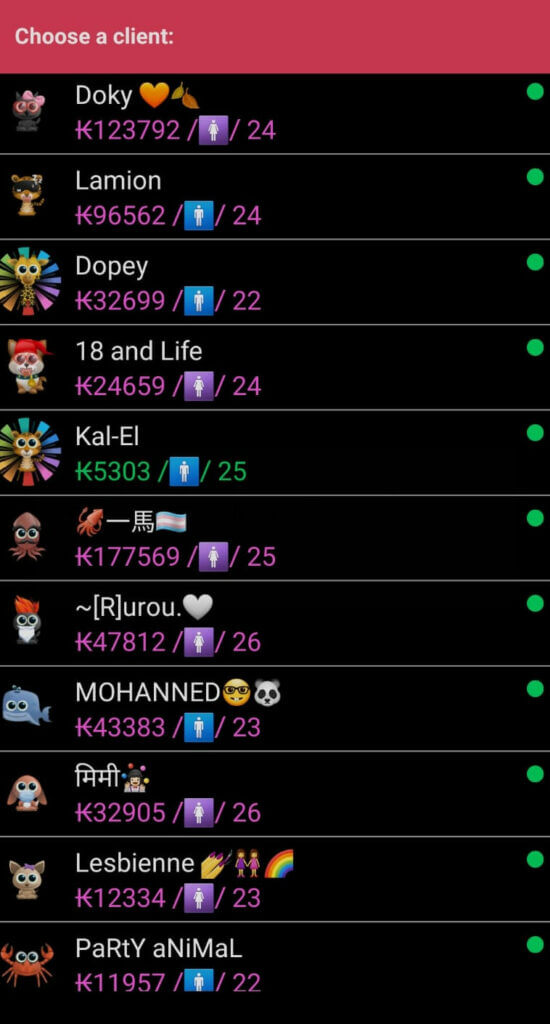 By far the easiest way to signup as a user on Antichat is to download it for your Apple iPhone on the App Store or for your Android device on Google Play.
It can get a little confusing though.
Don't just search for Antichat.
Although that's generally what the app is called, there are so many others with that name that it can be difficult to locate the right app.
Instead, search for "Anonymous Chat Rooms, Dating" and then check that the app you are downloading is from Antichat, Inc.
If you do that, you will know you have the right one.
Registering as a user on Antichat is super simple.
You will have to provide the following information
Username (don't use your real name)
Password
Gender
Age
The gender you are interested in
Language
Email address
Mobile phone number (optional)
A strange thing happened when I registered when it came to my phone number.
Although it says you don't have to add it, you cannot continue without doing so.
Luckily, after adding a few digits and not the full number, the site will let you continue but I wonder how many people get stuck at this point.
Of course, for those of us who like to read the fine print, you can look through the user agreement before you complete the registration process.
Finding your way around Antichat
Once you log into the app for the first time, you are immediately greeted by Nova Admin, a bot that provides a comprehensive tutorial as to how the site works.
It's worth taking your time to complete this too as you gain karma points which are all linked to your social status on the app.
Before we get any further into how the app works, I want to talk about the design.
I found that it took a bit getting used to but that's probably because I don't use or review chat apps that often.
The color scheme is predominantly black with some red and white thrown in and it works pretty well.
You will notice three main menus on the app.
These are:
Featured: This is where you can see feature chat groups
My Chats: This is broken down into all chats, group chats and private chats. You can also explore various public chats and start a private chat.
Contacts: Here you can invite phone contacts to download the app. But you can also start a random chat with a stranger or create your own group.
These menus are the main way that you are going to navigate the site but there are a few more things to note.
On the top-right-hand side of the screen, you will see three vertical dots.
Click here to access the following:
Your profile
Settings
FAQ: Tutorial
Logout
Yes, on this chat app, you do have a profile.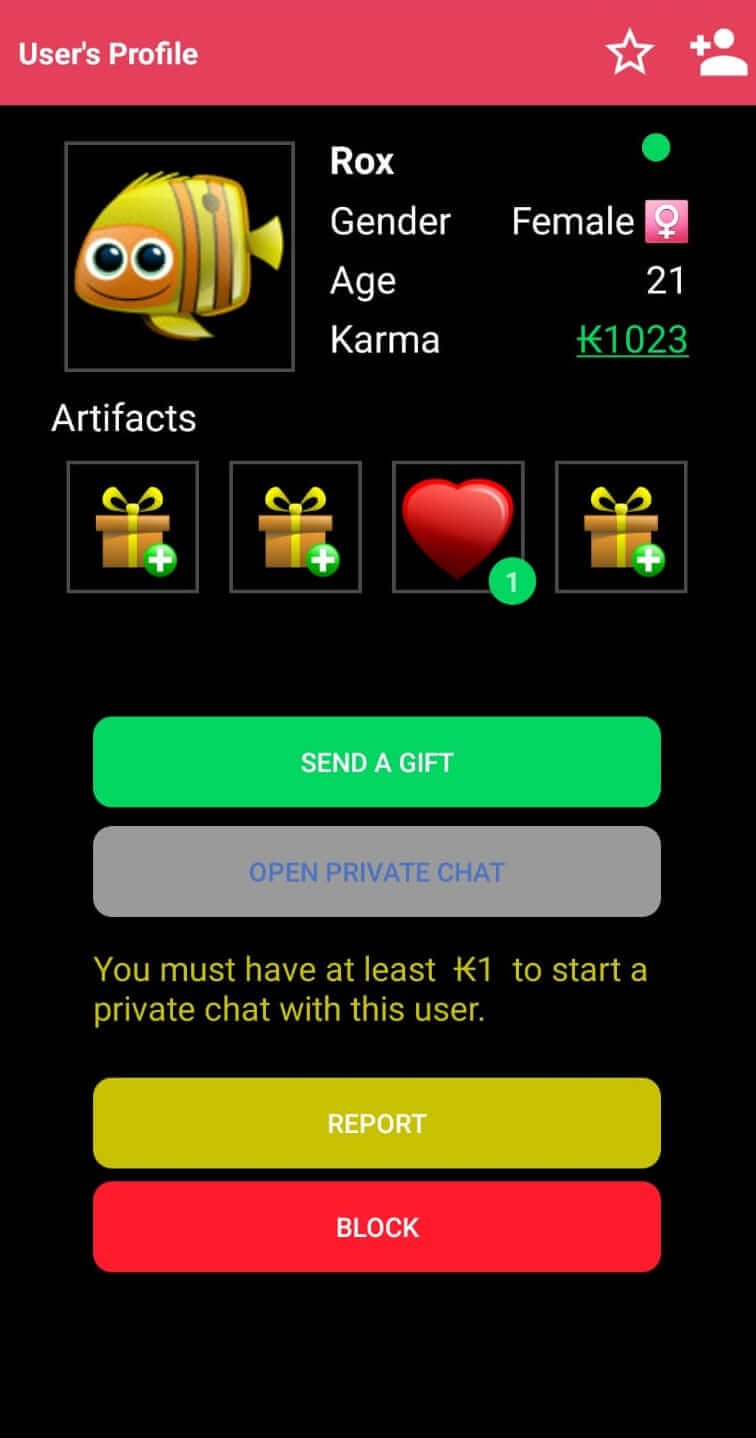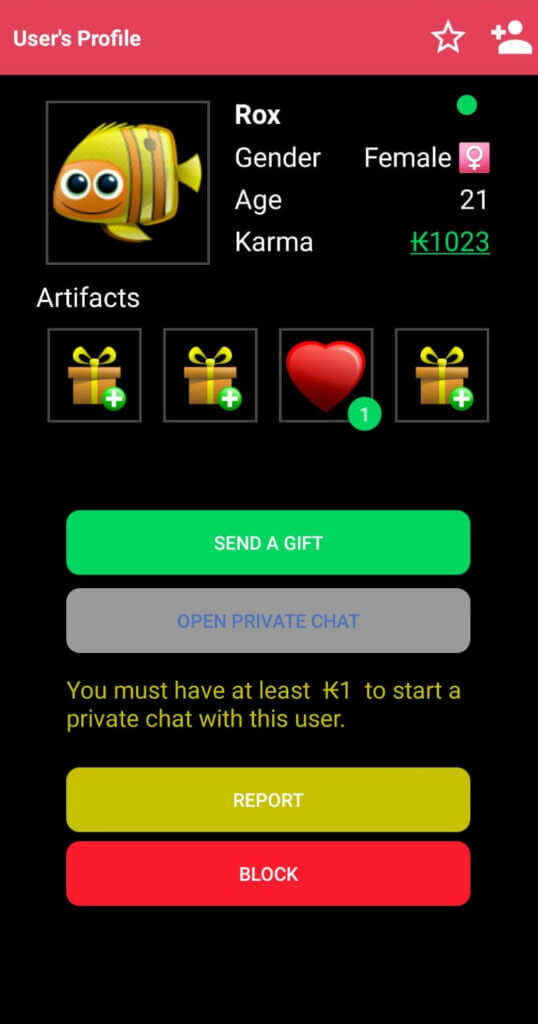 As this is a chat app and not a dating app, naturally profiles aren't going to be packed with information.
Weirdly enough, while you would have assigned yourself a username when you registered, the app will still assign you a random one.
So you can easily change that if you wish by clicking on your username and typing in a new one.
You will also see your gender, age, and how many karma points you have.
You will also notice various artifacts you can unlock using karma points.
These are added to your profile as collectibles and include a rose, teddy bear, diamonds, and more.
You will also notice an option for superpowers.
This is the membership side of the app and includes various extras which I will cover later in this review.
Lastly, you can adjust various settings by clicking on the settings menu.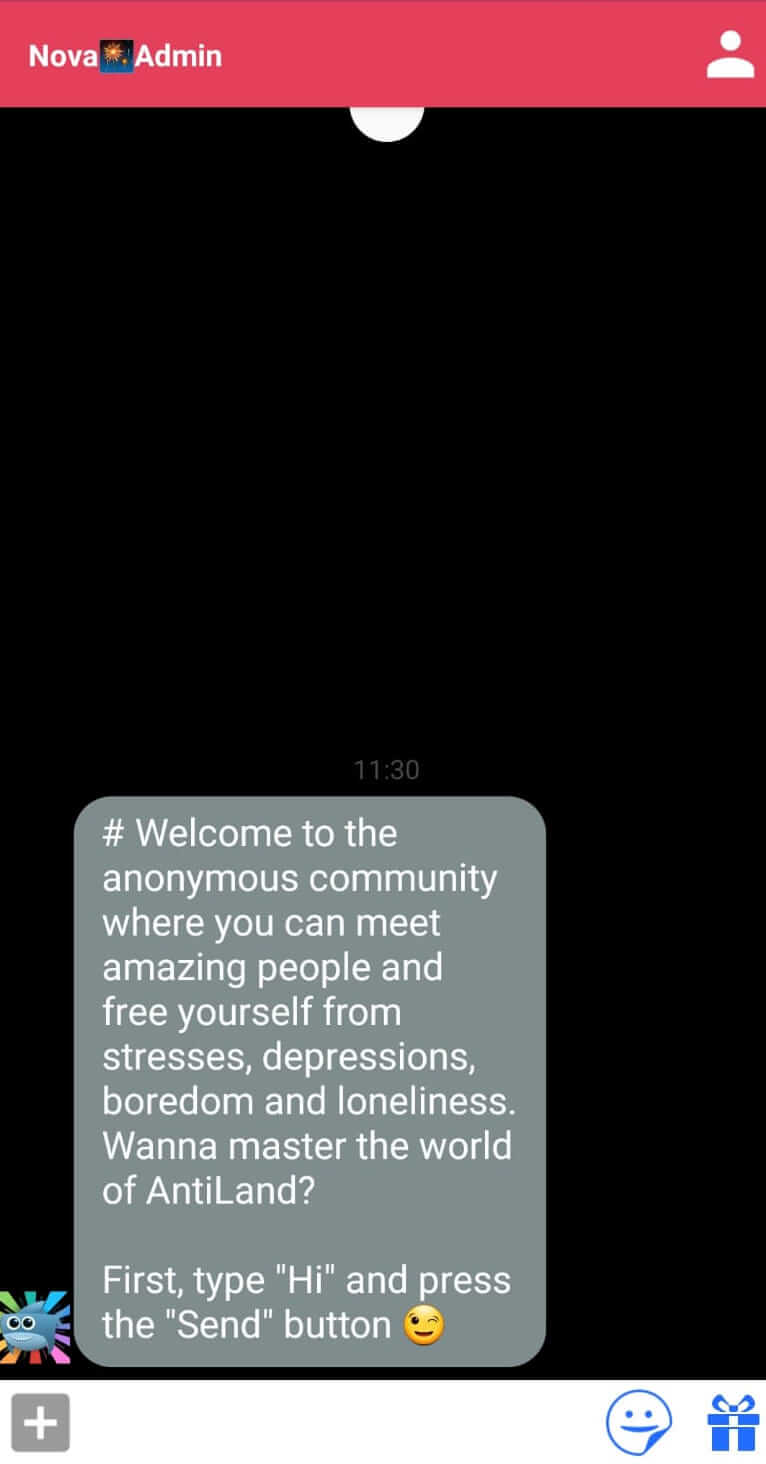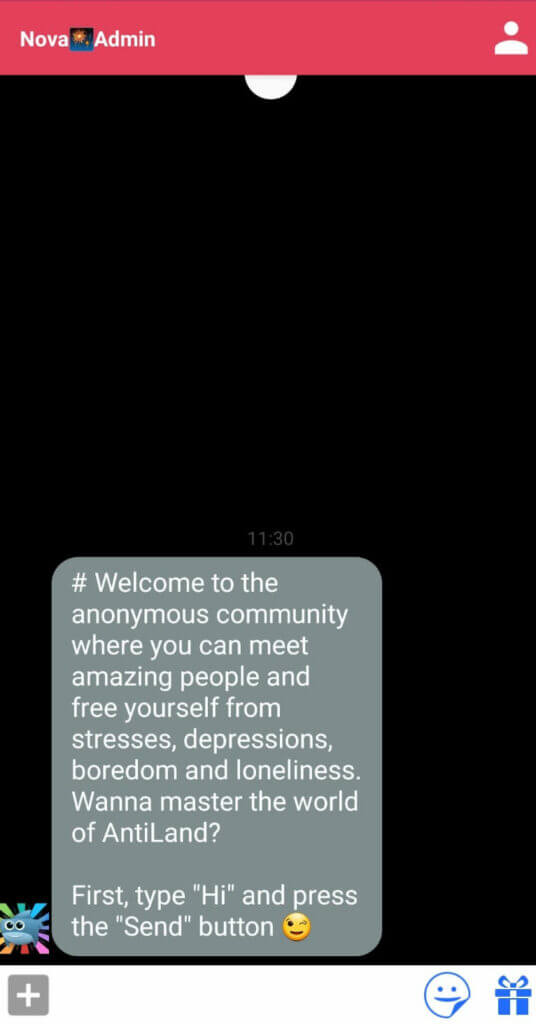 So now that you know a little more about the app, you probably wondering just how you can go about finding a potential matchup for dating.
Well, there are ways in place to do this but obviously, this is nothing like the service a dating app can provide in that regard.
With that said, let's look at what options you can try.
If you click on the Featured menu, you will see a range of different groups where people are currently chatting.
These can literally be about anything but in amongst these groups, you will find
Location-based groups (for example, a city),
Age ranged based groups (for example, for chat for 30 to 40-year-olds)
Dating based groups (for example, singles chat
And more
The obvious groups to try out first are those dating-based ones but don't rule out meeting someone in the age range or location-based groups or whatever else you find.
Should you enter one of these groups and hit it off with someone, you can take the conversation private if you'd like.
Just click on their profile and you have a few options.
You can send them a gift using your karma points or you can even open a private chat with them.
You will notice that can only be done with certain users.
In some cases, you will need to purchase karma points to speak with others.
This happens if they have more karma points and therefore a higher social status than you.
I'm not going to lie, I find the idea of social status on a chat app a little bit silly, to be honest.
But that said, you can find many users to chat with that are on the same level as you.
If you'd prefer to try random private chats, it's super simple to set up.
All you need to do is click on the My Chats menu and from there, select the start private chat option.
Now you will be paired up with a totally random user to chat with.
Obviously, this is very hit and miss and you will most likely be chatting to someone thousands of miles away from you.
But it is a fun way to use the app, especially if you are too concerned about finding someone near your location.
These are the two main ways in which you can find someone to chat with.
Who knows where it can go from there.
While both of these options can certainly work, they can never be as effective as a dating app I feel.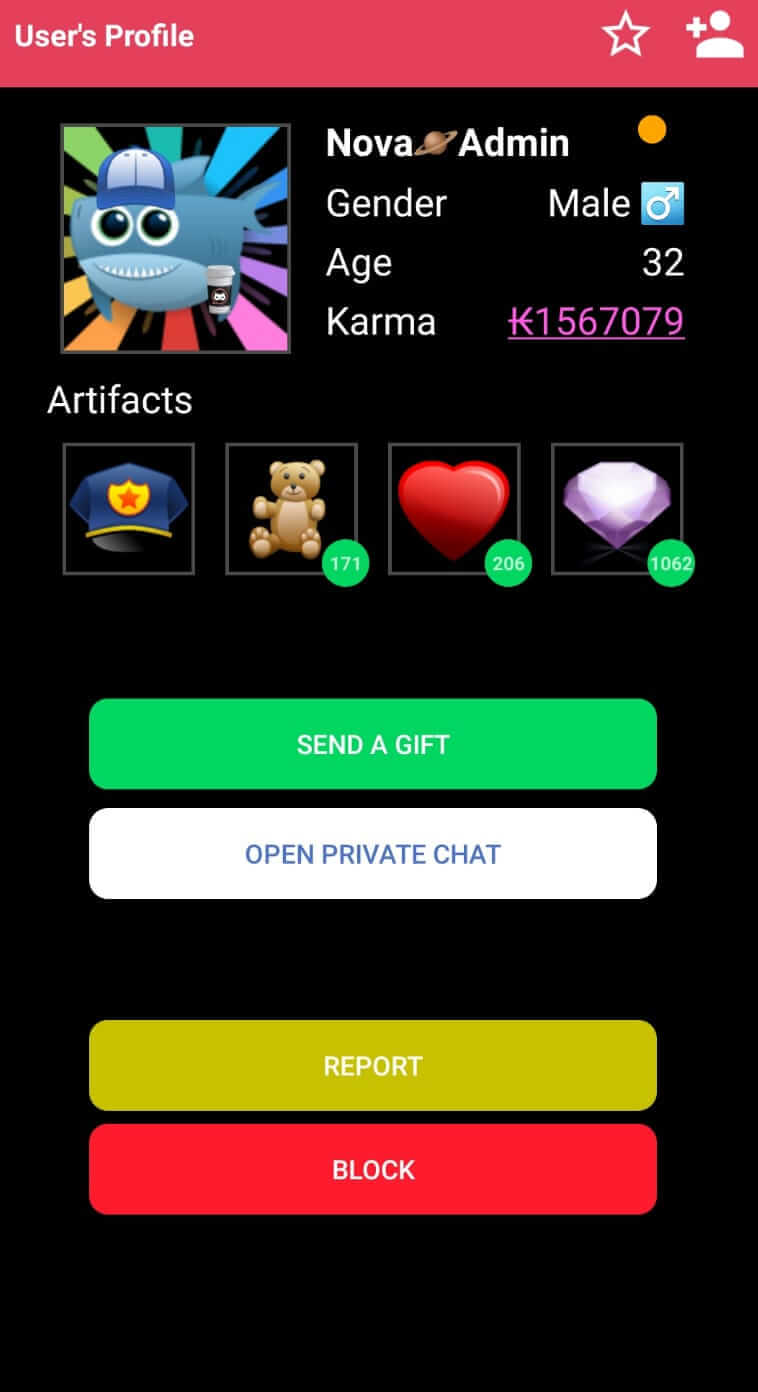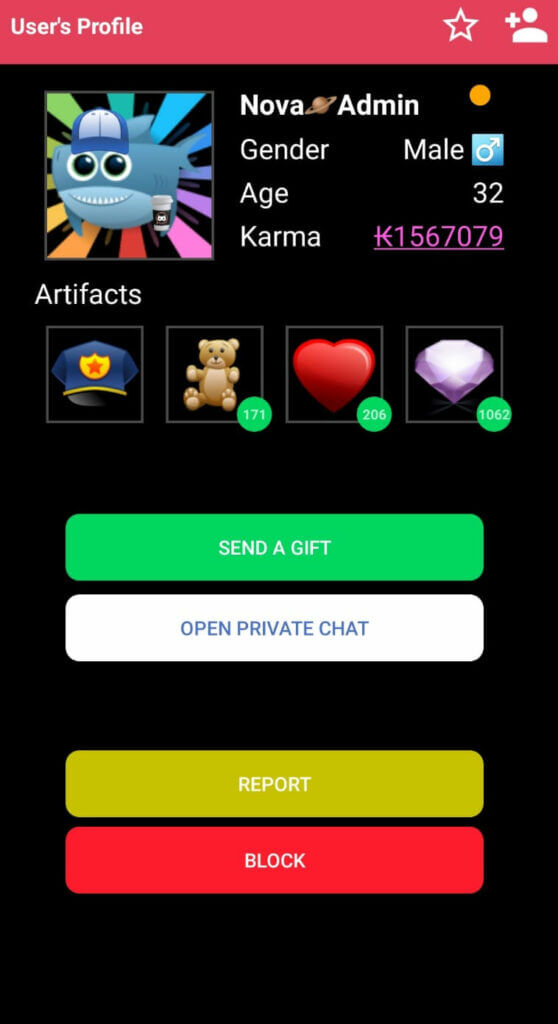 As we learned earlier, the key features that come from paying for membership on the site are called superpowers on Antichat.
Here's what they do for you should you sign up as a member.
Those who have purchased superpowers will stand out from the crowd thanks to the fact that their profile is highlighted and easily noticed.
Karma points are a big part of the site.
Not only can you use them to purchase visual upgrades for your profile, but as we've seen, they play a role in private chats as well and social status.
As a paying member of the site, you can boost your karma points at twice the rate you normally would.
To stand out from the crowd, membership allows you to change the color of your messages in both group and private chat.
All users who have signed up for membership of Antichat can expect priority support from the admin team at any time.
If you have a problem, you can quickly get admin to help you to get everything solved efficiently.
There might come a time that you just want to take your time looking through group chats without other people trying to open a private chat with you.
That's easy to do by hiding your current online status.
If they can't see that you are online or not, they are probably going to leave you alone, right?
When it comes to chatting apps, they often have very different key features and that's the case here too.
None of these are really going to enhance your chances of finding someone to date, however, although earning extra karma points is useful.
If priced correctly, it wouldn't hurt to have these extras to enhance your experience on the site, right?
So what options do you have when it comes to membership packages, or superpowers as they are known.
Here's a breakdown:
1-week: $4.99
1-month: $9.99
3-months: $24.99
6-months: $44.99
12-months: $79.99
For anyone who wants to try superpowers out, I would not look past the one-week option.
If you like what they bring to the party, you can sign up for a more cost-effective membership from that point onwards.
If you have tons of karma points to spend you can get a one-month trial for 10000 karma points as well.
All other membership options can be paid for via credit card.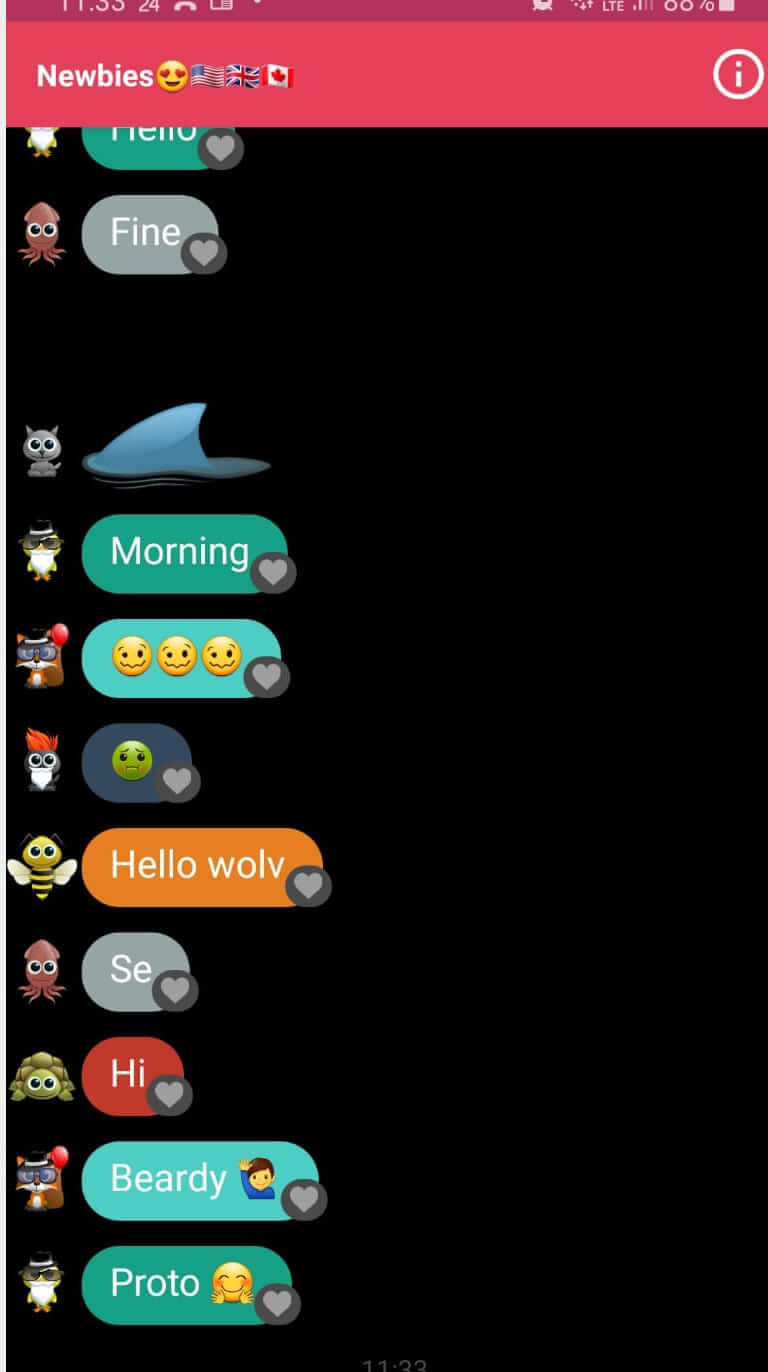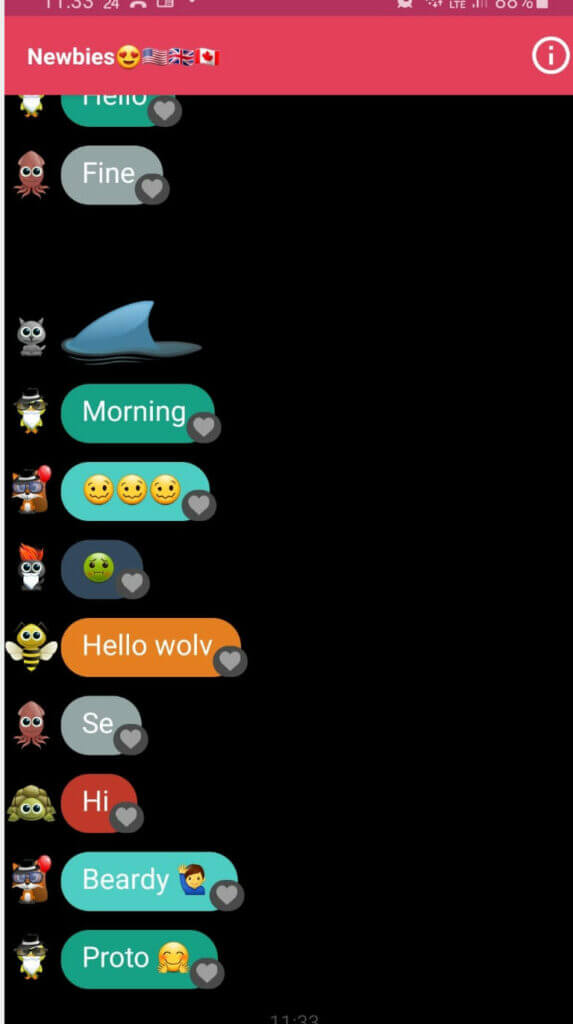 Conclusion and Overall Rating
We've come to the end of our Antichat review.
Can this replace a dating app as a place to find love be it a serious relationship or a hookup?
No, it can't and never will.
The main reason for this is that it's a real hit-and-miss affair in trying to find people near your location.
And that's because there is no search option like you would find on a dating app or even matchups presented to you.
Having said that, chat apps are a place where you can find people and reach out to them.
From there who knows where your journey may lead, right?
As for Antichat, it's simple to use and lots of fun too.
You can find any number of chat rooms to join covering just about every topic out there.
Or you can simply start your own.
Can you use it without membership?
Yes, you can, although there are certain users you won't be able to chat to.
So let's get to a rating for Antichat.
It scores a solid 3 out of 5.