In today's sugar baby dating site review, we take a look at SugarDaters, a site that recently received a brand new design.
It's not like the regular sugar daddy sites that you come across in online dating, however.
That's because SugarDaters doesn't only cater to older men who want to meet beautiful women.
It's for sugar mommas and their toyboys too.
This has helped in solving the problem of where to find a sugar momma.
But there's another difference with this dating site.
Unlike regular sugar daddy dating portals, SugarDaters looks beyond beneficial relationships and more at building more meaningful ones  (like Tinder or eHarmony), not just hookups (like BeNaughty or Ashley Madison). 
In this full review of this sugar dating website, we will cover:
So if you want to know more about SugarDaters, all the information you need is found below.
What's your price is running a deal right now where girls can sign up completely free. We suggest you don't miss out on this limited offer. It's the biggest SD/SB site online.
Is your dating app giving you the best chance for success?
Make sure to take our online dating site/app quiz to find out.
It's a fact that people who follow our dating site suggestions have on average 2 extra dates per month.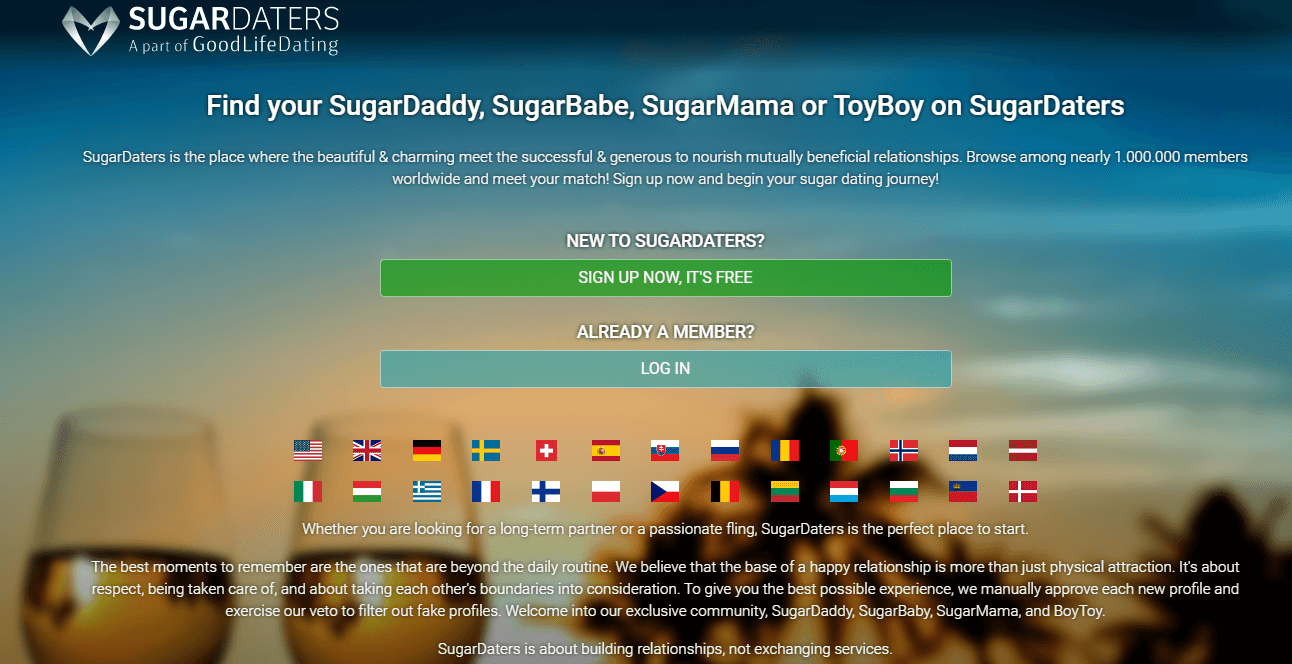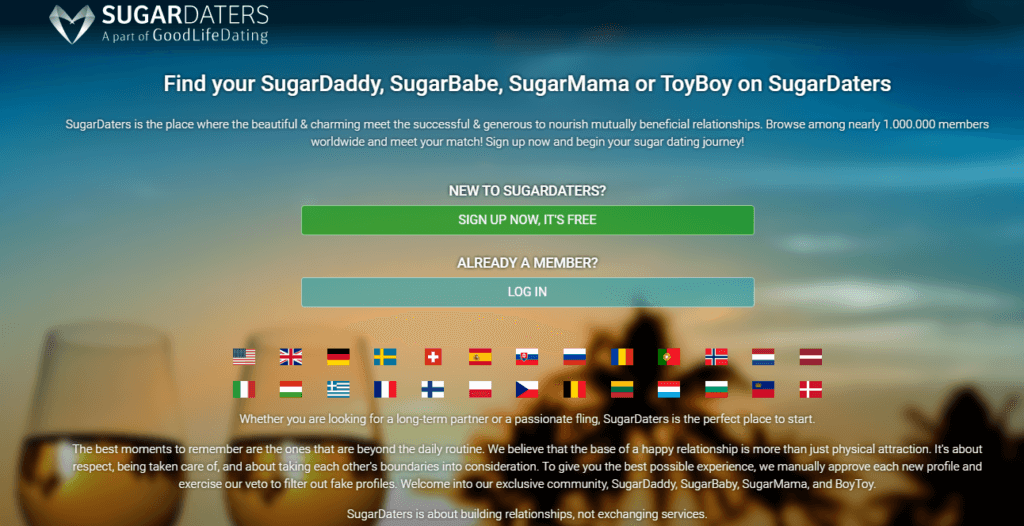 Ease of use – 5/5
Effectiveness – 4/5
Key features – 3.5/5
Pricing – 4/5
Beautifully designed website
Super easy to use
The advanced search engine is for all users, not just paying members
More popular in Europe than in the United States


Who Is It For/Demographics?
Sugar daddies, Sugar mommas, beautiful young women, and handsome young men.
That's the target market on this sugar daddy dating site. 
You will find over 1 million people have registered as users on this sugar dating site.
And for what started as a dating site based in Denmark, SugarDaters continues to grow worldwide. 
Best Sugar Dating Sites (Based on 100,000+ Survey)

'Best for Sugar Daddies"

"Best for Sugar Babies"

"Best for Discreet Sugar Dating"

"Best for Sugar Mommas"

"Best for Cheating Sugar Dating"

"Our Sugar Daddy/Baby Quiz"
But it's difficult to find out any more information about the site regarding gender ratios and the age of users.
But we can deduce a few things about it based on figures from other sugar baby dating sites.
First up, males probably will have more profiles on-site than females.
Although this site is for sugar mommas too, on the whole, that doesn't really make a difference to the male to female ratio.
Also, we know that males on the site will tend to be older with a sprinkling of younger men who are interested in finding a sugar mama or gay sugar daddy.
The female user base will be young women with a few older users who are sugar mommas.
But yes, this is a busy site.
Over 1 million users for a dating niche like this certainly is very encouraging.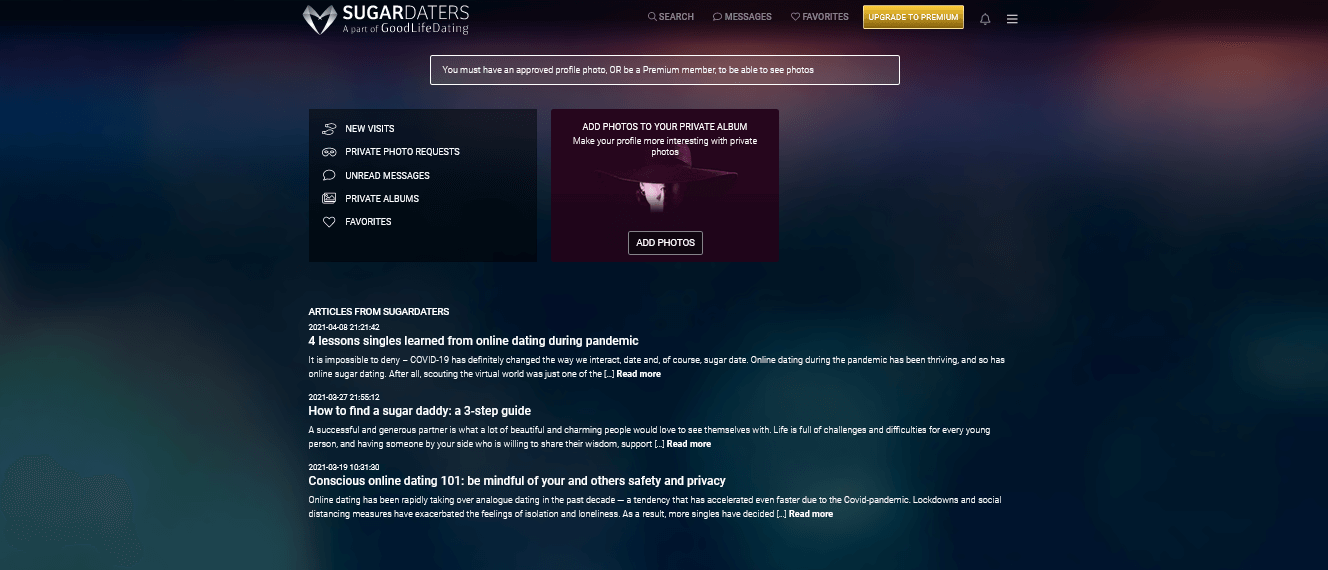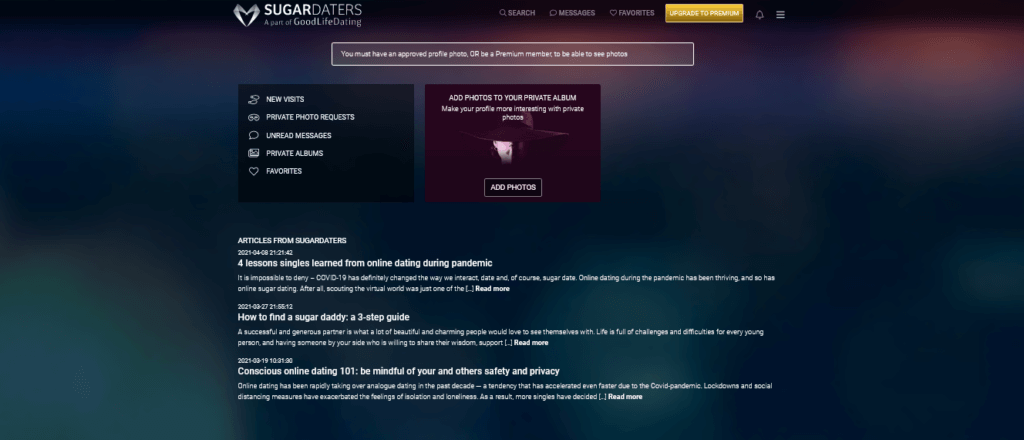 While many other sites include the option of a sugar baby dating app, that's not the case here.
You won't find a SugarDaters app for either Android devices or iPhones. 
So to register as a user, you will need to do so via the SugarDaters website. 
Let's look through the process.
The process starts with five simple steps:
Your gender
If you are a sugar daddy, sugar momma, sugar baby or sugar boy
The gender you are seeking (with LGBT options)
Your email, username, password
Date of birth and location
Now onto some basic profile information which includes the following:
Education
Occupation
Whether you smoke or drink
Appearance (height, weight, body type, hair color)
Ethnicity
What you are looking for (you can choose five keywords from 25 options)
What your interests are (you can choose five in total from 30 options)
An "about me" section
Once that's completed, you will receive an email from SugarDaters to activate your account. 
It took a while for the email to come through for me, at least 15 minutes.
Once you receive it, clicking on the link will take you straight to the site.
It's important to start with your profile picture before you do anything.
Why?
Well, first of all, once it is uploaded it has to be given the all-clear by the admin team of SugarDaters. 
But there's another critical reason as to why your profile picture is important.
And that's because, without one, you won't be able to see the profile pictures of the other users on site.
So best to get it all done.
Finding your way around the site
Before we talk a little about how the site operates and how you will navigate it, I quickly want to focus on the look.
Until a couple of years ago, SugarDaters didn't have the greatest of designs.
In fact, it was pretty much mid-2000s in its overall look.
But a recent redesign has changed all of that.
Now the site has one of the most modern looks out there and I love it.
Dark blue is the prominent color here and everything is just so neat and tidy with a very modular overall design.
I found it a load of fun to navigate.
And that's super simple too, thanks to SugarDates' simplified menu system.
You will only see five menus at the top of your screen.
These are:
Search: Click here to launch your searches
Messages: All messages that you send and receive can be found by clicking this menu
Favorite: Any users you favorite will appear under this menu
Bell icon (notifications): Any important notifications that you need to see will appear here
Horizontal lines: Here you can access your profile, upload photos, change account settings and more.
If you are on the homepage of the site, there is a set of secondary menus as well.
Some of these double up on the main menu while others, like seeing who visited your profiles are standalone.
If you chose not to skip filling in your profile during the registration process, there is nothing much left for you to do.
You can make a tweak as to who can see your profile which is not something that was available when you registered.
To access your profile click on the menu on the far right of the screen that's depicted by the three horizontal lines.
Here you can change:
The age range of the users you want to see in your search returns
The gender the returns should be
The location
With the location, you can only search in specific countries if you want, which is actually pretty useful.
If you haven't filled in your profile, it's packed with information, but won't take you long to complete, so do it as soon as you can.
Here's a reminder of the information it requires:
Occupation
Education
Smoking and drinking habits
Appearance (height, weight, body type, hair color)
Your ethnicity
What you are looking for in matchup and relationship
What your interests are
An "about me" section
But what about the quality of the profiles you are likely to come across.
Well, it's difficult to make a call on what other users might see but I was more than impressed with the returns I found.
There were 100s of potential matchups near my location.
If I had one frustration, however, at least 20 to 30 percent of them didn't complete their profiles fully.
And that can be annoying, especially when you are trying to find out more about someone, this is why it is important to know how to write a sugar baby profile.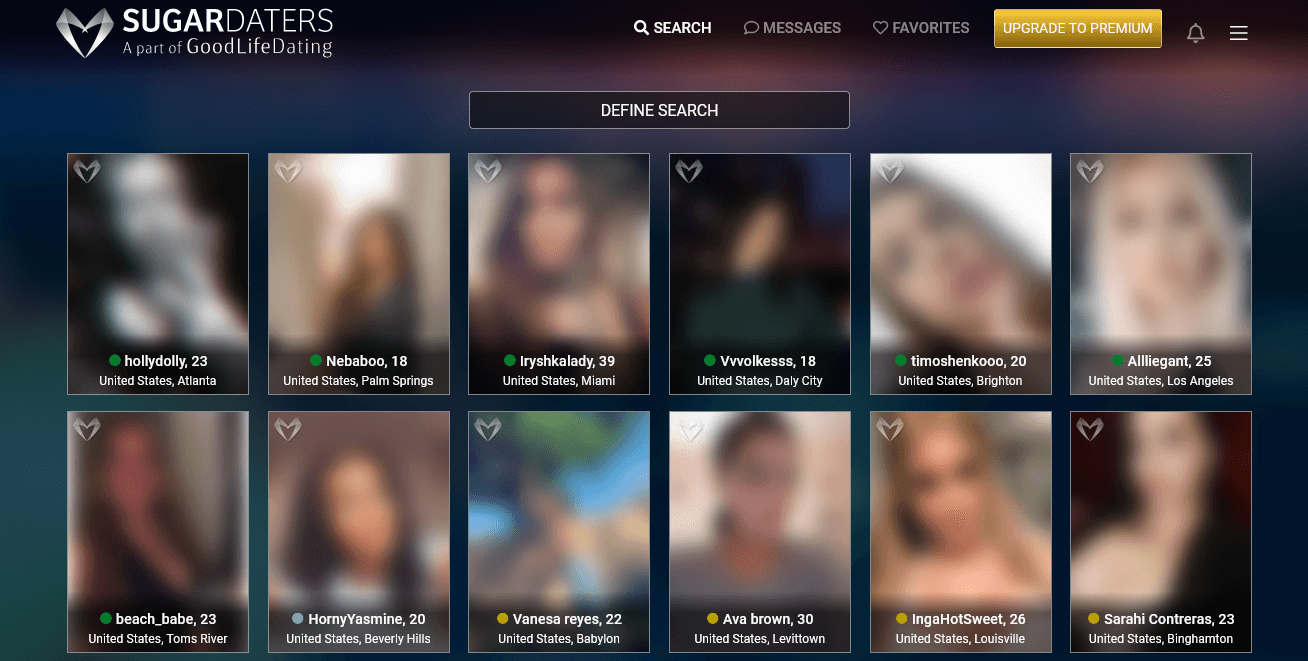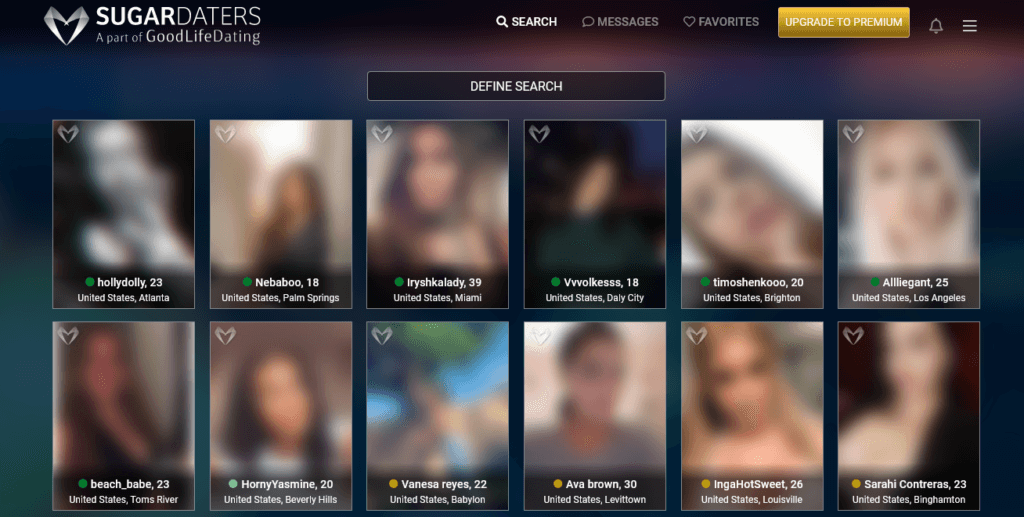 While SugarDaters is a joy to use, and easy-to-navigate sugar daddy website means nothing if it can't provide you with what you are looking for, right?
Obviously, the fact that there are over 1 million registered users on this site is going to go a long way to helping you find your older man, sugar momma, or young woman.
But let's just see how the site helps you to find them as well as lets you get into contact with them.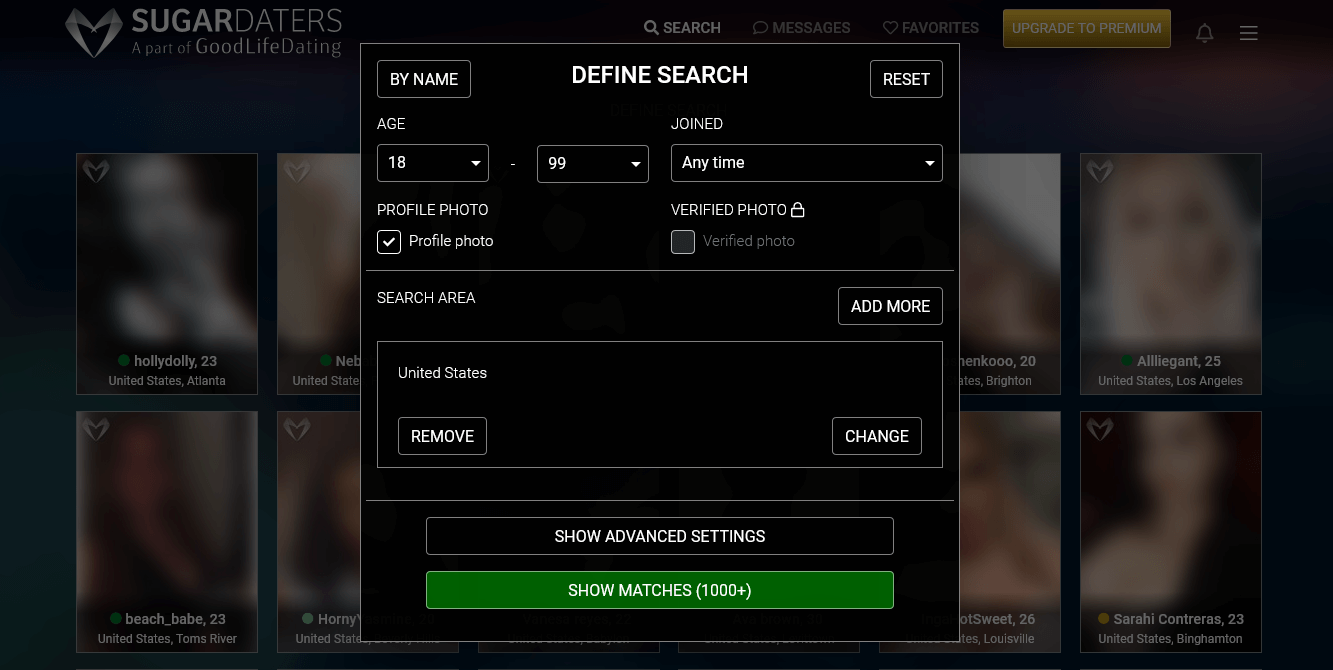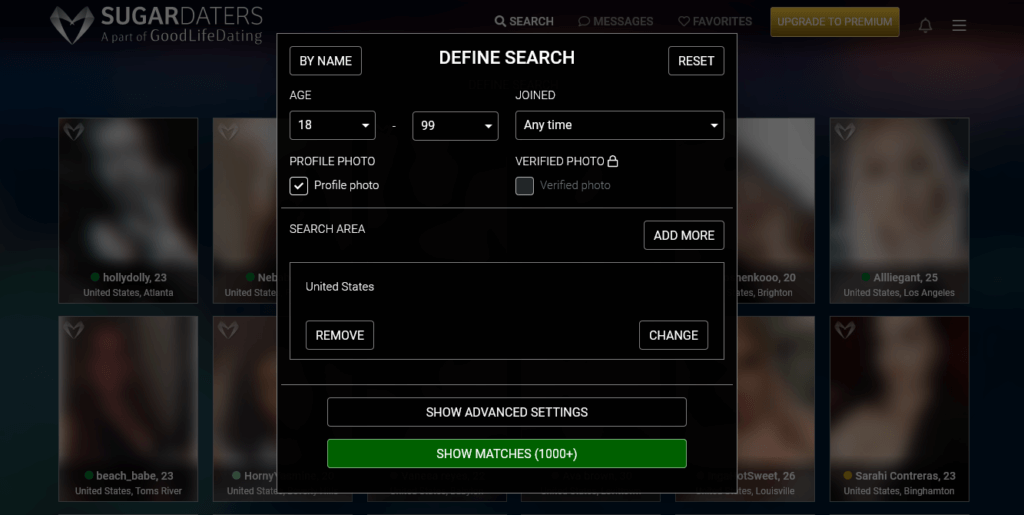 Searching for the right matchup
SugarDaters is a little different from other sugar daddy sites in the fact that it doesn't really provide you with potential matchups.
From time to time, featured users will appear on the homepage and you are welcome to see what they offer.
But they probably aren't going to be anywhere near your location.
The site relies on users searching for their own potential matchups.
This is something that you will do on most other dating sites anyway, so it's not a strange concept.
And to be honest, I much prefer being in control of what I search for than a website sending me potential matches, some of which aren't even that compatible.
The thing is, if a website only relies on its users to find potential matchups using just a search engine, it better be effective.
And don't worry, SugarDaters has an excellent search engine for both paying and non-paying members. 
To access it, click on the search bar.
You will be provided with some profiles to look through based on the age range and location that you stipulated in your profile.
If you want to search more, however, click on "Define Search"
That brings up a new menu.
This is the basic search engine and you can change the following:
The age range of matchups
When they joined
If they should have a profile photo
If they should have a verified profile photo
Location
And while that's fun to play around with for a while, no doubt you are going to want to give the advanced search engine a run.
That's accessed from the same menu by clicking on the "Show Advanced Settings" button.
Once you click on that, you have even more parameters that you can add to your search.
These include:
If the person has designated themselves as a sugar baby, sugar boy, sugar daddy or sugar momma. 
If they are elite members or not
Height range
Weight range
Body type
Ethnicity
Hair color
If they have tattoos and piercings
Education
Occupation
Habits
All of these parameters are taken from user profiles so that's why it's critical that both you and others complete theirs.
With a user base of over 1 million, you can add a number of these parameters to a search and still get decent enough returns especially if you live in a large city.
Should you be struggling to find users, the chances are that you've just set too many specific parameters.
Remove a few and try again.
Like many of the best websites for being a sugar daddy, SugarDaters have a slightly different approach to communication. 
If you are a sugar daddy or sugar momma, well then if you'd like to reach out to someone, you are going to have to pay.
That's right, messaging is part of the membership packages only.
You can like add someone to your favorites, but that's about it, you have no other way of communicating with them.
If you are a sugar baby or sugar boy, well, you can use all the features on the site, including messaging for free.
It's easy to understand why these sites work like this because sugar babies just don't have the financial muscle to be able to buy a membership.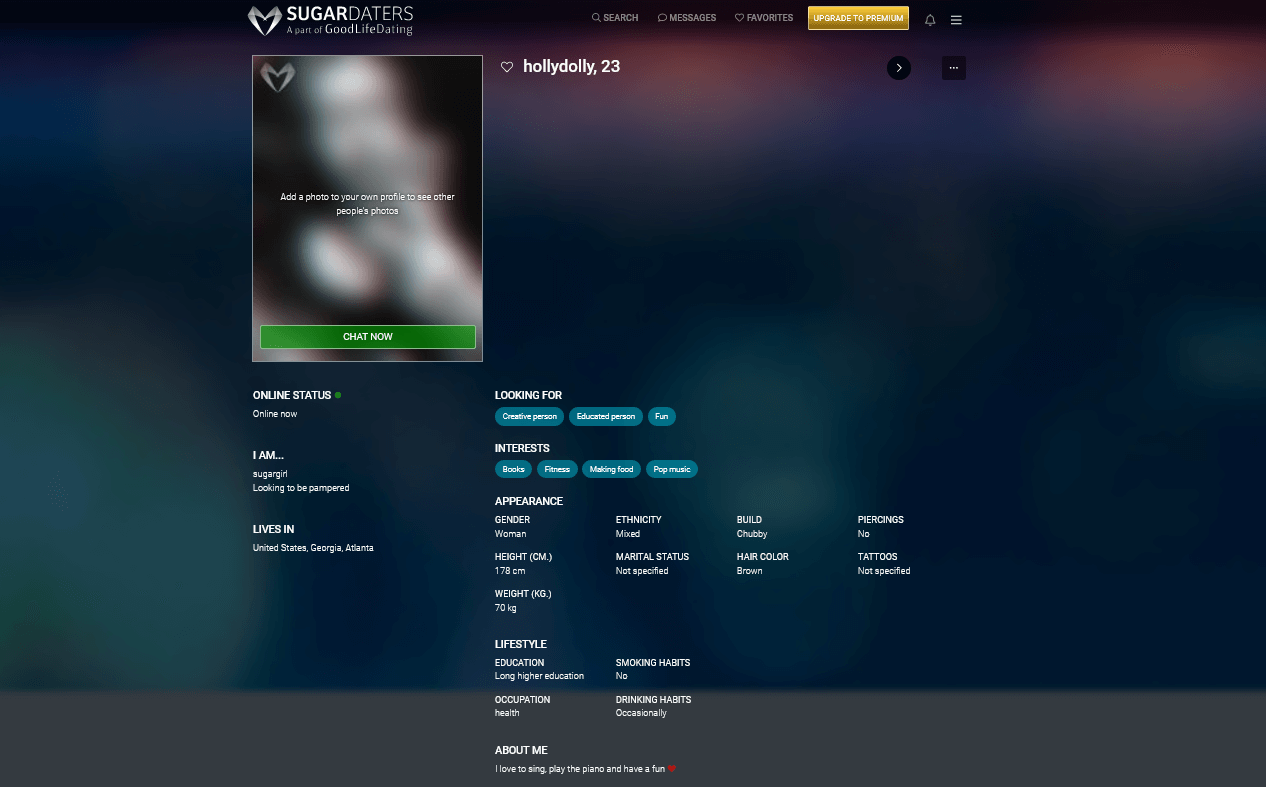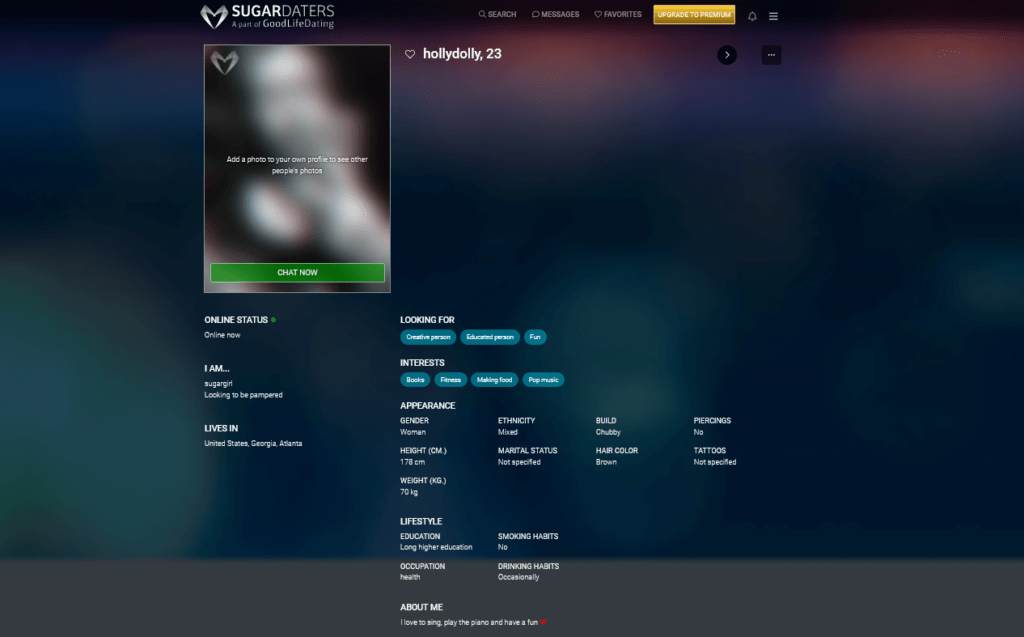 Opting to take out membership on the site isn't just about messaging.
You get numerous other extra features that you can use during your time on SugarDaters. 
Let's see what those are.
1. Send and receive messages
While I've already mentioned that messaging is for members only, it's probably the key feature if I am honest.
If you receive a message, you can read it and you are free to send out as many messages as you'd like.
You simply cannot hope to find a sugar daddy, sugar momma on Craigslist, or sugar baby without the ability to send messages.
If you'd prefer, you don't have to post a profile picture of yourself when you are a member but you will still be able to see the pictures other users have posted on their profiles.
3. See who has favorited you and viewed your profile
While sugar babies can already see who has favorited them or viewed their profile, a sugar daddy or a sugar mama looking for a young man without a membership cannot.
Take out membership and this key feature becomes available.
It's useful too because it shows who has shown interest in your profile and you can act on that if they haven't.
Many users, particularly sugar babies have private photos on their profiles.
With membership, you can now view these photos.
Of course, you will need to request and be given permission by each user first.
And that's it for the key features.
There aren't that many but you must remember, even regular users get to use the advanced search engine to help them find matches.
Usually, you will find something like this behind a paywall.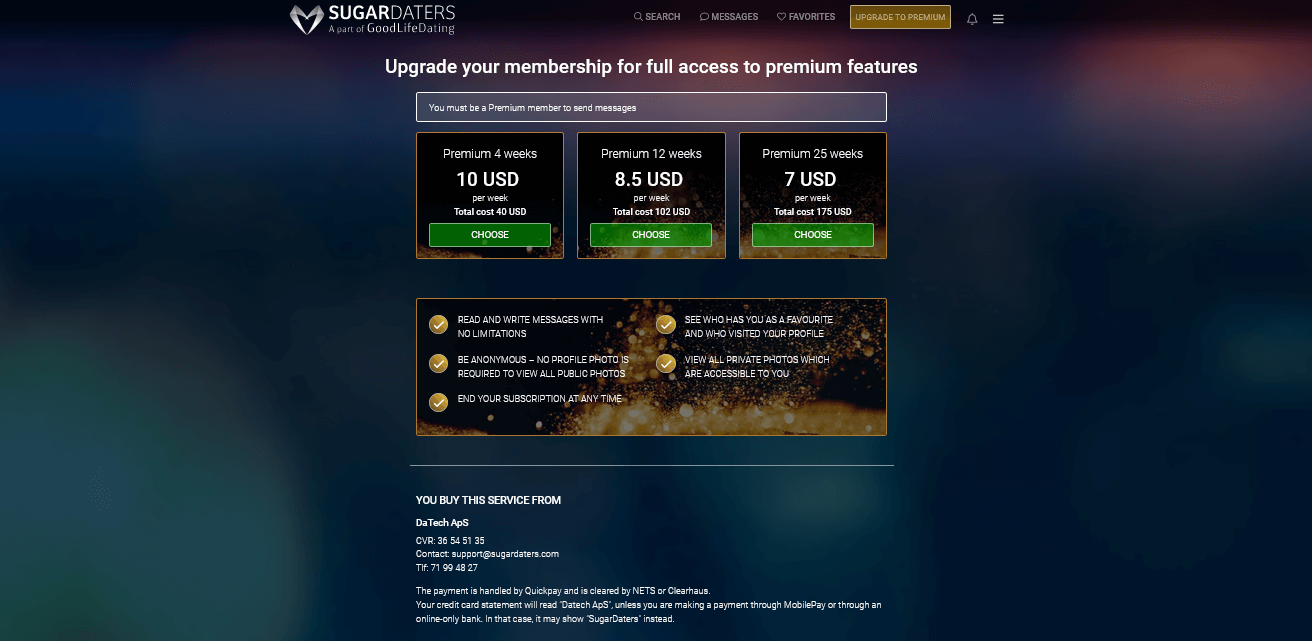 Let's take a quick look at the options you have when it comes to membership packages.
There is no form of trial membership but you do have a choice of three different packages over a month, three months, and six months.
Here's the breakdown of prices:
1-month membership: $40
3-month membership: $102 ($34 per month)
6-momth membership: $175 ($29 per month)
In terms of the pricing, it's on par with many another sugar baby/daddy dating sites.
And I feel it's very reasonable considering those having to pay can certainly afford it with no real problems.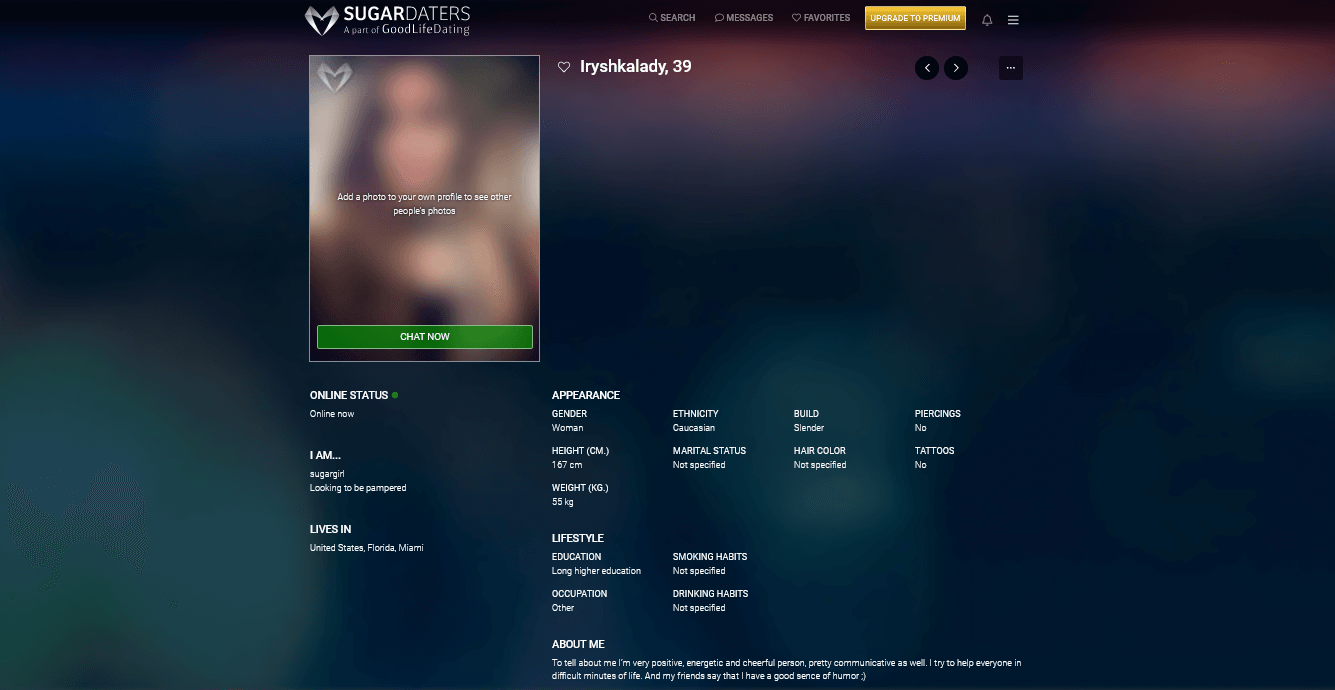 Conclusion And Overall Rating
Without a doubt, this is a sugar daddy dating site that has very much to offer.
First off, it has over 1 million members which is a very decent user base and more than some of its rivals.
I love the overall ease of use too, from the quick registration process which included filling out most of your profile to just how the site operates in general.
The profile quality was good too in terms of potential matchups.
I found numerous young women as potential matchups and non of them seemed to be running fake profiles or running sugar daddy scam format.
Perhaps one of the only downsides to this site is that it's more popular in Europe (having started in Denmark) than in the United States.
That said, there are both sugar daddies, mommies and babies to be found in America, especially in the larger metropolitan areas. 
For an overall rating, it gets a very respectable 3.8 out of 5.