Hello and welcome to our review of Paktor, a dating app that's specifically targeted at Asians.
While its user base is still growing in the United States, in Southeast Asia, Paktor has become one of the go-to apps for Asian dating.
It's big in several countries in that region, particularly Taiwan, Singapore, Indonesia, and others where online dating continues to grow at a phenomenal rate.
This app is not exclusively for hook-up (like BeNaughty or Ashley Madison), it is more for people looking for long-term relationships (like Tinder or eHarmony).
OFL Top Recommendations based on 100,000+ Survey

"Serious Relationships"
"Discreet Hookups"
"Best Course for Men"
"Quick Flings"
"Normal Hookups"
"Our Quiz"
In this Paktor App review, we'll go in-depth into the overall functionality of the app and whether it can help you find that perfect match.
Also covered are:
Come along and get a conclusive understanding of the app!
Is your dating app giving you the best chance for success?
Make sure to take our online dating site/app quiz to find out.
It's a fact that people who follow our dating site suggestions have on average 2 extra dates per month.


Ease of use – 4/5
Effectiveness – 3/5
Key features – 4/5
Pricing – 3/5
15 million users
Available for IOS and Android devices
Simple and easy to use
Comprehensive profiles for a dating app
Subscription is needed for communication
It's pricey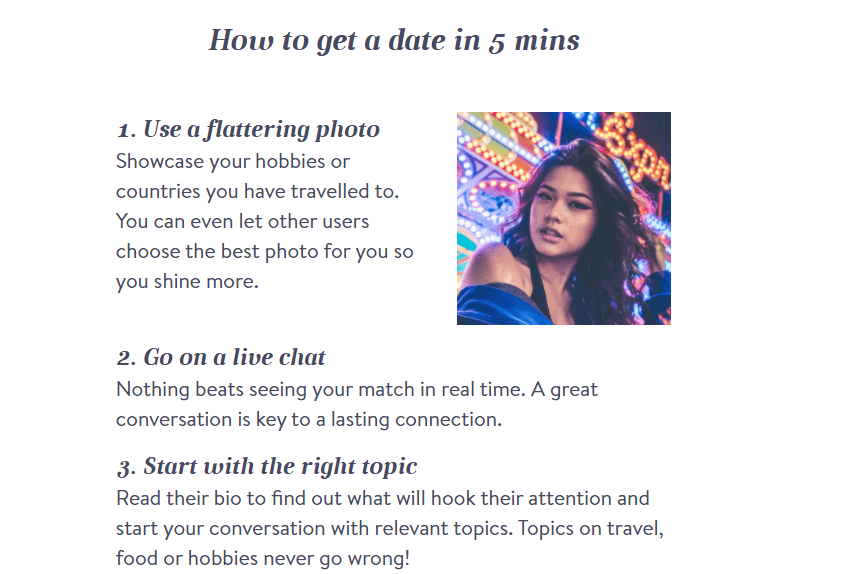 Who Is It For/Demographics?
According to GoPaktor, the information website for this dating app, it was started in 2013.
At the time, those behind Paktor saw the need for an Asian-based dating app.
And in a few short years, Paktor has helped enable 5 billion profile views.
OFL Top Recommendations based on 100,000+ Survey

"Serious Relationships"
"Discreet Hookups"
"Best Course for Men"
"Quick Flings"
"Normal Hookups"
"Our Quiz"
That's over half the population of the planet.
And as we've seen, these users come from all over the Southeast Asian region, from Korea down to Indonesia.
But just how many people have started profiles on the app?
Well, according to research I carried out, it's around 15 million.
The biggest contributing countries to that user base are:
Korea (5 million)
Taiwan (4.8 million)
Singapore (1.5 million)
Those user numbers make this the biggest online dating startup in the region.
Gender ratio and user age ranges
For me, it's always interesting to look at the breakdown of gender ratios on dating sites.
Often, they vary so much depending on the type of site you are looking at.
Well, Paktor is very similar to something like Tinder.
In fact, if you look at a country like Singapore, these are the two biggest apps used for online dating.
But according to worldwide statistics, which I am sure we can apply to an Asian perspective as well, there are far more men using Tinder than women.
In fact, it's a ratio of around 2:1.
In Paktor, it's a lot closer.
Yes, there are more males, but they are just more than half of the users on this dating app.
55% of users are male
45% of users are female
And the age ranges of users?
What's the biggest and most popular age on the app?
Well, that would be the 25-34-year-olds.
In total, they account for more than a third of all those who have signed up as Paktor users.
Here's a full breakdown of all the age ranges based from most popular to least popular:
25-34-year-olds: 35% of all users of which 18% are male and 17% female
35-44-year-olds: 20% of all users of which 12% are male and 8% female
18-24-year-olds: 19% of all users of which 11% are male and 8% female
45-54-year-olds: 16% of all users of which 9% are male and 7% female
55 and older: 10% of users of which 5% are male and 5% female
On the whole, the site is most popular with users from 18 to 34 years old.
Over half the users are in the two youngest age ranges.
But looking more closely, it's a very good spread across all of them.
And if you consider there are 15 million users on the site, even the 55 and older group numbers around 1.5 million in total.
Sometimes looking at user numbers for various age ranges puts things into perspective, especially if you think your age range doesn't contribute a huge percentage to total users.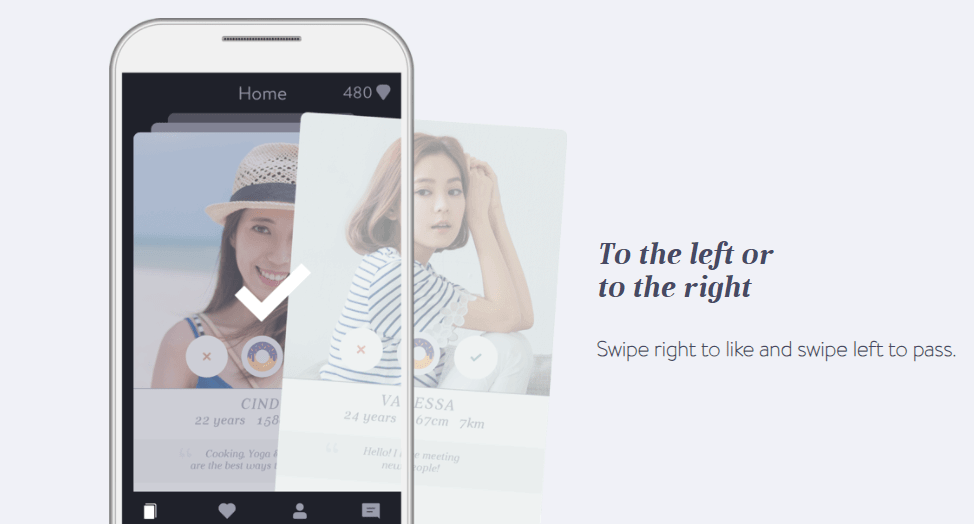 Available on GooglePlay and the Apple app store, you can download Paktor for free.
And it takes mere seconds to install.
Everything from this point onwards is geared towards getting you online as quickly as possible to start your journey and hopefully swipe right on a few matchups.
To begin the process, you will need to either have a Facebook or Google account.
You cannot register for an account if you don't use one of these.
Then you have to provide the following:
Your name (this is auto-filled with your name off your social media account but you can change it)
Your gender
The gender you want to meet
Email address
Date of birth
Your height
A profile pic (and no, you cannot skip it)
You can also describe yourself.
But you don't have to type anything.
You can actually record your description.
Pretty funky, right?
It certainly is a little different but if you'd prefer not to, you can skip this part.
Paktor then uses your location to find matches near you.
Once that's done, you are free to start using the app in your quest to find matchups.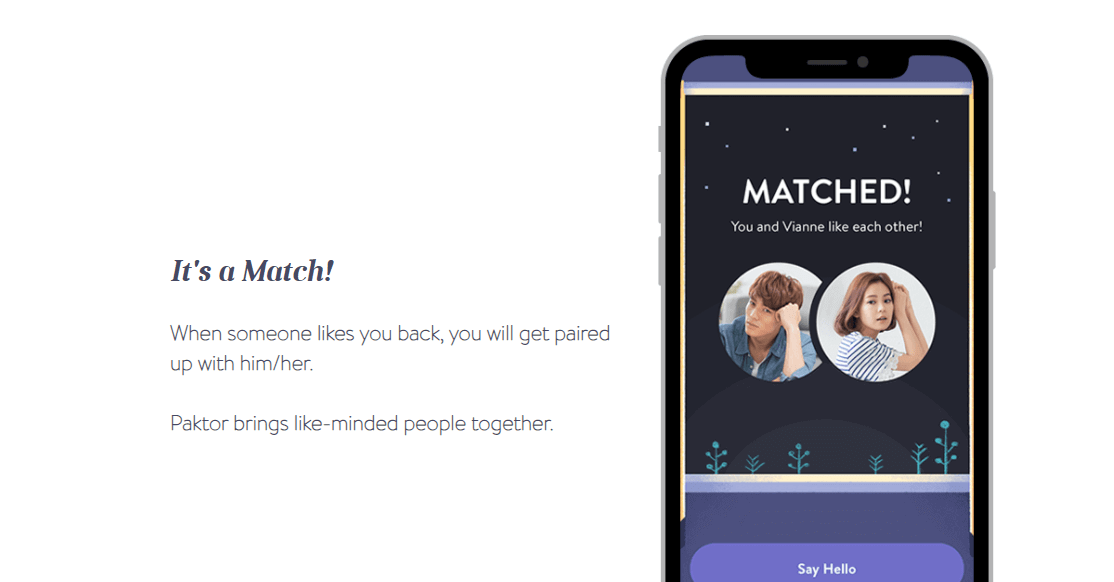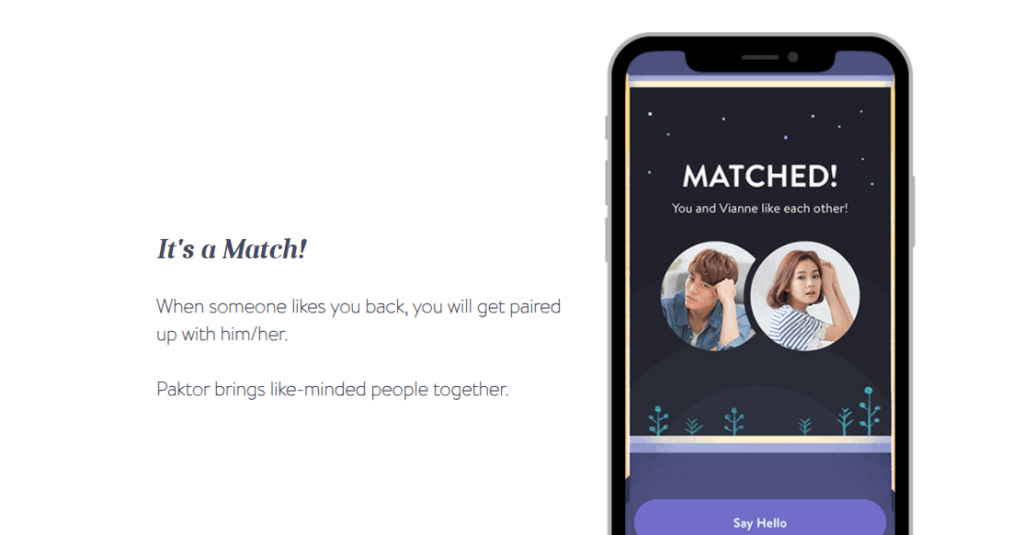 Navigating your way around the app
If you've used a dating app before, there's nothing that's going to trip you up on Parkor, that's for sure.
That's because while it has its own unique elements, it's still very similar and uses a Tinder-style interface.
But let me take you through it anyway so you know exactly what to expect.
The main menu system that you will use is found at the bottom of the screen
And there are just four menu icons:
Rectangles (Home): This takes you back to the home screen which is the matchup page where you can view your potential matches and either swipe left or swipe right on them. More on that a little later in the review.
Heart: Click here to see who has liked your profile. Like them back and it's a mutual match.
Winking smiley: Use this to send chat requests to other users the site has handpicked for you
Silhouette of a person: There are a few sub-menus here such as profile, rewards, advanced filters and app settings.
Speech bubble: This is where you can find the messages that you've both sent to others and received from users
There are two menus that you will notice at the top of the screen as well.
The one on the left is a live chat feature that GoPaktor offers.
On right, you will see how many Paktor points you have.
These are used in several ways on the site, for example, to send gifts to other users.
The cool thing about Paktor is that by spending time on the app, you can add to these points with rewards.
For example, if you log in daily, you will get a "Daily Reward".
This gives you 10 Paktor points to your overall total.
Complete your profile and you get 245 points
Take a look at other users' photos and you get 10 points.
Here are the other ways in which you can earn these points:
Continuous visits
Daily swipes
Make it to the Top 25, Top 10 or Top 3 profiles in your area
It's a fun addition, that's for sure and the rewards are excellent because you can use them to your advantage on the app.
So it's important to revisit your Paktor profile because during registration, you only completed 33% of it.
Once you've had a look around the app, this must be your next step before you start seriously looking for a matchup.
To access your profile, you will need to click on the menu at the bottom of the screen that looks like a silhouette of a person.
Once you've clicked on that, you can access your profile from the menus you find at the top of the screen.
Profiles on the Paktor app are packed with awesome information.
I love dating sites that have comprehensive profiles because they can immediately tell you if you should be pursuing someone or not.
And I always take a good look at someone's profile before I swipe right or left.
Yes, the initial attraction plays a part in that decision but their profile also plays a role and I am sure many of you are like that too.
While there's quite a lot of information still to add, filling in your profile won't take more than five minutes.
You are going to need to provide the following to do so:
About Me section: If you didn't record a voice note during registration, you can type your "About Me" section now.
Horoscope
Blood type
Body type
Job industry
Personality: Select from three words that best describe you
Smoking and drinking habits
If you have a pet
That's it.
You can also connect your Paktor account to Instagram if you'd like.
This allows others to see even more photos of you.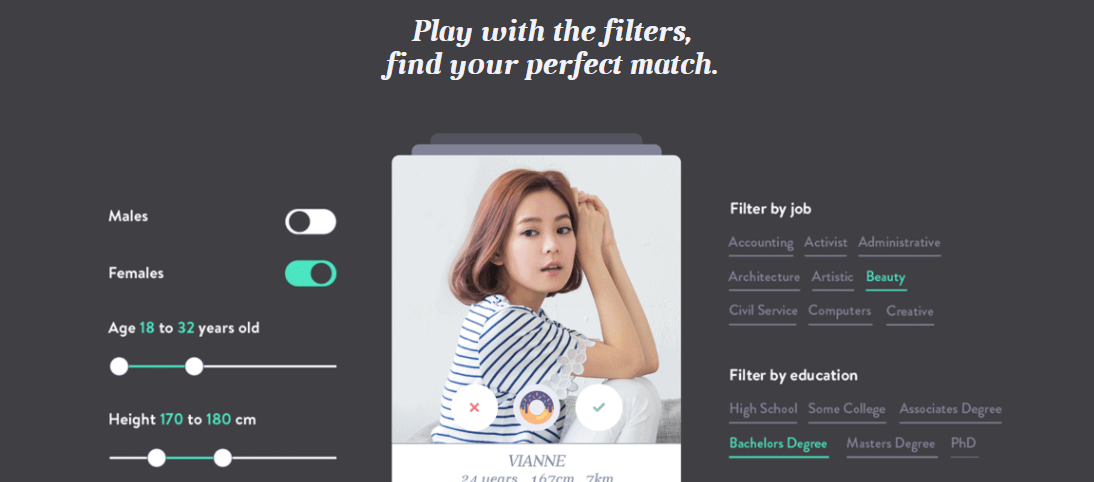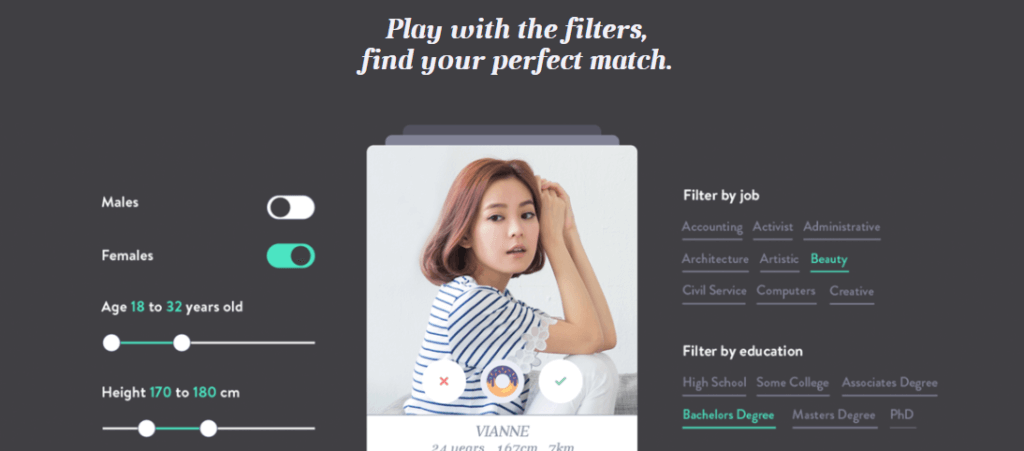 So let's get onto just how you'd go about using the Paktor app in the best way possible.
Well, as we've already discussed, like most dating apps found for IOS and Android handsets, swiping is the name of the game.
By clicking on the Home menu, Paktor will provide you with the matches that are closest to you and within the age range that you are looking for.
Finding the right matchup
So once you've started the process of finding a matchup, you simply need to swipe left if you don't like them and swipe right if you do.
There's nothing new there.
If you want to find out a little bit more about someone before you make that decision, you can swipe up for their profile.
But you will notice something else as well.
You can ask them questions.
These are pretty random, for example, are they a night owl, what music do they like and others.
You get three questions to choose from and you can only pick one.
Although it says this is for free, when I tried this feature, it costs 1000 Paktor points per question.
If you are a member, you do get 1000 of these points each day and you can add more as I have explained earlier.
So what happens then when you find someone that you'd really like to start chatting to?
Well, show them that you are interested.
To do that, you can click on the Winking Smiley icon at the bottom of the screen.
You too will receive chat requests like this from others which will appear under the speech bubble icon.
But you are going to need to be a premium member to reach out to other users in an effective manner.
Also, if you'd like to make changes to the filters applied to the types of matchups you receive, it's easy to do so.
Just click on the fourth menu from the left on the bottom of the screen (the silhouette of a person) and under that, you will find the search filters.
For regular users, all you can change is gender and age ranges.
Advanced users can add all the parameters you can find in your profile as well to help refine their searches.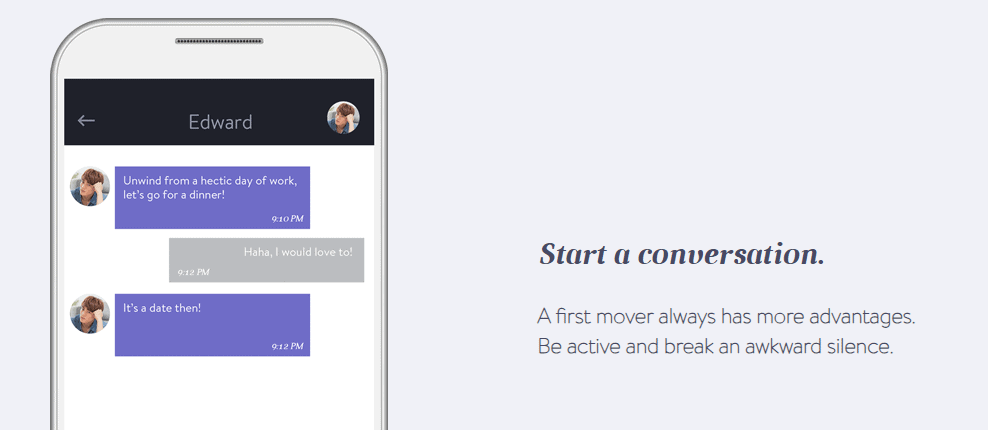 As with all other dating apps, finding the perfect match means looking into a premium subscription.
Paktor is just not going to be that effective for you if you don't.
Luckily, with a subscription comes plenty of features and we are going to look at the most critical ones now.
The first and most obvious benefit of a premium subscription is that you can message other users.
Other than liking someone's profile on the app or sending them a wink, you have no other way of really showing interest in someone.
And you would like to get to know them better, then messaging is a must, there really is no other way.
If you opt for a subscription, you also get the chance to enter the Live Chat area.
When you send someone a chat request and they accept it, you can now find those users under the Live Chat menu.
Now you can talk to them in real-time.
What is it with dating apps and gifts?
Many of them make gifts available to send to other users.
That's something you can do should you take out a subscription on Paktor.
Of course, this is going to cost you Paktor points.
It's possible to change certain filters on the matchups returned to you by the app.
For example, as a regular user, you can adjust the age range of matchups and their gender.
But for premium subscribers, you can add a few more like location, height, profession and more.
An imperative tool to have for any dating app, knowing who liked you opens the doorway to new friends and maybe more.
If someone does like you and you aren't a subscriber, you can see that they have but their picture and their profile are inaccessible.
They might come up in your matchup returns and you might like them back but that would just be by luck.
Instead, if you are a subscriber, as soon as someone likes your profile, you are alerted and can like them back to open up communication.
By boosting your profile, you can have more users reaching out to you.
According to Paktor, by boosting your profile for 30 minutes, you can reach up to nine times more users than a regular user would.
6. Even more Paktor points
As a paying subscriber, you get even more Paktor points to use on the app.
Overall, I am impressed with what's available to those with a premium subscription.
It's certainly something that you are going to need to use the app effectively.
But other than the ability to message others and see who has liked you, which are essential to success on Paktor, the other key features are more than useful.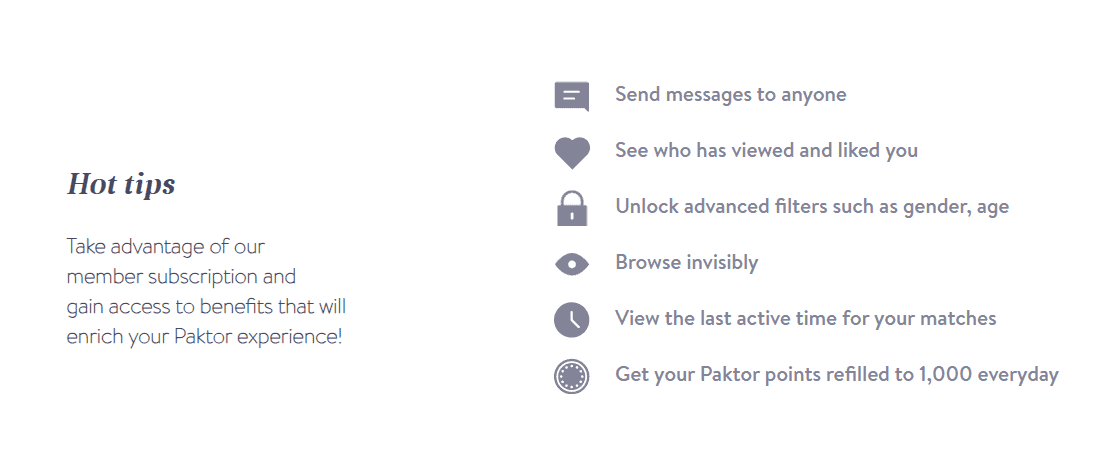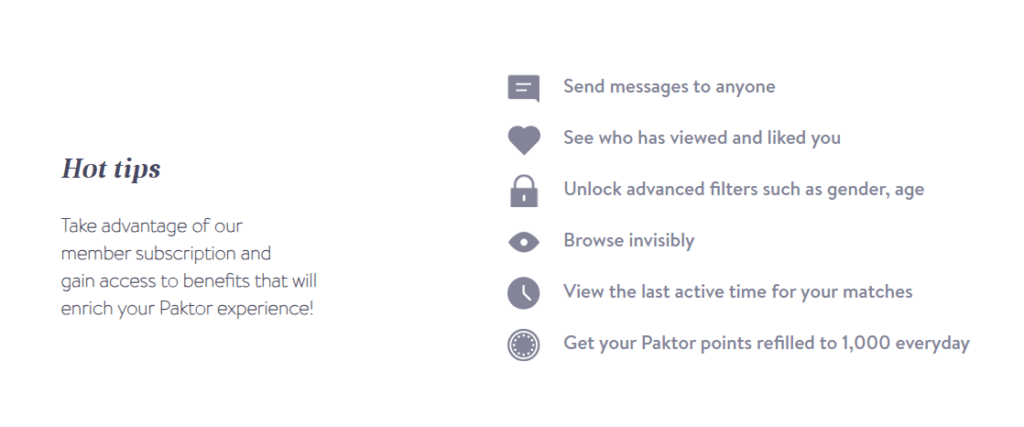 When it comes to pricing, dating apps are usually a lot cheaper than an online dating site.
So is that the case with Paktor?
It is a little cheaper, but not by that much.
Here's the full list of membership options:
1-month subscription: $29.95
3-month subscription: $75.00 ($25 per month)
6-month subscription: $115 ($19.15 per month)
12-months subscription: $206 ($17.20 per month)
You may think that's a little expensive but you've got to remember that this technically isn't a regular dating app.
It's catering to a niche market and that means prices usually increase a little.
But having said that, Paktor often runs specials.
In fact, while I was using the app for this review, you could pick up a monthly subscription for just $17.
So lookout for those.
You have a few ways to pay as well, not just your credit card.
Paktor accepts certain gift cards and you can use PayPal as well if you'd prefer.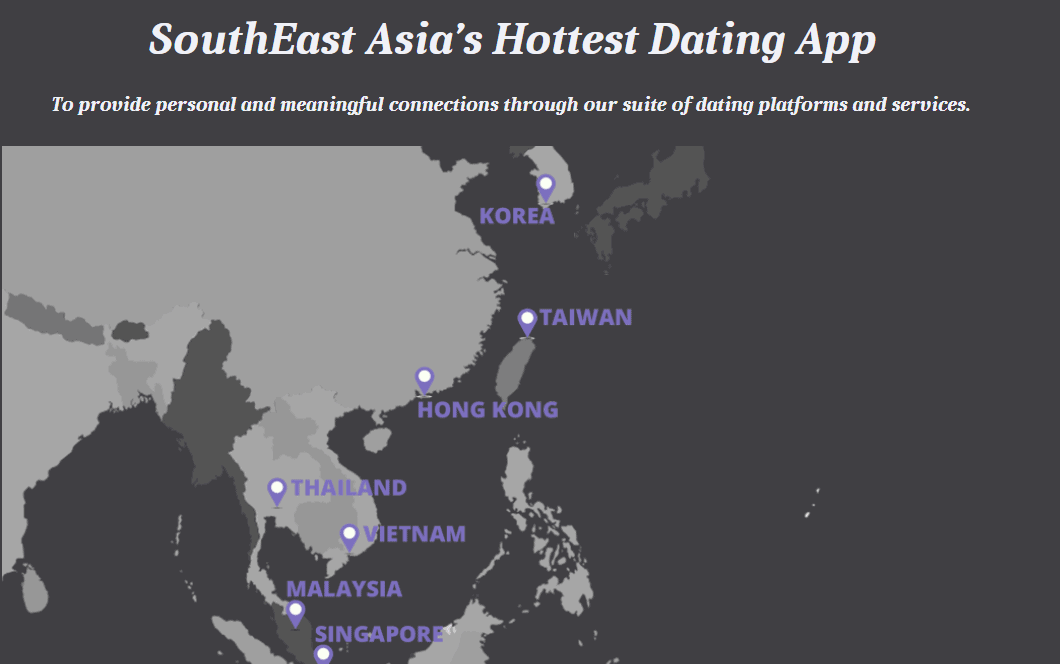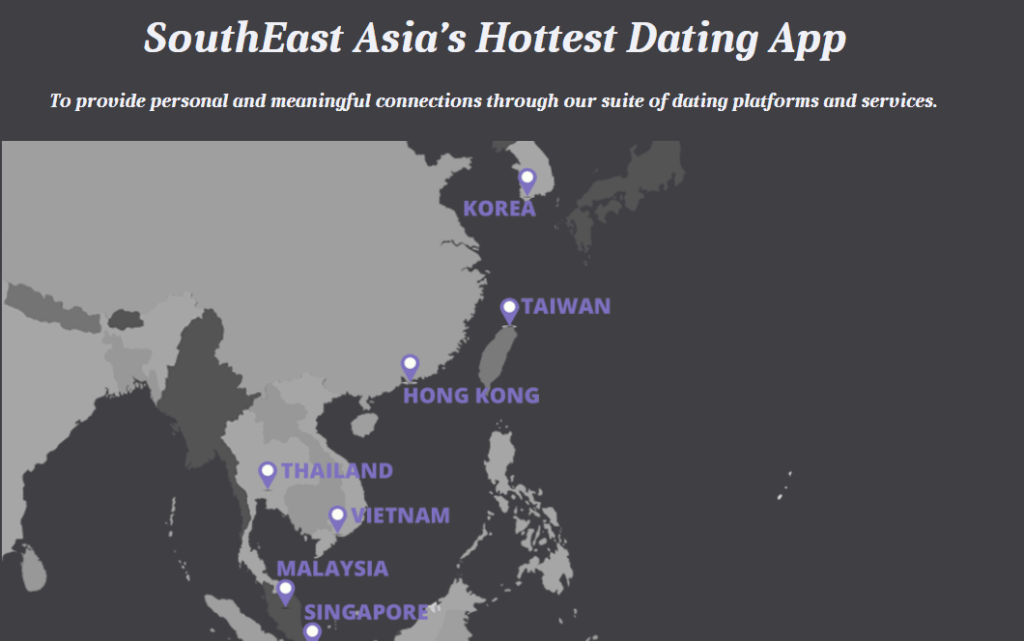 Conclusion and Overall Rating
Thanks for taking the time out to read our Paktor review.
In less than a decade, it's become the premium dating app in Southeast Asia, that's for sure.
It's not difficult to understand why either.
For a start, it has over 15 million users.
So if you are from that area, finding a potential matchup won't be a problem.
And that's one of the first reasons why someone tries out a dating app, right?
While a subscription to the app is on the pricey side for me, it's necessary to make your time on Paktor worth your while.
There are a few key features that come with it, however.
But what about an overall rating for Paktor?
Well, it gets a solid 3.5 out of 5.
Onlineforlove studied and tested every aspect of Paktor during our time using the app.
Our approach was to give a star rating for the most important criteria for a popular dating app as we reviewed it.
This evaluation was based on these critical factors: price, ease-of-use, feature-set, website population and mobile experience.