Having a secret dating affair is totally easy using the Victoria Milan Dating Site
So in this extensive review of Victoria Milan, we are going to look at just how successful a platform it is in terms of:
So if it's a casual hook-up you are after and Victoria Milan is on your radar as the platform to make it happen, then make sure you read this comprehensive Victoria Milan Dating Site review to see if it is the site for you.
OFL Top Recommendations based on 100,000+ Survey

"Serious Relationships"
"Discreet Hookups"
"Best Course for Men"
"Quick Flings"
"Normal Hookups"
"Our Quiz"
Let's plunge right in! Shall we?
Is your dating app giving you the best chance for success?
Make sure to take our online dating site/app quiz to find out.
People who follow our dating site suggestions have on average 2 more dates per month.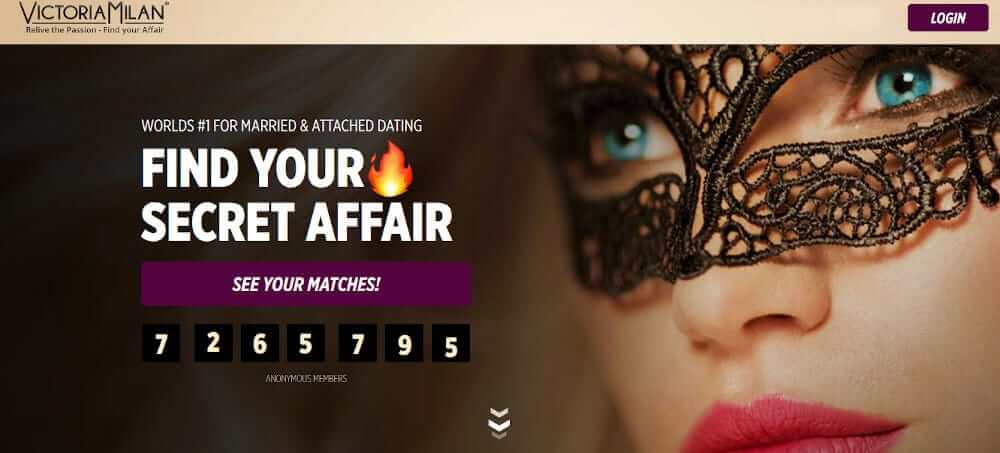 While internet dating has been around for ages, dating sites have changed over the last decade.
Instead of looking for a matchup to possibly spend the rest of your life with, now you can visit specialized dating sites that are all about hooking up with someone for a fling.
Victoria Milan is such a site.
In fact, Victoria Milan is positioned as a site where people who are in unhappy relationships are encouraged to look for others in the same position.
Victoria Milan Review in Video Form
Audio (podcast) form for those of you on the go
Effectiveness – 4/5
Ease of use – 5/5
Key Features 4/5
Pricing – 2/5
Safety is paramount with Victoria Milan and each email account, as well as all uploaded photos, are verified
Registration takes a matter of minutes
The website is well designed and easy to use
Victoria Milan has an app that can be downloaded for both Android and Apple phones
Extremely secure as user privacy is a top priority of Victoria Milan
Some onsite features aren't available on the app and vice versa
Pricing is steep
No option to sign up for one month as membership options only start with a three month sign up.
You need to be a member to message anyone

Who is it for/Demographic Makeup?
As a site that openly promotes hooking up with others, Victoria Milan is aiming themselves not at only one group of people or even a certain age.
This is a site for anyone who wants to meet someone outside of their current relationship or even if they are single.
A dating site is made or broken not only by the number of users it has but by how active it is.
User numbers, however, can be a little deceiving.
Why?
Well, a dating site can claim a million users but if only 10 people are active each week, it's not a very good dating site and your chances of finding that perfect match up are very small.
And the thing that strikes you straight away when signing up for a profile on Victoria Milan is the fact that they have a user counter right on their front page.
That claims over 7 million people who have signed up for the site all over the world.
That's a staggering figure.
Whether it's true or not, well, who can say but it's the basis for the people behind Victoria Milan to claim it as the No 1 cheating portal for married and attached people.
If I had to hazard a guess, I would say that 7 million users is a bit of flashy marketing.
And that's because when we look at other data, certain areas present lower than you would expect from a site with over 7 million users.
Here are I talking about these critical figures – the number of users from the United States and the all-important, active users per week figure.
So what are these?
580 000 users are from the United States
100 000 users are active on the site each week
Well, those are impressive and put Victoria Milan on par with other popular dating sites, they don't seem to agree with the fact that the site has 7 million users, right?
Ultimately, that's not important, as long as the site has matchups and that we will discover later in the review.
Before we get onto just how effective Victoria Milan is as a hook up site, I think we need to have a look at the age breakdown of users as well as the gender ratio of women to men.
Here is the user age breakdown at Victoria Milan.
25- 34 years old
35-44 years old
18-24 years old
45-54 years old
55 and above
When it comes to the gender ratio, 60% of those who use the site are men and 40% are women.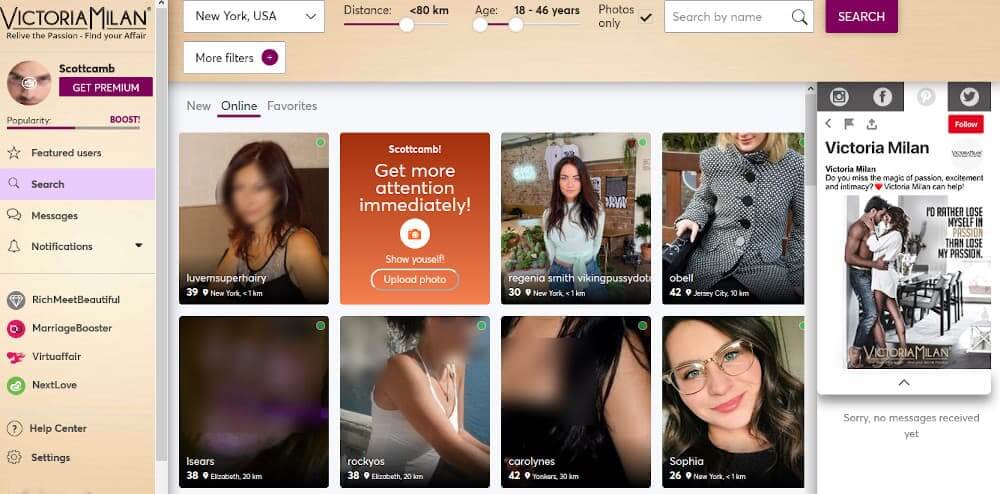 So we've established that while Victoria Milan might not have the number of users that it claims, there's enough going on in terms of activity to make the site worth a look at.
Of course, if you've used a dating site or even a hook up site like this before, you already know that as a regular user, there aren't that many features available to you.
So actually getting into contact with someone without spending cash is bordering on impossible.
That said, in determining how effective Victoria Milan is overall, we need to start at the beginning.
And that's the way it deals with searching for potential matchups when you first sign up.
To start searching for a potential hook up is simple.
Victoria Milan gives you the ability to adjust a range of search parameters so there's plenty of control in your hands for each search you make.
It all starts with the basic search parameters and these are:
Location (from a whole country to a specific city)
Age range
If you only want to search profiles with photos
Using those is going to bring you plenty of potential hook ups and its a great way to get a feel of the site overall and what you can expect.
But there are more filters available to you as well, 24 in fact.
Other than the regular height, weight, eye color, hair color, body type and orientation loads of others.
For example:
Best feature
Diet
Interests
Looks
Piercings
Personality
Sex drive
What type of relationship they are looking for
Tattoos
Turn on's
And of course, not everything is going to be filled by all users.
But for those that do, well they will turn up in your more intricate searches then where you've taken your time to specify these parameters.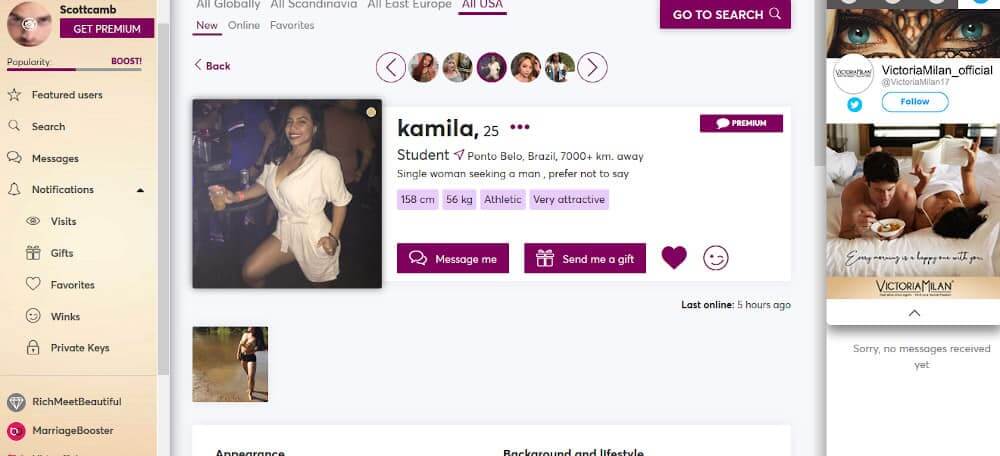 Say you've found someone that you'd like to get into contact with.
How would you go about that?
Well, if you are not prepared to become a paying member, you won't be able to send them a message at all.
But what if someone messages you?
Can you read that message?
No, you can't so again, if you want to send or read a message, you are going to have to be willing to cough up some cash to do so.
So what can you do then?
Well, as a non-paying user of the site, you do have a few options when it comes to showing someone that you are interested in them.
This comes in the form of the "wink".
It's a concept used on many other dating sites, in fact, some of them also call it a "wink".
Effectively, it's telling someone that you are interested in them by using a virtual flirt.
While on their profile, you can also click on the "favorite" button.
All the profiles you've favorited over time will now appear on your profile while you can also see who has favorited you.
But say you were prepared to pay for a membership to be able to send and receive messages, what other key features can you expect for your cash layout?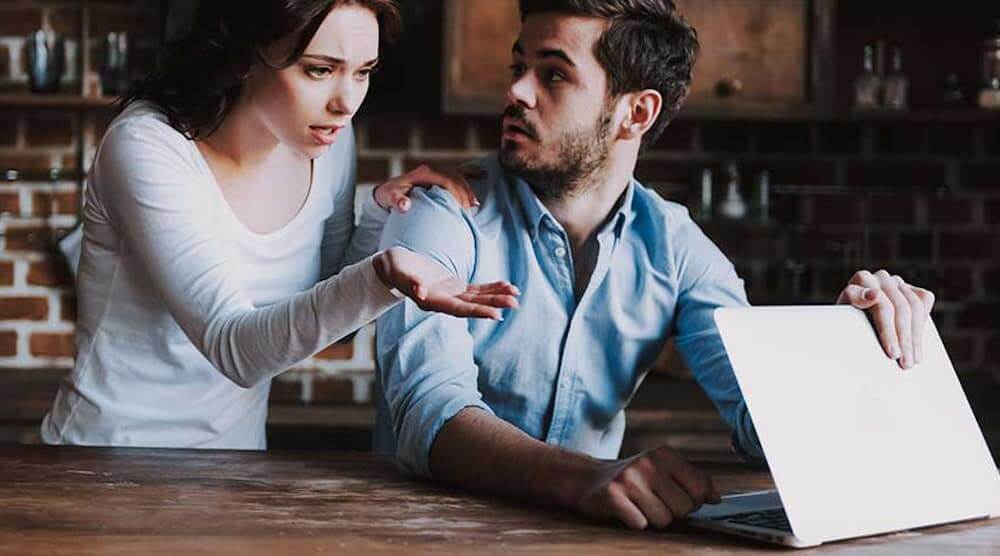 As a paying member of Victoria Milan, these are a few of the added extras you can expect.
1. Finding out more information about a potential match
When you've searched through a few potential matchups, you may notice that on their profiles, they have sections marked "ask me".
These are found under certain parameters that they might feel is more private and shouldn't be available for all to see.
For example, it might be something like piercings, their orientation or what ethnicity they are.
As a paying member, you can approach a matchup and ask them about that specific part of their profile that you would like to know more about.
Instead of sending a message and waiting for a reply, as a paying member you can talk directly with someone whose profile you have liked.
Their names will now appear on the right hand side of the screen where you can quickly type a message and send it on.
This feature on Victoria Milan is known as the Chat Box.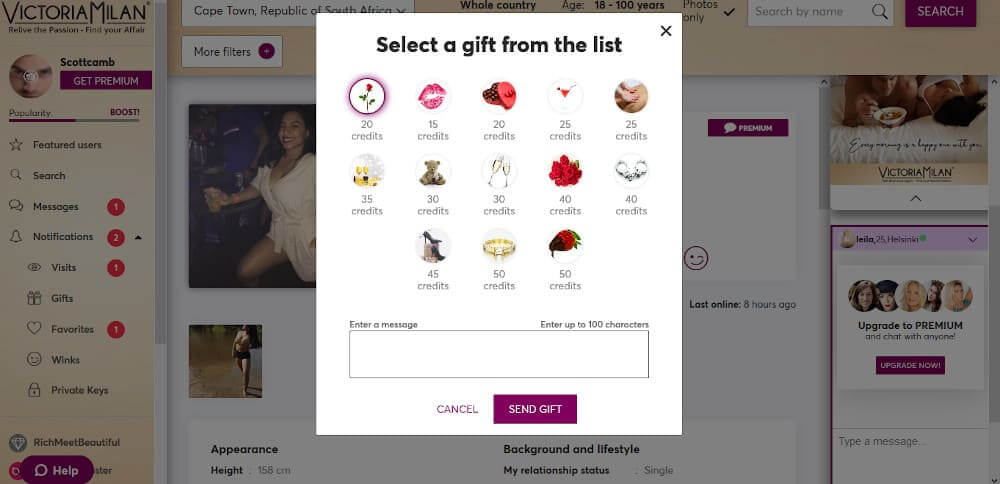 Victoria Milan is not the first dating site to make use of virtual gifts and it won't be the last.
If you sign up for a premium membership, you will also be afforded a certain number of credits to spend.
These can be used to send virtual gifts to potential matchups.

You can track the gifts you've sent as well as the gifts you have received from your profile.
As a paying member on Victoria Milan, you will have access to the private photos of other users.
You are also allowed to store private photos of your own which you can then allow other paying users access to.
So with a site that's openly encouraging their users to have affairs, you'd expect something like this to feature on the site.
What the panic button at Virtual Milan does is quickly take you off site to another, less suspicious web page, for example, YouTube.
So if you are someone who has a partner, Virtual Milan think this will come in handy.
Should you wish to upload a picture of yourself to your profile, you also can add a blurry effect to it or to add a mask to your face.
This could be useful if you want to keep your identity from others but sort of give an idea as to what you look like.
While you can search for other members that might be living near you, there is also a featured member list of people all over the world making use of Virtual Milan's services.
For me, this added extra for members is a little hit or miss.
This is a hook up site first and foremost, so you are going to looking local more often than not, right?
Overall, there are some excellent features available to you if you want to become a member.
Others, however, like the ability to send virtual gifts are a little more gimmicky.
The critical thing that membership gives you, however, is the ability to send messages and to use the chat feature to communicate with someone who has caught your eye.
Without that, trying to make contact with someone is impossible.

In terms of ease of use, where does Victoria Milan rate when put up against other dating sites?
Well, it's right near the top.
The first thing you will notice is the overall design of the site and just how functional it is.
Everything that you need to search for potential matchups as well as dealing with your profile or scanning through others is simple to find and use.
The site makes use of a left-hand side bar to navigate all these critical features.
Profiles and other things that you'd like to view appear in the middle of the screen while a right-hand side bar links to people that have messaged you so it's easy to click on their name and see what they are saying.
The site is also very well designed and pleasing on the eye.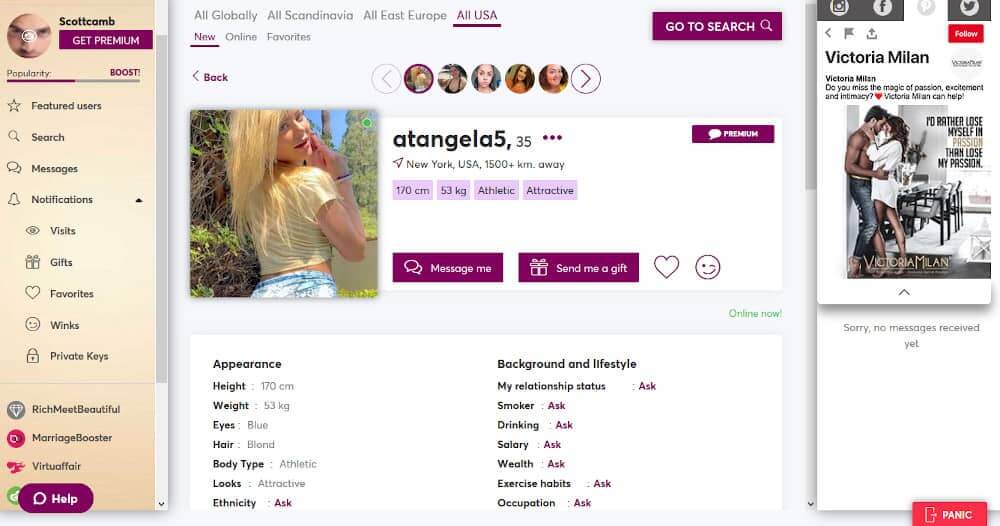 Is it easy to set up a profile?
Nothing could be easier.
Signing up takes just a few minutes.
While you can sign in using the standard route of giving a registered password, answer a few questions and then waiting for a verification email, you can also use a social media account to speed up the process even more.
Normally, dating sites like this use Facebook in this regard but Victoria Milan also allows you to use your Google or Twitter account.
It's nice to see so many options but in fairness, I would stick to the traditional route.
As Victoria Milan are very serious when it comes to security, I found it interesting that you don't have to attach a pic to your profile.
If you chose that route, you are assigned a generic picture but it's clear for all to see that it's not you.
Does Victoria Milan have an app?
Victoria Milan does have an app.
It's available on both the Google Play Store as well as the Apple iStore.
While it doesn't have the panic button option that you will find while using the website, it does include a useful people nearby feature.
So when you log into the app, you can quickly see the other members of Victoria Milan that are near your location.
The app also doesn't feature a video chat option which is available on the website.
Other than that, the app shares the same design as the Victoria Milan site and it's easy to change between them if you'd like to.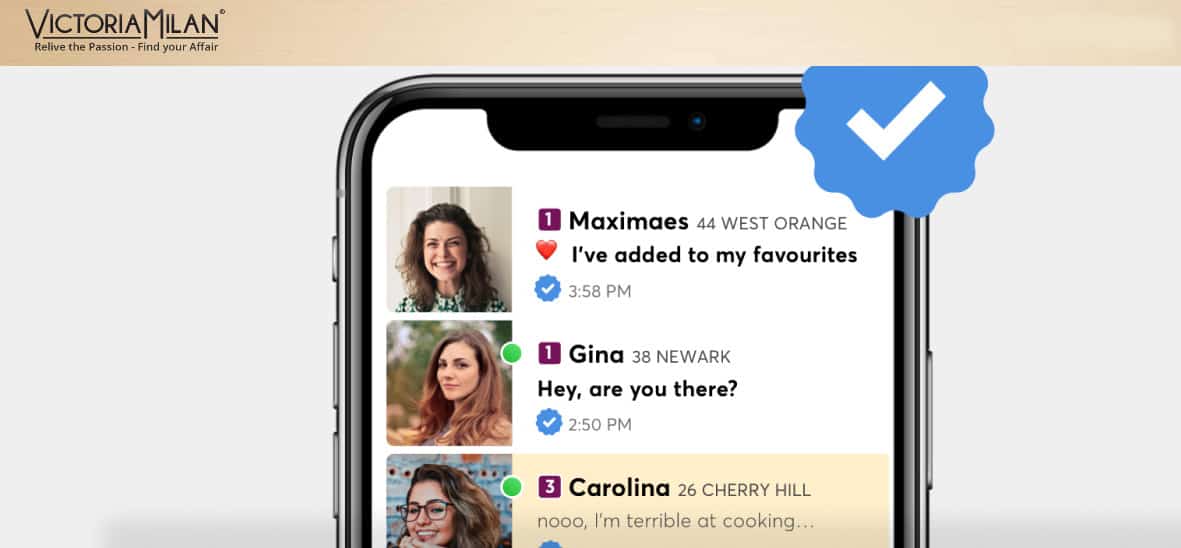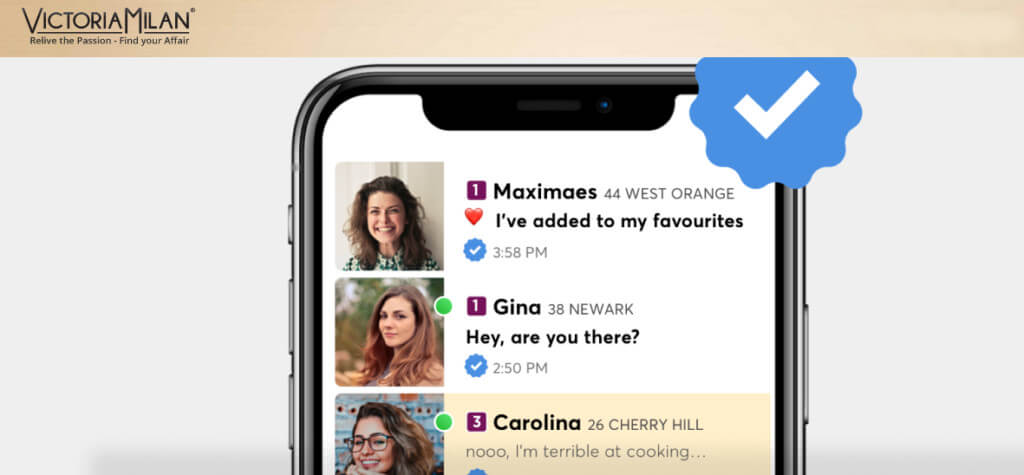 I've already mentioned it earlier, but if you want to make meaningful contact with another user of Victoria Milan, you are going to have to pay for membership.
Take note, unlike other dating sites, there is no trial membership for a couple of days to see if you like what Virtual Milan has to offer.
If you want to sign up, it will be for THREE months at least.
But what are the costs for membership.
Well, here is a breakdown.
3-month membership – $149.99 ($49.99 per month)
6-month membership – $239.95 ($39.99 per month)
12-month membership – $359.88 ($29.99 per month)
I think that this pricing model is going to potentially turn off people who'd like to try the site but don't want to sign up for a month.
Of course, by signing up, you get all of the key features that we listed above.
Conclusion and Overall Rating
Well we are coming to the end of this deep dive into Victoria Milan, a site that has much to offer.
Overall I would give a score of 3.9 out of 5.
This would have been much higher if it had not been for the pricing structure adopted by the site.
I just feel that not having a one month membership option is a massive oversight.
All other dating websites as well as those that are positioning themselves a purely hook up sites like Victoria Milan is, do have the one-month option.
Some even offer a shorter trial membership of a couple of days to get a potential member to test the waters so to say.
Other than the pricing problem, the rest of Victoria Milan is impressive.
There are many users online often, the search parameters can be tweaked to find exactly what you are looking for and it's easy to contact a potential match, providing you are a member.
The key features offered for members are numerous but some are a little more hit and miss than others.
Frequently Asked Questions