Welcome to today's dating site review where we delve deeper into the world of Sex Search.
It's a site that supposedly has millions of users the world over and as you probably can guess due to its name, is totally focused on helping people hook up for some hot action.
Yes, this is all about one-night-stands and no-strings-attached sex.
It's where finding someone to get down and dirty is all that matters.
OFL Top Recommendations based on 100,000+ Survey

"Serious Relationships"
"Discreet Hookups"
"Best Course for Men"
"Quick Flings"
"Normal Hookups"
"Our Quiz"
It could be looking for a friend with benefits or just a casual one-off encounter.
Not matter what it is you are looking for, Sex Search claims millions of members just like you.
And so, we are going to put it to the test and judge it based on:
So sit back, relax and see if Sex Search is all that it promises to be.
Is your dating app giving you the best chance for success?
Make sure to take our online dating site/app quiz to find out.
It's a fact that people who follow our dating site suggestions have on average 2 extra dates per month.


Ease of Use – 4.5/5
Effectiveness -3/5
Key Features – 3/5
Pricing – 3/5
Easy registration
Simple to use website
The site provides matches for you
Users across all age ranges
You cannot message others if you aren't a member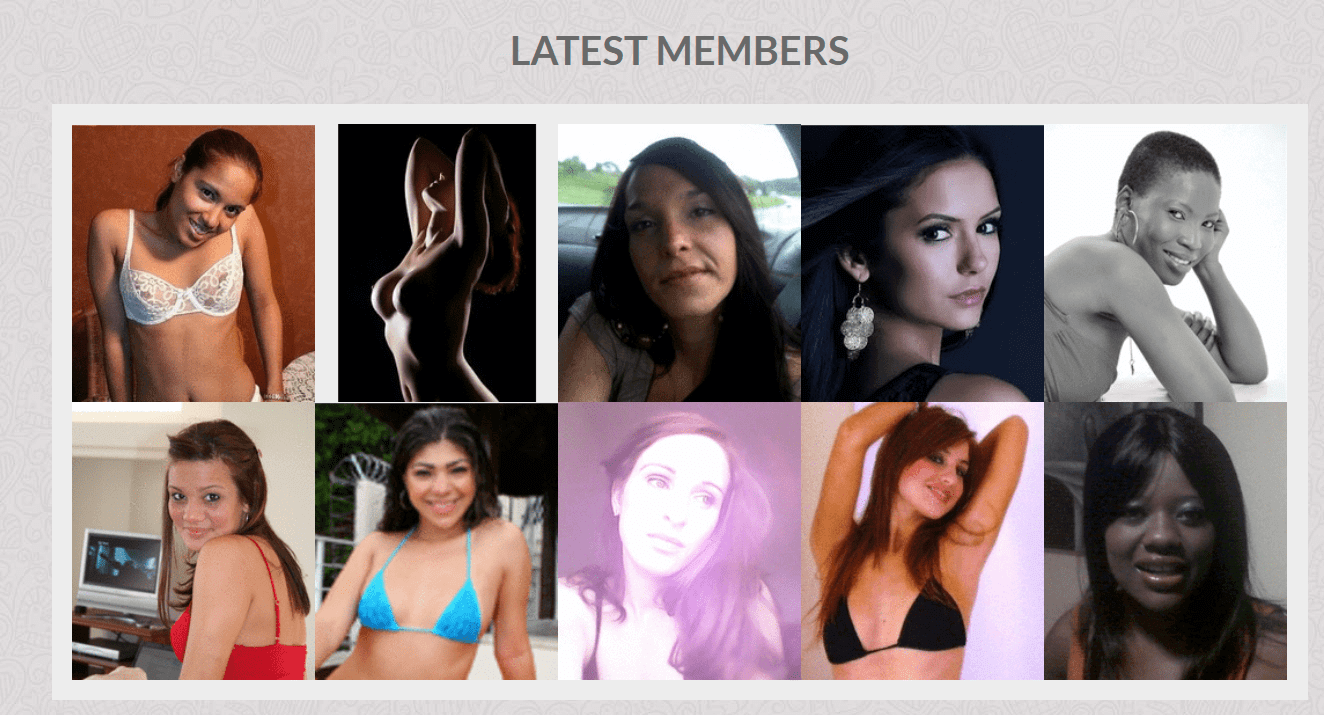 Who Is It For/Demographics?
Plain and simple, this is a hook up site (like BeNaughty or Ashley Madison).
People here want to meet and get it on.
It could be a one-night stand or perhaps something longer.
OFL Top Recommendations based on 100,000+ Survey

"Serious Relationships"
"Discreet Hookups"
"Best Course for Men"
"Quick Flings"
"Normal Hookups"
"Our Quiz"
But no-one is thinking long-term to start off with, that's for sure (like eHarmony or Tinder).
They looking for sexual pleasure and that's what drives them on.
Sex Search is not a stand-alone dating site.
It's part of the Dating Factory that owns a range of dating sites.
So yes, they know a thing for two about running online dating portals, that's for sure.
Sex Search | By the numbers
Because it's backed by a well-established Dating Network, you would expect Sex Search to proudly display their user numbers all over their registration page.
But they don't.
And despite plenty of research, it's was difficult to find any definitive information on what they might be.
That said, this is a site that should provide you with potential hook-ups.
Based on my experience, in and around the small town where I live, I found a number of potential profiles of users who lived within a 50-mile radius.
And they were active users as well.
Of course, the large city you live in the more users you will turn up in your searches.
That the truth not with just hook-up sites, but dating sites in general.
We do have an indication of what the gender ratio breakdown on the site is, however.
If you've ever used a hook up site before and you are a woman, you probably know that it means that you have so much choice.
That's because it seems a regular theme on hook up sites that far more men sign up for profiles than women do.
You'll find that at Sex Search as well.
It's a pretty massive difference between the two as well.
75% of the profiles you will find on Sex Search are male
25% of the profiles you will find on Sex Search are female.
That's a massive 3:1 ratio of male dominance of females when it comes to Sex Search.
Obviously, this isn't ideal for a man but it's certainly not a problem if you are a member of the fairer sex, that's for sure.
Before we look into starting your own profile on Sex Search, let's take a quick peek at the most popular age ranges of users.
Well, it's 25-34 year-olds who make up the biggest group of users.
They account for just under a third of all of them.
The smallest group of users on the site in terms of age are 55 and older.
They are 10% of all users.
Strangely enough, of that 10%, 8% are female users.
This is the only age range in which females make up more users than males.
Here's a full breakdown of the user age groups from most users to least users:
25-34-year-olds (32% of all users of which 24% are male and 8% female)
18-24-year-olds (24% of all users of which 18% are male and 6% female)
35-44-year-olds (20% of all users of which 15% are male and 5% female)
45-54-year-olds (14% of all users of which 11% are male and 3% female)
55 and older, (10% of all users of which 2% are male and 8% female)
Certainly, the age ranges that contribute the most users to the Sex Search user database are very similar to how other hook up sites look.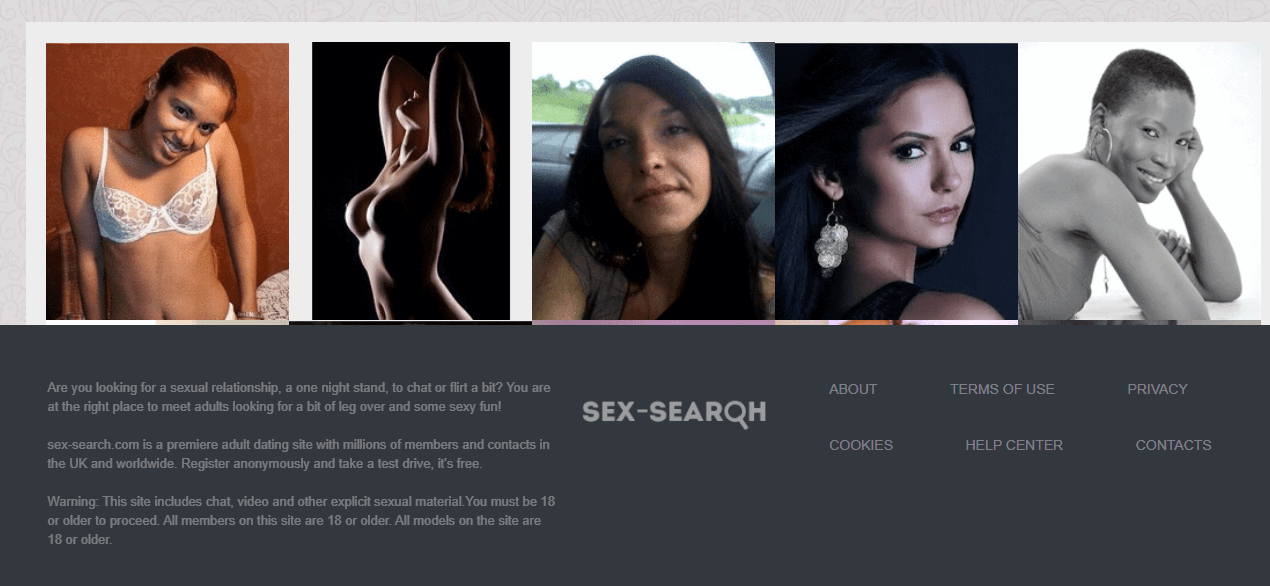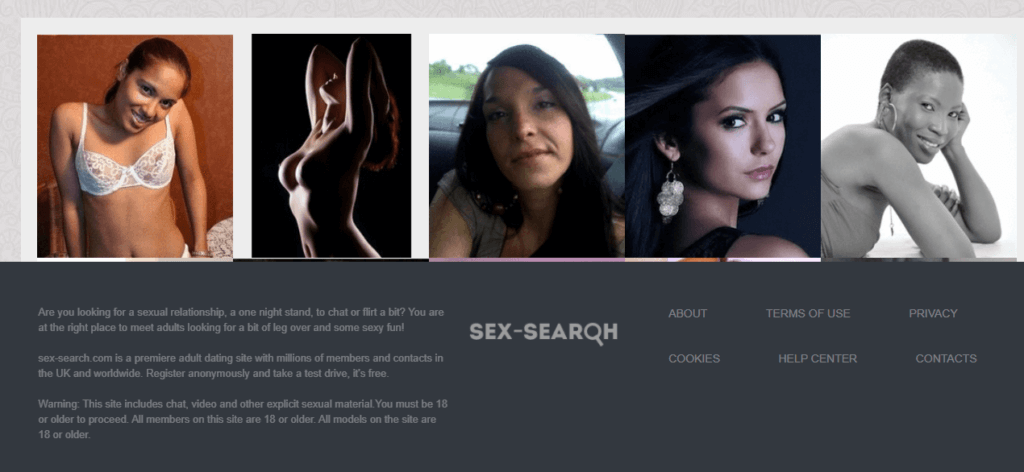 The first thing I noticed when registering for a Sex Search profile was that the options were limited in your choice of genders.
On this site, it's either male or female.
There are no transgender options and unlike some other hook up sites, you cannot register as a couple.
The site is gay and lesbian-friendly however.
Once you've provided your gender, the gender you are looking for, your date of birth and an email address, you've gained access to the site already.
You won't be able to do much, however, until you activate your account by clicking on the link in the email address that Sex Search will send to your mailbox.
Also, the site will assign your own username which is not something that I am very fond of.
I prefer to come up with my own as usernames can be a great way to get people to notice you.
BobDoe49 just doesn't do that.
Well done to those who run Sex Search in taking your right to your profile to make additions to it once you've clicked the activation link.
Even though profile information isn't as important on hook up site as it would be on an online dating site, I still feel that it's imperative that you fill out all the details that you need to.
Sure on sites like these, people are attracted to the physical first and foremost, but even then they still want to learn a bit more about people before they get into contact with them.
I know I do.
To complete your profile, you will need to do the following:
Fill in an "About Me" section
Fill in an "About My Match" section
Upload a profile picture
That's just the basics.
If you click on the "Profile" menu, you can add even more if you'd like (and you should).
And yes, there is an option to change your username… luckily!
So what other information can you add to your profile?
Well, there's plenty actually.
Looking for: What type of relations do you want? For example, cybersex, 1-on-1 regular sex, one-night stands, etc.
Your sexual interests: There are well over 20 to choose from for example, oral, sex toys, spanking, etc.
Characteristics: This includes all your appearance and lifestyle parameters.
All-in-all, once you've completed your profile in full, you will find that it is very comprehensive and you can learn a lot about someone from their profile.
Overall look and navigating the site
So before we chat about how you would go about finding your way around Sex Search, I just want to talk a little about the site first.
Now when it comes to hook up sites, the design is often an afterthought.
But that's not the case here.
In fact, it's not only simple to use but pleasing to the eye.
There is advertising but it's not in your face at all plus the colors of black, blue and white make the site look super professional.
Finding your way around the site is easily done through the main menu system that you will find at the top of the page.
Here you have the following menus:
Home: Click on this to return you to the home page. Here you will be presented with the newest members closest to your location.
Profile: Make changes to your profile here
Upgrade: To become a member of the site, click on this menu
Browse: Launch Sex Search's search engine here
Mail: All emails that you send and receive can be found here
Flirt: Click here to flirt with other users near you in a roulette-style matchup game
Blog: This contains links to a few blogs
Contacts: If you want to contact the team at Sex Search, fill in the contact form here.
All of those are pretty self-explanatory.
Of course, some you are going to use much more than others, so let's look at a few of the important ones now.
So now that we know a little more about finding your way around the site, it's time to put it to the test.
And that means seeing how it works in terms of finding potential matchups that you can hopefully hook up with at some point.
When you are ready to begin your search for a potential hook up, there are a few ways to go about it.
For example, you could start by going to the homepage and looking through the list of new members that have joined the site.
These should all be fairly near your location.
Around 90% of them were for me but the other 10% were in my country but further than 500 miles away.
Of course, you can launch your own searches too.
To do this, you can use the search option you will find on the left-hand side of the homepage.
This isn't just a quick search filter either.
You can add or change quite a few parameters here, which is pretty cool.
For example, you can search by sexual orientation and location.
But there aren't any extra profile parameters that you can access.
If you click the "Browse" menu, you can launch searches from there as well.
Here you cannot change parameters, however.
You can search in the following categories:
New members
Online members
Matches
VIPs
It's well worth looking through all of these to find potential hookups, that's for sure, particularly the matches that the site provides for you.
So what about if you want to launch very specific searches?
Well, there is an advanced search engine but it's only available for members.
Here you can put in any number of parameters for example appearance, lifestyle, what type of relationships they are looking for and more.
These are all based on profile parameters that users fill in.
It can really help refine your searches but as I said, it's for members only.
Making contact on Sex Search
If you'd like to reach out to someone on Sex Search, it's not that easy as a free user.
You do have a few options.
For example, from their profile, you can send them a card.
This is just basically a picture, you cannot add any words to it.
You can also wink at them to show your interest.
If you'd like to send a message, however, you can't.
That's for members only.
If a member sends you a message, however, you can respond, so there is a way to communicate but you have to be patient and hope that members reach out to you.
I am sure you probably knew that just like any other hook up site or dating site for that matter, membership is key to helping you find what you are looking for and then contacting them easily.
But membership also brings with it other benefits, so let's look into those now.
Before we do look into key features for members, let's just recap on what you can achieve on the site as a free user.
Launch basic searchers
Send flirts
Play the roulette-style matchup game
Send picture cards
See member photos
It's pretty impressive actually.
Many sites tend to hide things like sending cards and flirts behind the paywall as well.
But now let's get onto the key features.
As a member of the site, you can use the advanced search engine.
This adds so many parameters to your searches if you wish to include them.
These parameters are all taken from other user-profiles and relate to appearance and lifestyle answers that they would have provided.
This allows you to search for the exact kind of matchup that you want.
Of course, it's a two-edged sword, because the more parameters you add, the narrow your search will be naturally.
And if you live in an area where there aren't that many people using Sex Search, you might even turn up nothing in your search returns, so just be aware of that.
All members of Sex Search can send as many messages as they like.
And you can send it to anyone, even someone who is not a member and they can reply to you.
Plus there is a text chat feature as well which is like an instant message, so you don't have to wait for people to reply to your mail message.
This just means you can get to know people quickly and see if they are the right person to hook up with.
3. See all media galleries and x-rated photos
Members are able to see all media galleries on the site.
That's not all either.
While regular users can see various pics posted by other users, if the pic is x-rated, it is private.
But that's not true when it comes to members because even x-rated pics posted by others can be viewed.
Those are the main features for Gold members on the site.
But you can add a VIP option as well to that membership that brings even more features.
These include the following:
Priority listing of your profile in other users' search returns. This means your profile will feature near the top of their searches along with other VIP members.
Your profile is visible to everyone on the site
You can connect to all members and send messages
Let's see now how much Gold membership, as well as the additional VIP membership, is going to cost you.
When it comes to pricing, you have to evaluate the features offered by taking out membership on the site.
And while it seems like there aren't that many key features on Sex Searches, they all are particularly useful.
Yes, some hook up sites do offer advanced searches to regular users, but that's not the case here.
It is something that can prove useful, however and I think it's a necessity unless you really don't mind who you hook up with.
Messaging is key too and seeing all the photos posted by other users isn't necessary but it sure is fun, especially if you like voyeurism!
So what's the price of membership then?
Well, let's start first with the Gold package as that's the basic membership found on the site.
Here's what it's going to cost you:
1-month Gold membership: $24.99
3-month Gold membership: $59.97 ($19.99 per month)
6-month Gold membership: $89.94 ($14.99 per month)
That's not bad at all.
In fact, I wouldn't have a problem paying $24.99 per month to be able to message all users as well as use an advanced search engine to find the best matchups for me.
The best part of this is that by using the site before signing up, you can already get a good idea if there are other users near you or not.
If there is potential, then try one month's membership and see how it goes.
If you having success and see yourself using the site for longer, then there are savings to be had in the extended membership options, that's for sure.
It's all up to you at the end of the day.
Conclusion and Overall Rating
And so we come to the end of this review of Sex Search.
As its name suggests, this a hook up site where people are looking for others to get physical with.
And it's got a ton of users that's for sure.
The first thing you've got to be careful about with sites like these however is the presence of fake profiles.
Every site has them, even dating sites that say they don't.
It's just one of those things that's so difficult to avoid.
And yes, while trying the site out, I found a fair share of fake profiles too.
But I also found plenty of users who wanted to use the site for what it's intended for and that's brining people together for no-strings-attached sex.
While I don't live in the biggest town, I found plenty of matchups withing 50 miles of my location.
I spoke to some of them as well and they definitely were the real deal.
So unless you live out in a rural area somewhere, I think you should have luck on this site too.
It's so easy to use and well-designed too that it's a pleasure to use.
There's no in-your-face advertising like you often find on other hook up sites, that's for sure.
As for membership, it's well priced and on par with other competitor sites, sometimes it's even cheaper.
While the key features of membership aren't as good as found on other sites, they are practical and you will end up using them
Of course, you can get a VIP membership and a few more extras if you are willing to pay a little more.
I am not sure that's necessary but that's totally up to you.
So let's get to a score for Sex Search.
It gets a solid 3.4 out of 5.
If you have any questions about the site, please leave a comment below and we will get back to you as quickly as we can.
Frequently Asked Questions