Wapa is another in a long line of lesbian dating apps that have hit Google Play and the App store over the past decade.
Lesbian dating sites certainly have been around since the start of internet dating so it's natural that many have now progressed to smartphones.
Wapa and its partner app, Wapo (for gay men) perhaps aren't the most well-known but in Wapa's case, if you are a lesbian or a bi-curious woman interested in gay dating, perhaps want to start a profile here.
So in this review, I am going to explore exactly what Wapa has to offer a potential user by looking at the following:
OFL Top Recommendations based on 100,000+ Survey

"Serious Relationships"
"Discreet Hookups"
"Best Course for Men"
"Quick Flings"
"Normal Hookups"
"Our Quiz"
So if you are the type of person that's looking for love but struggling with a work/life balance, the over ease of use of a dating app like Wapa might just be what you are looking for.
Let's identify just what it has to offer.
Is your dating app giving you the best chance for success?
Make sure to take our online dating site/app quiz to find out.
It's a fact that people who follow our dating site suggestions have on average 2 extra dates per month.


Ease of use – 4/5
Success rate – 3/5
Key features – 4/5
Price – 5/5
It's free to use and that includes messaging and video messaging
A well-designed app that's simple to navigate
Profiles include vital information about each user and must be completed during the registration process
Membership pricing is extremely cheap and brings useful extra features
Not many users in the United States as of yet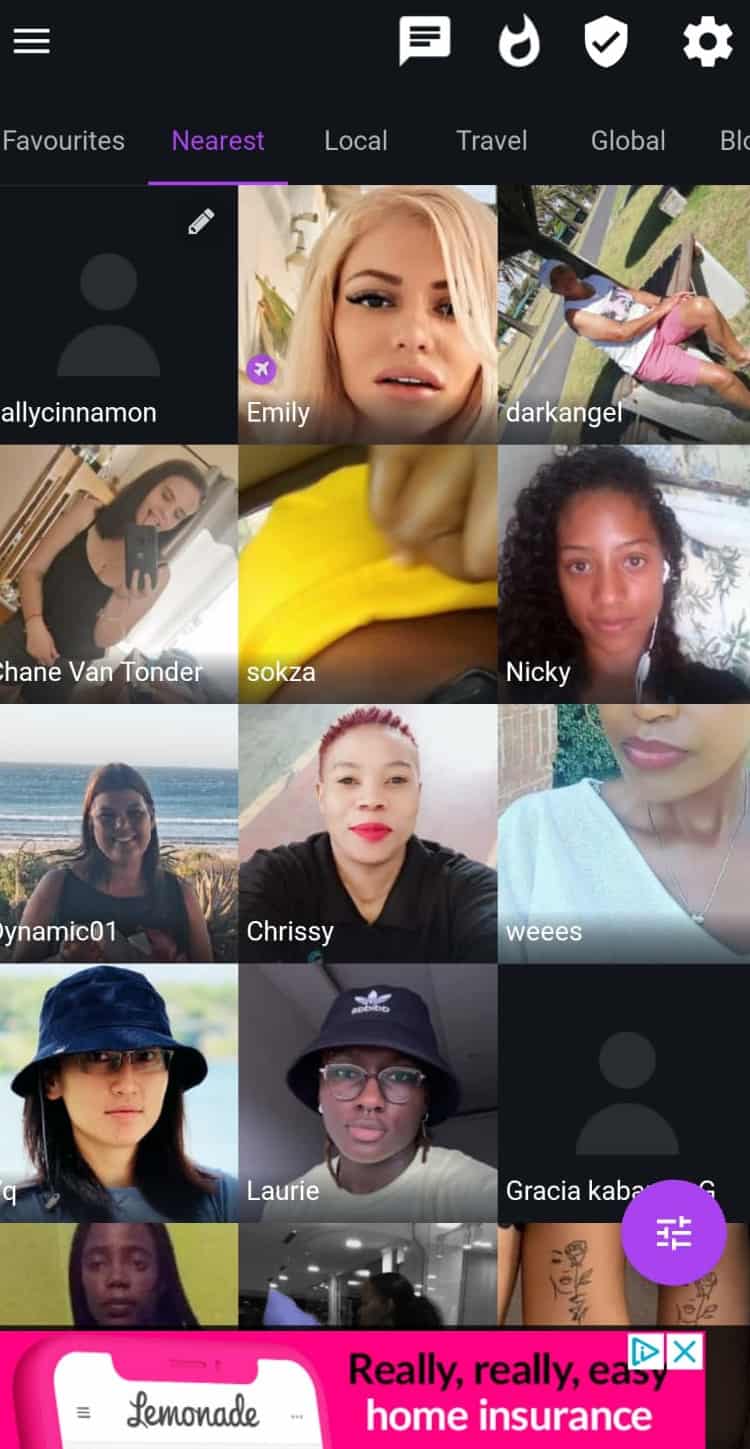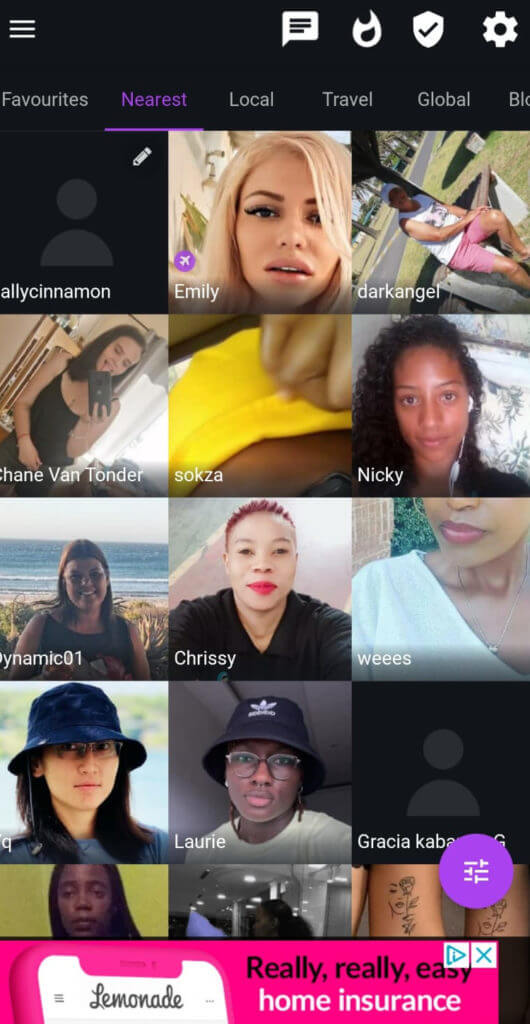 Who Is it For/Demographics?
As Wapo covers online gay dating for men, as we've mentioned, Wapa is a lesbian dating app.
But it's not only for lesbians.
Many bi-curious women have also signed up for profiles as they explore what's on offer when it comes to female love. This includes friendship to dating, hookups (like BeNaughty or Ashley Madison), and long-term relationships too (like Tinder or eHarmony).
I will say that I am a bit skeptical about the fact that those behind Wapa claim that it's the biggest Lesbian dating app in the world.
They don't back that up with any kind of numbers, so for me, that's nothing more than some marketing bluster.
OFL Top Recommendations based on 100,000+ Survey

"Serious Relationships"
"Discreet Hookups"
"Best Course for Men"
"Quick Flings"
"Normal Hookups"
"Our Quiz"
But that's common in the world of online dating that's for sure.
While the app isn't that big in America as of yet, it's very popular in Europe and sections of the Far East as well as South America.
So let's study some numbers behind the app:
From my research, I would say that the user base for Wapa is close to 500000.
It's been downloaded off Google Play over 1 million times and has an average rating of 4 stars after 8000 reviews
It's popular on the App store as well with a rating of 4.4 stars
Around 50000 Americans have registered as users on Wapa
12000 users are active on the app each week
That's close to 2000 individuals a day and almost 50000 a month
Comparing these figures with similar dating apps shows me that Wapa isn't the biggest Lesbian dating app around but it's got a decent enough user base and continues to grow.
So it goes without saying that you are going to only find women with profiles here.
But what about the age ranges of users on Wapa?
Well, the biggest group of users are between 25 and 34 years old.
But here's the full breakdown of user age ranges.
25 to 34 years old: 39% of all users
35 to 44 years old: 20% of all users
55 and older: 19% of all users
18 to 24 years old: 18% of all users
45 to 54 years old: 10% of all users
That's a fairly good spread but in evaluating the numbers, it's interesting that while 35 to 44-year-olds are the second biggest group, the drop off to the 45 to 54-year-olds is quite significant.
And then the 55 and older are the third biggest group of users.
From my perspective, there's nothing that will quantify why that is that I could see from using the app.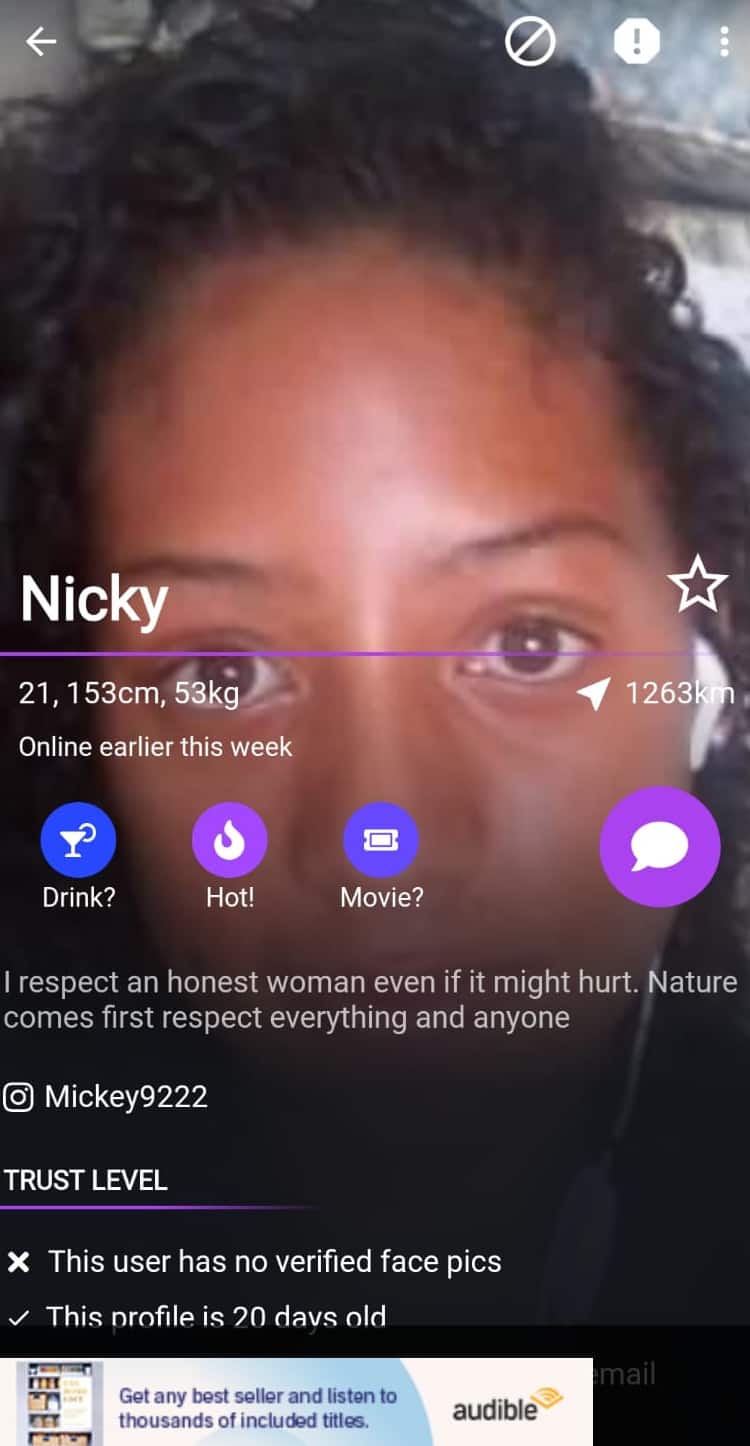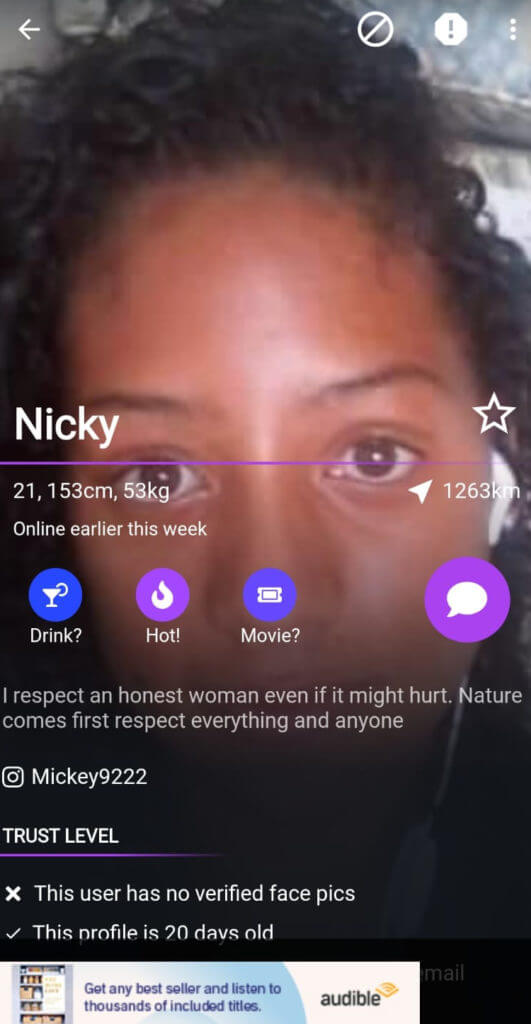 So once you've downloaded the Wapa app from either Google Play or the App Store, it's time to register as a user.
Just like all other dating apps you might have used before, the process is kept super simple.
There's not a ton of information to fill in here but let me quickly summarize what you will need to provide.
Essentially, you are creating your profile during the process.
And it starts with:
A profile picture
Username
Short description about yourself
Your age
Your height and weight
Relationships status
Your Twitter or Instagram accounts (if you want to, it's not compulsory)
Your mail address
A password
Some apps like to add an extra layer of security by sending you a passcode but with Wapa, to access the site for the first time, you just have to verify your email address.
Of course, the first thing you are going to want to do is to test the site, right?
That means seeing what it has to offer, trying the different menus you find and clicking on profiles of users that you find attractive to check them out.
That's what I always do and the first thing I observed about Wapa is that even though I live in a relatively small city, it provided me with potential matchups.
There weren't thousands of them but more than enough to keep me interested.
Finding your way around

Wapa
Dating apps are all pretty similar so you shouldn't find navigating around Wapa that difficult.
In analyzing the app and gathering information from the homepage, it was interesting to note that you could browse through matchups under several secondary menus from the start.
These were:
Favorites: Any profile that you favorite, will appear under this menu
Nearest: These are users that are closest to your location
Local: These are users in the same geographic area as you are, for example, the same state. They might not be that close to you, however.
Travel: If you'd prefer to chat with someone further afield, use this menu. Just type in a location to search for users there. You need to be a member to use this feature.
Global: Click on this to see a range of random users from all over the world. You need to be a member to use this feature.
Blocked: All the users you have blocked can be found here.
I must say, I did not like this layout at all.
It's one thing to provide you with potential matches, I have no problem with that.
But then to immediately present users with six secondary menus is just a little bit clunky to me.
Of course, once you clicked your way around, you understand what everything is but surely the main menus are the most critical navigation aspect of the site?
Speaking of main menus on the app, you will find them across the top of the screen.
The main set runs from the center of the screen to the right-hand side.
Let me clarify what each of the icons means:
Text bubble: This is where you will find all your messages, those that you have sent to others and messages you've received.
Tracks: If someone visits your profile, it will be recorded under this menu. This is a member-only feature.
Shield: Click here to have your profile picture verified. To do this, you perform a certain action as instructed by the app to prove you are who you say you are.
Cog: This is the settings menu. Click here to change various app settings.
You are probably wondering where the menu is so that you can access your profile and make changes to it?
To solve that query, you are going to have to click on the three horizontal stripes that you find on the left-hand side of the screen.
Here you can:
Access and change your profile
Click the "Girls" menu to take you back to the main homepage
Lock the app
Add a "do not disturb" notice to your profile
Get access to the support menu (including a FAQ and even live chat with the support team)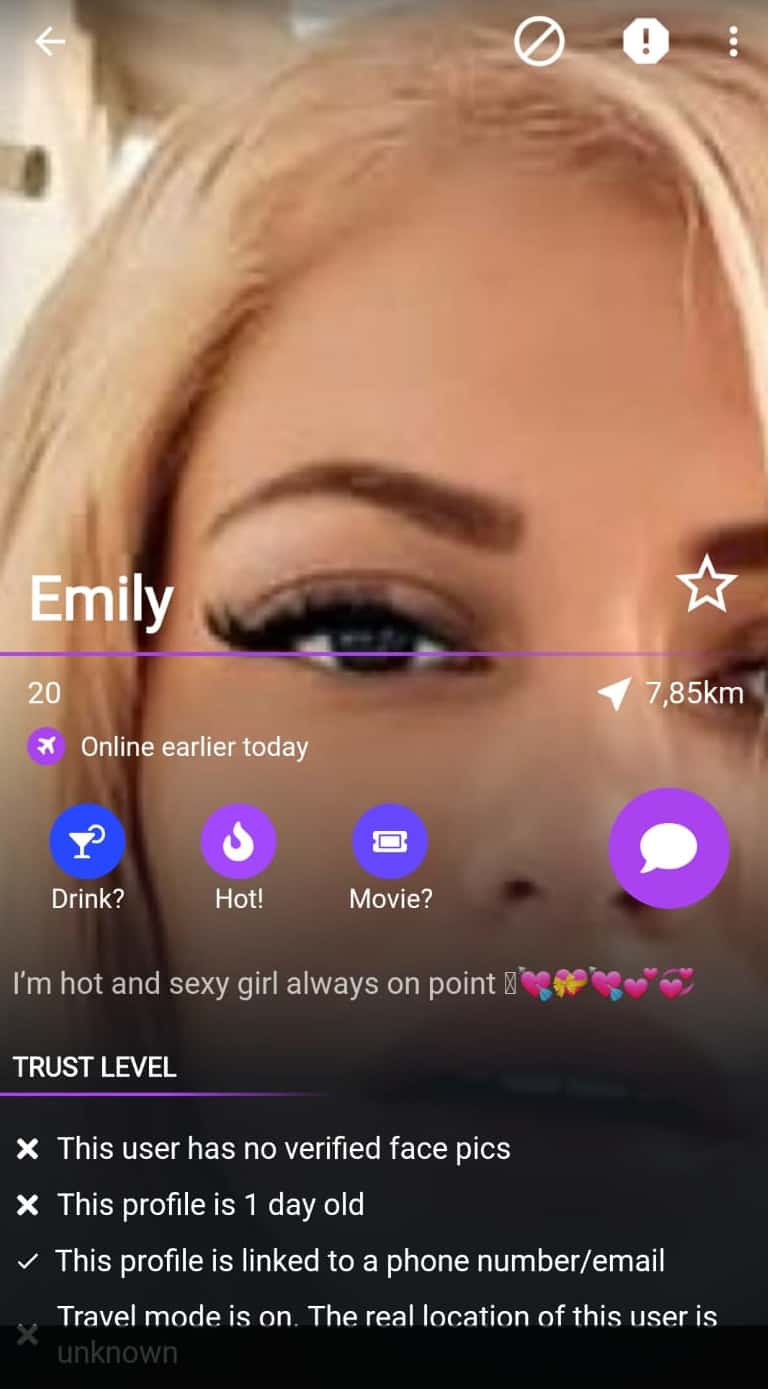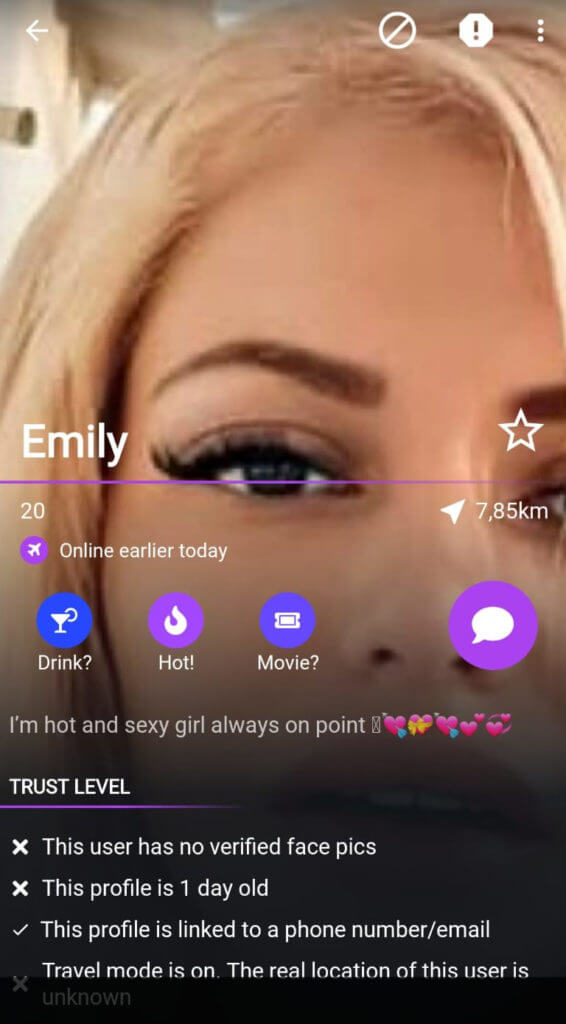 Let's quickly review your profile on the app.
During the registration process, all users will fill in various profile parameters like height, weight and more.
But is there still more you have to add?
One of the things I like when it comes to dating sites is those that have you fill in your profile as part of the registration process.
It just means that there are less "empty" profiles in the long run.
And even though dating apps generally don't have that many details in user profiles, I still want to know more about someone other than just seeing a picture of them and a username.
The good news is that all the information that you gave during registration means your profile on Wapa is totally complete.
Of course, you are free to change your username or the "about me" section or even add some more photos, for example.
But yes, filling your profile during registration is one of the things the team behind Wapa has got right in my opinion.
I've talked about the functionality of the app but have not yet highlighted the overall look.
The thing is, while you might not think this an important aspect of a dating app, it really is.
Why?
Well, you are going to spend plenty of time using it in your search for love.
Wouldn't you want it to at least look good?
And I'm happy to report that Wapa looks great.
The predominant color here is black with the menus in white
Lastly, the third color used on the app is purple which works extremely well with black and white.
It's all very pleasing to the eye.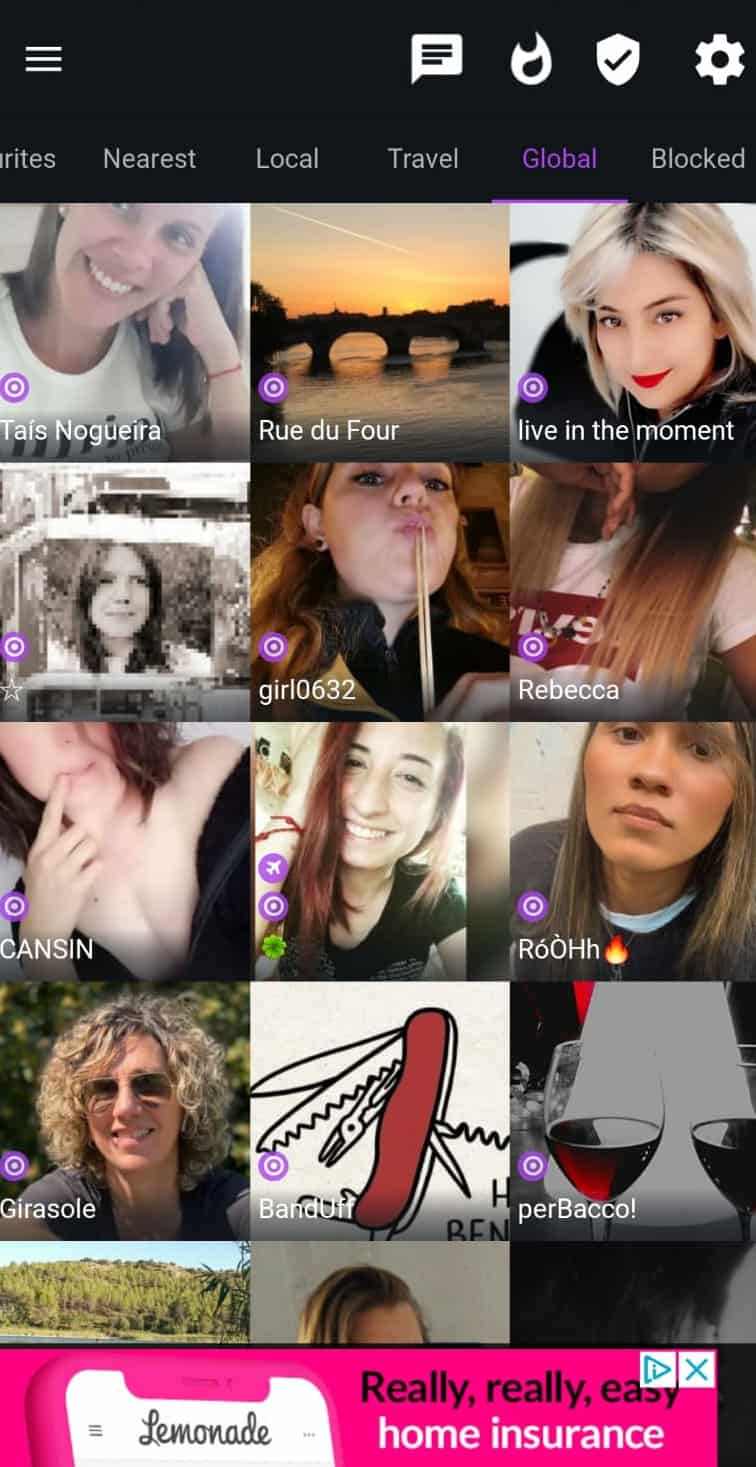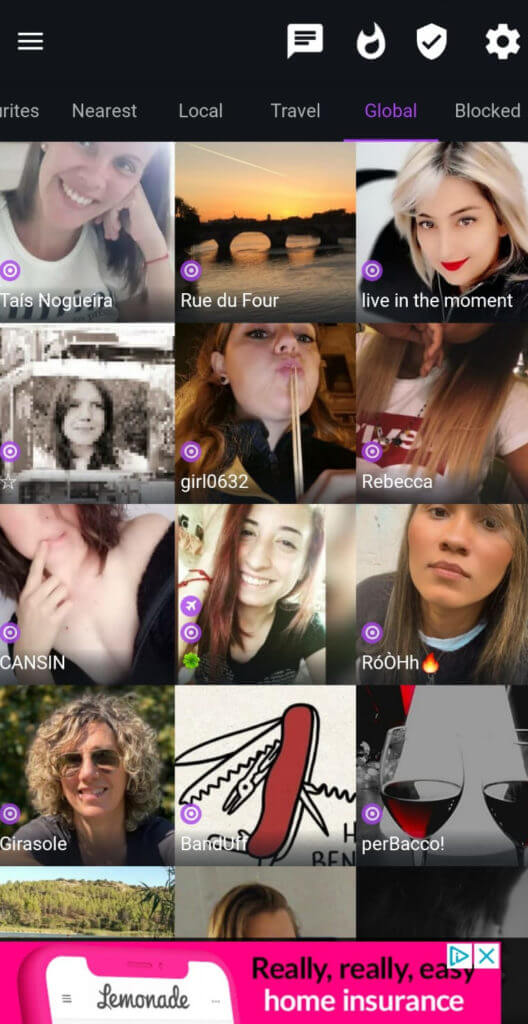 While there are many similarities between Wapa and other dating apps, the one thing you will immediately notice is how matchups are presented.
Most will provide matchups to you one at a time and you have to swipe left to pass or right if you like them.
That roulette-style matchup tool isn't available on Wapa at all.
As I mentioned earlier, Wapa will give you a whole host of potential matchups and a range of secondary menus to change what you see.
Let's take about those first up.
Searching for a potential matchup
Let me clarify that I am not going to cover the secondary menus again that I spoke about above.
You can determine what each of them does in your own time, although you probably have a good idea from what you've read already.
The one that I want to focus on here is "Nearest".
If you actually want to meet someone physically, it's this menu that can provide you with the matchups.
You can adjust these returns by clicking on the slider menu you will find at the bottom of the screen on the right.
Here you can select matchups by:
If they have profile pictures
If they should be online
Their age range
Simply find someone that appeals to you and click on their profile.
There's tons of excellent information you can learn about them.
For example, you can see just how far away they are from you, which is particularly useful.
You can also see all the key profile parameters just like those you would have filled in while registering your profile.
What I really like, however, is that you can also see when last they were online.
This is an often underrated feature that can help users not chase dead profiles or people that haven't been online in ages.
There are a few other things that will catch your eye when viewing someone else's profile on Wapa.
You have can click on a user's profile picture to see the full shot.
You can also click on either the "Drink", "Hot" and "Movie" icons too.
This sends a short message to the user asking them if they'd like to go for a drink or to watch a movie.
Or click the star icon to add them to your favorites.
Lastly, I want to talk about Trust Level.
Wapa has reported some problems with men who are posing as women on the app.
So that's where Trust Level comes in.
You can see it on the profile of all users and there are three separate sections to it.
If the user has uploaded verified pictures of their face
How old the profile is
If the profile is linked to either a phone number or an email address
If you are worried about the fact that you might be talking to a scammer running a fake profile, then you only want to deal with people that have used the app for a while, verified themselves and linked their email account.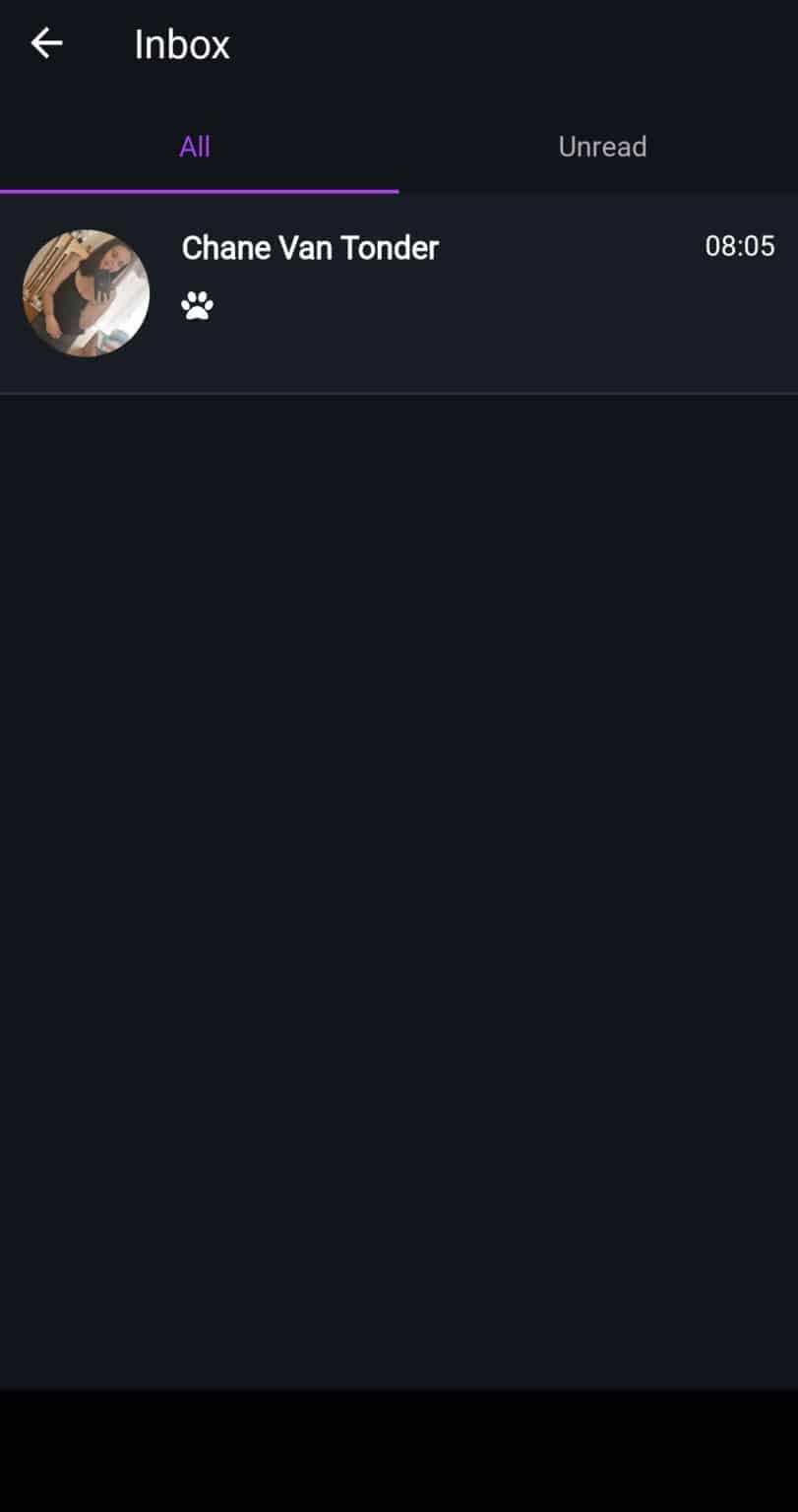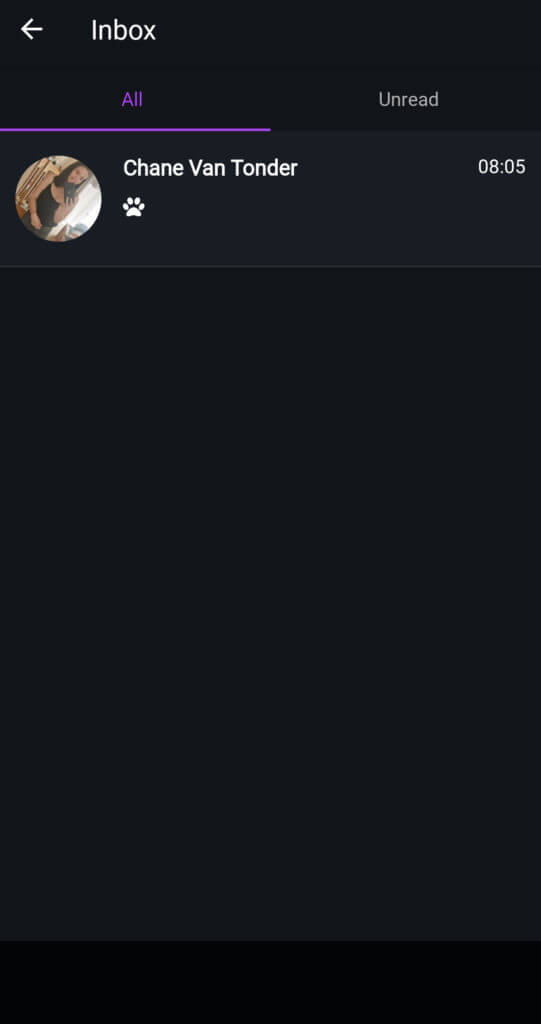 Reaching out to others on

Wapa
Here's one thing that those behind Wapa have got right.
They've made messaging free.
That's pretty awesome, right?
Like I said earlier, there is no need to match up with someone at all, which is the case in so many other dating apps.
Here, if you find someone you'd like to message, go to their profile, hit the chat icon and send a message.
You can also send audio and video messages as well as share your location with other users by sending them a push notification.
Those messages can be short or longer videos, it's up to you, really.
So if there is a membership option, what does it bring to the party?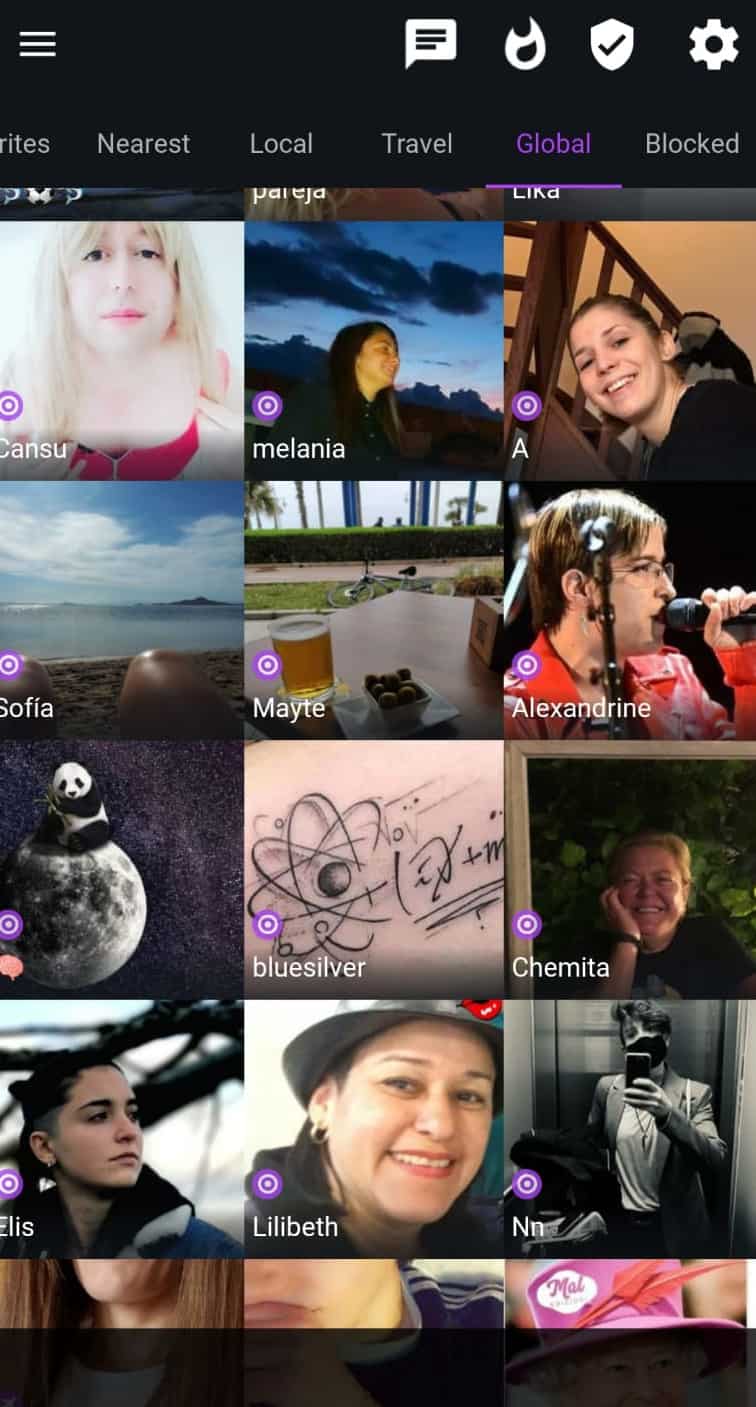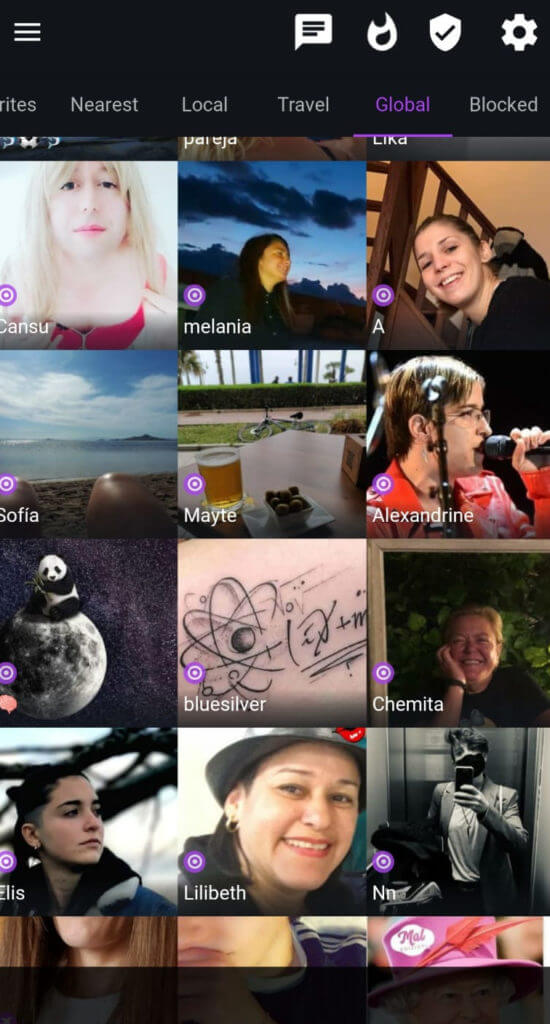 Let's just recap on the perks that a free user of Wapa gets when signing up to the app.
Create a free profile
You can upload up to five pictures to your profile
The app will return 100 matches that are closest to your location
You can view other user profiles in full
You can send messages for free
You can send video and audio messages for free
In terms of what a regular user on the site can achieve, Wapa certainly exceeded my expectations.
You can use this app effectively without having to sign up for membership.
But that does have its perks, so let's look into a few of those now.
At first, when using the app without a membership, I wasn't particularly worried about the advertising.
You will notice it in two ways.
It appears at the bottom of the screen in a banner format and if you view user profile pictures, now and again you come across a full-sized ad.
After a while, however, the advertising did start to bug me.
If you are a member, however, you won't see any of it.
Instead of just receiving 100 potential matchups near your location, a member will receive 500.
More potential matchups mean more chances of finding the perfect person to meet up with, right?
Those who opt for membership can now upload 10 photos to their profile instead of five.
4. See who has read your messages
While any user can send off messages on Wapa, members can see if those messages are being read.
And that's pretty useful.
If you are someone that's looking to connect with others around the world, Wapa includes a translator.
As you type, the translator will pick up what you are inputting and translate it into the language of the other user.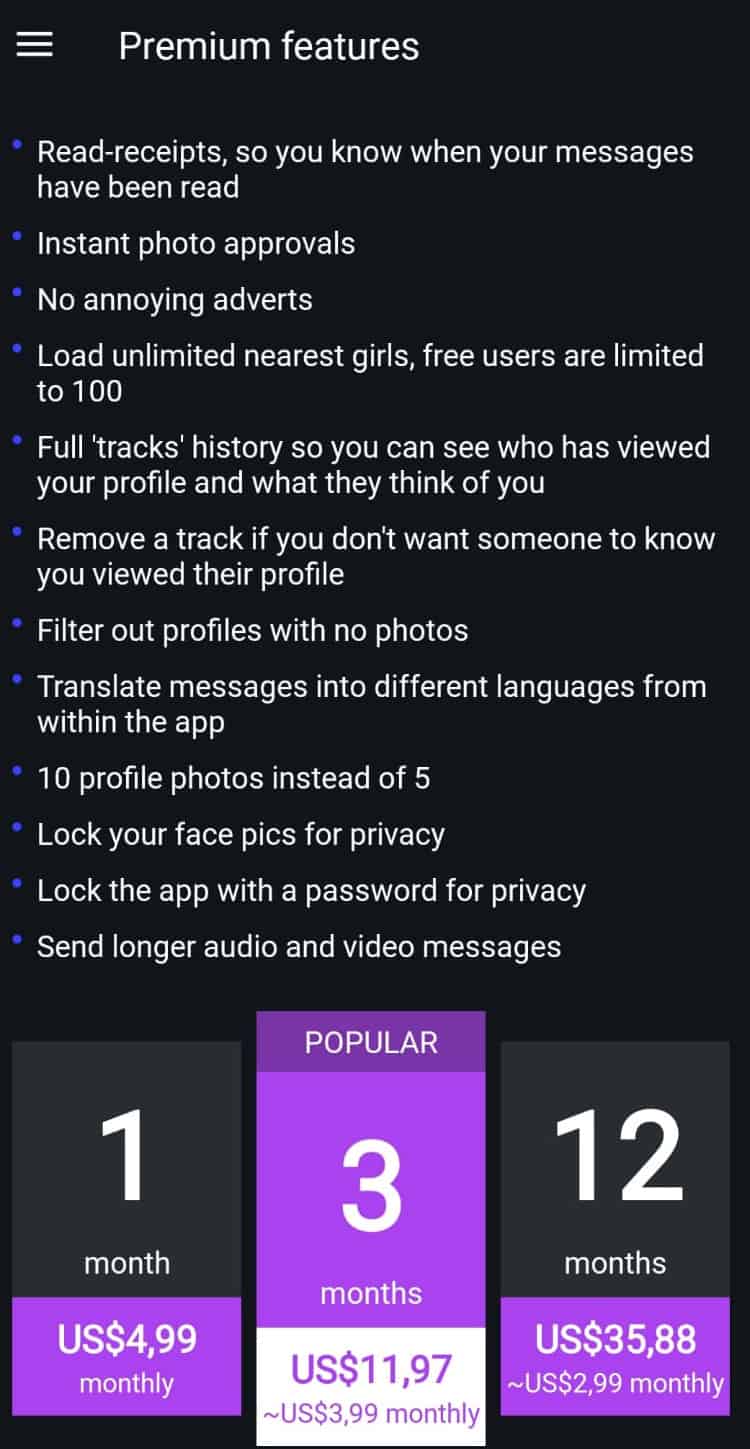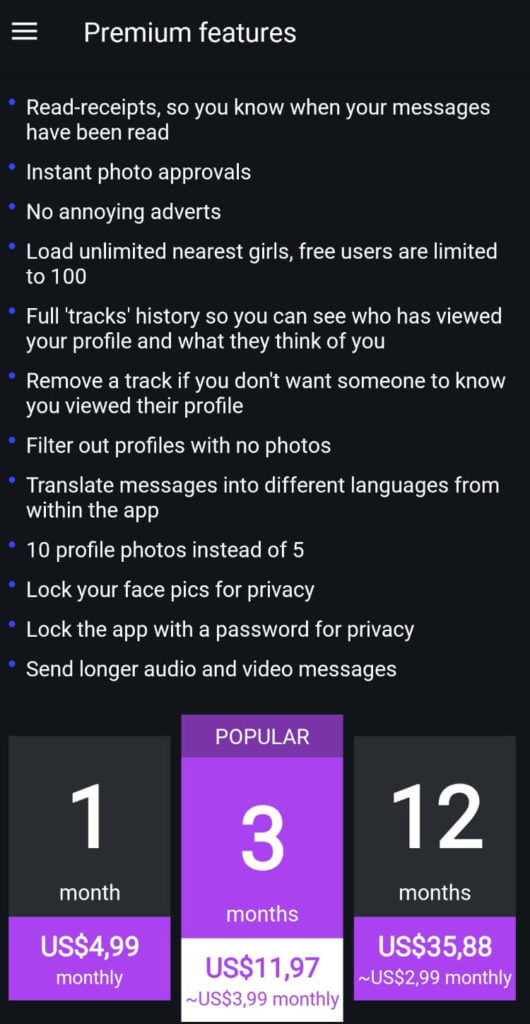 Without a doubt, there are some more than useful features available.
And their pricing model indicates to me that those behind this app are serious in trying to turn it into one of the biggest lesbian dating apps in the world.
It's so cheap!
Here's a breakdown of what you will pay.
1-month membership: $4.99
3-month membership: $11.97 ($3.99 per month)
12-month membership: $35.88 ($2.99 per month)
Normally, I would recommend trying the appout and if you like it, opting for a longer membership option to save on what you would pay per month.
And while you are welcome to do that here as well, the monthly membership is so low already that you could even just go with that.
That also allows for easier cancellation when you find that perfect partner.
When compared to other apps for lesbians, bisexuals and bi-curious women, I don't think I've ever seen one so cheap.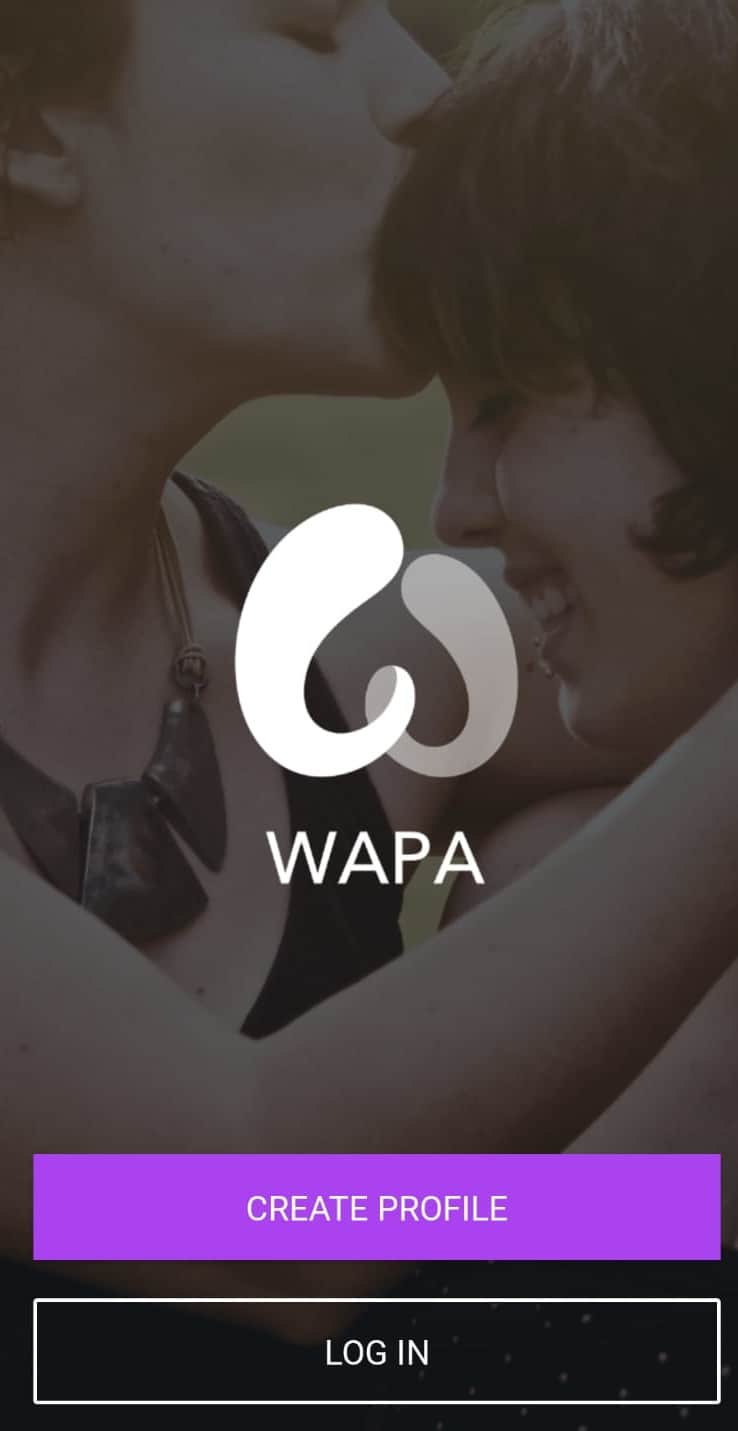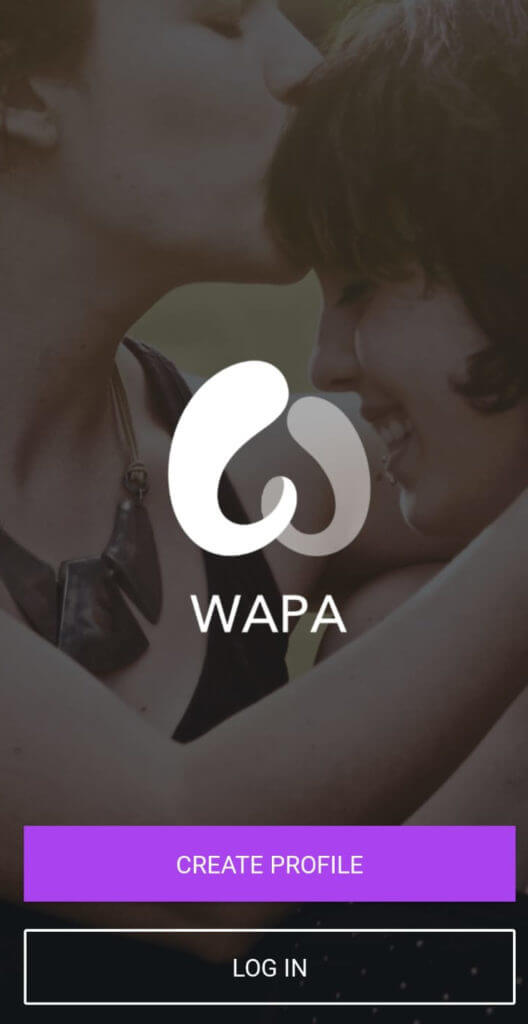 Conclusion and Overall Rating
While it's not that popular yet in the United States, I see Wapa growing there at an incredible rate once more people get to hear about it.
This app really has so much going for it.
As a user, you can easily find potential matchups and message them, all for free.
That includes video messaging.
Yes, your matchups are limited to just 100 near your location but with membership priced so cheaply, I am sure most users will opt to give that a try at some point.
Your overall success with Wapa will come down to the fact of where you live.
That's because the app is more well-known in certain parts of the world than in others.
I always like to think that my small town is a good test of whether an app can provide matchups or not.
And I found some solid ones on Wapa, that's for sure.
To conclude, because Wapa is free, there is no harm in downloading it and trying it out.
When it comes to a rating, Wapa gets a very well-deserved 4 out of 5.
Onlineforlove studied and tested the Wapa lesbian dating app over an extended period of time.
The approach taken was to give an overall star rating after studying the most important criteria when compared to other online dating websites we have reviewed.
Our final evaluation was based on the following factors: membership price, how easy the app is to use, what features it offers, how busy it is in terms of users and its overall effectiveness.