Free dating sites…
There aren't many of them out there on the internet and those that you do find can be a bit touch and go in terms of overall quality.
Today, we assess TruMingle to determine if it's one of the best free dating sites that you can find online.
As we analyze and evaluate what it has to offer, we are going to look at several aspects of this site including:
OFL Top Recommendations based on 100,000+ Survey

"Serious Relationships"
"Discreet Hookups"
"Best Course for Men"
"Quick Flings"
"Normal Hookups"
"Our Quiz"
So if you want to know what type of online dating experience TruMingle brings to the party, start reading.
Is your dating app giving you the best chance for success?
Make sure to take our online dating site/app quiz to find out.
It's a fact that people who follow our dating site suggestions have on average 2 extra dates per month.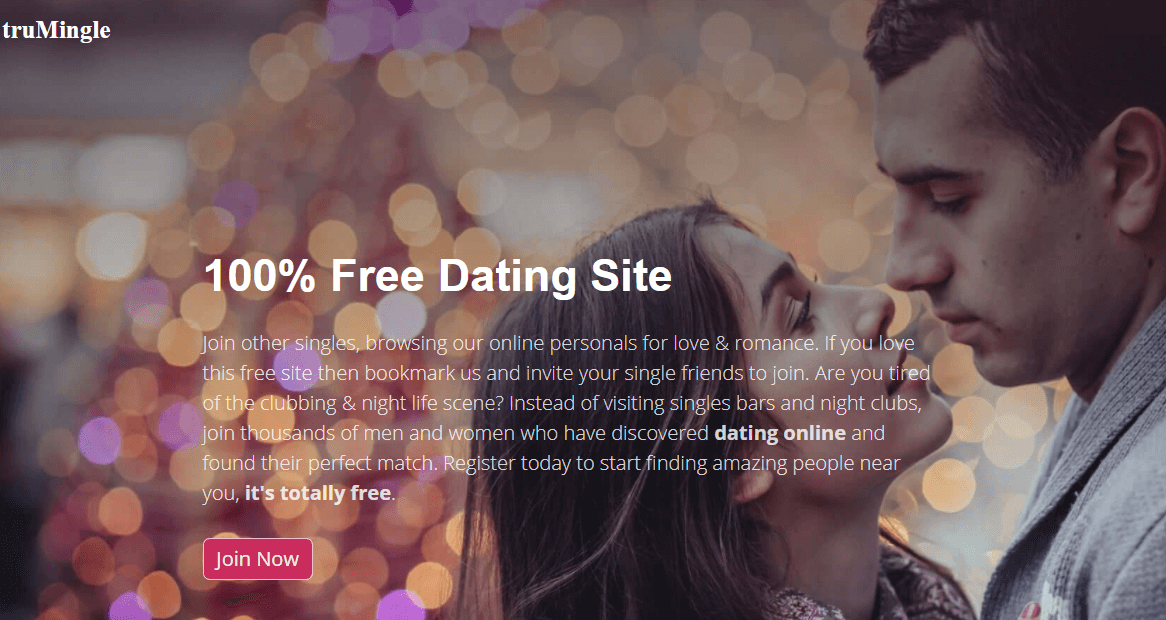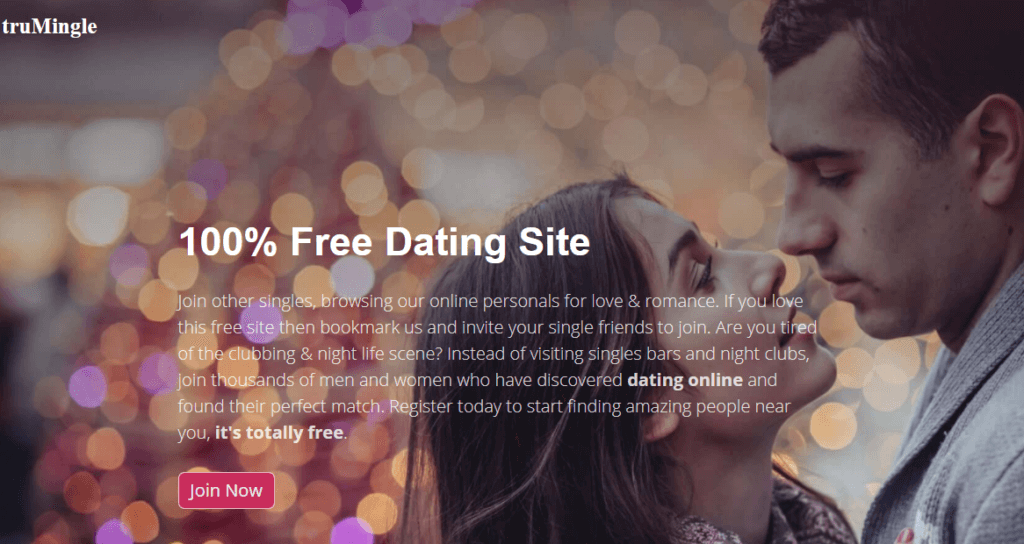 Ease of Use 5/5
Effectiveness – 5/5
Key Features – 5/5
Pricing – 5/5
Slick looks and operation
Eay to use
Matchmaking graphs tell you how much of a match someone is
Free


Who's It For/Demographics
TruMingle is a dating service to meet singles first and foremost.
With no membership fees, you can be guaranteed that this is a dating website that's going to be busy.
Strangely enough, no matter how much research I carried out I could not find user numbers for the site.
I even mailed TruMingle themselves but they never got back to me.
Just know that it's got tons of members and you really shouldn't have any problem finding someone that's close to your location, or in the same state you are in.
What kind of potential matches can you find here as a new member?
OFL Top Recommendations based on 100,000+ Survey

"Serious Relationships"
"Discreet Hookups"
"Best Course for Men"
"Quick Flings"
"Normal Hookups"
"Our Quiz"
Are they going to be looking for long-term relationships (like eHarmony or Tinder), friendships, hookups (like BeNaughty or Ashley Madison), or other kinds of relationships?
Well, the answer is all of the above actually.
I found users that wanted serious relationships, those that wanted to make friends all around the world and much more.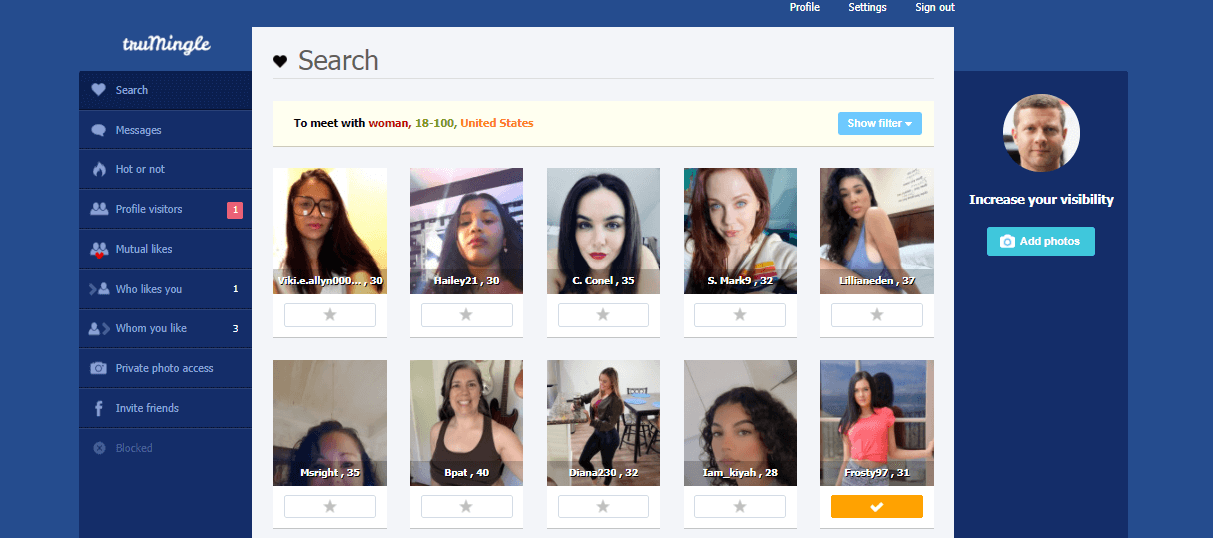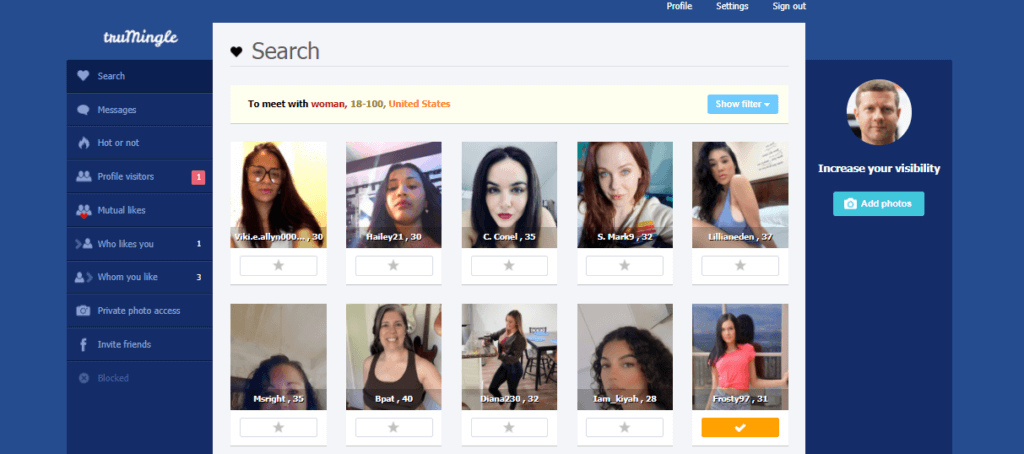 While TruMingle does have an app, it's an APK download.
If apps aren't endorsed by Google Play or the App Store, I tend to rather register and use an online dating portal through their website.
Registering your profile is straightforward enough.
You can speed it all up a little by signing up using one of your social media accounts, in this case, Facebook, Google or Twitter.
If you don't you will need to give the following information:
Date of birth
Your sexual orientation (straight, bisexual, gay or lesbian)
Your gender
Your location (country, state and city)
Your email address
Your username
A password
From that point, you are taken to a short questionnaire.
This helps TruMingle to gauge what kind of matches you are looking for.
The questions I received – and I guess they are the same for everyone – were:
Do you prefer blond over dark hair?
Do you prefer single only people?
Can he/she have a few extra pounds?
Do you like your partner to be tall?
All you need to answer these questions is either yes or no.
Lastly, TruMingle.com provides you with profile pictures of 12 users of your preferred gender and you have to pick three that stand out to you.
Again, this is to help the matchmaking algorithm see what kind of people you are attracted to in terms of looks.
Now you get to the site but first up, it's time to complete your profile.
It's not packed with information at all but it is mandatory to complete it and add a profile picture.
And let me just clarify that you won't be able to use the site at all until that picture has been approved by the admin team.
Here's the profile information you are going to have to provide:
An About Me section
What you are interested in
What you do for fun and what hobbies you have
And that's it.
It really is a pretty straightforward interface.

Finding your way around TruMingle
Profile approval takes next to no time.
In fact, I was able to use the site around 10 minutes after uploading my profile picture.
I was blown away by what I saw on TruMingle when I first started to use it.
Let's remember that this is a free dating site.
In terms of design, it's far better than some of its more illustrious paysites, that's for sure.
TruMingle uses a menu system that's located on the left-hand side of the screen.
The main part of the page is taking up by the viewing section.
Here you will see search results or perhaps a user profile that you've clicked on.
To top it off, this modular design system just looks so good thanks to the colors TruMingle uses.
The various shades of blue along with splashes of white and pink really make this a striking dating website in terms of appearance.
And it was one that I love navigating around.
Talking about navigating, let's quickly look at the menu system that you will use while you are on the site:
Search: Click here to start your quest of finding the perfect matchup. We will get a little more in-depth on what the search tools on TruMingle offers to users
Messages: Click here to access both sent and received messages
Hot or Not: This is a roulette-style dating game where you either skip or like the profile of other users.
Profile visitors: See who has visited your profile by clicking here
Mutual likes: If you like someone and they like you back, it will appear here
Who likes you: Click here to see who likes your profile
Whom you like: Click here to remind yourself of which profiles you have liked
Private photo access: Give other users access to your private photos
Invite friends: You can click here to use Facebook to invite friends to use TruMingle
Blocked: See which users you have blocked and unblock them if you want to
There are quite a few menus here but I wouldn't say that any of them are unnecessary at all.
You might have noticed that there isn't a link to your profile, however.
That appears at the top of the page along with a settings menu.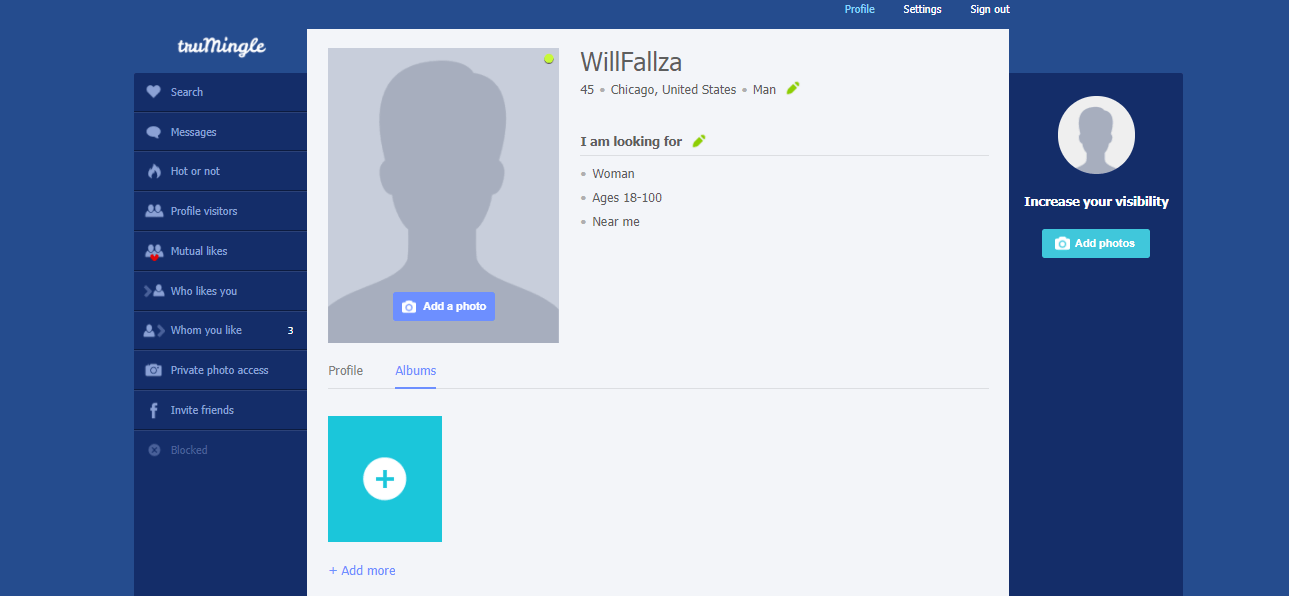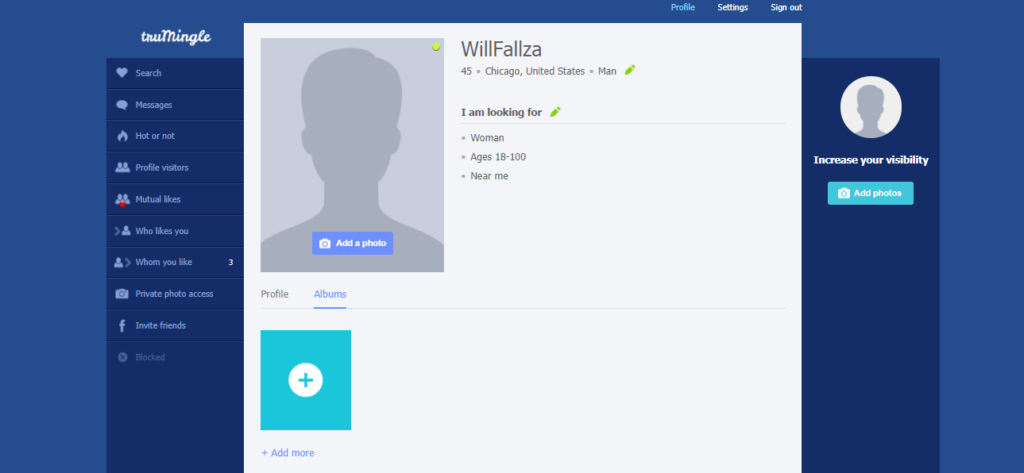 Your Profile on TruMingle
First up, I thought that TruMingle profiles didn't have that much information.
But I can confirm that what you filled in during the registration process was just the tip of the iceberg.
So if you'd like to – and it seems like many users have – you can fill in even more information about yourself.
I would start with the Personal Information section.
Here you can find tons more information including:
Height
Weight
Body type
Hair color
Eye color
What type of relationship you want
If you have kids
If you drink or smoke
Your level of education
Languages you speak
Hobbies
There are several other sections to fill in too, like:
What I'm doing with my life
I am really good at
The first thing people notice about me
Favorite books, movies, shows, music and food
You should message me if…
Unique, right?
I love it!
These profiles are just so different from the run-of-the-mill ones you see on all other dating sites.
It really stands out as a strength of the site for me.
I had so much fun looking through people's profiles to see what they've written about themselves.


While we've mentioned the ways that you would be able to find potential matchups, it's time to look at them a little closer.
I will start with the less obvious ones first.
Because this is a free site, you can easily see who has visited your profile.
Normally, that's something that's behind a paywall.
But no you can use it to your advantage.
Simply click on the Profile visitors menu and you have access to who's had a look at what you have to offer.
The great thing about this, and when searching yourself, is that each user profile that you look at has three matchup graphs for you to consider.
This shows just how much of a match you are for each other:
These are:
Physics (how much you match on physical wants)
Intellectual (how much you match from an intellectual standpoint)
Hobbies (how much you match in terms of hobbies and interests).
For me, this is one of the strengths of the website.
I've seen matching tools like this before, but not often and only on paying sites.
It's the perfect way to compare potential matches in a way other than looks and how much you are attracted to them.
That adds a whole extra level to online dating, one that I feel is often needed instead of just how pretty or handsome someone is.
Again, I can't really believe that this is available on a free dating site.
Don't forget to check the Who Likes You menu to follow up on users that are clearly into you a little bit more.
If they weren't they wouldn't have liked your profile.
What about the Hot or Not game?
Well, I would suggest trying out the Hot or Not game from time to time as well.
Because you can easily see who likes your profile as well as mutual matchups, this could be a fun way to find profiles to look into more.


Launching your own searches
There wouldn't be a search engine if those behind TruMingle didn't want you to use it, right?
The search engine here is something you don't see on free sites often either.
Normally, you only get a few filters or parameters.
That's not the case here at all.
In fact, you will get an advanced search engine that you can tinker with to help you fine-tune your searches.
The initial filters are:
If you click on the Show Filter menu you can add so much more including:
Hair color
Height
Weight
Body Type
Eye color
Sexuality
If they have kids
Habits
Star sign
Languages
Hobbies
You can only search for three of these at a time, however.
I am not sure why they've added that restriction.
I would prefer that users could add the parameters they wanted to each search that they make.
But that's just nit-picking, I guess.
When compared to other free dating sites, you just don't see advanced search engines like this.
Reaching out to others on the site
A free dating site is only going to allow you to message others, right?
Wrong.
You have three different ways in which you can reach out to others on TruMingle.
Yes, messaging is the first option.
To send a message, go to the profile of the person you want to send it to and look for the message option.
Click on it and type your message.
And that's it.
When they reply you can interact with each other using these instant messages.
You also have the option of video calling as well as regular calling but that I am going to cover next.


With a free dating site, there are going to be any key features that a paying site would have.
Normally, these key features are exclusively for paying members and generally include things like the ability to send unlimited messages, to see all the photos posted on other users' profiles, see who has viewed your profile, advanced search filters and more.
All of those that I have highlighted above, however, are for free on TruMingle.
But I think there are still some extras that are available for free that you would count as a key feature and that's what I am to highlight in this section.
Other than regular messaging, you have the option to video call other users.
This adds a whole new dimension to the site and certainly allows for relationships over a long distance.
It's critical to note, however, that video calling isn't just something you can do from the start.
If you want to video call someone, they do have to give permission first.
That's important from a security point of view and allows them to check out your profile before they give the go-ahead.
Hopefully, the two parties would have messaged each other beforehand as well.
Yes, if you are a bit worried about appearing in a video call, you can choose a regular call instead until you feel a little more comfortable.
The same rules apply, however.
No one can connect with a regular call unless you give permission.
So again, there's that extra level of security built-in.
I am not a fan of roulette-style dating games but Trumingle makes this far more useful to users.
And that's because you don't only see a photo of the person but their full profile as well.
So you can really see what they are all about and even see just how much you match with them before either liking them or skipping.
We've talked about how awesome the advanced search engine is on the site.
It really will be something that you use over and over again and deserves to be mentioned under the key features.
This is also something I have mentioned before but because they are unique, especially on a free dating site, they deserve to be named as a key feature.
And they really can help you find out just how much of a match someone can be for you.
That takes things away from the obvious physical attraction, because as we all know, in a relationship that's not the only critical thing to maintain our love for someone.
Put away that credit card.
You won't ever need it.
I really can't quite understand that this site is free.
While using it, I kept on thinking there would be a timer or something that pops up and says, "Your free time is over".
So yes, you don't have to worry every about paying while using TruMingle.
To be honest, I would easily pay $30 per month and maybe more for what this site has to offer.


Conclusion and Overall Rating
Without a doubt, this is not only one of the best free dating sites I have used, but one of the best dating sites overall.
There are just so many positives from the way it looks and operates to the plethora of tools at your disposal to help you find those perfect matchups.
Just think about it, what dating site gives you three different ways of contacting a potential matchup?
Usually, it's just one form of messaging.
Throw in the excellent search engine and matchmaker graphs and you see why I am going to rate this site highly.
It gets a 5 out of 5.
Our team of dating experts at Onlineforlove took an extended period of time to both test and study TruMingle.
They then gave the site an overall star rating based on important criteria that we apply to every site we review.
The final evaluation of TruMingle is based on criteria such as:
How much membership costs
How easy the site is to use
What key features are on offer
How the matching algorithm works
And more