Online dating platforms serve many purposes.
Perhaps one type of online dating website that's had the most media coverage over the years is those that are considered to be mail-order bride sites.
You know, a niche international dating site filled with women from Eastern Europe, most notably from Russia and Ukraine, who want to meet a man from the West.
Today, we are going to analyze a site just like that, JollyRomance.com.
OFL Top Recommendations based on 100,000+ Survey

"Serious Relationships"
"Discreet Hookups"
"Best Course for Men"
"Quick Flings"
"Normal Hookups"
"Our Quiz"
Our review gathers critical information about the site that you need to know, especially if you are planning on starting a profile on this online dating service to look for that perfect match.
Here's what we will explore:
Let's reveal all that it has to offer.
Is your dating app giving you the best chance for success?
Make sure to take our online dating site/app quiz to find out.
It's a fact that people who follow our dating site suggestions have on average 2 extra dates per month.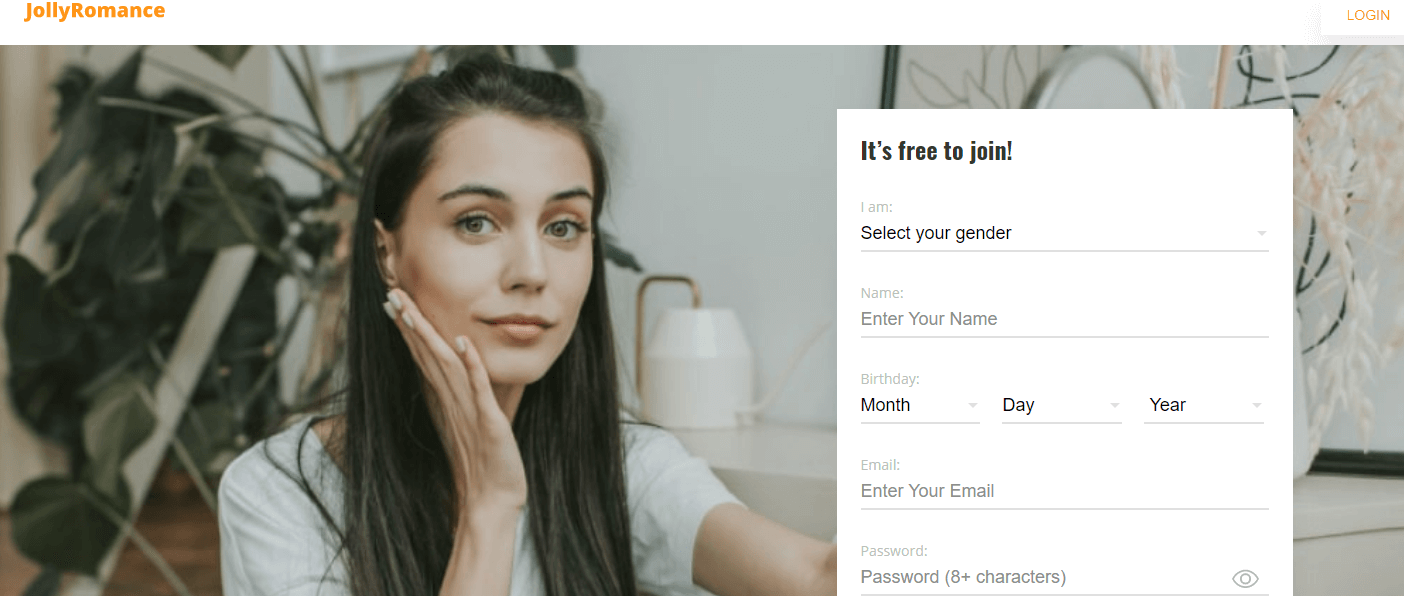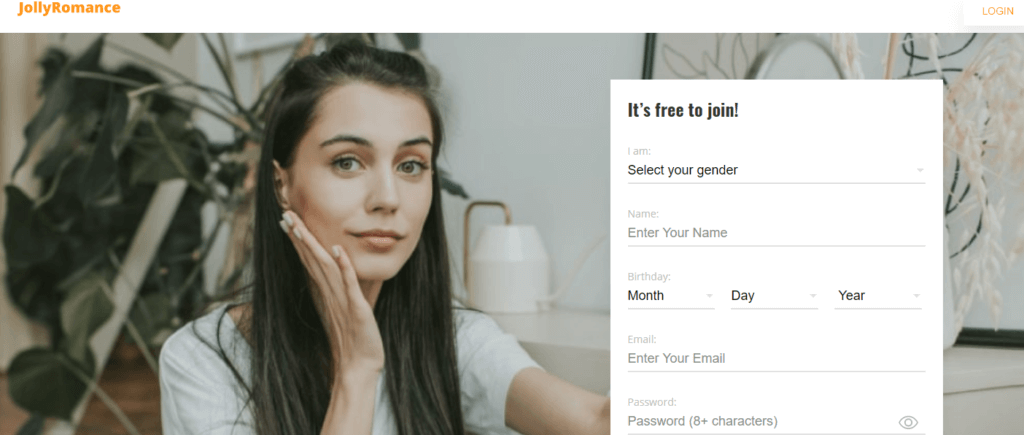 Ease of use – 4/5
Success rate – 3/5
Key features – 3/5
Price – 2.5/5
A well-designed and easy to use website
New users get a welcome package with 20 free coins to try the site out
You can view full profiles for free including all public pictures
No paying membership only on-site currency which is expensive


Who is it for/Demographics?
On sites like this, there are two very distinct groups of users.
You have men, mostly from countries in the West like the United States who want to meet up with foreign women to start a serious relationship or marriage (like Tinder or eHarmony) and rarely, for casual hookups (like BeNaughty or Ashley Madison).
In this case, those foreign women are from Russian, Ukraine and other countries from Eastern Europe.
​It's that simple and sites like this have been around for decades.
OFL Top Recommendations based on 100,000+ Survey

"Serious Relationships"
"Discreet Hookups"
"Best Course for Men"
"Quick Flings"
"Normal Hookups"
"Our Quiz"
So there's nothing that different about Jolly Romance when it comes to who uses it.
But because there are so many similar options online just how busy is the site?
I couldn't clarify exact numbers but I would guess based on other details below, it will be well over 500000 who have registered for profiles here.
Here are some other facts and figures I learned about the site:
Over 250000 users from the United States
Around 50000 users are active each week on the site
That's 7000 per day and over 200000 per month
Over 1000 new users join each day
When you evaluate Jolly Romance against other similar sites, it's may not the biggest but the user base certainly growing.
Gender ratio and user age ranges
Determining the gender ratio on sites like these can play a role in identifying which of them you should start a profile on.
And despite most of them having far more male profiles than female profiles, Jolly Romance is a little different.
While collecting demographic information about the site, I found out that while there are more male profiles than females here the ratio is very close together.
55% of the profiles are male
45% of the profiles are female
That means it's almost a 1:1 ratio which is far better than three men to every female, that's for sure.
As for age ranges, well that too makes for interesting reading.
In analyzing the age ranges, I wasn't surprised to find the biggest group of female users in the 25-34 and 35-44 age brackets.
Over 30% of the female users are found in those two groups.
The two biggest male age groups surprised me, however.
20% of male users are aged from 25-34 years old while 15% are between the ages of 45-54.
I would have also thought the 55 and older group would be far higher than the 5% they come in at.
But this just indicates that no two dating sites are the same and what you expect in terms of demographics isn't how things turn out.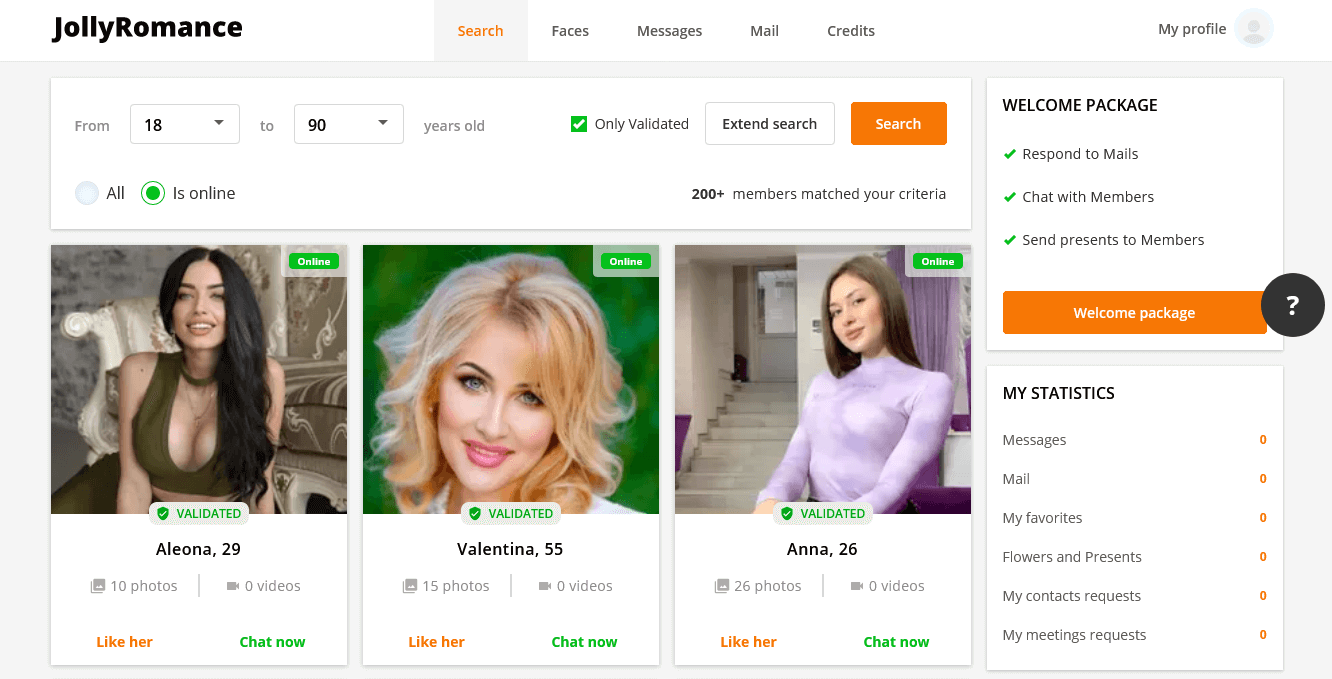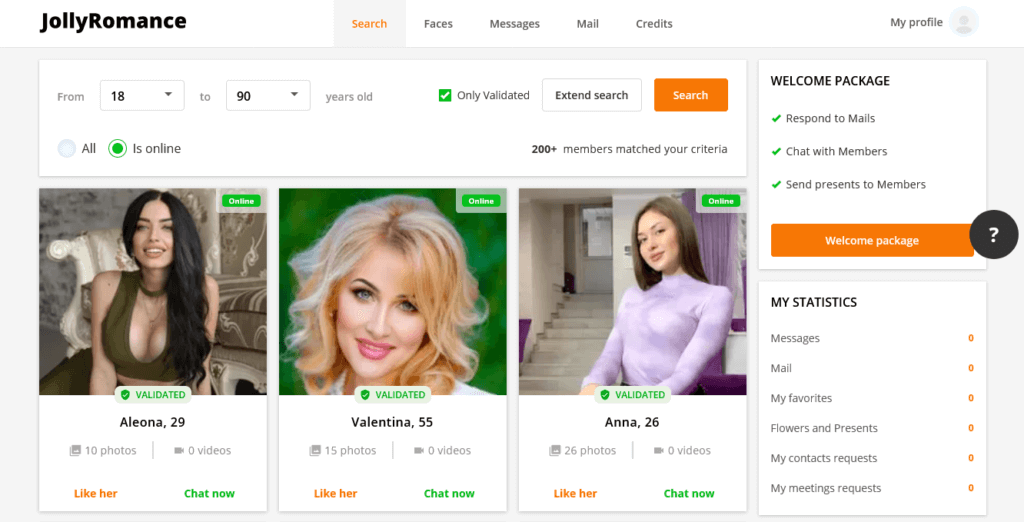 While you are free to sign up for Jolly Romance using your phone, you can only do so using the mobile version of the site.
There is no app.
Once you've pointed your browser at the Jolly Romance web page, you will be taken through a very user-friendly free registration process to register as a user.
It starts with providing the following information:
Gender
Name
Date of birth
Email address
Password
That gains you immediate access to the site, but you aren't done yet.
All new users have to fill in a questionnaire before they can continue.
And while many sites do this, this questionnaire was fairly comprehensive.
Let me summarize some of the questions you can expect.
They include:
Your goal for using the site of which you can choose multiple answers, for example, having fun, making friends, flirting and more
What work you do
Your marital status
Your level of English expertise
Three traits to describe yourself (there are many to pick from including caring, loyal, honest, etc.)
Your hobbies
If you like reading
Your favorite movie genre
Your favorite music
Your guilty pleasures
An About Me section
The age range matchups should be
Their personality type
If you favor beauty over brains
A profile picture
While I understand that many of these are for your profile and for the site to get more information to assign you matches, my major critique is that the questions were not structured in any format at all.
They just were so haphazard.
Anway, filling them in will take around a maximum of 10 minutes.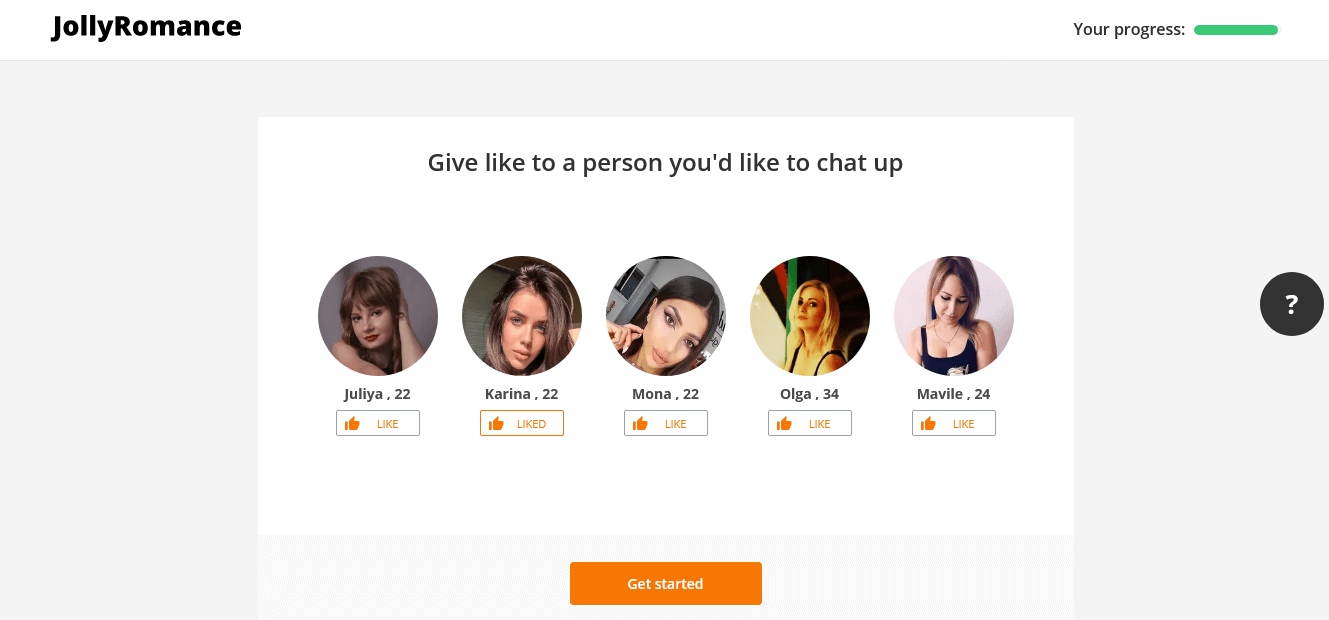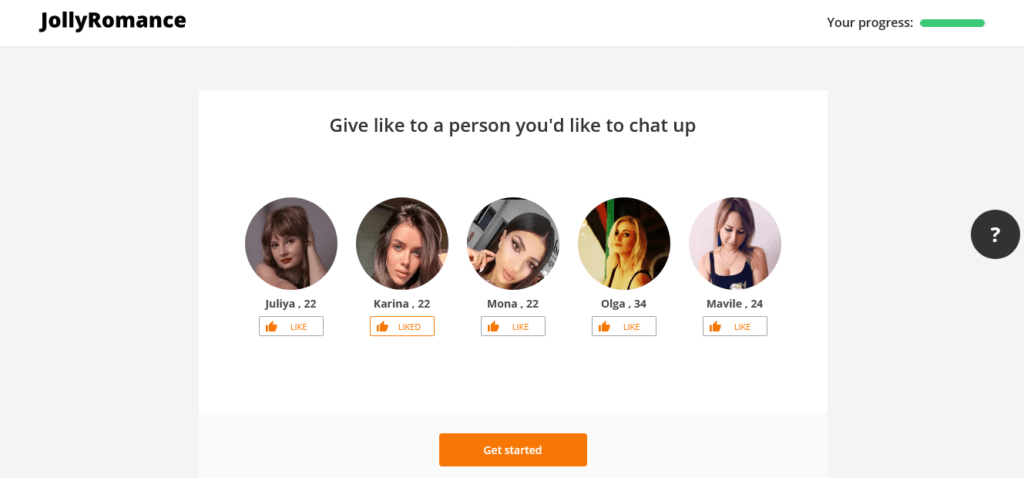 Finding your way around the site
Before you are left to your own devices, you can take a quick tour which will tell you more about the site.
While I can confirm it's a nice extra, it's not necessary, to be honest.
So what about the overall design of Jolly Romance then?
Well, the first thing you will notice is the user-friendly interface.
Everything is laid out and spaced beautifully with the profiles of potential matchups the main subject of the homepage.
And that's how it should be for people who hope to find a soulmate, right?
You will also notice that all users are presented with a welcome pack that affords you 20 free credits.
​To get them added to your account simply click on the link on the right-hand side of the page and follow instructions.
This will allow you to access the messaging features on the site and from my perspective, this was a welcome addition.
You will notice from time to time links appearing to potential matchups on the right-hand side of the page, you are welcome to click on them at any time to view these users.
Finding your way around the site is achieved through a simple menu system positioned at the top of the screen.
Let's review what these are:
Search: This is the homepage in fact. You can launch your searches for real-life love here.
Faces: If you prefer to look at potential matchups one by one, try out this roulette-style matchup game.
Messages: All messages can be found here
Mail: Jolly Romance also includes a mail system. If someone sends you a mail, you can find it here.
Credits: Click here to see how many credits you have or if you want to purchase more
My profile: If you want to make changes to your profile, you can do so here
I love sites that keep things simple and Jolly Romance certainly does that.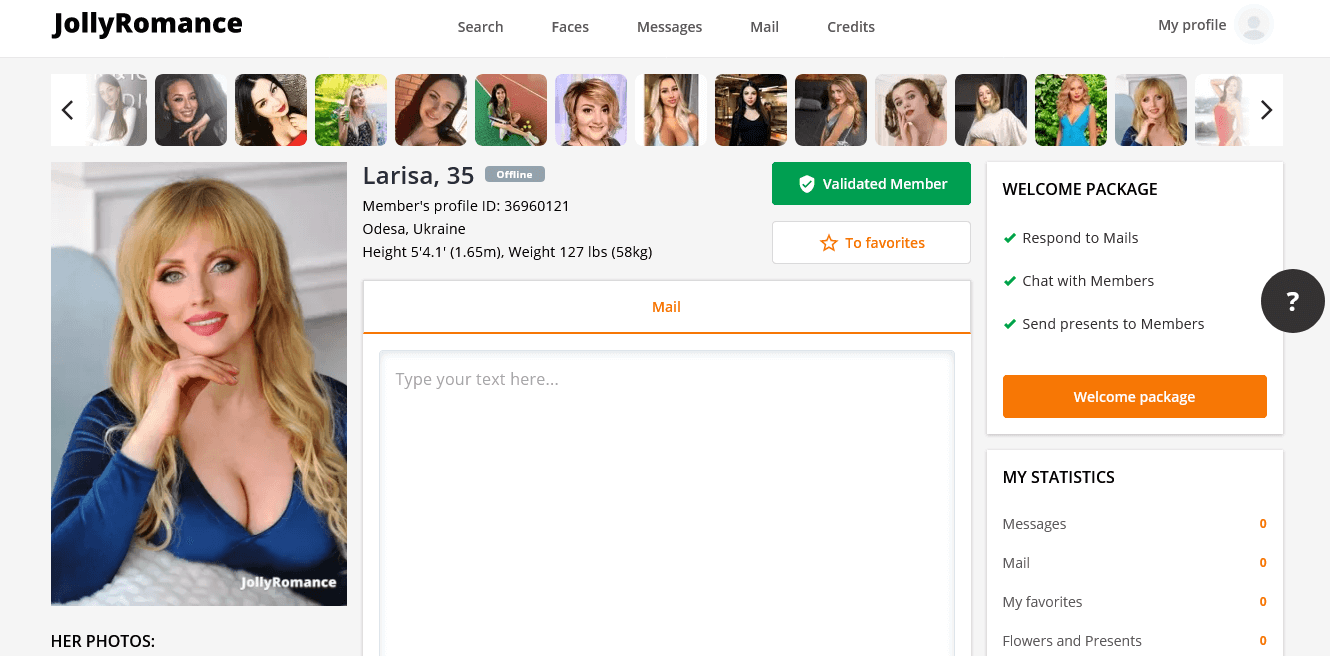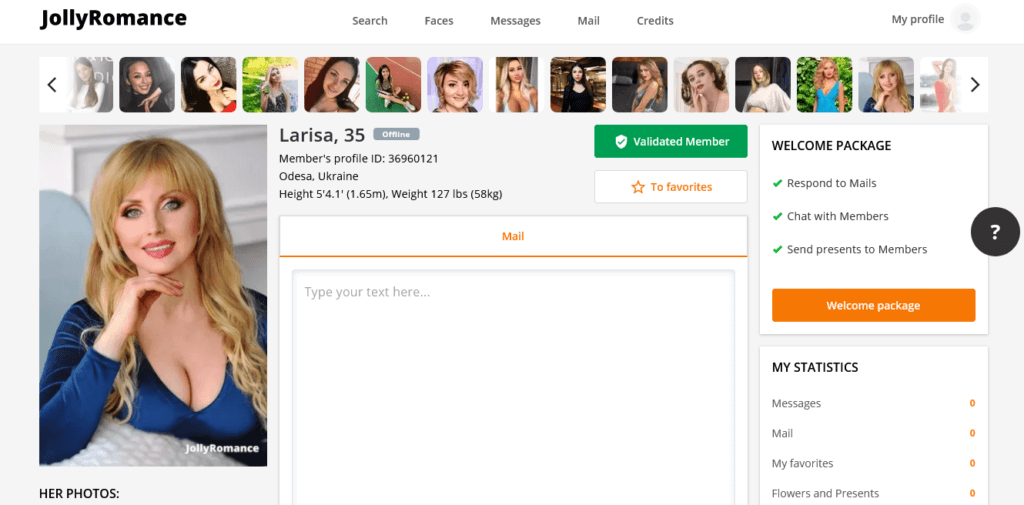 Part of the registration process included some profile information that you have to provide.
But Jolly Romance profiles are comprehensive and you haven't completed all of it as of yet.
So I believe that's one of the first things that you need to do.
Editing your profile is simple and you can do so by clicking on the profile menu.
Here's the additional information that you are going to need to provide to finish it up:
Your height
Your body type
How many children you have
If you want children
Your level of education
Your religion
If you drink or smoke
Your occupation
Seeing that you filled in other parts of your profile during the registration process, I would suggest that the team behind the site just add these few questions as well.
While observing profiles of other users on the site, it seems that they are taken quite seriously.
In fact, 99% of them are completed fully.
And the quality of the matchups are top-notch as well.
Not once did I have some ask me to send them money, but that's not saying that some users might be trying to scam you.
It's always good to be wary at all times.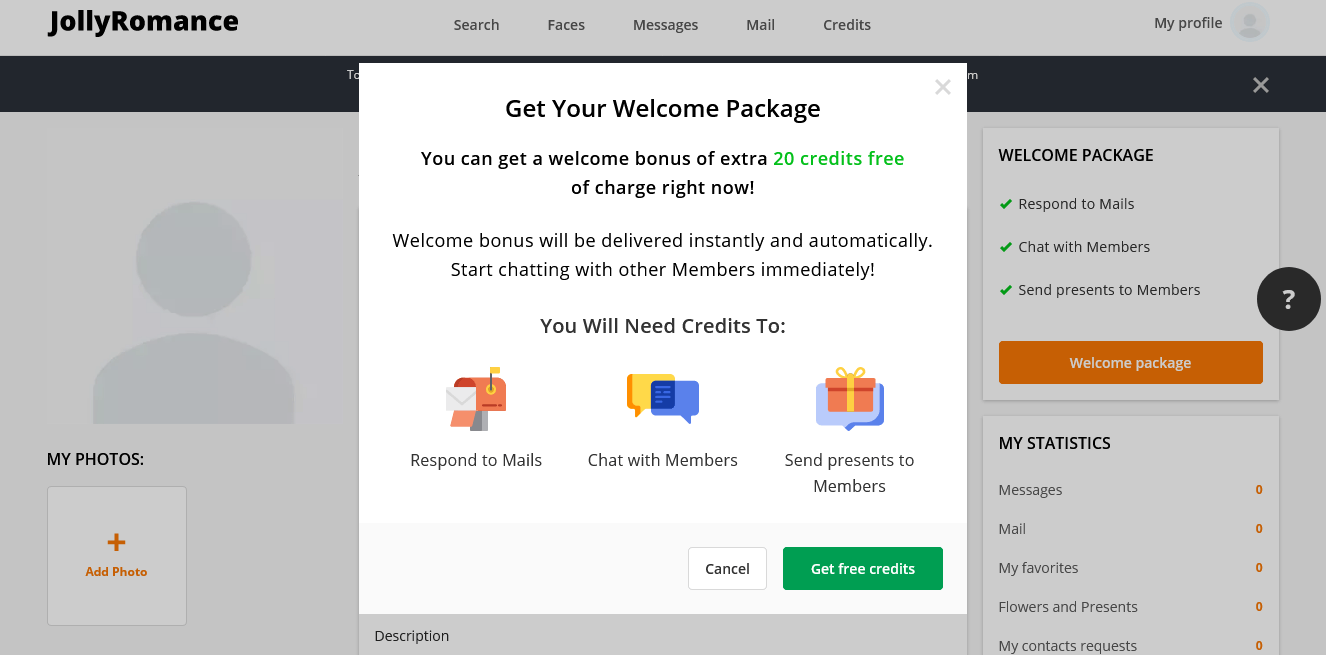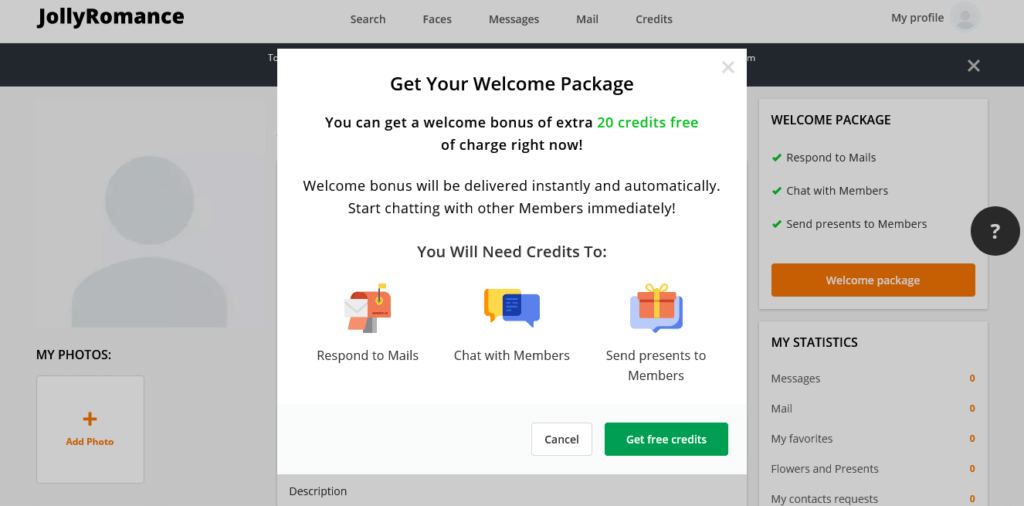 Now that you've got an idea of just how the site operates, let's talk about using the tools provide to find someone to reach out to.
As mentioned earlier, Jolly Romance will present you with potential matchups from the very beginning.
These are based upon the age ranges you stipulated during your registration.
Note, that these are only people who are currently online.
If you want to see offline users as well, then click the "All" button on the left-hand side of the search returns.
Also, if you are worried about fake profiles, you can clearly see which users have been validated by the support team at Jolly Romance.
So only interact with those verified users if you are worried about scams.
Of course, you can also play the "Face" roulette-style matchup game to find a potential matchup.
Searching for your own matchups
You can search for your own matchups as well using the search bar at the top of the screen.
Here you can change the following for a quick search:
Age ranges of profile returns
If they are validated or not
But there is an extended search as well which is available for all users.
Here you can add the following parameters:
Location (country and city)
Marital status
If they have children
Religion
Education level
If they drink or smoke
Search by member's site ID number
Again, this search can be with offline members included and you can search for those with validated profiles if you prefer.
And that's the extent of the search options on the site.
My search results during this review proved that they were more than effective enough in turning up potential matches to follow up on.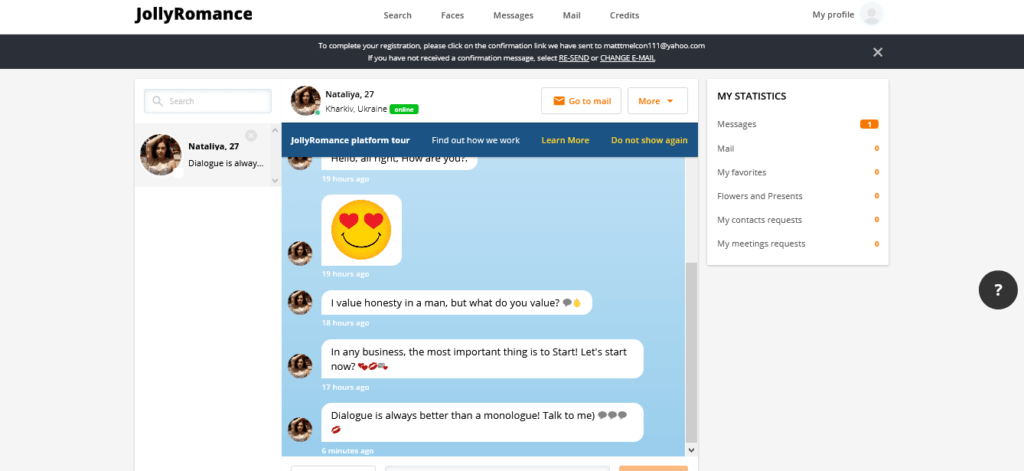 Reaching out to others and making contact
As a free user, your problem on the site is going to come in when you use up the 20 free credits you were provided with on signup up.
That's because although there is no pricing for specific membership options, you will need to buy these credits to continue to use the site effectively.
Here's a breakdown of how much each form of communication costs to give you an idea of the number of credits you are going to need:
For live chat – 2 credits per minute
To use chat stickers – 5 credits
To send chat photos – 10 credits
To send chat videos – 50 credits
To send site mails – 10 credits for the first, then 30 credits for each one in sequence afterwards
To open mails – 10 credits per mail
To open photos in mails – 10 credits per photo
To open video attachments – 50 credits
To sending real gifts – 100 credits
To make a meeting requests – 625 credits
It's not cheap, that's for sure.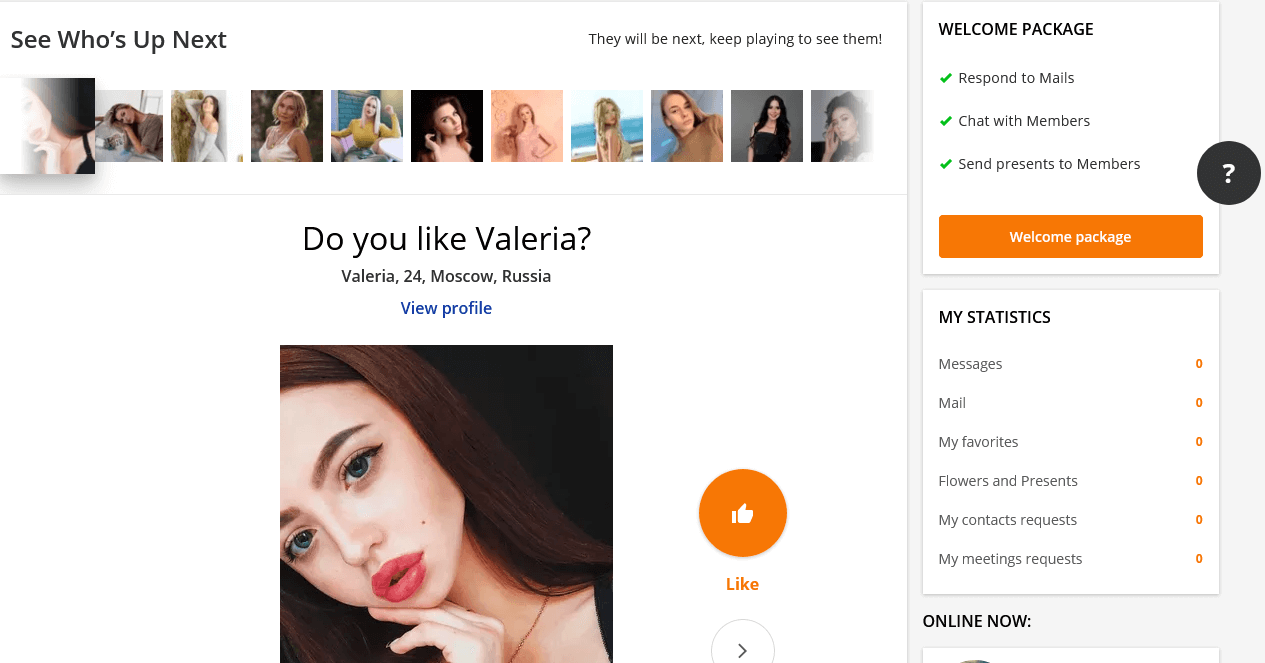 Because there is no actual membership option but just credits, there aren't that many key features that you will find on Jolly Romance.
But here are those that we think are important to how the site operates.
And critically, some of them don't even need credits, which is pretty useful for a regular user trying the site out.
Most dating sites nowadays include a roulette-style matchup feature for users to look through potential matchups instead of having to go through search returns.
And that's exactly what Faces is.
Every matchup that you will see while using Faces falls into the prescribed parameters that you have set.
And then it's a case of either liking them or moving onto the next person.
It's certainly a break from normal searches and might just provide you with the matchup of your dreams.
It's free too so make sure you use it from time to time.
If you've really hit it off with someone on the site and got to know them really well, perhaps if you are prepared to travel to their country, you can arrange a meetup.
This isn't cheap.
Just to arrange a meeting request is going to cost 625 credits.
3. Personal contact detail request
Yes, you can request personal contact details from someone that you've been chatting too.
It's free to get them as well but there is a catch.
You would have had to have spent 3000 credits or more on communication with that member alone.
It's not unusual to find gift sending options on sites like these.
Yes, if you'd like, you can send a gift to someone halfway around the world.
It's pricey though.
For example, 15 red roses are going to cost you 699 credits and an iPhone around 11000 credits.
Another free action.
You are free to like a user by clicking on the button on their profile.
They will receive a notification that you have done so.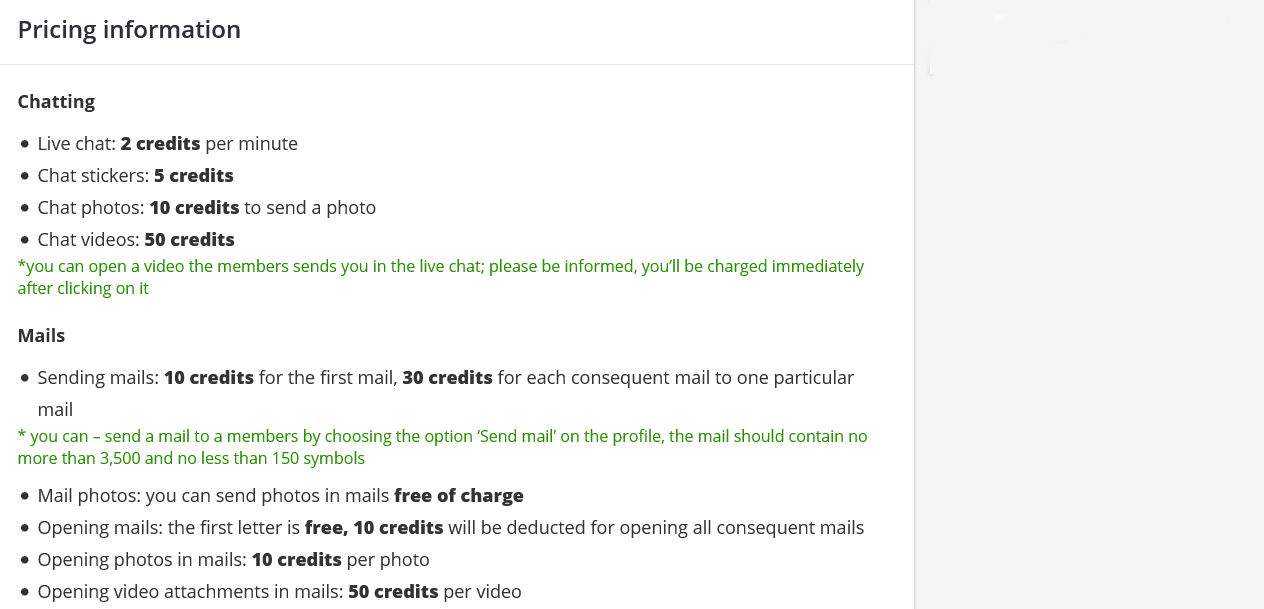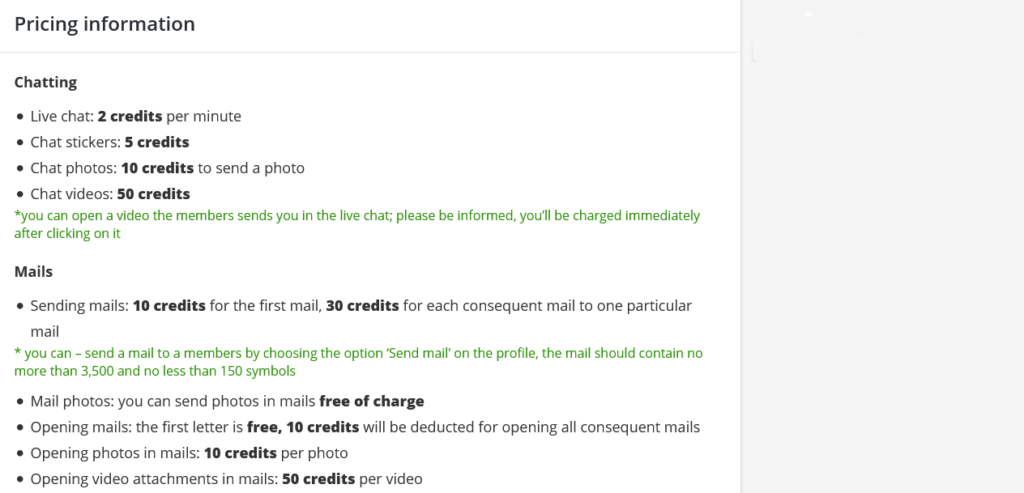 So with no membership options available, here's a reminder of what you will pay for each form of communication of the site when it comes to credits.
For live chat – 2 credits per minute
To use chat stickers – 5 credits
To send chat photos – 10 credits
To send chat videos – 50 credits
To send site mails – 10 credits for the first, then 30 credits for each one in sequence afterwards
To open mails – 10 credits per mail
To opening photos in mails – 10 credits per photo
To open video attachments – 50 credits
To sending real gifts – 100 credits
To make a meeting requests – 625 credits
But what do credits cost?
Well, your options when it comes to buying credits are far worse than to be expected.
In fact, there is only one:
The first 20 credits you buy as a new user will only cost $2.99, however.
Still, it's pretty pricey for me and I believe that this is one area of the site that can improve significantly.


Conclusion and Overall Rating
Thanks for taking the time to assess our Jolly Romance review.
In conducting this review, I have concluded that this is a site where you can certainly meet beautiful women from Eastern Europe.
Many of them have verified profiles as well, so if you are worried about scammers, you can only deal with the verified users if you'd prefer to.
There are tons of tools at your disposal here including an effective search engine to help you find the right kind of matchup.
But reaching out to them, well, that's where things get tricky.
While you have many ways to do so, Jolly Romance operates using credits and all forms of communication are pricey.
And sadly, for me, that holds the overall potential of this site back significantly.
That said, this is a slick dating site and it does work well, it's up to you if you want to pay the prices asked.
As for a rating, it gets 3.2 out of 5 and this is lowered significantly by the cost of messaging.
Onlineforlove tested Jolly Romance over a period of weeks
We have concluded that this is a site that's perfect to meet women from Russian, Ukraine and other Eastern European countries on.
Our approach to testing for this review included rating important criteria while we used the site.
The overall evaluation was based on the following critical factors: price, ease of use, success rate, user population, and key features, amongst others.