Today, we are going to take a long look at Shagle, one of the most popular video chat sites on the internet.
While it's strictly not a dating site, Shagle is definitely a way that you can search for an online hook up or someone near you that you could meet with.
So in this all-inclusive interview of Shagle, were are going to cover key points including:
OFL Top Recommendations based on 100,000+ Survey

"Serious Relationships"
"Discreet Hookups"
"Best Course for Men"
"Quick Flings"
"Normal Hookups"
"Our Quiz"
So if you'd like to give a video chat site a chance a helping you to find a potential partner or an online hook up or perhaps you just want to chat with people all over the world, then read this comprehensive review to find out all you need to know.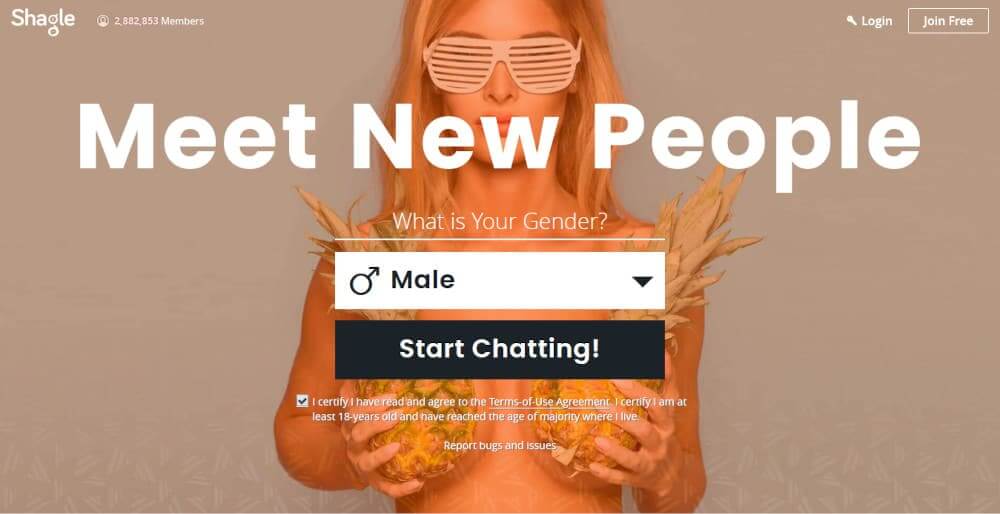 Effectiveness 3/5
Ease of Use 3/5
Key Features 3/5
Pricing 4/5
Easy to set up
Lots of settings to tweak, even if you are a paying member
Shagle includes translations tools so you can chat with people all around the world
Free users can chat with other users in 70 countries while members have 200 countries to select from
A weekly membership payment option
You start chatting straight away without any chance to change your settings
No app available
If you looking to talk to females, they only make up 32% of users
It takes a while to find out where everything is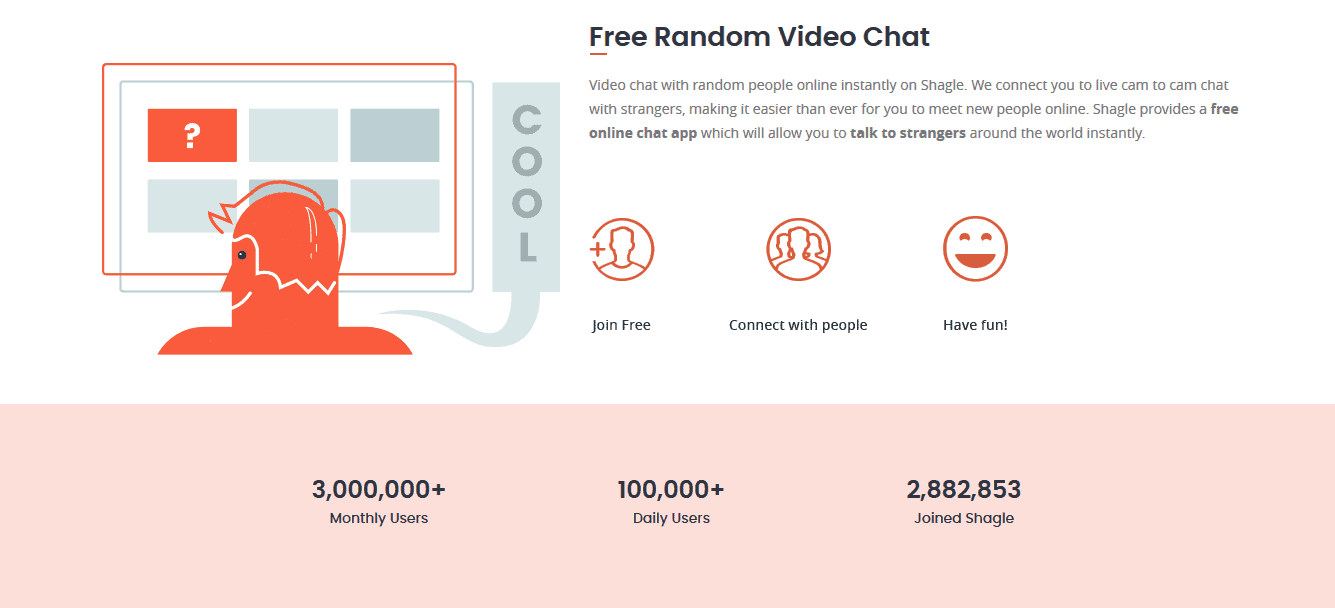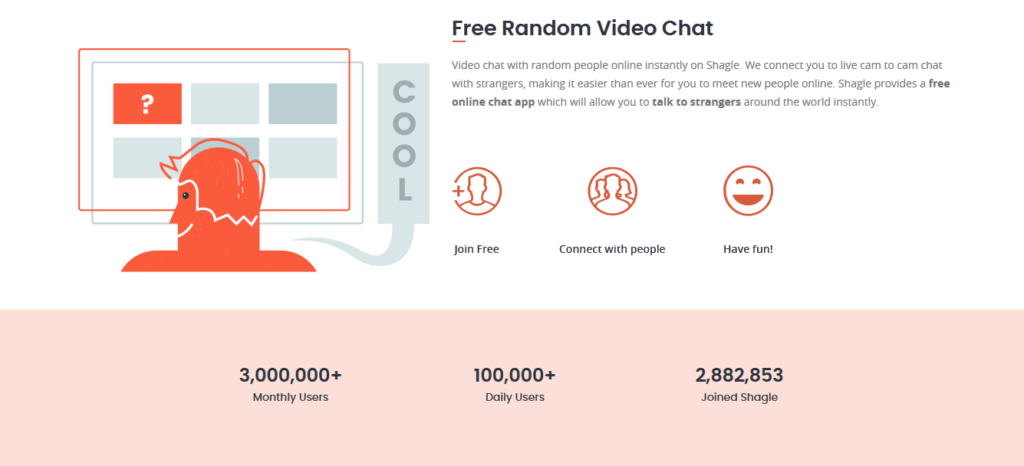 With its offer of free video chat, Shagle has positioned itself as one of the leading chat sites in the world.
Shagle is not only for hookups (like BeNaughty or Ashley Madison) or only for serious relationships (like eHarmony), but then who is making use of this platform?
Are there more women than men chatting online?
And what are the age ranges of the users of the Shagle video chat services?
For a start, Shagle says that since the inception of the platform in 2017, the platform has grown considerably.
In fact, Shagle claims that the site sees over 3 million logins each month and that over 2.8 million people have created accounts.
While these claims are almost impossible to confirm, that's certainly a plausible number and I am going to tell you why I think so.
For one, chat sites are still extremely popular.
Shagle also offers impressive extras that help make chatting with other users from over 70 countries extremely easy, even if they don't speak your language.
That's something we will get into a little bit later in the review.
For now, let's breakdown the numbers a little bit more to see if we can find any indication that 3 million users each month could be accurate or not.
So yes, it certainly is plausible that over 2.7 million people have signed up for the site and that Shagle receives over 3 million separate logins each month.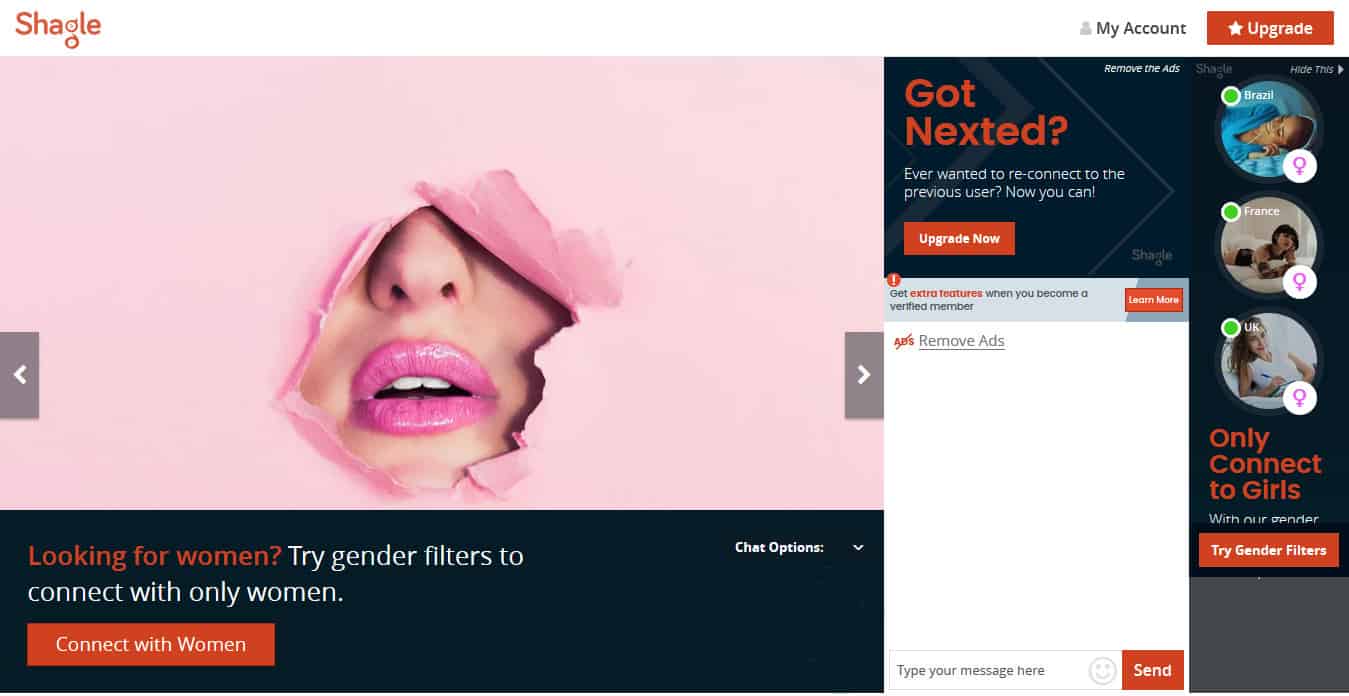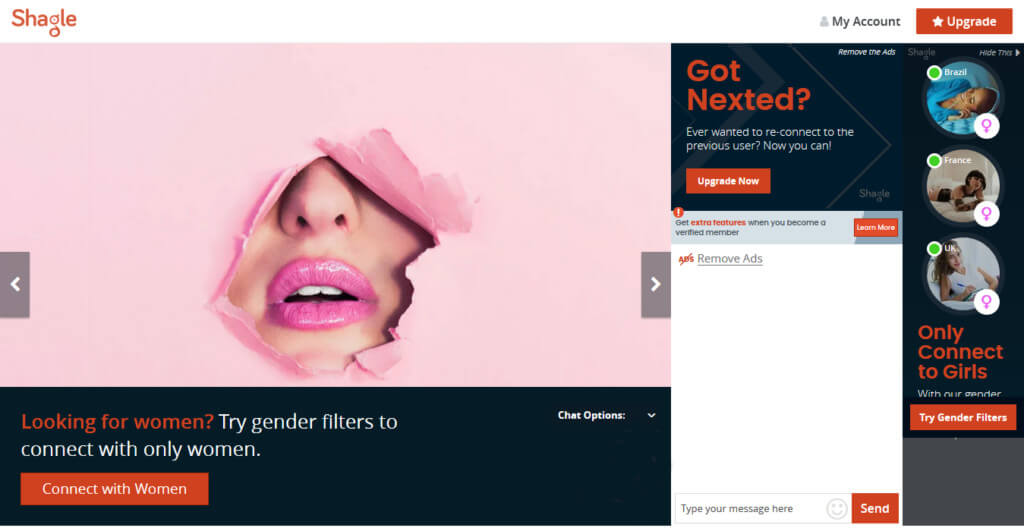 Gender breakdown and ages of users
The next critical metric in terms of user data is the gender ratio of users of Shagle.
For the most part, I've found that like dating sites, chat sites are generally used more by men than women.
At Shagle, this is the case as well and almost on a 2:1 basis.
68% of Shagle users are male
32% of Shagle users are female
Unlike dating sites where you can search for females only, this can become a problem on Shagle, especially if you don't want to pay for membership but do want to talk to females.
But more on that later in the review.
So what about the age breakdown of the users of Shagle?
Well, by far the biggest group, around 40% are between 25-34.
Here is a full breakdown in terms of the age ranges of users from biggest to smallest.
25 to 34 years of age
35-44 years of age
18-24 years of age
55 and older
45-54 years of age
To me, for the most part, those all make sense.
It's interesting, however, that the 18-24-year-olds are only in third place in terms of users and that 55 years and older is not the least amount of users.
Why that is, is not immediately clear.
From a user point of view, no matter your age or whether you are looking to speak to men, women or couples, you will find them all on Shagle.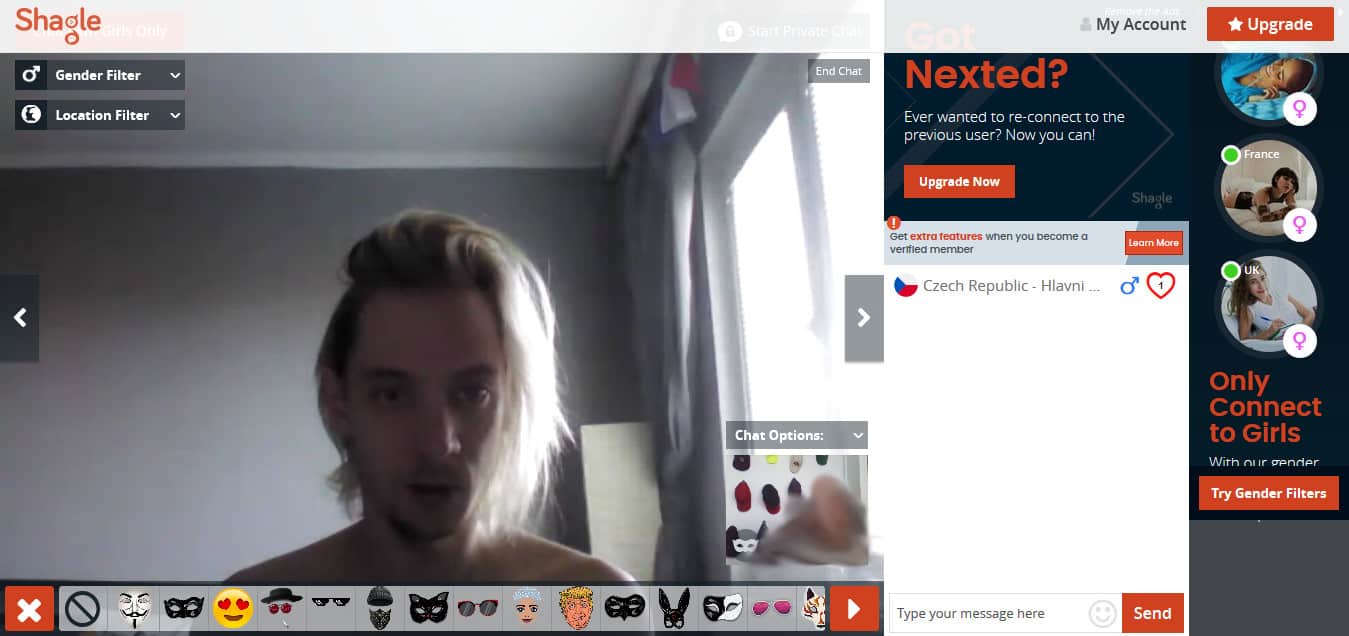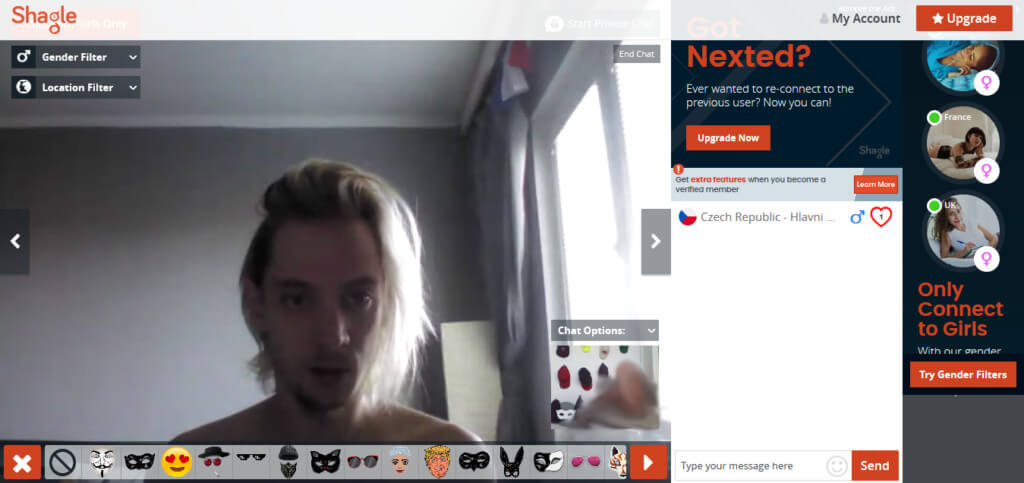 While Shagle promises free chat with users from 70 countries all over the world including the United States as well as countries in Europe, Asia and elsewhere, how does it stack up in terms of effectiveness in delivering on that promise?
But I want to tackle Shagle from the point of view of whether it can be used as a way to meet people, possibly for dating.
It may be free but does it work?
As someone looking for a video chat site to meet with new people all around the world, Shagle should immediately appeal to you especially as those chats are free once you have signed up for an account.
And you will be chatting in mere seconds from having signed up.
All good and well so far, right?
But there's a problem.
One of the first things you will notice on the left-hand side of the screen are two buttons.
These are:
A gender filter
A location filter
And they do exactly what you think they would.
The gender filter allows you to look for females to chat with if you are a male and vice versa.
The location filter lets you put in the location of users you would like to chat with (for instance, your own country).
While setting a location is easy enough and doesn't need you to sign up for a membership, if you want to make use of the gender filter, you are going to have to pay for membership.
And the thing is, you might have to.
In the time I tried the site out, I went through periods of scrolling through 100 people at a time and never coming across a female user.
I did come across some users who were flagged as couples but I didn't see a female profile.
It might have been a time of day problem (although I logged in at different times) or simply that I was unlucky.
Remember when I told you that the user bases were 2:1 in favor of males?
That obviously is playing a big role here as well.
So if you are a straight male looking for a female to chat to, it might not happen straight away, unless you opt to go the membership route.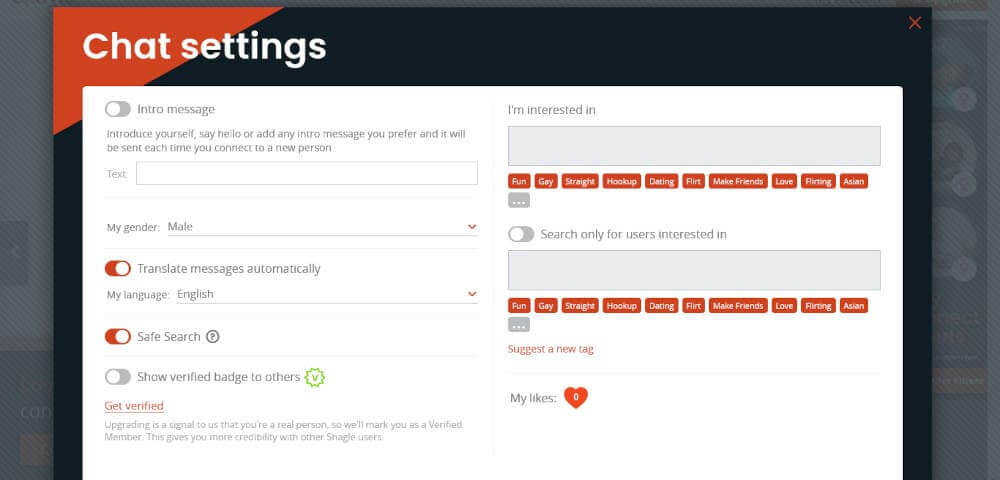 What about chat settings?
What I did like about the free chat option is that it had many settings that you can tweak, so let's take a look at some of these.
You have the ability to write an intro message that any user that you connect with can read instantly. This helps you quickly get across what you are looking for in a chat mate.
Here you can choose either male, female or couple.
Yes, thanks to the fact that you can reach people in 70 countries, Shagle includes a translate feature. This helps translate anything someone types into your language.
While certainly not flawless in its application, Safe Search tries to filter out explicit users. I found out that it doesn't always work.
Here you can select tags to show other users what you are looking for. These include tags such as dating, flirt, love, straight, hook up, gay, etc.
Search for users based on their tags
Here you can search for users based on the tags they have which can include the examples above.
That's a lot of settings that you can toggle as a free user.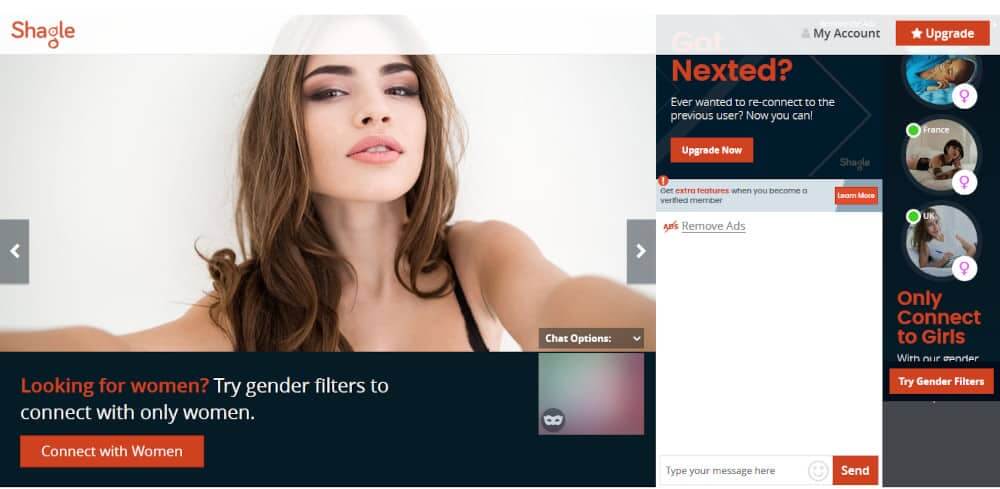 In terms of signing up and getting going, I don't think I have found a site that gets you online and chatting quicker than Shagle does.
Signing up itself can be done in two ways.
Username, password and a verified email address
Using a social media account (either Google or Facebook)
I went the traditional route and quickly received an email from Shagle to verify my email address.
And then I could log in.
It took all of a minute to get up and running.
I will be honest, although I got online fairly quickly, it took me some time to navigate what Shagle has to offer effectively.
It's easy to start browsing through other users finding someone to chat with but adjusting the settings took some time to find.
It's all good and well seeing people on your screen and chatting to them but I wanted to add some filters before I got to that step.
The only way to do it means you have your camera and microphone on already, so other users can already connect to you.
If that bothers you, quickly hit the "stop chat" button at the top of the screen.
Then select the "chat options" button and from there you will find:
Settings: Here you can change your intro message and filters as I explained above
Camera: Switch it on and off here
Mic: Switch it on and off here
Volume control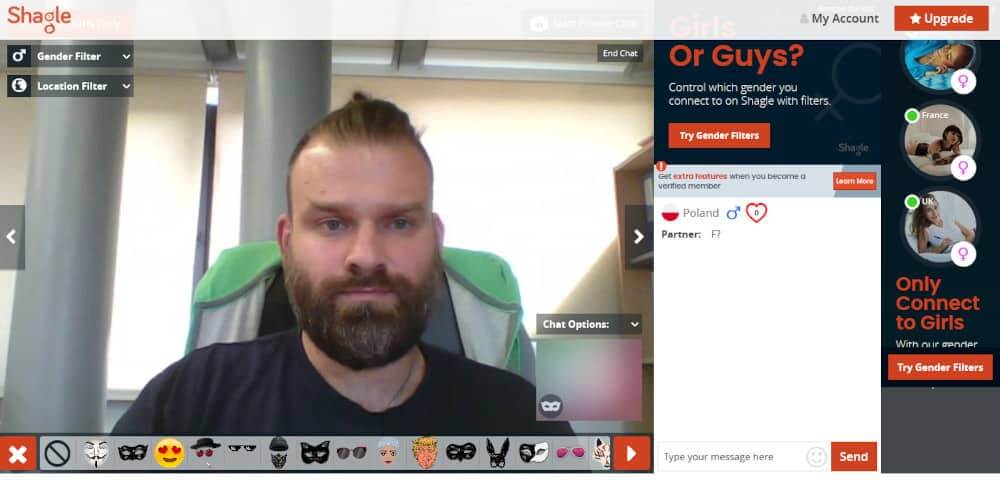 Although Shagle gets you online and chatting in a matter of a couple of minutes, I would prefer it if these settings were something I could change before I chat with someone for the first time.
It's not a deal-breaker, however.
Once I figured out where the chat settings were (which took about five minutes), I set up everything to my liking.
The screen is obviously dominated by the person that you are chatting to and you can easily jump to the next person by clicking on an arrow on the right-hand side of the chat screen.
On the right-hand side of that, you will find a chatbox as well.
If you choose to switch off your screen and mic, Shagle goes back to being an old-school chat site.
Here you can type in your home language and the translation software converts it into the home language of the user on the other side of the chat and vice versa, of course.
Lastly, if you feel a little worried about showing your face online, you have the ability to use a selection of masks to disguise your identity.
Again, this is a nice addition to the site although many of the people I chatted with were more than prepared to show their faces.
No, it doesn't.
I really find it kind of strange that a massive video chat site like this doesn't have its own app.
It just seems perfect for it.
That said, although it doesn't have an app, the mobile version of the website works extremely well, so maybe they simply don't see the need for anything more than that.

So while Shagle offers many features for free, what's a paying membership going to provide you?
Let's take a look.
For me, the biggest reason to sign up for a Shagle membership is for this alone.
Trying it out meant that instead of getting male after male to chat to, I could now exclusively speak to women only as my preference.
Of course, if you'd like to chat with a male or a couple, you simply set it here and Shagle will bring up users with your preference.
While regular users can search for people to chat within 70 countries, if you opt to become a paying member, that increases to 200 countries.
Users who opt for membership don't have to deal with any advertising on the Shagle site.
While this is a useful feature, Shagle doesn't have that many adverts for users who chose not to pay.
If you are a member, your profile receives an exclusive verified badge that all other users can see when they chat with you.
5. Reconnection to a previous user
Should wish to reconnect with someone you have chatted with before, you are able to use this feature.
I've always found virtual gifts a little gimmicky, even on a dating site.
I suppose at the end of the day, they are only a little bit of fun.
Shagle offers virtual gifts for members to send to other users that they have chatted to.
And those are the extras that you can expect to be added to your experience as a user should you chose to sign up for Shagle membership.
Without a doubt, the best one there is the gender filter.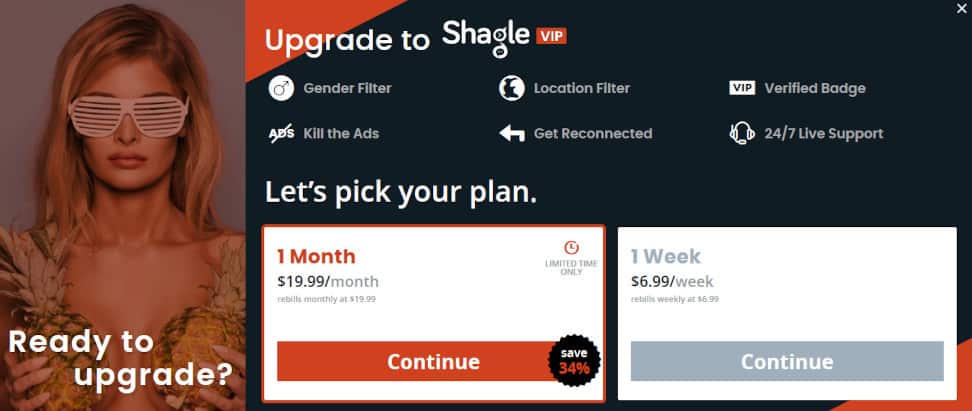 The question is now, how much will those extras cost you each month should you wish to sign up?
Well, seeing as Shagle isn't a dating site but a chat site, you would think that the prices charged for membership wouldn't be as expensive.
And they not.
In fact, I think membership prices for Shagle are reasonable and there are some excellent options.
That's because Shagle doesn't only give you a monthly membership option but a weekly plan as well, although it works out more expensive than the monthly option.
The thing is, at least you can sign up for a week to try out the site and end your membership if you don't feel it's worth it.
And you would have paid far less than the monthly membership would cost you.
Here's what Shagle is going to cost you for both options:
Weekly membership – $6.99
Monthly membership – $19.99
And payment options?
Well, to sign up for Shagle you are going to have to pay using your credit card.

Conclusion and Overall Rating
So before I give my overall score for Shagle, I want to chat a little more about my feelings regarding this popular chat site.
Shagle is very easy to set up and you are online within minutes.
And while I appreciate that it's nice not to have to jump through hoops to register for a site, sometimes, just going through those few extra steps can be a necessity.
As I mentioned, within a few minutes, I was online and scanning through people to chat with, but I had not had the chance to set up my preferred settings, for example, what I was looking for from a potential chat partner.
And the fact that it took me some time to find where to adjust those settings didn't help either.
It's not really a big problem, but I certainly would prefer spending more time setting up than jumping straight in but that's just my personal opinion.
Other than that, Shagle has some excellent features, even if you aren't a paying member.
Yes, the site has advertising, but it isn't in your face like other similar chat sites.
In terms of pricing for those users who want to become members, well, they are extremely reasonable and also include a weekly option.
For me, membership is a real option, just for the gender filter alone.
This allows you to talk to just women, men or couples without having to move through tons of other users looking for the right person.
So onto that overall rating then.
I would give Shagle a score of 3.25 out of 5.
Have you used Shagle before?
What were your thoughts on it?
Comment below to let us know.
Frequently Asked Questions
Shagle is extremely popular and used by millions of people around the world.
If it wasn't safe, it wouldn't be as popular, that's for sure.
From a technical point of view, Shagle has an encryption system that not only keeps your personal details safe but also protects your credit card details should you use that on the Shagle app or website.
The basic features that Shagle offers, the ability to instantly video chat with people all over the world, is free.
Added extras and other features such as the ability to use special filters and to remove ads will cost you a monthly fee.
Without a doubt, Shagle is legit.
Also, when you register, you have to verify your email, so that's another extra security measure the team behind Shagle has put in place.
Shagle is a fairly new development and came into being in 2017.
A product of Cogroup Limited, Shagle is said to have over 1.6 million members all over the world.
The makers of Shagle often call it the best live chat site found online today.
Signing up for Shagle couldn't be easier.
First, either go the Shagle website on your computer or mobile (there is no app).
Then you either can use your Google or Facebook account to immediately sign in or go the more traditional username, email route.
Should you wish to delete your account from Shagle, you have to follow a few easy steps.
First, you need to click on the "My Account" button
Then you have to click the "Delete My Account" button to remove your account from Shagle.
If you have done this, there is no way to retrieve it.
Should you wish to use Shagle again, you will need to create a new account.
If you have any queries about Shagle or have a question that you cannot find the answer to, the best way to contact the support team filling to the contact form found on this page.
The best thing about the Shagle algorithm is that it remembers who you have skipped, so will never bring up that person in your chat again supposedly.
So you can choose random chat or use the filters provided to find someone to chat with.
Note, however, that some of these filters are only available to those users who have taken out membership.
At this point in time, there is no feature to block other users on Shagle.
You can report them and that's something we cover in our next question.
If you've come across someone who has misbehaved or done something to break the terms and conditions set out by Shagle, you can report them.
To do so, simply click the report button (if you are using a computer) or click the flag icon (if you are on your phone).
The user will then be reported and Shagle will look into their behavior.
If they broke the terms and conditions set out by Shagle, they will most likely be banned from using the site.