According to the Lavalife website, those behind this online dating portal have been in the dating game since 1987.
Lavalife in its present form has been around since 2001.
It's a place where people come to meet up with others, with Lavalife facilitating this mostly by bringing people of similar interests together.
Ultimately, it's trying to achieve long-term relationship success for the most part (like eHarmony or Tinder).
OFL Top Recommendations based on 100,000+ Survey

"Serious Relationships"
"Discreet Hookups"
"Best Course for Men"
"Quick Flings"
"Normal Hookups"
"Our Quiz"
That doesn't mean you won't find all kinds of people on the site looking for a range of different relationship types to which the site caters (like BeNaughty or Ashley Madison).
In today's extended review of Lavalife, we are going to look into:
So sit back and enjoy the read.
By the time it's over, you will know everything you need to know about Lavalife and what it has to offer you.
Is your dating app giving you the best chance for success?
Make sure to take our online dating site/app quiz to find out.
It's a fact that people who follow our dating site suggestions have on average 2 extra dates per month.


Ease of Use 4.5/5
Effectiveness – 4/5
Key Features – 3/5
Pricing – 4.5/5
Includes an app for Apple and Android handsets
Close to two million users
Free seven-day trial
Not that many key member features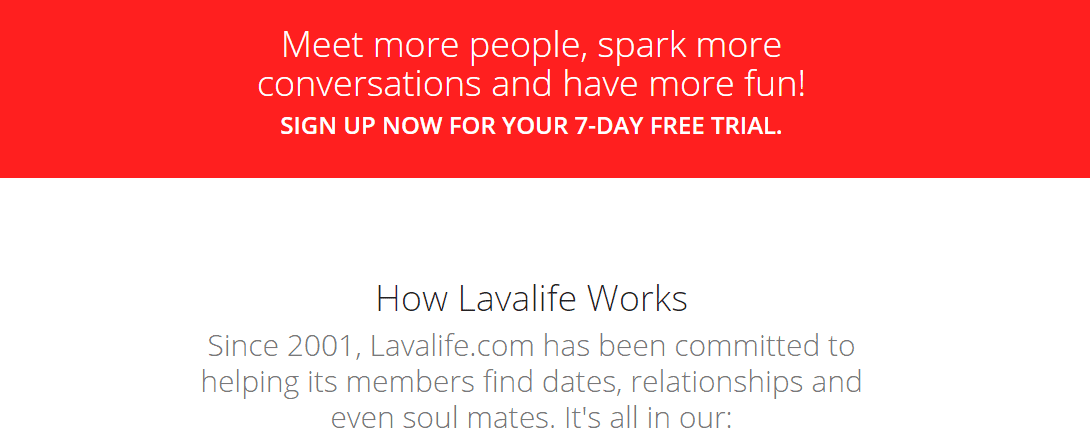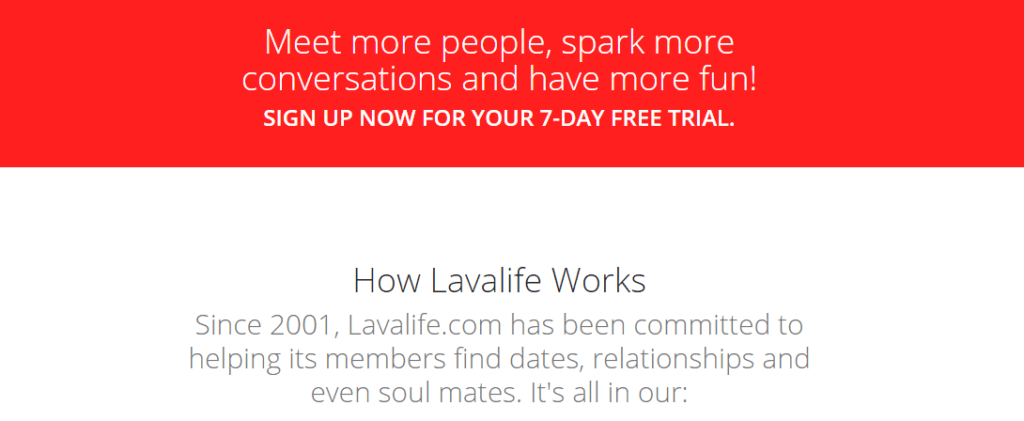 Who Is It For/Demographics?
So who exactly is Lavalife for?
Well, it's for anyone that wants to use an established dating platform to find love online.
For the most part, the users on Lavalife are from the United States and Canada and by far the biggest percentage of them are looking for long-term love.
OFL Top Recommendations based on 100,000+ Survey

"Serious Relationships"
"Discreet Hookups"
"Best Course for Men"
"Quick Flings"
"Normal Hookups"
"Our Quiz"
It serves both the heterosexual and the gay and lesbian communities.
So it's been around for almost two decades now and in that time, Lavalife has built up an impressive user base of close to two million people.
That's certainly not to be sniffed at, right?
While most of these are from Canada, where it is particularly popular as well as in the United States, Lavalife is a dating site used all over the globe.
Here's some interesting facts and figures for you regarding the site:
Close to 350 000 users are based in the United States
Around 700 000 messages are sent each day on the platform
Around 50 000 users are active on the site each week
That's around 7 000 per day and 200 000 each month
You see, I told you this was a busy online dating platform, didn't I.
Gender breakdown and user age ranges
Lavalife is a dating site where male profiles are in the ascendency of those of female users.
But it's not too far apart, luckily for the males.
60% of the profiles created on Lavalife are for male users
40% of the profiles created on Lavalife are for female users
It's better than some of its rival dating sites in that regard but obviously, the closer to 50/50 it can be, the better.
Let's talk about the age ranges.
They are well spread across the board but users from 18 to 34 are more prevalent.
Here's a full breakdown:
25-34 year-olds (29% of all users of which 18% are male and 11% are female)
18-24 year-olds (22% of all users of which 13% are male and 9% are female)
35-44 year-olds (20% of all users of which 12% are male and 8% are female)
45-54 year-olds (16% of all users of which 10% are male and 6% are female)
55+ (13% of all users of which 8% are male and 5% are female)
As I said, that's a decent spread across the board but yes, 51% of all the users are aged between 18 and 34.
And while the 55+ age group is the smallest on the site, they still make up 13% of all users.
That's over 200 000 people in that age group.
So no matter what age you are, you can successfully use Lavalife for online dating, that's for sure.


When you head on over to the Lavalife registration page, you probably will be blown away like I was.
This is no slapdash effort at all.
In fact, there is tons of information to process here and they do their best to sell you the site, that's for sure.
You can learn a lot about it before you even enter those registration details, that's for sure.
Once you've learned a little more about Lavalife, you can start registering for your profile.
Registering for a profile on Lavalife
Of course, as this is a modern commercial dating site, you've got plenty of choices to start your registration.
Yes, there is an app if you'd prefer that and it's for both Android and Apple devices.
If you choose the website option, as I did, you can sign in using your Facebook account to speed things up a little bit.
I am a bit of a traditionalist and so I chose the regular route which is a three-step process
That starts off with you providing your name, email address, password, gender and the gender you will be looking for.
That's followed with some profile information including:
Your username
Zipcode
Height
Body type
Ethnicity
Religion
The third and last part of the registration – and this will take no longer than around five minutes – will require the following:
What you are looking for (the site covers everything from long-term to casual dating)
Your education
Social habits
If you have or want children
Your annual income
And that's it.
After uploading a profile picture, you are free to start your journey on Lavalife.
I know some people don't like uploading profile pictures but Lavalife makes you do so.
You cannot complete your profile if you cant.
And believe me, profiles with no pictures don't fare very well on dating sites, so it's better to do so anyway.
Lastly, Lavalife has an awesome perk for new users.
And that's that you have all the key features of the site available to use
Yes, that's right.
All new users get the chance to trial the site for a seven-day period.
How awesome is that, right?
So while you wait for the verification email to come through, why don't you quickly finish off your profile.
You've completed around 75% of it during the registration process but there are a few things still to add.
These are:
Your profile opening line (this is like a headline)
Your about me section
Your interests
The find me at section (where you like to hangout)
Your ideal date
And that's it.
Your profile is done.
Overall I love the layout of the profile.
While there is lots of information here, it's presented nicely, so it's easy for someone to look quickly and find what they are looking for in your info.
And vice versa of course.
Finding your way around Lavalife
Let's talk about the overall look of Lavalife and how to navigate the site.
Let me just say, you can see this is a professional dating site that's been around a bit.
It's not only modern looking but super effective in helping you find the kind of matchups you are looking for.
For now, however, let's talk about site navigation.
Already on the home page you will notice that searching for and the presentation of profiles is the most important.
I will cover just how that all works in the next section of this review.
You will notice a range of menus across the top of the page and you will use these to navigate the site.
They are:
Home: This takes you back to the home page where you can view a range of matchups or launch new searches
Blog: This gives you access to the blogs posted by Lavalife
Profile: Click here to make adjustments to your profile, get help or change account settings
Heart icon: See who has liked your profile, matched with you or who you have liked
Envelope icon: Your messages can be found here
Eye icon: See who has viewed you or who you have viewed
Star icon: See who you have favorited
The site really couldn't be easier to use.
But how effective is it in help you to find the kind of relationship you are looking for?


You would have noticed from the above menus that there isn't a search menu on Lavalife.
That's because it's automatically found on the home page.
I love the way it works too.
While you would have indicated the kind of relationship you want to have when you registered, you aren't restricted to searching for people that want the same thing.
For example, if you put a long-term relationship, you can still search for people who just want friendship or those who want to go on a casual date.
I really like that a lot!
Your basic search parameters are as follows:
The type of relationship you are looking for
The age range of matchup returns
The distance from you they should be
For me, that turned uploads of matchups with excellent potential.
Go through them all and favorite those you'd like to return to check out in full later.
Yes, there's access to advanced search parameters too.
That's particularly useful on a dating website with close to two million users, especially if you are looking for someone very specific.
This uses all the parameters from someone's profile, including their appearance, habits, ethnicity and more.
Of course, getting in touch with some is simple enough in your first seven days on the site because everything is free to use.
After that, however, you will need to become a member of Lavalife to be able to send messages to other users.
So what other key features can you try out during your seven-day free trial of the site?
Well, as a temporary member of the site, there's plenty on offer.
Let's look at what membership will bring at Lavalife.
I've already mentioned it a few seconds ago but without a doubt messaging is numero uno when it comes to features that membership of Lavalife offers.
That's because it's the most used form of communication on any dating site.
It's also important to note that if you send a message to a regular user on the site, they CAN reply to it.
That means you free to fire off messages to just about anyone that you fancy.
2. You can see who has viewed your profile
While it might not seem that big of a deal, dating sites know that seeing who has viewed your profile can be critical in making a dating site work for you.
And that's why they make it one of the key features that are only available behind a paywall.
If someone has viewed your profile, they have some interest in you, without a doubt.
You can follow up on that by sending them messages.
3. Create seperate profiles
If you'd like to, you can create separate profiles for the site.
So you could have one for looking for love in long-term dating and another in casual dating if you'd like.
It's useful because you can only put one option on your original profile, for example, if you are looking for long-term love.
4. Private photo galleries
All users can upload more photos into private galleries.
This isn't for everyone to see however, not even other users.
You will have to give access to people that you'd like to see your photos.
And that's it really.
There's not a lot going on here in terms of key features.
Many other rival dating sites have far more.
I guess pricing will play an important part in deciding if these features are worthy or not.
So let's jump straight into that.


I think it's amazing that you can use Lavalife for free for seven days.
I wish other dating sites would do that.
Surely it must encourage people to become members instead of hiding key features from them, like messaging and forcing them to sign up.
But that's just my opinion.
Let's see what membership Lavalife offers and how much it is going to cost you.
There are three options:
1-month membership: $19.99
3-month membership: $49.99 ($16.99)
6-month membership: $89.99 ($14.99)
Perfectly priced!
For the key features offered to members, Lavalife has their one-month membership at the right amount.
$19.99 is not too much to pay for what's on offer here at all.
In fact, I would probably suggest that if you are going to use the site for a period, you can stick to the one-month package.
That offers easy cancellation which means you don't have to wait to use up a three-month or six-month membership package if you don't feel like using the site anymore.
And to be honest, the savings to be mad on the extended packages aren't as impressive as other dating sites where it can be up to 50% at times.
But I guess that is to be expected when Lavalife's single-month offering is so competitively priced.
In terms of payment, there are no other options available to you other than using your credit card.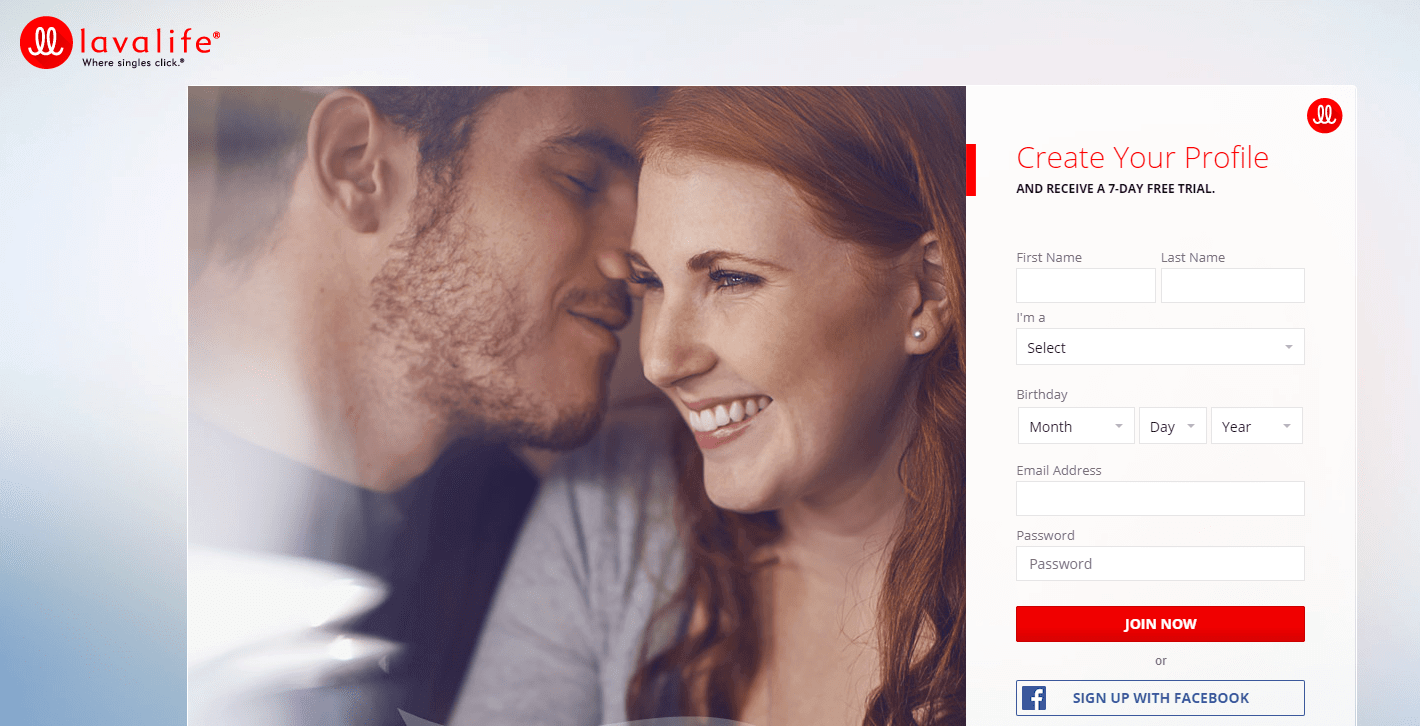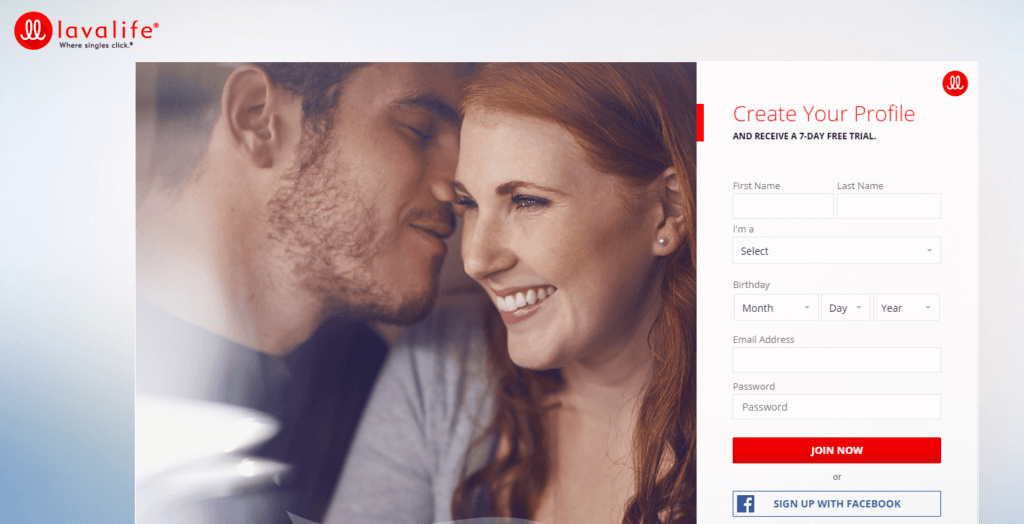 Conclusion and Overall Rating
So that's it for our review of Lavalife.
Without a doubt, this is an online dating portal that I highly recommend, especially if you come from the United States or Canada.
That's because loads of users from these two countries have made profiles on the site.
Of course, if you are from elsewhere in the world, don't let that put you off at all.
Remember, Lavalife has close to two million users so there's excellent representation across the globe.
So let's talk about the things that I love about Lavalife.
Well, for a start it's got a huge user base.
That's always important.
And what about that seven-day free-trial where you can really try out everything that Lavalife has to offer.
It's a brilliant marketing practice and I am sure that after trialing the site and seeing what's on offer, you will most likely jump at a membership, especially if you are finding excellent potential matchups.
And speaking about that membership, although there aren't that many key features to be found on Lavalife, you will no doubt agree that becoming a member isn't going to break the bank each month.
I've seen similar types of sites charge almost double what Lavalife does and then only offer one or extra key features.
Just think about it.
Why would you not try out Lavalife?
What have you got to lose, especially when you can use it for free for a whole WEEK!
So onto my rating then.
Lavalife gets an excellent 4 out of 5.
You should try it out.
If you have already, what did you think of it?
Did you manage to find what you were looking for in a matchup?
Let us know in the comments below or if you have any questions, leave one for us and we will try to answer it as best we can.
Thanks for reading this review, until next time, bye!
Frequently Asked Questions