Online dating services like Victoria Hearts are something you might have heard about before, or perhaps you are purposefully looking for a site like this.
They are specifically aimed at men from all over the world who want to meet a Ukrainian woman, a Slavic lady, or other women from Eastern Europe.
This whole international dating concept is not new.
In fact, it has been around for ages in the form of mail-order brides.
OFL Top Recommendations based on 100,000+ Survey

"Serious Relationships"
"Discreet Hookups"
"Best Course for Men"
"Quick Flings"
"Normal Hookups"
"Our Quiz"
But the internet has allowed for this phenomenon to now take place online.
In our Victoria Hearts review, we will evaluate and analyze the site in great detail.
And after we are done, you will know if this is the high-quality dating site you've been looking for where you can meet women from Ukraine and other countries.
Our dating review will identify the following information that you should know about the Victoria Hearts website:
So let's get going and reveal what this online dating website has to offer
Is your dating app giving you the best chance for success?
Make sure to take our online dating site/app quiz to find out.
It's a fact that people who follow our dating site suggestions have on average 2 extra dates per month.
Victoria Hearts Review in Video Form
Audio (podcast) form for those of you on the go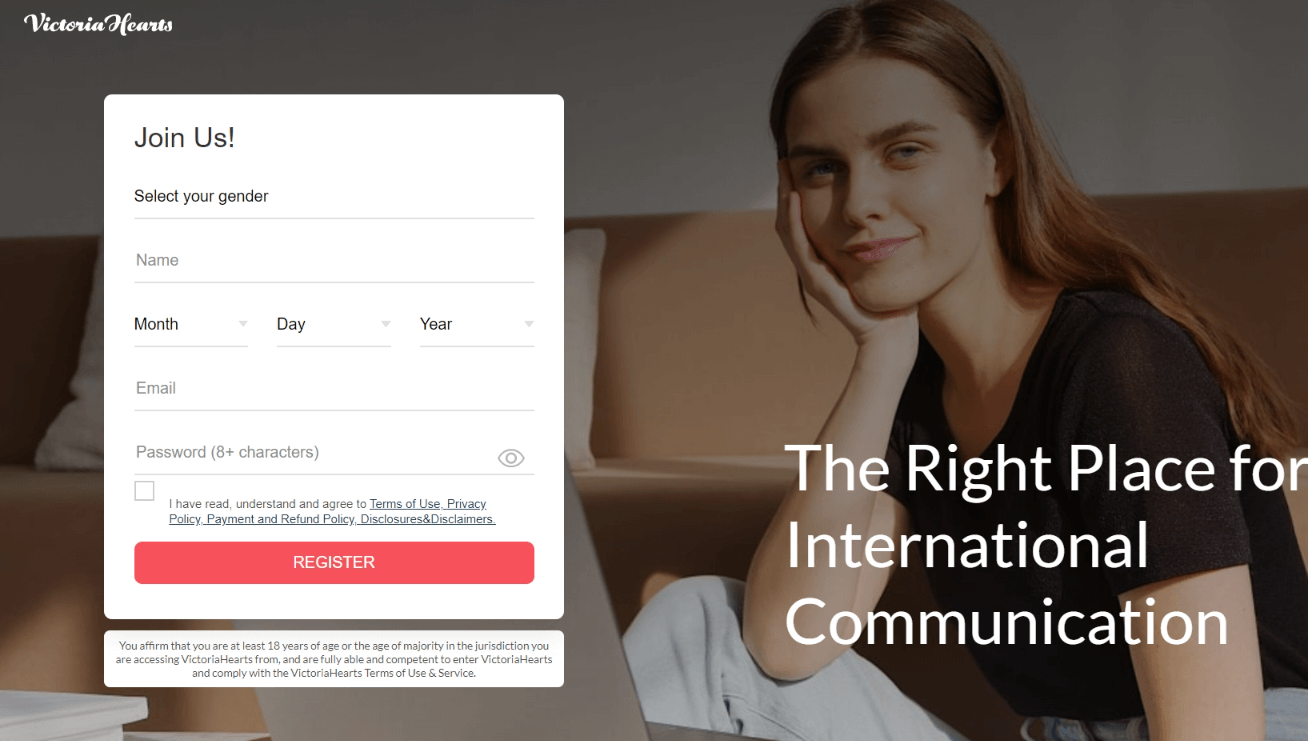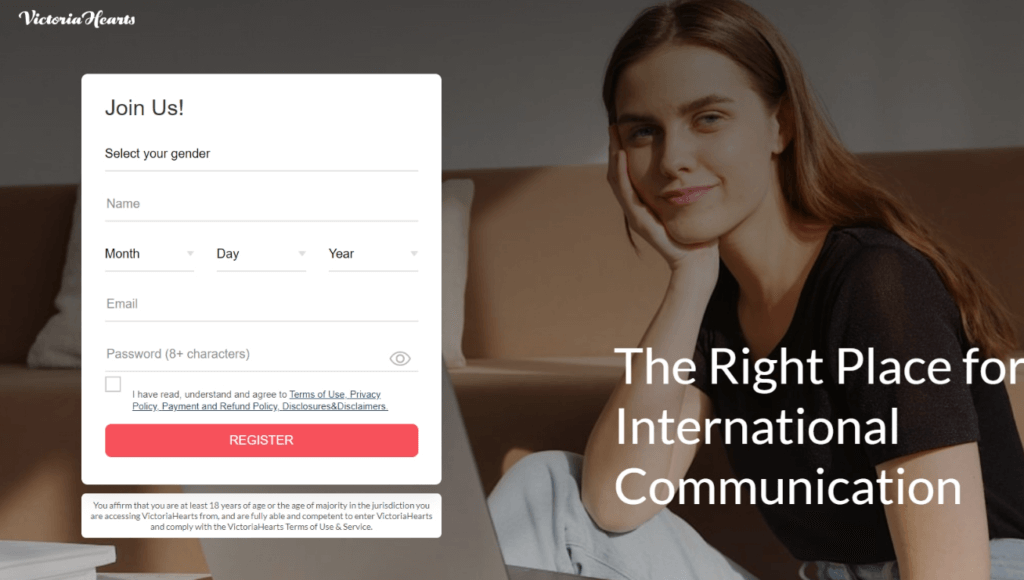 Ease of use – 5/5
Success rate – 3.5/5
Key features – 3/5
Price – 1.5/5
Over 13 million users
Well designed website
Excellent match algorithm that includes a questionnaire for each user


Who's It For/Demographics?
So this is a dating site that sees two groups of users: men and women.
Nothing new there, right?
OFL Top Recommendations based on 100,000+ Survey

"Serious Relationships"
"Discreet Hookups"
"Best Course for Men"
"Quick Flings"
"Normal Hookups"
"Our Quiz"
But the thing, and as we've already discussed, these two groups are in two different regions of the world.
The women users are concentrated in countries in Eastern Europe, most notably Ukraine.
The men come from all over the world, with a large portion based in the United States.
But just how busy is this online dating site in real life?
Well, it has close to 14 million members!
When you compare it to other similar dating sites, it has a far more massive user base than most, that's for sure.
Here are some other stats and facts that we've collected about the site:
Of the 14 million users, around 6 million are based in the United States
Each month around 400000 new members sign up for the site
Although male users come from all over the world, most are from the United States, Canada and the United Kingdom.
Most users here are looking for long-term relationships (like eHarmony or Tinder), they are not interested in casual hookups (like BeNaughty or Ashley Madison)
Gender ratio and user breakdown
VictoriaHearts, like many other similar sites like this, has a gender ratio where one side has far more users than the other.
The gender ratio here is a little over 2:1 with:
70% of users are male
30% of users are female
But now let's look at the age range of users.
Well, that's pretty consistent across the board with all age ranges contributing fairly significantly to the user base.
But the 25-34-year-old group has the most users on the site, with almost a quarter coming from there.
It's interesting to observe, however, that males dominate that group as well.
Normally, you would find more females in that group and then the older age groups contributing the most males.
Here's a full breakdown of the age ranges from most popular to least popular:
25-34-year-olds: 23% of all users of which 16% are male and 7% are female
45-54-year-olds: 22% of all users of which 15% are male and 7% are female
35-44-year-olds: 22% of all users of which 14% are male and 8% are female
55 and older: 17% of all users of which 11% are male and 6% are female
18-24-year-olds: 11% of all users of which 11% are male and 5% are female
If you've used an online dating site before, you probably know what to expect when it comes to registration as a new user.
This process is always user-friendly and for many sites, very quick.
That's because they want to get new users online as quickly as possible which is understandable.
On VictoriaHearts, despite the fact that it is still fairly quick, you will need to fill in a questionnaire as part of the process.
But it will still not take more than 10 minutes.
Registering as a new user
So let's discuss the registration process that single people will have to go through.
It starts with the following information and you can begin the process from the Victoria Hearts homepage.
Your gender and the gender you are looking for
Your name
Your date of birth
A valid email address that you have access to
A secure password
The questionnaire that you fill in fulfills two functions:
First up, it provides the site with information that will populate your profile, which of course is critical.
Second, it provides the matchmaking algorithm with information about the type of person you would like to get to know better.
And that's why it's important to take those few extra minutes to fill in this questionnaire as best you can.
It really isn't difficult either.
But what kind of questions are you going to get here?
Well, there are three sections with a big variety.
For example, questions that pertain to you and your profile are about your appearance.
You will also be asked some questions about potential matchups, for example, including their appearance, habits, age range, if they should be introverted or extroverted and more.
Finally, you will be presented with a bunch of profile pictures of users on the site.
Now you must pick out four of them that you find attractive.
That also helps the matchmaking algorithm by showing the kind of look you like.
Your profile on

Victoria Hearts
It's always exciting when you access a new dating site for the first time.
If you are anything like me, you are going to want to start looking for that perfect matchup, right?
And that's ok.
But you do need at some point to go check on your profile and get around to completing it.
Yes, while you would have provided the site with some information about yourself, there's still more you need to provide.
And on a site where males make up 70% of the total users, you want to make sure that you do everything you can to help you stand out.
The great news is that there's not that much to add and it's only going to take you a few minutes.
Information you will need to provide includes:
Your height
Body type
Your level of education (for example, college)
If you drink
If you smoke
If you have children (or if you want children)
You can even add a few more pictures if you'd like to.
When you view the profiles of women you will find on the site, you can see they take it very seriously.
Pretty much even profile I viewed not only had a profile picture but a bunch of them.
Some of the ladies even look like they had attended a professional photo shoot to help populate their picture galleries.
Finding your way around the site
So before we get into how you would go about finding that perfect matchup, I want to demonstrate how you will find your way around the site.
It really isn't that difficult either, as this is an extremely well-designed dating site.
You will notice that profiles are the most important thing on the site and rightfully so.
They are displayed on the home page in rows of three with large profile pictures so you can get a good look at each of the ladies.
There's no beating around the bush here.
On a dating site, you will click on the profile of a potential matchup because you are attracted to them.
So having the profile pictures of each lady as the stars of the show makes sense.
Before we get to the menu system, there is also a statistics table on the right-hand side of the screen.
Here you can quickly see if you've received messages as well as if how many profiles you added to your favorites, among some other useful stats.
There's a menu bar at the top of the screen by which you will navigate to the various sections of the site.
Let's break that down quickly:
Search: By clicking on this, you will return to the homepage of VictoriaHearts. This is where you will see matchups presented by the site or you can search for your own from here as well.
Faces: Matches are presented in a one-by-one format here. Click on the profile picture to see the full profile of each individual you view here.
Messages: Pretty self-explanatory, right? If you want to read any messages you've received or check back on ones you've sent, click here.
Mail: Messaging is not the only way to reach out to someone on the site. You can send longer format emails too. And this is where you will find them.
Credits: Victoria Hearts has no form of membership like most other dating sites. It uses a site currency called credits. Click this menu to see your balance or buy more if you have run out.
My profile: This means allows you to access your profile, edit it and also change various site settings.
And that's all you need really.
The design of the site really is easy on the eye, modern and all-in-all a joy to navigate.
Before we talk about the overall effectiveness of it, I've got to mention something that all new users will receive when they first join up.
On the right-hand side of the screen, you will notice a Welcome Pack above the statistics window.
Make sure you click on it.
Why?
Well, if you do, you will receive 20 credits for free to use on the site.
It's a great idea by the admin team, almost like a free trial if you will.
Listen, those credits won't last long but at least you can reach out to a few people and talk to them.
I wouldn't, however, use them on pointless tasks like sending stickers in chat or something like that.
Make those free credits worth your while by trying to converse with other users and get a real feel for the site in that regard.
There is no doubt that VictoriaHearts has all the tools in place that you would need to find a potential matchup.
This site is geared towards that and right from the start too.
Most dating sites will present you with potential matchups but these are generally based on a few pieces of information that you give when you register as a first-time user.
And that's no more than the gender you are looking for, the age range you prefer and your location.
Of course, VictoriaHearts is different because the location doesn't play a part here – you are going to be talking to women half the world away in most cases.
But the questionnaire that you filled in during the registration will play a major part in the matchups presented to you.
So already, VictoriaHearts has a huge advantage over other dating sites in that regard.
Let's start with those matchups then.
Don't make the mistake I did and think that those shown are the only ones the site has come up with for you.
There are so many of them but those that you initially see are ladies that are currently online.
Your perfect matchup might not be on that list because she isn't currently.
But don't worry, that's easily fixed by toggling a switch that you can see at the top of the matchup returns.
Change it from "online" to "all" and you can go through even more potential matchups that the site has assigned for you to look through.
From time to time, you will notice on the right-hand side of the home page, the site will alert you to users coming online.
You can also use this as a way to view profiles because these are potential matchups as well.
While you probably spend much of your time on the site looking at the matchups presented to you, at some point, you are going to search for your own as well.
VictoriaHearts gives you that option by using the search engine that you will find onsite.
It's found on the homepage as well and you can easily notice it above the rows and rows of matchups that you will find there.
So let's talk a little about what this search engine offers.
And does it have advanced search filters that can be used by anyone or will you have to pay credits to use that feature?
So the basic search engine doesn't offer that much.
In fact, there are just two search parameters you will find here: the age range of the matchups returned and if they should be online at that point in time.
Luckily, you won't have to spend credits if you'd like to make use of the advanced search engine, it's there for everyone to use.
Now you can add even more filters to your search, pretty useful for a site that where there are around 4 million registered profiles for women.
The extra search filters include:
Country and city
A user's marital status
If they have a child/children
What religion they are
The level of education they obtained
Do they drink
Do they smoke
It's not a lot of extras but it can be useful.
There aren't any appearance-based parameters which is a little strange considering that is part of everyone's profile.
Once you've found someone that you'd like to know a bit more about, click on their profile picture to bring up their full profile.
You can see where they live, their age, height and weight.
Users will also have photo galleries that you can look through.
Many users have more than one photo posted, so that's browsing their photos is a useful undertaking.
Some users will have a green badge on their profile as well saying "Verified".
They have been verified by an outside agency as to be who they say they are.
It's a nice addition, especially if you are worried about scams, something that does happen on sites like this often.
The only way that you can reach out to others is through messaging or sending a long-form email.
Both of these will cost credits.
I will cover exactly how much a little later in the review.
I would suggest using the 20 free credits that you do receive on an instant messaging/live chat session with someone on the site, or perhaps more than one person.
They will give you roughly 10 minute chat time.
While I've already indicated there is no form of membership on VictoriaHearts, there are some key features that I'd like to highlight.
1.

Real-life

contact information
Yes, you can obtain the real-life contact information of someone that you've been chatting to and taken a liking to.
But there are some provisoes.
For each person that you'd like to receive contact information from, you need to have spent over 3000 credits on conversing with them.
That's pretty steep and it will cost you well over $500 to get there if you are just using the instant messaging system which is the cheapest on-site.
I don't think I've ever seen a site like this that hasn't got some form of gifting.
Here at VictoriaHearts, there are both virtual gifts as well as real-life gifts.
And those real-life gifts cover just about anything.
Does the woman you are talking to have a child?
Well, you could send that child a gift.
Or you could send her some Gucci sunglasses or what about expensive perfume?
You could even send an iPhone if you'd like to.
Rest assured, however, you these things are not cheap.
An iPhone for example is over 10000 credits.
And then you will still need to pay for the delivery fee as well.
3. Roullette-style matching
If you are sick of searching for matchups by yourself or looking through rows and rows of those presented by the site, then try Faces.
It's a roulette-style matchup game that presents you with plenty of options.
Other than seeing profiles one by one, you can add them to your favorites, send them gifts, chat with them and view all their pictures.
From time to time, it's nice to go through the matchups in this way.
There is no secret that many people, both men and women use this site to find someone to hopefully get married to at some point down the line.
That's just how they operate.
But before that's going to happen, people have to meet, right?
There is no way you'd agree to marry someone if you haven't met them, surely.
Don't worry, VictoriaHearts will help by arranging a meet-up with you and someone you have been chatting to.
Of course, that's going to take place in the country that the woman lives in so you will have to make a plan to get there as well.
While there are some useful features there, it's important to look at how much they are going to cost before jumping in and using them.
Each of these will use credits as well as when you message or email someone on the site.
Here's a quick breakdown of how many credits various site services will set you back:
Live chat/instant messenger – 2 credits per 60 seconds
Live chat stickers – 5 credits
Live chat photos – 10 credits
Sending a video in live chat/instant messaging – 50 credits
Sending an email – The first will cost 10 credits and any reply in-sequence after that is 30 credits
Reading a mail – 10 credits
Viewing in mail photographs – 10 credits each
Watching a video – 50 credits each
Real-life gift sending – 100 credits for the admin fee plus whatever the gift costs
Requesting a meet-up – 625 credits
Once your credits are done, you can buy 20 more for $2.99.
The next batch, however, will be $9.99.
You can buy in bulk and here are the packages offered:
$19.99 – 50 credits
$44.99 – 125 credits
$69.99 – 250 credits
$149.99 – 750 credits
Pricing is very expensive and certainly much worse than I expected it to be.
For all the excellent things VictoriaHearts offers, the cost of credits is a letdown.
You can pay for credits via your credit card.
Contact the admin team regarding their refund policy when it comes to credits if you aren't happy with the service once you've bought yours.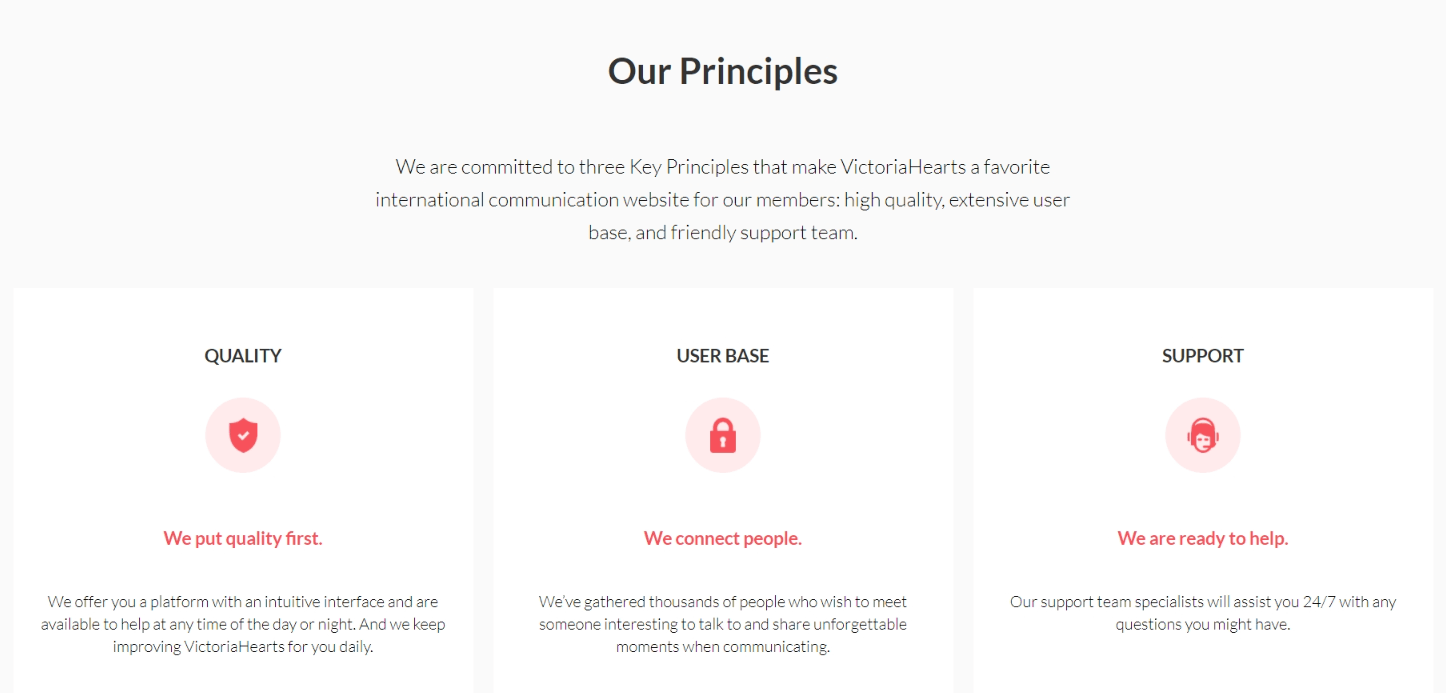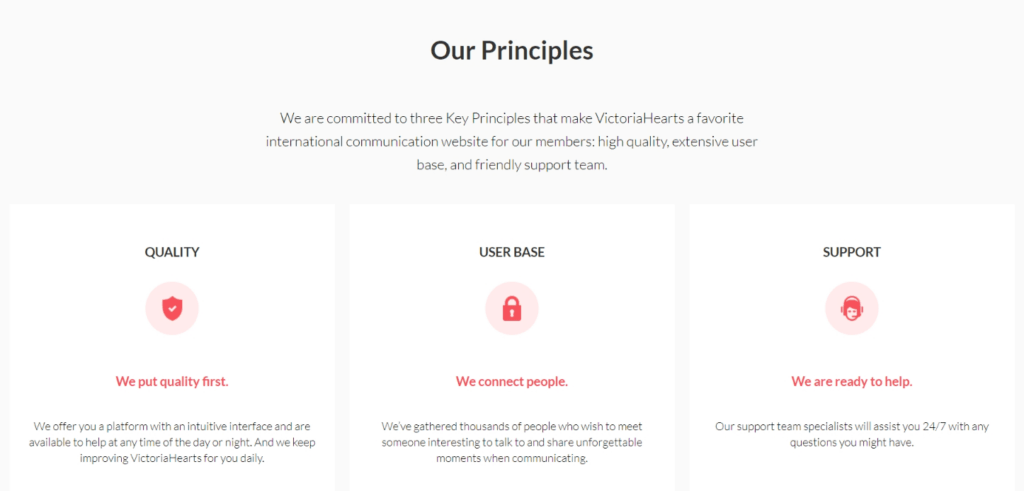 Conclusion and Overall Rating
Before we get to an overall rating let's summarize our VictoriaHearts.com review.
This really is a slick operation and there's so much to like about it.
The user base is massive, the website easy to use and the features at your disposal efficient.
But it's expensive and that may put many people off, that's for sure.
I do love the fact that it has verified profiles and that goes a long way to help when it comes to people trying to scam you out of money.
Ultimately, however, pricing is going to determine if people will make use of the site or move somewhere else.
And the fact that it is expensive has affected the score VictoriaHearts receives as an overall rating.
It gets 3.25 out of 5.
Over a review period of many weeks, the Onlineforlove team tried out what VictoriaHearts has to offer from a dating perspective.
Our review approach saw VictoriaHearts receive a star rating for critical aspects of the site as an online dating portal.
Our evaluation process took into account the following: userbase size, key features on offer, membership pricing, matching success rate and how easy it was to use ease.