The online dating world is filled with sites for a specific population and religious groups.
You'll find niche dating sites that cater towards Christian, Muslim, and other religions both as websites and stand-alone dating apps.
Today, we will evaluate a Muslim dating site that's taking on the big guns like MuzMatch and Muslima.com.
That site is Single Muslim.
OFL Top Recommendations based on 100,000+ Survey

"Serious Relationships"
"Discreet Hookups"
"Best Course for Men"
"Quick Flings"
"Normal Hookups"
"Our Quiz"
This Islamic dating site has become popular across the globe and it's a place for both Muslim dating but also to find the perfect Muslim marriage partner (like Tinder or eHarmony). It is by no means a site for hookups (like BeNaughty or Ashley Madison).
In this review, we will analyze the site in great detail, gathering all the information that a Muslim man or woman would need to know before registering.
We will identify and reveal the following:
Rest assured, while conducting this review, we explored everything you need to know about the site.
So make sure you read through it because perhaps this is the perfect app to meet the Muslim woman or man that could just be your ideal marriage partner.
You just never know!
Is your dating app giving you the best chance for success?
Make sure to take our online dating site/app quiz to find out.
It's a fact that people who follow our dating site suggestions have on average 2 extra dates per month.
SingleMuslim Review in Video Form
Audio (podcast) form for those of you on the go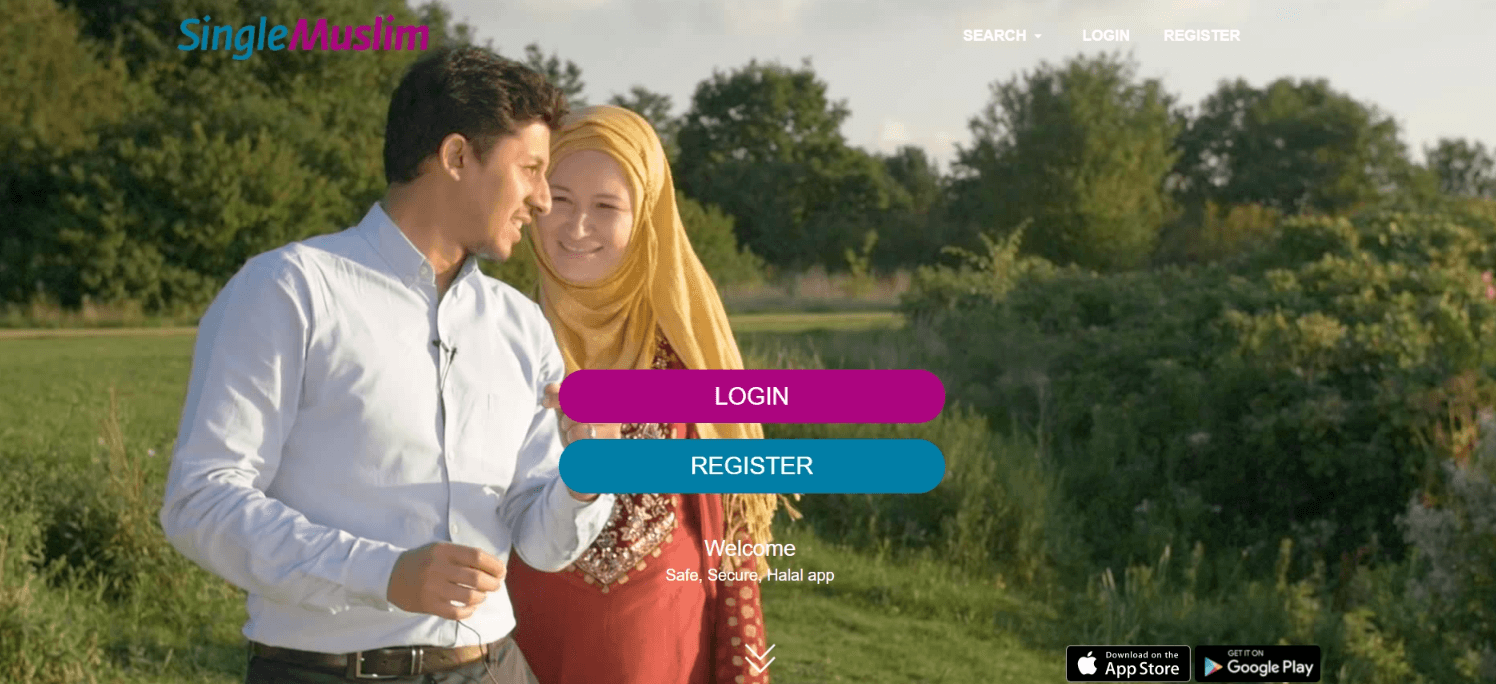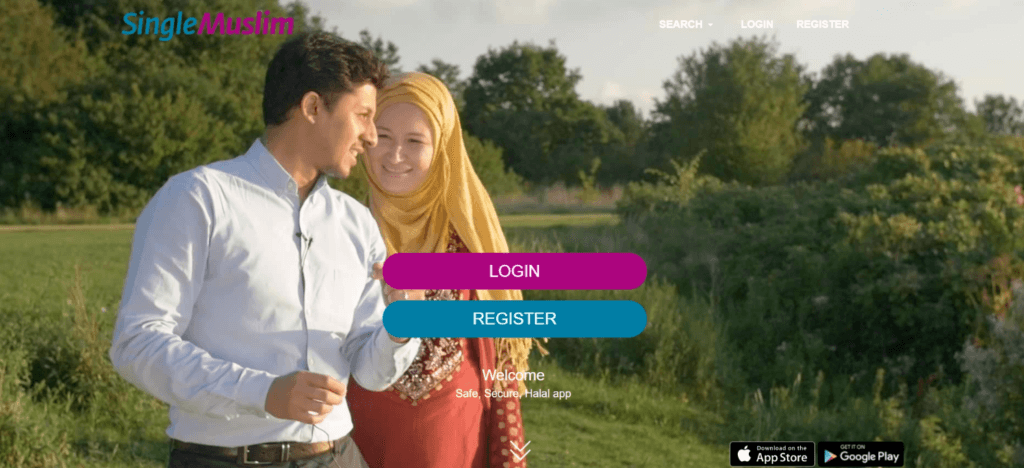 Ease of Use – 5/5
Success Rate – 4/5
Key Features 3/5
Pricing – 2/5
2.5 million users across the world
A comprehensive profile that has to be filled in
Excellent search features for all users
Membership is very expensive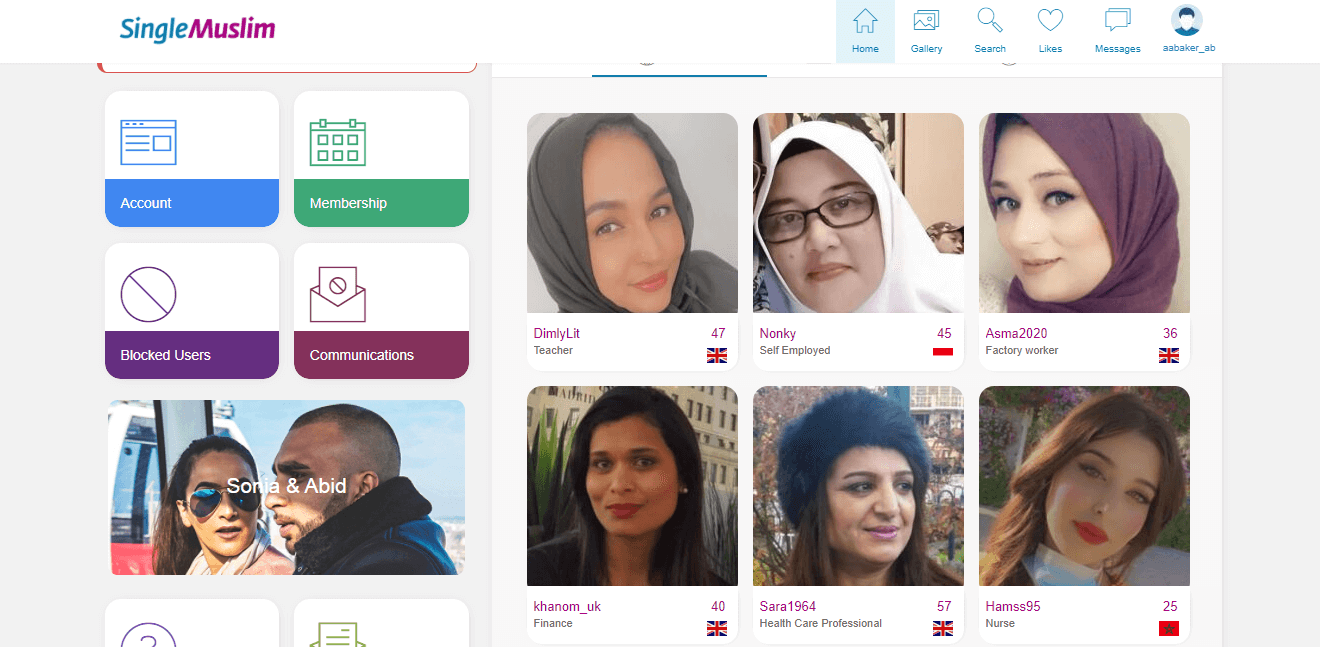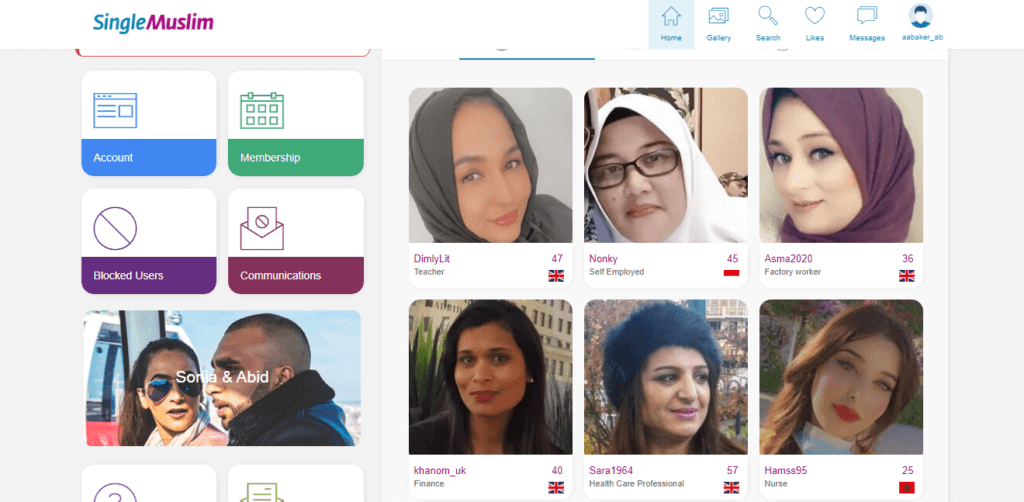 Who Is It For/Demographics?
Well, we've certainly established just who this site is for.
OFL Top Recommendations based on 100,000+ Survey

"Serious Relationships"
"Discreet Hookups"
"Best Course for Men"
"Quick Flings"
"Normal Hookups"
"Our Quiz"
As a dating site for those who follow the religion of Islam, you will find Muslim men and women here for marriage partners.
In fact, profiles can be set up for family members too.
For example, parents can register a profile for their son or daughter to hopefully get the matrimonial process underway, should they find the right partners.
But what about the numbers behind the site?
Just how busy is it?
Well, I can clarify that around 2.5 million users have signed up for accounts.
That's not as big as some other Muslim dating sites, but it does indicate that the site is popular.
Here are some other facts and figures that you might find interesting:
Around 300000 users are from the United States
Over 1 million are from the United Kingdom
Other members come from Muslim countries around the world
Close to 100000 new users sign up each month
Around 10000 success stories in which users have found a partner on the site
The Single Muslim app has been downloaded from the Google Play Store around 100000 times.
Again, all this confirms the fact that Single Muslim is a dating site worth exploring.
As is the case with many sites religious dating sites, you will find more men with profiles on Single Muslim than females.
Of course, there is a slight catch here is the fact that not everyone you see would have started their profile themselves.
Yes, parents start profiles for their children and friends start profiles for other friends.
It's a feature allowed by the site.
Here's a gender ratio breakdown:
65% of profiles on the site are males
35% of profiles on the site are females
In fact, it's a 2:1 ratio.
That's perfect for females on the site who obviously have far more choice than their male counterparts.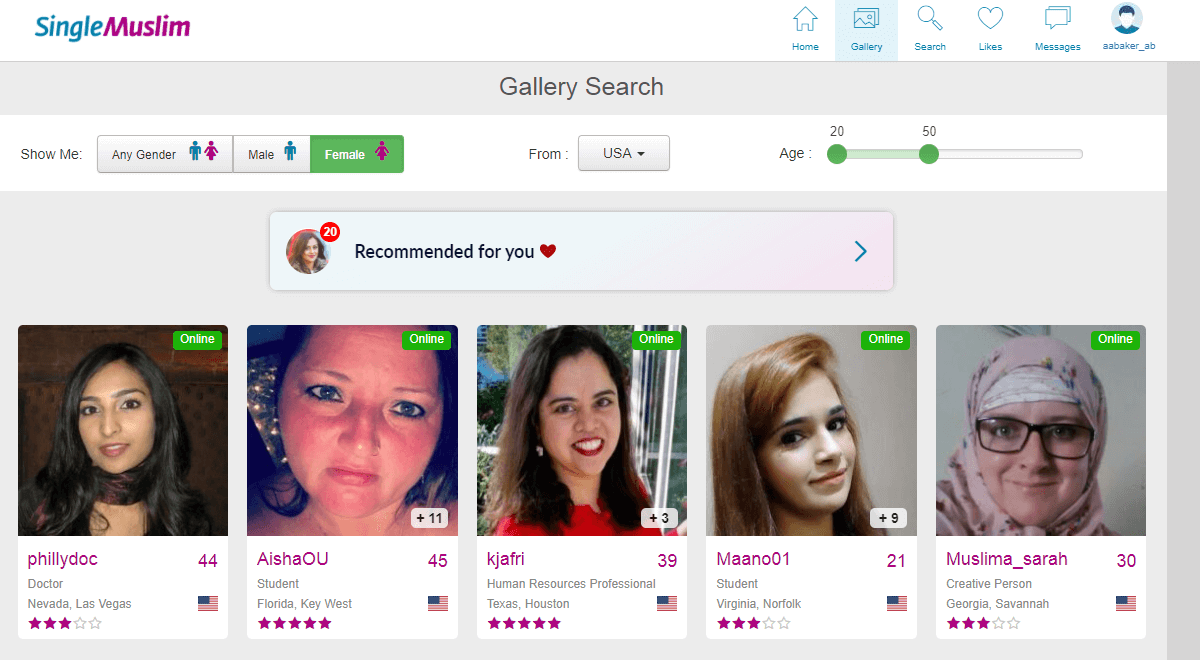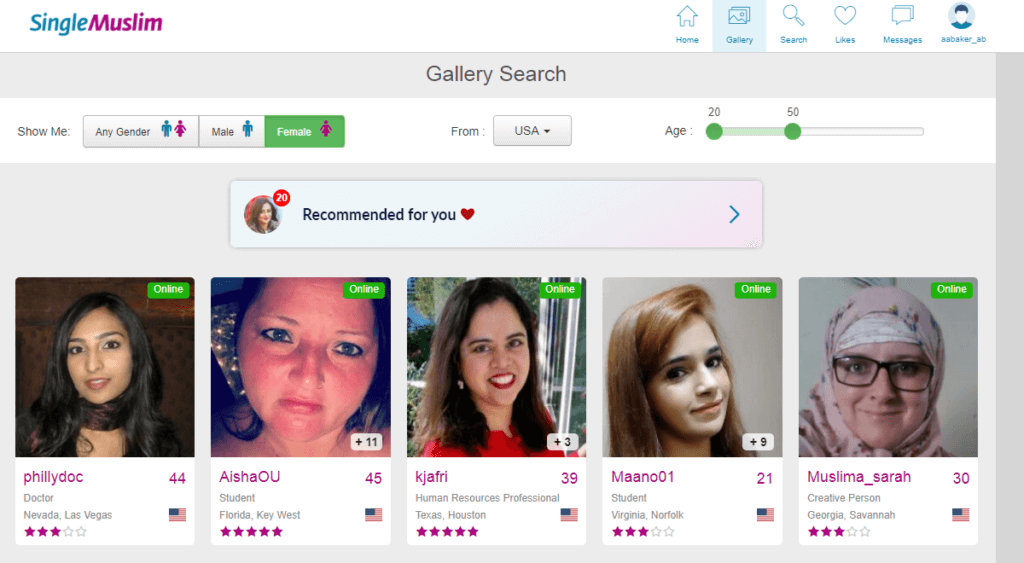 The registration process for new users on Single Muslim is an extensive one.
It's all about the site collecting the information they need to register each user.
And you are going to have to put 20 minutes aside to complete it.
You can register through the Single Muslim app or the website.
Because the process takes quite a long time and askes a lot of information, I suggest you tackle it via the website.
Once you have your login details, you can then use the app.
Registration and profile completion
One of the strengths of the registration process for me is that it means a user will have completed their full profile once they are done.
And that means no half-completed profiles on the site which is a real bonus.
Nothing is more frustrating than wanting to learn more about a potential matchup but all you have is a profile picture, their age and location.
Before we get to assessing these extensive profiles let's talk about the few bits of information that you will provide to start the ball rolling.
Single Muslim will ask for the following:
Your gender
Your preferred username
Your email address
Your location
Your date of birth
The reason for registering (find a partner, find a friend a partner, find your son or daughter a partner, or find your brother or sister a partner)
Where you heard about the site
That's going to take a couple of minutes to complete.
It's the next step which deals with your profile, that is going to take much longer.
So what kind of information is needed here.
Well, it's just about everything you'd expect a dating site profile should have.
Here's a breakdown for you:
Profile basics section: Here you have to come up with a profile headline, fill in an About Me section and also indicate what you are looking for in a matchup.
Education and work section: Here you provide information about your level of education level, the subjects you studied, your job title, your profession, your first language, your second language (if you have one) and the reason you are registering for the site.
Personal section: The country you currently live in, the country where you were born, if you are willing to relocate (locally, nationally, internationally), your income, the time frame you are looking to get married by (for example, this year or next year), current marital status, if have or want children, your current living arrangements, appearance parameters (height, weight, build, hair and eye color, disabilities).
Religion: How religious you are, your sect, if you are you a revert, do you keep halal, do you perform salah)
Personal details for office use: Name, address, etc.
Profile photo
I did say it was a comprehensive profile.
But much of the information you provide here is very relevant for a Muslim dating site, that's for sure.
When you compare just what it covers to other dating sites, it's far more impressive than most of them.
Also, it's worth noting that before you are allowed to access Single Muslim, you will have to validate your email address.
So make sure it is legit.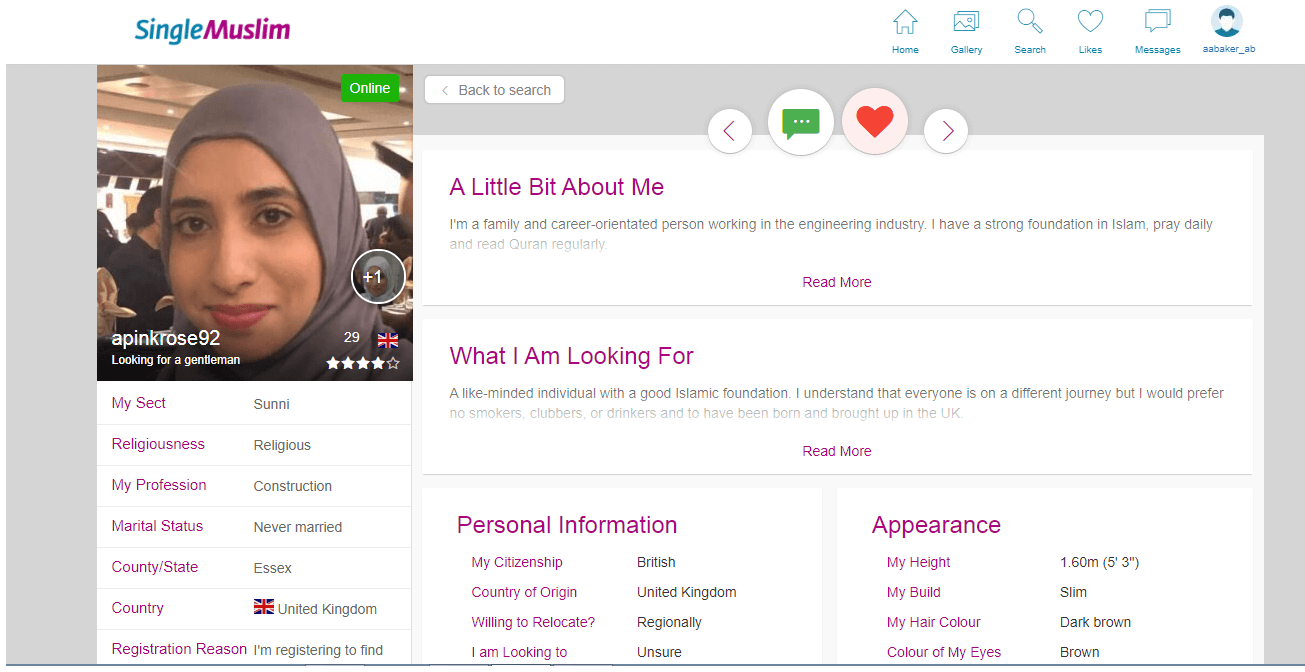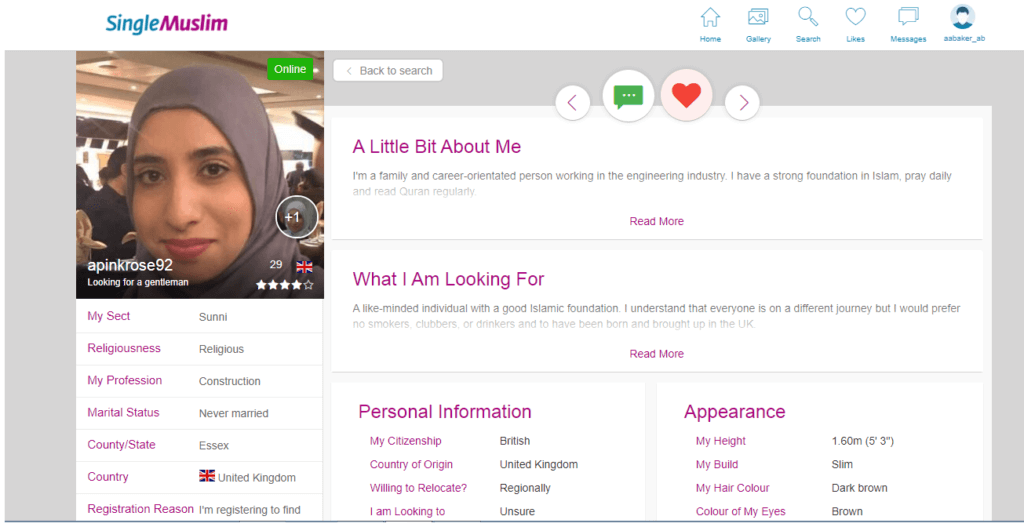 Finding your way around the site
With its modern, crisp-looking design, Single Muslim will immediately make you feel at home when you access it for the first time.
It's another dating site that understands that profiles are everything.
And so, they are front and center from the moment you start on the Gallery Page.
This will immediately show you potential matchups that are near your location as well as others in the country in which you live.
If you'd like to make some changes to what appears here, you can do so by adjusting the Gallery Search sliders which are near the top of the page.
Here you can adjust:
But this isn't the main search feature of the site.
Before we get into that, however, I want to talk about the menu system by which you will navigate Single Muslim.
There are just six main menus that you will find on the top-right hand side of the screen:
They are:
Home: This takes you back to the homepage of the site. This includes access to user profiles, your profile, messages, success stories and more. Every other main menu has a link from the home page.
Gallery: I mentioned the gallery above. It's a place where you can launch quick searches for potential matchups as well as see those that the site suggests
Search: Here you can use the site search engine to launch definitive searches of your own. The advantage the search engine brings are added profile parameters so you can refine your searches.
Likes: See who has liked your profile as well the user profiles you have liked. You can also see matches here but some of these features are for members only.
Message: Find all the messages you receive from others under this menu. It will also keep track of messages you have sent to others.
Profile: While your profile is complete, from time to time, you may like to edit it. You can easily do that from this menu. You can also change settings and preferences as well as upload photos.
From my perspective, I like the fact that that if you'd prefer to just hang out on the homepage, you can access just about every other menu from there with separate links.
Or you can simply find your way around using the menus provided.
It's up to you but Single Muslim does give options.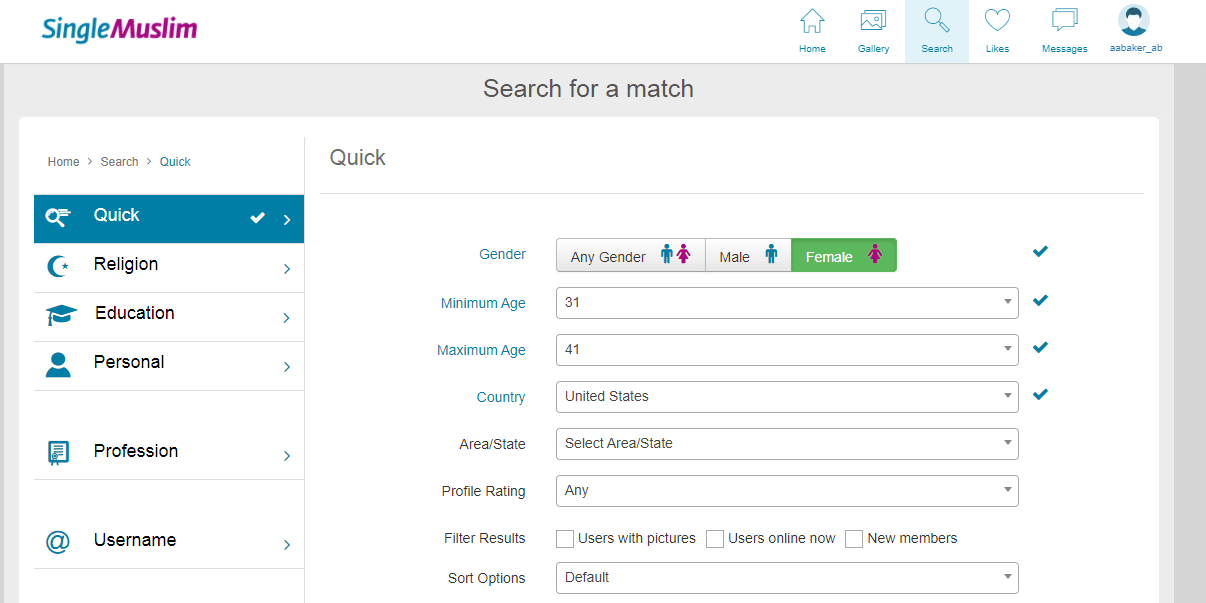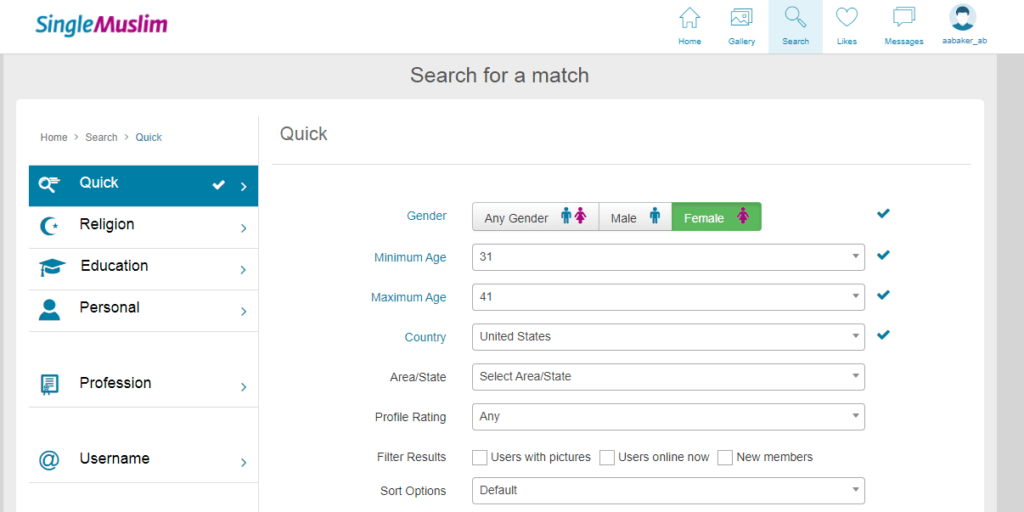 Once you've spent a few minutes getting to know the site, if you are anything like me, you'd want to jump straight in to see the quality of the profiles.
Before I talk about the search engine, I want to mention the other ways you can do this quickly and effectively.
By using the profiles the site returns to you on the homepage
By using the Gallery menu
While I have already explained how the Gallery works so let me expand on what the homepage provides.
While the first thing you will notice is access to your profile and messages but if you scroll down, you will see user profiles to browse through.
These can be generated in three different ways:
Users that are currently online
Users that are near your location
The latest users to sign up
While there is nothing wrong with looking through the first and third options if you want users that are near your location, it's best just to click that tab.
When I did so, the site suggested a more refined search as there were over 1000 profiles to look through.
And that's where the search engine comes in.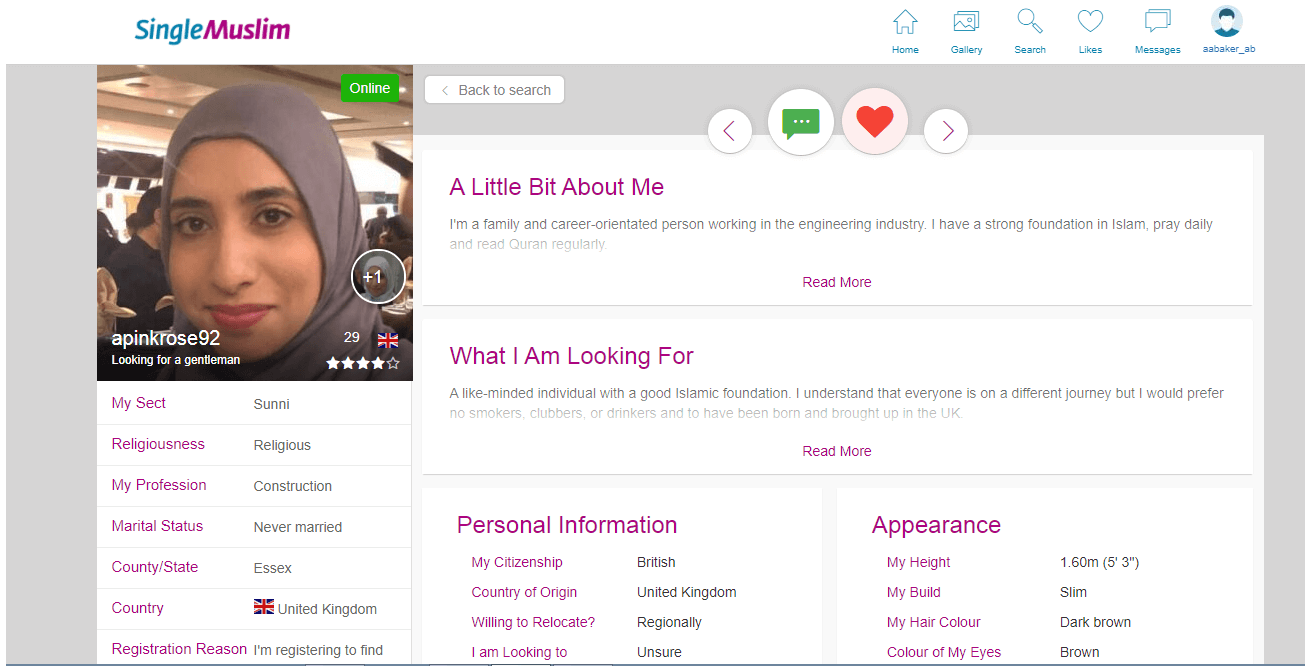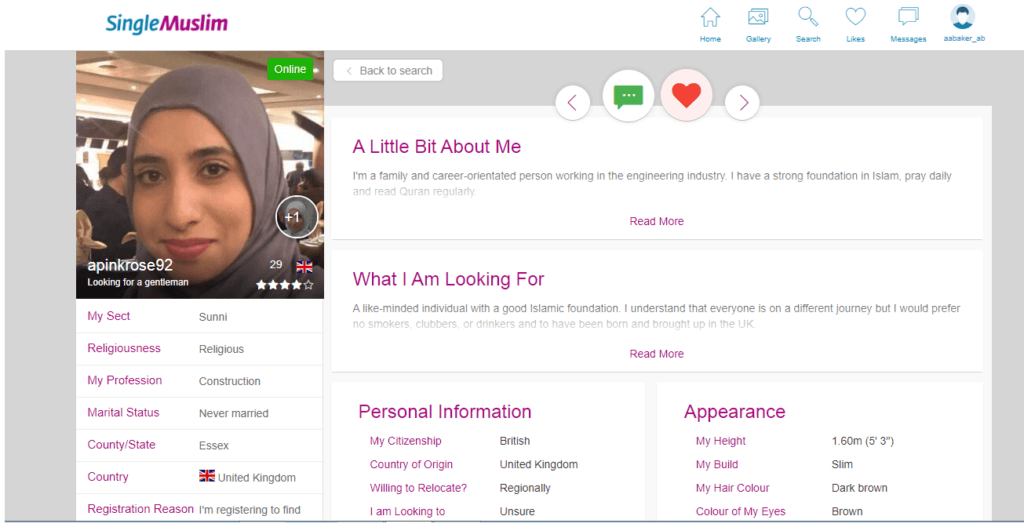 Searching for love on

Single Muslim
When a site has 2.5 million members and it's growing all the time, having a search engine that can include various profile parameters is a godsend.
Also, this is where the comprehensive profiles of Single Muslim users really come to the fore.
Because they had to be filled in during the registration process, you can now use these parameters to fine-tune your searches to your exact needs.
Before we get to that, however, let's just talk about your quick search option.
Here you can adjust the following:
Gender
Age range
Location (country and state)
Profile rating
You can then filter your results for either users with pictures, those who are online or new members to be shown first.
As for advanced searches, well, unlike many other dating sites, that's not only a member feature.
It's for anyone to use.
That certainly exceeded my initial expectations, especially when I first saw how thorough the profiles on the site are.
Now you can add all those parameters that form part of a users profile under these main sections:
Religion
Education
Profession
Username
And because you can really make as many changes as you'd like to each of these sections, you can save specific searches that you can then use again at a later date.
This is such a powerful search engine and certainly one of the highlights of the site for me.
With all users able to use the advance search filter, especially one so effective, you've probably guessed that messaging is a no-go area for regular users on the site.
And yes, that is the case.
You can only like someone's profile and even then, they wouldn't know.
That's because seeing who liked your profile is for members only as well.
So if you do find someone that you'd like to message, you do have to buy into membership.
But that's in line with so many other dating sites out there, so it's no real surprise.
So let's look at the key features that members of the site can expect.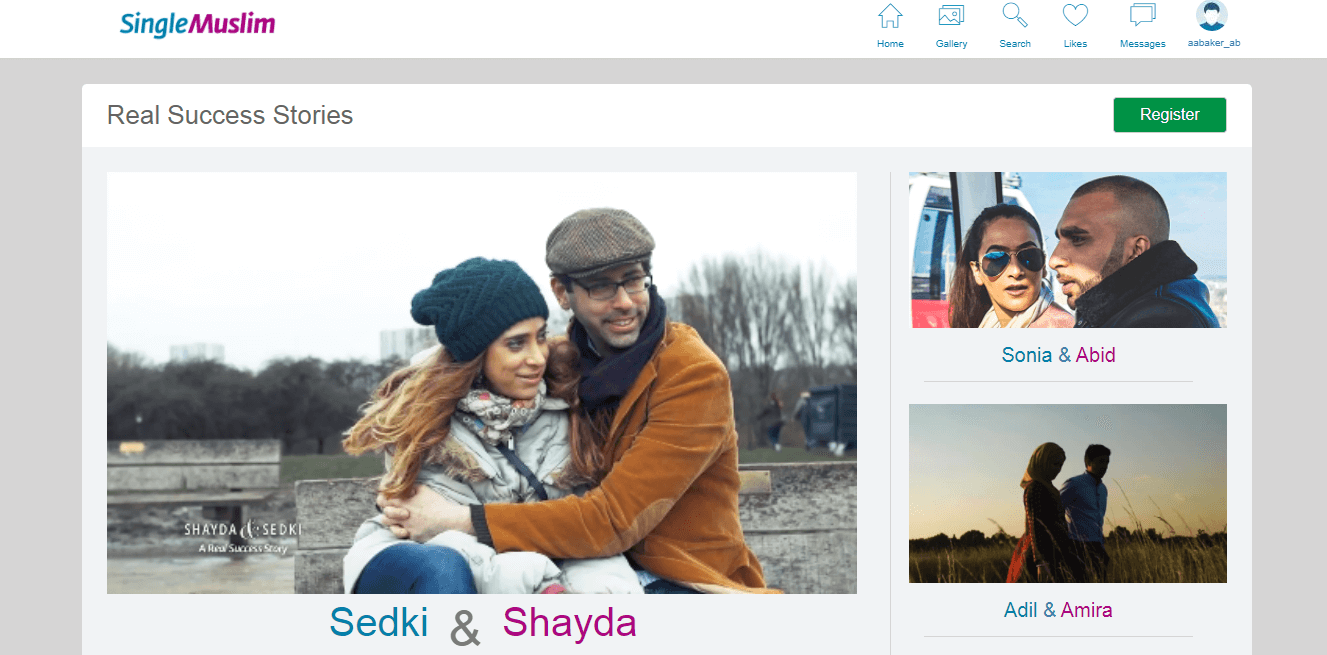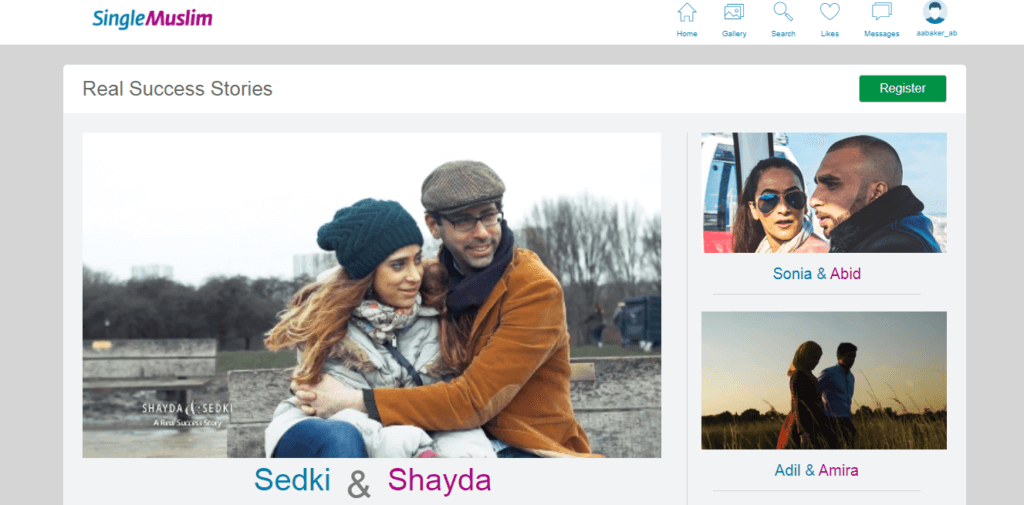 Before we get into the key features for members, here's a quick recap of what you can expect as a regular user.
You can register as a user and complete a comprehensive profile packed with information
You can view member galleries as well as browse through potential matchups the site presents to you
You can use both the basic and advanced search engine
You can like other user profiles
Of course, without the ability to send messages, you won't be able to find that life partner, right?
So that's the first key feature I'd like to highlight.
With membership, you are free to send as many messages as you like to users all over the world, not only near your location.
If someone reaches out to you as well, you are welcome to reply to their messages.
Let's face it, messaging is always the most critical key feature on a dating website.
2. See who liked your profile
While you might not think this is useful, it really is.
Let me explain.
Perhaps you missed a potential matchup while browsing through thousands of profiles looking for your life partner.
Then they like your profile which brings them to your attention.
And they could just be the one…
Single Muslim will provide users with potential matches.
These are based on profile parameters and certainly are worth following up on.
4. See who viewed your profile
If any other users have viewed your profile, you can find out who it was.
Again, this could just turn up a potential matchup that you may have missed.
And that's the extent of the membership features.
While there are so many other positives about the site from a dating point of view, a few key features are lacking.
Granted, the advanced search engine would be a key feature on most other sites but here, anyone can make use of it.
I guess, with just a few features, it's going to be interesting to see how the pricing for Gold membership works out for Single Muslim.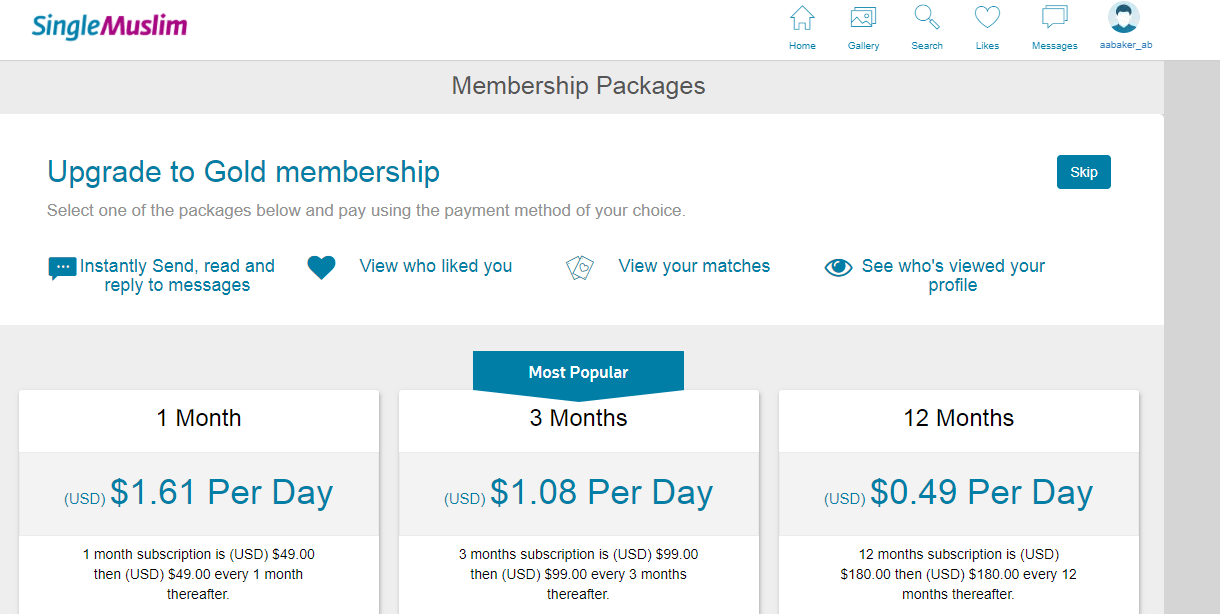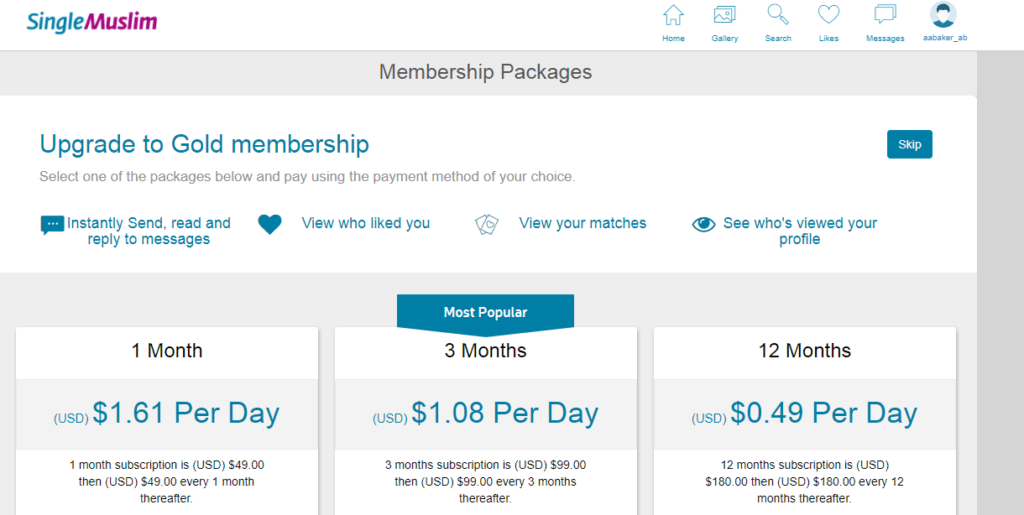 For those users who want to become Gold members on the site, you have a few options.
You can sign up for a one-month, three-month and 12-month package.
Here's what they will cost:
1-month: $49.00 ($1.61 per day)
3-months: $99 ($33 per month, $1.08 per day)
12-months: $180 ($15 per month, $0.49 per day)
Wow!
I understand that this is a niche dating site but the one-month membership option is one of the most expensive I've seen.
You have the choice of the three-month membership which drops per month price to $33 but who is going to try extended membership on a dating site first up?
For me, the pricing could be lower.
No matter what you choose, you can pay by credit card and cancellation is possible at any time.


Conclusion and Overall Rating
Thanks for taking the time to read our Single Muslim review.
To summarize, this is a fantastic dating site for Muslim women and men from around the world.
It's proven in its ability to find you a soulmate too with over 10000 users who have been helped in their quest for love.
You won't find scammers or people running fake profiles here.
You will find a well-designed site that is easy to use and a pleasure to do so.
From the profile that's packed with information to the search engine that takes advantage of that, Single Muslim has so many excellent features.
But the pricing for one-month membership is going to turn people off, I feel.
So let's get to a rating for Single Muslim.
It gets 3.5 out of 5.
That would have been even higher but the membership pricing brings it down significantly.
Our team at Onlineforlove tested Single Muslim over a lengthy review period.
We have concluded that this is a superb website for Muslim people from all over the globe.
That conclusion was reached by using a review approach that saw us give a star rating for critical criteria that we rank various dating sites by.
Many factors played a part in our final evaluation of Single Muslim.
These included pricing, ease of use, membership features, the size of the user base and how successful the site is in helping to find matchups.