Calling all emos, goths, punks, metalheads, and other alternative people.
Today, we take a look at AltScene an emo dating site for those who live an alternative lifestyle.
And don't get confused, this isn't a site for lovers of BDSM – that's Alt.com.
This, however, is a dating site where emo singles, gothic singles, rockers, and others can look for hookups (like BeNaughty or Ashley Madison) or serious relationships (like eHarmony or Tinder).
OFL Top Recommendations based on 100,000+ Survey

"Serious Relationships"
"Discreet Hookups"
"Best Course for Men"
"Quick Flings"
"Normal Hookups"
"Our Quiz"
As we assess and evaluate AltScene.com, we will look at the following:
So if it's emo dating, punk dating, or goth dating you are after, you've got to read our AltScene review to see if it's what you are looking for.
Is your dating app giving you the best chance for success?
Make sure to take our online dating site/app quiz to find out.
It's a fact that people who follow our dating site suggestions have on average 2 extra dates per month.

Ease of use – 4/5
Success rate – 2/5
Key features –2/5
Price – 5/5
It's free to use
Profile registration takes mere seconds
The website has a unique look but is well designed
Users are mostly into emo
Profiles aren't private
No mobile app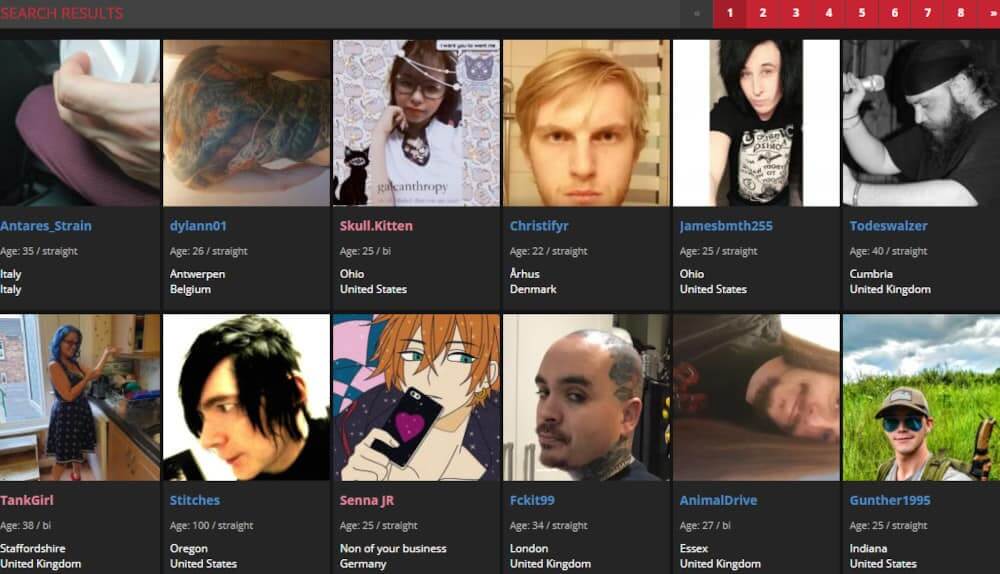 Who's It For/Demographics?
If you consider yourself an alternative, be it, someone who loves punk, emo, or metal, then this is the kind of site you can try out to meet like-minded people to date.
And AltScene is no flash in the pan.
In fact, the site was founded way back in 2004 already and is still going strong.
But it's a site that's never going to have a massive user base, as you can imagine.
In fact, estimates put the user numbers at well under 100000 with most of them living in the United States.
OFL Top Recommendations based on 100,000+ Survey

"Serious Relationships"
"Discreet Hookups"
"Best Course for Men"
"Quick Flings"
"Normal Hookups"
"Our Quiz"
Also, you will find more men here than women with research indicating the ratio at more than 3:1.
In terms of age ranges, well, most users are between 25-34 years old but lovers of emo, punk, and metal can be any age and they are fairly well spread on the site.
With no app for either Android or IOS devices, to sign up for AltScene, you will have to do so through the website.
Registration isn't a process that's going to take too much of your time although you will have to provide some information upfront to start the process.
That includes your name, an email address, and a password.
Nothing different from a regular dating site, right?
Before you provide that information you are free to scroll down to the bottom of the screen and click on the "Search Profiles" tab.
This will then bring up the profiles of various users that have already registered for the site.
You can even expand those profiles in full by clicking on the user name.
Just remember, when you have registered, there is a chance that your profile can be viewed like this by others who have not registered for the site.
That might just bother some people.
But back to the registration process.
AltScene will have you fill in certain bits of information that are going to form part of your profile.
This includes:
Your gender
Sexual identity
Location
DOB
An About Me section
Following that, you will need to adjust a few privacy settings as well as email options to your liking.
Then upload your best emo, punk, goth, or metal pic and you are ready to start your journey looking for love.
Finding your way around

AltScene
You'd probably be able to guess the general color scheme for a site for emo, punk, and metal singles, right?
Yes, black is the dominant color along with splashes of red and a tinge of white.
I am not going to lie.
I wasn't really thinking that AltScene looks as good as it does but the team at Coda Digital has done a fantastic job with the overall look and design of the website.
The navigation menu to help users find their way around the site is found at the top of the screen and includes the following:
Home: This takes you to the home page where you can see who has visited your profile in the last seven days as well as the users who were recently online.
Inbox: If someone messages you, the message will pop up here
My Profile: Access and edit your profile here.
Find People: It's from this menu that you can launch searches for potential matchups. You can also find your friend's list, see who has viewed your profile and see who you have favorited.
Community: AltScene includes forums as well as a chat room.
Help: Here you can see a list of users you have blocked, change your active email address, read the terms and conditions of the site, delete your account or contact the admin team.
The chat room wasn't that active during the times I was on the site but a few users making use of it.
The forums have interesting questions about relationships, music, and more.
For me, the community aspect of the site is something I like, especially as this is for a niche group of people.
AltScene profiles aren't filled with lots of information.
In fact, most of what needs to be filled in will be completed during the registration process.
The big thing here is the About Me section.
People take the time to fill this in with all the information they think others need to know about them.
So that's where you can really have some fun and show what you are all about.
When you edit your profile, you will also notice that it has various privacy options.
For example, you can allow or disallow winks or comments.
You can also set some notification options like if you should receive an email when you get a message, friend request, or comment?
If you click on the Profile menu, you will notice a sub-menu Edit Music.
This is a pretty big deal on a site like this, as you might well imagine.
Here you can add all your favorite bands and musical influences.
It's a neat system too.
Other than adding the bands that appear on the screen, you can search for others that you love and add them as well.
This gives users an in-depth look into your musical tastes and it really shouldn't be left unpopulated.
Let's assess just how effective AltScene is when it comes to helping users find matchups.
What tools are in place to help facilitate this?
Well, when it comes to that, there is no roulette-style matchup game like many sites have.
In fact, things here are kept pretty basic.
But here's how you can go about it.
If you, like me, don't mind making friends all over the world, the first thing you can do is to check out the users of the site that were recently online.
You will find these listed on the home page.
Of course, these profiles (and there are 25 to look at) will have users from all over the world.
But you might just be looking for new friends, so if that's the case, this is a good place to start.
It's not really going to work if you are looking for people near your location.
Of course, from time to time, luck might be in your favor and one of the profiles could be someone from your city.
Your best way to find those near your location is by using the search engine.
While I am sure AltScene has had some design overhauls since it originated back in 2004, I guess the inner workings of the site haven't changed much.
Why do I say that?
Well, most modern dating sites will present you with matchups near your location
Also, they will all have the more traditional way of looking for love using a search engine with various parameters.
On AltScene, the only tool you have to find someone is the search engine.
And it doesn't provide you with many parameters to search by.
To access it, click on the Find People menu and then Search.
The only parameters you have to adjust here are:
Age range
Gender
Sexuality
Country
State/County
I guess this is all there is because profiles on the site don't actually contain that much information anyway.
You will notice three more tabs at the top of the search bar.
With these you can list:
Every profile on the site
All men
All women
Again, that's not going to be particularly useful to anyone that is looking for a potential matchup that must be near their location.
Seeing that the music people listen to is super important on the site, why not make that a parameter to search by?
I think that's something that's they've missed out on.
Getting into contact with someone
There are a few ways that you can reach out to others on AltScene.
You would first need to access their profile before you try any of them.
So here are your options:
Send them a wink
Send them a friend request
Send them a message
I guess the best place to start is a wink.
If they wink back, you can send them a friend request or even a message.
Generally, sending a friend request shouldn't be the first thing you do.
Many people don't like that.
Or just straight-up message them if you like to.
At the end of the day, it's up to each individual to decide how they want to go about approaching another user.
But the good news is that AltScene is totally free.
As a free dating site, you can expect that there won't be that many key features.
That's because they are normally something a paying user on a dating site gets when he signs up for membership.
There are a few things, however, that I would consider key features on AltScene.
Users on AltScene are free to upload as many photos as they want.
These can be placed in specific albums and that seems to be pretty popular.
2. See who viewed your profile
This is a powerful tool.
It's always good to see who is checking you out.
If they haven't reached out to you yet or sent a friend request, maybe you can do so from your side.
Or send them a cheeky wink and see what happens after that.
Often, the ability to see who has viewed your profile is something that's quickly placed behind a member paywall on other dating sites.
There is a definite community vibe going on with AltScene.
That's borne out in the fact that it includes a forum.
Here, you are free to post about anything.
I've seen discussions about movies, relationships, music (of course), books, and much more.
Posting a new top is super simple.
Just click the +New Post button, add a subject as well as your question or observation, and when you are done, click submit.
To leave a comment on another forum post, simply click on it, scroll to the bottom, find the Leave Comment box and type your reply.
When you are done, click Submit.
Another feature that's often behind a paywall, the chat room on AltScene doesn't seem that busy.
During my time on the site, I found people to chat to but instead of 100s, it was more like 10 or 20.
I really thought it would be busier.
That said, it's a feature that's there for all users to make use of.
Not a cent.
Yes, you won't pay a thing to use any of the features on the site, to send messages, or to become a user.
AltScene was free from the time it started way back in 2004.
That does mean that there is advertising on the site as one would expect as they have to pay the bills in some way, right?
But it is not in any way irritating at all and you will barely notice it.
Conclusion And Overall Rating
Thanks for taking the time to read our AltScene.com review.
Is it one of the best alternative dating sites around?
Well, it's a free alternative dating site and that's one of its strengths.
But let's summarize what it's all about.
I think AltScene is worth your time and because it's free, you can quickly search for other users, see if they are near you, and message them if they are.
Within a day or two, you will know if the site will be able to turn up the kind of matchups that are worth your while.
The site itself is very easy to use, but for me, there are some issues.
Yes, this is a niche dating site but user numbers are low.
The chances of you finding a matchup if you don't live in a large town or city I think will be minimal.
But again, there is no harm in trying.
AltScene is fun to use, but with minimal tools to help you find those matchups.
While it looks modern in terms of the way it looks when it comes to the way it operates, it is a little behind the times.
But if you are emo, goth, punk, or someone from the alternative scene, you should at least try a profile on the site.
Because it's free, you really have nothing to lose, do you?
Today, AltScene gets a rating of 3.5 out of 5.
At Onlineforlove we evaluated AltScene for an extended period and concluded that the user base for this free dating site isn't the biggest.
That could affect your chances of finding matchups near your location if you don't live in a large metropolitan area.
Our review approach to AltScene includes a star rating for the critical criteria that we judge all dating sites by.
That final evaluation was based on the following factors: membership pricing, ease of use, the success rate in terms of matchups, the size of the user base, and key features, amongst others.