Hi!
Welcome to our review of Be2 or as it's often called B2 dating.
With over 15 years in the industry, Be2 has blazed a trail in the online dating industry and claims that its matchmaking algorithm is one of the best out there.
While that's one thing we will evaluate and assess during this B2 dating site review, that's not the only thing.
OFL Top Recommendations based on 100,000+ Survey

"Serious Relationships"
"Discreet Hookups"
"Best Course for Men"
"Quick Flings"
"Normal Hookups"
"Our Quiz"
In fact, as we analyze the site, we will look at:
Is this one of the best dating sites available online?
How does it compare with the likes of big guns like eHarmony, Match.com, Tinder, and others?
Well, let's find out.
Is your dating app giving you the best chance for success?
Make sure to take our online dating site/app quiz to find out.
It's a fact that people who follow our dating site suggestions have on average 2 extra dates per month.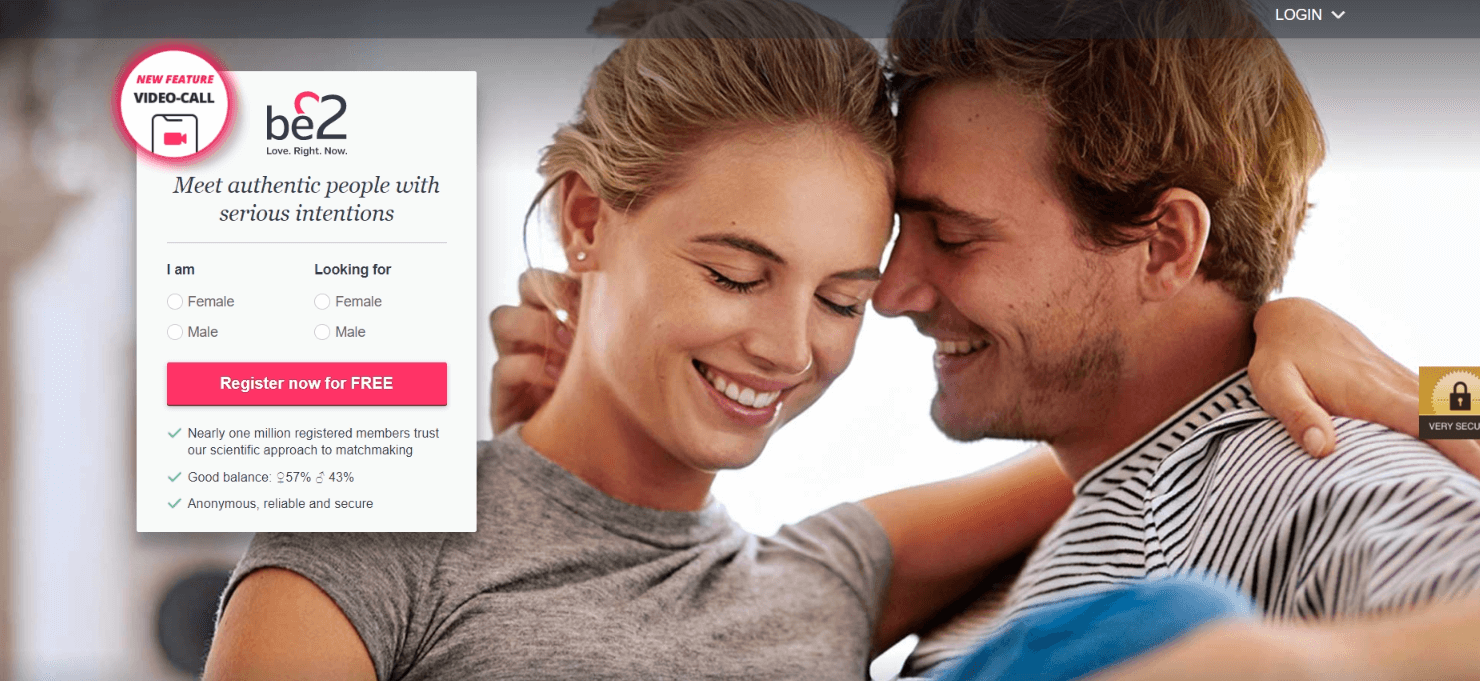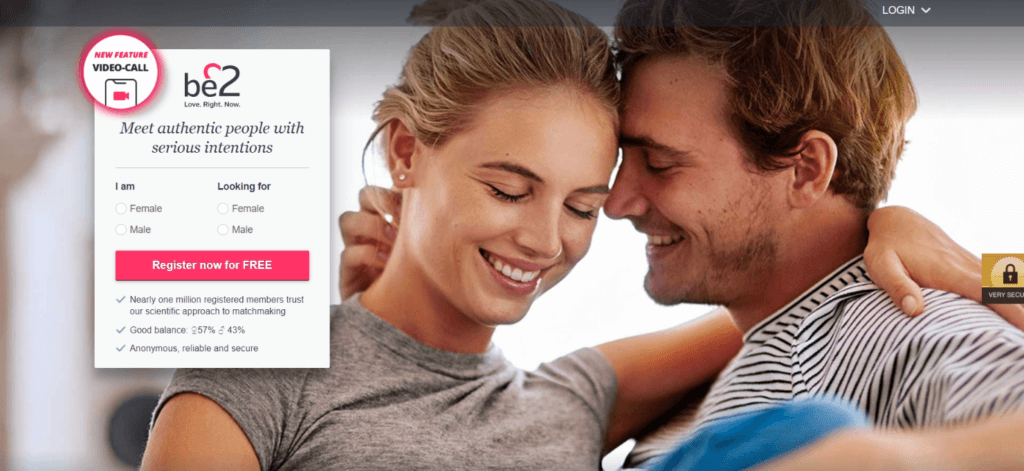 Ease of Use – 5/5
Effectiveness – 2/5
Key Features – 2.5/5
Pricing – 2.5/5
Extensive personality test to help with matchmaking
You can see how much of a match you are with others on their profiles
Be2 has a mobile app
Free users can only view a limited number of profiles
Messaging is for members only
Membership pricing is expensive


Who's It For/Demographics
So to start, if you are looking for potential matches on Be2 for hookups (like BeNaughty or Ashley Madison), it isn't that kind of site at all.
But it certainly is a dating service for people wanting long-term relationships (like Tinder or eHarmony), that's for sure.
So if you are after a serious relationship, it might just be the dating experience you are looking for.
OFL Top Recommendations based on 100,000+ Survey

"Serious Relationships"
"Discreet Hookups"
"Best Course for Men"
"Quick Flings"
"Normal Hookups"
"Our Quiz"
But what about the demographics behind the site?
Is it popular?
Well, let's breakdown some facts and figures for you;
According to the dating website, around 1 million people have signed up as users
It's not a site that has a massive American audience with around 20000 users based in the United States
The Be2 mobile app has been installed over 500000 times on Google Play
It has a rating of 4.4 on Apple devices according to the App Store
Be2 is run by s.à.r.l out of Luxembourg.
Gender ratio and user age breakdown
I always prefer when an online dating site has a user ratio that sees male and female users as close together as possible.
It's not quite 50/50 but if you use Be2 as a dating site you will find that:
57% of users are male
43% of users are female
That's the kind of numbers you want to see as a new member, that's for sure.
Nothing is worse than an 80/20 split unless you are the gender that gets more choices from the mismatched ratio.
As for age ranges, I found it interesting that the biggest group of users on the site are in the 35 to 44-year-old age range.
In fact, they make up over a quarter of all users.
But the user age ranges are extremely well spread as you will see below:
35 to 44 year-olds: 26% of all users of which 16% are male and 10% female
25 to 34 year-olds: 25% of all users of which 14% are male and 11% female
18 to 24 year-olds: 21% of all users of which 12% are male and 9% female
45 to 54 year-olds: 20% of all users of which 12% are male and 8% female
55 and older: 7% of all users of which 3% are male and 4% are female.
It's interesting to note that only the 55 and older group have more female users than male, but not by much.
That's also the smallest group of users on Be2 com.
But as you can see, the user base is very evenly spread across all age ranges.
If you compare it with other dating sites, that's not something you will find all that often.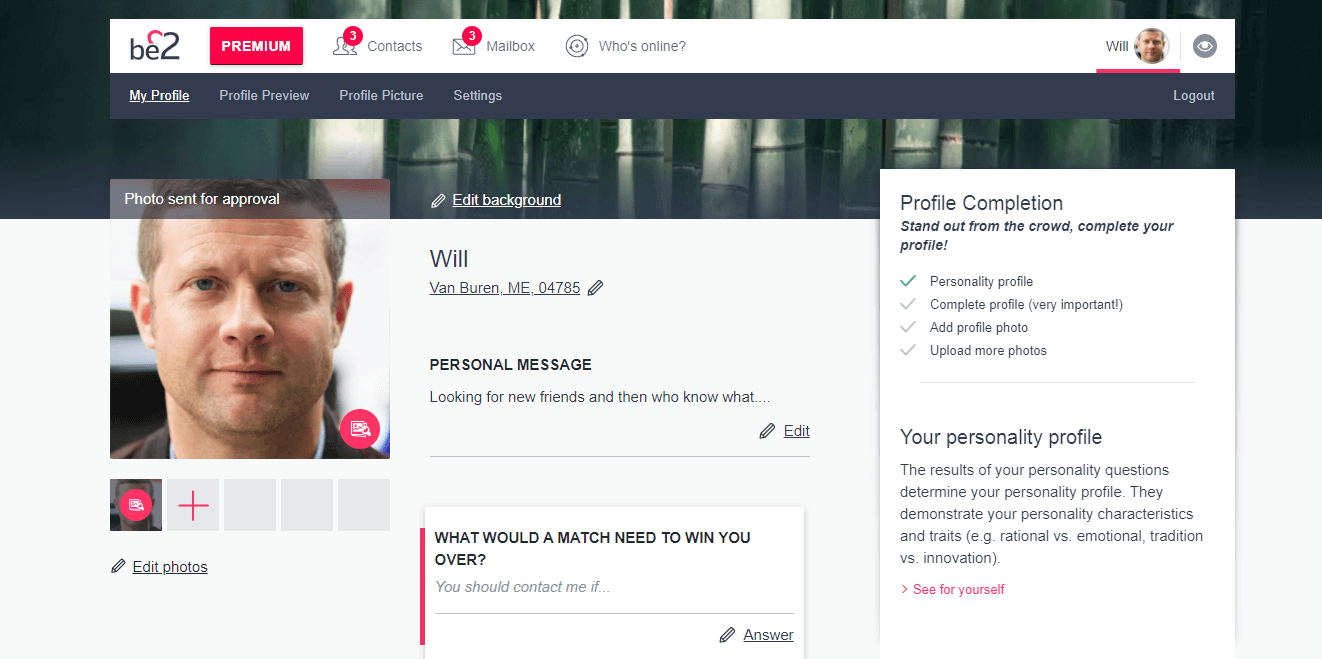 Many dating sites with a larger user base than Be2 don't have a mobile app but if you'd prefer to use one, it is available for both Android and Apple devices.
During our test review, we used the website.
The registration process to become a free member is simple enough and starts with your gender and the gender you'd prefer to hook up with.
That moves straight to a personality test and questionnaire where you are asked a range of questions about yourself.
You will also fill in other personal data so the matchmaking service used by Be2 can find the right matchups for you.
I am not going to go into this in-depth but I will say it's not boring at all and doesn't take very long to complete.
It also includes some basic information for the My Profile section of the dating site, you know the regular stuff like a valid email address, password, your first name, and date of birth.
There's other critical profile information too like your profile picture, sexual preference, appearance parameters, location, profession, education, yearly income, religion, habits, and your personal message.
Last, you can pick three icebreaker questions that other users can answer on your profile.
These help them to get to know you a little better and vice versa.
Finding your way around Be2 Dating
I love it when a site gets users to complete their profile as part of the sign-up process.
That just means that you can start looking for people that match your compatibility right from the start.
But that's something we will get into a little later in this review.
First I want to talk about how the site looks.
It has its own unique design, that's for sure, and is one of those sites that believes less is more.
With this, I am specifically referring to the menu system on Be2.
They've tried for a little as possible here.
So this is what you will find when it comes to a menu system:
Be2 logo: As with most dating sites, click on the logo and you are returned to the home page. This will show you potential matches and partner recommendations the moment access the site for the first time thanks to the questionnaire you filled in during registration.
Contacts menu: If you want to see those matchups by themselves, click this menu. Make sure you come back often because new profiles will be added here as people who join the site match what you are looking for.
Mailbox: Yes, your messages are found here. Be2 like to call these conversations.
Who's online: Check users that are online with you. Of course, these aren't matches but it's worth looking into now and again.
Your profile: To access your profile, click on your profile picture next to your name on the right-hand side of the screen.
Eye icon: You can see who has visited your profile by clicking here.
If you are a dating site veteran, I am sure you will agree that this menu system is a little different from what many other sites use but it's nice to see some variety.
While much of your profile has been completed and you can use the site with it in its current state, there is still more you can add.
First up, you can change your icebreaker questions if you'd like to or even see the results of the personality test you took during registration.
If you scroll down to the bottom of the screen, you will notice the My Topics section.
This allows all users to customize their profiles to their exact liking.
For example, you can add topics about sport, food, holidays, music and more.
Within these topics, you are asked various questions which help fill out your profile.
For example, if you pick the Music topic, questions you will be asked include "Do you play an instrument" or "Do you attend festivals"
Lastly, you can answer questions about your lifestyle, your goals, and more.
The more you complete here, the more the excellent matchmaking algorithm on Be2 can help find you the best possible matchups.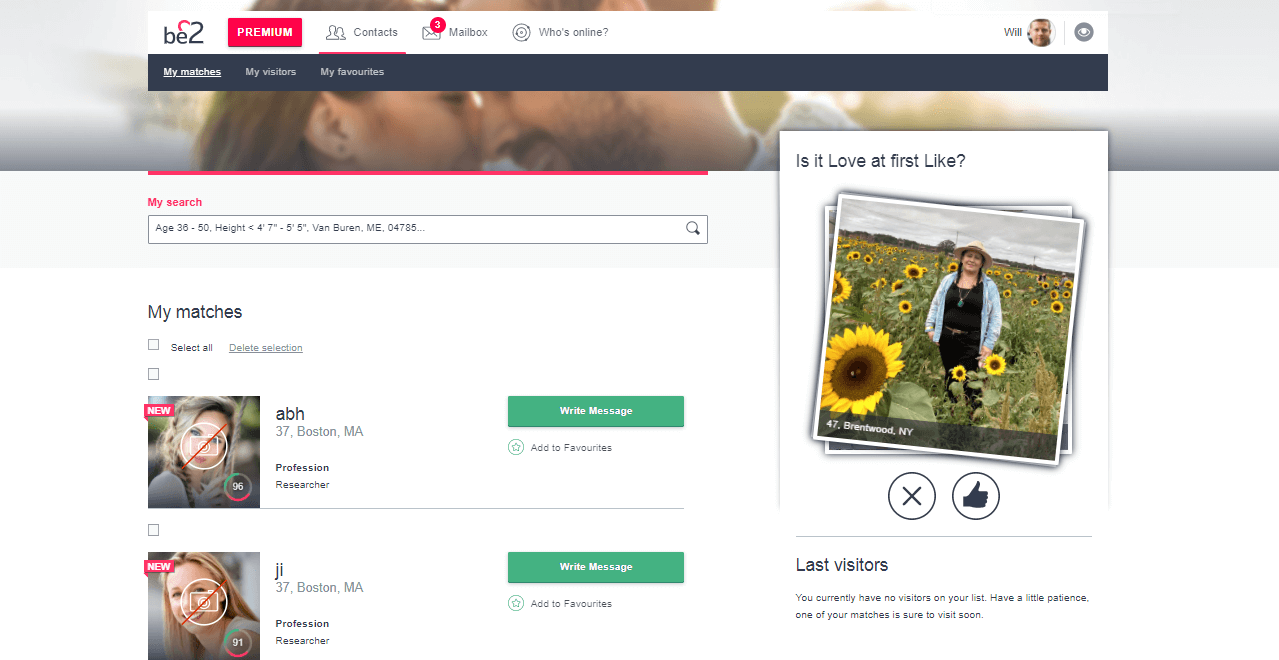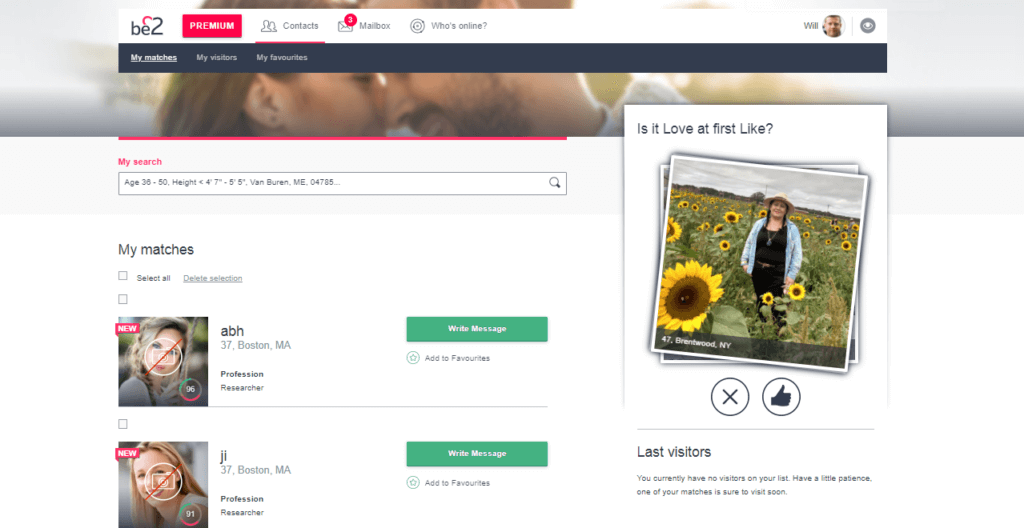 It's the dating sites that give more than one option that generally is more popular with users.
The options I am speaking about specifically are how you go about finding a potential matchup.
Back in the early days of online dating, most dating sites only operated a basic search engine.
With this, you would have to do all of the hard work yourself.
That means using only a few parameters, perhaps just the basics like gender, age, and location, and then pouring through search returns to find someone that you liked.
Now there is nothing wrong with this method – and that's to be seen in the fact that so many dating sites still have search engines.
But if you add options to it, you improve a dating site immeasurably.
Just ask any dating site user if they want matches presented to them.
I guarantee they will say yes.
And this is something that Be2 does brilliantly.
Thanks to the questionnaire and the personality test you'll find when you register, you will have a few matches to look through as soon as you log in for the first time.
To check your matchups, simply scroll down on the home page or you can click on the Contacts menu.
Either way, you will be presented with matchups the site has picked for you based on your personality and your profile.
Now many dating sites pick matchups for you but Be2 does things a little differently here.
And that's the fact that they rank the matchups that you find.
You will notice that under the profile picture of each user, you will see a colorful circle with a number in it.
That's the match percentage and of course, the higher it is, the better it is.
It's easy to scroll through these matches, click on those that you'd like to know more about, and add them to your favorites if you'd like to.
Searching for love on Be2
That's it for matchups, they really couldn't be easier to use thanks to the simplicity of the site itself.
But what if you want to make changes and search for some specifics yourself?
Well, you have that option too.
You will notice that if you click on the Contacts menu before you see the list of matches there is a My Search option.
It's here that you can make changes to the kind of matchups the site returns to you.
But what can you change?
Well, quite a lot actually.
Even as a free user you can change the following parameters:
Age range
Height
Location
Education and yearly income
Habits
If they have children or want children
Type of body
Religion
Ethnicity
Other ways of finding matchups
There are two other ways that you can find a matchup.
The first is by checking the users that are currently online.
While this is a more hit-and-miss affair (unless you are looking for friendship where location doesn't matter), you should check it out from time to time.
You can adjust settings here too if you are a paying member of the site, so you can fine-tune these a little.
Lastly, you can play a roulette matching game which appears on the right-hand side of the screen on the main page.
Here you can either pass or like profiles.
This isn't really something I would take that seriously though.
For me, it's just a bit of fun.
How to message other users
Well, unless you are a member of the site, you are not going to be able to message anyone.
But there's more.
You can only view up to three profiles a day as well.
And that means, to make a success of your time on Be2, membership is certainly something you cannot ignore.


Should you choose to become a member of Be2 Dating, these are the key features that you can use to your benefit.
It's not often that a dating site won't let regular users view profiles of others.
Well, that's not strictly true as you will get to view three a day as a free user.
But let's be honest, how can you get anywhere on a dating site if you cannot view profiles.
As a member, however, you won't have this problem anymore as you can view an unlimited number of profiles belonging to other users on the site.
There's nothing special about the messaging system on Be2.
It uses an email-style format and isn't an instant messaging system at all.
But if you are a member, you can send and receive as many messages as you like.
And that's all that counts, right?
3. See who visited your profile
A firm favorite when it comes to key features on dating sites, the ability to see who has visited your profile is pretty handy.
That's because if they haven't reached out to you, you can send them a message.
As I always say, they would never have clicked on your profile if there wasn't an inkling of a chance that they were interested.
4. Add profiles to favorites
Normally dating sites allow free users to do this but not on Be2.
Favorites are useful because it allows you to focus on browsing through potential matchups and adding those that stand out as favorites.
You can then return to them later and focus on reaching out to them.
5. See the photo galleries of other users
From the profiles I have seen, users on the site like adding photo galleries.
These, however, can only be seen by users that have signed up for membership.


While the key features aren't that impressive (other than messaging and viewing profiles) what is premium membership going to cost you?
Here is a breakdown and a very expensive one at that:
Three-month membership: $173.85 ($57.95 per month)
Six-month membership: $209.70 ($34.95 per month)
12-month membership: $383.40 ($31.95 per month)
For me, other than messaging and profile viewing, the key features on offer just don't justify those expenses.
I guess, however, that part of the reason that membership costs so much is the fact that the matching algorithm, based on the personality test, is pretty effective.
If you are going to pay for a membership, you can do so using your credit card or PayPal.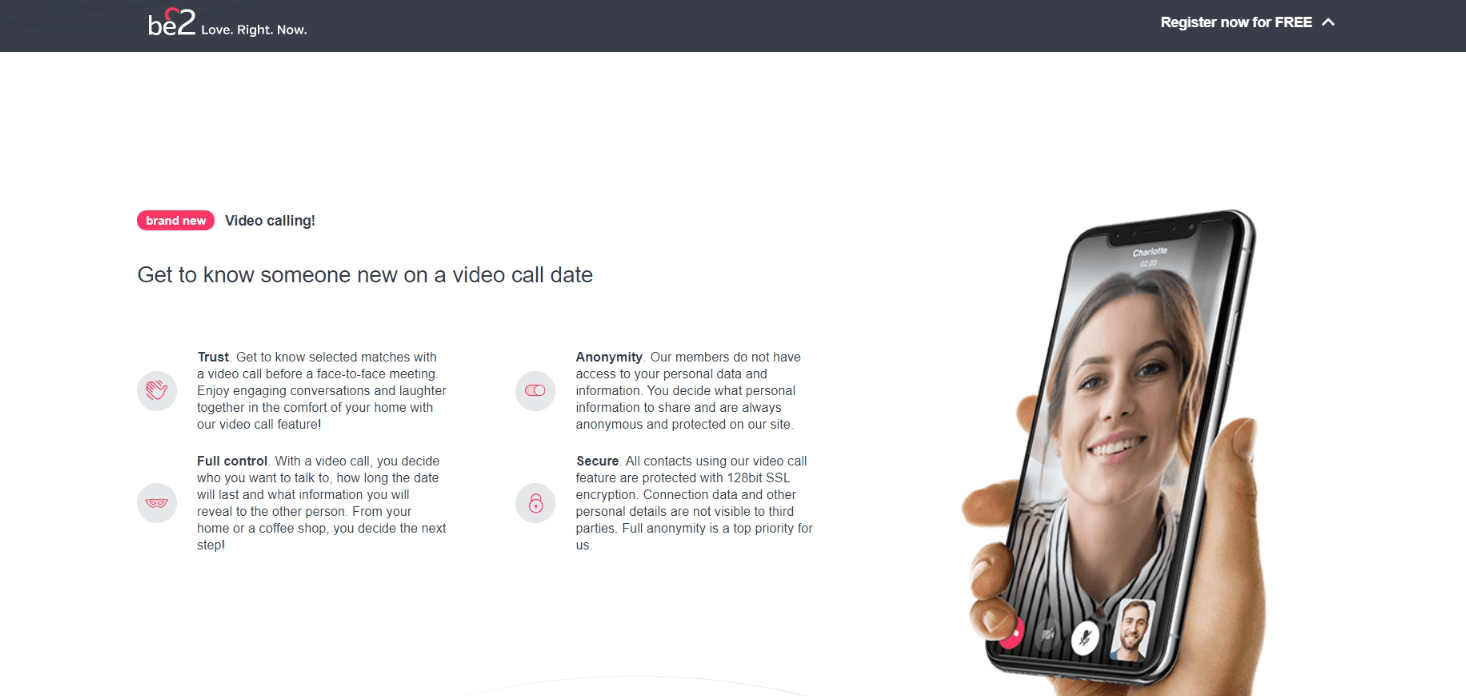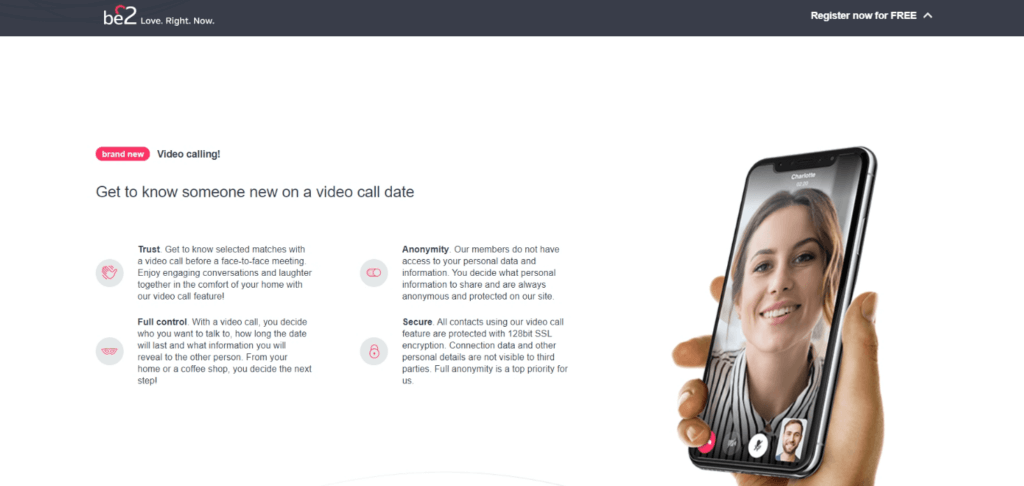 Conclusion and Overall Rating
Thanks for reading our review of the B2.com dating site.
It's an excellent dating platform, particularly if you are based in Europe although the user numbers are growing in the United States too.
One that makes it stand out from many other dating sites is the personality test.
This is something that others do have as well but what I particularly like about it is that each user has a match rating and you can easily see how compatible you are with them.
That's a really useful feature and it's for all users.
On the whole, however, you can only view three profiles a day and you cannot message anyone if you are a free user.
And for me, that's where one of the major problems comes in.
The site is just too expensive.
While I can understand putting messaging behind a paywall, I don't see the need to put profile viewing there too.
These things do bring the overall rating of a potentially excellent dating site down significantly.
It scores 3 out of 5 as an overall rating.