In this article, we'll be talking about Lumen – the dating app for 50+.
By comparing other Lumen dating app reviews I've come up with my own one so you can see for yourself what Lumen is all about.
So let's not waste time and jump straight in!
Is your dating app giving you the best chance for success?
Make sure to take our online dating site/app quiz to find out.
People who follow our dating site suggestions have on average 2 more dates per month.
Lumen Review in Video Form
Audio (podcast) form for those of you on the go
Ratings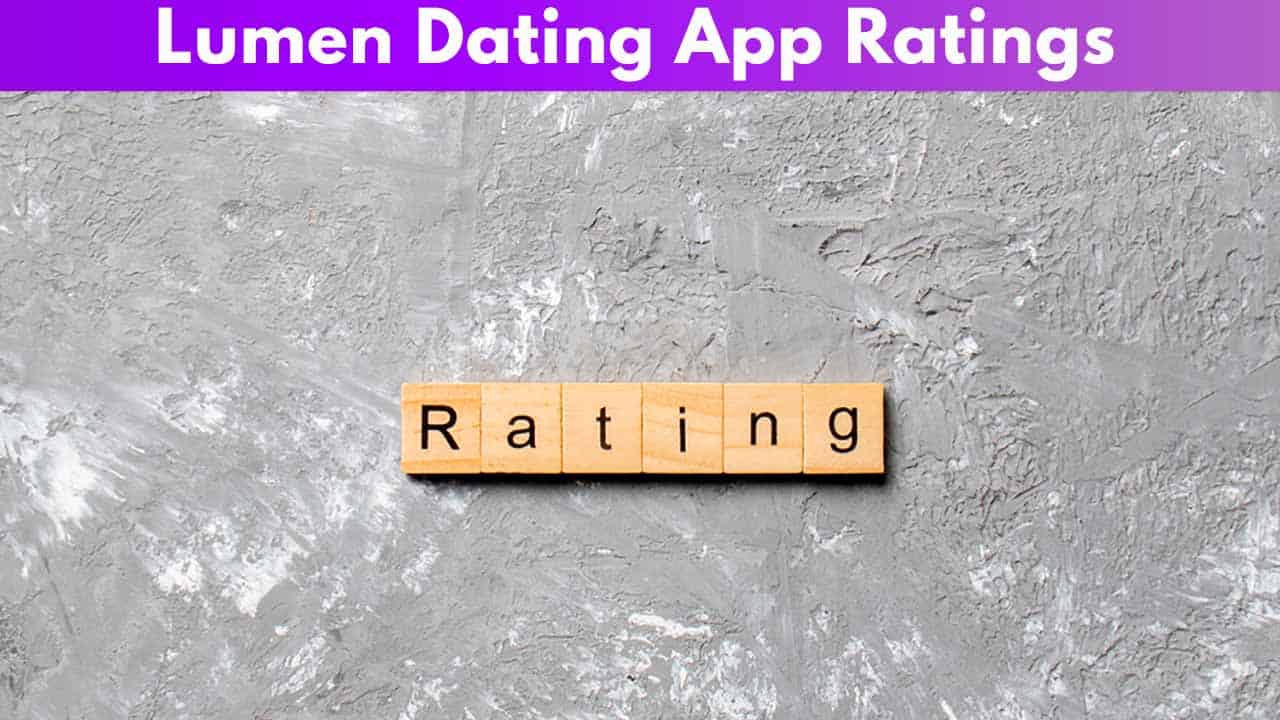 Effectiveness 4/5
Features 3/5
Ease-of-Use 4/5
Price 2/5
Pros
Signing-up via Facebook or phone number
All members are verified and there aren't any scammers
Free members can make contact
Uses a location-based matching system
Has group chats on various topics
Cons
Non-premium members have only 6 chats per day
The "ice-breaker" needs to be 50 characters long
Limited match recommendations
A bit pricey
Who is it for/Demographic Makeup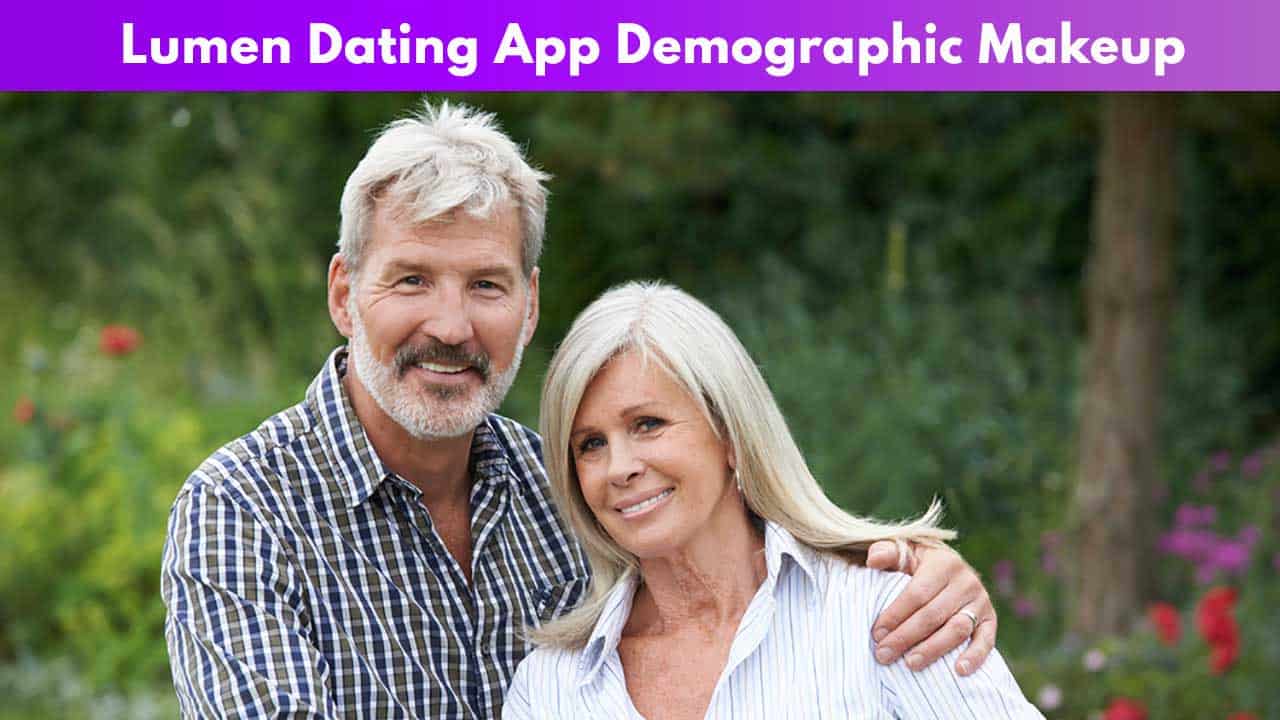 What is the Lumen app and why has it become so popular?
Well, Lumen is a dating app that is known for having a 50+ targeted audience and it does a great job at matching older people ready to start dating again.
While the specific user count is unknown and also other Lumens com reviews don't have any info, it is estimated that it has over 1.3 million users based on Google Apps and Apple Store downloads.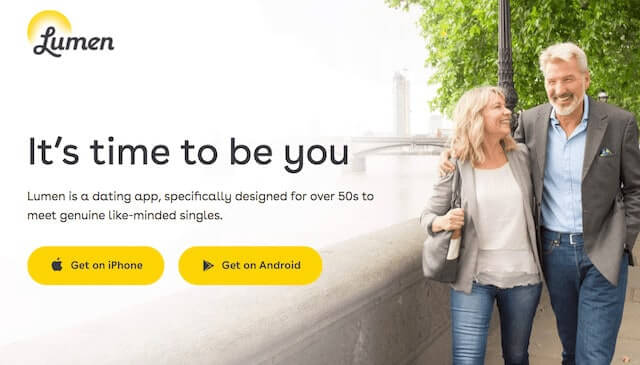 According to Forbes, the average age of Lumen users is 56 and the oldest member on the app is 97.
Also, there seems to be a 50/50 gender ratio which is great knowing that most dating apps millennials use to have a higher percentage of male users.
Lumen also appears to be quite LGBTQ+ tolerant as you can choose to search for both genders.
However, because the majority of users are from the US there isn't much diversity in terms of nationality and race but the app still needs to grow and catch the eye of more older single people.
There are a lot of older people in their 50s who are using apps such as Tinder and Bumble but they don't have high odds of actually meeting someone their age as these apps are used mostly by teens.
So because Lumen is the first dating app made specifically for older people who want to meet single people of similar age, it's safe to say that it's also the most popular one.
Effectiveness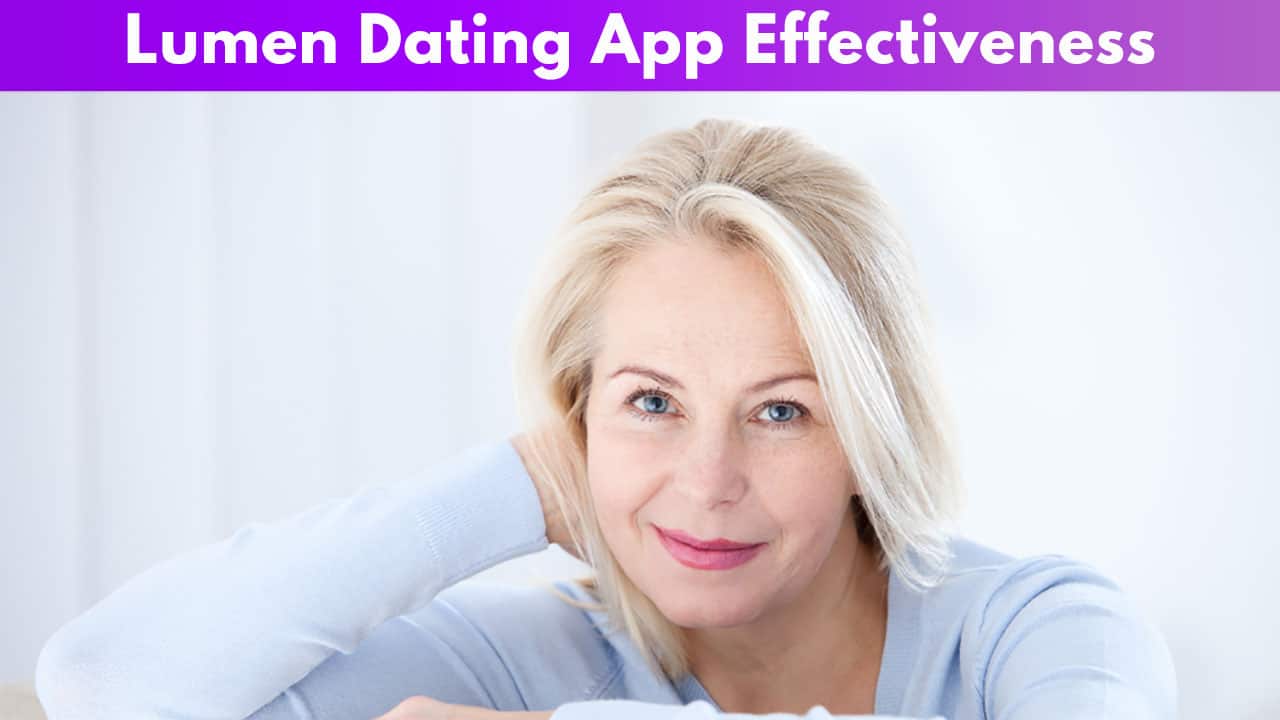 Making contact with other members on the Lumen app is quite easy even if you don't have a premium membership.
As with all dating apps, your chances of success increase if your profile is filled out and you show which kind of people you're interested in and what you're like.
When creating your profile, you'll be asked to fill out the "About me" section and let other people know what you're all about, as well as the "I'm looking for" section which will show other members what you're interested in.
OFL Top Recommendations based on 100,000+ Survey

"Serious Relationships"
"Discreet Hookups"
"Best Course for Men"
"Quick Flings"
"Normal Hookups"
"Our Quiz"
Once you're done, you can start contacting other people by messaging them.
You'll be presented with profiles that Lumen thinks you might be interested in based on your preferences from your profile and you should think of it as Tinder for older people as you can either start a chat with them or skip their profile.
The messaging system is a bit uncommon than with other dating apps as you can just start up 6 chats per day and this is to make the users be more selective and have meaningful conversations.
Even with the Premium subscription, you have just 12 chats per day so there's no way to message everyone you like all willy-nilly.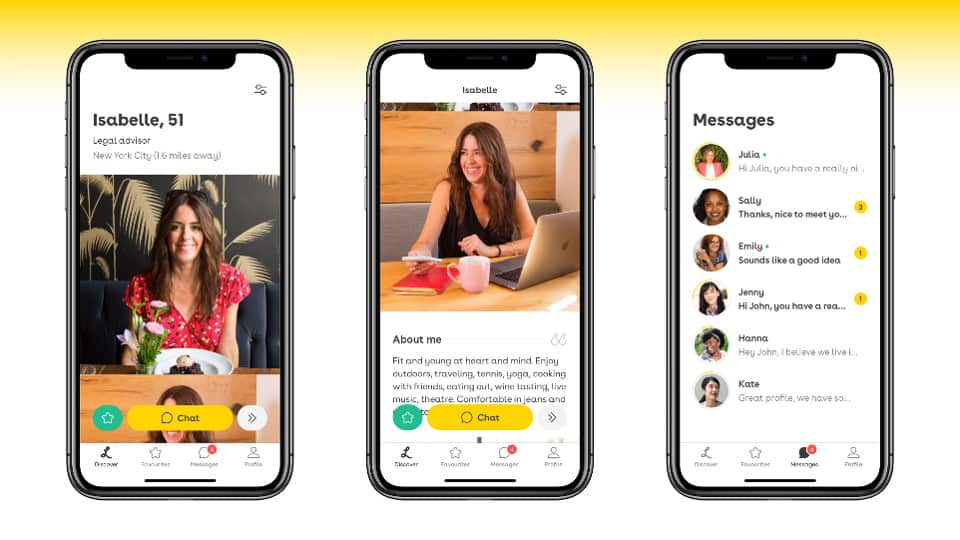 This might be the best way to approach online dating for seniors as they aren't too eager to strike up a conversation with everyone.
Also, they're more mature than millennials and know exactly what they want.
One thing that's important to know is that you can't send photos via messages so it sort of feels like being on Tinder.
You'll want to try and initiate
This all leads us to conclude that Lumen is quite effective at bringing older single people together which thousands of users can testify to.
The only downside of the app in terms of finding people is that it is location-based so you won't be able to search for members from different countries.
Overall, even though there aren't many users, you can still find a lot of interesting people, especially in group chats.
Features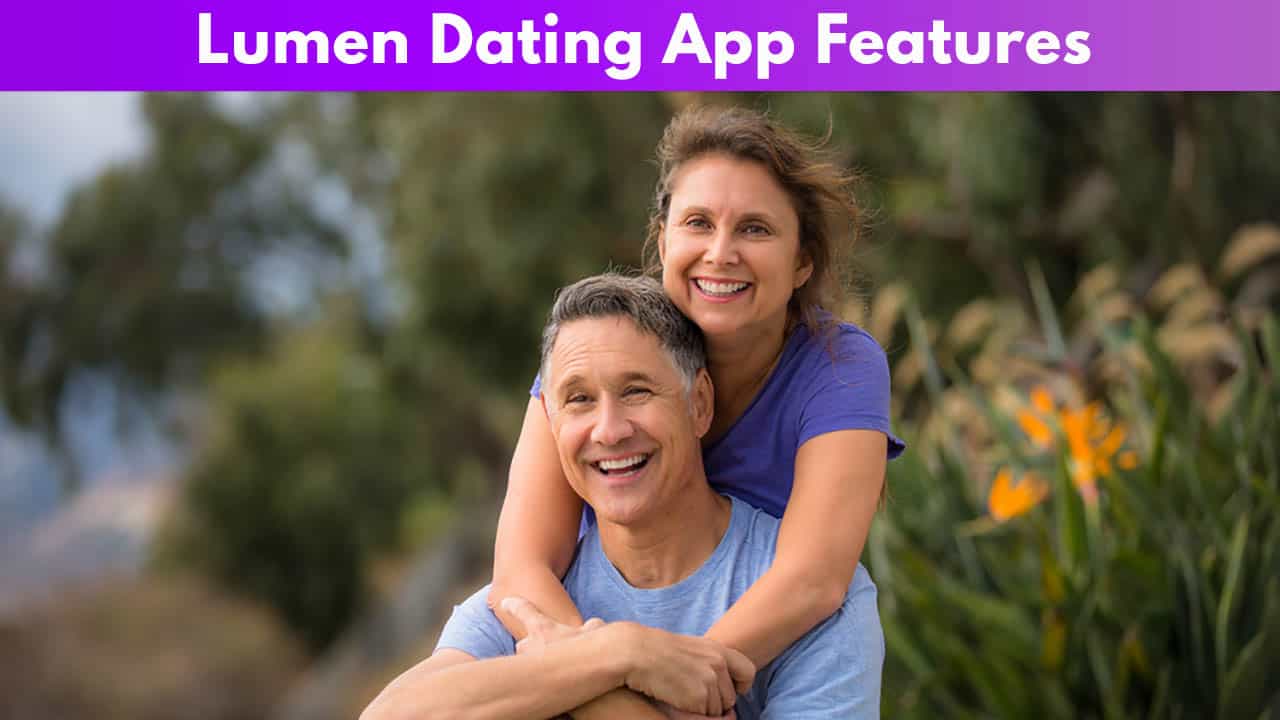 The lumen dating site has simple, yet effective features that right-off-the-bat might seem odd but are good for seniors who don't have much experience with online dating.
You might have to get used to some of these features especially if you don't know how online dating works but Lumen is a great place to start.
Discover
This is the most basic feature nearly all dating sites have and it's your bread and butter on Lumen.
You'll be presented with profiles that you'll have to scroll down through and if someone catches your attention you can send them a message.
If you don't like what you see, there's the "Skip" button shaped like an arrow and you'll be presented with another profile.
You can rewind the profiles you skipped which we will talk about later.
There is a filter option that lets you choose the gender, age, and the proximity of the members you want to find on Lumen.
You can search for anyone between the age of 50 to 90+, and yes some people are 90 who use the app.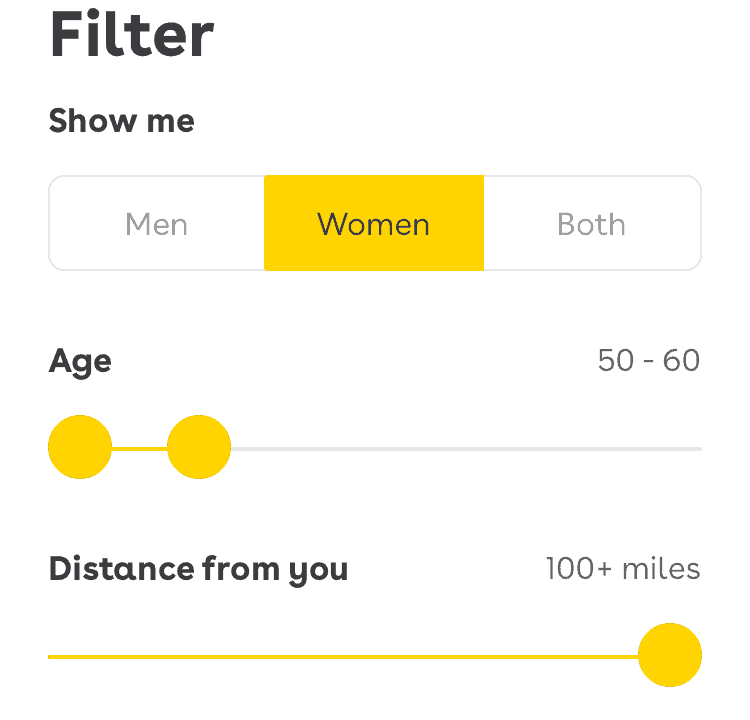 If you were to upgrade to a Premium membership, you would get additional filters for:
Height
Ethnicity
Religion
Smoking
Drinking
Eating
Politics
Children
However, you can only choose 2 of these filters but they still will help narrow your search down to people of similar interests to yours.
Ice-Breaker
The most interesting feature I want to talk about is the "Ice-breaker" which is basically Lumen's way of making the initial message more meaningful.
When you want to write someone a message, you can't just say "hi" or "hello" but rather write an ice-breaker that contains a minimum of 50 characters.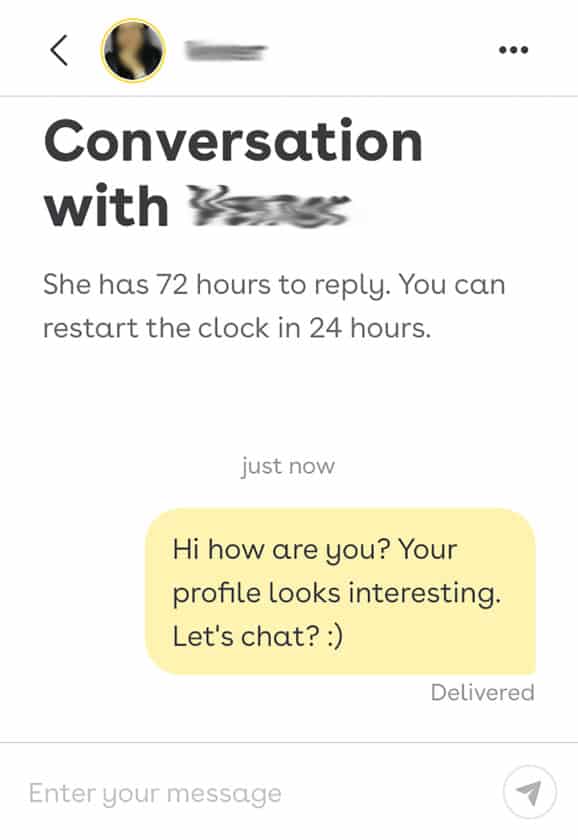 This way you're simply forced to say something that will catch the other person's attention and the conversation can start.
One thing I would change about this is that Lumen should offer some suggested ice-breakers so that it can be easier for a bit shier people to start up a conversation.
However, because seniors know how to express themselves in a more meaningful manner compared to millennials, I think that this feature is somewhat purposeful.
72-Hour Replying Timeframe
This feature is maybe unnecessary but it also has its purpose.
It means that when someone sends you a message, you have 72 hours to reply otherwise the message will be deleted.
This way you'll have to be more active on the app but also you can avoid your inbox being full of messages by people you have no interest in.
If you opt for a Premium subscription, you'll get an additional 24 hours to reply and I think that 4 days is enough to reply to anyone.
Lumen Groups
One of the best features I want to show you in this Lumen app review is the Lumen groups.
These groups are based on various topics which can be seen in the picture below and they offer Lumen members the chance to talk to people with similar interests.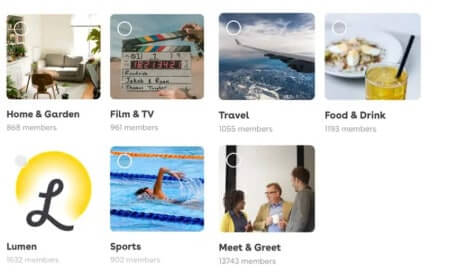 Once you get in one of these groups you can start chatting with other members.
As you can see, there's a Lumen topic group which is like a general group chat where people talk on all topics and get to know each other or just chat with the people that are online now.
Also, if you find interest in a member of the group, you can easily view their profile and send them a message if you want.
Of course, it's best to start talking to them in the group and see what they're like and later carry the conversation in the private chat.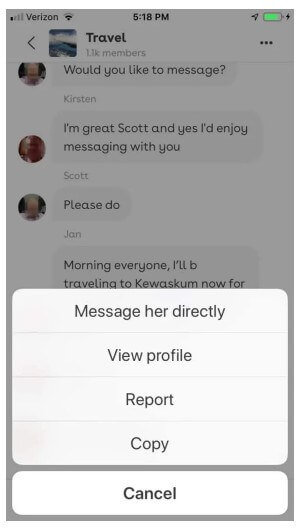 All in all, this feature is sort of a way to bypass the 6 chat per day rule and lets you talk to very interesting people that might share your interests as well.
Favorites
This feature is the same as in most dating apps and I've seen that a lot of Lumen reviews have skipped this part because it is self-explanatory.
You can add members who you're specifically fond of to your Favorites list and if they have Premium membership, they can see that you added them.
You add other members to the list by tapping on the star icon on their profile.
As you can already tell, this feature is pointless if you or the person you've added to your Favorites list don't have a Premium subscription.
Rewind
As a free member, you can only rewind profiles you've skipped 10 times so that you can contact them if you've changed your mind.
Premium membership offers unlimited rewinds so you don't have to feel guilty if you've skipped someone because you can always find them again.
This is great because unlike Tinder where you need to pay for a certain number of rewinds, once you upgrade to a Premium membership, you can rewind as much as you want.
Ease-of-Use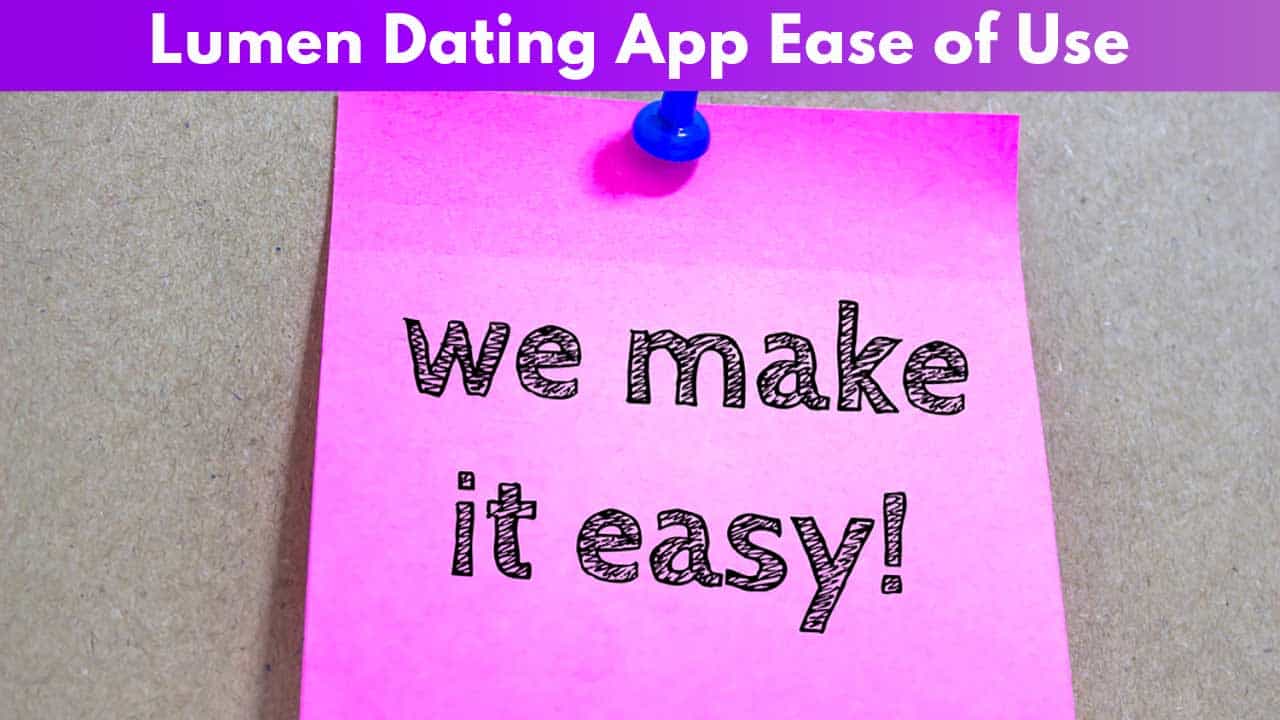 Because this app is sometimes called Tinder for over 50, you can expect that it's quite easy to navigate through.
In reality, the most difficult part of the whole app is the signing up process.
Don't get me wrong, it doesn't take more than 10 minutes to register, even less if you sing-up using your Facebook profile, but the photos verification process might be a bit confusing for seniors.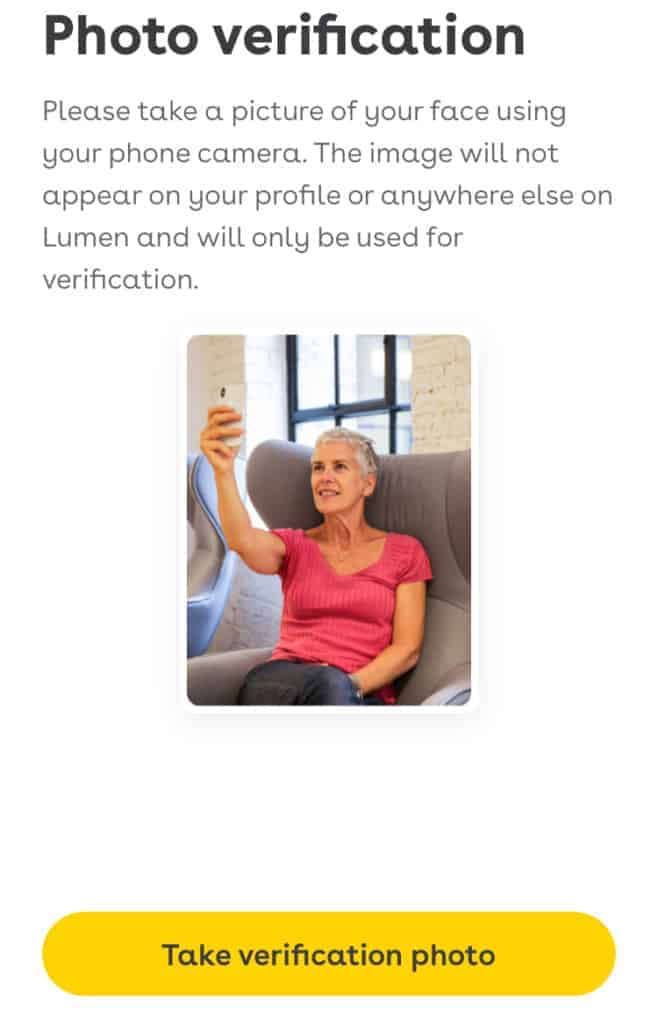 So in this Lumen dating app review, I want to go through the process step by step.
Once you enter your phone number and get a message on your phone with a code that you'll need to enter you'll be asked to upload a photo.
To confirm that you're on the photo, you'll need to take another photo of yourself via camera.
The next step is to upload 2 more photos of yourself so that you fill out 3 out of 6 photo slots on your profile.
As you can see, it isn't that difficult but you might need some assistance from younger dating app users.
Now that we've got the verification process all figured out, the next thing you'll need to do is set up your profile by filling out your profile.
First, you need to fill out the "About me" section where you can make a detailed description of yourself, and then you can fill out the "Interested in" section to narrow your preferences.
Of course, you can skip this part and finish setting up your profile later but it's not a bad idea to fill it out now since you're already there.
Once you're done, you'll be presented with a list of profiles and unlike Tinder where you need to swipe through them, on Lumen you have to scroll down the profiles.
Remember, Lumen is solely a dating app and doesn't have a desktop version which might not be a bad idea to be implemented in the future as not all seniors have smartphones nowadays.
We already know that for most some using a smartphone is already hard work.
To sum it up, Lumen isn't that hard to use and navigate through and you'll get the hang of it in no time.
Pricing
As far as pricing is concerned, Lumen has a pretty hefty price if you want to go premium.
And as you can see in the picture below, a monthly premium subscription on Lumen will cost you $36 which is quite pricey if we would compare it to other dating apps.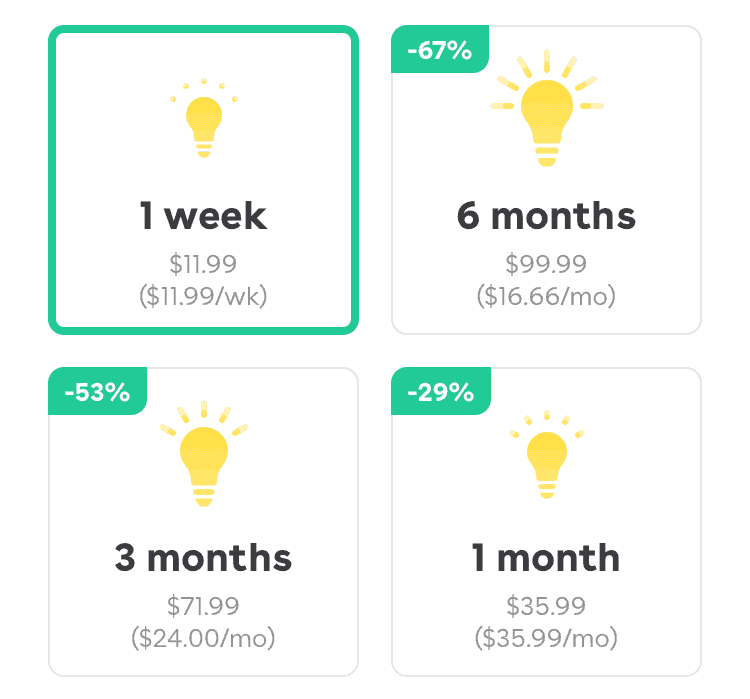 One of the things that the app owners should change is that they should offer a life-time subscription because paying $100 every six months just seems ridiculous.
On the other side, if you do settle for the 6-month subscription, it'll cost you around $17 per month which isn't that bad of an offer.
Also, you will have to cancel your subscription manually if you don't want it to renew each week or month.
You can manage your subscription at any time by going to your profile and selecting "Subscriptions".
So what do you get in terms of features for such a high price?
Well, the premium features include:
6 more conversations per day (12 total)
Additional 24-hours for a reply
Unlimited number of rewinding other profiles
Seeing who put you on their Favorite list
2 additional advanced search filters
The advanced search filters and unlimited rewind are definitely great features but are they worth the price?
In my opinion, Lumen should decrease the price just a little bit so that they attract more members and make the app not just more affordable but also more accessible.
Conclusion, Overall Rating and CTA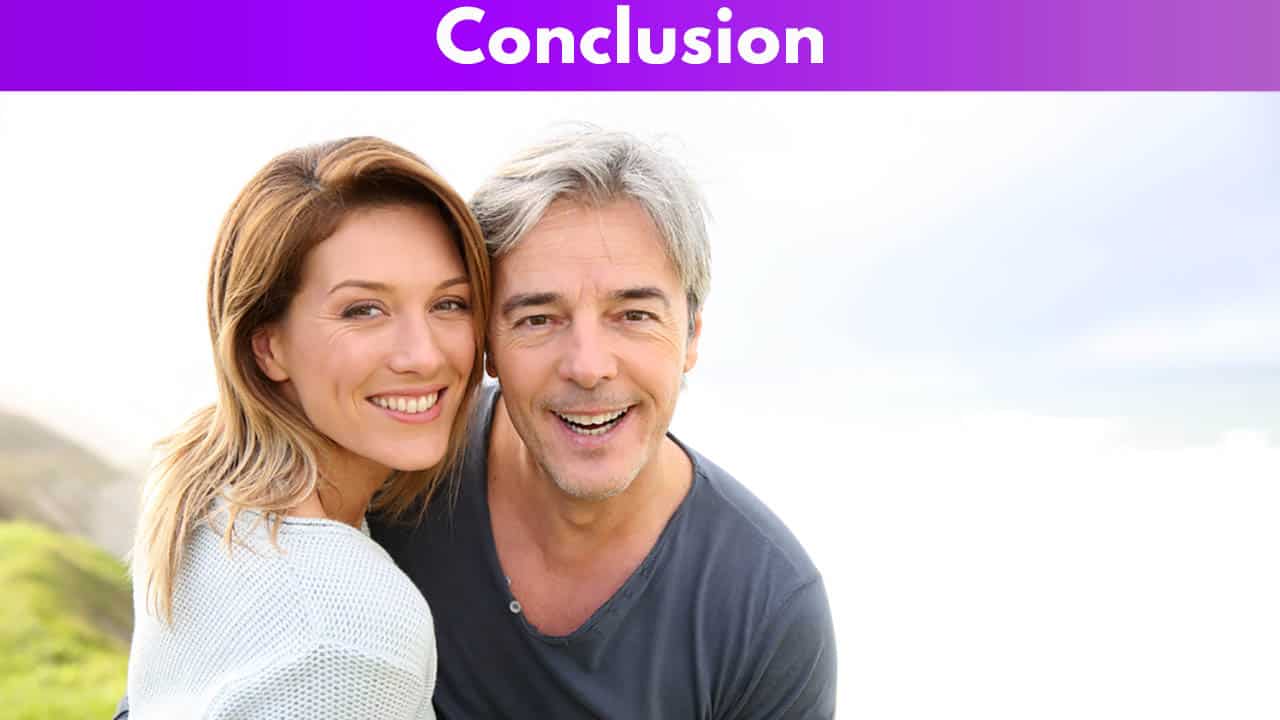 We've come to the end of this Lumend dating site review and I hope you've learned everything you wanted to know about the app.
As far as the overall rating is concerned, I would have to rate the app about 3.5/5 mostly because of the price and the lack of some features which might make the user experience more enjoyable.
The one thing that I do like about Lumen specifically and that I think is important is the verification process as it makes sure that all the users on the app are genuine and that there are no scammers.
On the other hand, I would suggest changing the way you go through profiles by adding a swiping method rather than scrolling because it's easier to get a hang of it in the long run.
Also, because it's a location-based app, if you live in a small town, you might run out of matches and since Lumen has yet to become popular the developers should work on being able to change your location.
Other than that, I believe that Lumen is a solid dating app for seniors most people who fit in that age group would enjoy.
But what do you think?
Would you use the app or would you suggest someone who you know try the app and see what he/she thinks?
Leave your answers in the comments below and while you're down there you can also make some suggestions or share with all of us some success stories.
Also, sharing this review for others to see would be much appreciated and might catch someone's attention to try the app.
Frequently Asked Questions