Ok – I know dating gives you the thrills!
But, what about luxury travel?
How do you feel about these?
Having a light breeze in your hair on your yacht's deck and no worry in this world whatsoever?
OFL Top Recommendations based on 100,000+ Survey

"Serious Relationships"
"Discreet Hookups"
"Best Course for Men"
"Quick Flings"
"Normal Hookups"
"Our Quiz"
Hmm, what if there was something better?
Like, enjoying these two at the same time?
Yes, you would like that.
It's just that you have nobody to share your money and sense of adventure with.
Think twice!
MissTravel is what you need to check out and see if it works for you.
And, before you do that, here comes a full miss travel dating site review.
In this MissTravel review we'll cover:
Enjoy it!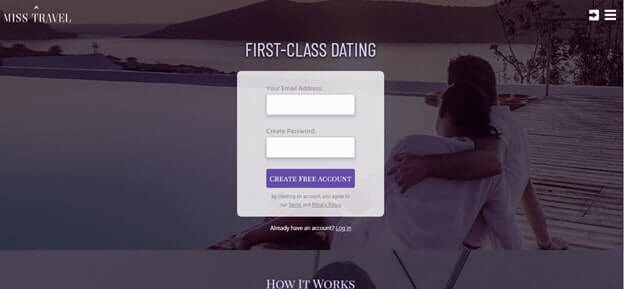 What's your price is running a deal right now where girls can sign up completely free. We suggest you don't miss out on this limited offer. It's the biggest SD/SB site online.
Is your dating app giving you the best chance for success?
Make sure to take our online dating site/app quiz to find out.
It's a fact that people who follow our dating site suggestions have on average 2 extra dates per month.
MissTravel Review in Video Form
Audio (podcast) form for those of you on the go
But first, here are the ratings!
Effectiveness – 3/5
Features – 3/5
Ease-of-use – 5/5
Price – 4/4

Fast and simple registration
Open-minded and adventurous adult members
Pretty good user interface
NOT a sugar-dating site!
Who is it For/ Demographic Make-up?
You figured it out so far that it is a travel dating website we are talking about here.
It is not your everyday dating site (like Tinder or eHarmony), nor is it a hookup site (like BeNaughty or Ashley Madison).
So, let's say no more than Misstravel is a dating option that brings more to the table than one would generally say.
You get the fun and you get the right kind of attention.
What may come as a surprise is that the site is equally attractive to both men and women and that the gender ratio is well-balanced – 50%-50%, believe it or not.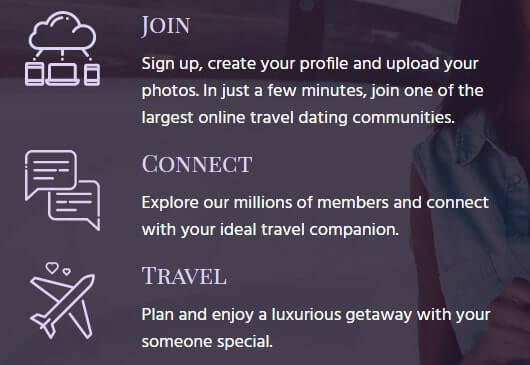 As for some general numbers' structure, we are talking about over a million users worldwide.
Out of these, almost 300,000 are from the USA.
Besides the States, Misstravel is also popular in the UK and Belgium.
Members' age is so to say ideally distributed, so there are mostly younger women and a bit older men.
This is an ideal combination since younger men with money may not be as attractive and might act foolishly with it.
While on the other hand, more mature men (over 35) know how to choose and act wisely and know how to live their life to the fullest.

This brings us to the conclusion that an in-love-with travel miss will have ideal chances in finding a mature man to go out on an adventure with.
The first next thing that you need to know about one of the travel dating sites is how effective it is.
That is, you need to know if it's all worth it.
It's in human nature to want to know in advance if we need to go on with it or drop it before we've gone too far.
To give you the best perspective on the functionality and effectiveness, in this case, it is best to proceed with this Misstravel review by providing answers to the most relevant questions.
1. How does it work for your target group?
Albeit being criticized that is borderline sugar daddy dating website in many of the travel dating site reviews, let's try to prove otherwise here.
Namely, everybody comes here to find companionship, for starters.
But, not any companionship.
This is where you need to really be sure who you want to take cruising, skydiving, exploring the wilderness of Africa, or the intrigues and rich cultural heritage of Latin America or the Far East.
So, what you need to do is establish contact with someone you like and start from there.
There is no shame in proposing a fun journey together since you're all there for the same reason – luxury travel for two.
So, if you are a well-established guy with money, unlucky in love, this is where you can find a girl to keep you company on your next travel.
However, know that girls are not in this just for the money.
In many cases, they are also the ones with the money, it's just they are searching for an extra thrill in two.
Ah, yes!
Making contacts and its general availability through online dating websites is an extremely important feature.
Once you have finalized the registration stage (as simple as it gets), you can add people to your favorites list and you can do it for free.
Next, the site allows you to post details on your next trip so other members can see it and the good thing here is that members can request to join you on this trip.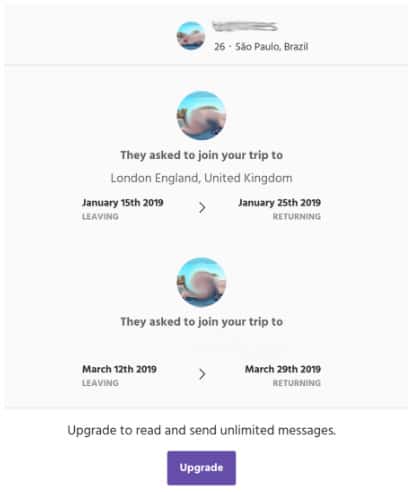 Even better is that you get to choose who you want to take with you.
However, when it comes to direct messaging, things may not be as simple as one might think.
Why so?
Well, not everybody can send messages through Misstravel.
Though, the site does favor ladies in this way.
To be more precise, all female members have free access to sending and reading messages.
So, ladies don't need to worry that the registration counts for nothing.
On the other hand, the gents need to be a bit generous when it comes to sending messages through Mistravel.
Namely, you are looking into an obligatory premium membership if you are planning to text ladies you find interesting or want to go on a journey with.
Finally, after the operating principle and the possibility to establish contact, we can deal with the most important question of all.
How likely are you to succeed in finding a date and/or soul mate through Miss dating?
Judging by real-life reviews, it is safe to say that the members are thrilled by the fact that you can resort to a dating site to find a pleasant companion for your next Mediterranean cruise.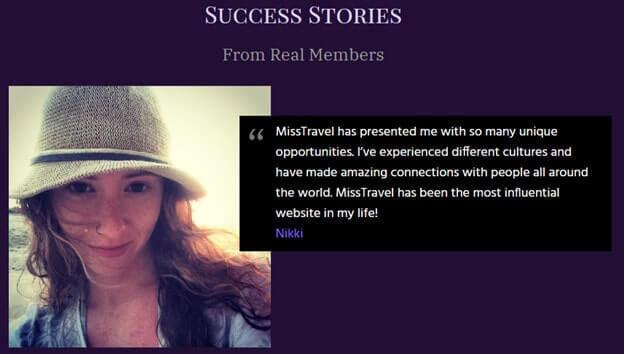 However, this Misstravel review will go a step further by making another bold statement.
Chances of success with MissTravel must be high.
People who like to travel are people prone to risk-taking and generally have a good hold of their lives.
So, only a few will say no to an extended invitation to an adventure.

Travel dating can be dangerous and fun at the same time and this is why it's perfect for all those adrenaline junkies out there.
'Cause, seriously who could resist a journey into the unknown with an unknown person by their side?
Could you?
As we have seen what we are dealing with and the good that may come out of joining Miss travel, it's high time we dealt with something tangible.
Yes, it's time for the key features to be dealt with.
To alleviate your further impatience, let's dive in!
Honesty, this may not strike you as an important feature at all.
But, have you ever tried looking for something or someone and you keep failing to do so?
Well, although there are other travel dating sites free of charge, in our case here you can narrow down your search to a location or you can be highly specific on the type of people you want to join you.
Or, you can choose people by their location.
We all know how frustrating it can be when you know you liked someone and you remember their pretty face, but not the name.
This is why MissTravel gives you the option to add your favorites to a list. This will help you find them afterward.
Just check the star icon at the top of the display photo when in search mode.
This will be quite helpful when you decide to get in touch with someone you found interesting but never got the chance to talk to.
So, just resort now to the list.
And, speaking of…
Again, this doesn't look like a feature of relevance, but let us just say that when you carefully observe your list of favorite profiles, you will see that this is not just YOUR list of favorite profiles.
Yeah, yeah!
The list of favorites that you make includes additional sub-lists that the site creates for you.
And, these are anything but useless.
These give you a hint on what you can expect when approaching someone through the website since this is where you will find the "Favourited you" and "Visited Me" lists.
Not so un-cool after all, right?
This may yet be the best feature of MissTravel travel dating site.
This makes it possible for you to post your trip publicly so everyone can see it.
However, the site administrators will first have to approve your trip.
Once this is done, the members are free to request to join you on this trip of yours.
Whom to choose is completely at your will.

Still, note that this feature will require you to give some specifics on the trip.
Among these, you will have to provide the location and the dates in the option.
More importantly, say who's paying.
Again, bear in mind here there is the option to split the costs or that the other party might be open to covering the costs him/herself, so keep an open mind.
Life in the 21st century has its perks, quirks, and open flaws.
On the one hand, it's like seizing the day every day. (But there is still the question of How?)
On the other hand, we are too anxious to wait for anything.
We want something and we want it now.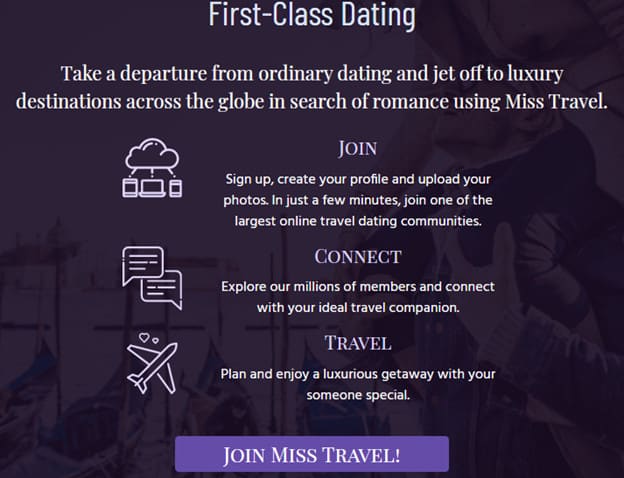 So, how does this apply to dating and traveling through MissTravel?
Is it easy? Complicated? Somewhere in between?
Let's go through different stages of using MissTravel and then you can go ahead and reach a conclusion on your own.
Becoming a member of the MissTravel community starts with your decision to do so.
After this, you can register through their website and have the registration completed in less than 5 minutes.
However, what may come as odd to all of us, MissTravel requires you to register through the work e-mail address that needs to be verified immediately.
During the registration process, you need to provide a username (you will use this for further log-ins) that does not necessarily have to be your real name.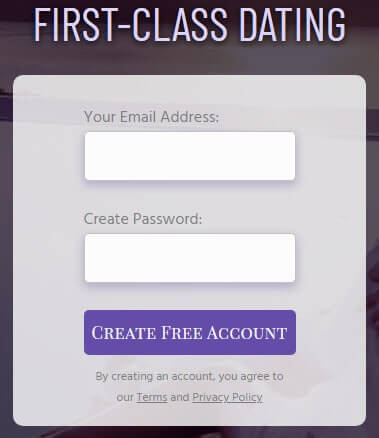 Even better, for safety and privacy concerns, don't use your real name as the username. You can reveal this detail only to those members you feel comfortable with.
As for other members, they will see your username.
Luckily (or not) there are no detailed questionnaires to fill in during registration and you just need to upload some photos.
However, you can add some details about yourself and have these visible on your profile.
Obviously, this tells us that Misstravel profiles aren't as detailed as one would think, but they still include the basics.
In any case, after these, you're good to go (kinda pun, kinda not intended).
As for site navigation, there are no surprises here.
Once you register, you will have no trouble finding all the features or search fields as quickly as possible.
For example, after the login, on the top bar, you will find a star (mentioned already in the Key Features section) that stands for your favorites list.
Then, in the same line, you will also find a letter that represents the messaging options.
In any case, you'll get a hang of it in no time.
The most important thing is that it's a fast-loading site because let us be honest – there is nothing more frustrating than a slow-loading site.
Especially all the more so if we are talking about travel dating.
I am so sorry to inform you that the founders did not throw Misstravel app into the equation.
However, they did make a highly adaptable mobile version that is easily accessed through any mobile device.
This makes the users' experience all the more pleasant.
Not to mention the fact that the mobile version includes the full functionality of the desktop version.
This is great to know when you need to be on the move and still want to post your latest traveling quest.
So, even without the app officially, you can still use MissTravel on your mobile device without worrying that something's missing.
One thing that is frequently missing in the Misstravel reviews you can find out there is the pricing.
However, this can sometimes be a crucial factor in making the final decision of whether to give it a shot.
So, where does MissTravel stand in terms of pricing? Cheap? Expensive? Average?
Although this division is highly subjective, let's deal with the facts first.
Naturally, something has to come for free.
Accordingly, as a free member, you can register, upload photos, post the upcoming trips you are planning, add people to favorites and browse anonymously.
Additionally, if you are a lady, you can send and receive messages.
Once you decide to go for an upgrade, here's the deal.
First of all, there are three paid plans and it's up to you to decide which one to go for.
Second of all, be warned about the price in advance.
Namely, the first paid upgrade is for a full month.
This will cost you 60 USD/month.
The second option is a three-month subscription that will be charged at 55 USD/month.
So, in total, this will cost you some 165 USD.
Finally, there is the option to go for a six-month upgrade.
This pleasure comes at a price of 50 USD a month, so you do the math and figure out if it's worth it.
As I have warned you, the price is an important factor especially if you aren't that well-off but would still like to get a full dating experience through MissTravel.
But, then again, what is 50 USD or 60 USD compared to an adventure with someone you feel attracted to?
MissTravel is a dating site that is a little bit more than a simple meeting at a local restaurant. The thrill is what counts and this is exactly what you are going to get with MissTravel.
Give it a chance and let us know how it goes!
It's in human nature to always seek more, to always want to know more.
This is why you must be having some additional doubts and questions concerning MissTravel.
For this reason, check below the answers to some of the most typical questions people have about this travel dating site.
It is only natural to start with the questions concerning the state of facts.
So, let's dive right in!
In all candor, they could use an improvement in their safety.
The only "safety check" is the e-mail verification and after that, you're on your own.
Just like the price section says, MissTravel is a bit lenient when it comes to ladies.
They have more options as free members than men.
In general, when it comes to free options, registration and profile set up are for free, posting your next trip and sending and receiving messages (for women only).
Men have to go premium in order to send messages.
Yes.
It is safe to say that MissTravel is legit.
This is witnessed by the growing number of new members and the success stories you can find on the site and various forums.
4. About MissTravel company
MissTravel is a leading dating site for all those seeking a bit more than seeing each other in the local setting.
It is for all the wanderlusts that can wait to share their net trip with someone new.
The site is founded by Brandon Wade who is also the founder as well as CEO of dating sites such as OpenMinded.com and WhatsYourPrice.com.
Our next set of questions relates to account and some functional doubts.
So, let's try and answer these as well.
1. How do I join MissTravel?
Joining MissTravel dating and adventure site is a no-brainer.
New members simply need to fill out a simple registration form including their work e-mail address and password.
Then they proceed to create a username that is later used to log in.
And, naturally, after the e-mail verification, they proceed to upload photos, and that's about it.
2. How to cancel MissTravel?
Like any other site aware that they might not be everybody's cup of tea, MissTravel allows you to cancel your subscription.
To do this, just go to the account settings and under the Subscriptions sections, you will find different payment methods.
Once you locate these, click Cancel Subscription just below the payment method you opted for.
3. How to delete MissTravel?
At this point, there is no delete option.
However, what you can do is deactivate your account.
This will preserve all of the data in case you decide to go back at a later time.
You can deactivate your account by clicking the Settings section where you will find the Deactivate my Account option.
When you decide to go back, just use the regular login details.
4. How to contact MissTravel?
Contacting MissTravel is rather easy.
At the bottom of their homepage, you can find multiple contact options depending on the type of questions you want to ask.
They even provide the option to direct some questions to the founder.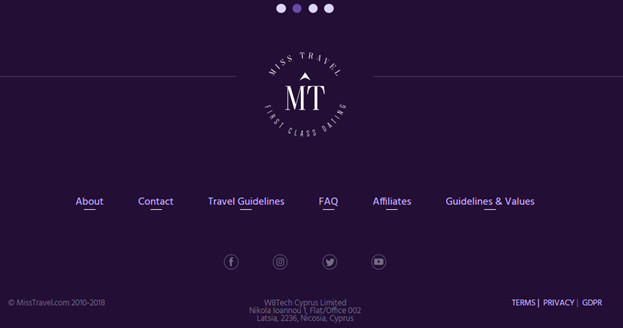 Finally, the last set of the frequently asked question refers to the functionality of the site and how it all works in practice.
So, let's check these too.
1. How does the MissTravel algorithm work?
MissTravel algorithm works by granting you the freedom of choice.
You can search for potential trip companions by location or shared interests.
The advanced search parameters do not impose any limitations so you can search anyone you want.
You can even search for people according to a trip you would like to go on.
Even better, you can post your next trip that is visible to members and they can request to join you on such a trip.
Obviously, you have all the freedom of choice!
2. How do I block people on MissTravel?
Blocking someone on MissTravel is a totally legit option.
If you feel that you need to block someone, the procedure is rather easy.
You just need to go to their profile and immediately below their profile you fill find the Block option.
In case you change your mind, there is also the Unblock option.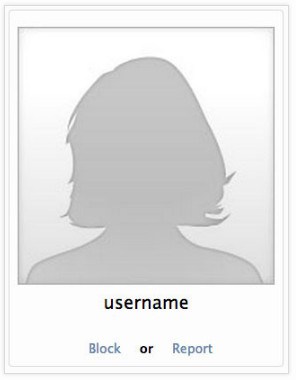 3. How do I report people on MissTravel?
Reporting someone over MissTravel is done similarly like previously.
Right under the user's photo, you will find the Report option.
Once you click it, you will be presented with a form that you need to fill out, explaining why you decided to report this user.
That would be all, folks!
Stay safe until our next review!