You've heard of Milf's before, right?
No doubt you have, otherwise, you wouldn't be reading this in-depth MeetMilfy dating site review.
In it, we are going to cover all the critical things that you need to know about the site.
So if you are a Milf or perhaps looking to hook up with one, you can make an informed decision as to whether MeetMilfy deserves your profile or not.
OFL Top Recommendations based on 100,000+ Survey

"Serious Relationships"
"Discreet Hookups"
"Best Course for Men"
"Quick Flings"
"Normal Hookups"
"Our Quiz"
This review will cover:
So sit back, relax and enjoy our review.


A quick peep at the ratings!
Ease of Use 4/5
Effectiveness – 1/5
Key Features – 3/5
Pricing – 4/5
Easy to use website
Fast registration
Lots of key features
Well-though out membership pricing
One-day and 7-day trial memberships
Meetmilfy shares its userbase with other sites in Together Network's online dating offerings
You need to be a member to contact anyone

Who Is It For/Demographics?
In plain and simple terms, or in black and white your might say, MeetMilfy is a dating site aimed at two distinct parties.
OFL Top Recommendations based on 100,000+ Survey

"Serious Relationships"
"Discreet Hookups"
"Best Course for Men"
"Quick Flings"
"Normal Hookups"
"Our Quiz"
Older women who prefer to date younger men
Younger men who want to date older women
Most of the people on this site aren't looking for long-term relationships (like eHarmony) rather they are in search of hookups (like BeNaughty or Ashley Madison).
It's more like "wham bam, thank you, ma'am" that's for sure.
Of course, a new hook up might lead to more in the future but it's purely physical for the most part.
Neither party is looking to fall in love, although, perhaps that does happen.
It's a rarity, though.
So let's talk a little bit more about the site and some facts and figures behind it.
As you probably can expect, although this is a niche site, it's one that's become very popular recently.
The term "Milf" or mother I'd like to f*** has been around for some time but it's an iconic teen film, American Pie that helped make it popular in the mainstream.
So when it comes to users for MeetMilfy, well, they number over two million, which is impressive.
Around 800 000 are from the United States, which is close to half
Around 24 000 are active on the site each week
That's over 3 000 per day and close to 100 000 each week
While the user numbers are impressive, the number of active users per week and per day for that matter isn't as high as I thought it would be.
Especially as the site has around two million users.
And that's something that might affect the quality of matchups returned when you launch searches.
But that's something we will keep an eye on later in the review.
Gender ratio stats on MeetMilfy
In dating site reviews, it's always super important to look at gender ratios.
If you've never used a site before, this may play a critical role in whether you sign up for a profile or not.
And it seems that on MeetMilfy, it's the males that really want to do the meeting.
That's because they make up 70% of all user profiles with the females, the Milfs themselves accounting for the other 30%.
While the male user ratio is high, it's certainly not as high as on some other dating sites.
All it means that if you are a Milf, well, you can certainly pick and choose.
But if you are looking to date them, well, then you've got tons of competition.
Sadly, stats regarding user age ranges were not forthcoming.
But generally, based on the gender ratio and the way the site works, the female profiles will be older and most of the male profiles younger.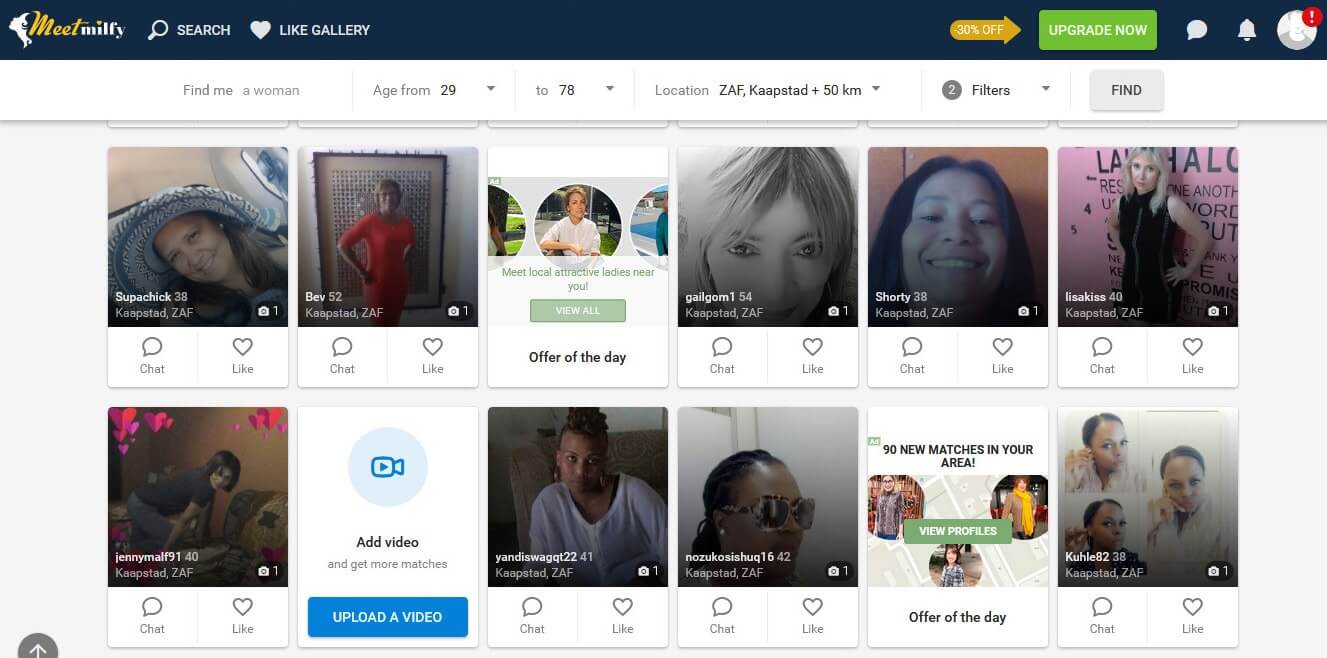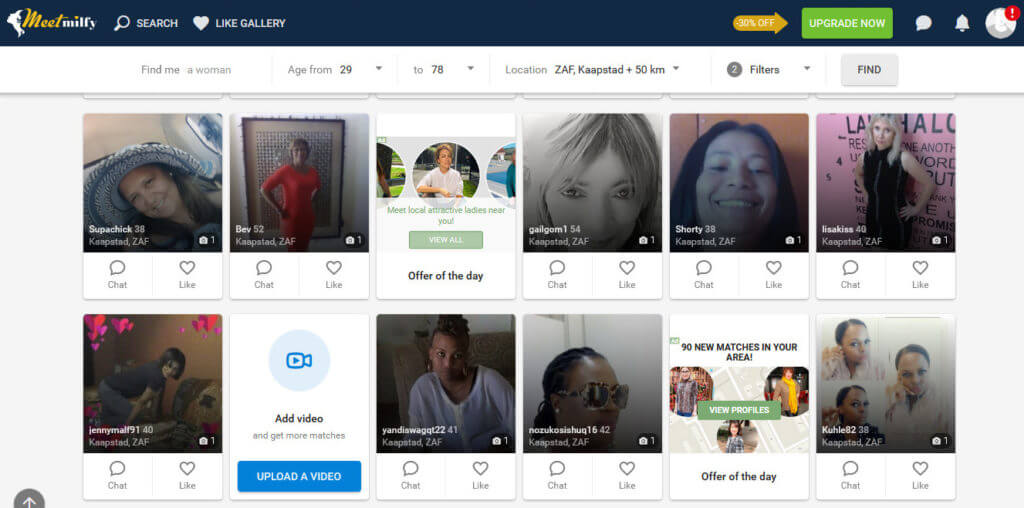 Meetmilfy is a site run under the auspices of Together Networks.
They have lots of online dating sites each with a particular niche in mind.
One thing they don't have, however, is an app for these sites.
That's partially overcome by the fact that Meetmilfy is mobile-friendly, so if that's your weapon of choice when registering, then yes, it's possible to do it all on your phone.
No matter if you chose to register using a computer or mobile phone, you will need to provide some initial information to get the process started.
This is simple enough and I am not going to go through the whole process other than to say that you will need a valid email address if you'd like to access the site.
That's because Meetmilfy will send you a validation email with a code in it that you will have to input on the site or a link that you can click to access the site.
I had some trouble initially with receiving the email.
Usually, these emails come through fairly quickly and if they don't you need to check your spam folder to see if they might be there.
My email for Meetmilfy took about 10 minutes before it hit my inbox.
So if you don't see it and you cannot find it in your spam folder, just wait a bit.
Once you've validated your email address, you gain access to the site.
But there are some things that are critical for you to spend some time I feel.
First things first, complete your profile
All online dating sites deal with profiles in a different way.
Some do it better than others.
And in an attempt to get you online as quickly as possible, I feel that Meetmilfy should handle profiles better.
You see, a profile is super important.
Yes, a profile picture might drag someone in, but your profile can tell so much about you.
Perhaps that's not as important on a site like these where hook ups are the main aim of the game for most users.
But even then, a completed profile can show some deal-breakers that can stop a meet up even before it starts, right?
That's why, for sites that get you online but don't worry too much about your profile, you need to make sure that you take the time to complete it.
And there is no better time than when you first log in, that's for sure.
Set aside 10 minutes and get the job done.
There really aren't any curveballs that you can expect at all, it's all very straightforward.
Lastly, remember a completed profile get's far more action than one that's only got a profile picture and little else.
Even on a hook up site.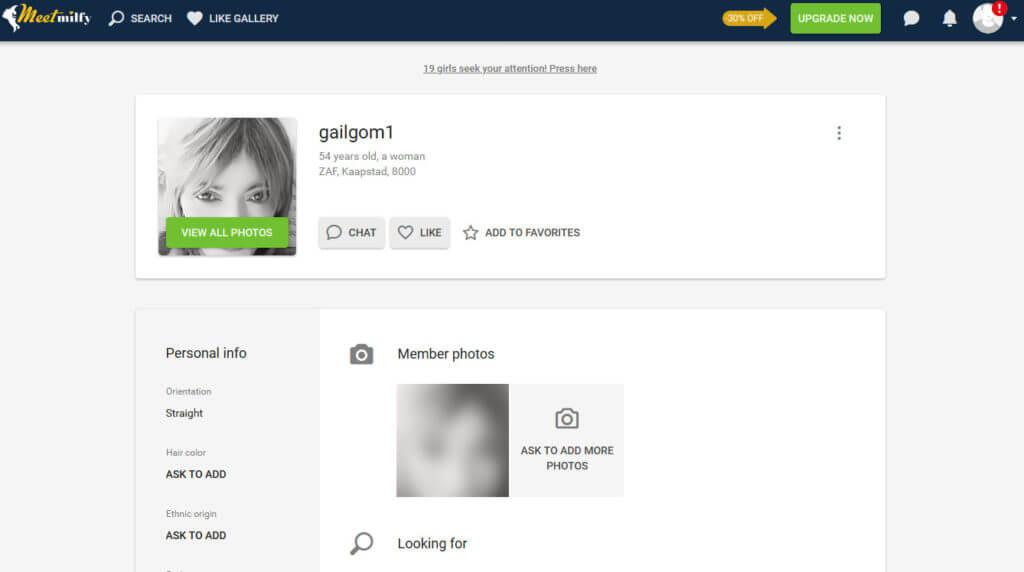 Getting to know Meetmilfy's design and layout
As part of the Together Networks group of dating sites, Meetmilfy shares the same design as many other websites in the group.
That means that the profiles of other users are what dominates the main page and you can quickly change what you see using the three menus you will find just above them.
These are All Members, Online Now, New Members.
I prefer to keep mine on Online Now for the most part.
That means they are active at that point and ready to respond to my messages.
Of course, you could miss out on a few profiles in this way, ones that might be worth your time investigating further.
So every now and again, I like to change it to All Members to see what pops up.
The beauty here is that it's totally up to you and you have the tools at your disposal to try to find the perfect profile in the way that you want to.
Overall, the design of Meetmilfy simple, yet effective.
You will notice that there aren't many main menus either on the site.
Here's what you will find:
Search: Click here to launch searches of your own with specific parameters
Like Gallery: If you want to go through profiles based on their pictures, use this roulette-style matchup game
Messages (Speech bubble): Track your messages, both sent and received, here.
Notifications (Bell): Any notifications you need to know about will appear here, for example, if someone favorited your profile or viewed it
Profile: Click here to edit and change your profile and other site settings
I like sites that keep menus to the minimum.
You just don't need tons of menus to confuse things and Meetmilfy gets it right.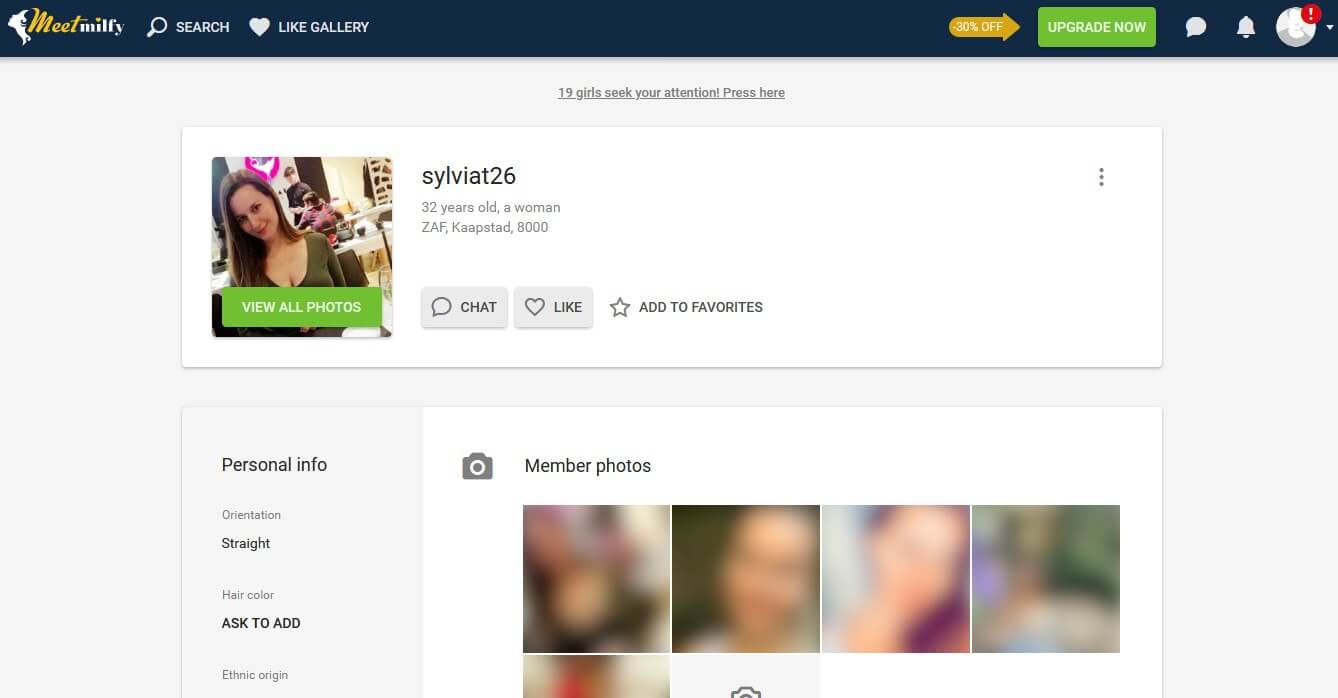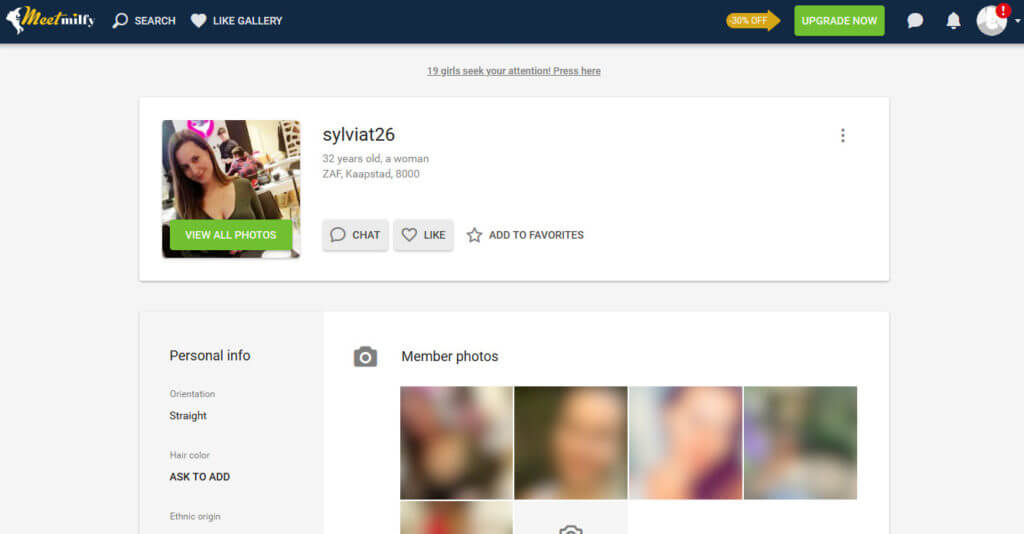 So let's talk a little now about how Meetmilfy works in terms of searching for and then contacting someone that you'd like to meet up with.
As I said earlier, matchups based on your preferred gender, a broad age-range and your location are presented to you from the moment you enter the site.
These are worth looking through, that's for sure.
But there is a problem which I noticed straight away.
Because I live in a relatively small city, I immediately saw the same matchups that I had seen before on other Together Network sites.
But those were also niche-specific sites, the main niche wasn't necessarily milfs.
That's really such a huge let down I feel.
I mean, people are signing up for a certain kind of site and then appearing on other sister sites in the network.
That means that many people on Meetmilfy aren't even Milfs.
I am sure you can see the issue here, right?
The thing is, it's in the overall terms and conditions of Meetmilfy that your profile will be used on other sites.
And I am sure it is the same with those sites too.
Even so, that affects everything about a dating site, for example, user numbers (as now they seem to be shared) and of course, the niche the site is operating as.
Anyway, it's important that those who want to use the site know about this.
Searching for potential matchups on Meetmilfy
While you are probably going to look through the matchups presented to you by Meetmilfy, of course, you are going to want to search for your own.
That's achieved by using the quick and easy search function.
In fact, it's located in the top section of the homepage and allows you to initially adjust:
The age range you want to search for
Their location
You can, however, change a number of filters that are available for all users to make use of.
These include:
If returns should have a photo or not
Their sexual orientation
Their ethnicity
Their body type
Their hair and eye color
If the have piercings or tattoos
These are all taken from each individual's profile, so it only works if they've filled in those sections.
But no doubt, it's useful to have these filters available.
So once you've found someone to reach out to, it's time to get into contact with them.
How can I message someone on Meetmilfy?
Well, you are going to need to be a member.
There is simply no other way that you can contact someone if you aren't one.
Sure, you can like or favorite their profile, which at least indicates to them that you'd like to get to know them a bit better perhaps, but messaging is the only effective way of communicating.
Once you are a member, however, you not only get to message anyone you'd like to but there are a few other key features that stand out for me.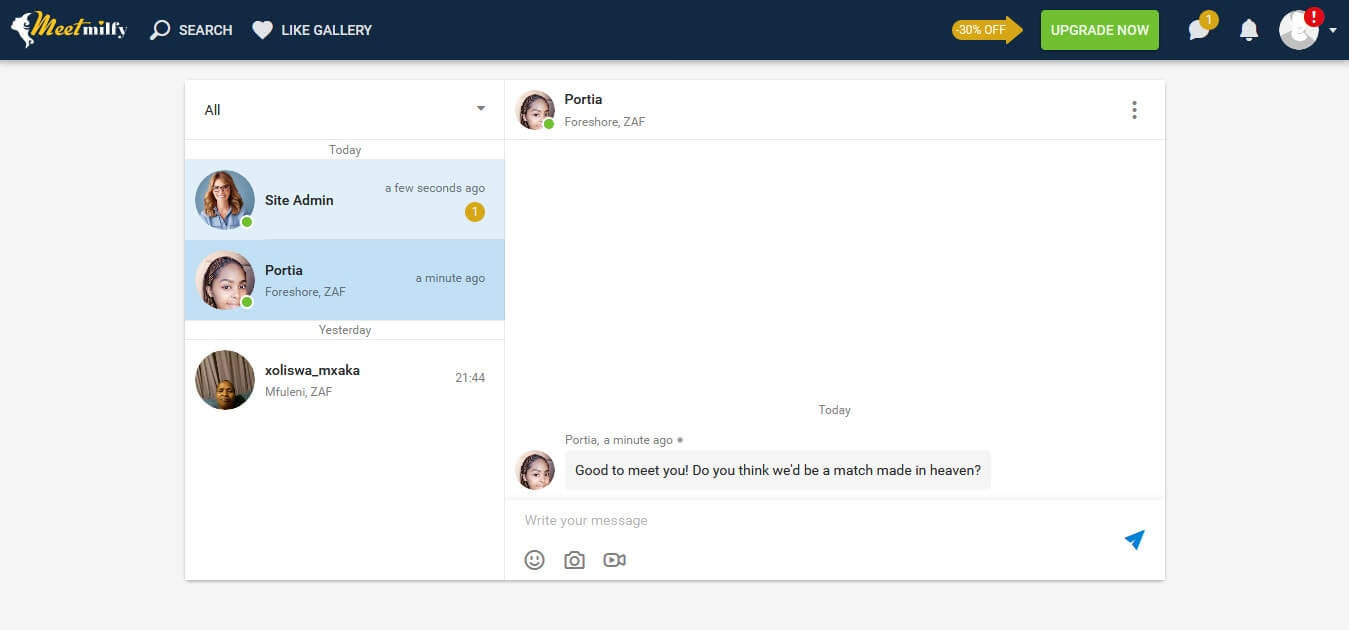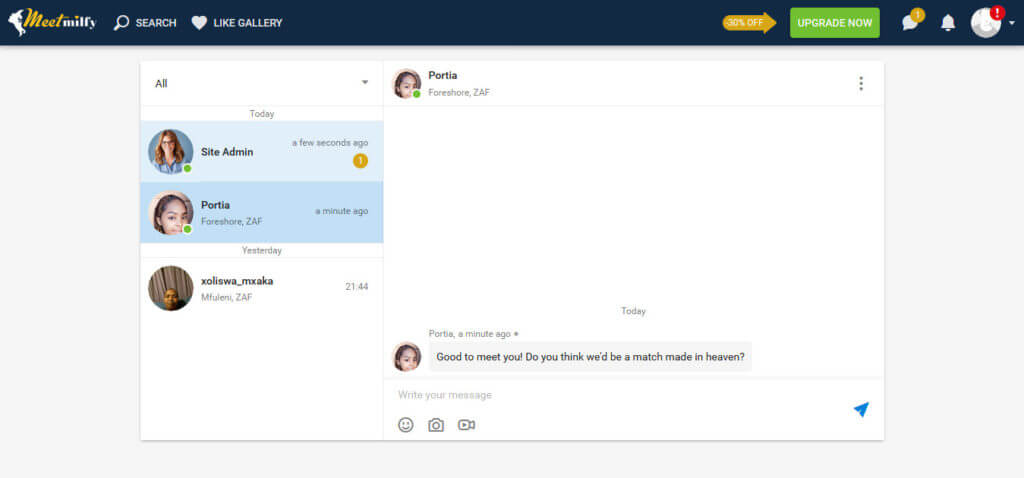 Membership brings a number of key features and I want to highlight them now.
1. Send and receive messages
There is no limit to the number of messages that you can send and receive as a paying member of the site.
This isn't like sites that use some form of currency and you've got to really be careful with each message that you send.
That means, even if a person hasn't been online for a while, you can send them a message, maybe receiving it brings them back to the site to communicate with you, right?
Sick of just a small profile picture for each user profile?
Well, with membership, that's no longer a concern.
Not only profile pictures, but any pictures another user has uploaded can now be viewed as full-sized and in their best resolution.
3. "Looking for" information
While this might seem trivial, it's always nice to know just what other users are looking for in a matchup.
With this information now available to members, it means you don't waste any time pursuing a potential matchup that's not going to be interested.
4. Even more search options
While regular users do get advanced search filters to work with, members of Meetmilfy get even more.
That means more refinement to your searches to help you turn up matches you know are worth exploring further.
5. In chat photo and video sharing
Members get the opportunity of not only chatting with others but sharing both pictures and videos in a chat with them as well.
If you have an issue with something on the site, you can contact MeetMilfy support to help you out at any time by contacting their free hotline on 0-800-996-390.
Flirtcast is not a member-only feature but it feels like it could be one.
This sends a broadcast to all users near you with a message introducing yourself.
You can send a Flirtcast every 12 hours.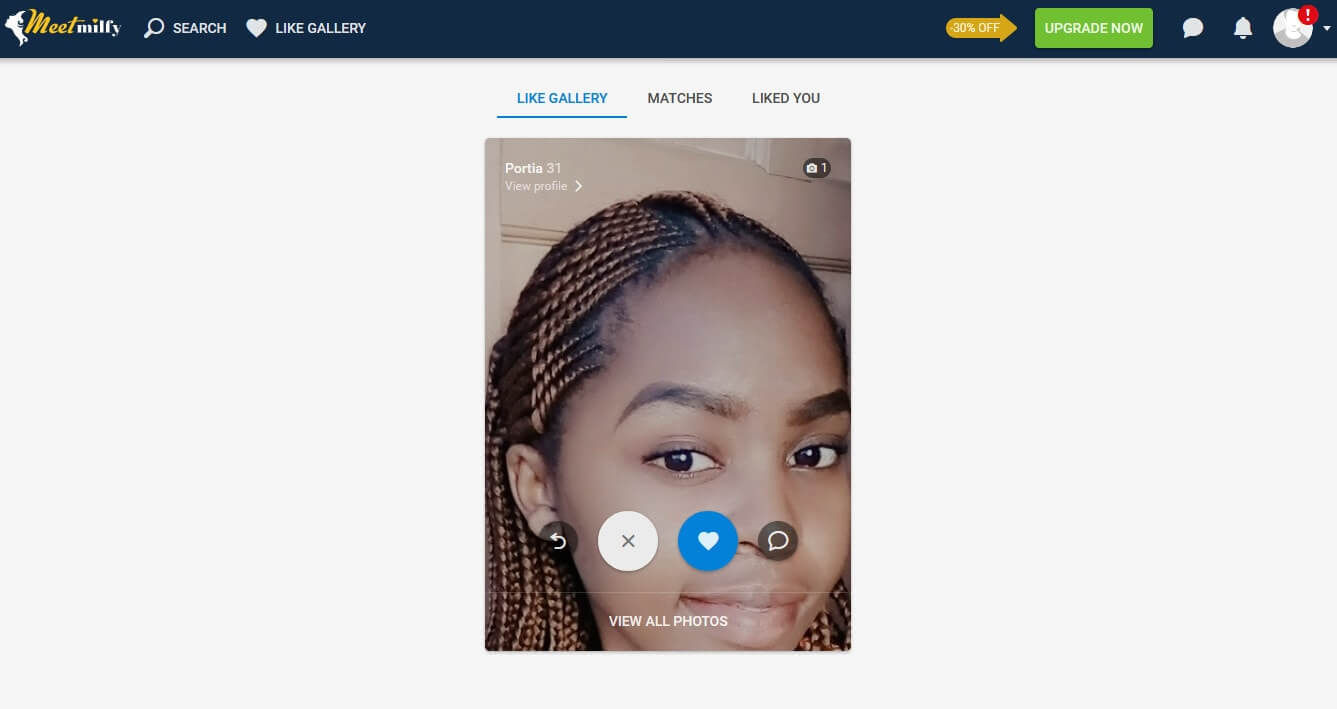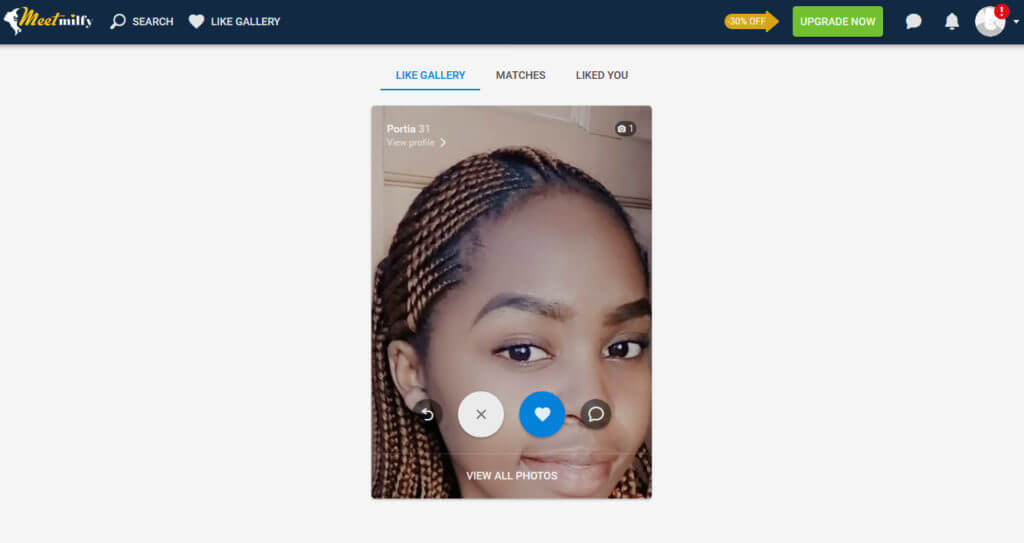 When it comes to membership, at least you know there are plenty of features that the site does offer.
Of course, what you get charged for these still matters, right?
And just how much does Meetmilfy charge and what packages do they offer?
Well, if you'd prefer to give the site a try before committing to any long-term membership, you are in luck.
That's because Meetmilfy offers two short membership options, a day-to-day membership and a 7-day trial.
They also offer one-month, three-month and six-month options.
Here is the cost:
1-day membership – $0.99
1-week membership – $7.00
1-month membership – $28.80
3-month membership – $48.60 ($16.20 per month)
6-month membership – $79.20 ($13.20 per month)
Because of the underlying issues that we found in the fact that users on Meetmilfy come from other Together Holding sites, my advice would be to start out with either a day-to-day or a one-week membership.
After all, you want to make sure that the profiles on the site do at least match the niche the site caters for.
And some of them should because people would have signed up for the site for that reason alone.
Of course, other profiles, because they come from other sites, won't be milf related at all.
If you find enough for you to make use of the site in the way it's intended, then you can consider longer membership.
Ultimately, however, this is your call to make.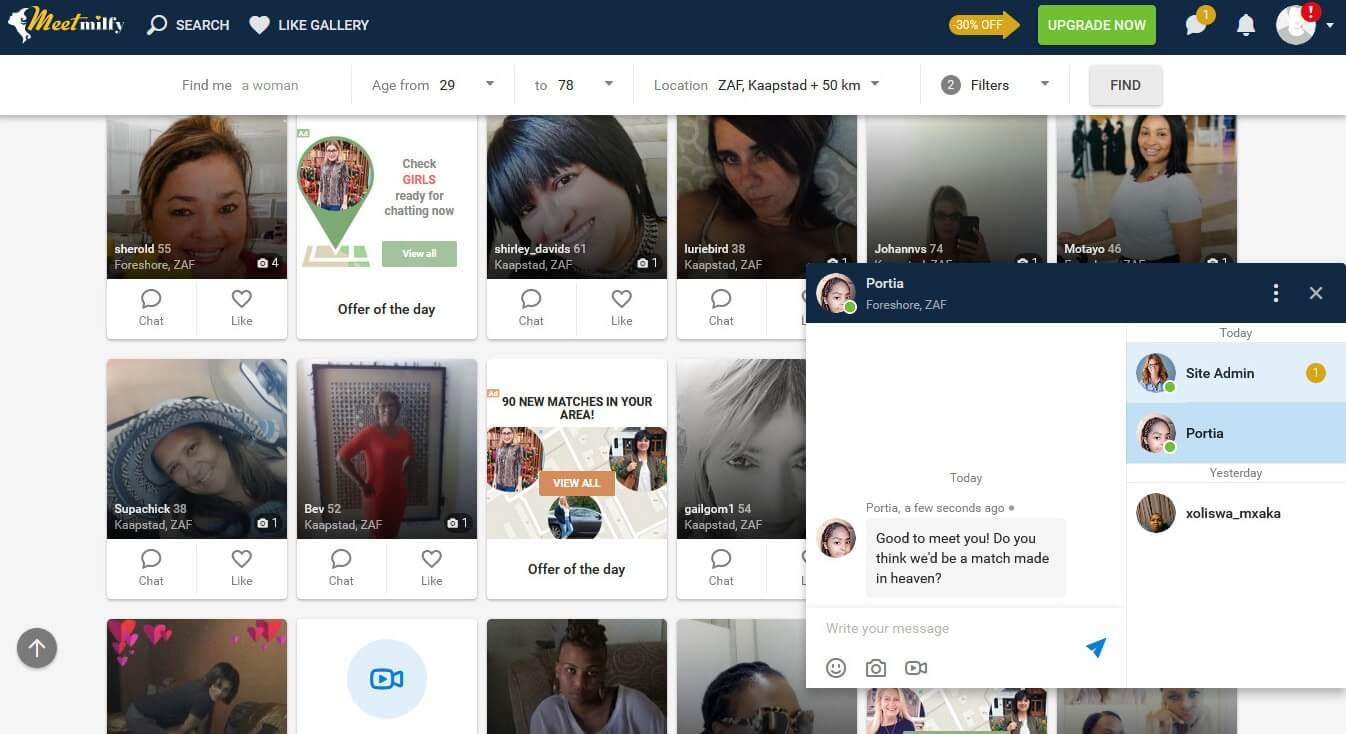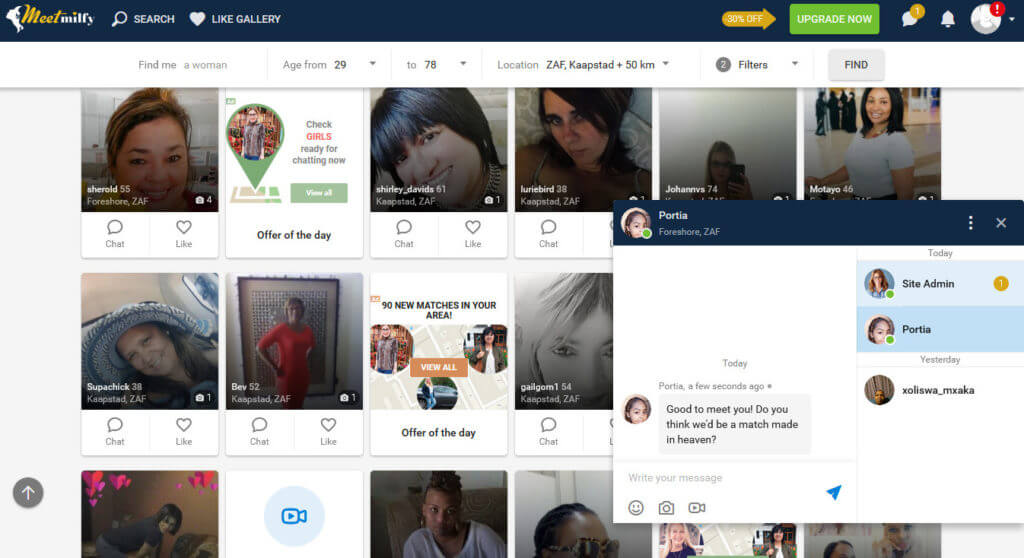 Conclusion and Overall Rating
I'm not going to lie.
It really is a bit of a low blow when those organizations that run multiple dating sites choose to use the same members on different sites.
So if you signing up for a particular niche site, thanks to their terms and conditions (and who reads that), your profile can end up on another site that's got nothing to do with the site you signed up for.
It is common practice, sadly.
I'm not saying that you aren't going to find milfs on this site or those that want to date them, but that's not the full target audience found here.
Let's focus on some positives, however.
The site itself is well-designed and everything you'd expect to find on a dating site is here and well laid-out as well.
You can easily search for matchups and even regular users can use the advanced filters to do so.
Of course, if you'd like to get into contact with others, you will need to consider membership.
Or simply send a Flirtcast to see who shows some interest in you before you buy into membership.
It's a free service as well.
That's it for our review of Meetmilfy.
All that's left to do is give it an overall rating.
And that's 3 out of 5.
It would have been far lower if the membership pricing wasn't spot on and if the score for overall ease of use wasn't high either.
It's severely let down by the fact that not all the users on the site will be milfs or those who want to date them.
And for me, that's a fatal flaw that would have me looking elsewhere.
Frequently Asked Questions
Yes.
All the checks and balances are in place on this site from a security point of view and it's run by a large company that operates other dating sites as well.
So they know what they are doing when it comes to security.
While there are lots of things you can do as a non-paying member, ultimately, this isn't a free site.
That's because the ability to contact other users is a membership-only feature.
Meetmilfy is one of the dating sites that are run by a large online dating company.
It's a registered dating site too, so certainly, it is legit.
Meetmilfy is a site that shares users with other dating sites in the Together Network group.
Currently, there are over 2 million users.
Not everyone on the site, however, is a milf or looking to date a milf.
Head on over to the Meetmilfy web page to start the registration process.
It's quick and simple although you will have to verify your email by waiting on the link to arrive in your mailbox.
Once you've done that, you can start to use the site.
While logged into the site you can click on your profile on the right-hand side.
Then select "My Settings" and scroll down until you see "Remove Account".
You can send an email, that's the best method.
Send your messages to [email protected].
From the moment you access the site for the first time, you will immediately get presented with matches.
These are based on a broad age range, but more importantly, your location.
You can make searches of your own as well and add specific filters.
Blocking users on Meetmilfy is so easy.
Just go to their profile and find the three verticle dots.
If you click on that, you can either choose to block them or report them.