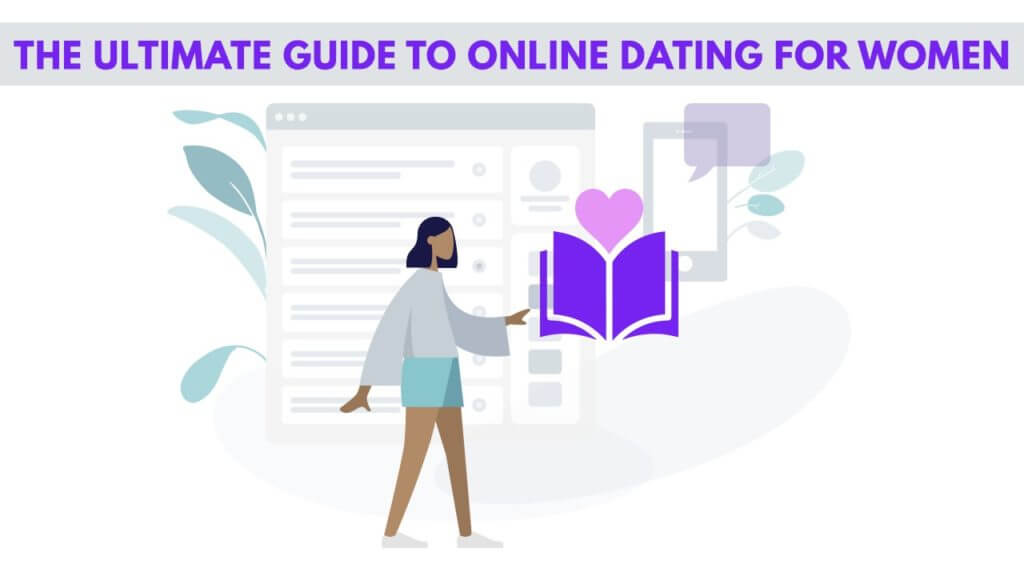 INTRODUCTION – BASICS OF ONLINE DATING
Speaking of the difference between being a successful dater and not dating at all- is it really big?
Does it really take so much effort or only slight changes can play a vital role and bring you the soulmate?
Believe it or not, the distinctions are not enormous at all, sometimes it takes just a single word, the right (or wrong) emoji, that actually open plenty of new possibilities or closes them for a longer period of time.
You know what, ladies, dating is nothing of a complicated science at all. It's actually one of those "2+2 is 4" situations.
However, it takes a bit to realize what, when and how to, and that's exactly where our useful guide steps in.
Numerous women (and men as well) are discouraged if they fail or don't manage to find the right partner the very first time they try.
Then, they close the door and don't dare to reopen them again for a longer period of time.
But, it doesn't have to be like that, you know?
It's all a matter of right attitude, and we are here to encourage you to keep on trying until you really find the one to spend the entire life (or night) with.
Our useful guide features plenty of interesting tips, trick, and facts which indeed work if you use them the right way.
If you are new to the whole thing, or someone who has tried once and failed, perhaps someone who keeps on trying but there are no positive results-we have the answers for you.
We have gathered a plethora of information, conducted various tests and researches. Our guide features the facts from years of experience and practice from those who tried, failed, and finally succeeded in finding the love of their life.
Do know that the described experience is not only our own personal, though we used it as well.
It's a collection of various profiles of people who have experienced a diversity of situations and were willing to share the precious experience and knowledge with us.
Let us tell you something, girls, hitting the jackpot on the first try is a matter of pure luck, which is why we shall focus on a bit more realistic and everyday scenarios.
Dating is a road full of obstacles, with lots of emotions and expectations involved. There's plenty of learning on the way, suffering, tears, broken hearts and all.
But, there's also that true moment of happiness when you realize that you finally found your soulmate!
Our guide here doesn't aim to give you some super magic instant formula on how to find an ideal man in two steps.
Instead, we shall go through as many situations and possible, and by carefully analyzing them give you smart directions what to and what not to do.
And let us make one thing clear-when we say dating, we mean both a partner that you want to be with for a long time and hook-ups as well.
Though many of you may think that the latter one is rather simple, still, not everybody feels comfortable about looking for such a date (even though they would actually like to).
Before we get down to some specific information, dear ladies, it's of vital importance that you define what is it that you are looking for? Is it just someone to be physically intimate with? Or perhaps you would like a bit deeper relationship?
Whichever is the case, don't be afraid to admit to yourself, as it will make your quest significantly easier. The time has come to introduce you to the great big world of online dating!
Let's get things started!
Online Dating as the Only Dating, Nowadays
What is the first thing that comes to your mind when someone mentions online dating? Does the alarm bell in your head gives "WRONG" alert? Do you feel uncomfortable talking or thinking about it? Do you see it as an unnatural way for two souls to meet?
Or quite the opposite- you believe that this is the best thing ever when it comes to dating? Do you see it as the simplest and fastest way to find your ideal partner?
Both women and men are either thrilled with or skeptical about it, but it's the fact that this form of dating has become widely-spread.
So, when you finally decide to give it a try, to create a profile on some dating website, be very careful of how you will introduce yourself to the community.
Each and every word counts and matters, so you have to make a good intro. This will automatically boost your chances and simplify your journey to the companion.
Dear ladies, we want to assure you that having a dating profile is absolutely okay and acceptable. It's not something that will make people look at you with a lack of respect. Even if there are such individuals who care about them?
People tend to express such opinions of things they are not familiar with, which automatically devalues such opinion. There's nothing awkward about giving a chance to the online dating, quite the opposite, it has become a natural and legit way of looking for a partner.
Just stop and think for a moment- why do people make profiles?
To have fun, meet someone, date, and connect with others. Is there anything bad about it? Well, of course not!
So, embrace this and learn how to make the best use of it.
Know what Men are looking for
Here's one of those million dollar-questions! If you were to ask any random man what is he looking for, what do you think the answer would be? Physical intimacy? Hot chicks? Football and beer?
Well, okay, these may come as some common options, but scratching a bit underneath the surface, we actually discover that they are also looking for some love, sweet emotions and a reliable woman to spend the life with.
Yes, they don't often talk about it (some of them actually never in their lifetime), but the truth is that they are also sensitive human beings.
Blame it all on culture, society, prejudices, or who knows what, but their burden is enormous.
From women's point of view, expressing true emotions is natural, but men are not always comfortable with that. Luckily, the situation is slowly changing in some positive directions. That's precisely where online dating makes things easier.
That, along with the right words and approach can help them open their heart and tell what they really want.
So, the first thing to do is adjust your wishes. If you are looking for a partner for physical intimacy, then look for a man with the same desires and be clear on what is it that you are interested in.
The same goes when you are looking for a lifetime partner, let the men know that this is what you want.
So, the very first thing to discuss in our guide has to do with communication.
The biggest difference between men and women is that men are less skillful in reading between the lines. They rather opt for a direct approach, and ladies should have that in mind prior to starting any conversation with them.
We shall go through the basic set of rules communication regarding online dating.
Women are normally better in this field, but what they sometimes lack is the understanding of how men receive and process the information.
So, let ace the rules for communication and grab his attention first.