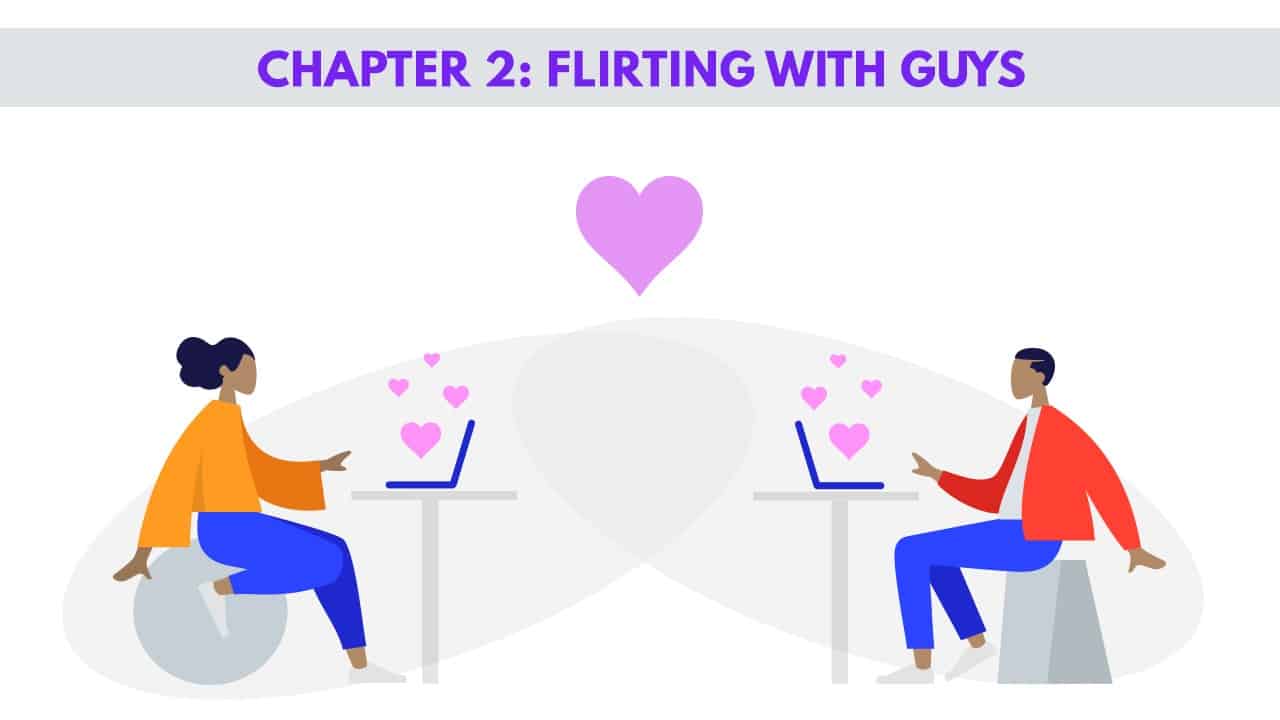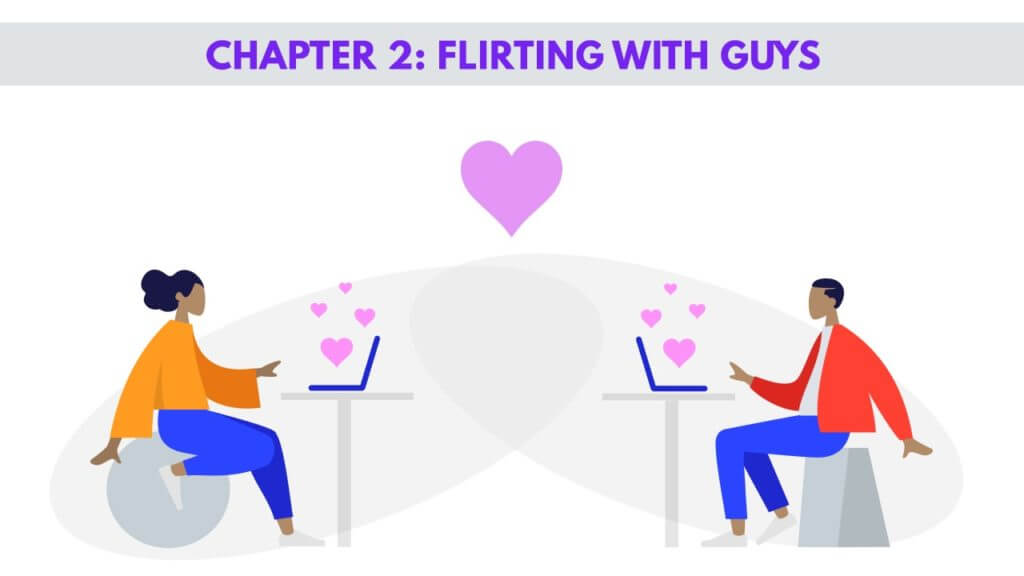 How to Flirt with Guys Online
After several funny and interesting lines exchanged, you start feeling those butterflies in your stomach.
Has the time come to spice the conversation up by starting to flirt with a guy?
Is your dating app giving you the best chance for success?
Make sure to take our online dating site/app quiz to find out.
People who follow our dating site suggestions have on average 2 more dates per month.
It's still quite a safe territory, no strings attached, but certainly can give you another useful insight into his mind and intentions.
The truth is that the majority of men would get flirting as a hookup signal, but luckily, not all the guys are like that. A certain percent also likes to play with words and explore the limits that the art of flirting has.
With more and more women (and men) opting to meet someone online, rules for communication and flirting are constantly changing.
But, you know what, it's not an easy way to go, both for men and women.
Even though it may look simple on the surface (just upload a pretty pic and messages will flood your profile), there's much more than it meets the eyes.
It takes plenty of efforts to remain positive, looks and sound authentic and funny, but it's worth it!
After all, you are trying to find someone to spend some time with, who said it's a two-step process?
1. The power of being confident
Listen, girls, it's not only hot looking body that makes you look desirable but being confident also does wonders.
When trying to find someone on a dating website, it's so normal to be scared, nervous- after all, men feel the same, believe us!
However, don't let it represent an obstacle for potentially wonderful communication you can have with the other side. Be confident!
Remember that words are a powerful tool and use them to enchant the other side, but with a style!
The more confident you are, the bigger the level of positive energy will be between the two of you. And, yes, that can be sensed even in the digital world!
2. The novel is fine, but keep it short here, please!
It's interesting to mention that even men who left the impression of highly eloquent persons online are quite shy in person.
So, after super-long messages filled with poetry and passion, you start dreaming about some prince, but instead, you end up on a coffee with the most socially awkward guy you can imagine.
Quite disappointing, isn't it?
Well, it doesn't have to be if you make a bit different approach.
Instead of writing a novel to each other, it's much better to keep messages shorter.
This way, you minimize the possibility to complicate the situation, and you actually avoid some potentially unpleasant situations.
Shorter messages make it easier to draw and keep man's interest and attention.
In addition to his, such messages help you determine much easier whether someone is really for you or not, without putting too many emotions and energy into it.
3. Humour as a powerful ally
As we said, it's not only the good looks but girl's wisdom and sense of humor that matter a lot to a man.
This is the best way to keep some dynamics and entertainment is to spice it up with a nice and healthy dose of humor.
The thing is that you also need to be careful about this. You don't want to sound creepy and weird to the other side.
Moreover, accept his humor and respond to it, provided that you really like it. Men usually like to go over the top a bit, but still can balance well and avoid sounding impolite.
4. Lies are a huge no-no
Don't start the convo by telling how much you enjoy drinking beer and watching football if you really don't. Don't tell that you enjoy talking about cars if you actually can't make a difference between a motorcycle and a bicycle.
Even if you really enjoy some of these activities, don't go bragging about them, because they will not have the desired effect.
Don't put pics where you look 10 years younger and significantly thinner than you are now. Don't tell that you don't have kids when you actually do!
Simply don't!
Even if you manage to get away with some white lies, if you continue doing so constantly, you will end up in trouble or spoil the situation.
Just imagine yourself being on the other side- you wouldn't like someone doing that to you.
Just be who you are and make it sound presentable.
5. Be realistic about yourself
The point is that you don't have to write that you are a damsel in distress looking for a brave prince to rescue you.
Instead of leaving a positive impression, you will make the guy think you are spoiled and selfish.
Instead, treat the other side the way you would like him to treat you.
Feel free to flirt with him but in a way to create a pleasant atmosphere between you two.
6. It's a marathon, not a sprint
As in everything, there are the lucky ones who hit the jackpot after a single spin. The others have to click over and over.
The thing is that you will have to communicate and flirt a lot before you actually find the man who's really worth it.
But, you know what? The more you practice, the better you are.
You can even compare this situation by sending your resume to job applications. Sometimes you are lucky enough to hit the right job upon applying only once. But sometimes it takes lots of time until the recruiters contact you.
Of course, we wish you all the luck in finding the one ASAP, but in case you don't manage so with the first person you get in touch with, you will learn a lot on the way.
7. Careful with challenges
If a guy starts the convo with "I bet you…", consider this an alarm bell.
Some of them will use it in a funny and humorous way, while the others will lead the communication and flirting in quite a vulgar direction.
The best way to be sure which setup is this is to follow the entire communication closely.
If you feel comfortable talking with someone in such a direct and provocative manner, then go for it.
However, if this makes you feel uncomfortable, then opt out of such a situation.
Nevertheless, you can be the one initiating a challenge. This way, you create a sort of safe environment to communicate in as you set the limits what is acceptable and what is not.
8. Don't be afraid to compliment him
Though this is something that men usually do, no one said that girls could not tell a guy that he looks good.
Do so with a style, in a creative way, and chances are he will be pleasantly surprised.
For example, you can say that you like how he matched shirt and eye-color well. This counts as a compliment, it sounds humorous, and still, you are in the safe zone.
Of course, don't let all your conversation be appearance-based. If that's the case, you risk ending up with some vulgar comments, and that's not the goal after all.
9. Make the first move
Yes, that's right, even when it comes to flirting!
This is something that men rarely expect from a girl, which makes it even more effective.
It can be a combo of humor and real compliment that hints you are willing to take your conversation in that direction.
10. Emojis and GIFs to spice things up
Similar to what we mentioned in the communication, their gadgets, to name them so, can be quite handy in adding more spice to flirting.
Of course, you don't want to make an emoji/GIF contest by sending each other nothing else but these.
Words are your main tool here, these additions have the purpose to give some extra colors and tone to them.
Block button as an Option
When it comes to online flirting, let's say a major rule is- be flirty, not filthy!
Ladies, have in mind that no-one forces you to participate in a conversation which makes you feel uncomfortable.
If you already sent some signals that you don't like the direction where your convo is heading, and the guy ignored it, then block him.
But, even if he ignores it after you gave him a direct warning, then blocking is a logical option.
Online dating should be a pleasurable activity for both sides, that's among crucial rules.