There are plenty of different dating courses these days and it seems like everyone will be able to find a program that works the best for them whether they are looking for a serious relationship (like eHarmony or Tinder) or hookup (like BeNaughty or Ashley Madison).
Text God is one of the oldest dating courses out there and millions of people have fulfilled it throughout the years.
Unlike most courses that don't tend to get updated through time and often struggle to stay relevant with new dating apps and strategies coming up, Text God was able to gather all the novelties in one place.
If you are looking for a course that will help you improve your success on online dating platforms and step up your texting game, then this is probably one of the best choices.
OFL Top Recommendations based on 100,000+ Survey

"Serious Relationships"
"Discreet Hookups"
"Best Course for Men"
"Quick Flings"
"Normal Hookups"
"Our Quiz"
In this assessment of Text God, we are going to look at:
Is your dating app giving you the best chance for success?
Make sure to take our online dating site/app quiz to find out.
It's a fact that people who follow our dating site suggestions have on average 2 extra dates per month.
The Text God dating course is known as the course that will help you get the over-the-top texting game and win over any man or woman on dating apps.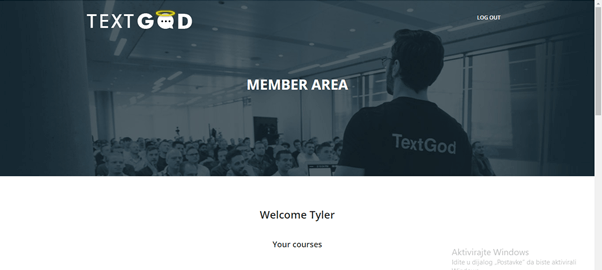 Even though Text God was mostly aimed at men, this course has managed to gain large success among women who are avid users of dating apps too.
Known for being completely direct and providing you with brief how-to guides for everything you may need to do in order to impress a potential match, this course has only been gaining popularity throughout the years.
Once you purchase the course, you will be able to go through all the steps in the texting and dating world in detail.
Each of the steps is followed by a special video that is usually somewhere between 15 and 25 minutes long, explaining to you what to do.
In case you are not someone who can focus too much on audio, you will also have all of the pieces of advice and lectures were written down, and you will be able to rewatch them or reread them as much as you want.
Even though some of the pieces of advice you may hear and read can seem to be way too simple or even considered basic knowledge, keep in mind that this course is aimed at everyone in the dating industry and that it is created in a pretty simple language so all the users will be able to understand it.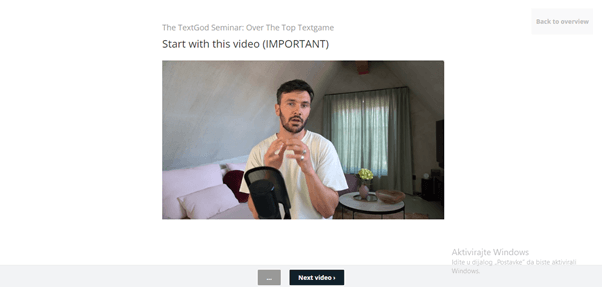 I get that people who have been in the dating pool for years may feel bored when they hear the teacher repeating some things over and over again, but repetition is the way to knowledge, so make sure you don't skip any of these videos or parts of them.
The main goal of the whole course is to start from the most basic things and help you build up your knowledge steadily.
After you are able to overcome some beginner mistakes and realize who your perfect match or partner may be, you will be able to get to a higher level and get access to some intermediate knowledge about dating.
The course even moves on to the real-life part at some point, so you will get instructions about the things you should be doing when going on a first date with someone you have met through Tinder, Bumble, or Hinge.
It will provide you with separate and specific lessons about everything you can think of – from the ways you can get your match to send you nudes to the things you should be doing on a first date and the way you will approach your date for a kiss, or call them to sleep over at your place.
OFL Top Recommendations based on 100,000+ Survey

"Serious Relationships"
"Discreet Hookups"
"Best Course for Men"
"Quick Flings"
"Normal Hookups"
"Our Quiz"
In general, this course is really loaded with knowledge from many different areas of life, and even though most people think it is focused only on dating things, some lessons may be valuable in everyday life when dealing with different types of people and trying to gain control over the situation.
As you can see, it is much more practical than most dating courses that teach you how to seduce people and bring them to your bed.
I would say that this course will have amazing results for different types of people because it is really versatile and offers a lot of valuable insight into many different topics and behaviors you can frequently see in people around you.
In case you are an introvert who is using dating apps for dating because he has no courage to approach people in real life, then this course will definitely help you get rid of that anxiety and self-doubt.
Louis Farfields does a great job in helping you see yourself as a sexy being worthy of other people's attention and attraction because he himself was struggling with confidence when he first started dating.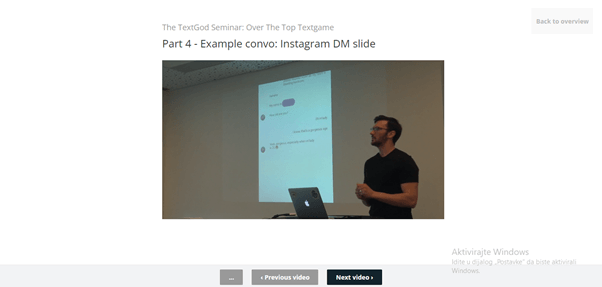 I find that his pieces of advice are extremely valuable because he perfectly understands what most people think about themselves, and he can give them hope that they will be able to snatch themselves a hot and loving partner too.
When you look at this guy, you would probably never guess that he was nerdy and struggled with meeting friends, let alone girlfriends.
For that reason, I believe plenty of people decide to get on board and listen to him because they see that if he himself was able to make it, they should be able to do the same too.
People who are insecure and struggle with reaching out to other daters even when they are using online dating platforms usually need just a little bit of extra stimuli in order to take control of the situation and start winning.
When listening to Louis, you will definitely feel like you will be able to win the other side over in any situation because you will know how to deal with their ghosting, message ignoring, or even not matching you back.
However, even confident people who usually have a lot of success in the dating world will be able to gain a lot of valuable insight from this course.
I believe that everyone has found themselves in a situation when they have no idea how to respond to someone or how to act on a first date.
This is quite normal for everyone, no matter how confident or proud they may be, and if they want to keep things going the right way, there is no better person they should be listening to than Louis.
The bonus part of the course will provide them with specific strategies for Tinder, Bumble, and WhatsApp texting, and they will even be able to download the list of best reaction memes and stickers they can use throughout the conversation.
Even though this may sound silly, if you have ever been texting someone on dating apps, then you for sure know how important is to use the right reaction pic or meme at a certain point of your conversation, and with this guide, you will not have to worry about not having any of the memes by your side.
There are also several tips and tricks you can use to upgrade your profile and make it look more interesting but also loved by the algorithm, which is a great addition that will help everyone on the platform and make them find their potential matches a lot faster.
I would say that everyone would benefit from this dating course because it is really detailed and has a lot of advice that you have never seen on social media or other dating apps.
It also focuses on some things people tend to underestimate or even completely ignore when using online dating platforms, and trust me; these small things can be a complete gamechanger for you.
Pros and Cons From the Experts
Just like with all dating courses and apps, there are always pros and cons to everything, and we have decided to tell you what are the best sides of this course, and what are the things that could have been a bit better.
Louis has managed to create a dating course that will be easily understood and used both by people who have 0 experience with dating apps and online dating platforms but also by those who have been in the game for years.
Before he claims that something is the strategy or the move that will bring you success, he provides you with evidence and reasons for it, and you are able to realize that what he is talking about is completely normal and logical.
Different pieces of advice are usually blasted through these dating courses without any particular reason or explanation, and I believe Louis manages to handle these things quite well.
After you have listened to a few of his videos, you will realize why everything he is talking about will settle you up for success and why those manners, intonation, and confidence are crucial for having success, not only in dating but also in real life.
In the bonus package of the course, you will receive a special document where Louis has listed all of the best pickup lines and dating lines.
These lines can be used both on online dating platforms and in real life, and they are not those cheesy lines you have heard a thousand times before.
He is actually providing you with an outline of pickup lines that you can modify according to your character and sense of humor which I believe is a great thing because it also encourages you to be creative and unique.
In case you really don't have any ideas of your own, you can always just use these dating lines he has provided you with because not everyone on Tinder and Hinge has completed this course.
3. Strategies for all platforms
What I believe is maybe the most valuable part of this course is the fact that it provides you with detailed strategies for both Tinder and Bumble dating apps.
You will receive a special guide that will help you not only learn how to use all the features and assets on these apps but also help you learn conversation openers and catches that are popular among their audience.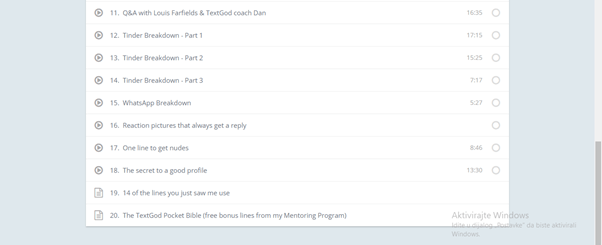 There is also a guide for WhatsApp texting that can be crucial in scheduling your first date because most people move to this network once they establish some sort of connection.
All in all, there is really a large spectrum of knowledge you can gain on this course which I believe makes it worth investing in.
1. Way too focused on men
Even though this dating course is quite detailed and it really has a large number of valuable information, my experience is that it is way too man-oriented.
Most of the pieces of advice seemed to be aimed at men who want to seduce women and get them to bed, which is of course a legit reason for using dating apps.
However, I believe there should be more advice aimed at women that will reveal what men want and what is the easiest way to seduce them because the pieces of advice we are already provided with are too basic and generic.
If this dating course keeps on getting updated in the future, I hope there will be more pieces of advice for women because it would really improve the selling and the popularity of the course.
If you want to have success on online dating platforms and make sure you will meet plenty of potential matches during the first 10 days, I believe you should follow all the pieces of advice listed in this course and their guides.
Many people pay for dating courses, see how long and thorough they are, and then just keep on watching and reading snippets of it which is complete nonsense.
In case you decide to buy this course, I would recommend you to take your time and listen carefully to everything Louis has to share with you.

This guy is really a gem, and since he talks way too fast, sometimes you miss out on some very important things because of your ignorance or lack of concentration.
If it is needed, make sure to listen to some videos several times because you certainly don't want to miss out on anything.
People tend to listen to this while driving, walking or even cooking and some very important lessons may be completely missed out because they weren't concentrated enough.
For that reason, you should definitely explore the course and whole Text God platform briefly because you will be amazed at how much valuable content there is.
If you struggle with texting or scheduling a date, you will have a large success if you decide to follow the bonus materials you will be provided with.
You will have access to deep guides that will help you reach out to basically anyone and make a great first impression, even if you are a person who is not really comfortable with things like this and keeps on having anxiety when meeting new people.
In general, if you really devote your time to exploring the course and listening to all the video and materials Louis provides you with, there is no way you will not be able to gather dozen of matches in a very short period of time.
Unfortunately, there is no information about the success rate of people who have completed the Text God course had, at least no biased information.
The information we have access to are those available on the Text God official course website, and as you probably know, this information tends to be quite biased.
However, since they claimed that after completing their course, you would have a 95% success rate on all dating platforms across the internet, I believe this may be the truth.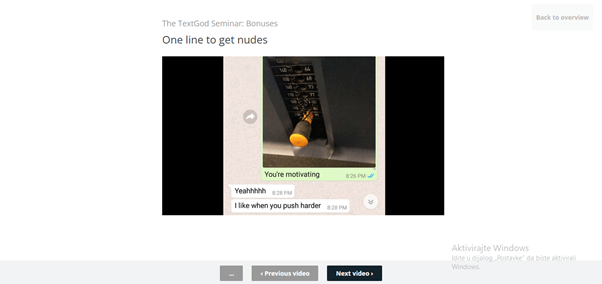 The course is really rich with information about plenty of different things, and it goes pretty much into detail which will really help you stand out on these dating apps and start attracting interesting people to yourself.
I would recommend you to gather all the knowledge and information you have heard here and keep it organized in one place so you can go back to it whenever you need it.
If you stick with all those pieces of advice and manage to follow their how-to guides without mistake, you will definitely be able to have a lot of success on all platforms, whether that be Tinder, Hinge, Bumble, or Badoo.
When it comes to pricing, the Text God dating course is pretty much affordable, and it is much cheaper than most other popular dating courses you will come across on the market.
Even though they claim that all of their knowledge, documents, and videos are usually worth around 750 dollars, you will be able to get them only for 97 dollars.
This deal is active pretty much every month, and in case you wait for Black Friday or Christmas discounts, you may be able to get the course for an even lower price.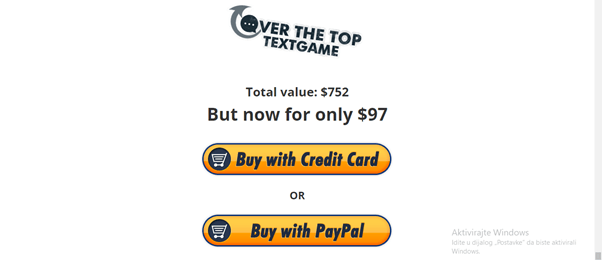 When purchasing this course, you will receive the recordings from Text God workshops, special Q and As, a breakdown on how to use Tinder, Bumble, and WhatsApp, and plenty of other valuable documents.
These files and information have been gathered during the past few years, and Louis has done his best in order to make sure he has gathered the most relevant and valuable information.
Since this course has been popular for quite a long time now and it has shown to be quite successful because everyone who has used it has been praising it, I believe this is definitely worth it.
97 dollars is, in general, a very good price, but if you want to save up some more money and it is not that urgent for you to complete this course, I would recommend you to follow their page and wait for another round of discounts.
You can also always buy just a specific part of the course, like the Tinder or Whats App guide, but since they tend to be around 60 bucks, I believe it is much better to spend these 97 dollars immediately and get access to everything they have to offer.
If you are looking for a cheaper dating course, I believe it will be quite hard to find a course cheaper than this one that will provide you with good results.
As you have been able to see, Text God is a very popular and efficient dating course that goes in-depth about every aspect of the dating world and helps you navigate through the dating pool without any problems.
It can be used both by introverts and extroverts, complete beginners in the dating world, but also those who have years of experience.
This course is not only a treasure of valuable pieces of advice in the dating world, but it can also help you gain confidence and courage that will help you a lot in real life too.
The Creator Louis Fairfield was able to incorporate all of the worthy pieces of advice he has been gathering for years in this one dating course, which is something you should really be thankful for!
Even though it is a bit more focused on men and their performance on online dating platforms, I would say there is still a lot of things women can learn from it too, and plenty of strategies and dating tips that will help them catch a valuable man in just a few days.
When it comes to the price, it is also quite affordable, and if you have good timing, you may even get it at a lower price.
I would say that this is one of the best dating courses I have tried out because it manages to explain everything you need to know in detail without any complicated words, strategies, or concepts.
Everything that is mentioned in the course can easily be sued in real life or in dating apps, so you will be able to make this advice come to life shortly after listening to them.
If you are looking for a medium-length course that covers all aspects of dating and dating apps and is affordable, then you should definitely give Text God a try.