The rise of the world wide web has seen this niche group rise up and make a name for themselves the world over, and literally, the world is their playground.
Yes, a Digital Nomad is someone who uses modern technology and communications to allow them to travel the world and work from just about anywhere.
You're more likely to find them in a beachside cafe, sipping on a smoothie or a hot cup of coffee as they earn their living.
And yes, there are dating sites specific to digital nomads, but regular dating sites like Tinder or eHarmony, the larger commercial ones, are perfect to use as well.
In this article, we'll not include hookup sites (like Ashley Madison or BeNaughty), though we're quite sure some might prefer such connections – our focus, however, remains on dating sites.
Each of the following dating sites has been shortlisted based on:
Let's begin!
Best Dating Sites for Digital Nomads in Video Form
Audio (podcast) form for those of you on the go
Best Dating Sites for Digital Nomads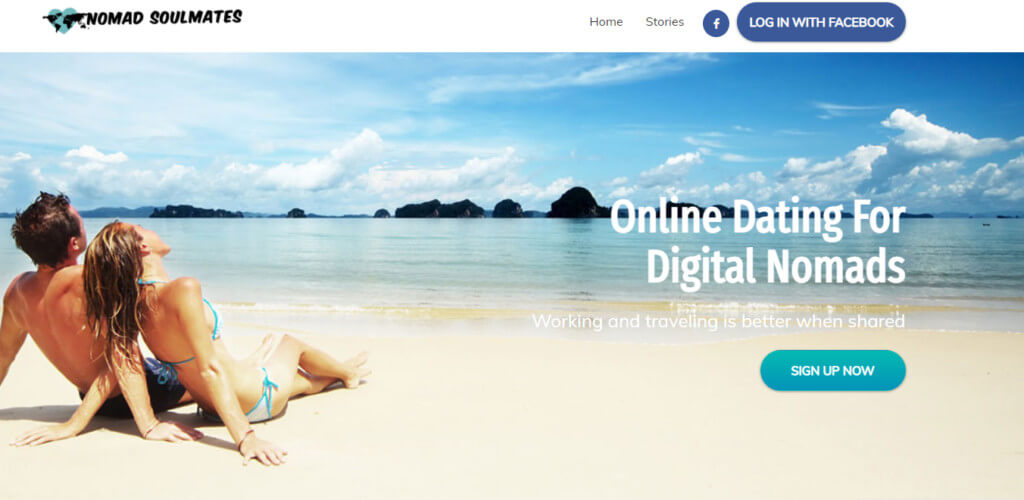 Signing up – 4/5
Making contact – 4/5
Profile quality – 4/5
Overall quality – 4/5
Beautifully designed website
Quick registration process
A simple profile but with lots of interesting information
You can search for nomads near you or right around the world
You need a Facebook account to be able to register
Small user base at present
Nomad Soulmates is an online dating site dedicated to helping freelancers, ex-pats, and those of us who like to live independently to find love.
Because digital nomads love to roam, Nomad Soulmates focuses on the city you currently live in.
It provides you with the tools to find digital soulmates just like yourself that are near your location.
It also gives you the tools to be able to get into contact with them.
And from there, it's up to you!
It's mostly focused on Nomads that like to travel, so expect to find people that aren't going to be in one location for that long.
And yes, this is a niche dating site, so there are not a million users here.
At present count, around 10 000 people have signed up for the site.
What you can expect though is that all of them are going to be just like you in terms of their mindset towards being free, traveling the world and paying your way by using technology to work.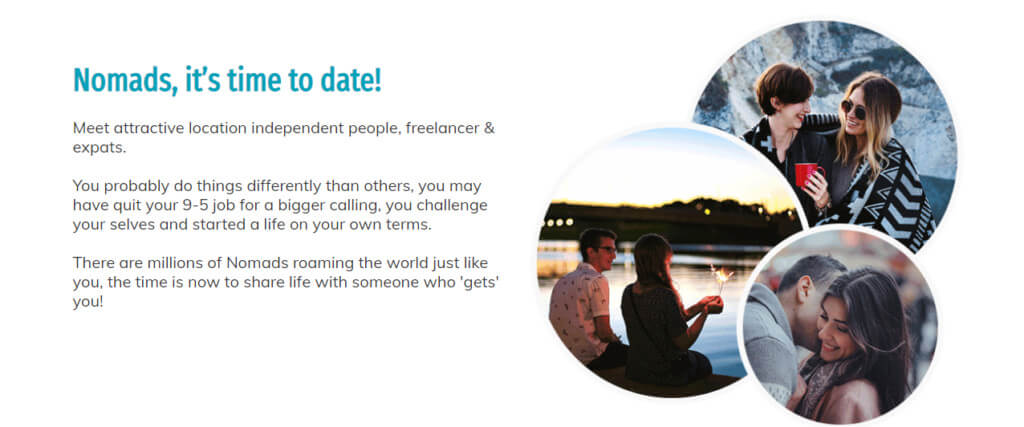 Ease of Use "mobile and desktop version"
Ok, so the first thing you need to know about Noman Soulmates is that to sign up for this dating site, you are going to need a Facebook account.
There is simply no other way that you can sign up for an account.
That's generally not going to be a problem, because most of us, if we love to travel also love to keep in touch with those that we love using Facebook.
And let's be honest, travelers aren't averse to posting the occasional picture of the beautiful country they find themselves in, or perhaps a selfie at a local landmark.
So once, you've clicked on the Facebook registration, you will first need to let Nomad Soulmates confirm your location.
That's followed by a simple registration process where you enter the following:
Your nickname
Your email address
Your gender
Your age
Your profession
What you are interested in finding on Nomad Soulmates (relationship, travel partner, intimacy, friendship)
Your favorite quote
A little about yourself
That's the initial part of the registration and gets you into the website proper.
From there, you will need to complete your profile.
And it's different from other dating websites.
For example, some of the questions you need to answer include:
What makes you feel alive?
What are you doing when you are not working?
What interesting travel situations have you found yourself in?
Of course, you have to upload a profile picture, but you can also add up to eight others that from your gallery.
Once you've done all that, you are ready to use the site.
Before we get into that, I want to talk a little about the design.
What I love about it is not only the simple use of colors – the site is predominantly white, black and blue – but it's not crowded at all.
And that makes it a breeze to not only navigate but it's a pleasure to do so.
There are four main menus that you will find at the top of the screen over on the right-hand side of the page.
These are:
Soulmates (the search feature on the site)
Chat (here you can find your messages)
Map
Feedback (send feedback or questions to those who run the site)
You can also access your profile here as well.
It really isn't a difficult site to find your way around or to understand how everything works.
Let's talk about finding matchups.
Well, there are two main ways to do this.
First, you can search for your own using the soulmates tab.
This is a search engine that allows you to change a few parameters.
These are:
Gender
Age range
What they are looking for (relationship, travel partner, intimacy, friendship)
Location (from a specific city to anywhere in the world)
So that's going to bring very general matchups to more specific ones depending on your selections.
You can also look for other nomads that are near you.
To do that, simply click on the "Map" menu and if anyone is near you, they will show up.
If no one is, simply zoom out till you find someone and then see how far away they are.
But what about contacting them?
Well, you cannot just message anyone you want to.
Nomad Soulmates makes use of a "friend" system.
So if you find someone you want to chat to, you can send them a friendship invitation.
If they accept your friendship, well then you are free to chat with them.
When it comes to an app, well, at the moment, Nomad Soulmates doesn't have one.
At this point in time, Nomad Soulmates doesn't have any membership options and the site is free for anyone to use.
Of course, connecting with people is the most critical part of the site but the ball is firmly in each and every person's court as to whether they want to accept invitations or not.
1. Do you need a Facebook account to start a profile on Nomad Soulmates?
Yes, you do.
The only way that you can create an account on Nomad Soulmates is by using an existing Facebook profile to start the registration process.
2. Is it easy to send messages to other users on Nomad Soulmates?
You cannot just fire off messages to anyone on the platform.
First, you have to send them a friendship invite and once they accept that, you can message them.
That means everyone has control as to who they accept as friends.
And yes, at this point, messaging is free.
While the site is pretty new and doesn't have that many users as of yet, there is no doubt in my mind that Nomad Soulmates will continue to grow and become one of the best dating platforms for digital nomads.
It's so simple to use and inviting too and at the moment, it's free.
Of course, that might change at any point in the future because even though you don't pay a cent now, you aren't bombarded with advertising either.
As for an overall rating, Nomad Soulmates gets a well-deserved 4 out of 5.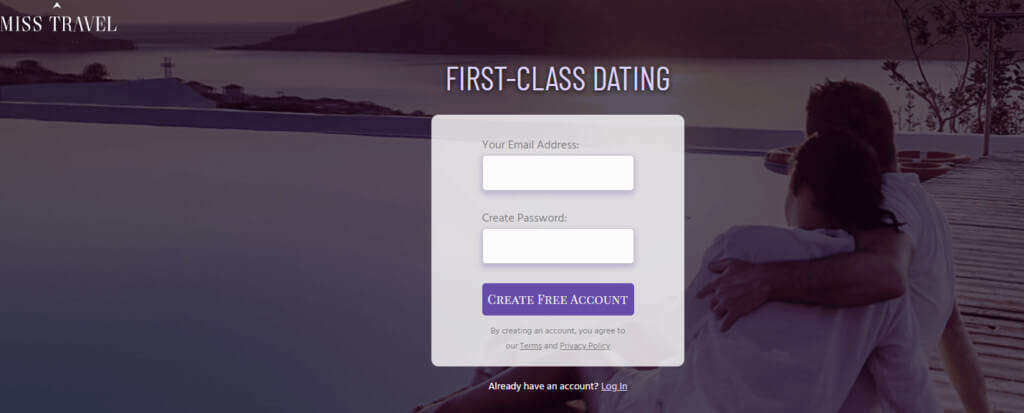 Signing up – 4/5
Making contact – 3/5
Profile quality – 3/5
Overall quality – 3.5/5
It's a free site if you are a female user
You can look for travel partners or post a trip that others can show interest in
A fairly large database of users for a niche site
It's not a free site if you are a male user
Membership is pricey
Miss Travel is a travel dating site that's become pretty popular with digital nomads.
The site claims to have millions of members all over the world and the main idea behind it is to find a travel companion to see sites around the world with.
Of course, these travel buddies can simply remain as is, or perhaps more can develop from your time together.
But the basic premise is first and foremost to find a fellow digital nomad to travel with.
From what I could see while using the site, it does have a fairly large user base.
It's impossible to tell if it gets into the millions as claimed on-site but yes, there are travel buddies to find from all over the world.
You could also, therefore, use it as a site in which to meet people in a city that you are planning on traveling to, so it has a multipurpose approach to how it operates.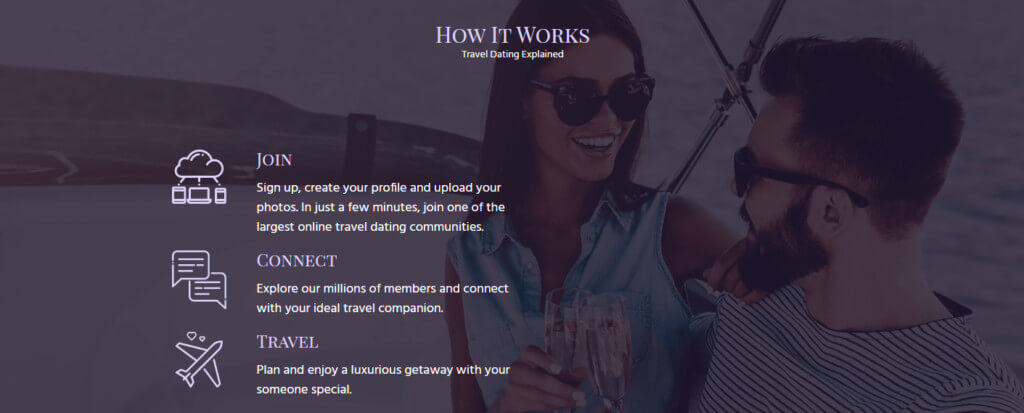 Ease of Use "mobile and desktop version"
If you'd prefer to use an app to sign up for Miss Travel, you are out of luck.
Currently, this digital nomad dating site doesn't have an app although it is optimized to be viewed on a smartphone.
So if that is your preferred method of using dating sites, Miss Travel does accommodate.
To start creating your account, you will need to provide:
A username
Email address
Password
Gender
The gender you'd like to travel with (male, female or both)
Your birthday
Your location
From that point, you will need to click on a confirmation mail from Miss Travel before you can progress any further.
Once you've gained access to the site for the first time, you are immediately shown matches near your location.
But of course, you've not touched your profile yet, so my advice would be to first complete that.
It's easily accessible from the link on the right-hand side of the page and won't take long to fill in.
In terms of looks, Miss Travel is a simply designed website that includes five main menus at the top of the screen:
Search: Launch your searches here
Favorites: Here you can see who you have favorites, who has favorited you and who has visited your profile
Create a trip: Here you can create a trip of others to see where you might be going
Messages: Access your messages here
Profile: Access your profile here
And that's it.
These are the only menus you will need to find your way around the site.
Searching is even simpler.
You have to parameters you can enter.
What you are looking for, either trips or a travel partner
The location you wish to visit
And that's it.
So let's talk about returns for travel partners.
If anyone is near your current location, they will be displayed.
You can then click on their profile
There's not a lot of information here but enough to give you an idea of why the person wants to travel and a little about them as well.
Of course, you can also see photos of them.
If you are a female user, you are able to contact other users for free.
Male users, however, cannot and if they'd like to, then you will have to sign up for membership.
You can, however, post your upcoming travel trips for free and search for other users and trips as well.
It's just messaging that is behind a paywall.
So we already know that female users can use Miss Travel for free and that in order to send messages, male users will need to consider taking out membership on the site.
But what's that going to cost you and what types of packages does Miss Travel offer in that regard?
Well, there are three different options:
1-month membership: $59.99 per month
3-month membership: $164.97 ($54.99 per month)
6-month membership: $299.94 ($49.99 per month)
Other than the ability to message, membership to the site also allows you to highlight trips where they are listed as well as to browse anonymously.
Let's be honest here.
If you are a male user on Miss Travel, it's pretty pricey, that's for sure.
Even the extended membership options don't really offer that much of a discount.
But if you want to find a travel partner on the site, as a male user, you have very little option other than becoming a member or looking elsewhere.
1. I've heard that Miss Travel is free to use for female members, is this true?
Yes, at this point, if you are a female user, you can use the site for free.
As for male users, well if they want to message anyone or read messages they receive, they need to join up as a member of the site.
2. How can I deactivate my account?
To deactivate your account, click on your profile picture on the right-hand side of the page.
From there, click "Settings" and then scroll down until you see the "Deactivate Account" tab.
Click on that and your profile is taken offline.
Without a doubt, Miss Travel is a unique site.
Travel is at the forefront and it's all about finding travel partners or looking for trips that you can be part of with others.
And yes, there is certainly a dating aspect to it as well that's built into each person's profile.
If you are a female user, then you are in luck, because Miss Travel is for free.
As for male users, well it's you that will fit the bill for those free users because if you'd like to use the site properly (and that means messaging others), then you need to become a member which certainly isn't cheap.
As for an overall rating, Miss Travel gets 3.3 out of 5.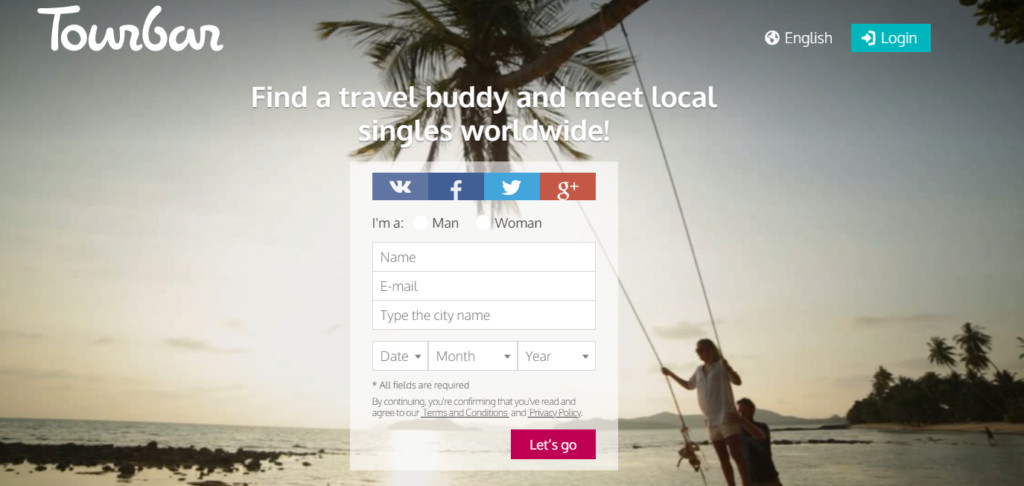 Signing up – 5/5
Making contact – 3/5
Profile quality – 4/5
Overall quality – 4/5
Simple to use
Profiles can be verified
Website and app
It can be pricey
It's not always obvious what others are looking for in terms of a relationship
Tourbar is another popular travel dating app and website that digital nomads can consider.
The people behind the site claim that currently, over 1 million users around the world have Tour Bar profiles.
But what is Tour Bar exactly?
Well, it's different to Miss Travel, for example, because essentially you use it to meet other singles not to travel with but in the location you are travelling to.
So it's a dating app in that sense but it's not only that.
For example, you can meet others without wanting to have any kind of relationship but instead, have them show you around their city and act as a tour guide.
But of course, many people use it to hook up with others in another city for a bit of fun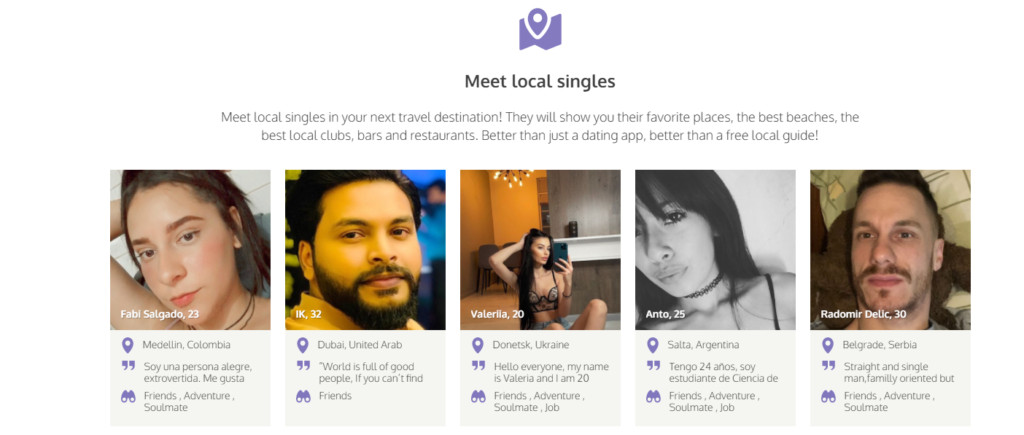 Ease of Use "mobile and desktop version"
While there is a website version of Tour Bar, I want to specifically talk about the app as when you traveling, having it on your phone just makes complete sense.
You don't want to have to haul out your laptop to try and find a date in a new city, do you?
Let's begin with the registration process.
You can log in using a number of social media accounts, including Google and Facebook.
The normal registration route will need the following:
Gender
Name
Birthday
Email address
Location
Once you've provided that, you will receive an email with an activation code.
Input that and you can try the site and all its features free for seven days after which you will be billed.
Or you can swipe past the offer and just check out Tour Bar as a free user.
The first screen you are taken to is a list of potential matches but before you check them out, you should navigate the site to get a feel of it.
That's done through the menus at the bottom of the screen and they are:
Search: Launch all your searches here
Travelers: You can see what trips people have planned and if any are coming to your city
Message: All your messages, both sent and received are found here as well as your favorite profiles and those you have blocked
Events: This will show events near you
My profile: Access your profile here
When you first sign up, you profile is the most important as you would not have completed it yet, so take the time to do so.
A completed profile just makes you a far more attractive user to others than one that provides this with little or no information about yourself.
And it's going to take only around five minutes.
On the whole, the app is pretty basic but what it needs to do, it does well.
But I bet you are wondering how to search for people in the city you plan on visiting?
Well, it's simple enough.
Click on the search menu and then the logo in the top right-hand corner.
It's here where you can change various parameters.
These include:
For paying members, there are even more search options including appearance parameters based from profile inputs.
Once you've found someone you'd like to get to know better, you can favorite their profile and come back later or you can send them a message.
Well, you can only send them a message as a paying customer of the site.
There is just no other way to contact them.
But what's that going to cost you?
First up, I think it's brilliant that Tour Bar includes a 7-day free trial for the site.
Just remember, if you don't cancel it, you will be billed afterward.
But what other options are there afterwards?
Well, you have three options:
1-month – $29.00
3-months – $59.99 ($19.99 per month)
6-months – $99.99 ($14.99 per month)
These prices are spot on.
If you are an avid traveler and moving around often, then the extended options offer real value for money, that's for sure.
1. Does Tour Bar have an app?
Yes, it does
As a traveler, using an app is far easier and Tour Bar has one for both Android and Google handsets.
2. I'd like to try the site out as well as all the features but I don't want to pay first up? Is there a free trial?
Yes, you can get a free seven day trial of Tour Bar.
Just remember to cancel or you will be billed.
Using Tour Bar as an app to meet singles in the city you are traveling is a no brainer for me.
This is an impressive app and it's priced right as well.
The other benefit is that it's popular and that means users, over one million of them, are found all over the world.
Today, Tour Bar gets 4 out of 5 as a rating.