A part of dating online is not so much linked to actual dating, but more of a casual hook up or fling if that's what you want to call it.
There are hundreds of sites on the web where the main premise is not about finding long-term love but rather finding someone local to have a little fun with.
And if that's the kind of short term relationship you are looking for, one that's probably going to be more physical than emotions, then Instabang is the type of site you would use to instigate it.
In this detailed review of the site, we are going to cover:
OFL Top Recommendations based on 100,000+ Survey

"Serious Relationships"
"Discreet Hookups"
"Best Course for Men"
"Quick Flings"
"Normal Hookups"
"Our Quiz"
Rest assured that at the end of this review, you will have all the information you need to determine whether Instabang is the casual hook up site you are looking for or if you should turn your browser elsewhere.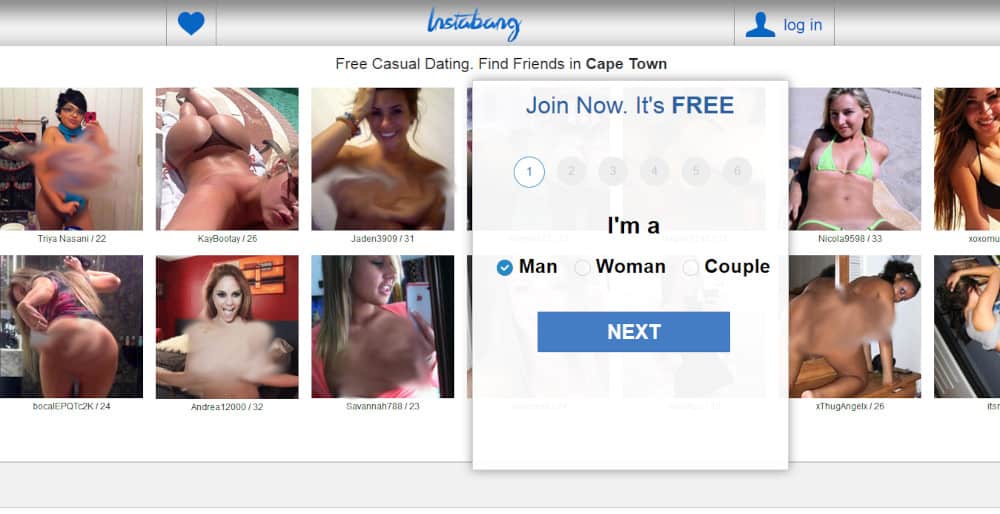 Is your dating app giving you the best chance for success?
Make sure to take our online dating site/app quiz to find out.
People who follow our dating site suggestions have on average 2 more dates per month.
InstaBang Review in Video Form
Audio (podcast) form for those of you on the go
Ease of Use – 3/5
Effectiveness – 2/5
Key Features – 3/5
Pricing – 4/5
Lots of users on site
Just six short steps and you can have your profile online
Short-term membership options
Doesn't have an official Google Play Store or Apple iStore app
There's lots of nudity
You can't view other people's profiles without signing up for an account
You can send messages but can't read replies without having signed up for membership


Who Is It For/Demographics?
It's all about casual hook ups (like BeNaughty or Ashley Madison), probably with no-strings-attached sex too.
That's what the name Instabang suggests to us, right?
There's not looking for love here (like we have with eHarmony or even Tinder).
It's all about the physical aspect, the pleasure and the passion.
If you not looking for that, to cut out the romantic side of love and to hop straight into the physical aspect of it to look for sexual gratification, then Instabang's not for you.
You probably knew that, right?
But say that is what you are looking for?
How does Instabang hold up in terms of the kinds of people you will find on-site as well as the numbers the user base offers, the gender balance the site has and the age ranges of users found her?
Well, let's take a closer look.
Instabang claim that over 2 million people have signed up for the site
Around 1.2 million users are in the United States
Around 20 000 users log in each day
That's a total of 600 000 logins each month
From those numbers alone, there is no doubt that Instabang is an extremely busy casual dating site.
But before we move on, there are more important figures to consider.
Gender ratio and age ranges
In general, sites like this have more male users than female users.
And that's exactly the case with Instabang.
In fact, male users dominate the site to a ratio of almost 4:1.
76% of the profiles on Instabang are male
24% of the profiles on Instabang are female
Even for casual dating sites, the percentage of male to female profiles is extremely high.
If you are a female, this isn't a problem, but of course, for the males on site looking for a female to hook up with, you've got your work cut out because the fairer sex just has so much choice!
From an age point of view, it was difficult to find an exact breakdown of all the age groups but the most popular is between 25 to 34 years old.
That's to be expected as these kinds of sites are generally frequented by younger age groups looking for a little bit of fun before finding someone to settle down with (if at all).
So that's the demographics of the site but just how easy is it to set up and get your profile online?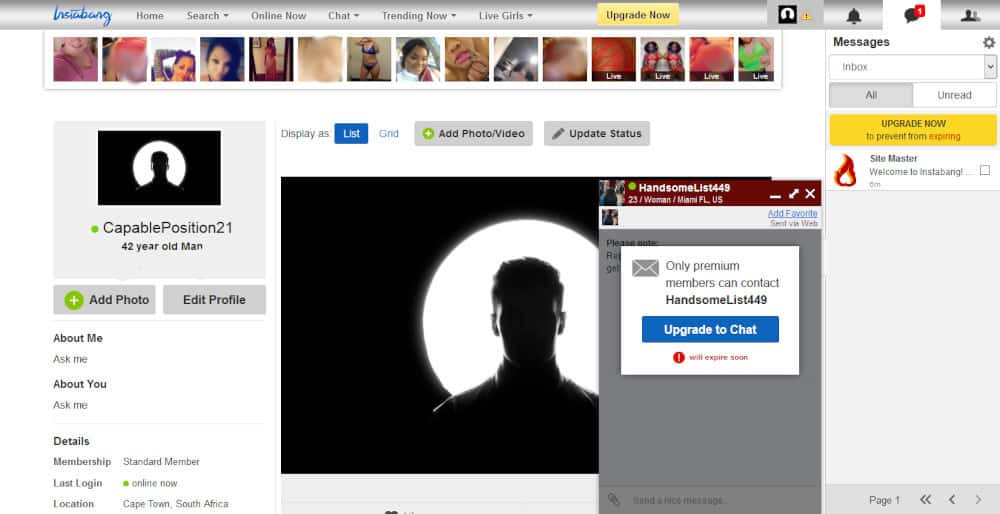 While Instabang does have and app, it's an APK download that's not on the Google Play Store.
So to sign up for the site, I would recommend that you do so online using Instabang instead of the APK, just to be on the safe side.
When signing up, you will need to go through six simple steps.
Give your gender
Give the gender you are seeking to hook up with
Give your location
Give your age
Provide an email address and a password
At this stage, you don't need to provide a username.
In fact, once you've completed those steps, Instabang will give you a username.
If you don't like it you can change it.
A word of warning, however, as Instabang tries to pull a trick from the get-go by taking you to a signup page to become a member.
And guess, what, there isn't an option to decline.
I wonder how many people at that point have just signed up straight away thinking that it's only a paying site.
You can get past this screen by clicking on the Instabang logo at the top of the screen which takes you into the site.
Now upload a picture, complete your profile and you can start your searching.

Instabang is pretty busy in its overall design.
You've got adverts to contend with on either side of the page plus lots of profiles that appear from the start.
A warning to you though.
Many users have explicit pictures for their profile pictures.
The site isn't much to look at and isn't going to win any design awards.
But I don't think the powers that run the site really care to be honest.
To navigate around the site, you will use a menu at the top of the screen with the following options:
Home: Takes you back to the home screen
Search: Here you can launch any searches you want to make. There are 10 options here including search members, advanced searches, most popular users, new faces, who have viewed your profile, users online now and members who are live streaming, to name a few.
Online now: You can view users who are currently online
Chat: A group chat option only for members
Trending now: Users who are popular and trending
Live girls: Takes you to an affiliate website
That's a lot of menus but luckily enough, they are all pretty much self-explanatory and it doesn't take much to learn your way around Instabang.
Of course, in the beginning, you are mostly going to be concerned about searching for a potential matchup.
But how effective is Instabang in giving you what you see and how do you contact them?

Effectiveness of Instabang Dating Site
Well, it's not that effective at all.
And that's something I will expand on during this section as we look at how Instabang works in helping you to find a matchup for a hook up and then how you communicate with them.
Ultimately, that's the two most important aspects that you are going to judge a casual hook up site on, right?
How effective it is in bringing you matches and what you need to do to contact them.
Ok, so when it comes to searching for a hook up partner, Instabang has all the bases loaded.
Other than the regular search function that you would expect to use pretty often, there are other ways to find people that you might be interested in.
Having all these ways, however, doesn't mean that they are all super effective.
But let's take a look at what's on offer when you click the search menu.
There are 10 ways you can search for a hook up here.
They are:
Search members: Where you can search through member profiles leaving out regular users
Advanced search: This is probably the one you would use most often and similar to search offerings on other dating sites.
SMS users: Here you can search for users that include an SMS option so you can text them.
Most popular: These are the users that are the most popular on Instabang
Browse: Here you can browse by state (if you are in the United States or by a specific country
New faces: New users to sign up to the site
Who viewed me: People who have visited your profile
Online now: Users online now
Live streaming: Members who are streaming live at that point in time
I am sure you would agree that there are lots of ways to find a potential match up.
For the most part, you probably will use advanced search the most often.
This includes all the regular options you would expect to find here including:
Sexual preference
Gender (you can search for couples as well)
Age range
Location (Country and city)
Appearance
Compatibility
Profession
There are lots to tweak here if you'd like.
Or you can make the search as simple as you want, it's up to you really.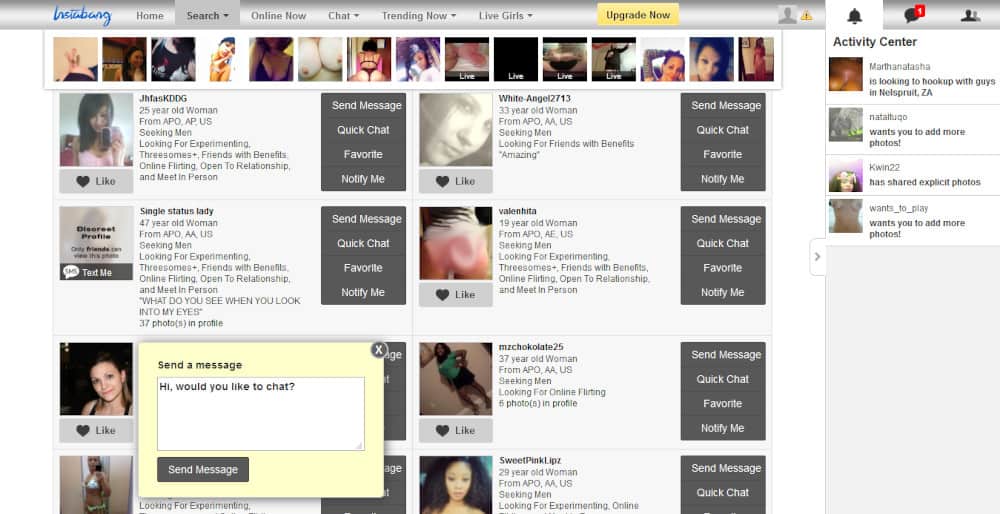 Viewing profiles and communicating with a potential matchup
Instabang provides you the free tools you need to find someone that you may like to hook up.
But that's about where it ends.
From this point on, you are going to have to look into membership to get any further on the site.
That's because, believe it or not, you cannot view someone else's profile without having signed up for membership.
And that's pretty harsh, I think.
Of course, we all know that dating sites want you to sign up for a membership, it's how they make their money.
But usually, they do that by stopping effective communication.
Instabang doesn't even let you get a good look at someone's profile before asking you for money.
You can "like" someone's profile or send them a message from the search returns where you find their profile but if they reply, you cannot read their message.
Clearly, this model is working for them because they wouldn't have over 2 million members if it didn't.
In their defense, they do offer shorter membership options so you can try out the site and see how the site operates.
That's a good thing and something a lot of other dating sites don't do.
But well done to Instabang for allowing shorter memberships.
But the question now is, other than the chance to view someone's profile as well as contact them, what other key features do paying for a membership unlock?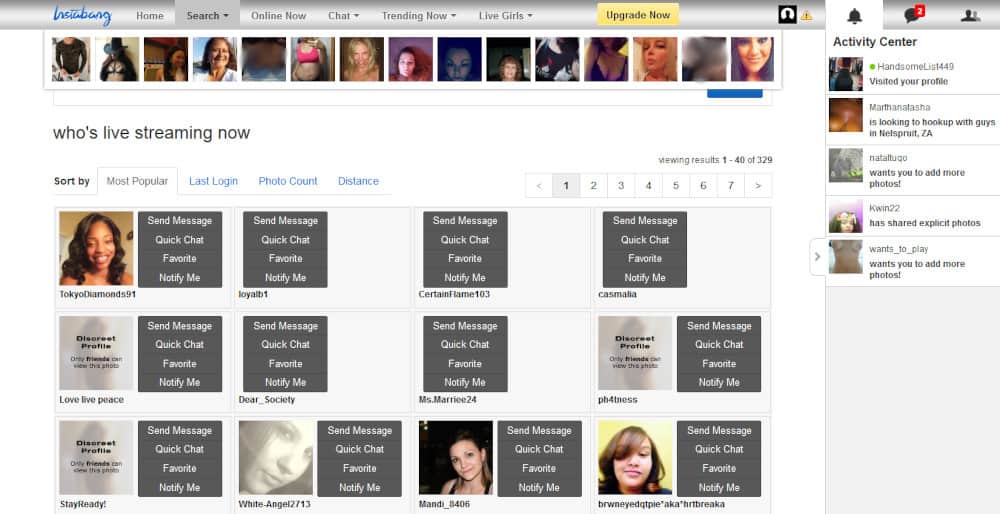 As a member of Instabang, these are the key features that are available to you.
1. Viewing profiles and reading messages
The most critical aspect of membership is the fact that you can now the profiles of others as well as message anybody that you might like to meet up with at some point.
Without these two options, you simply cannot function on any dating site.
By taking out a membership, you can view someone's profile in full as well as read their replies to your message or any other messages that you receive.
2. Group and private chat
By becoming a member of the site, you not only can access the group chat features on Instabang but you can also have a real-time chat with other members in private.
"Who's cute" is a mini-game that you can play once a day on the Instabang site.
You will receive 50 photos of members on the site and you decide if they are cute or not.
To do so, simply click the green tick if they are cute or the red X if they are not.
As a member of the site, you can watch any streams of other members live.
Other than that, you can access live cams of other affiliate signs that partner with Instabang.
An alternative way to search for a potential matchup is to play "Swipe".

This is very similar to Tinder.
While some online dating sites offer very limited key features, I think that, for the most part, I think Instabang offers some decent efforts.
For me, however, the ability to properly see someone's profile and to read any messages or replies that land in my inbox is the most important.
Of course, these features are going to cost you, so next up, let's look into membership fees on Instabang.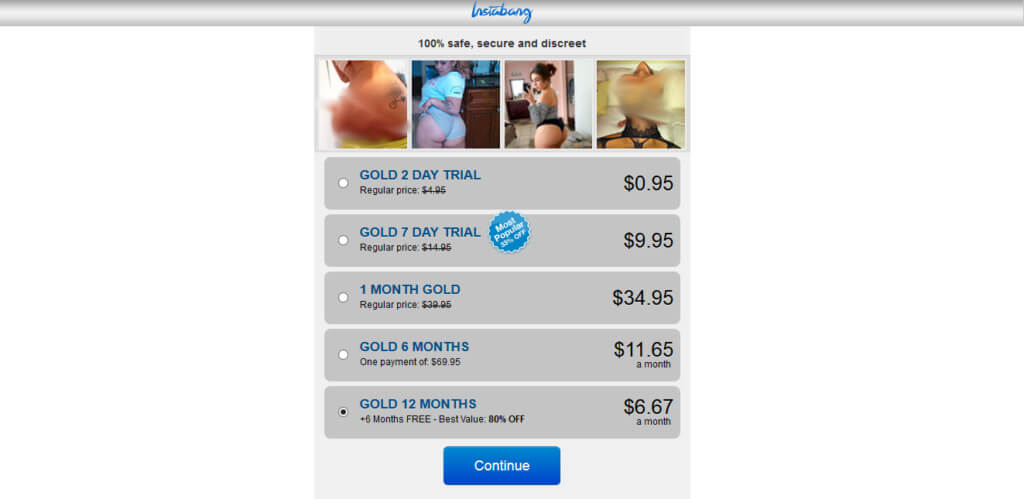 That's an excellent range of key features that you can put to use when you sign up for a membership at Instabang.
But how much is that going to set you back and what options for membership do you have?
Well, with Instabang, there is only one membership option.
Called Gold membership, it does offer four types of payment options.
That includes one that other dating sites could implement more often because I feel it would encourage more people to try websites like this and see if it's for them or not.
But what am I talking about?
A one-week membership sign-up.
That's how I would try the site out first to see how it operates, feel my way around and see if I could make a success of casual dating and hooking up with someone.
It's more than enough time to know if Instabang is the casual hook up site for you and whether it has matchups that will work.
So now we know that Instabang offers a one-week Gold membership option, what are the others.
Well, let's do a full breakdown with the duration and the price you can expect to pay.
1-week membership – $14.95
1-month membershp – $34.95
6-month membership – $69.95 ($11.65 per month)
12-month membership – $80.00 ($6.67 per month)
Other than the 1-month membership being quite expensive, the rest of the membership offerings from Instabang are reasonably priced.
The one-week membership is also often on a special where the price drops to $9.99.
But I am going to let you in on the best bit of information about the membership options offered on the site.
And that's the fact that for just $4.95 (sometimes dropping to $0.95) on special, you can even get a two-day trial for the site.
For some, this can be more than enough time to evaluate the site fully and it's a useful addition to the membership options, that's for sure.
If you aren't wanting to take out membership straight away, make sure that you keep checking the membership page for discounts.

Conclusion and Overall Rating
When it comes to casual dating sites, there is no doubt that Instabang is one of the biggest out there.
2 million users (and 1.2 million in the United States alone certainly confirm that).
It's not a site that I found that incredible if I am honest.
Sure, it's functional, easy to get a profile set up on and should have users near your location that you could interact with.
But the fact that you cannot even look at someone's profile in full without having to sign up for membership is a ludicrous decision and one that I don't understand.
I want to see someone's full profile.
Isn't it enough that to communicate with them, I am going to have to pay for membership anyway?
Why hide user profiles too?
It just doesn't make sense.
But it also has some redeeming features that other dating websites can learn from I feel.
First, the key features are impressive enough to justify the membership price.
Second, it offers short-term memberships so you can try out the site, either for two days or a week, and see if it's your thing.
That's invaluable.
So onto a rating then.
What's Instabang worth it when scored out of 5.
All in all, it's a site that can work for you if you are prepared to put up with its quirks.
I will give it a solid 3 out of 5.
What do you think?
Have you used the site?
Did it help you find someone to hook up with?
Let us know in the comments below or leave a comment about anything you would like to chat about.
Frequently Asked Questions