Today's review looks at a fairly unique genre of online dating – dating for those in uniform, from military to law enforcement.
Military dating platforms like this and Military Cupid provide a way for uniformed singles on an overseas deployment to find friendship and even love back home.
It's a unique dating experience, that's for sure but one that I feel is particularly needed.
As we assess and evaluate just what Uniform Dating has to offer, we will explore the following:
OFL Top Recommendations based on 100,000+ Survey

"Serious Relationships"
"Discreet Hookups"
"Best Course for Men"
"Quick Flings"
"Normal Hookups"
"Our Quiz"
So if you've been thinking about starting a profile here, this Uniform Dating review is just for you.
Is your dating app giving you the best chance for success?
Make sure to take our online dating site/app quiz to find out.
It's a fact that people who follow our dating site suggestions have on average 2 extra dates per month.
Uniform Dating Review in Video Form
Audio (podcast) form for those of you on the go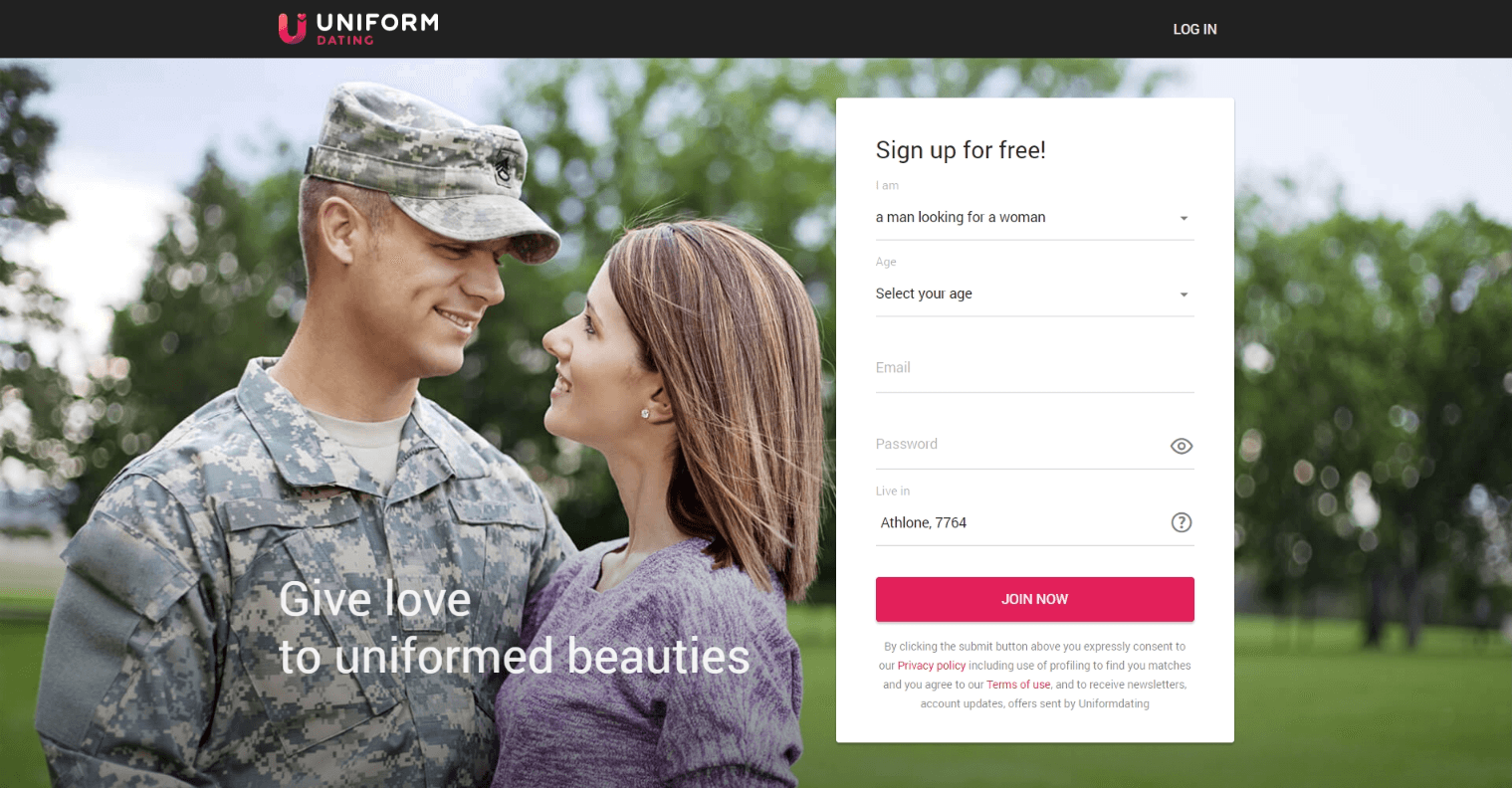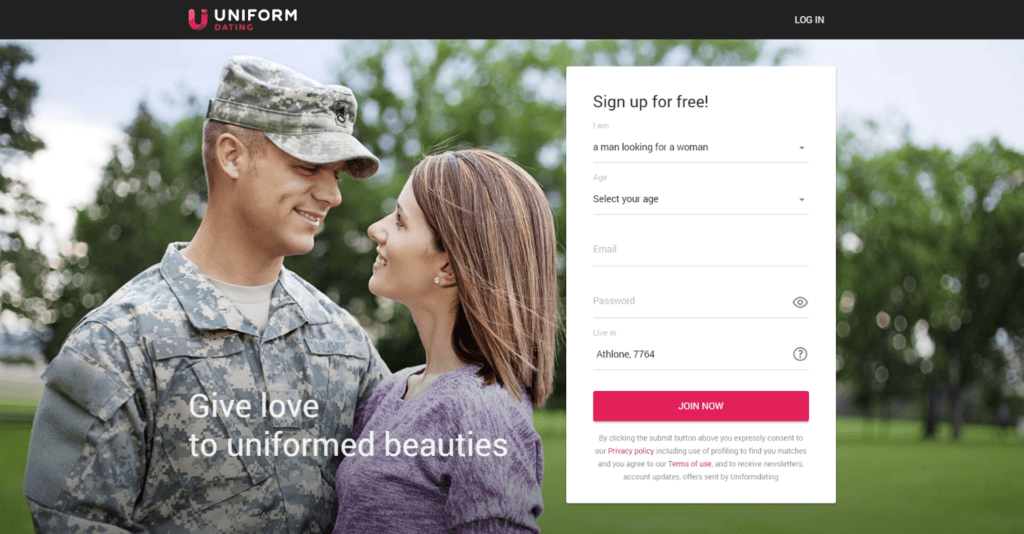 Ease of use – 5/5
Success rate – 3/5
Key features – 3.5/5
Price – 3/5
A dedicated site for men and women in uniform
Simple registration and super easy to use
Well designed website
Monthly membership is expensive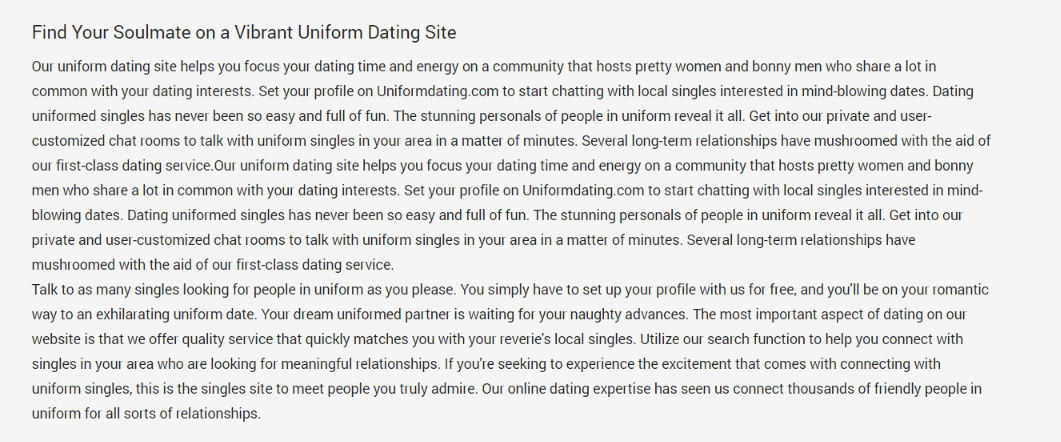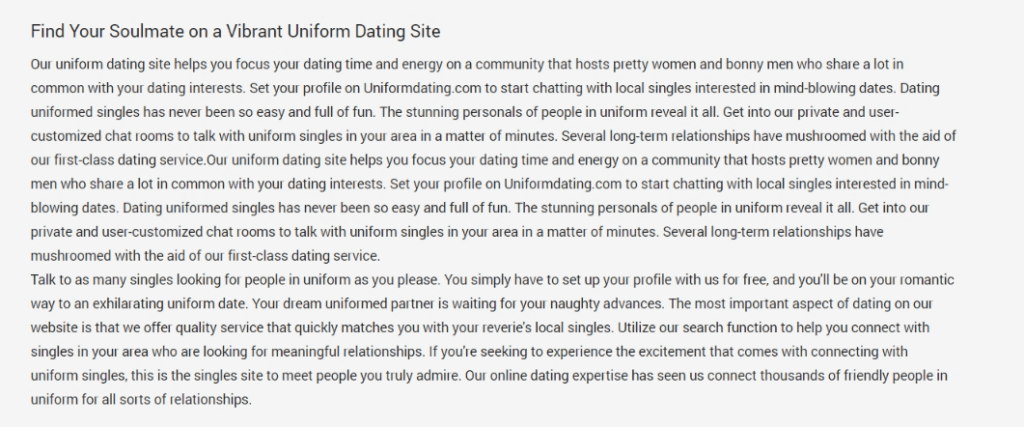 Who's It For/Demographics?
Members of the army, navy, airforce, firefighters, ambulance personnel, and the police, plus those who want to date those in uniform.
That's exactly who this site is for.
On the most part, however, you will find that military personnel makes up most of the uniformed contingent.
Many of them are looking for serious relationships (like Tinder or eHarmony), more than hookups (like BeNaughty or Ashley Madison), so bear that in mind.
But just how many people have signed up for this site?
Well, my research suggests that there are close to two million users worldwide.
OFL Top Recommendations based on 100,000+ Survey

"Serious Relationships"
"Discreet Hookups"
"Best Course for Men"
"Quick Flings"
"Normal Hookups"
"Our Quiz"
Here's a breakdown of a few more facts and figures regarding the site:
Around 500000 users are based in the United States
Close to 100000 users are active each week
That's around 40000 a month
But what about the gender ratio breakdown and ages of users?
Well, when it comes to gender ratio, you would think that on a niche site like this, you would expect there to be far more men than women.
Well, my research indicates that's not the case at all.
In fact, the ratio between the two genders is very close.
55% of users are men
45% of users are women
The most popular age range of users is between 25 and 34 years old with around 28% of users from that group alone.
The full breakdown of user age ranges is as follows:
25-34-year-olds: 28% of all users of which 15% are men and 13% are women
35-44-year-olds: 24% of all users of which 13% are men and 11% are women
18-24-year-olds: 19% of all users of which 10% are men and 9% are women
45-54-year-olds: 18% of all users of which 10% are men and 8% are women
55 and older: 11% of all users of which 6% are men and 5% are women
As men and women in uniform are of all ages, you'd expect the spread that you see here in the various age ranges.
I am not surprised to see the two most popular age ranges cover the 25 to 44 years old in total, however, particularly with many of the members of this site coming from the military.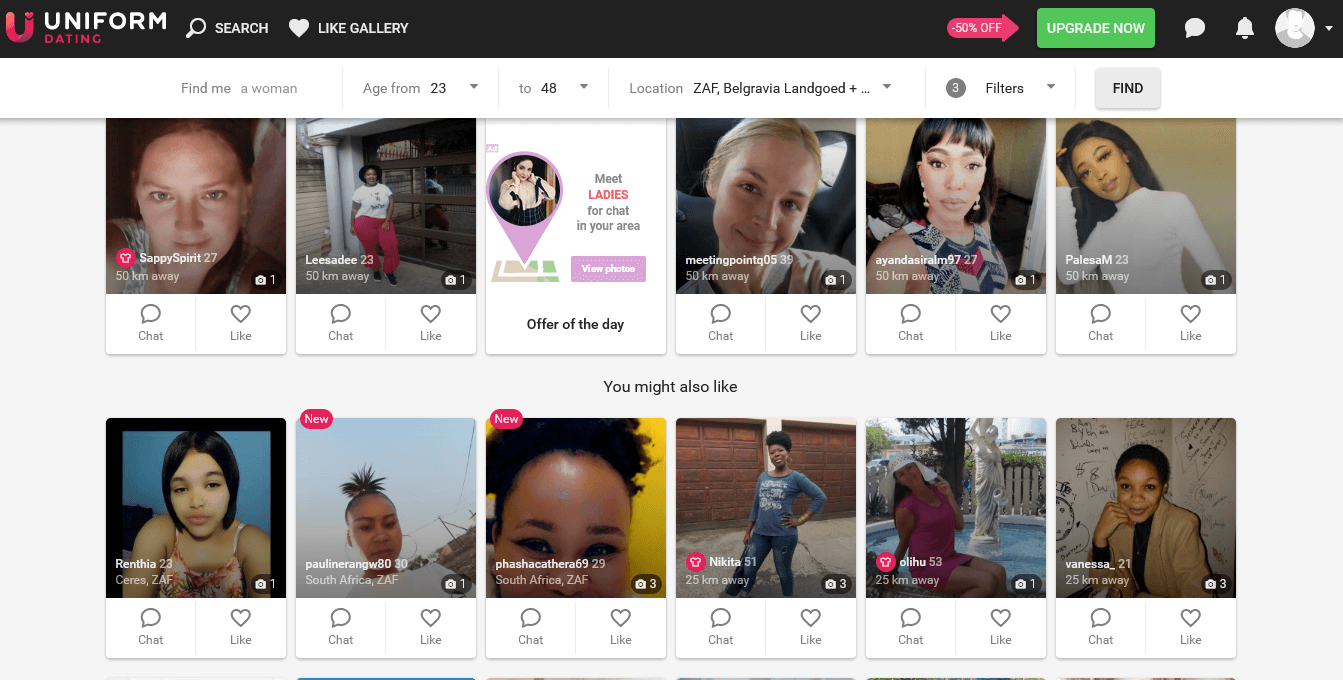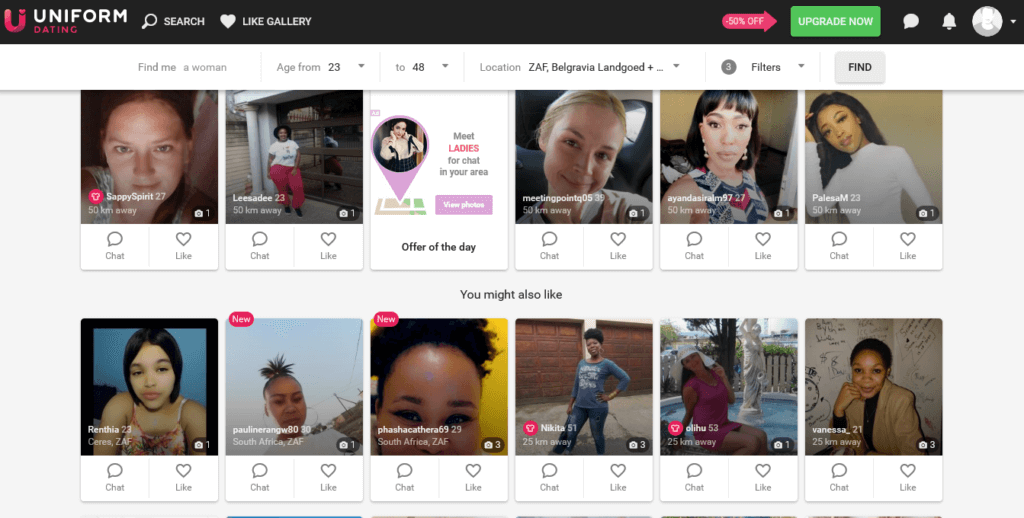 Uniform Dating uses a very familiar template that's found on a large range of online dating sites.
Although the site is meant to have an app for both Android and IOS handsets, I could not find it on the Google Play or App Store.
So that left starting my profile through the website.
It really is a painless process and takes very little time, even though you will have to fill in some parts of your profile during registration.
First up, you will need to provide:
Your hender and age range
Gender to match with
Valid email address (the site does use email verification)
Location
Once you've entered an access code that you will receive in your inbox, the next step in the registration process has started.
This includes some parts of your profile but it really won't take much of your time.
In fact, my registration took no longer than five minutes.
Right after the registration is over, you will be taken straight to the Uniform Dating home page.
Here you will immediately see a ton of information to browse through.
However, you should complete your profile first, and to access it, click the pull-down menu on the right-hand side of the screen and then click on My Profile.
The following sections will still need to be filled in:
Additional info: Here you can add appearance and lifestyle parameters, habits, if you have or want children, your living arrangements, religion and income.
Personal info: Here you can add your profession, your sexual orientation, ethnic origin, body type and hair color.
I find it a bit strange that things like ethnic origin, body type and hair color, which to me are appearance parameters, didn't fall under the additional information.
But it's a minor quibble.
You can also add more photos and a profile status if you'd like to.
Regarding your profile picture, you have to upload one for your profile to appear in other users' searches if you match their parameters.
When you upload a picture, however, it won't show on the site straight away.
That's because every picture is verified by the admin team and this can take a little bit of time.
So don't stress out if your picture isn't showing, just give it some time, it will appear in your profile in a few hours.
Finding your way around the site
To return to the home page at any time, simply click on the Uniform Dating logo that you find on the top left-hand side of the screen.
As I mentioned earlier, the homepage will show you potential matchups and you can start looking through them immediately if you'd like to.
You will also notice that Uniform Dating doesn't make use of that many menus.
In fact, there are just a few on the top left-hand side of the page and then some icon menus on the top right-hand side.
These menus are:
Search: Just like clicking on the Uniform Dating logo, by clicking this menu, you are taken back to the matchup screen. You will notice, however, that it does include a small search bar at the top where you can adjust some of your own parameters as you search, but more on that later.
Like Gallery: If you'd like to view potential matchups one-by-one then play this roulette-style matchup game.
Speech bubble icon: All your messages will appear here. Simply click the bubble to access and read them.
Bell icon: This is the notification menu. If there is something important that Uniform Dating thinks you should know about, then you will receive a notification here, for example, if someone liked your profile or favorited you.
Profile picture: Your profile picture opens a few menus. Obviously, access to your profile is one of these but you will also find site settings here.
I love the combination of menus, those using words to describe what they do and then icons menus too.
Using icons like this gives the site the feel of a dating app as it mixes both desktop and app formats.
Many other dating sites have twice the number of menus you will find here but I much prefer this minimalist approach, that's for sure.
Once you've explored the site and seen what each menu does for yourself, it's time to start putting Uniform Dating to the test.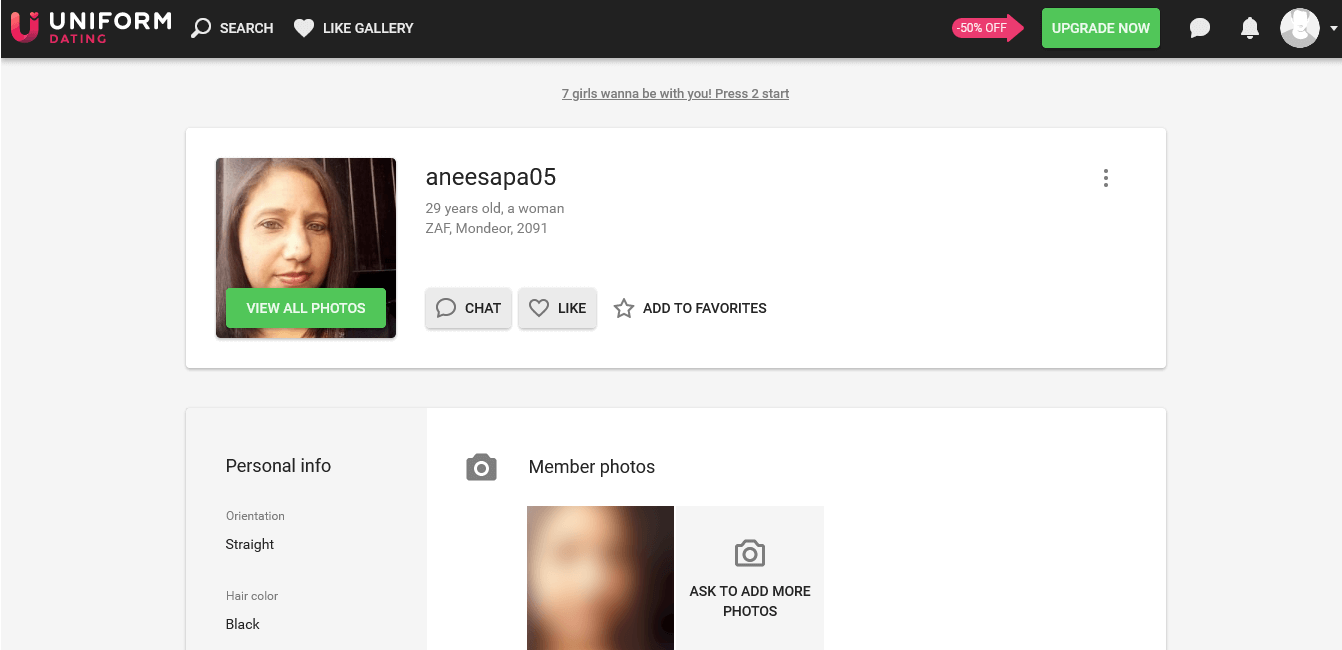 In this section of the review, I'd like to talk about the options Uniform dating presents to users who are looking for potential matchups.
Other than the ability to search for them by yourself, what else can you do to find them?
Well, perhaps the first place to start is by clicking on the search menu.
That brings up the matchups that are closest to what you stipulated you were looking for when signing up.
The three parameters in play for these matchups are gender, age-range and location.
I always like to look through these first but they can be kind of hit or miss.
What I do like about this, however, is that Uniform Dating presents them in rows of five with 10 on a page.
That means the profile pictures are nice and large so you can quickly identify someone that you are attracted to and then click on their profile to see more.
From this view, you can also easily see their distance away from you (which is something I feel is critical), their username and their age.
On each profile, you have the option to send them a message or to like their profile as well.
The default view here is all members, which I prefer but if you want to see only online or just new members, you can easily do that with a click of a button.
There is an option to sort the profiles returned as well.
They can be sorted by:
Popularity
Last activity
Distance
Age
For me, viewing all members and then selecting the last active option is by far the best way to view profiles.
That gives you access to all of them and they are sorted so you can avoid those that haven't been online in months and are probably inactive.
Another fun way to look for potential matchups is by using the Like Gallery.
This is a roulette-style matchup game where you can either like to skip on profiles presented one at a time.
You can also send messages from here, see if you've matched with someone or see who liked your profile.
But what about searching for your own matchups?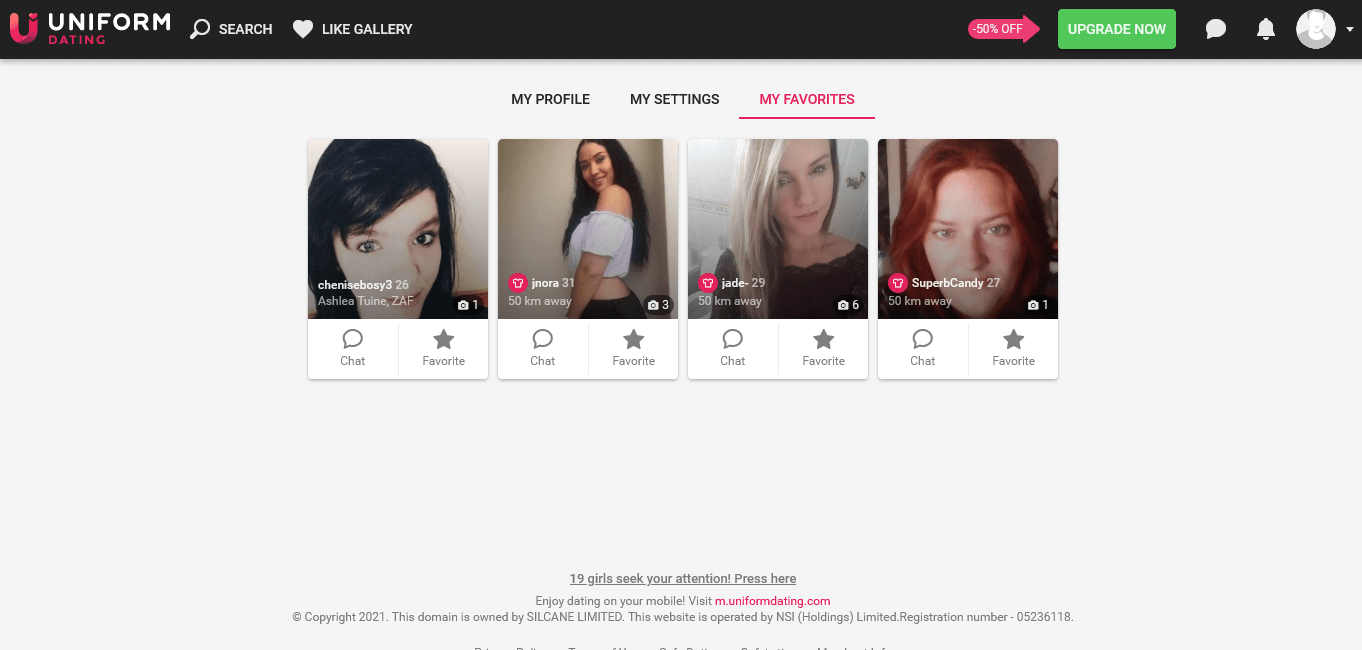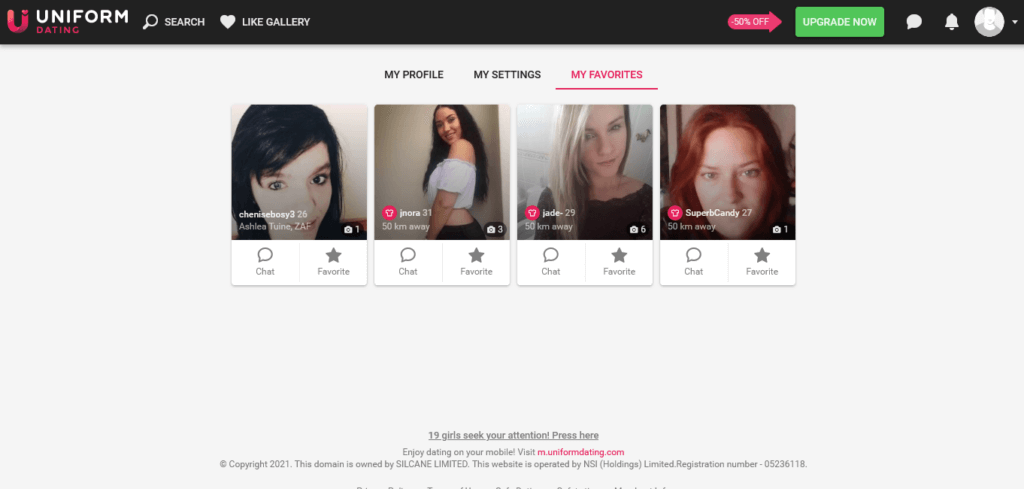 Searching for love on Uniform Dating
When looking for compatibility in a potential matchup, I find it's always easiest to use the search engine.
Why?
Well, it allows you to add various parameters that you might see as non-negotiables that a potential matchup should or shouldn't have.
That's going to help you find a real person that matches what you want and that can only be a good thing in your quest for love.
So how do you use the advanced search engine that Uniform Dating presents and is it one of the free services the site offers?
To answer the second part of the question first, yes, the advanced search engine is free for all users to make use of.
And to access it, simply click the Search menu.
In the search bar at the top of the screen, you will see the Filter option.
Click on that to apply some of the parameters that you would prefer to add to your searches.
These include:
If there should be a profile picture or not
Sexual orientation
Ethnicity
Profession
Body Type
Hair color
Eye color
If they have piercings or tattoos
It's not a lot, but it does help fine-tune searches for each user's preferences.
And you can apply a few of them at the same time thanks to the fact that Uniform Dating has a massive user database.
You wouldn't want to do that on a dating site with a small user base, however.
That will just narrow the field too much.
Reaching out to someone on Uniform Dating
So let's talk about messaging on the site.
Well, it is for paying members only.
But there is some good news.
As a free user, you do get five messages to send.
This doesn't including replying to a message you've been sent but only those you send to others.
It's a start, I guess but if you want to have any truly meaningful success on the site, you are going to have to sign up as a member.
Lastly, I do want to mention the Flirtcast.
This is a broadcast message that all users can send.
These messages are generated by the site but you can rotate through them until you find one that you like.
That message will then be sent to all users that meet up with your requirements as specified when you registered.
Sending a Flirtcast is a brilliant way to introduce yourself to others when you first use the site.
You will receive a few of them from others as well during your time on the site.
They are easy to spot because you can kind of tell they are pre-generated messages.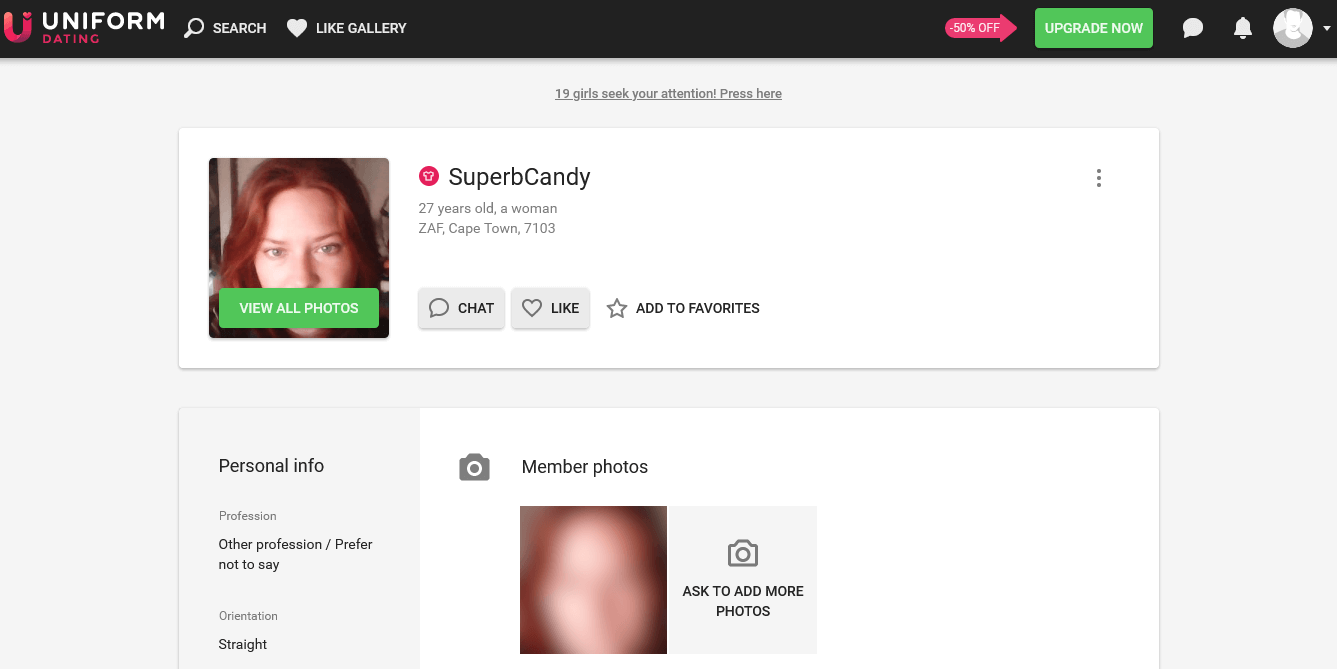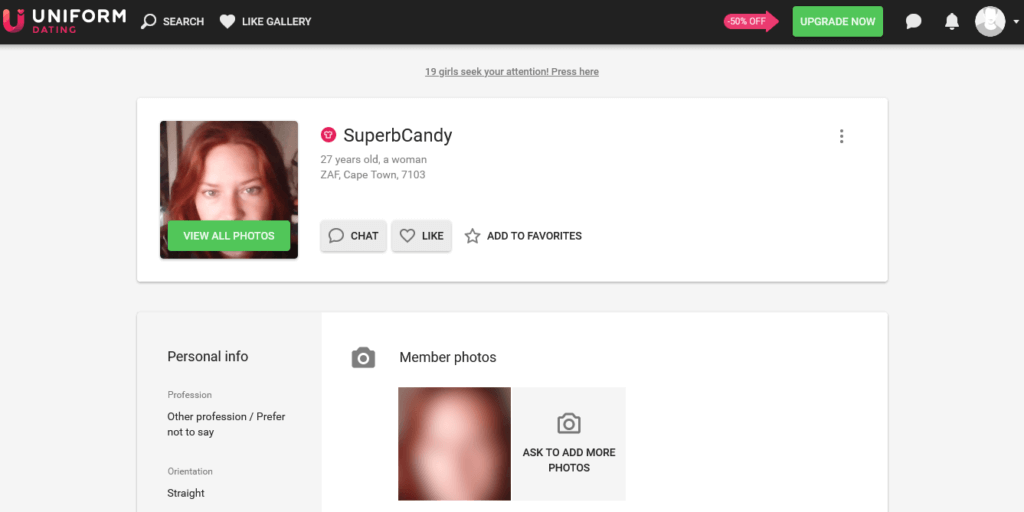 Membership brings with it several important key features.
Without messaging, you aren't going to get very far on Uniform Dating.
As with most dating sites, messaging is a member-only feature.
Once you take out membership, however, you can send unlimited messages and reply to those that you receive from other users.
As a free user, when browsing other profiles, you are only allowed to see a very small profile picture for each user.
If you want to see that in full-size as well as have access to any other photos that they might have uploaded, then membership will allow that.
Uniform Dating gives regular users access to some advanced search parameters which is more than many other dating sites offer.
But for users, there are even more search filters that they can use when looking for their ideal match.
4. See what kind of relationship someone wants
This is pretty useful.
As a member, you have the ability to see what kind of relationship someone is looking for.
So you might want to find the love of your love but a user you've found on Uniform Dating is just looking for friendship, for now.
That might influence your decision if you want to pursue them or move onto someone who is looking for the same kind of relationship that you are.
All Uniform Dating members can send both videos and pictures in chat to another user.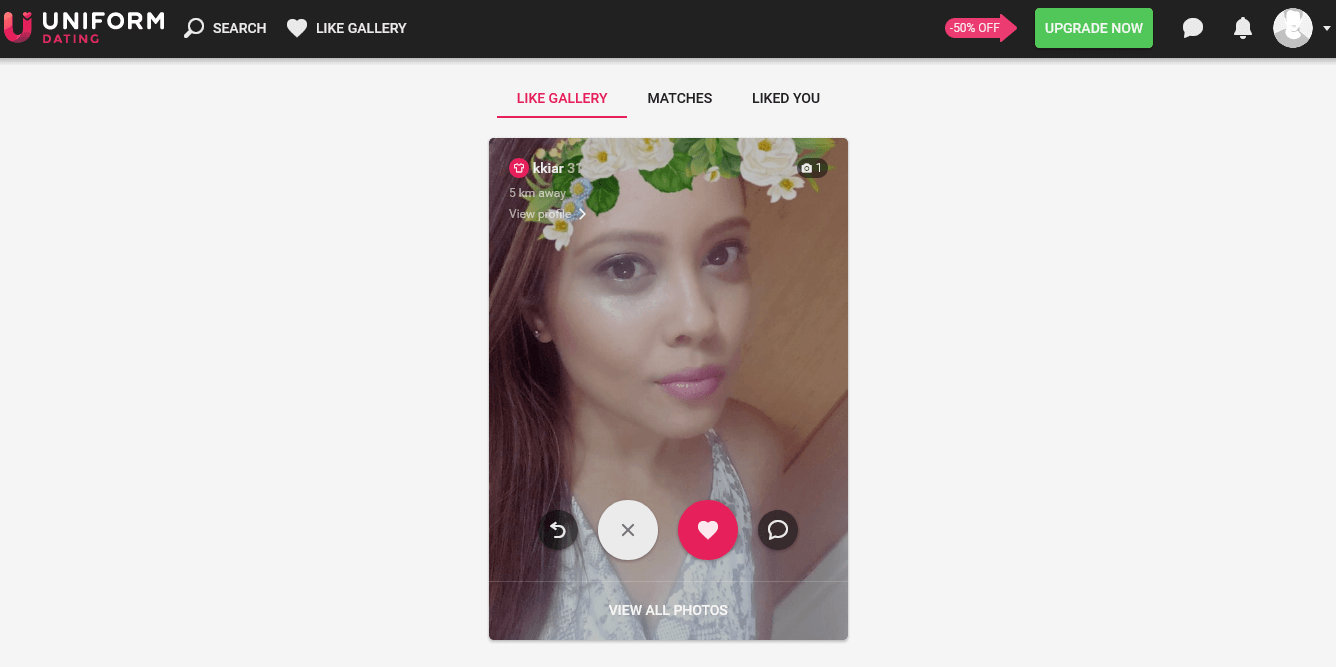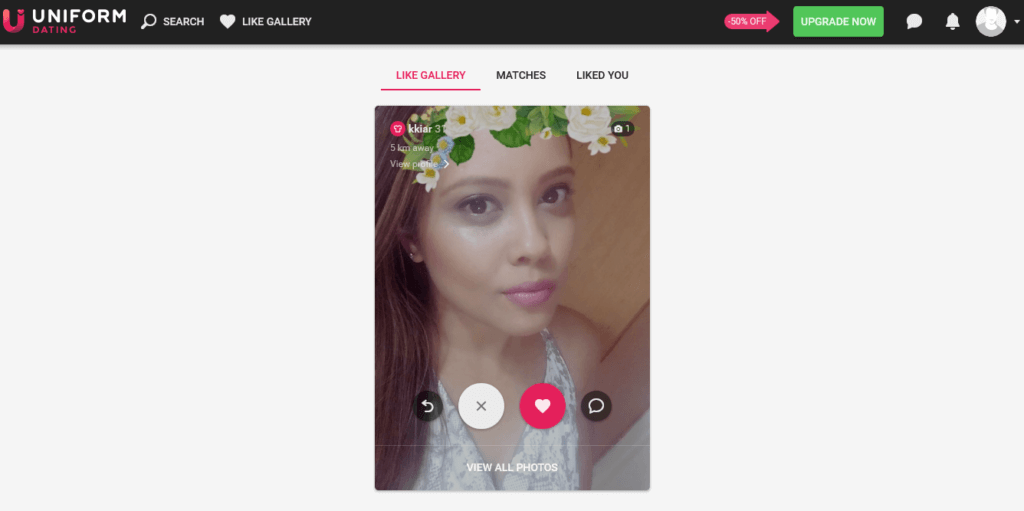 The great news is that Uniform Dating does have a three-day trial option which is more than enough time to see what the site offers before taking out a longer membership package.
After that, you can decide between the one-month, three-month, or six-month options.
This is what they cost:
3-day trial: $8.97
1-month: $34.99
3-months: $59.97 ($19.99 per month)
6-months: $95.94 ($15.99)
To be honest, I would steer clear of the one-month option, it's too expensive.
And if you have trialed the site and think it works for you, for just $25 more you can get a three-month membership which works out to $19.99 per month.
That's almost half-price on the month-to-month package and it's what I would aim for.
As for payment, well your only option is your credit card.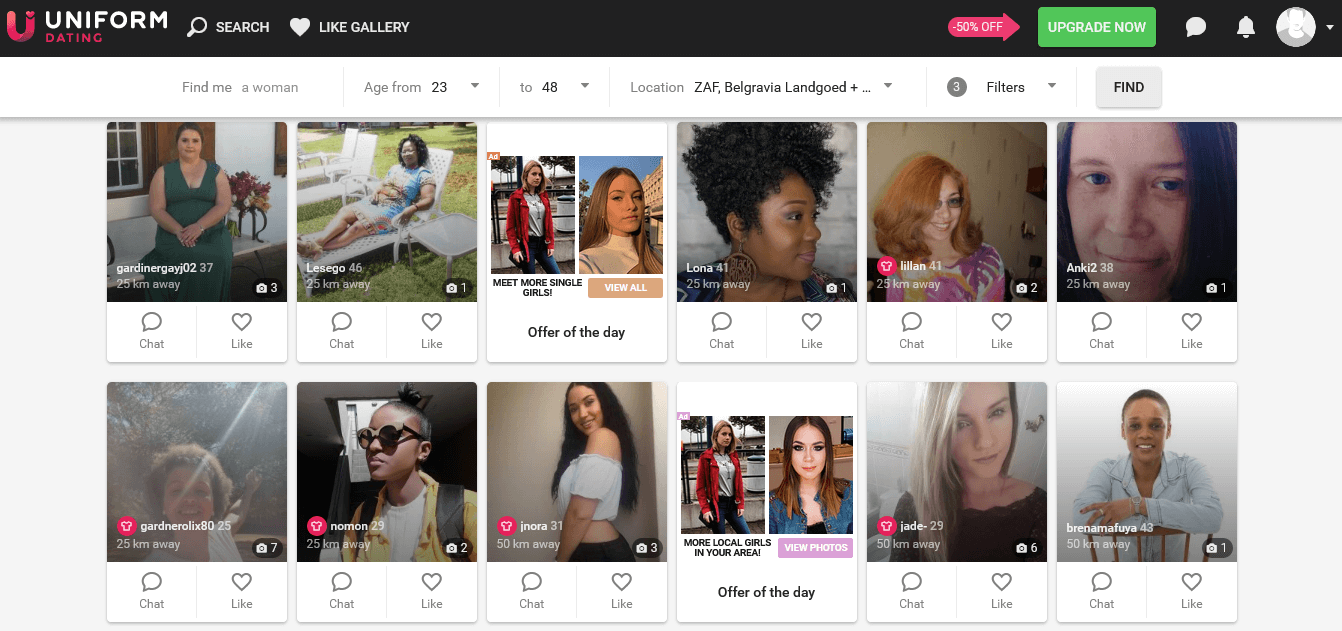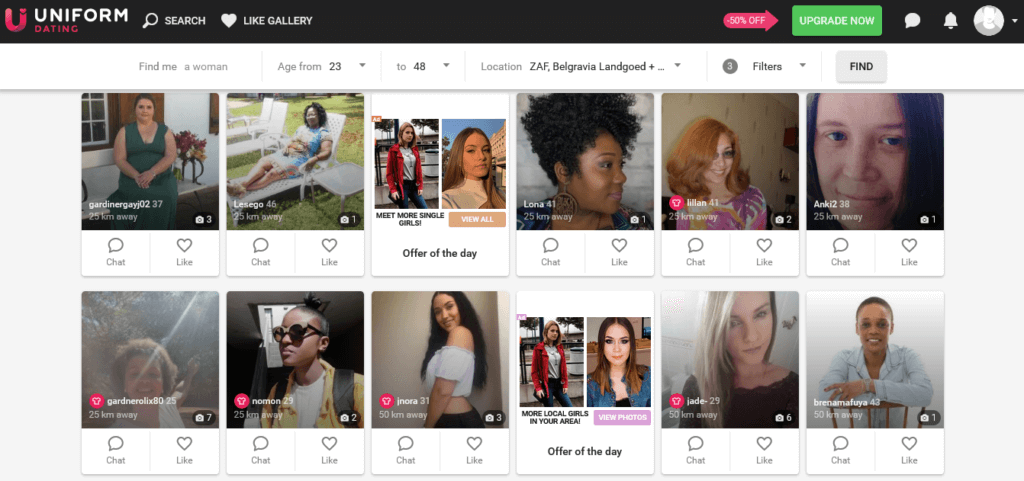 Conclusion and Overall Rating
Thanks for taking the time to read our Uniformdating.com review.
To summarize, this is an excellent place to meet new people, particularly police officers, firefighters and those in the military.
I've seen people say that there are fake profiles and scammers here but I didn't see any of that during my time on the site.
Also, there's mention of chatbot messaging but I think people often confuse a Flirtcast message with that because they are pretty random in the kinds of questions they ask.
For me, if you are in the military or wear any kind of uniform and you are looking to meet up with others like you, this is a good place to start.
I love the fact that it offers a trial membership although the one-month membership is too expensive in my view.
As for a rating, Uniform scores a solid if not spectacular 3.6 out of 5.
At Onlineforlove we tested Uniform Dating and concluded that it could be an effective dating site for those in the military, police and other uniformed work or those who would like to meet them.
Our review approach saw us giving a star rating for the critical criteria that we judge the site by during our extended review.
The final evaluation was based on the following factors: membership pricing, how easy it is to use, success rate, the size of the user base and key features, amongst others.