In today's review, we are taking a look at Interracial Dating Central, a hugely popular interracial dating site "where love is more than skin deep".
This is a niche dating site that caters to people who want to date outside of their ethnicity.
But does it hold up in that regard?
Well, by the time you've finished this comprehensive review of Interracial Dating Central you will know:
OFL Top Recommendations based on 100,000+ Survey

"Serious Relationships"
"Discreet Hookups"
"Best Course for Men"
"Quick Flings"
"Normal Hookups"
"Our Quiz"
If you've been looking for an ethnic dating site and have considered Interracial Dating Central, you will know if it's worth your time by the end of our review.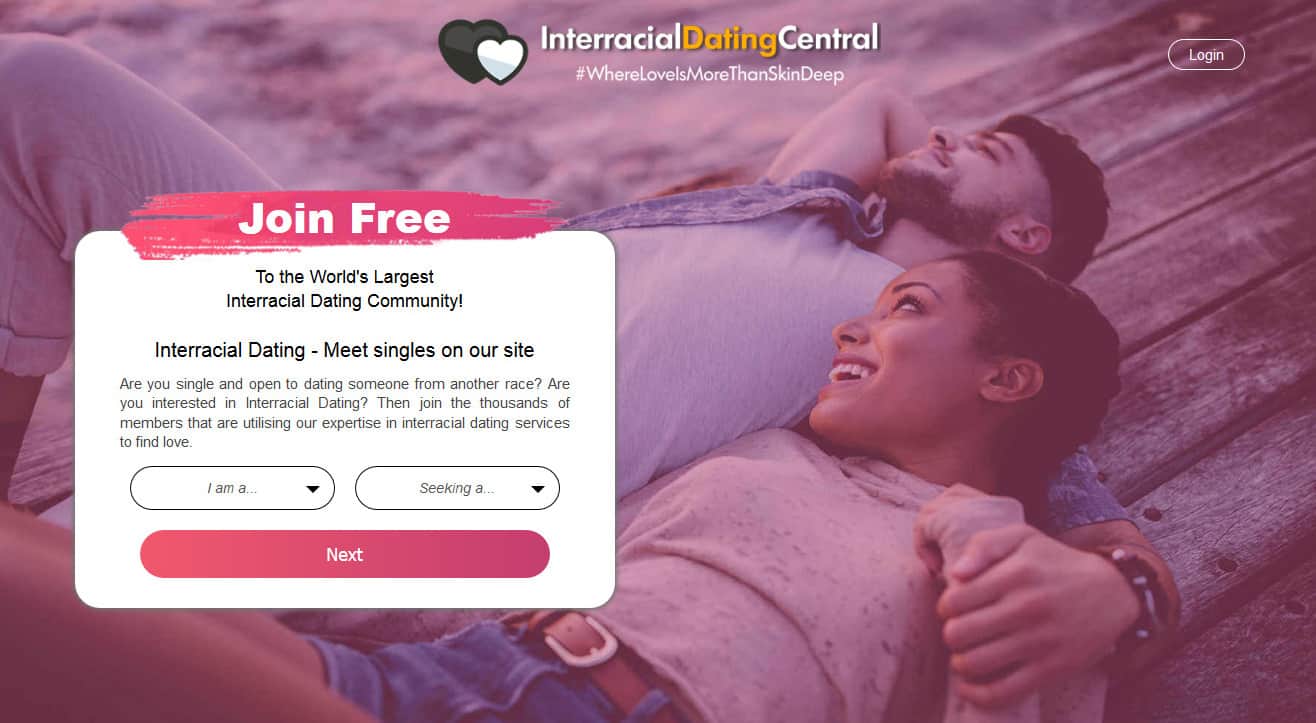 Is your dating app giving you the best chance for success?
Make sure to take our online dating site/app quiz to find out.
People who follow our dating site suggestions have on average 2 more dates per month.
Interracial Dating Central Review in Video Form
Audio (podcast) form for those of you on the go
Effectiveness – 4/5
Features – 4/5
Ease of use – 5/5
Pricing – 4/5
This is one of the most well-designed dating sites out there
It's crisp, clean and easy to navigate
Fake profiles are closed down immediately
Highly diverse ethic user base (you can search for 10 ethnicities)
Currently, there is no app available but one is on the way
You need a membership to communicate effectively
As a normal user, you can only read messages sent to you but you cannot respond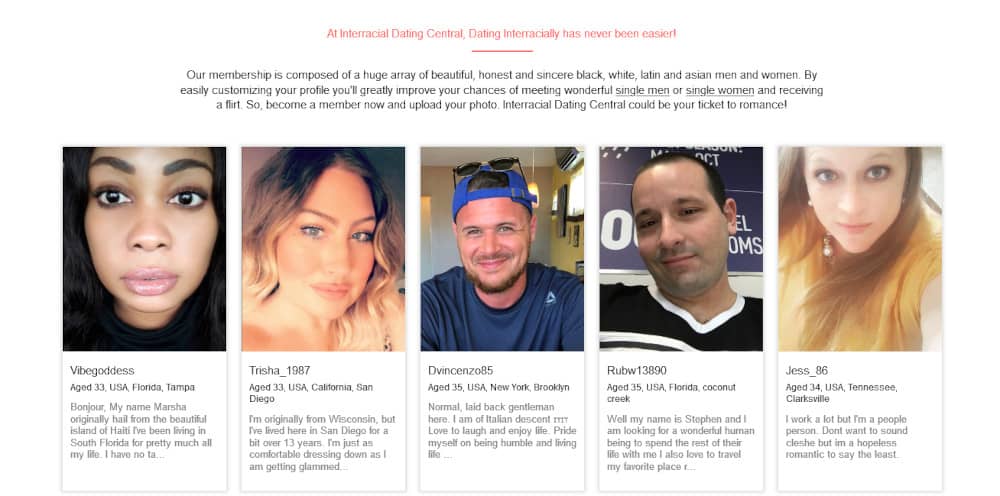 Thanks to its name, it's easy to see who Interracial Dating Central is aimed at.
And yes, it's obviously people who want to explore interracial dating with others from all kinds of ethnic backgrounds.
It is not only for hookups (like BeNaughty or Ashley Madison) or only for serious relationships (like eHarmony).
This dating site specializes in that and it's certainly no fly-by-night, that's for sure having been in existence since 2002.
The ethnic diversity on offer is right across the board.
In fact, you can search for nine different ethnicities which are:
Asian
White/European descent
Pacific Islander
Mixed
Black/African descent
East India
Latino/Hispanic
Native American
Mixed
Other
It truly is a site that covers all ethnicities.
But what about user activity?
Is the site busy enough?
Or should you consider the other choices out there?
Finding accurate numbers for Interracial Dating Central was very difficult.
Unlike other dating sites on the web, Interracial Dating Central doesn't make any bold claims about the number of users who have signed up for profiles.
I see this as a sign of confidence.
Coupled with the fact that the site has been around for close to two decades, you can rest assured that there are enough users online at any time for you to find potential matches that meet your needs.
Here are a few figures that we could find out about the site:
The site receives around 500 000 page visits each month
Over 100 000 users are from the United States
Around 3 500 users log in each day
Close to 40 000 users are active on the site each month
If I compare that to other regular dating sites, the numbers certainly aren't as impressive.
But that said, let's not forget this is not a regular dating site but a niche on due to the fact that it's all about interracial dating.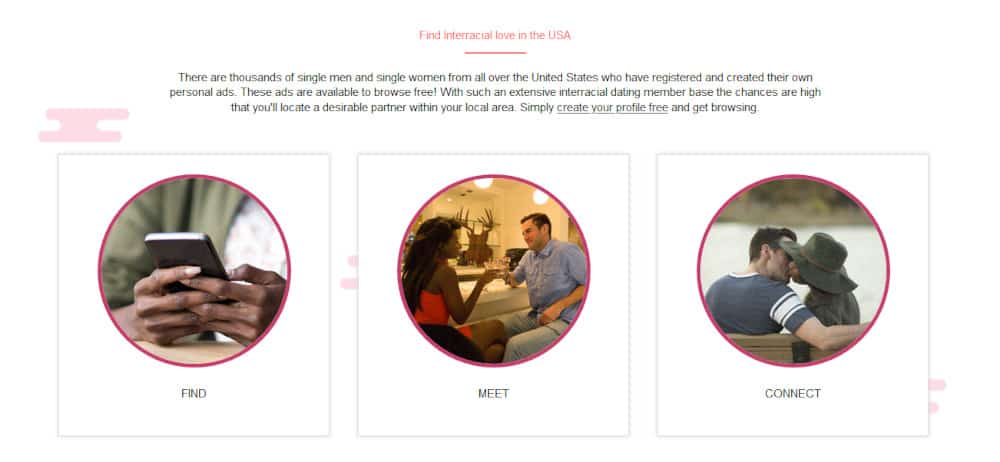 What about the gender ratio and user age ranges?
According to the information that I found during my research for this review, the gender ratio for Interracial Dating Central is split 50/50 between men and women, or as close to it as can be.
When it comes to age ranges, by far the most active group of users are between 35-44 years old.
A full breakdown of the most popular age groups is:
35-44 years old
25-34 years old
45-54 years old
18-24 years old
55 and older
It's clear from these figures that the site is popular with people from the mid-20s to the mid-40s.
There are users across all the age ranges, however, so depending on what age you'd like your matchups to be, you should be able to find someone.
But let's see how effective the site is in helping you do so.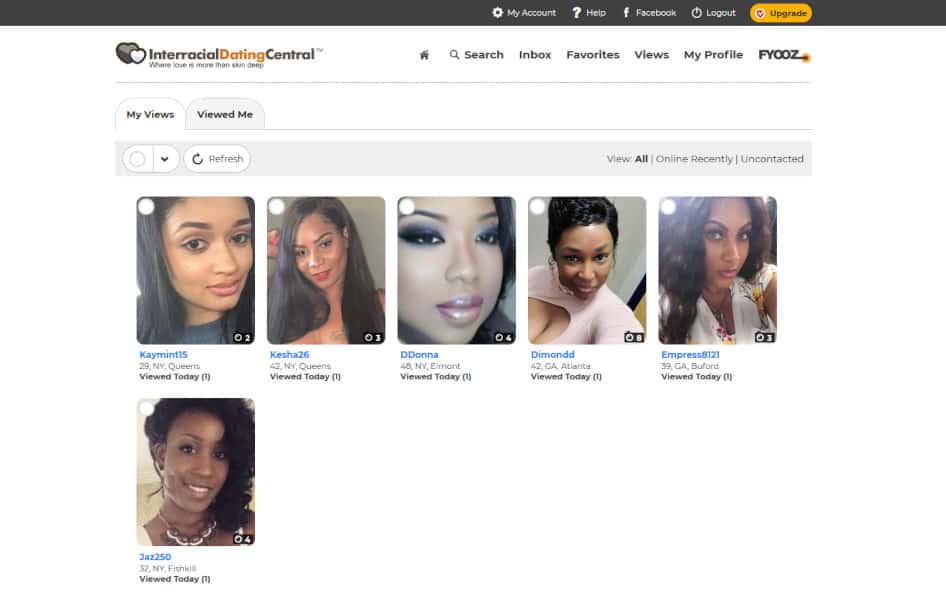 Interracial Dating Center promises to hook you up with other users covering 10 ethnicities around the world.
But does it live up to that promise?
On the whole, I think it does an extremely good job, but not without some work on your part.
And by that I mean you are going to need to buy a membership to communicate effectively with any matches you might come across.
Unlike many other sites, Interracial Dating Central allows you to receive messages from others.
But you can't send in return.
So when you receive a message from someone wanting to know a little more about you, then you know for sure that they are a member.
And all you can do is send a flirt in return.
What's a flirt?
Well, you are telling the person you like them.
But that's the only communication that you can send back to them.
That's why, in my view, if you want to use Interracial Dating Center effectively, you are going to need to pay a monthly membership fee.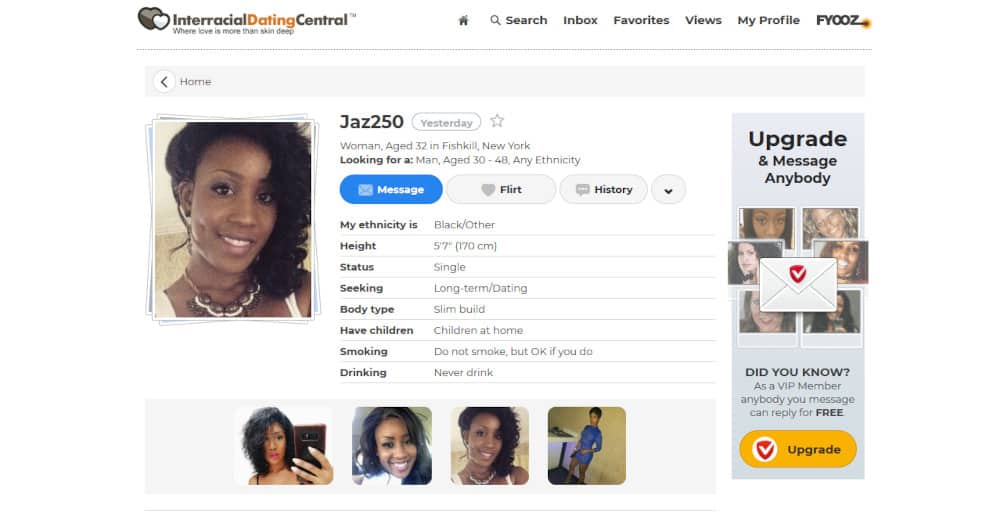 I've already mentioned that Interracial Dating Center covers 10 ethnic groups but how do you about searching for that perfect match?
Well, the basic search that's available just covers a few parameters and are taken from what you initially inputted when signing up for the site
These are:
There are 21 other parameters that you can tweak to search for that perfect potential partner.
Sometimes, these extra search parameters are hidden behind a membership paywall.
But that's not the case at Interracial Dating Central as here you they are free to use.
So what are these parameters?
Well, they include:
Heigh
Ethnicity
Body type
Eye and hair color
Relationship status
Religion
Education
Languages
Smoking
Drinking
Have children and want children
Occupation
Starsign
Type of relationship wanted
Attend religious services
Open to relocation if necessary
Want someone the same age
Wanting someone of the same ethnic group
Keywords
Nickname
Without a doubt, this is the biggest list of search parameters that I have seen on a dating website.
It means you can fine-tune your searches, that's for sure.
Once you've found a matchup you are interested in, their profile will tell you everything you need to know about them, including what they are looking for in a potential matchup.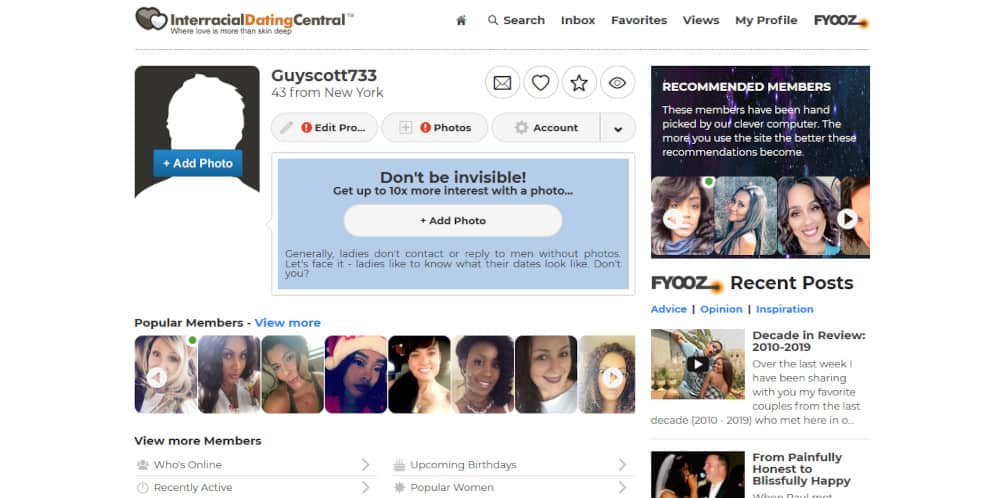 In terms of ease of use, Interracial Dating Central really comes to the party.
Starting a new profile is so easy and within a few minutes, you can be online and looking for love.
Of course, you will need to flesh out your profile once you've signed up which you can do through using a social media account or the more traditional username, password and email address route.
As I say in all my reviews, no matter how safe a site is, I would rather use the traditional route than expose my social media accounts.
A dating site, is a dating site, is a dating site, right?
Yes, for the most part.
There are some things about Interracial Dating Central that I truly love though.
This is just such an easy site to use.
From signing up to fleshing out your profile to looking for love as well as becoming a member, everything is easy to find and to complete.
Your search bar, inbox, favorites, profile views and profile settings are all set in a toolbar across the top of the screen
Everything is then set out below that, depending on where you are navigating at that point in time, for example, viewing someone's profile.
On the right-hand side of the screen, you will see a selection of recommended members while below that you have access to FY00Z, an online magazine which I will cover under key features.
I also love how the site looks.
It's beautifully designed and the layout is one of the best I've ever seen when it comes to dating sites.
Currently, Interracial Dating Central does not have an app.
Either navigate the site from your computer/laptop or you can view it on your mobile as it is compatible.
An app, however, is on the way according to the site.

Key Features of Interracial Dating Site
As a paying member, Interracial Dating Central doesn't offer that many killer features.
But it does have the one thing you need to make a success of interacting with any potential matchup that you would like to follow up on.
And that's the ability to send messages.
So let's look at that and some other features that paying a membership will bring to the party.
As a non-paying user of the site, you can receive messages and you can send flirts to show people you are interested
But without the ability to send a message, you can't really contact anyone effectively.
Becoming a member of Interracial Dating Central immediately gets you in the communication game, however.
Now, if someone sends you a message, you can at least reply, instead of just sending them a flirt.
Or, if you find a match that looks like they have potential and you would like to get to know them a little better, fire off a message and see what happens.
2. View flirts and favorites
While as a regular user of the site, you are able to send flirts out to matchups that you like.
But you cannot see who has flirted with you or who might have added you to their list of favorite profiles.
Is this really worth paying a membership fee for?
Well, probably not but as an added extra it's nice to have I think, especially to see if someone has added you to their favorite list.
That said, it's by no means a massive extra feature, that's for sure.
Another small added extra for members is the ability to see who has browsed your profile.
Much like flirts and favorites above, it's a brilliant way to see just who may be interested in you.
If you aren't getting that many profile views, you can change things up, make sure your profile is 100% complete or get a new profile picture to try and attract more views.
Seeing who is viewing your profile might also lead you to a potential matchup that you could have missed while doing searches of your own.
Should you wish to, as a member of Interracial Dating Central, you can browse other user profiles anonymously.
What this means is that if they are members and you choose to browse anonymously, then they won't see that you've viewed their profile.
I am still trying to work out why this is a feature that any member would want to use.
I suppose if you are new to the site and just want to see what's out there in terms of potential matchups, then you might browse anonymously for a few days just to get the feel for things.
Interracial Dating Central is so confident that you will enjoy using the site that they have offered a money-back guarantee if you don't.
Of course, they will look into how much you used the site so you cannot go for long periods of inactivity and then try to claim your money back.
Also, this can only be claimed after a period of three months from when you first signed up.
6. Video calls and chat rooms
Paying members are able to start video calls with all users.
It's a great way to chat face to face with someone that you've got to know using the site and want to learn more about.
As a member, you can also start a chat room and invite other users to join.
A little bit old school but it's a fun addition for members to try.
Ok, so while this is not only for members but all users, it deserves to be under the key features section of this review.
But what is FY00Z?
Well, it's an online magazine put out by the Chellaul Corporation.
It's packed with information on online dating, love, opinions, coaching and more.
On the coaching side of things, users have access to Carson Simons, the Date Whisperer.
There is tons of information to go through here and you can certainly learn a lot if you are new to the online dating game.
It's a worthy addition to the site, that's for sure.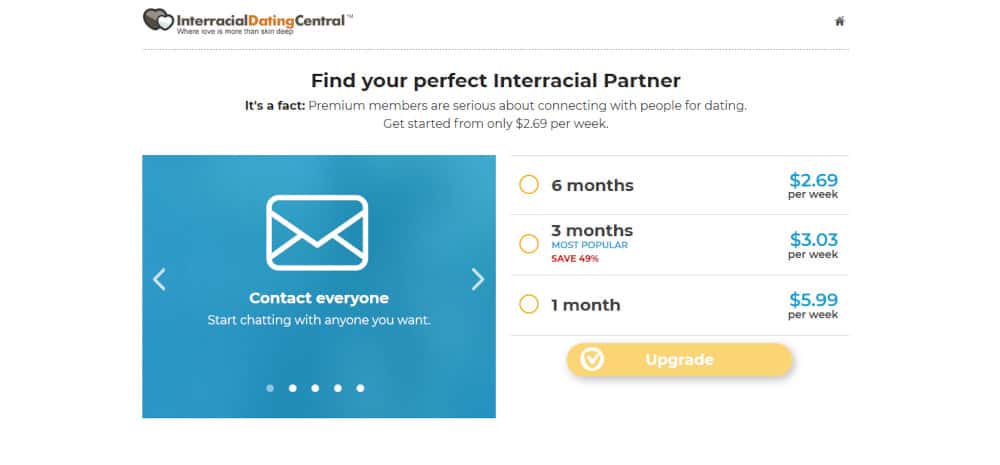 So as a user that's interested in the key features that members are offered, what's it going to set you back?
As is the norm with many dating sites, Interracial Dating Central offers three payment plans that you can choose from when you sign up to become a member.
When you compare it to other dating sites online, the prices are extremely competitive.
That's a good thing as at the end of the day, there are not many extra features that are going to change your mind about becoming a member, I feel.
You are going to want to hand over some money for one main reason alone.
And that's so you can effectively message a potential match.
It's like that with all dating sites, I believe, and this one too.
So let's quickly break down the three packages on offer.
They are one-month membership, three-month membership and six-month membership.
Although the membership's work in months, Interracial Dating Central breaks their payments into weeks, although you will be billed every month or whichever package you decide on.
Here's a breakdown:
1-month membership – $5.99 per week (no more than $25.99 per month as some months have 5 weeks)
3- month membership – $3.03 per week (no more than $39.50 per three month period)
6-month membership – $2.69 per week (no more than $70 per six month period)
Of course, here they want you to commit to a longer membership as opposed to a shorter one.
That's why such incentives are offered.
Unfortunately, I like dating sites with a 2-day or more trial period for you to check it out.
Interracial Dating Central doesn't offer anything like that.
Having said that, I feel that Interracial Dating Central have their prices close to spot on in terms of what you get as a member.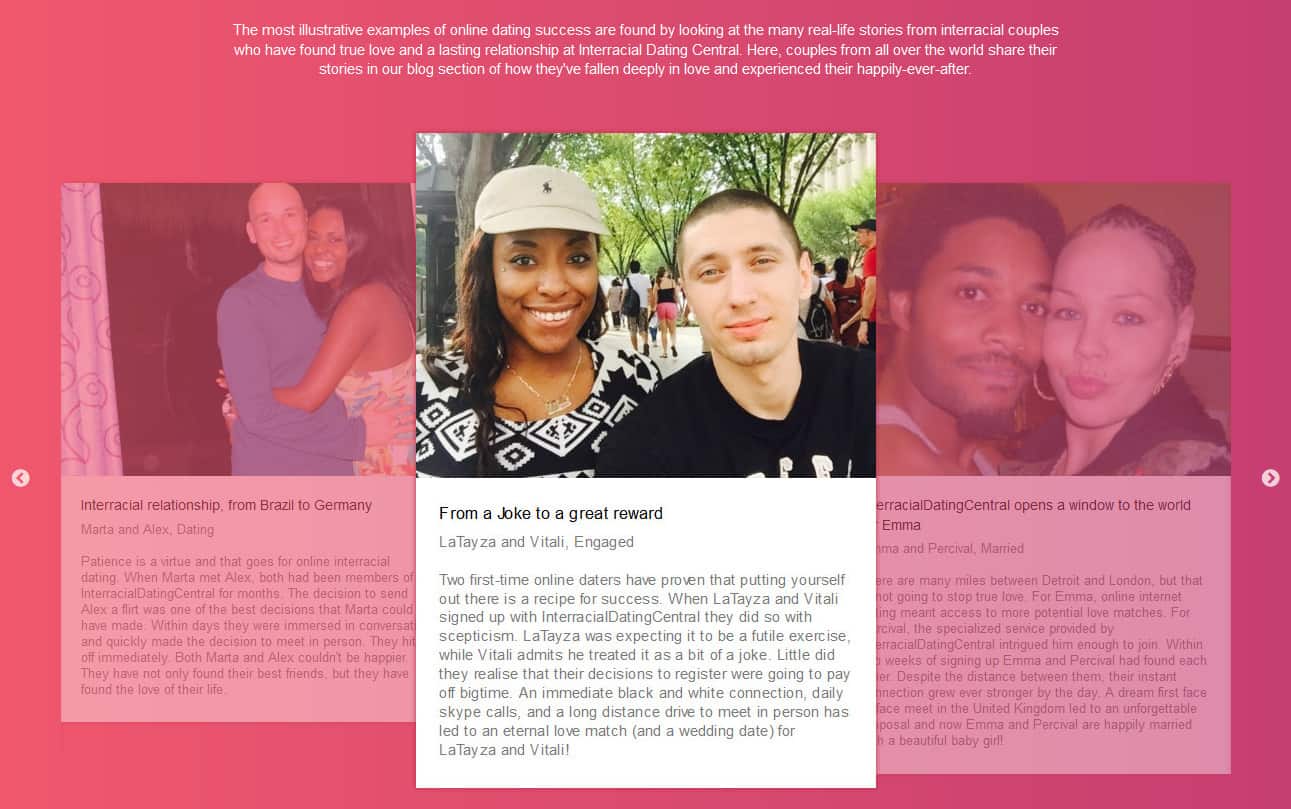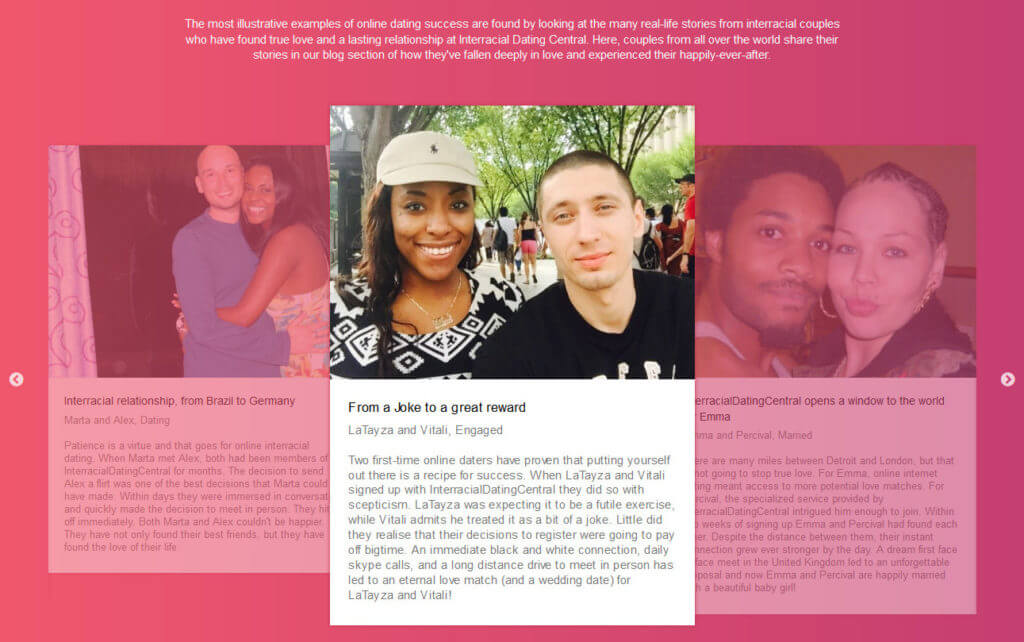 Conclusion and Overall Rating
So what would I give as an overall score to Interracial Dating Central?
For me, it scores 4.25 out of 5.
This one of the best interracial dating sites out there in my book.
It has some excellent features for members, an active user base and a wide range of search parameters.
The thing that really stands out fo me, however, is the design, appearance and overall layout
There are some dating sites out there that are horrible to look at and others that bombard you with advertising.
Interracial Dating Central not only looks incredible but it's functional.
Everything you need in a dating site is presented for you to use and is simple to find.
Many other sites could learn from it.
Thanks for reading this review.
If you've used the Interracial Dating Central before, how did you go?
Did you find matchups?
Let us know below.
Frequently Asked Questions