Hey guys and gals, welcome to my instant hookups review 2023. I have been getting a lot of e-mails and questions asking me whether or not instant hookups is a scam or, is instant hookups legit?
I did thorough research on the dating website and got back to you guys with my detailed opinion on it. Make sure to check out my must-read article on the top hook-up and one-night-stand websites to find completely legit websites.
Let me tell you guys everything that I learned from trying to sign up for a "free account" to get started on this dating platform via this hookup website review.
A site I recommend is BeNaughty. Make sure to see my review on it here, or head over to their site to check it out.
OFL Top Recommendations based on 100,000+ Survey

"Serious Relationships"
"Discreet Hookups"
"Best Course for Men"
"Quick Flings"
"Normal Hookups"
"Our Quiz"
Learn more with these terrific guides for creating an online dating profile. These guides provide you with useful tips on how to get that perfect soulmate using your profile.
Is your dating app giving you the best chance for success?
Make sure to take our online dating site/app quiz to find out.
It's a fact that people who follow our dating site suggestions have on average 2 extra dates per month.
Instant Hookups Review in Video Form
Audio (podcast) form for those of you on the go
Instant Hookups in a Sentence
Whereas Instant hookups offer services ranging from no strings attached affairs, one-night stands, friends with benefits, a long-term relationship, casual hookups, or a sugar relationship, its charge of $49.95/month with other hidden charges as rebilling after promising a free account is outrageous.
Signing up for Instant hookups
Instanthookups.com utilizes virtual profiles for its dating service.
Joining instanthookups.com is at first just like signing up for any other dating website. You say whether you are a man or a woman, your sexual preferences, and what type of membership you want with your instant hookups account.
Horny women can enjoy casual dating with mutual matches on dating apps like tinder and casual hookups.
The choices that they give you are no strings attached affair, one-night stand, friends with benefits, a long-term relationship, casual sex or hookups, or a sugar relationship.

After filling in some basic information to set up your online dating profile, such as your screen name, e-mail address, etc. you will be taken to the part of the website that says that you can sign up for a "free membership account."
The number of times that they used free was a little bit overboard compared to most other adult dating sites I have used. Something was already ringing alarm bells in my head, and some things just seemed fishy.
Just like pretty much every other dating website, I was expecting after signing up with my username and e-mail address to enter my free new account on instant hookups.
I was expecting to be able to browse through dating profiles and members displayed on the site, check out some features and be able to search for some girls in my area, and start messaging. That was not even close to the case with the instant hookup app.
I was immediately forwarded to the next screen where it tells me to sign up for my free account. Below is a picture of this screen that I'm talking about.

The first suspicion I had is highlighted in yellow above. The fact that it says free account but in the same sentence as a credit card does not fit well together. After hitting the big green "get free access" button, things started going downhill even faster.
The Instant hookups scam
After pressing the big green button that promises me a free sign-up, I am taking to the next screen where it prompts me to enter my credit card details or debit card information. In the following screenshot, there's a ton of data (a lot of it hidden) to break down for a user of the site to show you exactly why instanthookups.com is a complete dating scam site. Let's go over this one by one. If you want to find a legitimate hookup site, I 100% recommend checking out Benaughty or my article on the top five hookup sites.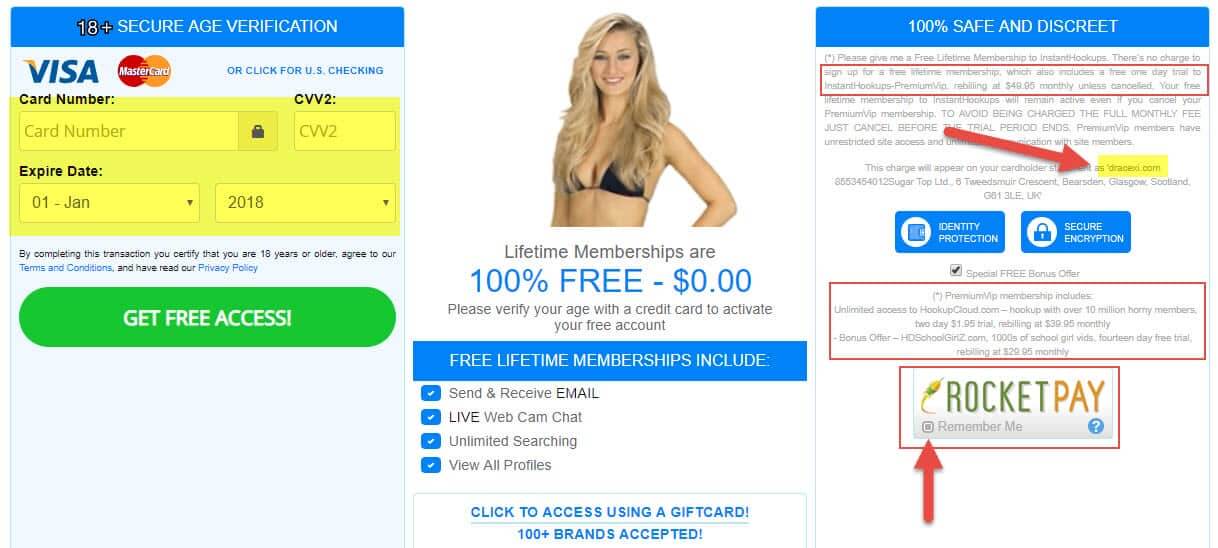 Lifetime free membership for instant hookups VIP?
In the first red highlighted box on the upper right-hand corner of my photo, the disclaimer states that there is "no charge to sign up for a free lifetime membership."
The very next line says that your "membership includes a one-day free trial period to instant hookups premium VIP, with the rebilling of $49.95 monthly until canceled".
OFL Top Recommendations based on 100,000+ Survey

"Serious Relationships"
"Discreet Hookups"
"Best Course for Men"
"Quick Flings"
"Normal Hookups"
"Our Quiz"
I don't think I've ever seen something so contradictory in my life! It says free lifetime membership but then states that after one day of your trial membership you will get charged $49.95. I have never seen something so deceptive in my life.
Premium VIP membership?
The second red highlighted box on the right-hand side in the image states that you have unlimited access to hook up cloud.com with a two-day trial for $1.95 and rebuilding at $39.95 monthly.
It also says you have a bonus offer where you can see tons of schoolgirl videos with a 14-day free trial and rebuilding at $29.95 monthly.
All in all, there are three hidden memberships that you're signing up for that will all charge your credit card after the "free trial periods" are over. The only thing is that nobody knows they are signing up for a free trial, they think they are just signing up for a free account. At least that's how instant hookups make it seem.
The total charge for all three of these auto-renewals would be $121.80. I guarantee that 99% of the people that enter their credit card information have no idea that they will be charged this.
After your credit card is charged these amounts, your chance of getting a refund is very slim. The customer support contact information and for instant hookups is vague, and to get your money back you would have to e-mail them, and I highly doubt you would get a response.
That is even if you recognize the charges in the first place on your credit card statement. I have so many costs that I don't think I would ever pick up on these charges even if they went through without my knowledge.
Bottom line, when you upgrade your membership to paid members (premium members), you are able to enhance your online experience, as you get access to using advanced search results to get real people instead of phony profiles.
The charge on my cardholder statement?
In the image above I have a big red arrow pointing to a highlighted portion of the image. The image states "the charge will appear on the cardholder statement as dracexi.com". They use these random domain names to try to appear as anonymous as possible.
What makes instant hookups even less legit is that every time you reload this page to enter your credit card information, the domain name that will "appear on your cardholder statement" changes every single time.
No other traditional dating website or legitimate company has a charge that always changes names. To try to make it as clear as they possibly can who is charging your card, and when.
If you take a look at some of these "payment" websites, you will notice that they are all one-page websites. They are shell companies with vague contact information.
Automatic renewal with rocket pay?
The very last box on the bottom has to do with rocket pay. To the "remember me" there is a small gray box that is already checked for you (super sketchy). By having this box checked you agree to let rocket pay hold onto your personal and financial information to recharge your credit card monthly.
This button does not even appear as your normal radio button does. It looks like a gray square that blends in with the outside of the radio button. Do you think they did this on accident?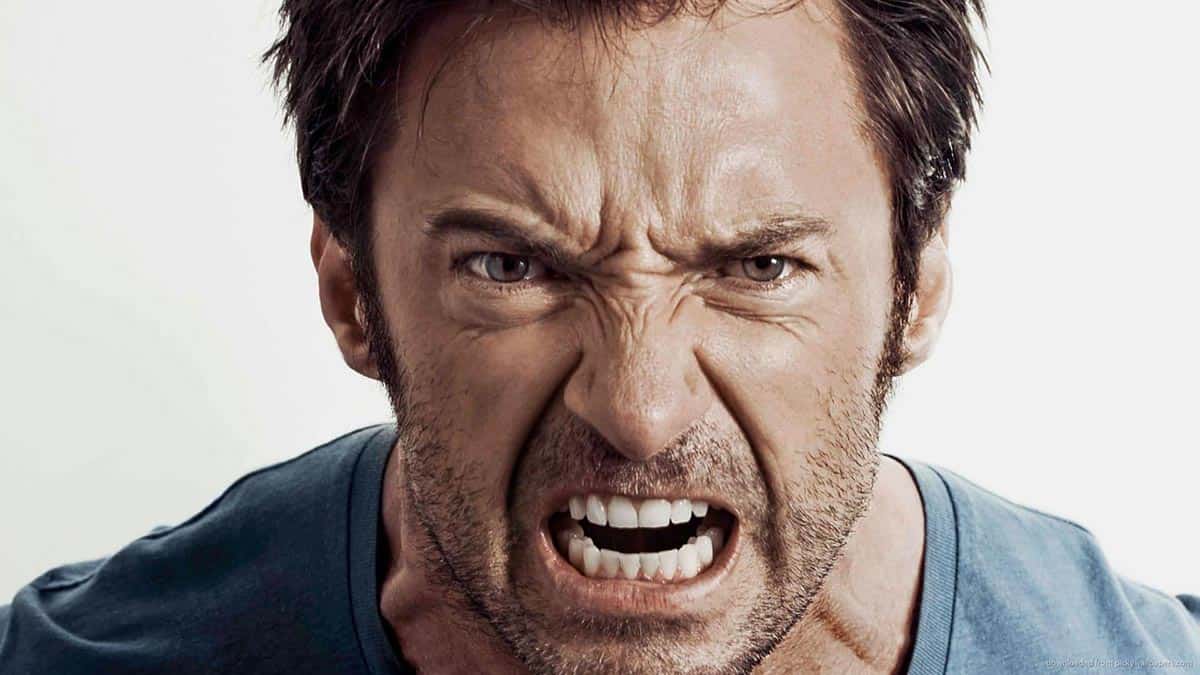 Shady terms of service
In the privacy policy statement for instant hookups, it states that they do not collect credit card information and expiration dates. They state that this is collected by the credit card processor (aka the gibberish domain name they keep changing).
This is to cover their asses regarding liability if they get sued. Everything is meticulously planned out so that they don't take the fall for anything although they are the ones completely scamming their customers.
So, is instant hookups legit?
If you want a legit hookup site, check out Benaughty because that is my overall top-rated site for quick flings.
So here we are at the end of my instant hookups review every one. If you still think that instant hookups is a legit website, I highly suggest you book an appointment with your doctor. My overall rating for Instant Hookups: 1/5.
Instant hookups is a complete scam, and as someone who has signed up for dozens of online dating websites, it is clear as day right from the get-go. This is not a legitimate company, and you should never trust them with your credit card information.
A quick summary of the instant hookups scam.
And no point can you use any of the features on the site without entering your card information. There is no free trial.
They will secretly charge your credit card $121 from a shell company every single month after the "trial period".
Even after all of this, you still have no idea who is actually in possession of your personal and financial information.
Rocket gate is an anonymous company that is not registered and should not be trusted especially for reoccurring payments.
So, is instant hookups worth it? I will give you guys a big hell no! Don't even try this website out, instead only sign up for legitimate dating websites from legitimate companies as you will have a much higher chance of success meeting somebody who is hooking up from those.
Instant Hookups pros and cons
Pros
Enjoy free membership
Ease of use due to the modern interface
Ease of meeting new people
It's not hard to get hookups
Cons
Credit card details is needed for verification of account
Receiving of messages from fake profiles or scammers
Methodology
Having registered on the Instant hookups platform and tested the site on various devices, we were able to arrive at an overall rating.
The approach adopted was to study how user-friendly the site is, our experience on the ease of access on the login page, navigating through the site, and the overall Instant hookups match experience.
A combination of our experiences on the site with real reviews from users on various social media platforms helped us to come to a reasonable conclusion.
Instant hookups Review – Conclusion
My verdict for Instant Hookups is simple:

I highly suggest checking out my article on the top websites for one-night stands if you guys are interested in quick hookups.
Instant hookups website is not a user-friendly dating site due to the presence of fake profiles, scammers, and those interested in matchmaking for hookup dating alone.
New members that want paid membership should be careful with their uploading their credit or debit card details online since it is not easy to contact the support team for assistance when needed.
Shoot me a comment down below to let me know what you think of this instanthookups.com review. Until next time guys if you guys like these articles that uncover scam websites, let me know down below in the comments!
When trying other legit websites, after you register or go further to make payments, one of the things that guarantee your chances of holding a relationship is what you do with your profile. There is stuff you write on your profile and there are things you need to abstain from on your profile, to help you get that partner that will satisfy your inner being.
Be mindful of the pros and cons of the best hookup sites and dating apps even when it is free and paid.
Another point is the galleries of sensual profile pictures you can put up, even your username should spell out your personality and what you are on that particular instant hook-up app for.
Here is a highly recommended guide for your profile on online dating sites. Be sure to check it out and come back with testimonies like others have done.
Frequently Asked Questions(FAQs)