For single people with herpes, the stigma of the virus often means that they won't ever consider starting a profile on a regular dating website, like Tinder.
They simply don't want to have to reach the point of telling others that you have STIs or STDs like the HSV-1 or HSV-2 virus.
Luckily, when it comes to online dating sites, there's a niche for just about anything.
And that means that herpes dating sites do exist!
OFL Top Recommendations based on 100,000+ Survey

"Serious Relationships"
"Discreet Hookups"
"Best Course for Men"
"Quick Flings"
"Normal Hookups"
"Our Quiz"
I want to look at HSV Singles, a dating site where you can meet others with the herpes simplex virus (both oral herpes and genital herpes)
In the HSV Singles review, we will evaluate the site to determine just how much dating success one might have using it.
We look at the pros and cons of the HSV Singles Review as well as:
Here's what our extensive research found out in this herpes dating site review.
Is your dating app giving you the best chance for success?
Make sure to take our online dating site/app quiz to find out.
It's a fact that people who follow our dating site suggestions have on average 2 extra dates per month.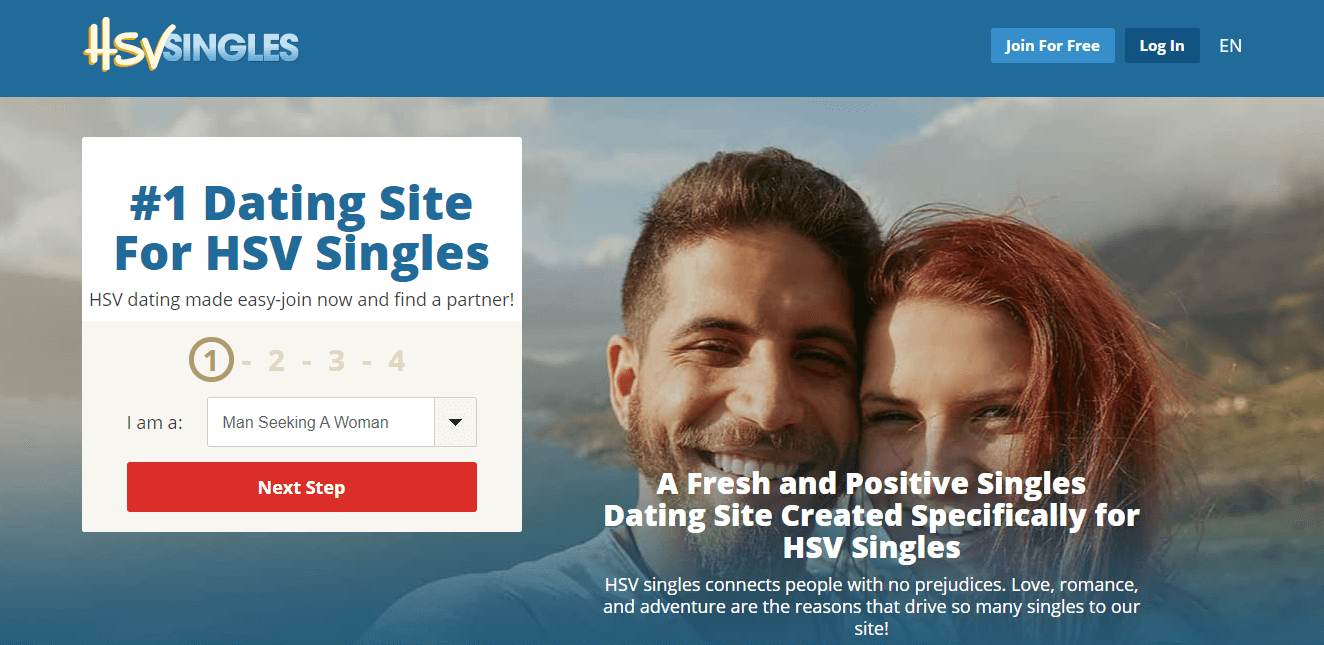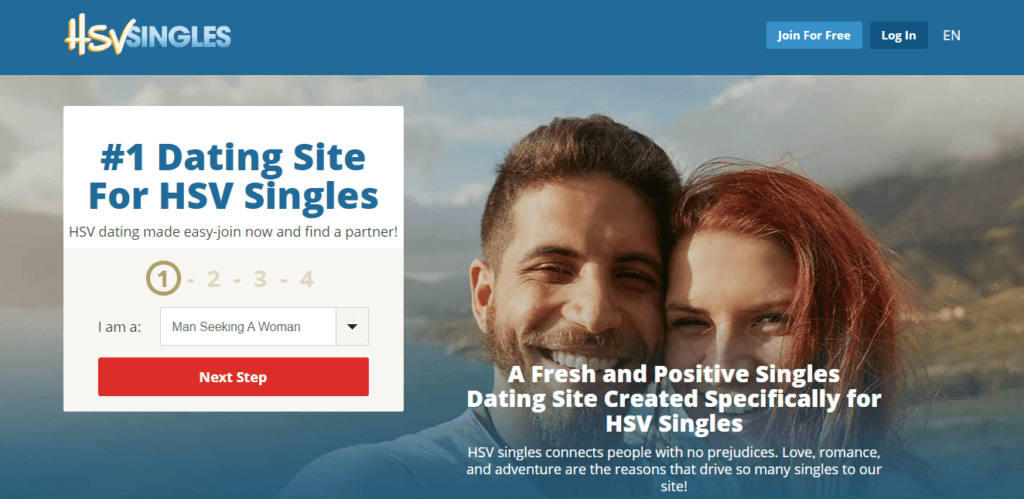 Ease of use – 4.5/5
Success rate – 3.5/5
Key features – 3.5/5
Price – 4/5
A dating community where all users are herpes sufferers
Well-priced membership makes this site affordable
There is a 5-day membership for users to trial the site
Other competitors have a mobile app, HSV Singles does not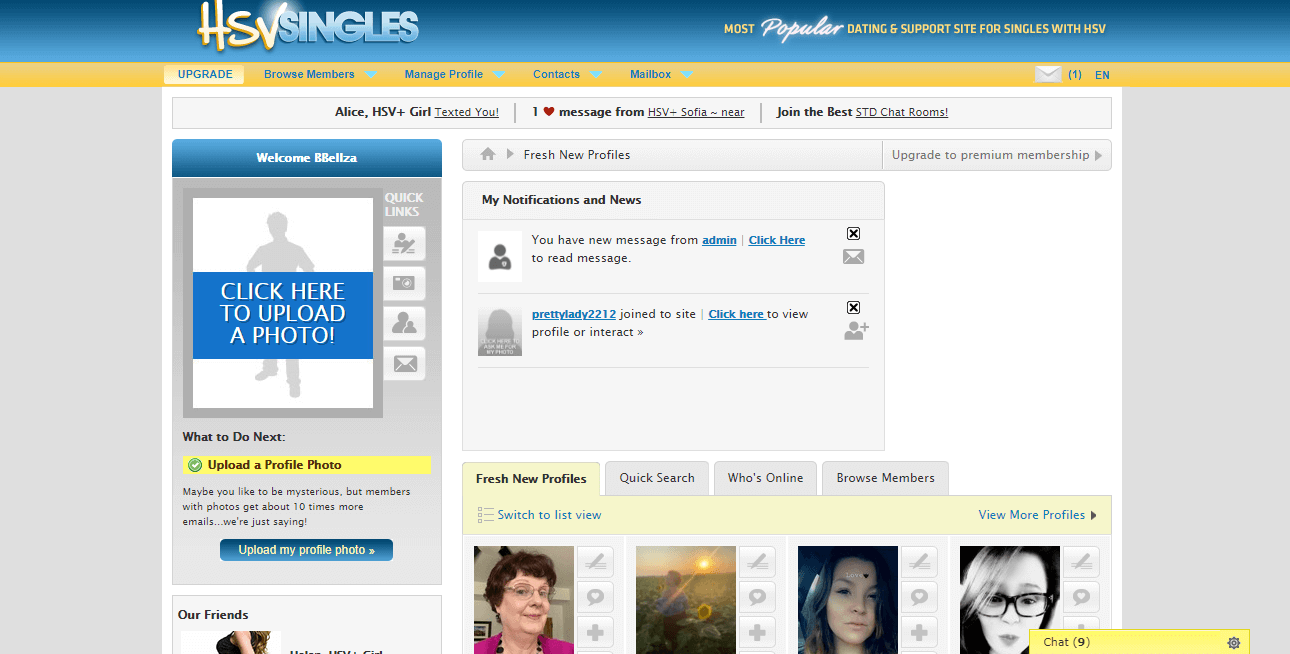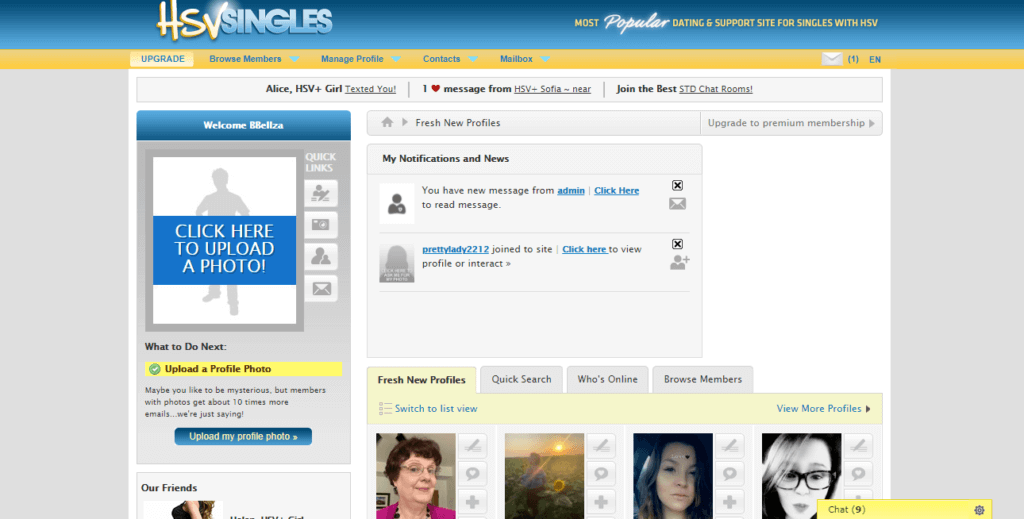 Who Is It For/Demographics?
HSVSingles.com is a dating site and community where you can meet people with herpes, build new friendships, or perhaps find love (like Tinder or eHarmony) or hookup (like BeNaughty or Ashley Madison).
And although it's the perfect place for herpes singles to find others just like them, and since, it is a niche dating service, you'd expect user numbers to be pretty low.
But in analyzing them, I found the opposite.
OFL Top Recommendations based on 100,000+ Survey

"Serious Relationships"
"Discreet Hookups"
"Best Course for Men"
"Quick Flings"
"Normal Hookups"
"Our Quiz"
It seems that although STD dating sites are certainly considered to be niche, the community for dating with HSV is pretty active.
On this site, you will find around 500000 users.
Around half of them are from the United States but the site has users from all over the globe
Around 30000 users log in each month
That's around 1000 a day and 7000 each week
The gender ratio is evenly split at 50/50
Over 70% of all users are aged from 25 to 44 years-old
Now that we've conducted an in-depth look at the demographics, I'd like to highlight the HSV Singles login process for a new user.
Following that, I will test how the site operates before moving onto key features, pricing and our review conclusion.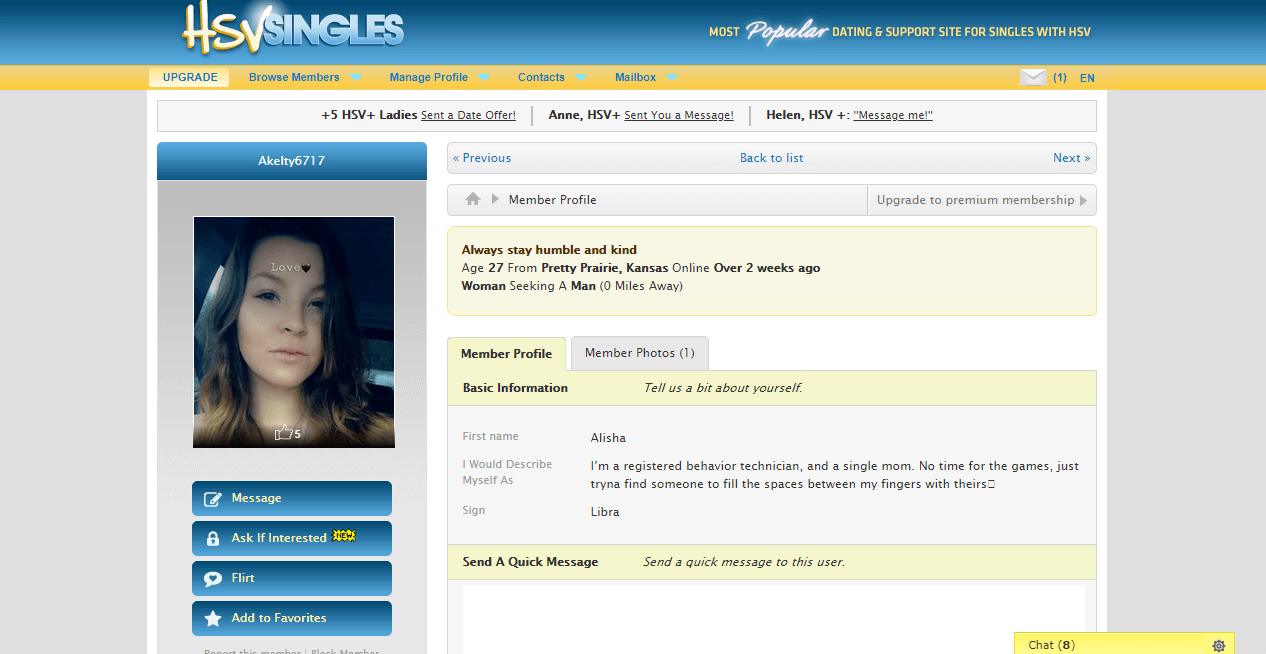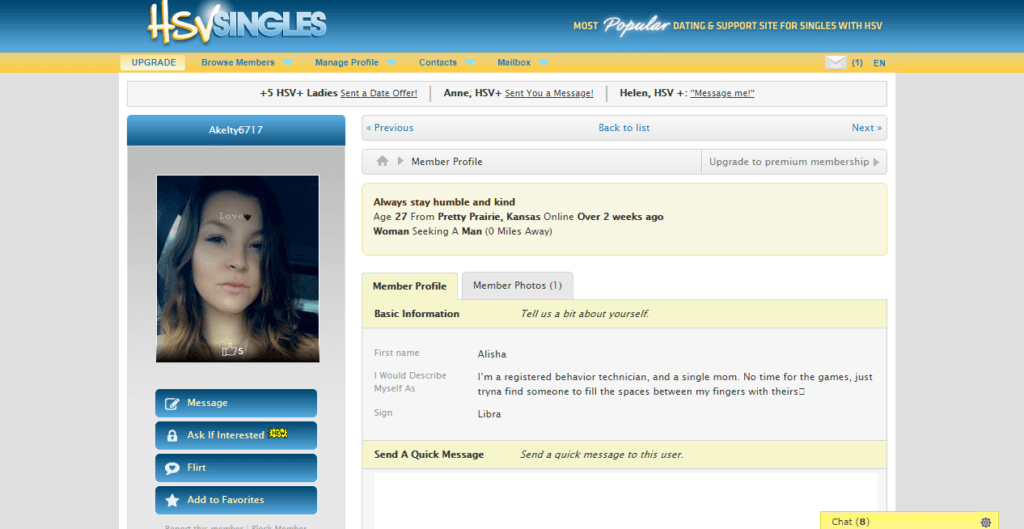 While there are HSV dating apps available, for HSV Singles, registration is via the website only.
It can be viewed on your phone as the website is mobile-optimized, however.
I suggest you start the process via the homepage on the website and once you have your login details, proceed on your phone if that's how you like to use dating sites.
Before you do, you can take the time to read up on some of the success stories from the site or view the profiles of other users.
To be honest, however, I think public profiles like this are something those behind the site have got wrong.
It's not something I like to see because what's stopping your profile from appearing there in full view of others who view the homepage?
HSV Singles doesn't have a social media login option, so the registration process starts with the following information:
Your gender and the gender you would like to search for
Your age
Your email address
A username
Next up, its time to fill out profile information and this includes:
Your name
A profile photo
Appearance parameters (your height, ethnicity, body type)
A profile headline (40 characters)
A description of yourself (up to 400 characters)
One critique of mine is that the site suddenly jumps to a membership sign-up window.
Who is going to sign up for membership of a site they haven't even tried yet?
Initially, I couldn't detect a way to bypass it either because there was no "close window" option.
Eventually, I clicked on the HSV Singles logo outside of the window and that took me back to the site.
In terms of design, very niche dating sites like this can be a little hit and miss when it comes to design.
Well, I can clarify that HSV Singles is certainly more hit than miss.
With its royal blue, yellow and white coloring, it's just really appealing.
But looks aren't what make a great dating site, that's for sure, so let's see how it operates.
Well, the site makes use of two menu sections.
While I am not usually a fan of that, in assessing HSV Singles, I found out that it actually works really well here.
Let's talk about the main menu first.
This is found at the top of the screen and they are:
Browse members: Here you launch your own searches. There are five sub-menus here including quick and advanced search options. I will talk more about these a little later in the review.
Manage My Profile: You can make changes to your profile here. You can also upload photos, edit settings or log out of the site.
Contacts: Here you can access your favorites, see who has favorited your profile as well as viewed it or see members that you have blocked.
Mailbox: Both your message inbox and outbox are found under this menu.
Generally, those menus are cover everything you need to navigate the site.
But what does the secondary menu do?
Well, some of it does double up on the primary menu.
To access it, scroll down the main page and you will see it on the left-hand side.
Here you will find:
Your favorites
People who have favorited you
People who have viewed you
Members you have blocked
A rapid match game
Icebreakers
Mailbox
Access to your profile
Most of these are repeats of what you can find under the main menu except the rapid match game and icebreakers.
I will talk more about these later in the review.
While you filled in some parts of your profile when registering, the site will tell you that it is only 15% complete.
So it's best to get it completed as soon as you can.
Overall, editing your profile is a little clunky as you have to click on various page numbers to navigate it.
This really is something you can improve on the site by having everything you need to edit on one page.
But what do you still need to add?
Languages spoken
Eye color
Marital status
If you have children
If you want children
Your best feature
If you have body art and where?
Hair color
If you have pets and if so, what they are
If you are willing to relocate
Education level
Employment status
Your specialty (employment)
Job title
Income
Your living situation
What type of herpes infection you have
If you smoke or drink
Social behavior
Hobbies/interests
Your idea of a good time
Ideal first date idea
What you've always wanted to try
How your friends describe you
Religion
Political views
Life goals
Humor type
TV, movies, music and books you like
Your idea of fun
What traits you find attractive
What you look for in a relationship
What kind of relationship you want (friend, just online chat, committed and others)
If you compare your profile here with other sites, you will find that it's got just about every piece of information in it that you can think of.
Is this useful?
Of course, but it's all a bit haphazard for me.
I'd suggest a bit of a clean-up and looking at grouping all the same kind of information together.
But I must say, I do love how packed with information it is.
In fact, I would say that on the whole, I've not seen a profile on a dating site that includes so much detail.
But seeing that only around 15% of each profile is completed once a user has registered for the site, this could be a blessing or a curse.
More information about someone is always good but in the world of online dating, many people tend to skip filling in profiles with so much detail like this in their entirety.
From what I've seen on HSV Singles, however, many people take their profiles seriously and although they don't fill in every bit of information, generally profiles are as close to complete as possible.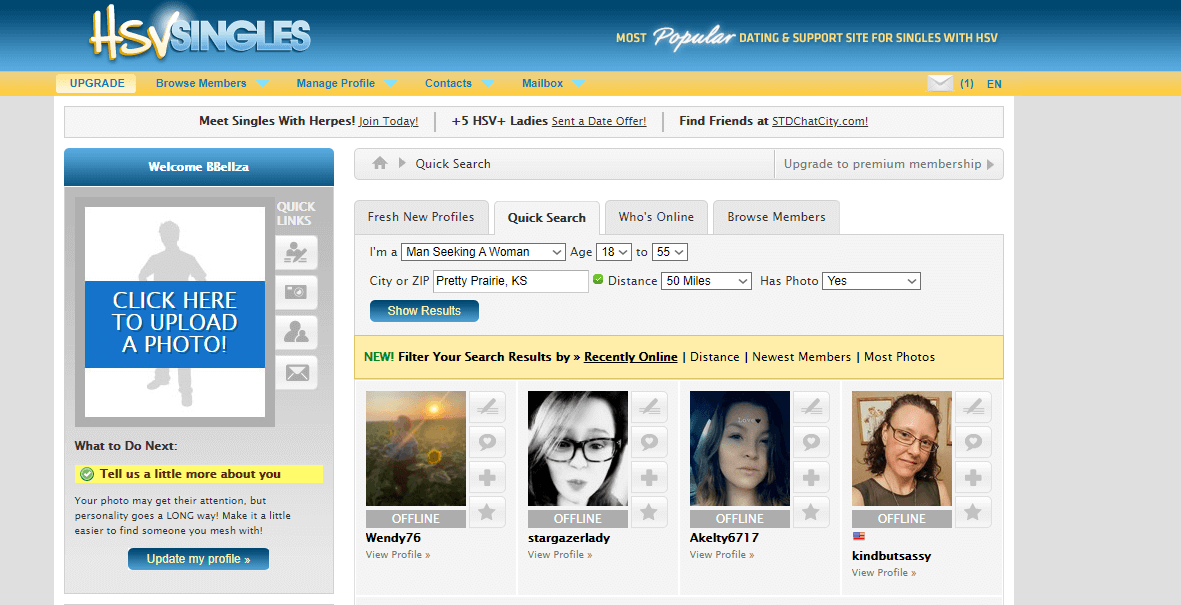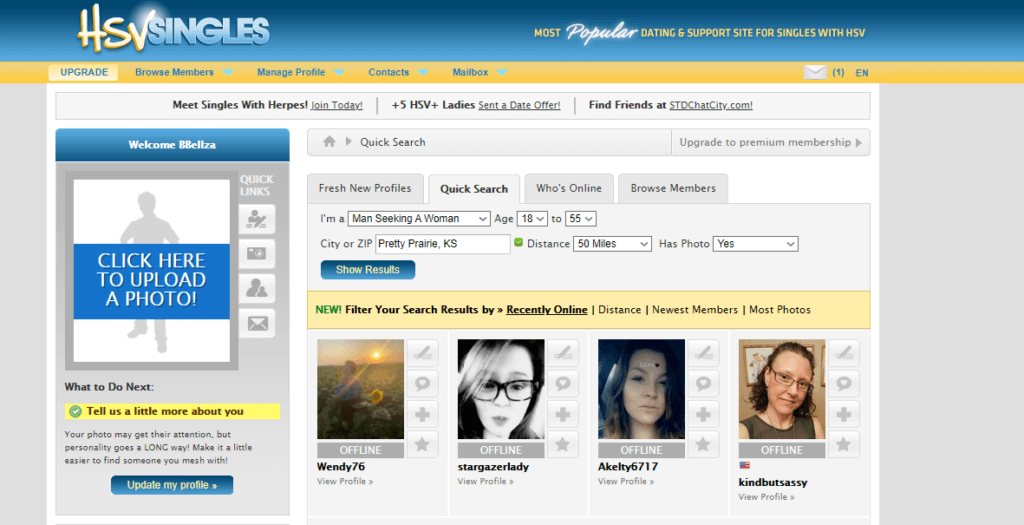 So how do you go about finding potential matchups to contact on the site?
Luckily, you have quite a few ways to do so.
Let's start with the homepage first and see how you can meet new people using that.
There are four ways to view profiles from here:
Fresh new members: These are profiles of users who have recently registered on the site
Quick search: Click here to launch a search based on your preferred gender, age-range and location
Who's online: Browse through the profiles of users that are online at that moment. Of course, these users will be from all over the world and not all near your location
Browse members: Here you can look through profiles of users who are members of the site
Now while this is a great way to scan profiles, it's never going to replace launching your own searches for someone to reach out to.
Searching for matchups on

HSV Singles
When it comes to searching, there are two options: basic and advanced searches.
Basic searches are pretty much the same that you will see on other dating sites.
Here you can change the following parameters:
Your gender and the gender you are looking for
The age range your matchups should be
The location (you can change the location to other cities if you want to)
The distance range a potential matchup can be from you (anything from 10 miles to any distance)
If the returned search should include profile pictures or not
Allowing people to search outside of their location (for example, other cities from around the globe) is certainly something that I think they've got right.
Not everyone is necessarily looking for love and for those that aren't can now chat with people from all over the world.
The advanced search is only for those who sign up for a membership on the site.
This allows all the above parameters and you can even sort the searches:
As to if the user was recently online
The distance away from your location
Newest members first
Which profiles have the most photos
Also, it's here where the profiles packed with information come into play.
Yes, you can add many of those parameters to your searches so you can narrow it down to exactly what you are looking for.
HSV Singles also allows members to save their searches which certainly useful.
Messaging is a member-only option.
While new users can flirt with others and ask them if they are interested (with the simple click of a button), you cannot send messages.
Regular users are free to add others as favorites, however.
You will also notice a chat option on the homepage.
Here you will find members that are currently online who you can message.
This works as an instant messenger and offers 1-on-1 chats with those members.
Again, however, if you aren't a member, you cannot use this feature.
But let's talk about the icebreaker.
Here you have the chance to send a short message to users within a certain distance of your location.
It's a cool way to introduce yourself to those around you and one that you should take advantage of, that's for sure.
Better yet, all users can send an icebreaker.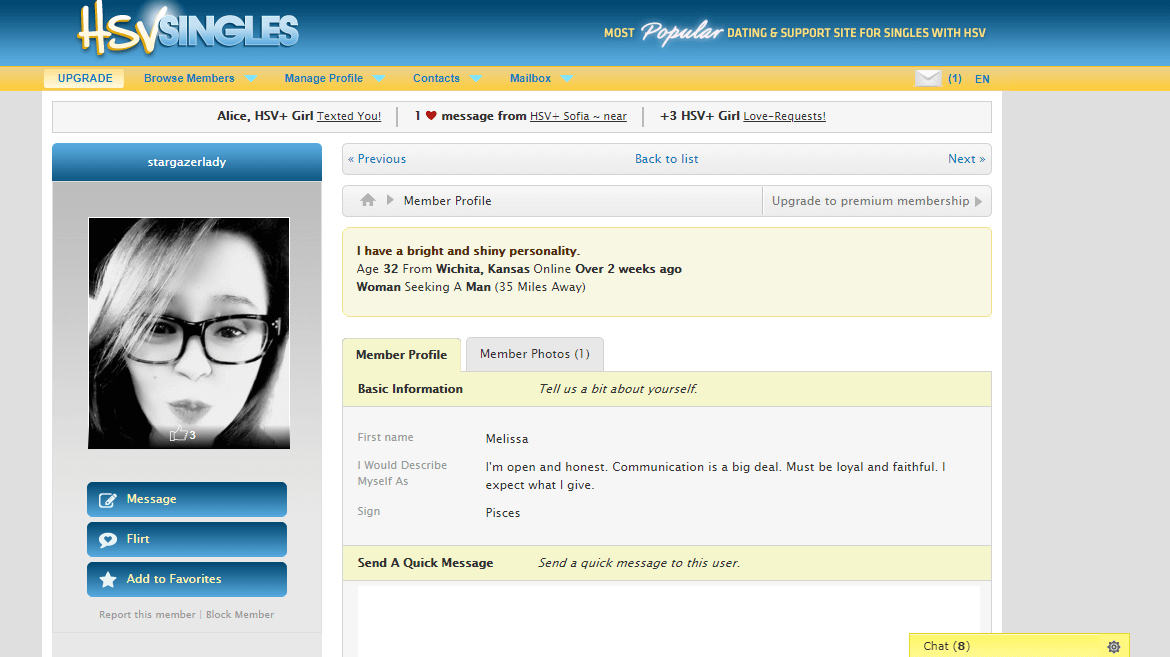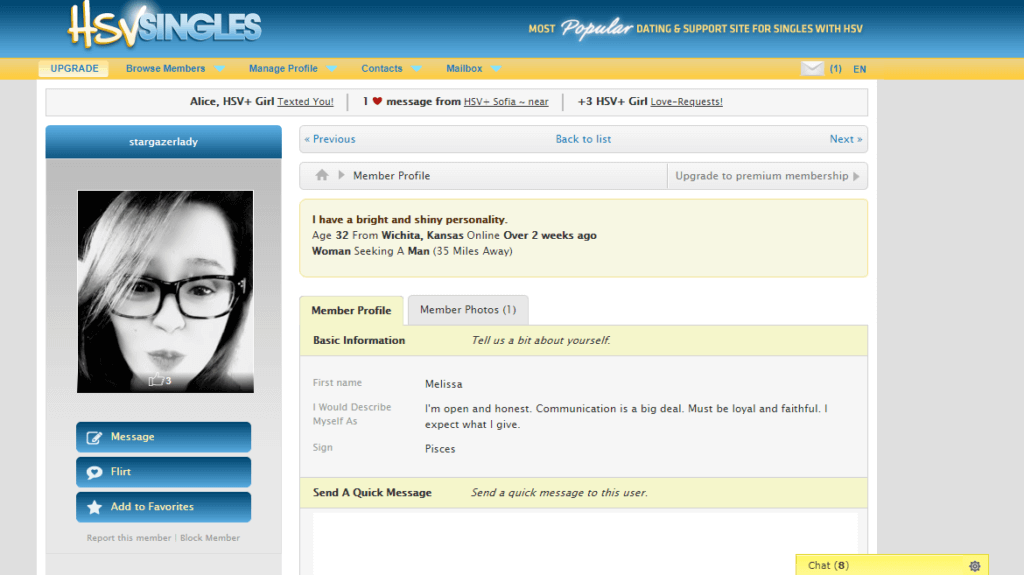 Should you choose membership, here are the key features that you can expect:
1. Messaging and 1-on-1 chats
As we've mentioned above, members can send unlimited messages and read those that they receive.
You can also use the 1-on-1 chat option to reach out to others.
Of course, not all of these users will be near your location but sometimes it's just nice to take some time out and chat with others, right?
While the advanced search engine is there for regular users, it only adds a few extras if you aren't a member.
Sign up for membership and you can use profile parameters to fine-tune your searches exactly as you'd like.
While you can see a small profile picture of each user only as a member will you be able to see any other photos they may have uploaded.
If you'd prefer to be invisible on the site, well you can.
As a member, you can activate an extra mode of privacy which means you can browse through other user profiles without leaving a trace behind.
5. See who viewed your profile
While HSV Singles tracks who has viewed your profile, it's only as a member that you will be allowed to know which user it was.
This is a useful tool, especially if that person hasn't reached out to you as yet.
If you think they could be a potential matchup, then you can message them first.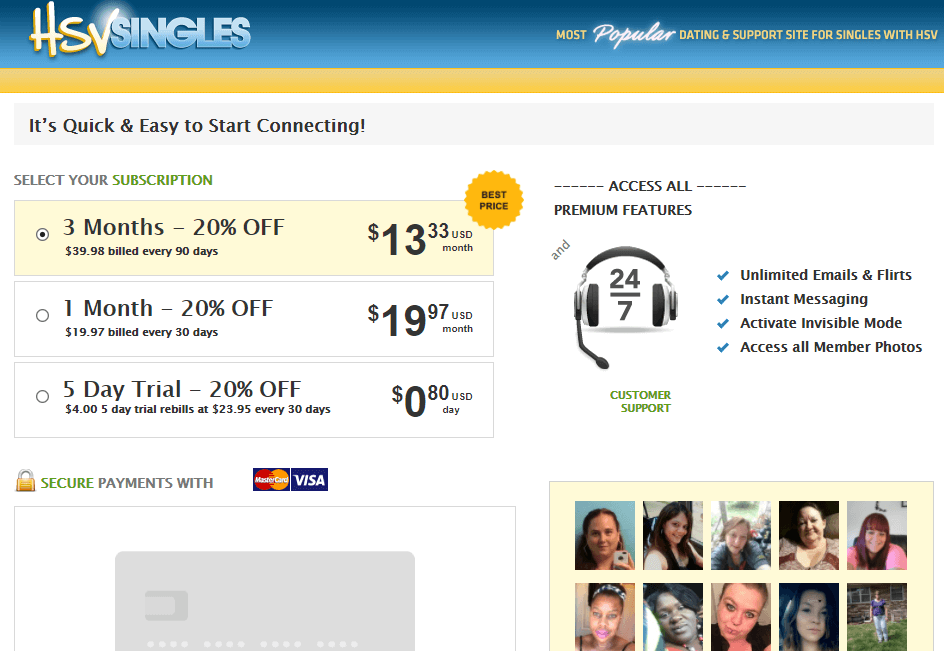 The key features offered by the site are similar to most dating sites out there.
But what is membership going to cost?
Well, there are three options for you to choose from.
5-day trial: $5.00
1-month membership: $24.99
3-month membership: $49.98 ($16.66 per month)
Whenever a site offers trial membership, I always advise those users who are thinking of membership to start there.
Five days for just $5?
That's pretty cheap and more than enough time for you to check out the site and see how it operates.
More importantly, perhaps, you can find out if there are enough potential matchups near your location to justify signing up.
If there are, you can choose one of the other options.
Overall, pricing here is very competitive.
I've seen other niche dating sites with the same kinds of member features price their monthly membership offering at over $30.
As for payment, you can use your credit card.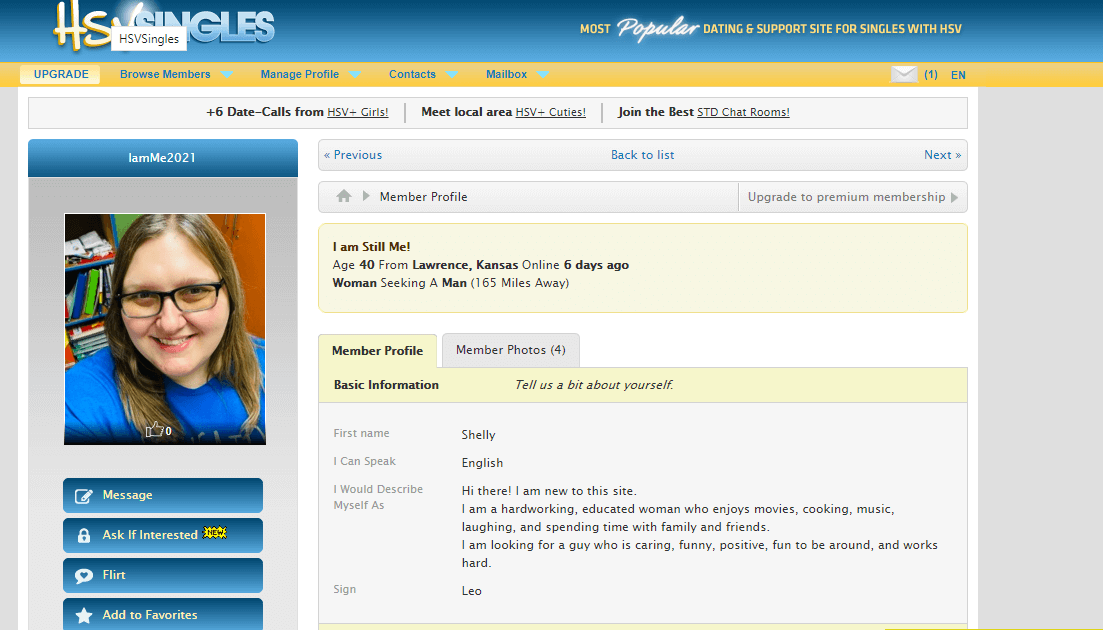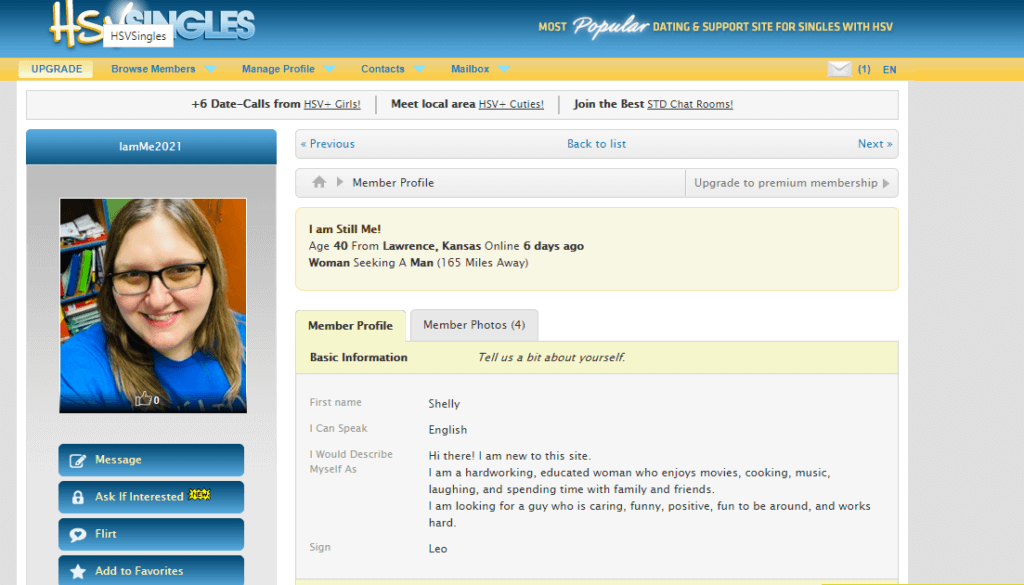 Conclusion and Overall Rating
Let's summarize what we've learned about HSV Singles.com and what it offers as a dating site for someone with herpes.
My results suggest that this is one of the best herpes dating sites online today.
As you'd expect, it doesn't have the biggest user base but then again around 500000 is not too bad either.
As a regular user, you aren't going to be able to reach out to others, as both the messaging system and the 1-on-1 instant messenger are only for members.
But you are free to browse the site, search for matchups and see just how many other users are near your location and whether joining up would be worth your while.
As a member, not only are there some excellent key features other than messaging, but I believe that the cost for membership is well thought out.
Also, you can always trial the site before you sign up for a longer membership option.
Listen, if you are you are an HPV suffer and you'd prefer to meet people just like you for friendship or perhaps even love, you'd really lose nothing by trying out this site.
When it comes to a rating, it gets a well-deserved 3.8 out of 5.
At Onlineforlove we both tested and studied the HSV dating site for an extended period.
Our approach saw our team give an overall star rating to various critical criteria that we apply to our reviews of dating sites.
The final evaluation of HSV Dating was then based on factors such as:
How much membership costs
How easy the site is to use
What key features it offers
How effective it is in helping users find matchups
The size of the user base; amongst others