Collarspace is a BDSM dating site that's proved to be one of the most popular of its kind online today.
And the best part about it is that it's totally free.
For that reason, don't expect it to win any design awards, that's for sure.
In today's review of the site, we are going to take a full-on look into:
OFL Top Recommendations based on 100,000+ Survey

"Serious Relationships"
"Discreet Hookups"
"Best Course for Men"
"Quick Flings"
"Normal Hookups"
"Our Quiz"
It is certainly a site that operates a little differently from most but it's extremely popular all over the world. This is definitely not a site to look for a serious relationship (like eHarmony or Tinder), it's for those seeking hookup (like BeNaughty or Ashley Madison).
So let's just right in and see what Collarpace has to offer the BDSM community.
Is your dating app giving you the best chance for success?
Make sure to take our online dating site/app quiz to find out.
It's a fact that people who follow our dating site suggestions have on average 2 extra dates per month.

Ease of Use – 3/5
Effectiveness -3/5
Key Features – 3/5
Pricing – 4/5
Around 1.6 million members all with BDSM interesting
It's totally free to use
Advanced search engine
Terrible website design
Accounts can take up to 24 hours to be verified
There is no app for Collarspace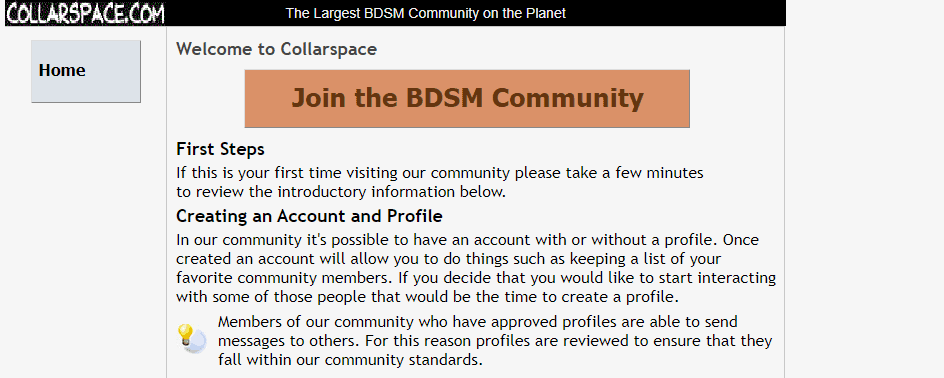 Who Is It For/Demographics?
If you are into BDSM and looking for like-minded individuals, then it makes complete sense to look into what Collarspace has to offer.
After all, it does call itself "The largest BDSM community on the planet".
But just how big is it in terms of users?
Well, while the website doesn't display any user numbers, through some research I found out that Collarspace has around 1.6 million users across the globe.
Here's some for figures to consider regarding the site:
OFL Top Recommendations based on 100,000+ Survey

"Serious Relationships"
"Discreet Hookups"
"Best Course for Men"
"Quick Flings"
"Normal Hookups"
"Our Quiz"
Close to 900 000 users are from the United States
Around 15 000 users log in each day
That's 35 000 each week and 140 000 a month
16% of users are from the United Kingdom while 5% come from Canada
That's some super impressive numbers, especially considering that this is a daily niche dating site, right?
While I wasn't able to find a breakdown of the user ages found on the site, there was information regarding the gender split found on the site.
And men dominate.
For every one female user, you will find on the site, there are two male users.
That's not out of the ordinary for sites such as this.
Of course, not all the females or males using the site are heterosexuals as Collarspace is for all genders and sexualities.
So if the gender ratio does bother you, I wouldn't worry too much if I was you.
Just start a profile and see what happens.
And starting that profile isn't too difficult.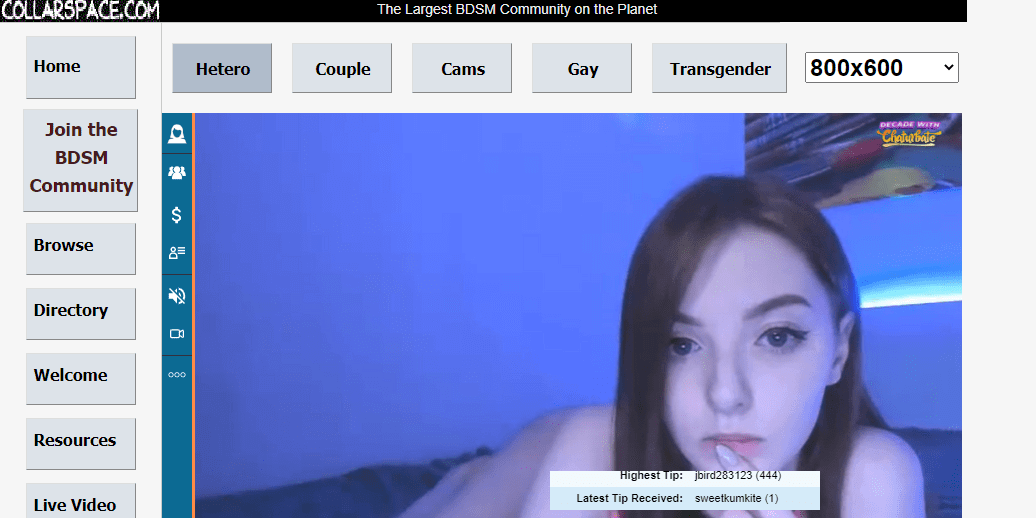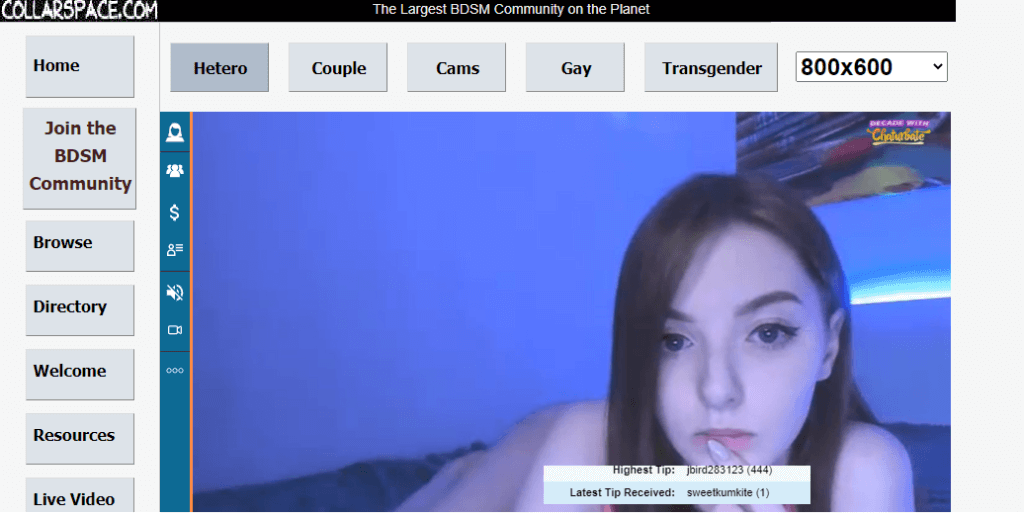 So let's talk a little about the registration process.
I am not going to go into great detail at all because, at the end of the day, it's so simple to figure out for yourself, you really won't have any trouble.
Once you've registered, however, you are free to look through the site, but your profile won't be displayed until it has been verified by site admins.
That can take up to a day in some cases.
This also means that while you can browse other users on the site, you cannot add them to your favorites or message them.
Finding your way around Collarspace
Listen, this is a website that clearly isn't too worried about its overall design.
Yes, it certainly isn't going to win any rewards in that regard but at the end of the day, that's not what it's there for right.
Black and white are the dominant colors here and while it's not too terrible to look at, a nice refresh wouldn't hurt in my book.
But that's just me.
Having said that, I have seen dating sites with worse designs!
Now let's talk about how you would go about using the site.
Well, it's one of those where you will find the menu system to navigate on the left-hand side of the screen.
And there is a ton of menus here.
These include:
Who is viewing me: Here you can see who has looked at your profile
Browse photos: Here you can see photos of other users
Resources: Various site resources are found here
Events: Events held by members of Collarspace are posted here
Video chat: Here you can video chat with other users
Chat rooms: Collarspace includes chat room options where you can talk with like-minded individuals
Favorites: Find users who you have favorited
Admirers: See who has admired your profile
New messages: Any new messages you receive will appear here
Edit journal: Each member of Collarspace has their own journal
Edit profile: You can edit your profile here
My account: Find out information about your account here
My friends: Anyone that has accepted your friend request will appear here
Support: Click here if you need help with something on the site
Logout: If you'd like to logout from Collarspace, click this button
That's a lot of menus, I am sure you will agree.
But they all do serve a purpose, although you certainly will use some more than others.
We will talk later about a few of these.
Profiles on Collarspace have plenty of information in them.
Of course, much of this focuses on BDSM aspects and it's crucial that you fill all of this is because it just helps to connect you with the right kind of people.
That's especially true if they are searching for what you have to offer from a BDSM sense.
Some of this information is mandatory, for example:
Your gender
Your sexuality
Your BDSM role
There are a few others but you can fill them in when you flesh out your profile.
Certain aspects in your profile are optional but as always, I would encourage you to fill in everything you can, as it just to everyone's benefit in the long run.
Optional information includes:
Your location
Appearance parameters
Lifestyle parameters
Hobbies
Interests
And others
There is also a journal here where users can post just about anything that's on their minds.
Journals are public and can be seen by all, just like your profile.
Does Collarspace have an app?
At this point in time, Collarspace doesn't have an app.
To be honest, I don't see it having one in the future either.
The good news is that if you do wish to view it on your phone, it is mobile-friendly.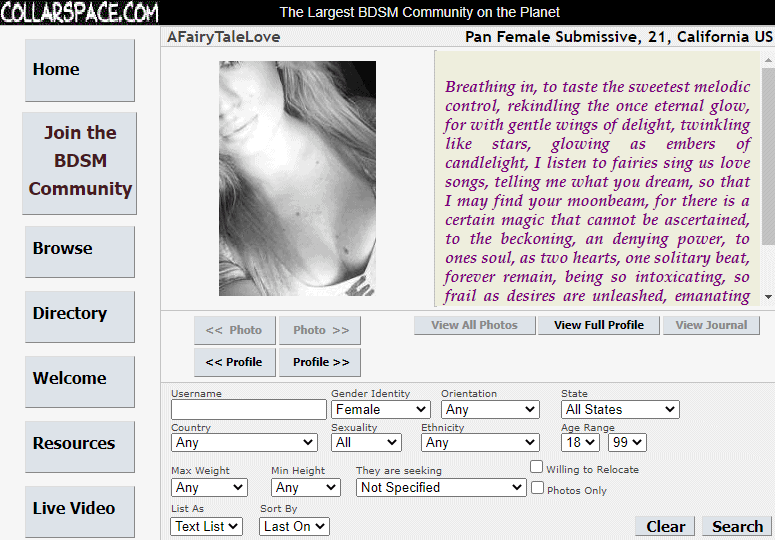 So once you've checked out the site a little and your profile has been approved, it's time to see if can provide you with your specific BDSM requirements.
But how do you go about that?
Well, the site is very basic as I have already mentioned, so there is only one avenue for you to use.
And that's the search engine.
It pretty comprehensive as well and there are many different parameters that you can include in your searches which is important on a BDSM site I feel.
So what are those parameters?
Well you can search by:
Username
Gender identity
Orientation
Location
Sexuality
Ethnicity
Age ranges
But there are added parameters that you can add if you wish:
Maximum weight
Minimum height
What they are seeking from a BDSM standpoint
Are they willing to relocate
Photos only
As I said, that's a fair amount of things that you can adjust (or not) when making your searches.
Once you've found someone that you'd like to know more about, you can click on the "View Full Profile" button to expand their profile even further and see even more information about them.
One very important bit of information that you need to consider is when last the user has been online.
Luckily this is prominently displayed on all profiles, so you can be sure that you aren't following up dead profiles of users who haven't used the site in ages.
Making contact with others on Collarspace
Collarspace includes quite a few ways in which you can meet other users and chat with them.
If you'd like, you could hang out in one of the chat rooms on the site.
There are a number of them and it's a great way to see who is active on the site.
If they on the chatroom, they are sure to have a profile, right?
Of course, you are going to want to message other users that you come across in searches, especially if you are hoping to meet up with them at some point, right?
So how do you go about that?
Well, it's not complicated at all.
All you need to do is open the profile of someone that you'd like to message.
Find the send message button and click on it.
Now type out your message that you'd like to send and go for it.
Nothing could be easier.
So usually under this section, we discuss the key features that members can expect on the dating site we are reviewing.
Well, as Collarspace is a free site, there aren't any member features for us to highlight.
There are a few extras, however, that all users can check out.
Niche sites that cater towards BDSM or fetishes for that matter, often hold events to get like-minded people together to meet up.
Consider it BDSM networking.
And Collarspace helps facilitate these events through its events page.
Here you can find a host of events that are held mostly in the United States.
It's a great way to find if any are going to be near you or can help you plan your travel to bigger events away from your locations.
When you browse other users' profiles, you will see an area where you can record notes of your own.
These will stay with the profile all the while, even if you come back to view it at a later point.
No one else can see these notes, only you.
Collarspace has an area of the site dedicated to BDSM resources.
There's tons of information on a range of subjects that are related to BDMS.
It's well worth your time scanning through these, especially if you are new to the world of BDSM.
As I said, there aren't many features here but they are worth using.
And remember, you don't have to pay a cent to use them either.
There's no cost at all involved when it comes to using Collarspace.
You are free to register for and then host a profile on the site.
All the services you see on the site are free as well.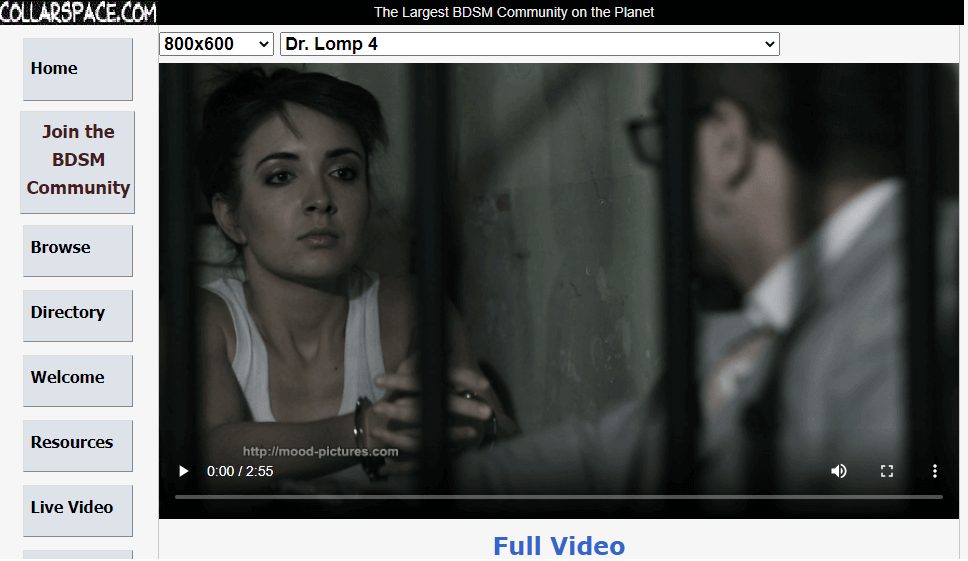 Conclusion and Overall Rating
So let's not beat around the bush here.
Collarspace isn't exactly the greatest website that's ever been on the internet.
In fact, you probably will find it very underwhelming when you view the landing page for the first time.
I must admit, I wondered if I was in the right place or not.
But, as they say, you should never judge a book by its cover and that's the case here as well.
The thing is, Collarspace is an active BDSM site that has many users.
Plus the fact that it is totally free to use, means you have absolutely nothing to lose when it comes to starting a profile on the site, that's for sure.
For a free site, I was blown away by the search engine that Collarspace has for you to use.
It's not a simple one with just a few parameters.
You really can go to town making the exact changes your want to each of your searches.
Most importantly, the various BDSM types, as well as gender and sexualities, are all featured here which makes the site for everyone to use, no matter your gender.
On the whole, for me, Collarspace is a BDSM community that because it is free to use, is worth your while starting a profile on.
And if nothing comes from that, so what?
You haven't paid a cent.
It gets 3.25 out of 5.
Frequently Asked Questions