You've heard of sugar dating sites, right?
Those that see rich men looking to find companionship from young women are often called sugar babies or vice versa.
These often aren't serious relationships (like eHarmony or Tinder), but more beneficial in nature (like BeNaughty or Ashley Madison).
Well, in this Happy Matches review, we are taking a look at a site that operates on a very similar level but here it's about rich men looking for potential matches for any number of reasons.
OFL Top Recommendations based on 100,000+ Survey

"Serious Relationships"
"Discreet Hookups"
"Best Course for Men"
"Quick Flings"
"Normal Hookups"
"Our Quiz"
It could be as a travel companion, for casual dating or hookups, or perhaps the perfect match that turns into a long-term relationship.
In this in-depth review of this online dating site, we are going to look into:
So if you are looking for something a little more sophisticated than sugar daddy dating, make sure you read this review of this unique dating platform.
What's your price is running a deal right now where girls can sign up completely free. We suggest you don't miss out on this limited offer. It's the biggest SD/SB site online.
Is your dating app giving you the best chance for success?
Make sure to take our online dating site/app quiz to find out.
It's a fact that people who follow our dating site suggestions have on average 2 extra dates per month.


Ease of use – 4/5
Effectiveness – 4/5
Key features – 3/5
Pricing – 4/5
Simple and easy to use
A fun website to navigate
Various pricing options
App for both Android and Apple devices
Smaller user base as the site is relatively new
Not that many key features

Who Is It For/Demographics?
Happy Matches, despite its interesting use of some new dating terms, is very much a dating site in the normal sense of the word
It facilitates people to get to know each other and meet up with others for a variety of types of relationships it offers.
And yes, it has certain aspects of sugar daddy dating but that's not the only kind of user you will find on this site.
As it was established only a few short years ago (2019), the site is still forming its identity.
That usually comes from the user base and as you might expect for a new dating site, that does not stand out as the biggest you'll find presently.
According to Happy Matches, the site presently has around 50 000 users.
While that's not massive at this point, it is pretty impressive considering the site is new and it would certainly have been impacted by the coronavirus pandemic.
Here are some more facts you might find interesting when it comes to Happy Matches, for example:
The user ratio currently consists of 55% female and 45% male
Around 85% of users are aged between 18 to 35 and the rest are 35 and above
The site caters to heterosexuals, LGBT and bi-curious users
So yes, while it is a dating site with a small user base at the moment, it is growing all the time and will continue to do so in the future, that's for sure.

Happy Matches includes both an app for Android and IOS handsets.
That's pretty interesting considering that it is so new still.
Many established dating sites with hundreds of thousands of users don't yet have app versions.
It tells me that the team behind Happy Matches thinks they are onto something good.
Why else would they have jumped at apps for the dating site otherwise?
So feel free to sign up using those if you'd prefer.
Of course, many users – myself included – prefer to use the website first up for hassle-free registration and to get a feel for what a dating site has to offer.
Happy Matches certainly provides you with tons of information about the site on their landing page, explaining just what a suitor is and how the site operates.
Here's the information you will need to provide to get the registration process rolling:
If you are a charming suitor or attractive date
Male or female
What you are looking for (men, ladies or both)
Your username
Your email address
A password
Once you've clicked on a link in the verifying mail that you receive from Happy Matches, you are taken to the site to complete your profile.
You have to do this before you can even start viewing profiles.
It's easy though.
Simply upload a profile picture and fill in some information and you are done.
That information includes:
Your date of birth
Your primary location
A profile headline
What you are looking for in a relationship (casual dating, make friends, open relationship, serious relationship, travel companion, networking)
These are the mandatory fields that you have to fill in.
But there's more, for example:
Appearance parameters
Ethnicity
What gender you want to meet
Habits
If you have or want children
Education
Current relationship
Lifestyle expectation
An "About Me" section
A "What I am looking for" section
That's it.
There's not that much to fill in and 10 minutes is all you are going to need to do so.


First impressions and finding your way around
With its orange and white color scheme, Happy Matches certainly invites you in.
After you've uploaded your profile picture and fleshed out your profile a little, it's time to look around the site.
It's pretty minimalist in its overall design and you won't have any problems in finding your way around as the site design is uncluttered.
Also, there's no advertising that I saw either, which is nice.
The site uses fairly large profile pictures for users and I like that.
Sometimes, a thumbnail is just too small.
Here, when you make searches, there are just four returns per screen before you have to scroll down.
And you get to see exactly what someone looks like as well as some information about them.
But I'm jumping the gun here.
Let's talk about how you will navigate the site.
To do that, you are going to use the menus found at the top of the page.
And there are not that many of them, which helps keep that uncluttered overall design theme running through the site.
Here they are:
Profiles: It's a strange name but this is where you are going to launch your searches on the site
Message: Send a message or receive one, you can keep track of them through this menu
Blog: This gives you access to blogs posted by the Happy Matches admin team. There are some good reads here.
Bell icon: This is where you will be alerted to important notifications that you should attend to.
Face icon: This gives you access to your profile, block list, your current membership and more
That's it.
Those are the only menus you need to navigate the site.
And I like that.
It really just keeps everything so simple and proves don't need 20 menus to make a dating site work, something you see very often.
The quality of Happy Matches profiles
During my time using Happy Matches for this review, I was impressed with the overall quality of the search returns that I generated.
Some beautiful young women are using the site.
There is a slight problem, however.
And that's the fact that my search returns weren't all near my location.
But this is something I will cover later in the review.
I've discussed the app for Happy Matches a little earlier but let's revisit it quickly.
No matter if you are using an Android handset or an Apple device, you have the option of downloading the Happy Matches app.
It works just like the website does and has all the same features.
That means you can easily search for potential matches just as easily as you do on the website itself.
With only 45 000 users in total at the moment, there doesn't seem to be that many people that have taken to using the app just yet.
But if you like dating on the go, it makes perfect sense to download it and give it a try.
Just use your login credentials as you do on the website.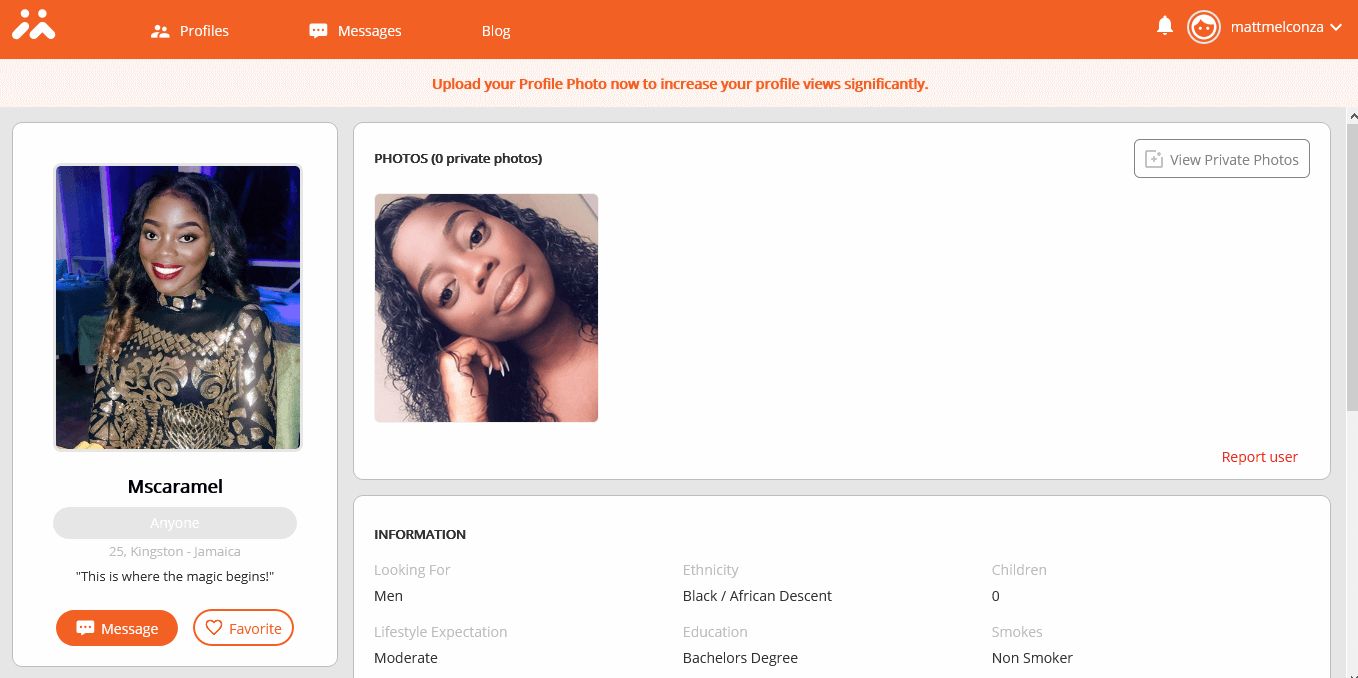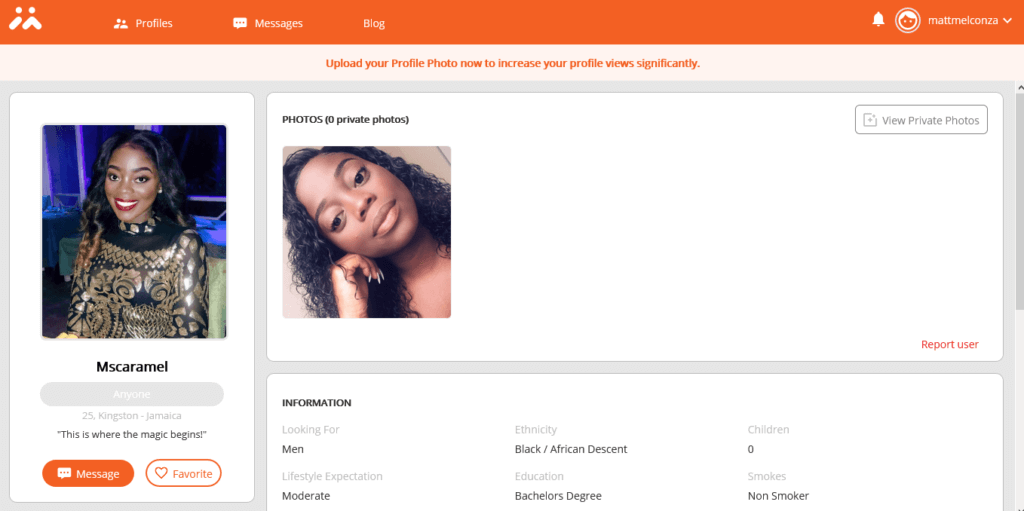 It's always tough just how effective new dating sites can be.
That's because one of the critical things that are needed for an effective dating site is a strong user base.
And while 45 000 is an impressive amount in the short space of time that Happy Matches has been around, it is not that many at the end of the day.
That means your chances of finding a potential match depend really on where you live.
As I said, because I am in a smaller town, I only received a few matchups near me.
The site returns others from all over the world which doesn't really help unless you are into trying an online, long-distance kind of thing.
Of course, this is all going to improve over time as more and more people start profiles on the site.
And if you live in a large city like London to New York, then yes, I am sure you will find your fair share of matchups.
But for other users, it might just be more of a waiting game as the user base continues to grow.
Ok, so there are a few ways that you can go about looking for someone to get into contact with on Happy Matches.
​If you click on the Profile menu, Happy Matches will bring you up a bunch of matchups for you to look through.
For me, these were from users that weren't necessarily in my location although some were.
But you can also launch a search of your own.
You will notice a bar at the top where you can change a few parameters.
These are:
Type of relationship (casual dating, make friends, networking, open relationship, serious relationship, travel companion)
Location
Gender
Sort (active or newest)
And that's the extent of the search engine.
There isn't an advanced search option where you can add more parameters, like those that you can find in each users' profile.
Possibly it's something that they will add later because, with a smaller user base, you want to make the searches more general.
By adding extra parameters to each search you will cut down an already small return percentage, right?
On the "Profile" menu, you can also view the following:
Profiles that you have favorited
Who has favorited you
And who has viewed you
Happy Matches operates in its own particular manner when it comes to messaging.
If you haven't signed up for membership and you click on someone's profile take note of the color bar below their name.
This shows whether you can interact with them or not.
For example, if it says "Everyone", well then you can message that person.
But there are varying levels on Happy Matches.
These are:
Bronze
Silver
Gold
Platinum
Diamond
Star
Ultimate
So if someone is Gold, for example, you need to have a Gold membership or above to be able to message them.
That's how it works for suitors but for young women, it's different.
They reply to messages from suitors that message you.
So with the various member levels affecting who you can communicate with, you can see that Happy Matches does communication just a little bit differently from most other dating websites.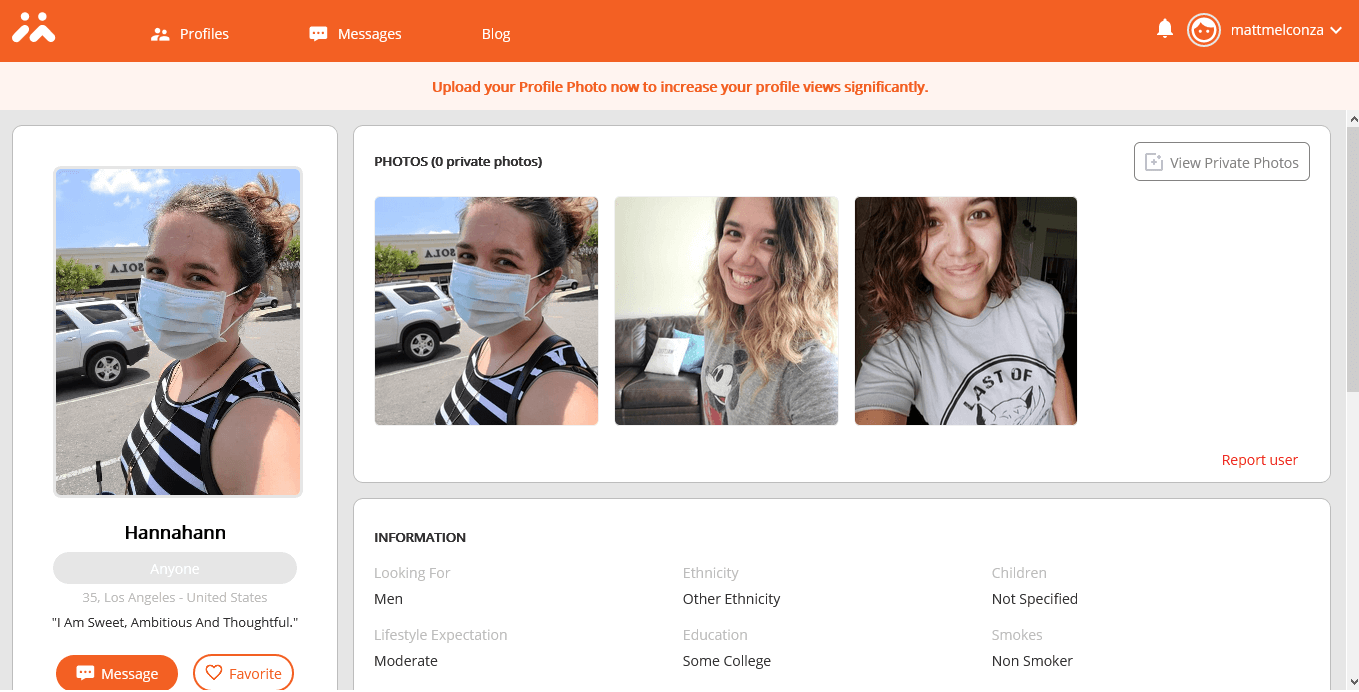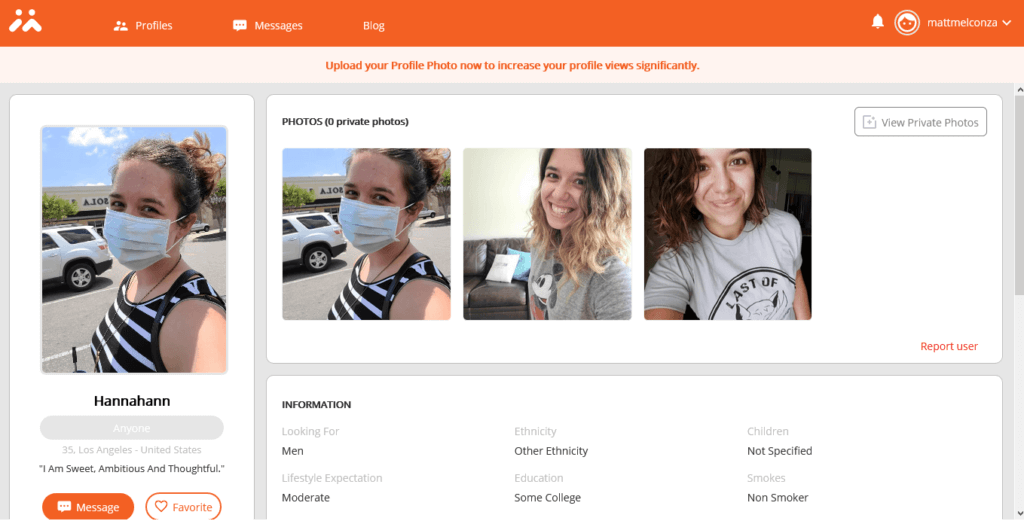 With a range of membership options, what are the key features that you can experience on Happy Matches should you sign up as a member?
1. Send and receive messages
We've talked about messaging on Happy Matches.
Remember that you have to be on the same level or above the person you want to reach out to.
But there are some users that you can communicate with for free.
So look around and see what you can find.
2. Increase your visibility
The higher the membership level you sign up for, the more visible your profile will be.
Yes, as a member, your profile will be boosted in search returns and will appear above those of regular users.
That means more interaction with other users and having them reach out to you instead of you doing all the searching.
​3. Attract higher level matchups
The higher the membership offering you sign up for, the higher the level of matchups you will attract.
Remember, people can only interact with you at your level or above.
That's it for the key features.
There aren't that many but I am sure that more will get added over time.
For one, I would like to see a more advanced search engine that factors in profile parameters as an addition for members to use.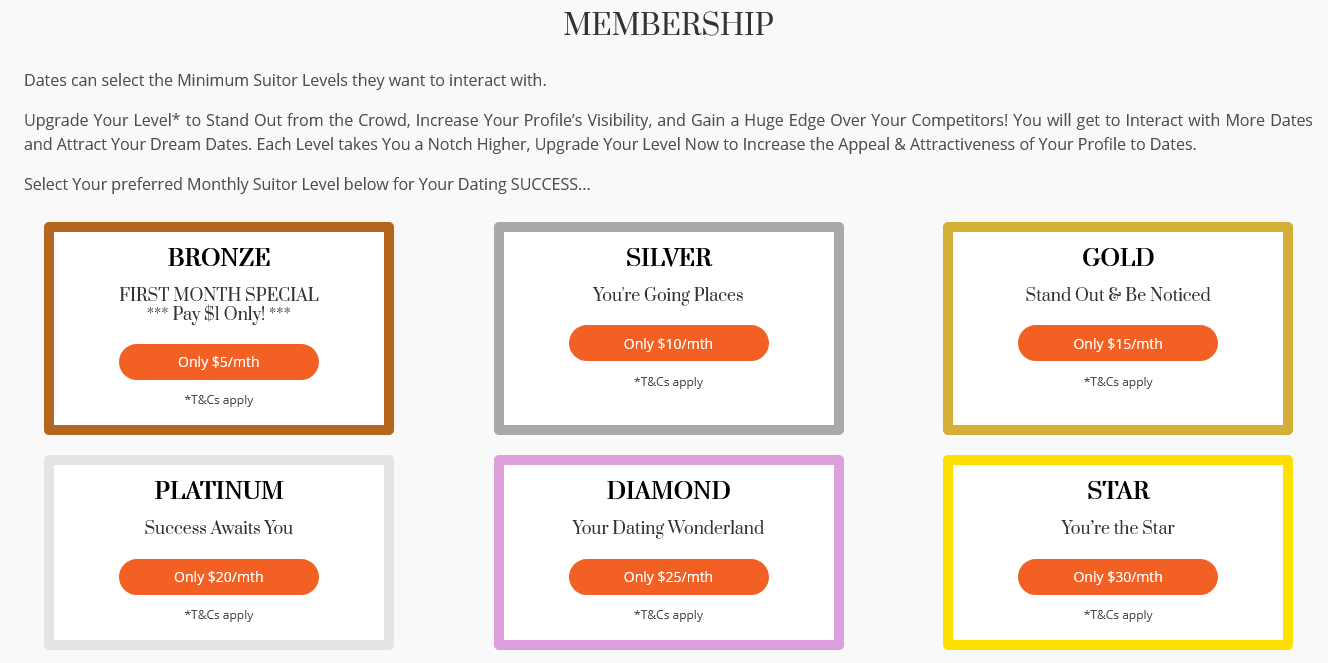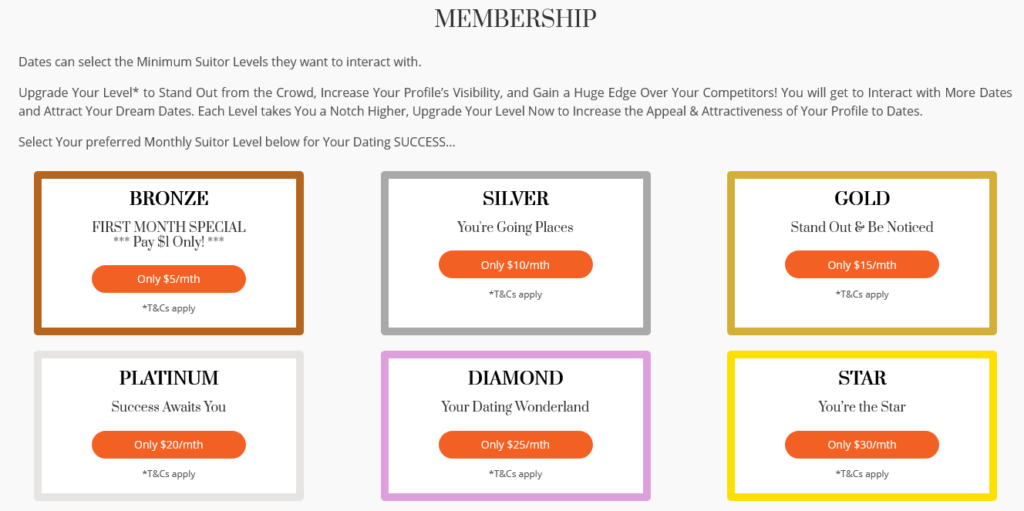 I've already mentioned that Happy Matches does things a little differently when it comes to membership.
In fact, you have seven different membership options.
And I am not talking about a one-month, three-month, or 12-month membership.
I am actually talking about separate packages that are all only available for a month at a time.
Here's a breakdown of what those packages are as well as what they will cost:
Bronze – $5 per month
Silver – $10 per month
Gold – $15 per month
Platinum – $20 per month
Diamond – $25 per month
Star – $30 per month
Ultimate – $35 per month
It's difficult to advise on what membership is best because it really depends on what type of users you want to interact with on the site.
And that's going to be up to each individual.
On the whole, however, Ultimate membership, which gives you the chance to message any other membership level, is $35 per month.
That's on par with most other sugar daddy dating sites.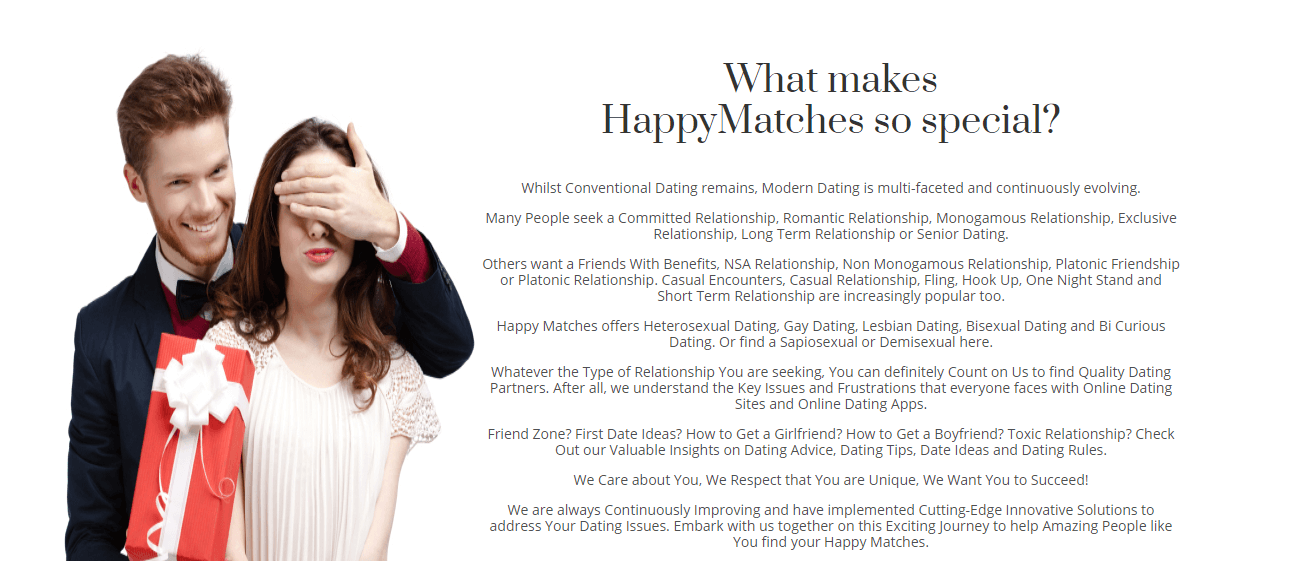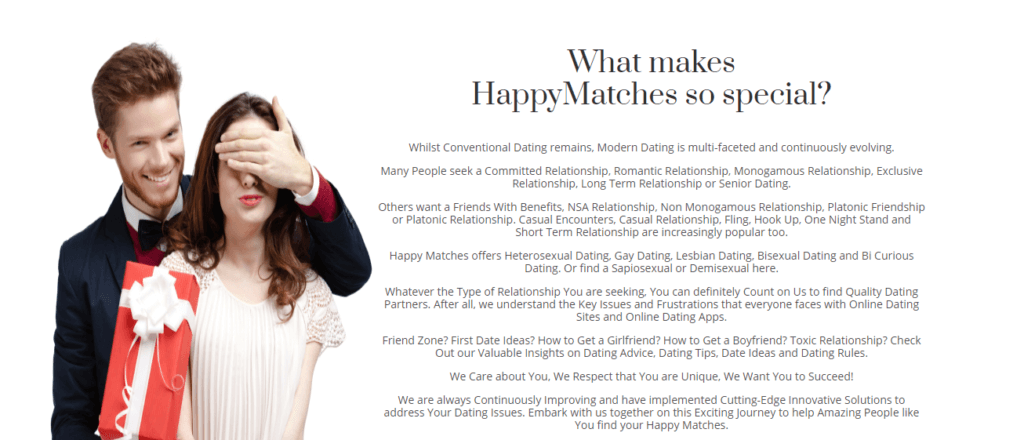 Conclusion And Overall Rating
Thanks for reading our review of Happy Matches.
It certainly is something a little different in the world of online dating websites.
And while the user base is not that large at present, the site does show massive potential for growth.
That's because it's got a lot going for it.
It has a very unique membership system, one of which I have not seen the likes on another dating site, that's for sure.
What it means is that even for $5 per month, you can have some form of membership that will allow you to interact with other, similar members.
Also, if you'd like the top membership option, it's not over-priced at all, although there aren't as many key features as you will find on other rival dating sites.
​For me, starting a profile on Happy Matches is something to consider, especially if you live in a major city.
Because of what it offers and how simple it is to use, this online dating site will continue to go from strength to strength, that's for sure.
Today, Happy Matches gets a very solid rating of 3.75 out of 5.