Let's not beat around the bush here.
Recon is a site for gay or bi-curious men that are looking for more than a casual hook up or long-term love.
This site caters to those men who are looking specifically for fetish partners and it covers a massive range of these fetishes.
So if you've considered a profile on Recon and you are trying to find out more about the site before you jump in, then this comprehensive review is just for you.
OFL Top Recommendations based on 100,000+ Survey

"Serious Relationships"
"Discreet Hookups"
"Best Course for Men"
"Quick Flings"
"Normal Hookups"
"Our Quiz"
In it, we will cover everything that you need to know about Recon including:
So jump right in, go through this in-depth review, and by the end of it, you will know if Recon is the site where you should be looking to start a profile or not.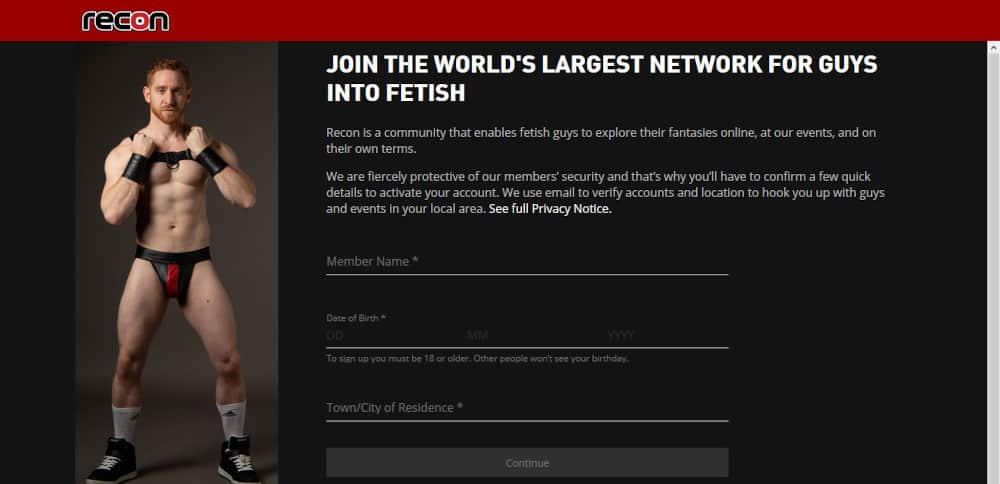 Is your dating app giving you the best chance for success?
Make sure to take our online dating site/app quiz to find out.
People who follow our dating site suggestions have on average 2 more dates per month.
Ease of Use – 4/5
Effectiveness – 3/5
Key Features – 3/5
Pricing – 5/5
Extremely competitive member packages
The site is easy to sign up and find your way around
Slick design
You can access the site in a number of languages
Although there is an app for Android and Apple devices, it gets poor reviews
Not that mean features to write home about


Who Is Recon For/Demographics?
Recon is not your everyday casual hookup site (like BeNaughty or Ashley Madison) and it's definitely not a regular site for serious relationships (like eHarmony or Tinder).
Recon is a site for gay and bi-curious men that are into various fetishes.
And it covers many of them including:
Master and slave
Bondage
Rubber
Leather
Pups and handlers
And more
But how popular is it?
Well, let's take deep dive into the numbers that make Recon tick and make it one of the most popular sites for gay and bi-curious men on the web.
If you are thinking about creating a profile on Recon, the first thing you are going to want to know is just how likely you are of finding potential matchups in your area.
To give you an idea of this, without you signing up and checking yourself, we can take a look at the kind of user figures that Recon generates.
And the perfect way to get accurate figures is from T101, who sells advertising on the Recon site.
Here's a breakdown of some figures that I found from them:
Over 200 000 people are active on Recon each month
32% of them come from the United States (the biggest amount of users)
20% of them come from the United Kingdom
Over 16 million messages are sent on the platform each month
170 000 photos are uploaded each month
From those figures alone, it's easy to see that although Recon is a very niche site in who it targets, it's also very active.
In fact, an active user base of over 200 000 people means that in total, Recon should have over 1 million members easily, considering it was established over 20 years ago already.
Of course, not all of them are active, but 200 000 people each month means that you should be able to find matchups near you, especially if you live in a large metropolitan area.
When carrying out an exercise linked to the number of users and other demographics, it's also nice to know the age ranges of the users on a website like that.
And T101 has provided us with those figures for Recon as well.
Here is the breakdown:
25-34 years old
35-44 years old
45-54 years old
55 +
18-24 years old
When looking at those figures, they are what you would expect on a site like this, particularly that the least amount of users are found in the 18-24 years old group (10%)
Just under a third of the users are in the 25-34 years old group while the 35-44 years old group makes up around 25% of the users.
So half of the site's users come from those two groups.
Also, there's something else I need to mention in this section.
And that's that Recon isn't only available in English.
Although they only make up a small percentage of the users on-site, you can access Recon in German, French as well as Portuguese.

With over 20 years in the online dating game, Recon knows all about getting a user signed-up quickly and effortlessly.
When you do sign-up, you will notice that you have to use the old school method.
And that means inputting a username, password and valid email address.
I say valid because Recon will send you an email in return and you can only use the site when you verify it.
If you'd like to get a feel of what the site is all about, you are welcome to log in as a guest and look around, but that's all you can do.
While setting up your account, you can fill in parts of your profile as well or you can simply skip and do it at a later point.
Again, like with other dating sites, if you plan to use the site effectively, having a profile picture and completing your profile 100% will go a long way to helping to find matchups that will respond to your messages.
When it comes to getting online and setting up your profile, if you are going to put around 15 minutes into it, you will have everything done that you need to complete and be ready to launch your first search.
How it looks and site navigation
Recon has a thoroughly modern design and also is pretty striking.
That's thanks to its black and red color scheme which really stands out.
While a site may look good, it's how it operates that counts and Recon isn't let down in that regard.
Everything you need is found in a menu that's positioned on the left-hand side of the screen.
The menu tabs that you will find here are:
Home: Takes you back to the home screen
Profile: Take you to your profile
Message: Here all the messages you have sent or received will be found here
Search: Launch your specific parameter based searches from here
Favorites: If you favorited someone's profile, it will appear here
Visitors: See who has viewed your profile
New members: View any new members to the site
Top 100s: The top-ranked profiles in every fetish type
If you'd prefer to view Recon on an app and browse profiles and send messages in that way, you can download the app on both the Google Play Store as well as the Apple iStore.
Note, however, the app doesn't get very good reviews with users complaining that it crashes often amongst other problems.
On the Android store, for example, it only scores 2.9 out of 5.
So when you've finished setting up your profile on Recon, the next thing to look into is just how it's going to help you land that perfect matchup.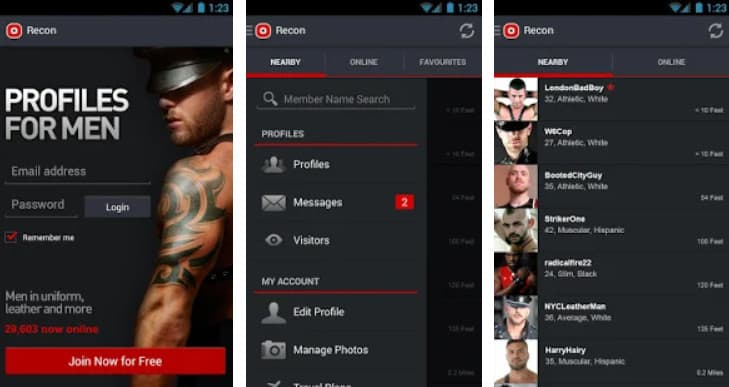 So now that you've sorted out your profile, just how easy is it to get into contact with someone on Recon.
Well, it's not that difficult it turns out.
Let's first start with the obvious thing you need to do and that's launching a search.
Recon, like just about any other dating site out there, allows you to find potential matchups using a search engine.
And the one here is extremely good at what it does, allowing you to put in a huge range of parameters to help find that perfect match.
If you a regular user, you can only access a few of these while premium members have even more that they can set and change as they see fit.
So let's say you are a regular user, what search options can you use?
Well, the breakdown is as follows:
Age range
If they have photos
When they joined the site
I will expand more on the search options that premium members have under key features.
As a regular member, you can turn up a number of profiles to look for a matchup, but of course, premium membership gives you the ability to fine-tune those searches even more.
The obvious problem is that you can only see profiles that are popular in your searches as a regular member so that rules out a lot of potential matchups.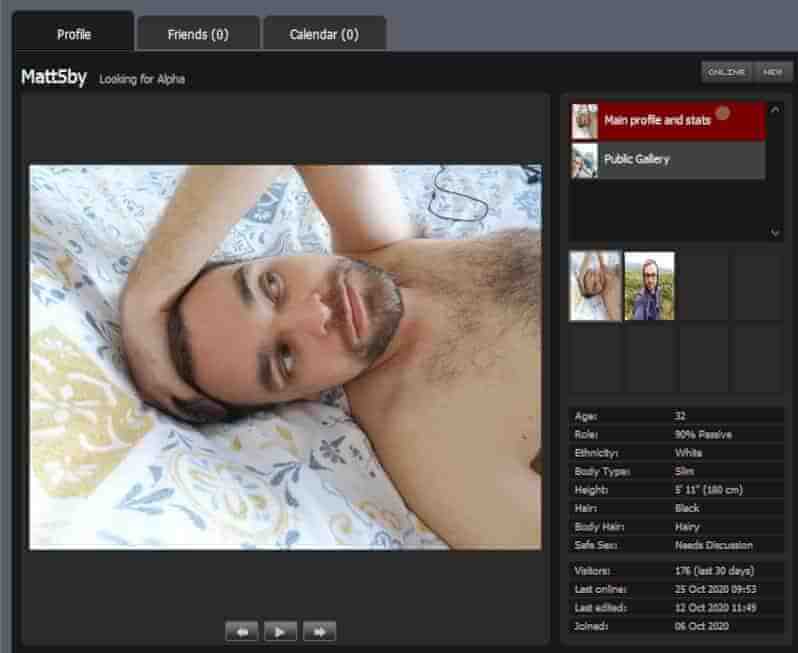 A dating site has to allow for its members to make a connection and Recon allows for this through messaging.
The best thing about it is that it's not a premium feature either.
As a regular user, you are able to message other users.
Of course, your search returns are where the problem comes in as a regular member of the fact that it only shows popular profiles.
That means if you are trying to chat with them, so are hundreds of other users.
That's where premium membership can help out.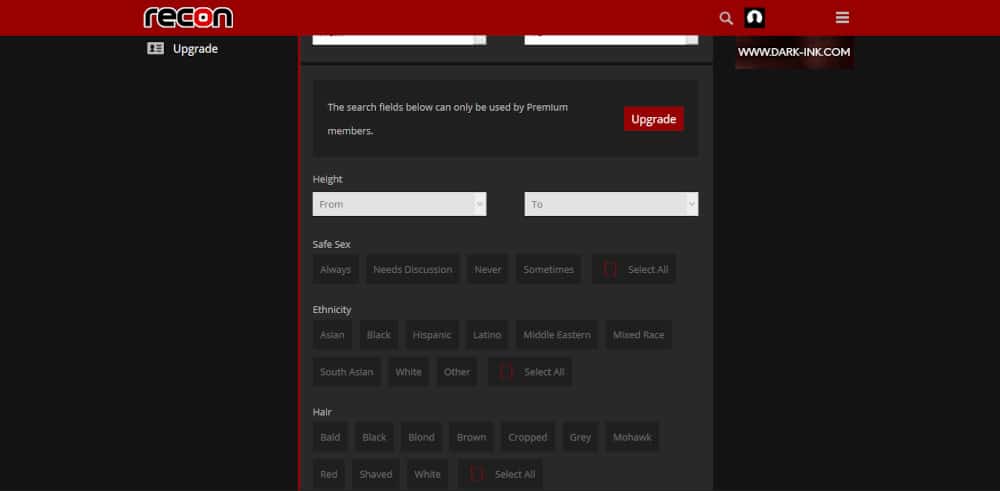 1. More search parameters
In the last section, I spoke about premium members have many more search parameters to choose from when looking for a matchup.
These include:
Location
Statistics
Keywords
Interests
Physical characteristics (height, appearance, eye and hair color, etc.)
Also, when conducting searches there is no limit on the profiles that you have access to as you would have experienced while a regular user.
Profiles found on Recon are filled with photos.
In fact, every month over 170 000 are uploaded by users and members alike.
The thing is, as a regular user, you can only see a fraction of these images.
Premium users, however, are able to see any photo uploaded by others.
In total, Recon says there are 3.5 million photos on site.
3. Generate a friend's list
As a premium member of the site, when you interact with someone you can add them to your friend's list.
When they come online again, you will be notified that they have logged into the site.
It's always nice to be able to remove ads from websites, isn't and even though the ads you will see on Recon aren't too intrusive, the site is better without them.
Premium membership makes that happen.
And there you have the extras which you will get when signing up with Recon as a member.
Let's be honest, they are nothing spectacular.
The obvious perk is the fact that you can search with a heap of extra parameters and that you are not limited to the profiles you browse.
The others are an added bonus but nothing that exceptional in my eyes.
The true test of membership, however, is in the price.
If Recon are offering the options above at an inflated price, it won't be worth it.
If they come in at a reasonable price, however, then membership is worth it.
Let's see what membership is going to set you back.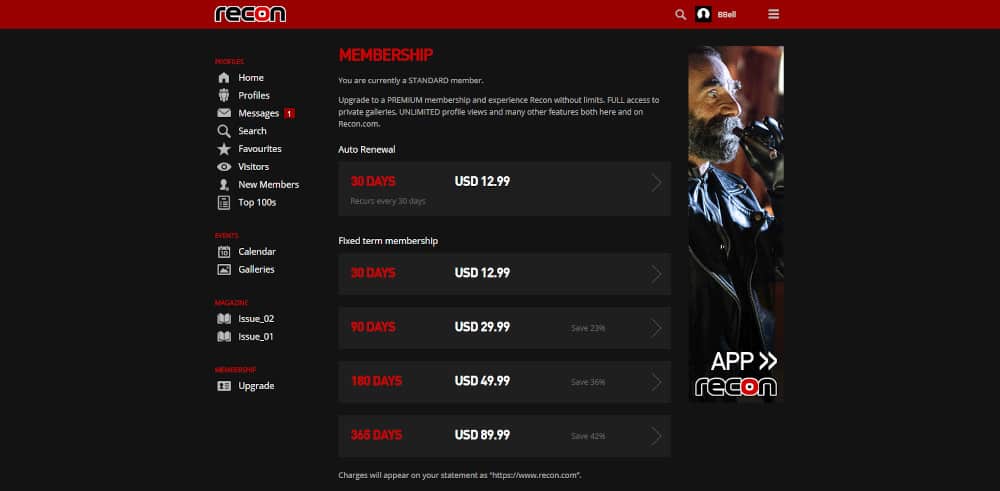 When it comes to pricing, you'd be pleasantly surprised, I would think.
That's because Recon has extremely competitive prices for its members.
And they offer a range of options in the length of the membership contracts that you can buy into.
In fact, there are four to choose from.
Let's take a closer look at what they are and how much you can expect to pay for them.
30 days (1-month) – $12.99
90 days (3-months) – $29.99
180 days (6-months) – $49.99
365 days (12-months) – $89.99
Now that's competitive pricing – $12.99 a month and far cheaper options if you'd like to sign up for longer periods of time.
I feel like Recon have gone out of their way to make this website extremely attractive and encouraging people to take up membership.
And to think it's a niche dating site.
Other niche dating sites I've reviewed think the fact that they are niche means they can change far more for their membership.
So well done to the people behind Recon for keeping their prices low.
For me, that's the best way to get someone to sign up for a membership, far better than presenting them with lots of features, some of which they probably will never use.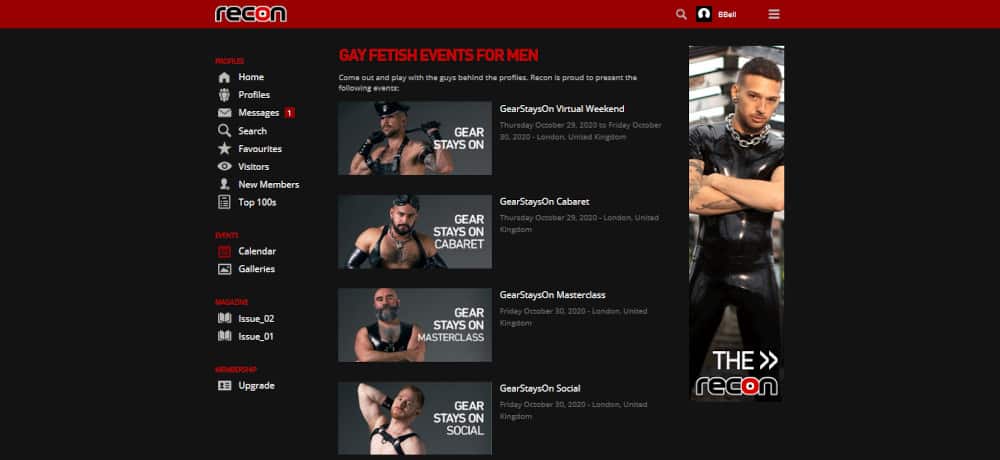 Conclusion and Overall Rating
So that's it for our broad review of Recon and what it offers to gay and bi-curious men the world over.
This isn't your regular site catering for this niche group.
It's aimed at helping men with certain fetish needs to hook up and I think overall, Recon doesn't that well enough.
That's because it has the tools in place to help it to do so.
It's also a site that's pleasing on the eye in its overall design and that's something that often overlooked, I feel.
But it's not all hunky-dory so to speak for regular users of Recon.
The site takes a very different approach to others but still guides you towards purchasing a membership to use it effectively.
In this case, it's limiting the normal user to the number of profiles they can see.
Yes, you are free to send messages to these profiles but because they are the most popular, you are going to be in competition with lots of other users as well to get their attention.
So yes, membership is a must.
And while it's extremely competitively priced – take note other dating sites – there are not that many key features on offer.
There are the ones that matter, however, like viewing all the profiles on-site (if you want to), more search parameters (including searching by location) and the ability to see all over the 3.5 million user photos on the site.
So Recon is a bit of a mixed bag for me really.
And so I am giving it a score of 3.75 out of 5.
What are your thoughts on Recon?
Have you used it before?
If not, based on this review, would you give it a try?
Leave us a comment below.
Frequently Asked Questions