Welcome to our review of StrangerMeet.com.
This isn't so much a dating site in the traditional sense of the work but more a chat site.
It offers both public chat rooms as well as private chat rooms where you can meet up with people and hang and chill out.
It's very much in line with how people spent their free time on the internet back in the late 1990s and early 2000s and if you are looking for new friends, we are going to see if this chat service can help.
OFL Top Recommendations based on 100,000+ Survey

"Serious Relationships"
"Discreet Hookups"
"Best Course for Men"
"Quick Flings"
"Normal Hookups"
"Our Quiz"
As we assess and evaluate, we will identify the following:
We will answer all of these questions and others, such as can it be used as an online dating site for hookups (like BeNaughty or Ashley Madison) and serious relationships (like eHarmony or Tinder), as we analyze this chat service in our comprehensive StrangerMeetup dating site review.
Is your dating app giving you the best chance for success?
Make sure to take our online dating site/app quiz to find out.
It's a fact that people who follow our dating site suggestions have on average 2 extra dates per month.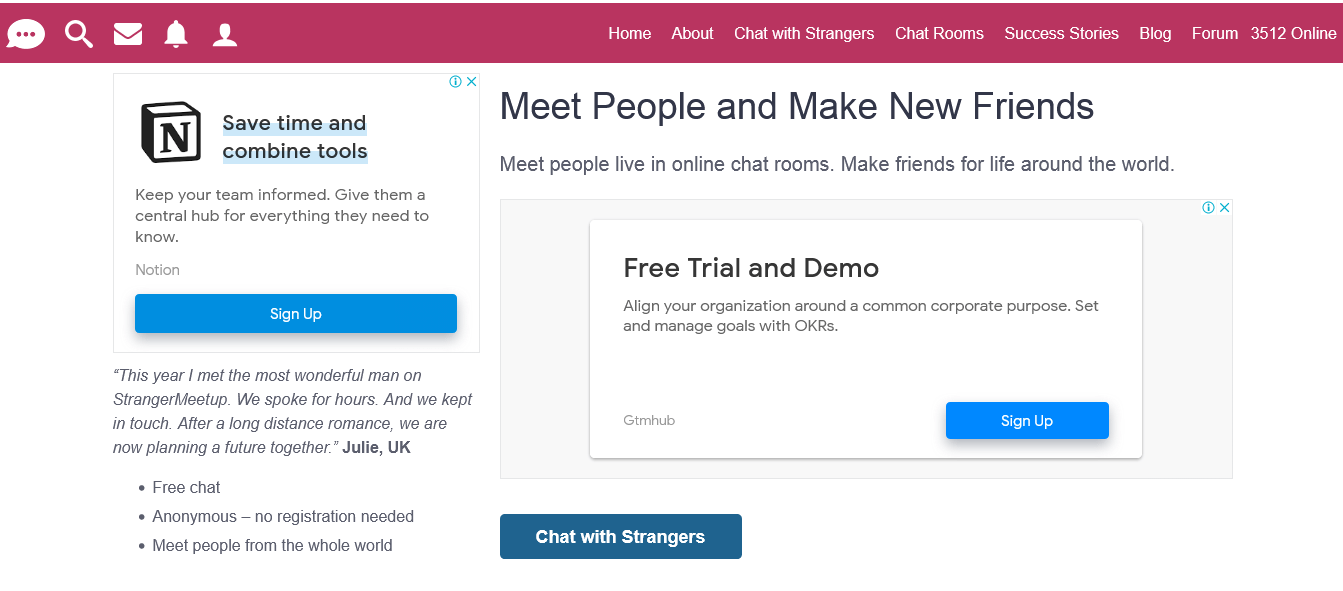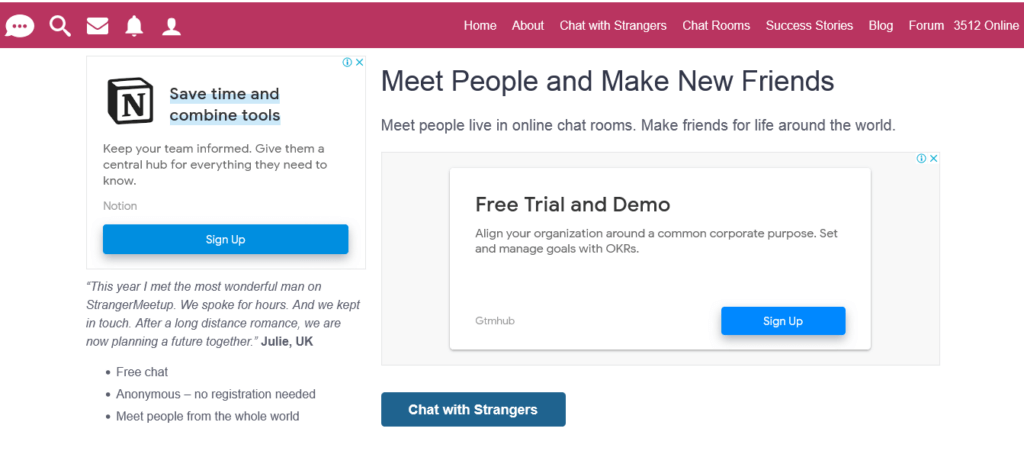 Ease of Use – 3/5
Effectiveness – 2/5
Key Features – 2/5
Pricing – 5/5
You don't need to register to random chat with strangers
The site has a social networking aspect to it where you can become friends with other users
It's free
Not the greatest overall design
Lots of advertising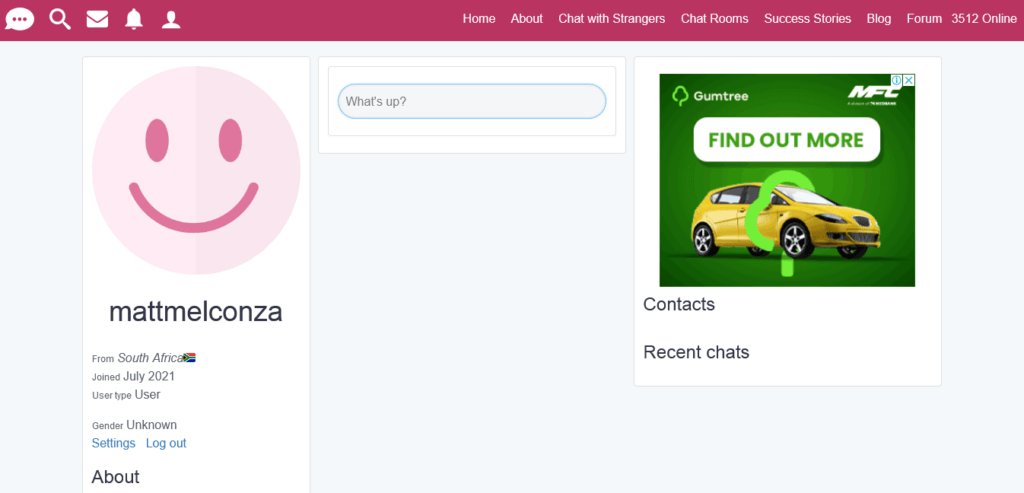 Who's It For/Demographics?
This is a site where people join up to talk with strangers and make friends.
Here, any new person you talk to is a random stranger at first, that's for sure.
But people have been using chat rooms since the dawn of the internet and you will find many success stories where some have even found the love of their life.
All it takes is to start chatting with someone.
Is a chat room on par with a dating site in terms of finding love?
OFL Top Recommendations based on 100,000+ Survey

"Serious Relationships"
"Discreet Hookups"
"Best Course for Men"
"Quick Flings"
"Normal Hookups"
"Our Quiz"
Well, that's something we are going to find out in this review because at the end of the day, that's how we are going to judge it.
So who will you find on this site looking for random chat or to make friends?
Well, generally it's the younger crowd that that use chat sites like these to meet new people.
So predominantly, most of the users are between 18-30.
As far as a gender ratio breakdown, 60% of users are male and 40% are female.
Lastly, the user base sees people from all over the world but in the United States, around 200000 users have joined the site.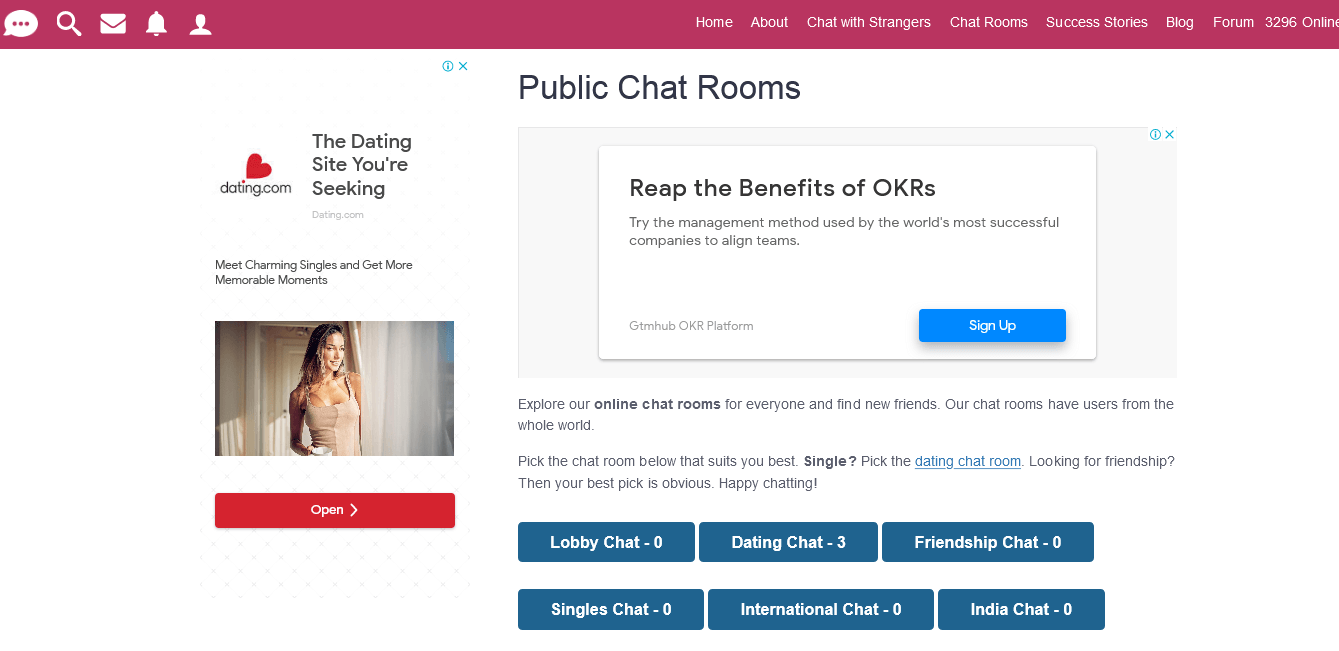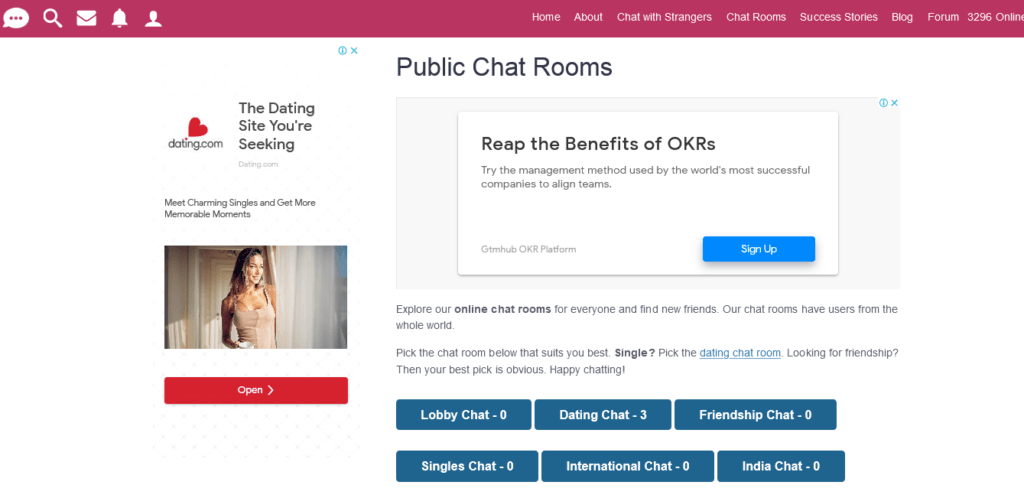 So let me tell you something I learned about the site first up.
Non-members can randomly chat with others before even attempting the sign-up process.
That means anybody can go to the website and chat away.
But for this review, we need to approach it from a real-life perspective and just how you can go about finding a potential date.
And yes, if you'd prefer to use your phone, you can find the Stranger Meetup app in the Google Play store but not the App Store.
Registering on the site took a minute.
You will need to provide the following information:
Username
Valid email Address
Password
After that, you must validate your email.
Now you are taken to the site as your account has been created.
You can look around but StrangerMeetup does suggest that you check out your profile first.
Your profile on StrangerMeetup
Well, you can immediately see that this is a chat site, not a dating site.
Profiles here are just the bare bones, that's for sure.
Here's what you can do when you edit your profile for the first time.
Add a profile picture
Select your gender (man, woman or other)
Write a bio in the About section
And that's about it.
As far as other pics go, well there doesn't seem to be a way to add any.
Also, it took me a while to work out how to add my profile picture.
You need to click on the big smiley face emoticon that you find above your user name.
Lastly, your profile will show you the users that you have had recent chats with, anyone that you have befriended, or anyone on the site that you follow.
It also includes a social media aspect in the fact that you can make status updates that other users can comment on.
And that seems a pretty popular thing to do.
Overall, however, profile quality is poor.
There's just not a lot going on.
What about overall site design?
Well, the design is pretty bland, it's not too bad, to be honest.
You have your menu system at the top of the screen that's broken into icon menus and word menus.
The colors of maroon, white, and very light blue work together well.
But at times, everything can be a little clunky especially in the display area.
And there's advertising… a lot of advertising.
The advertising can be a single ad on a page or it can be multiple ads.
It depends on what you are viewing.
What I didn't like was that while using the search engine, both profile returns and adverts have the same sized picture and adverts of
mixed in between the returns.
It was rather annoying.
Navigating StrangerMeetup
So finding your way around the site is a little strange at first.
I mentioned earlier, it uses two menu systems, one with icons and a more traditional one using words.
I am not sure why this is the case, but it's almost like with the icon's it's trying to capture the feel of an app more than a website.
Let's start with the Icon menu first:
Speech Bubble: This takes you to the home page of StrangerMeetup where can immediately chat with strangers, enter a public chat room, make your own private chat room.
Magnifying glass: This is the search tool and it will show you other members of the site from your country.
Envelope: This takes you back to your profile and shows you the other users you have had recent chats with.
Bell: This will alert you to any notifications the site thinks you should be acting on
Human: This takes you back to your profile page.
Now here's the other word menu where many of the same things are just repeated:
Home: Again, this takes you to the home page where you enter public chat rooms or start your own. You can also enter one-on-one chats with strangers.
About: Learn more about the site by clicking this menu
Chat with strangers: This is the same feature that you can find on the home page. Click on it and you will enter a one-on-one chat with a random stranger.
Chat rooms: Access various chat rooms from this menu. I will talk more about these chat rooms and what they offer later in the review.
Success stories: Read about people who have met on StrangerMeetup and had relationships.
Blog: There are various blog posts to read here
Forum: The site has a forum as well if you'd like to discuss very topics.
There are lots of doubling up and I am just not sure that it is necessary.
So that's it for profiles and finding out a little more about how the site operates.
Again, I have to mention that it clearly is not a dating site.
While there are profiles and the ability to ask someone to be your friend (they have to approve your request), there is nothing else here in common with dating sites.
For example, there is no messaging system.
Yes, you can create a private chat room and chat with someone but you aren't able to message them directly in any way if you are not in a chat room.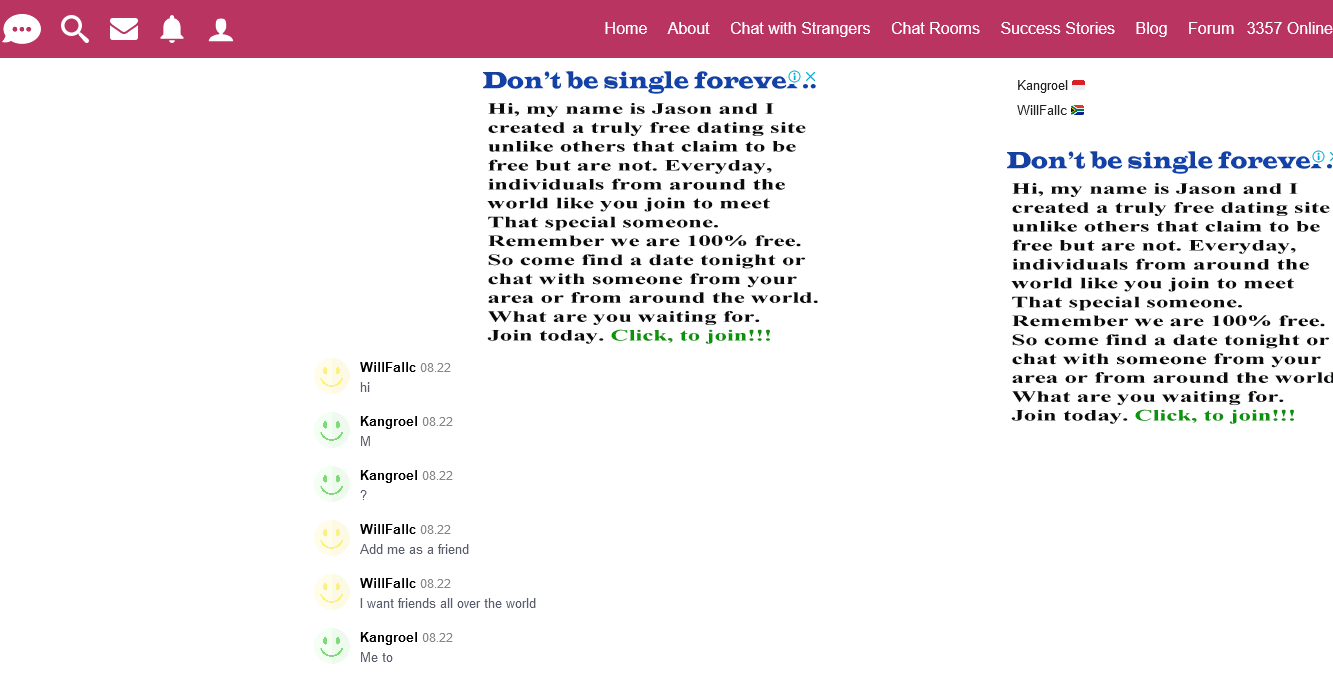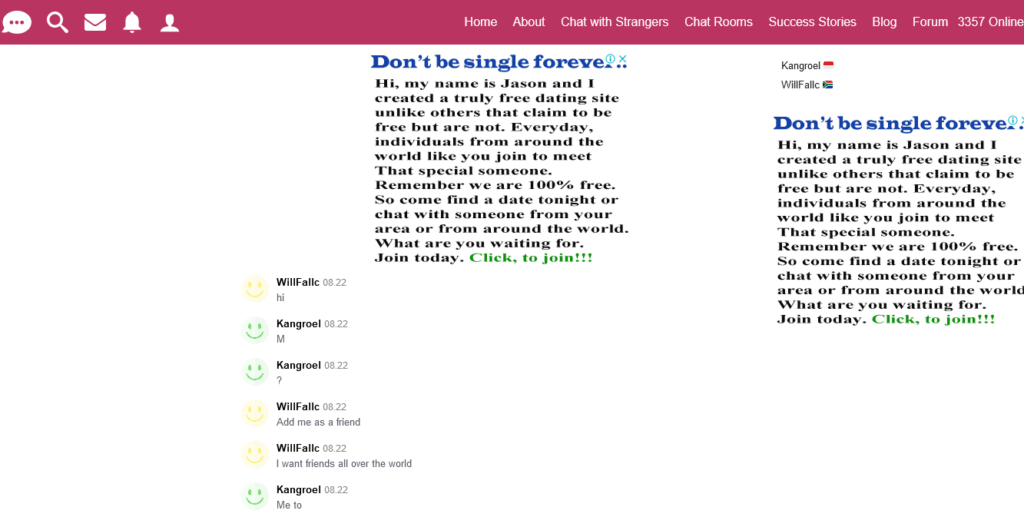 So without a messaging system, the only way you are going to be able to interact with other users is through StrangerMeetup chat.
This could be chatting with strangers, in the public chat rooms or by creating your own private chat room and waiting for people to join.
Let's just expand on each of these first.
When I think of chatting with strangers, I think that it's going to be between two anonymous people.
I can confirm that this isn't the case.
All it means is that the site takes two people who clicked on the Chat With Strangers button and puts them together in a one-on-one private chat room.
And there you go.
Now you can chat away about anything you like.
But do keep it clean as site moderates are very strict on that.
I can confirm that on your profile, you will see the other users you have spoken to, so you can always go and view their profile and add them as a friend if they made a good impression on you.
While you would think that public chat rooms would be a big meeting point for people on the site, in the time I used it, that never really was the case.
There are six chat rooms:
Lobby chat
Dating chat
Friendship chat
Singles chat
International chat
India chat
You can see how many people are in each chat room as well but as I mentioned, they were never very busy while I was on the site.
In fact, many of the chat rooms had no participants at all.
And that's kind of weird because it's the whole point of the site.
Strangely, the user counter on the home page never dropped below 3000 users online and was often up at 5000.
So it seems that many people don't really use the chat rooms, or they are chatting privately.
So if you want to create your own private chat room, you can.
For interesting sake, I created one called FUN.
It seemed that this name had been used before because there were a few messages of older chats still lurking when I got into the chat room.
While you can create your own private chat room, I don't really see the point because I couldn't quite work out how to tell my friends on the site to join my chat room.
I am sure there must be a way, but in the time I used the site, I couldn't work it out and could find no references on the site to help me.
But you can still have one-on-one chatting with other users.
If you've sent a friend request to someone and they accept you can launch a chat with them.
Simply go to your profile, find their name under your friend's list and click on the chat button.
If they are online, a private chat room with only the two of you as participants.
So I guess with most users not really using the public chat rooms, that's what they are up to.
Searching for people to chat with
We've already seen there is a search menu, but how does it work.
Well, for me, not very effectively.
I suspect that it may list profiles from your country when you use it.
The only thing is that there weren't very many for me at all.
Other than lots of adverts, I could only click on five different profiles.
And there are no search parameters at all either, so for me, the search tool is pretty useless.
I guess if you live in a country that has lots of other StrangerMeetup users, you might be able to find new friends this way, so at least try it out and see what returns you get.
As for messaging, while the only way to speak to others is via chat rooms.
There is no private messaging system on the site.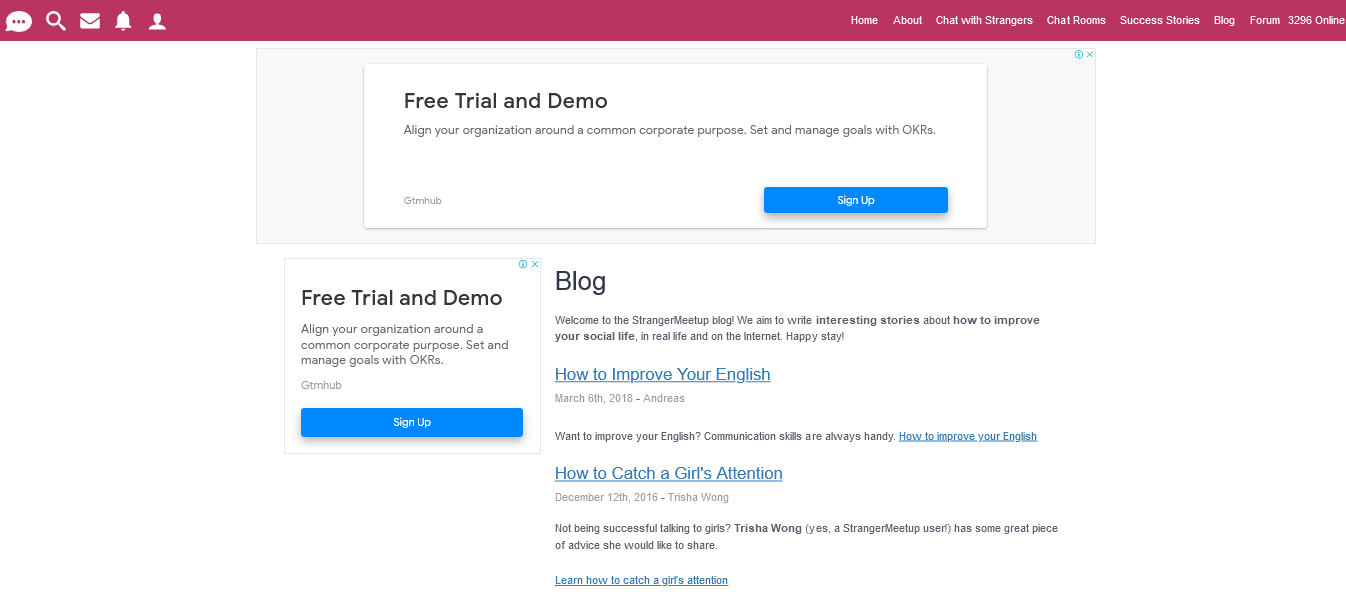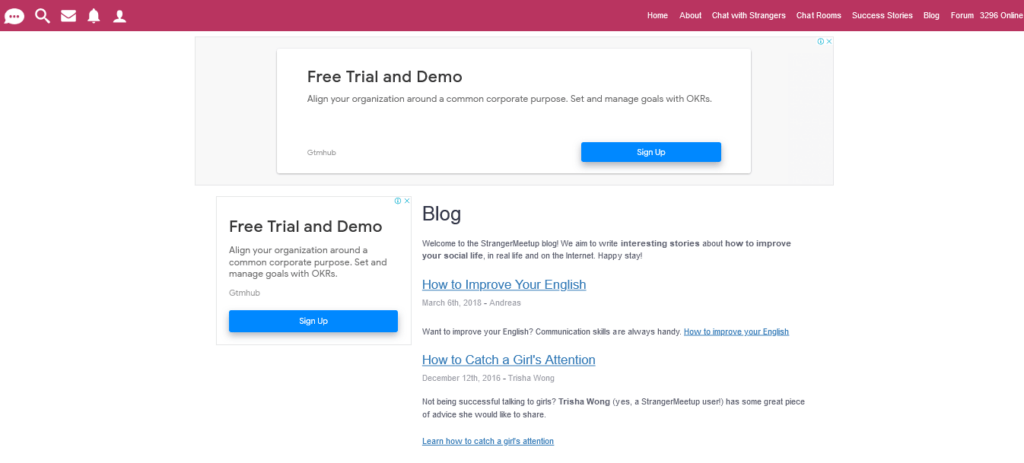 While StrangerMeetup is totally free to use, there are some aspects that I think need to be highlighted as key features.
While it's not really going to help from a dating point of view, if you want to meet people from all over the world, this feature is pretty cool.
And it's easy to use as well.
Just click on the menu and you will be chatting with someone in a matter of seconds.
From there, you can access their profile and add them as a friend if you'd like as well (with their consent, of course).
While this is a chatting site, it clearly has a social networking aspect to it that seems very popular too.
If you click on the profile of most users, you will see that they have people that they have befriended on the site.
You can also go to their profiles, see their latest status updates as well as comment on them.
While it's not as slick as Facebook, it's certainly one of the ways that people utilized the site.
If you want a one-on-one private chat with someone, they are going to have to be your friend first.
Then it's a case of finding their name on your profile and launching a chat.
It couldn't be easier, really.
It is possible to send photos to each other in chat.
But the other users must first agree to accept any photo you are sending.
That's a nice extra level of security and if you don't want to get photos, you don't have to.
There are a few interesting blogs to read on the site as well as forums to frequent if that's your kind of thing.
They don't seem to be that active, however.
Nothing is stopping you from generating some discussion on the forums, however as anyone that's signed up as a member on the site can use them.
StrangerMeetup is totally free to use.
You won't need to pay a cent to start a private chat room, speak to a stranger or use the forum.
You will, however, have to endure advertising… and a lot of it.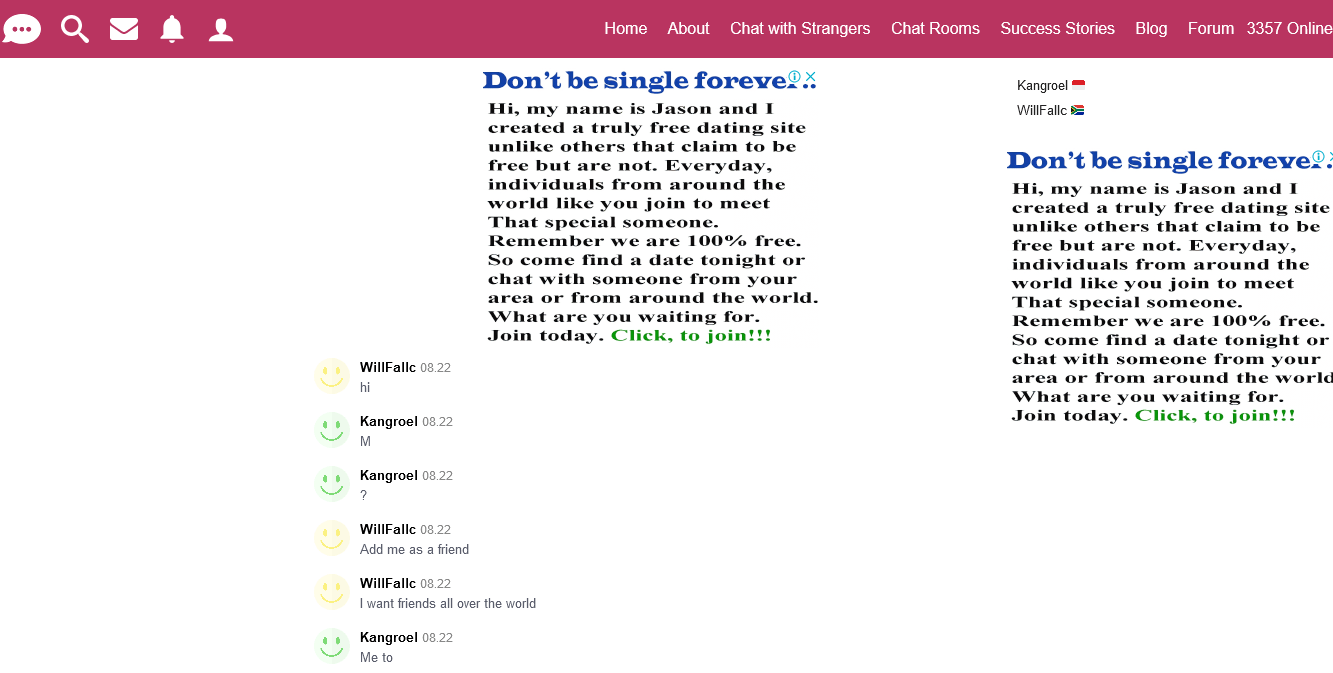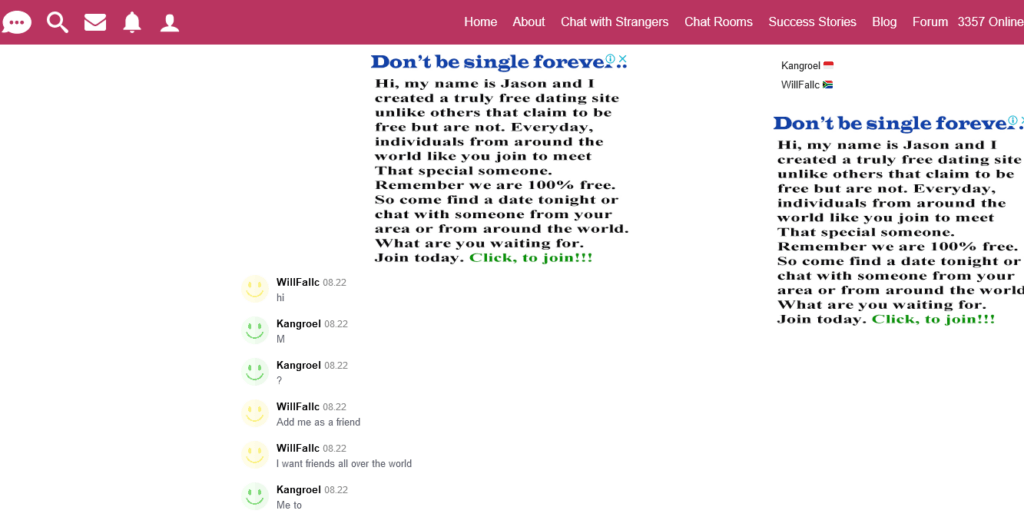 Conclusion and Overall Rating
We've come to the end of our StrangerMeetup.com review.
Yes, this is a place where you can chat with random people and make new friends.
Is it perfect for dating?
Well, I am sure the StrangerMeetup app or website is if I am honest.
The thing about dating is you want to be able to find people that are near your location unless you don't mind a long-distance relationship.
But I really couldn't find a way that StrangerMeetup helps you to do that.
It's all good and well talking to random strangers half the world away, but not even the search tool seems to help find people close to your location.
So in that aspect, the site falls a little flat and simply can't replace what a dating site would do.
Having said that, if you are just looking to chat with people and make some new friends, you can have a lot of fun here.
And best of all, you can try it out for as long as you want without having to pay a cent which is pretty awesome.
As for a rating, we've got to rate it in terms of how it can help you find a date.
And it doesn't score that high when keeping that in mind.
StrangerMeetup gets 3 out of 5.