With so many different websites with an advertised success of finding a partner, few can stand up to the promises of an exquisite adventure that is sure to leave lasting memories in the hearts and minds of both parties.
In this Mocospace review, we'll examine:
As one of the trusty older contenders available online, let me introduce:
OFL exclusive offers - Check all of them

"Serious Relationships"
"Discreet Hookups"
"Best Course"
"Quick Flings"
"Normal Hookups"
"Our Quiz"

Is your dating app giving you the best chance for success?
Make sure to take our online dating site/app quiz to find out.
People who follow our dating site suggestions have on average 2 more dates per month.
Mocospace Review in Video Form
Audio (podcast) form for those of you on the go
Before getting down to listing the details of this dating platform, let's run over a few basic characteristics:
OFL exclusive offers - Check all of them

"Serious Relationships"
"Discreet Hookups"
"Best Course"
"Quick Flings"
"Normal Hookups"
"Our Quiz"
Effectiveness: 2/5
Features:3/5
Ease-of-use: 5/5
Extremely easy to use
Most of its features are available for free users
A huge user base that still keeps on growing
Loads of different features make the experience varied and interesting
The games are rather simple and, while encouraging interaction on some level, aren't a real substitute for fostering connections
Unless you go premium, get ready for tons of ads, especially on the mobile version
Simplistic design
There is a lack of regulations around accounts on Mocospace
Fake accounts are common
Forums tend to be cluttered
Who is it for/Demographic make-up
One of the first things you will notice within Mocospace is the abundant variety of its user base.
It has more than 100 million users within its database and it's still growing to this day.
Daily use goes around 1 million.
It is not only for hookups (like BeNaughty or Ashley Madison) or only for serious relationships (like eHarmony).
The largest percentage of people that access the platform fall within the younger population (from 18-25 years) with consistent numbers of the said population since 2005.
Despite a large number of young people, at least 13% of the online population is over 35.
A larger part of the user base, around 65 million, originates from the United States, making it especially popular within the US.
The largest ethnicity present is Hispanic, contributing to around 40%, followed closely by African-Americans who make up 35%, while Caucasians make up 20%.
This platform is accessed mainly through the mobile app, up to 65%. The rich number of features encourage daily use, further expanded upon the practicality of the mobile version.
Being a predominantly youth-oriented website, Mocospace has almost every kind of person on the platform that will suit the preferences of everyone.
It's large enough to accommodate all kinds of differences, thus being able to fulfill the preferences of those with a peculiar taste.
If we were to put up % on the age distribution, it would go as follows:
The highest percentage, 40%, consists of members who are between 18 – 24 years of age
The second largest group is made up of people who are between 25-30 and this group makes 24% of the online population
People who are 31-35 years of age contribute to 17% of the user base
As mentioned before, 13% of the user base is made up by the oldest populational unit made up by people who are 35+
There is one big selling point that keeps on attracting fresh male audience constantly – the chances of hooking up with someone on this site is higher than on the alternatives.
The male to female ratio is simply fantastic, going from 56 to 44%, providing great opportunities for establishing a real long-lasting relationship or a casual fling.
The service does not impose geo-restriction (meaning anyone and anywhere can join in the fun) and supports Spanish and English currently.
The design that follows the intricate mechanism of Mocospace goes way back.
Ever since the 2000s, social media has been one of the biggest crazes that contributed to the popularity of the internet by presenting itself as an ideal space for sharing personal content and communications.
Ever since it hit the spotlight in 2005 Mocospace has followed the trend of big named social media giants such as Facebook and Myspace yet it set itself apart at the same time.
A special spot for Mocospace's huge success is reserved for a large number of games and the dynamic formulation of communication.
Mocospace has put a lot of effort into maintaining its reputation as the internet's largest online hub of games that aren't only fun but also possess connecting qualities.
This strategy bore fruit and by March 2009 it became so popular among mobile users that it surpassed giants such as Myspace.
To this day, that popularity did not vain over time.
The idea behind connecting its user base is based on a simple and pleasant to the eye interface that endorses the vital parts of social media platforms: customizable user profiles, private chat rooms, browsable photo galleries and
1. How does connecting with the people work?
That's the golden question and the answer is pretty simple yet depends on a few factors.
Your first time landing on the website is won't leave you aimlessly wandering from one page to the next.
Once you get the hang of it, navigation becomes a breeze as the website itself sports a very basic design- it is intuitive, easy to navigate, and clear-cut.
You even have a mini-tutorial at hand that shows you everything you need to be aware of.
Looking at the member's dashboard, you can immediately access message centers, chat rooms, the meeting platform, and, the highlight of Mocospace, Street Wars.
Another feature that is exclusive to this website is the timeline feature that shows all the posts from its members.
It is like an open book and you are given cues to socialize and hold nothing back.
The forums are open for discussions and offer an excellent chance for making the first contact.
This way, you can single out like-minded people and add them to your friends' list.
With the information you provide (the amount of information you can provide is very abundant as, aside from basic information such as name, gender, and age, you can enter in your sexual orientation, relationship status, ethnicity, and what kind of person you are hoping to meet) the search functionality does leave much to be desired- you can only pick based on limitations such as your age group, location, last login date, and gender.
2. What are my odds of finding the person that interests me?
Time to break down the good news: they are pretty high!
The choice and variety are rich: there is always someone new to meet and connect with daily.
The amazing attribute of this website is that, although it places emphasis on identifying as a dating website, it is more actually more akin to a fun social media platform- it connects people based on interests, fun games, and a wide variety of chat rooms.
The atmosphere revolving around the online space is very comfortable as members are usually looking to have fun and socialize, excluding situations where you might find people rushing to get into a relationship or catch themselves a quick fling.
This is especially true when getting down to the core of what makes social media a consistent craze- people do wish to connect and interact with one another in a meaningful and unforced manner.
3. What makes games such an important part of this platform anyway?
As mentioned beforehand, mobile users make the "bread and butter" of the Mocospace community and that is why the focus is geared towards providing the best experiences on Android and IOS devices.
The wide collection of games, the most popular being Street Wars, is designed for mobile devices and it does wonders for the community – most of them play out with the intent of including the vast community within different settings that require them to work together, thus establishing contact based on gaming that can, and often does, go out of its way to bring different people together.
Everything the website has to offer in terms of games is available to you for free.
Moco gold, the website's digital currency, offers the option of acquiring new items and features within the games themselves, which are entirely optional.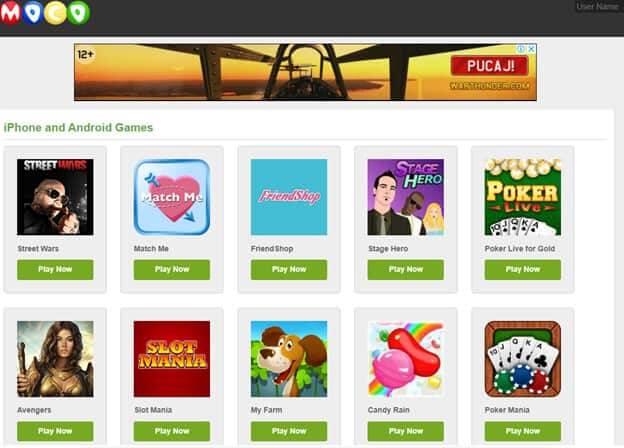 What's the best thing about this platform? Let me tell you: social media +tons of fun games.
Both aspects are excellently integrated with one another while still leaving room for flexible ways for members to connect and form chat rooms and small communities based on their preferences.
Among the most prominent features, take a look at the following:
The first and simplest feature is, you guessed it- meeting new people on the website!
This is yet another specification that sets Mocospace as an old-school social network: it allows you to chat and add people that are near you and possess similar characteristics.
Premium users get to enjoy additional filters, including ethnicity, sexual orientation, whether or not someone is single or taken is only available for premium Mocospace user accounts which will be discussed later on in the pricing section of the review.
Mocospace has the reputation of having many chat rooms and lobbies for all kinds of conversations and all of them are very simple- they revolve around simple text and gif messages.
The sheer variety of options allow for a somewhat controlled flow of conversational topics but most fall into general chatting.
The chat function follows a similar formula- it has a dated look and you have the option to only send simple messages without filters. This side of Mocospace is one of it's bigger flaws, especially for newcomers.
Purchasing a VIP account unlocks additional benefits, but the core functionality remains free.
The idea of buying and selling friends akin to getting groceries from the local store sounds somewhat absurd, doesn't it?
The thing is, this kind of game actually does its job of "buying" new friends.
The goal of this game is to "trade" profiles with other players. The price is determined by the number of times a profile was "purchased" which grants it increased value and friendship money that can be used to buy new profiles.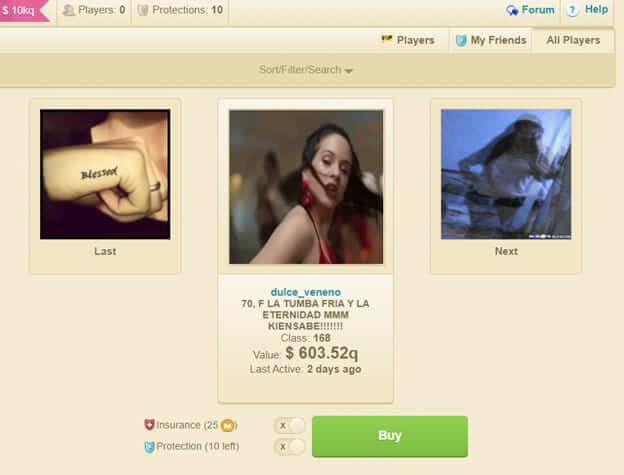 This is a neat and innovative way of extending your friend's list so it is definitely worth a try!
If you ever used Tinder or any of the classical mobile dating sites, this feature will be all too familiar to you.
The function to swipe is replaced with a "yes" and "no" option.
It will match you based on the amount of positive or negative reactions you and the other players have given out during a season.
The problem of finding a meaningful discussion board is all as prevalent here as it is in the forum section (which is more akin to a social media feed), as cases of random strangers exchanging a few words before leaving the conversation are not unheard of.
Probably one of the most associated aspects of Mocospace, Street Wars is an in-app game that revolves around challenging other players to a cyber brawl to see who gets on top.
The catch is that Mocospace uses this very simple game to monetize on small attributes that are gained through spending money, such as stamina refills.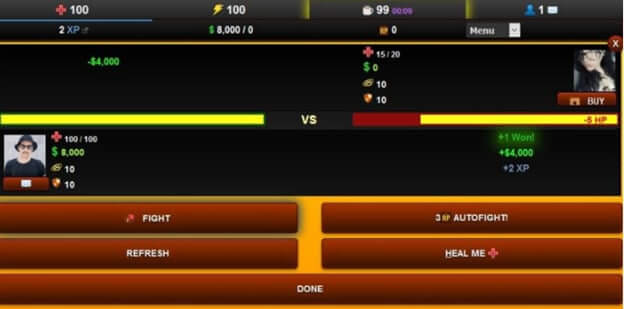 This feature revolves around winning various prizes based on luck.
Every item you win through this game gets added to the games the reward can be applied to.
If you win gold, it will be added to your Moco gold balance, making this game great for racking up a small amount of virtual income.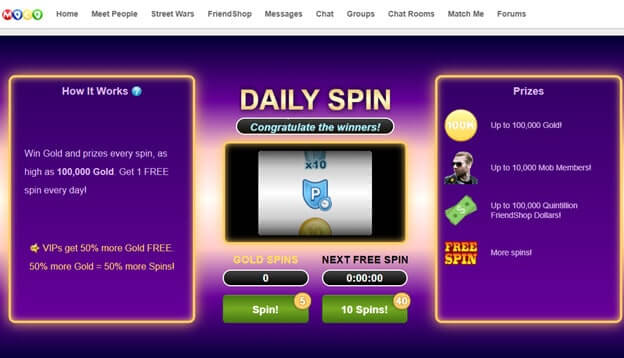 After covering the basics of what you can expect, let's take a look at the technical side of the website's usage:
Sighing up and starting your online journey through this social media giant is easy as pie!
The first and easiest way to instantly gain access is through your Google account.
You will share the public information associated with the account and get down to exploring the service.
Alternatively, you can start off fresh with the classical account creation process where you will enter details such as your user name, email, phone are code, password, gender, and date of birth.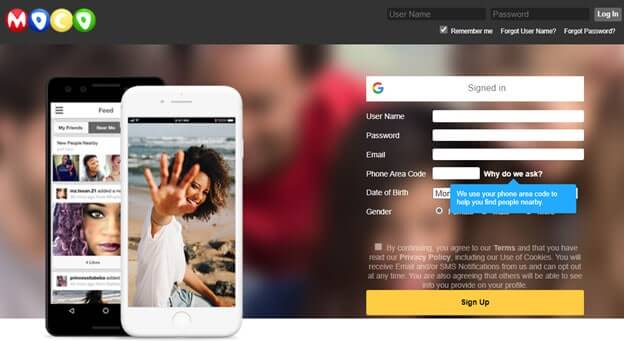 Everything this platform has to offer can be accessed through PC, laptop, or mobile device.
As you can already guess, it is geared heavily towards mobile users (about 60% access it through their smartphones) and that's where the real "meat" lies in.
After the sign-up process, you will be given the option to add more details about yourself.
After that, you are fully signed in and ready to start meeting and dating.
The site might be rather lightweight and simple yet that is also he positive attribute when it comes to practicality.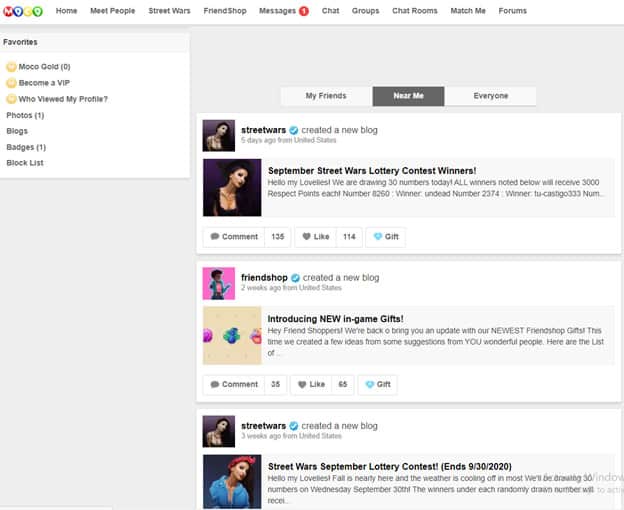 From the homepage, you can witness the latest news, posts made by your friends and other users.
You can easily navigate to whatever part of Mocospace you wish to go to, thus showcasing the simplicity that helps its large user base.
Mocospace has a dedicated mobile app that focuses on delivering the same quality as the browser version with the benefit of a mobile experience.
The moment you launch the mobile version of Mocospace you are placed within the "Meet People" section.
It does its job yet the biggest issue revolves around the slow functionality of the app's features.
Just like the browser version, you have a limited search function based on the last login date, age, location, and gender.
The widespread presence of ads is one of the larger diminishing points of the mobile experience.
For Android users, the option of going premium for $1.99 will take care of all the ads.
iOS users, sadly, don't have this option so you will have to tolerate the ads if you are using an iPhone device.
The "Moco gold" currency is used to buying all the in-app benefits within the many games and you have the option of getting the premium plan Mocospace has to offer.
You can also pay a certain amount of gold to boost your profile viewability.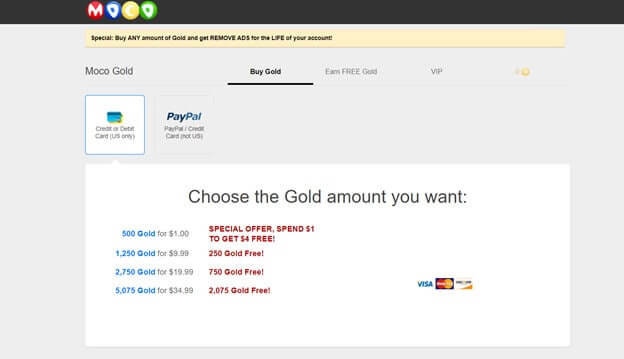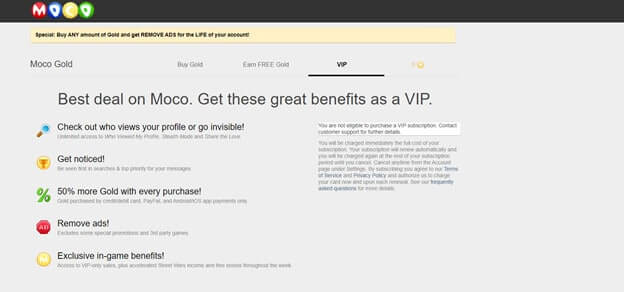 If you decide to upgrade to a premium plan you will receive exclusive benefits that will give you an entirely different experience compared to freemium.
All the features, such as Who Viewed Me, Stealth Mode, and no ads become present in every Mocospace iteration.
You will always rank among the first during profile searches, giving you a huge benefit if meeting new people is your goal.
Overall rating- 3/5
With all of the content it packs, let's get to the final grade- How good is Macospace?
It definitely delivers on the promise of tons of content in one place that makes spending time on Mocospace indeed fun and you don't have to post your personal information to get the best experience possible.
The huge number of people that come online each day makes it so that finding online friends comes like a breeze, even the chances of meeting someone in real life that lives nearby aren't slim!
What about the downsides? Well, the most obvious one is that using Mocospace for finding serious relationships isn't the best use of the capabilities of the platform.
If you are looking for a nice way to spend the time and meet with strangers online for nonobligatory conversations then great, you get the entire package for free.
Privacy and security might be a potential issue but it can be mitigated by refraining from sharing personal information.
The extensive amount of information provided has given you all the information you will need as a regular use yet issues such as security and legitimacy might still pop up here and there. Here are the most common potential issues that can be brought up:
The most important questions regarding your account are paramount so let's give a quick and clear elaboration on the most common inquiries:
The last segment covers the technical side of the user experience such as blocking and reporting unwanted behavior.