Welcome to today's dating site review, where we will be assessing Pairs, an online dating service that is popular in Japan and people around the world of Japanese origin.
It's logical that people living in Tokyo and other big Japanese cities would prefer an app in their language over and above what Tinder, eHarmony OkCupid, and Bumble can offer.
Japanese people have a range of popular dating apps to choose from that serve their population group including Japan Cupid, another dating site where long-term relationships are far more important than hookups (like BeNaughty or Ashley Madison).
During this review, we will analyze the strength and weaknesses of Pairs, collecting key information regarding:
OFL Top Recommendations based on 100,000+ Survey

"Serious Relationships"
"Discreet Hookups"
"Best Course for Men"
"Quick Flings"
"Normal Hookups"
"Our Quiz"
Let's jump right in then and start analyzing just what Pairs has to offer the Japanese dating community that's looking past the traditional method of "omiai" to meet up.
That's become far more difficult during the coronavirus pandemic, that's for sure.
Is your dating app giving you the best chance for success?
Make sure to take our online dating site/app quiz to find out.
It's a fact that people who follow our dating site suggestions have on average 2 extra dates per month.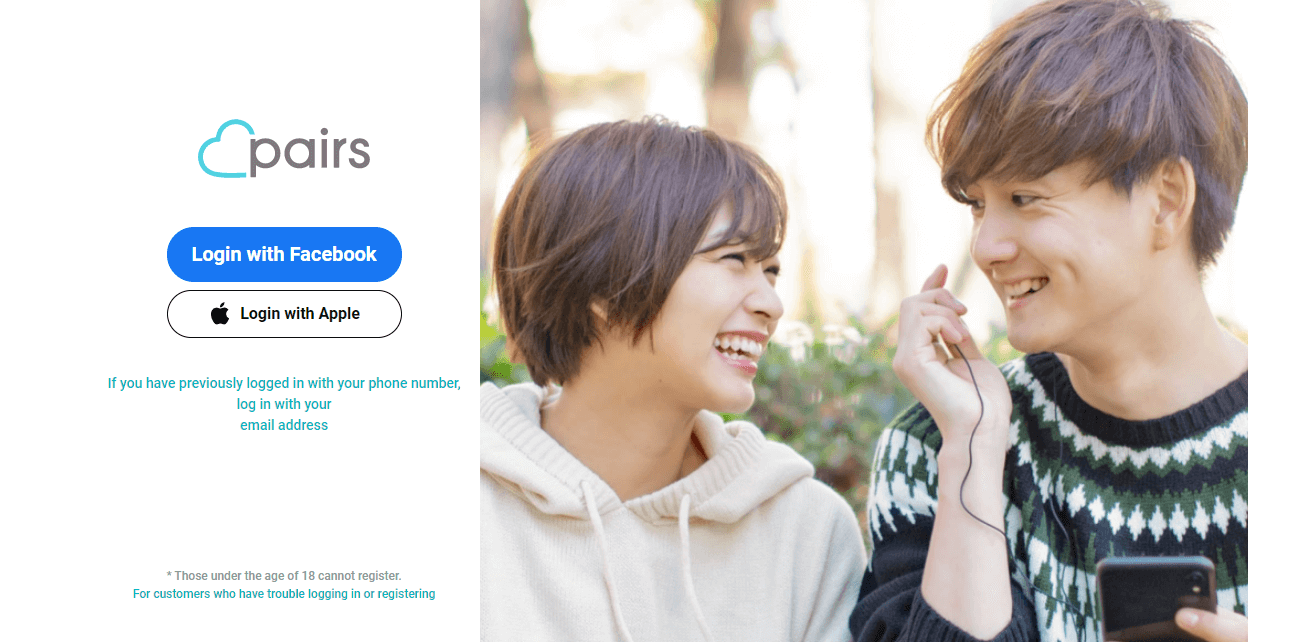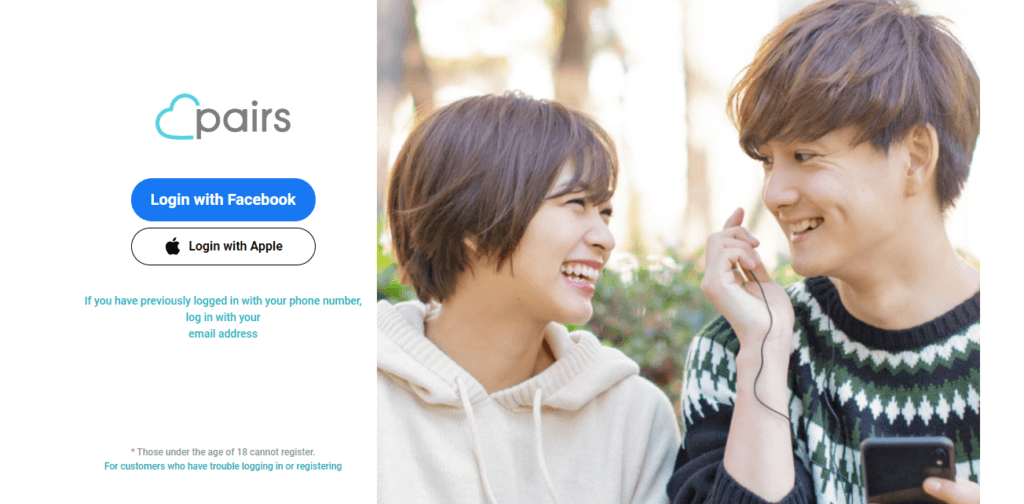 Ease of use – 4.5/5
Success rate – 3.5/5
Key features –3.5/5
Price – 3.5/5
Over 10 million users
24/7 monitoring for fake profiles and abusive users
Free to use for female users
If you don't understand Japanese, you won't be able to use the app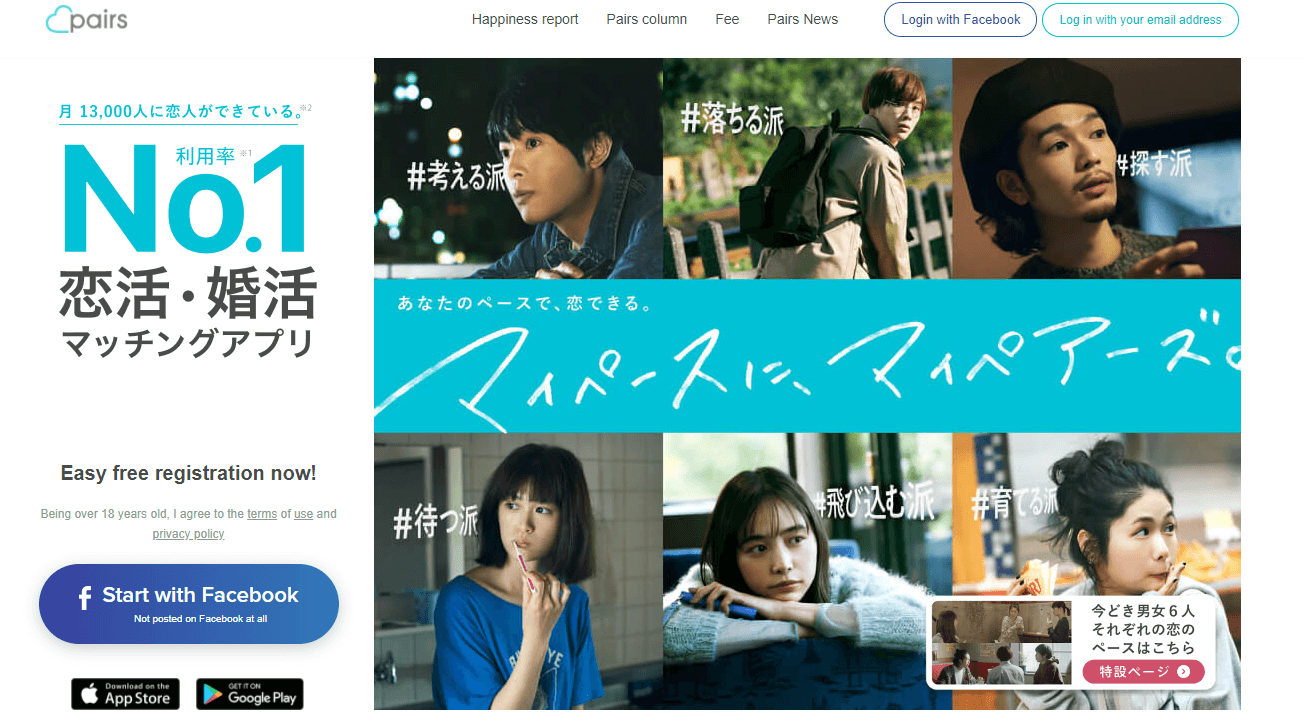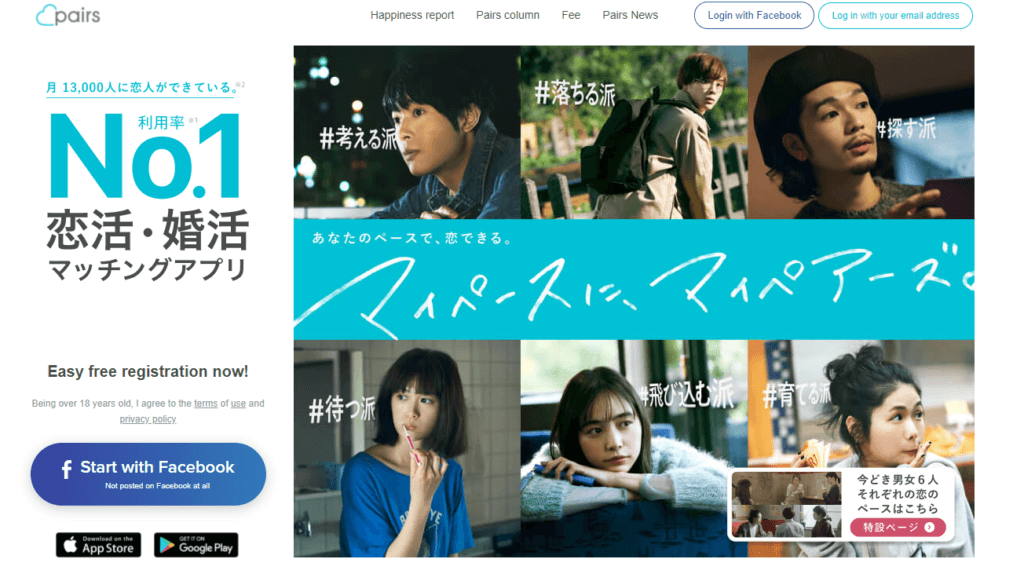 Who's It For/Demographics?
Without a doubt, this is one of the best dating apps for people from Japan or those of Japanese origin living around the world.
If you aren't Japanese or can't read or speak the language, there is little reason for you to try out Pairs, that's for sure.
But what kind of user numbers are we talking about for this app?
Well, according to their website, there are over 10 million people that have registered to use Pairs.
That's a massive user base and certainly on par with many commercial dating apps.
OFL Top Recommendations based on 100,000+ Survey

"Serious Relationships"
"Discreet Hookups"
"Best Course for Men"
"Quick Flings"
"Normal Hookups"
"Our Quiz"
Here are a few more facts and figures I'd like to highlight, however:
The team behind pairs says that over 400000 people have met their soulmate using the app
Around 12000 new members join up each month
Around 250000 users are active on the site each week
That's around 35000 per day and close to a million each month
Without a doubt, Pairs is super busy and people using it are looking for long-term relationships that will lead to marriage, from millennials to older members.
​Gender ratio breakdown and user age ranges
So we've clarified that Pairs is an active dating site but what about the gender ratio of those using it?
Well, I can confirm that while males are more common on the site, the ratio when it comes to users' gender is very close.
53% of users are male (5.3 million)
47% of users are female (4.7 million)
Conducting an in-depth look at the age ranges of users shows that while they spread in terms of age, this is a dating app for younger people.
The biggest group of users on-site by age are from 25-34 years old.
Close to 40% of all users are found in this group with 20% of them being male and 18% female.
The smallest group of users are 55 and older at just 3% of total users (2% male and 1% female).
But with 10 million users, that still equates to 300000 people
When compared to some dating sites, that's more than they have in total.
The information below features the most popular to least popular age groups as well as the gender breakdown for each:
25-34-year-olds: 38% of all users of which 20% are male and 18% are female
18-24-year-olds: 27% of all users of which 14% are male and 13% are female
35-44-year-olds: 23% of all users of which 12% are male and 11% are female
45-54-year-olds: 9% of all users of which 5% are male and 4% are female
55 and older: 3% of all users of which 2% are male and 1% are female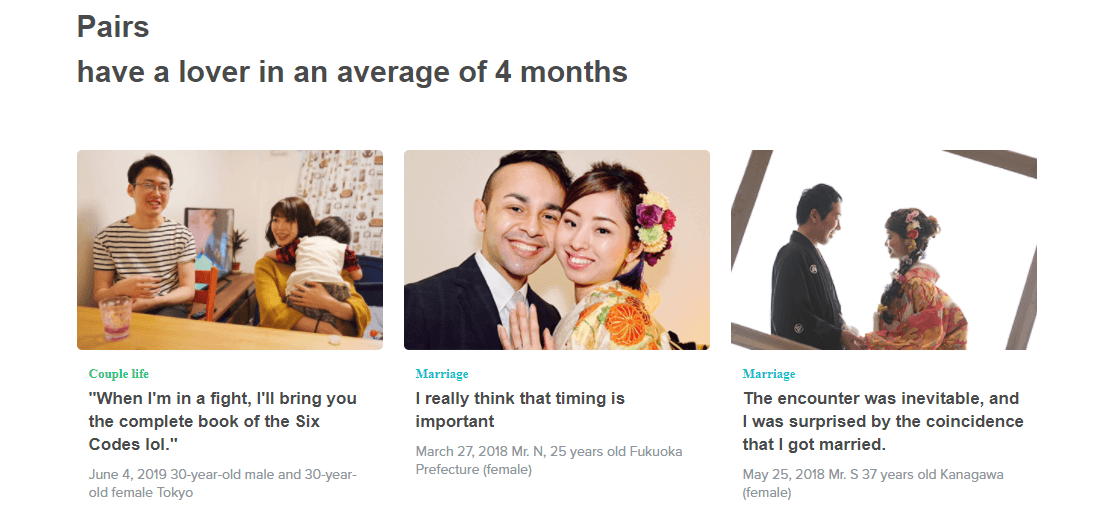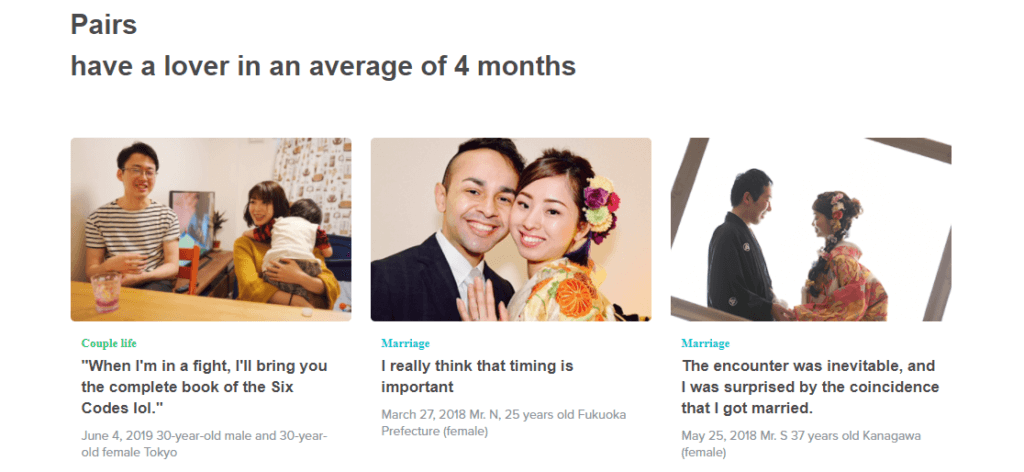 You have several options when it comes to registering a user on the Pairs.
Either do it through the website or download the mobile app if you'd prefer that.
For the website registration, you can use social media like a Facebook account if you'd like to speed up the process a little.
That process starts with users having to verify their email address first up.
This is a feature on most dating sites but usually comes at the end of the registration process.
Note that the registration process also includes a short questionnaire that helps gather some information for your profile.
You can also upload a picture but it's important to note that all pictures that you upload will have to be verified first before they will appear on your profile.
Pairs have a strict policy in that regard, as well as towards behavior on the site.
And it's monitored 24/7.
Finding your way around the app
While Pairs includes a website, most users are accessing this dating app through their mobile phones.
Finding your way around isn't difficult at all and the app is set up very much like others you may have used.
For example, there are menus that will take you to your profile, your messages, a potential matchup that is near your location as well as matchups where swiping, particularly where a swipe right is the name of the game.
You can also launch searches of your own, but I will discuss this all later in the review.
Of course, with the app only available in Japanese, there is no hope for English speakers to use the app effectively, even if you register for a profile on the website using Google Translate.
While you might have an understanding of what each menu does by clicking it, it's just not possible to use the app in an effective manner.
Note, there aren't really any social network aspects to the app at all.
Pairs' profiles are packed with information.
Most of it, however, is groundbreaking.
You can see physical characteristics about a person and all the other aspects that one would expect to find.
But there is another extra that makes Pairs fairly unique.
And that's communities.
Pairs communities are something that members can join, or you could start your own.
For example, if you like Japanese food, you will find hundreds of communities about the subject.
If you are into mobile gaming, perhaps you could start your own community about a certain game that you play.
The possibilities of communities are endless and they are a great way to bring people together.
This is one aspect of the app I think that really appeals to users, that's for sure.
It's important to remember…
While I've mentioned dating throughout this review, that's a word that Pairs wants to avoid.
It sees itself as an app that brings single people together to hopefully have a serious relationship that leads to marriage.
And in Japan, a country where research has shown that marriage rates are declining, that's a very noble thing.


Pairs operates a little differently from most apps.
It's a model that's not unique though and we've seen it before in online dating.
But what exactly am I talking about?
Well, on pairs, any female users don't pay a cent to use the app.
They are free to make use of all the key features which includes the ability to send as many messages as they want.
This puts them in control and allows them to make the first move.
Males, however, do have to pay.
But I will get into that a little later.
Pairs gives users a number of ways to find potential matches that will meet the compatibility goals that they are looking for.
First up is something that all dating apps use, a swiping feature.
Pairs will present you with matches based on your preferred gender as well as the age range you are looking for.
You can then swipe through these as you would on other dating apps like Tinder and Plenty of Fish.
Swipe left to pass on a profile and swipe right if you like what you see.
You can also see profile details of each user before you make your decision.
I like that, it's not something that all apps do.
Because, yes, while we are obviously physically attracted to someone, from my perspective, I want to know more about them rather than just swiping left or right based on a profile picture.
Other than swiping, Pairs will also let users look for matches via searching near their location.
There are a few parameters you can set for this as well.
If I am honest, this is my preferred way to look for potential matches.
​It just feels like I am in control instead of the pressure of having to swipe left or right on someone.
You can take the time to see what these searches turn up, look through the profiles, learn more bout the people and make a decision in your own time.
It's just a bit more relaxing I feel.
So as mentioned earlier, female users get the ability to send unlimited messages.
Male users get one a day.
Of course, if you swipe right on someone's profile and they do the same to you, a matchup occurs.
Matchups allow for messaging as well.
But on the whole, as a male user of Pairs, you might want to consider membership so that you can send unlimited messages to others.

Here are all the critical key features you can expect should you sign up for a membership on Pairs.
I am mentioning it again because to me, on all dating sites, this is the most critical feature.
Many apps don't allow for one message a day for free like Pairs does (for male users) but while that's nice, it's always going to be a bit of a hit and miss affair if you can make it work for you.
Not having to worry about a message allocation means that you can send to as many potential matches as you like and not have to stress when some don't reply.
Profile boosting is a regular membership feature on many apps.
That's because it's the perfect way to get your profile viewed by as many people as possible.
This happens because if you boost your profile, it will rank at the top of other users' search returns and matches they swipe through.
This not only increases the chances of getting messages from other users (especially if you are a male) but also getting more matchups through swiping.
I spoke about Communities earlier in the review and it's a great way to find people that like the same kind of things you do.
To like a community and join up with it, however, you need to be a member of the app.
Footprints allow you to see which other users have viewed your profile.
If they haven't reached out to you and you like what you see in them, then make the first move!
Obviously, pricing for Pairs is only available in Japanese Yen.
There are four different membership packages: one, three, six and 12 months.
Here's a full breakdown of what they will cost with a rough dollar figure (going by current exchange rate).
One-month membership: 3480 Yen ($32)
Three-month membership: 6840 Yen ($62)
Six-month membership: 10680 ($99)
12-month membership: 15360 ($141)
While the month-to-month membership is fairly expensive when compared to other dating apps, it must be remembered just how of a niche app Pairs really is.
There some excellent savings to be made if you see yourself using the app for a three or six month period, that's for sure.


Conclusion and Overall Rating
To summarize without a doubt, Pairs is the top Japanese dating app around.
If you are looking for a long-term relationship that could lead to marriage and you are Japanese or of Japanese origin living elsewhere, it's the place you should start.
As a female, Pairs gives you all the control.
That's because you can reach out to people you want to with unlimited messaging.
As a male, although you get one free message a day and you can communicate with those you have matched up with, membership is worth exploring.
That's because other than unlimited messaging, it also adds other brilliant features such as communities.
As for a rating, Pairs gets 3.6 out of 5.
Pairs, a dating app for Japanese people were tested and used by Onlineforlove over an extended review period.
We found this app perfect for females who want to be in total control of their dating experience and they can use it for free.
The review approach used saw our team allocate a star rating for the critical criteria through which we rank all dating apps.
Our final evaluation was based on some of the factors listed below.
Membership cost
Ease of use
Features
Size of the user base
Matchup algorithm