In today's dating site review, we evaluate SexyBlackPeople.com, a site that helps black women and men to meet up.
Sites for specific ethnic groups have been around since online dating started.
It provides users with a place where they know that they will get to meet people of the same ethnicity as themselves.
Let me clarify that you don't only get these dating services for black singles, but Hispanic people, people from Latin America, and even various ethnic groups from the Far East.
OFL exclusive offers - Check all of them

"Serious Relationships"
"Discreet Hookups"
"Best Course"
"Quick Flings"
"Normal Hookups"
"Our Quiz"
This research will allow you to know if this dating website can be used effectively to find the relationship you are looking for or if you should turn elsewhere.
The info this SexyBlackPeople dating site review covers includes:
That's just some of the information we will reveal.
So let's begin.
OFL exclusive offers - Check all of them

"Serious Relationships"
"Discreet Hookups"
"Best Course"
"Quick Flings"
"Normal Hookups"
"Our Quiz"
Is your dating app giving you the best chance for success?
Make sure to take our online dating site/app quiz to find out.
It's a fact that people who follow our dating site suggestions have on average 2 extra dates per month.
SexyBlackPeople Review in Video Form
Audio (podcast) form for those of you on the go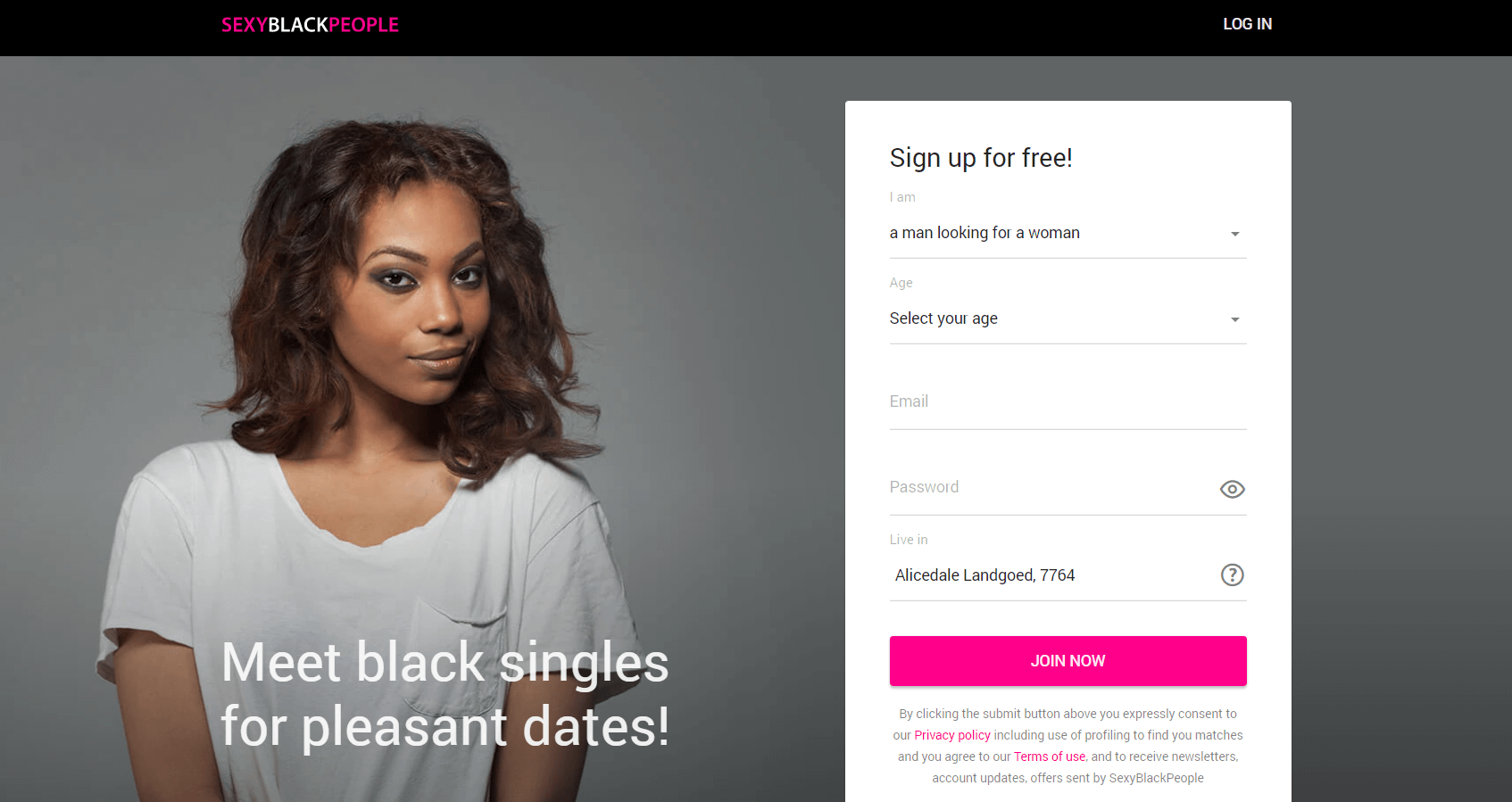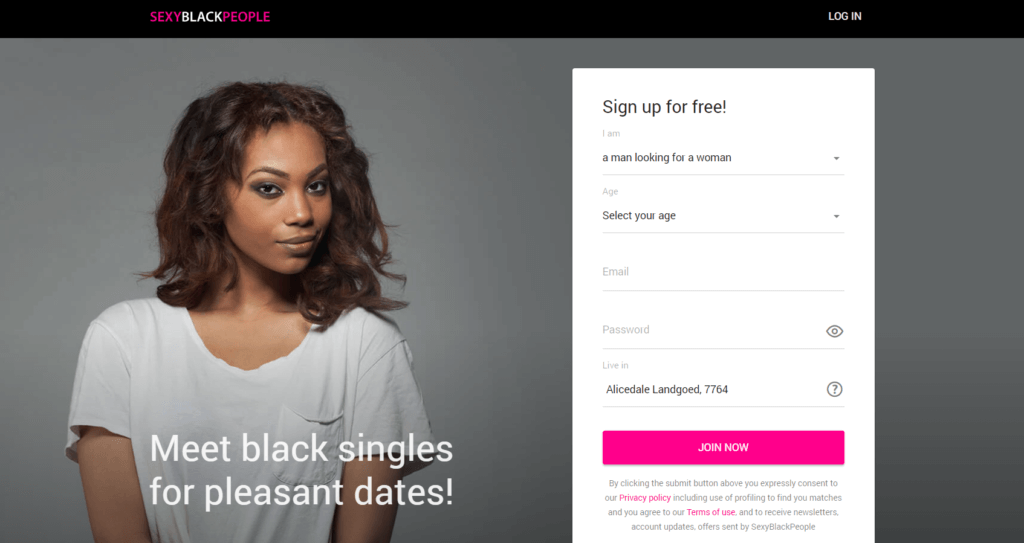 Ease of use – 4/5
Success rate – 2/5
Key features – 3/5
Price – 3/5
A simple website to register for and use
The search engine includes a number of parameters, even for regular users
Pricing isn't too expensive and includes a one-day or one-week trial
5 free messages for all new users
A much smaller user base than its competitors


Who Is It For/Demographics?
It really isn't hard to work out who the site is for, that's for sure.
SexyBlackSingles is a global dating platform with black women and men from around the world who have signed up in their online dating quest.
This isn't a hookup site (like BeNaughty or Ashley Madison), although you will find all manner of people looking for various kinds of relationships, from friendship to casual dating and even long-term love (like Tinder or eHarmony).
It takes all kinds to make the dating world go round, right?
But for now, let's reveal a little more about the demographics behind the site.
While it has operated for a while, the user numbers don't seem to be as high as many of its rivals.
But after much searching, final user numbers were nowhere to be found, not even on the site itself.
I was able to find out the following facts and figures, however:
Around 10000 users are based in the United States
The site has 8000 users active each week, a little over 1000 per day
That equates to over 30000 a month
65% of users are male and 35% are female
Just over 75% of the user on the site are aged between 18 and 44 years old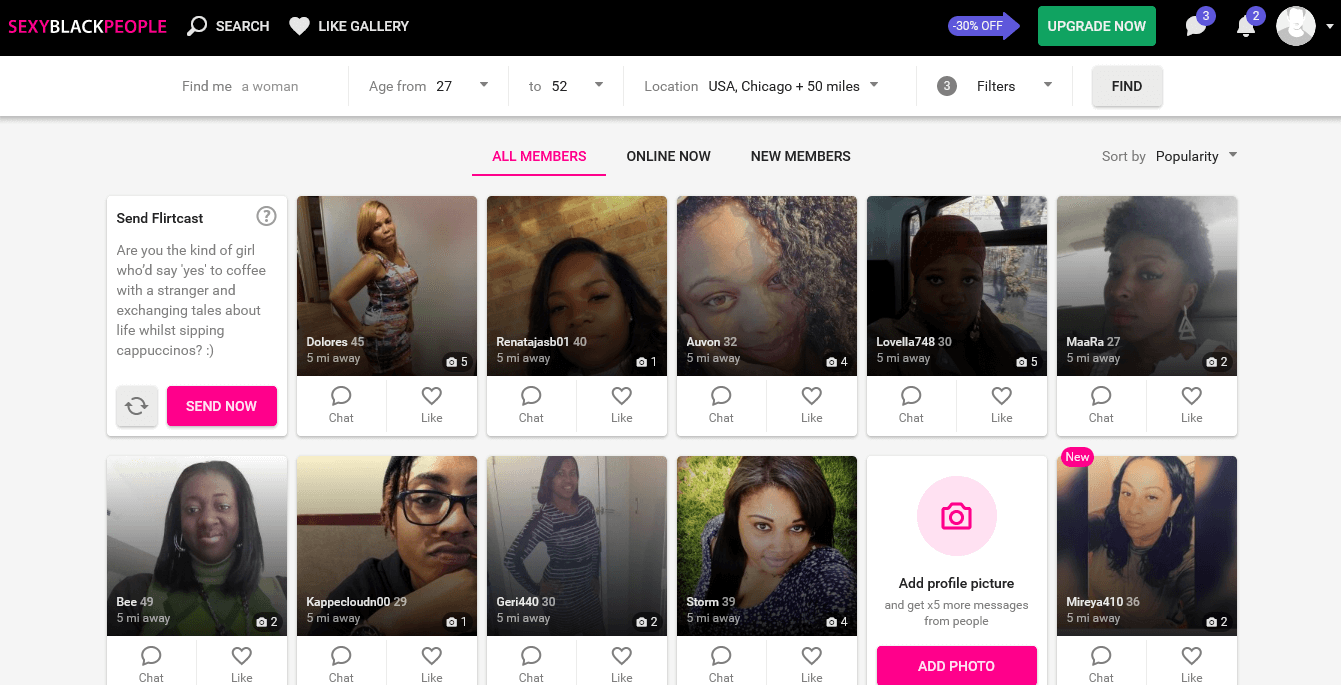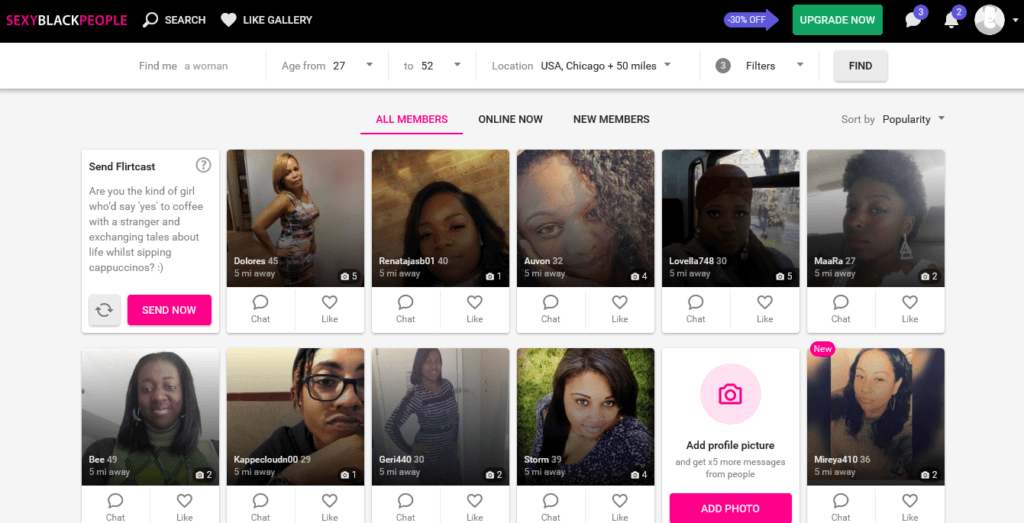 To sign up to become a member of SexyBlackPeople, I can confirm that because there is no app, registration takes place through the website.
Despite the fact you can't use a Facebook or Google account to speed the process up, registration is quick enough as it is.
To start, the site needs a few pieces of information from you like your gender, the age range and gender you'd want to match up with. your location and email address.
That email address has to be valid because the admin team will send you an access code to activate your account.
Once you do that, you have access to the site.
I would suggest that you upload a profile picture first up.
Dating profiles without pictures just don't work.
That's because when users explore their potential matchups, they are attracted to pictures first.
And while you at it, begin to populate your profile as well.
Profiles on SexyBlackPeople
Profile pictures attract potential matchups to you but don't doubt how critical the contents of your profile are as well.
On this site, there are lots you can learn about someone from their profile as they actually are packed with useful information.
And you know that if you leave it saying that you will come back and do it later, it will never be completed.
The good news is that filling in your profile isn't going to take a long time either.
When I tested the site and spent time on it, I completed my profile in less than 10 minutes, probably closer to five minutes, in fact.
Let's identify some of the basic information you will need:
Username (you have one assigned by the site but perhaps you want to change it)
A status (this is the header to your profile)
Your appearance (ethnicity, body type, hair and eye color and more)
Your level of education
Your weight
Your height
If you have children/want children
If you live alone or with others
Your religion
Lastly, you can choose to upload a video or you can add even more pictures if you'd like.
In general, in my time on the site, I observed some profiles that had been filled in and others that hadn't.
I guess that this is something you will find on all dating sites but it's an area that can be improved, that's for sure.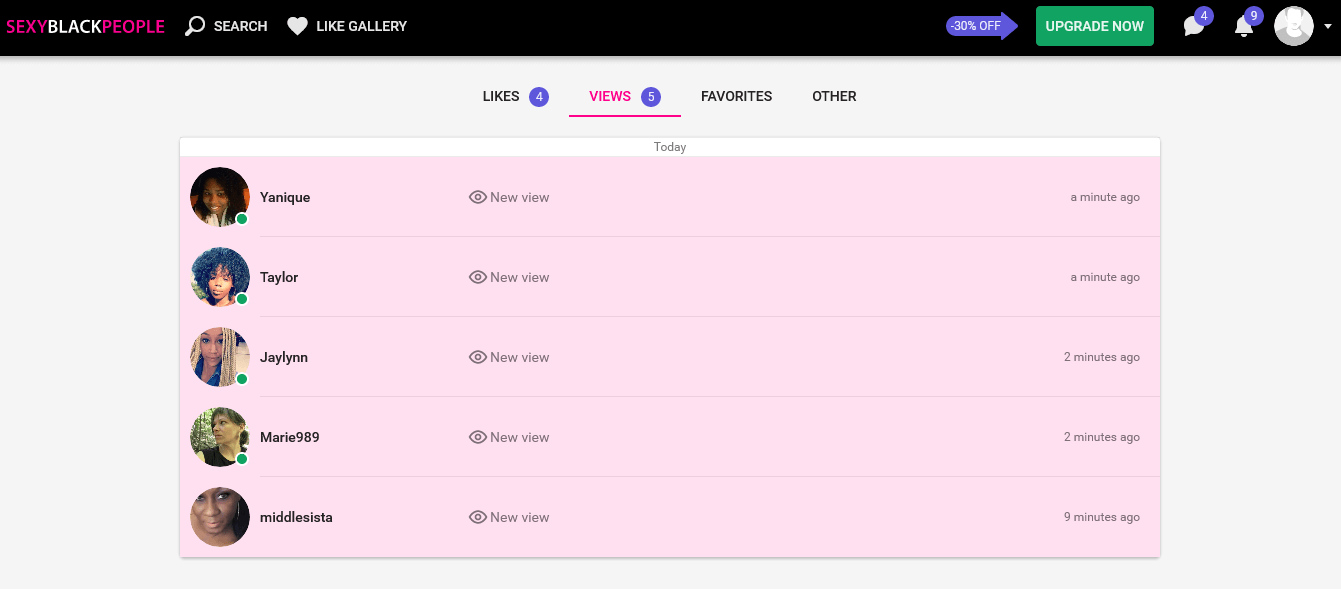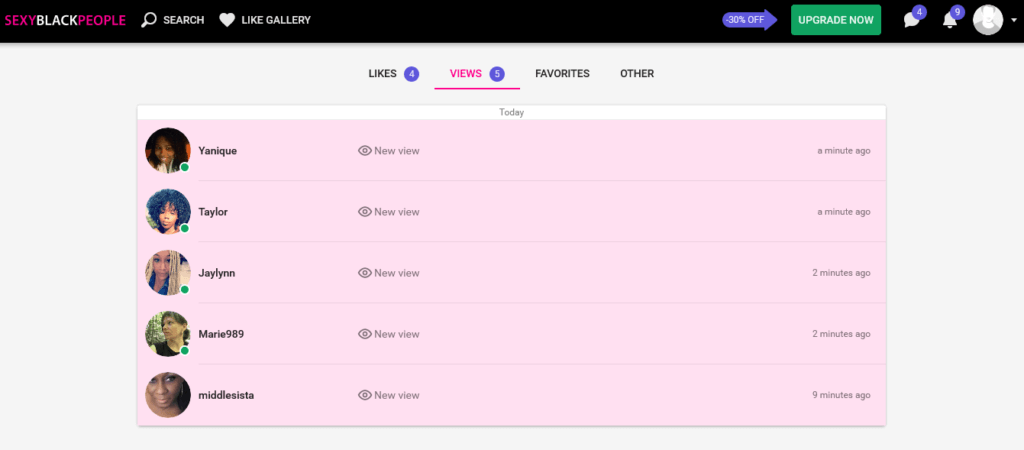 If you are a dating site veteran, you probably have come across the site design used by SexyBlackPeople.
There are many dating sites out there that use it.
And that's because it's super effective.
There aren't lots of menus to confuse you and the profiles of other users are the most important thing you will find on the site.
They are presented in that manner as well.
From the start, you will see potential matchups on the home screen based on your location, the age range you indicated as well as gender.
By all means, click on these profiles to learn more about each individual.
But also take note of the site itself and the menu system it uses.
As I indicated earlier, there are only a few menus you will use to find your way around.
They are:
Search: Clicking here will take you back to the homepage with the matchups that the site has provided. But it also allows you to make your own searches with several parameters that you can adjust.
Like Gallery: Click here to scroll through one user at a time. You can then either pass or like their profile.
Speech bubble: This is the menu to click if you want to find your sent and received messages
Bell icon: Notifications will appear here including if your profile was viewed or liked, for example.
Profile picture: Both your profile and various site settings can be accessed from this menu
And that's it.
Without a doubt, SexyBlackPeople is a simple site to learn your way around and it's so user-friendly as well.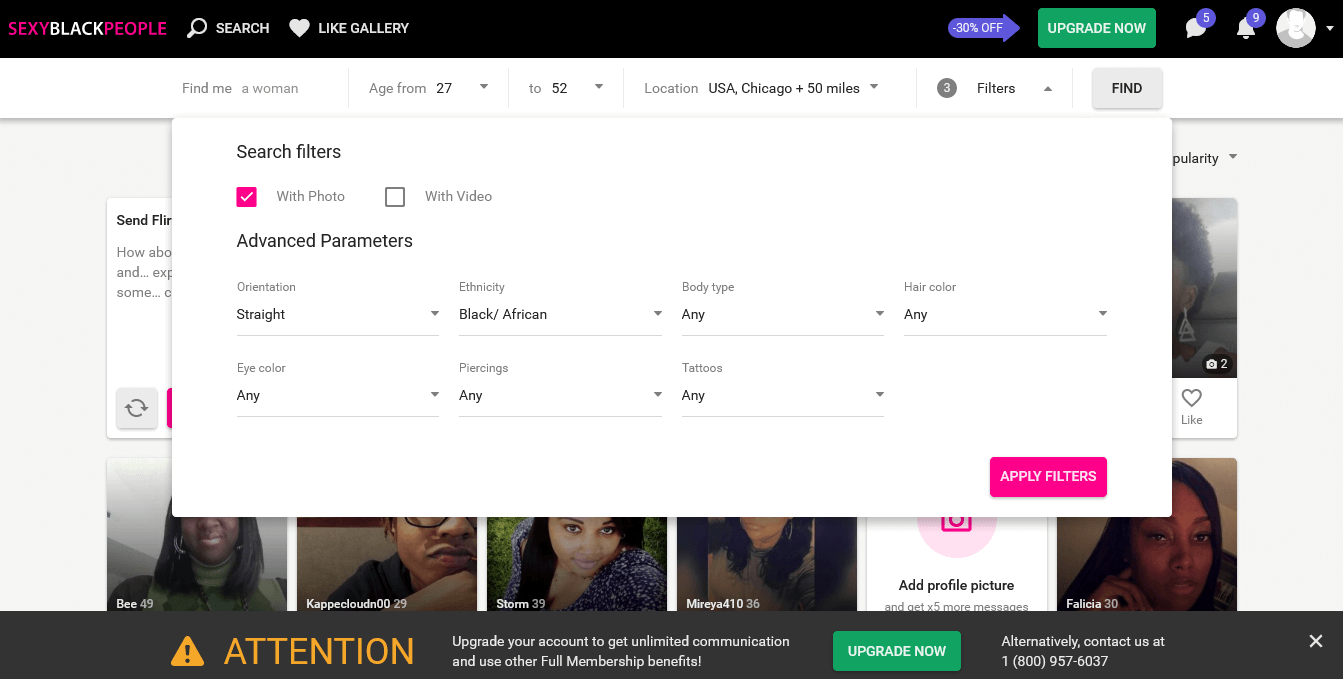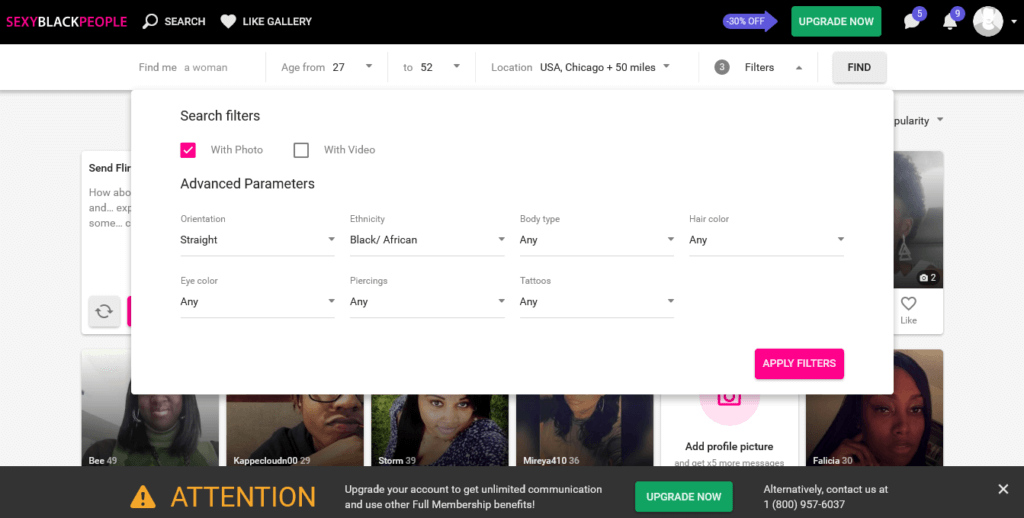 But how effective is it in turning up matchups for you?
Well, I can say that the reviews on this site are mixed.
Some say this is a site filled with scammers and others say it's totally legit.
From what I've seen in my time on the site, I think it does use bot messages to try to get you to buy into membership.
But having said that, I had conversations with real people as well.
Fake profiles and scams are a problem on most dating sites, except those exclusive ones where your profile takes weeks to be approved.
The lesson is always to keep your head and if someone is asking for money, they probably aren't worth talking to anymore.
Once you are done looking through the matchups the site presents to you, it's time to search for your own.
One of the positives of the site for me is the search engine.
Even for a regular user, it's pretty effective and allows for a range of parameters that you can adjust.
The initial parameters are:
But you can also add more related to those found in users' profiles.
These relate to appearance, if the user should have a profile picture or video, their sexual orientation and more.
Don't add too many because on a site with fewer users, you are going to cut down on your matchup returns and might not actually end with that many.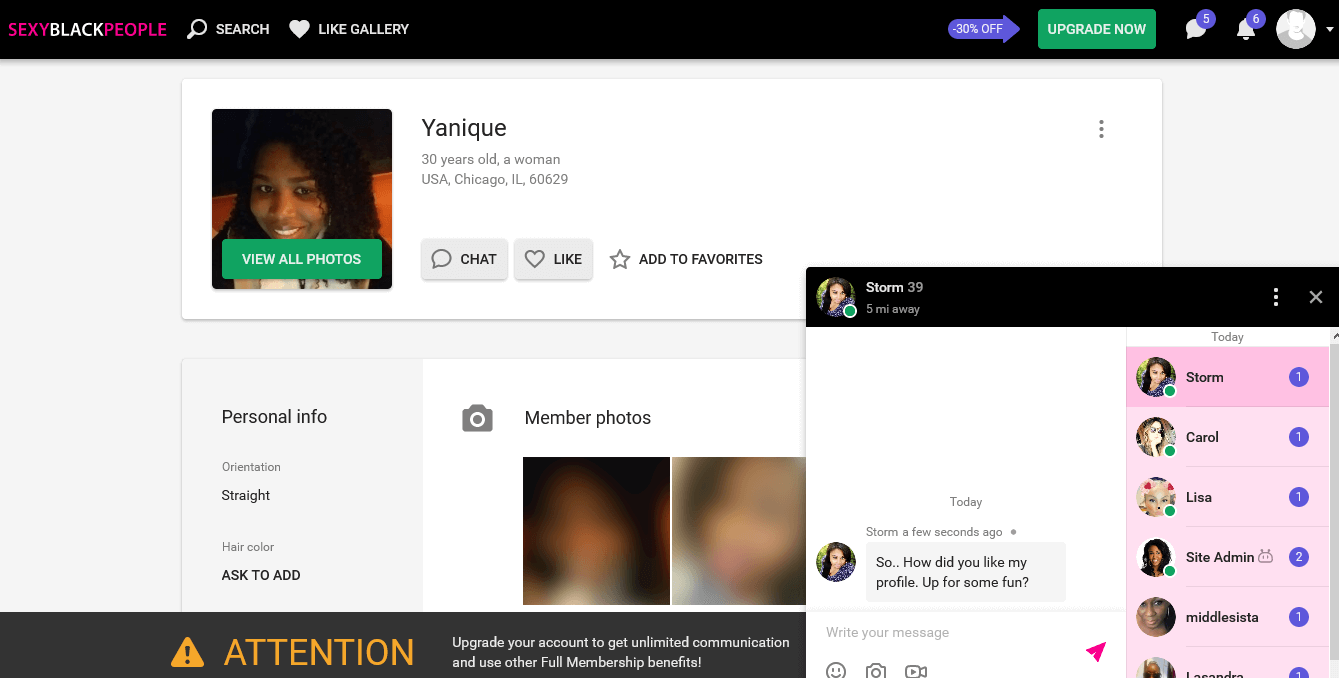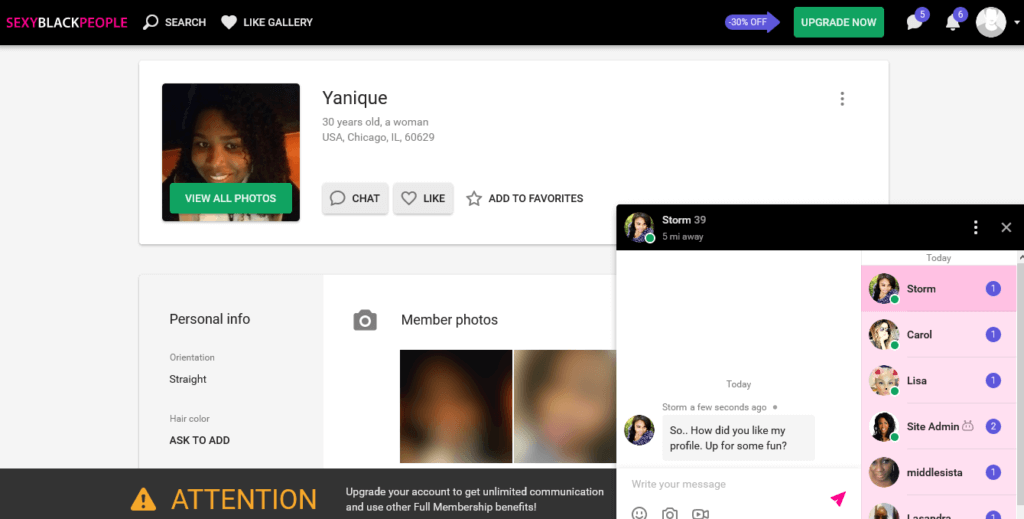 First up, I want to talk about a Flirtcast.
This is something you will see on the site and it effectively acts as a broadcast message to other users.
All users can send a flirtcast and once you've checked the site out in full, I would suggest that's the best time to send yours.
New users can also send five free messages.
Your free message does not include replying to messages that you will receive from others.
Once those messages are up, however, if you'd like to send more, you will have to sign up as a member of the site.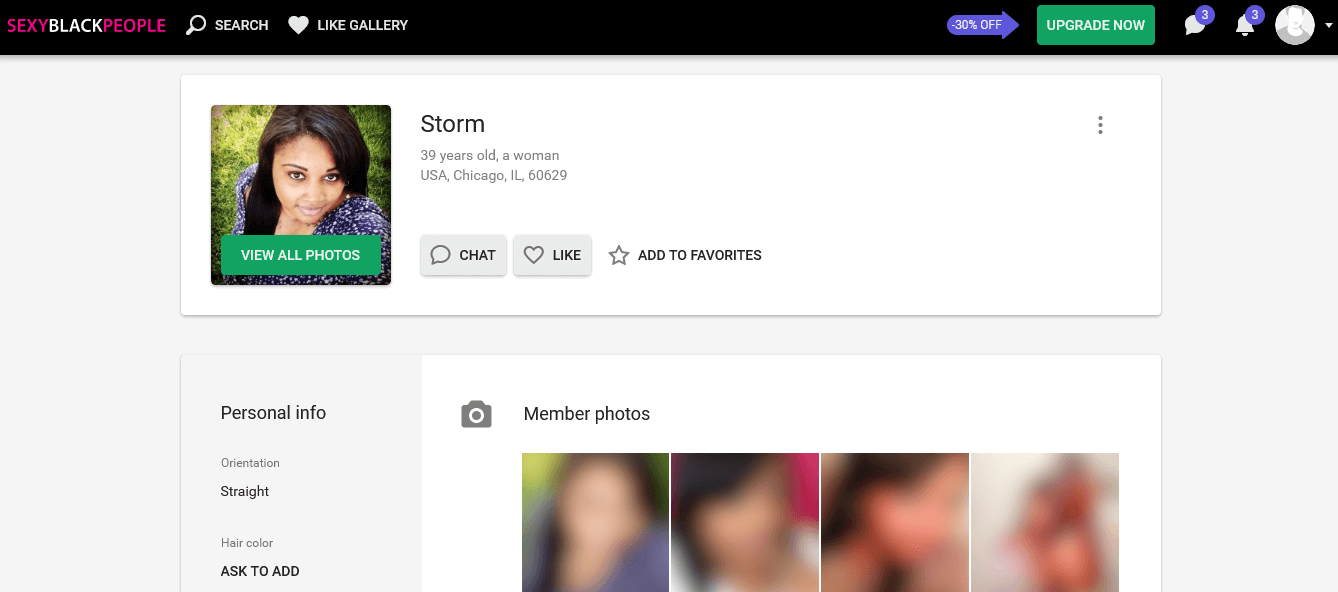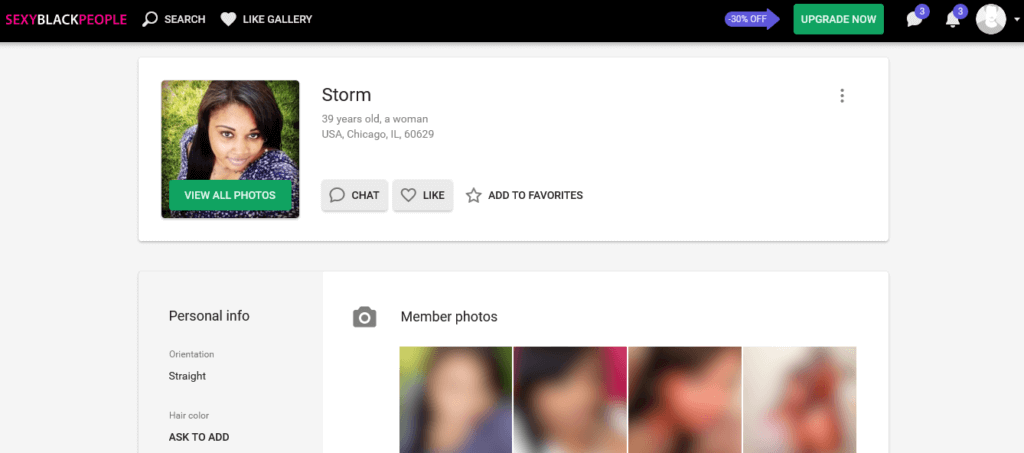 Should you wish to sign up for a membership on the site, these are the key features that you can take advantage of.
1. More search parameters
From my perspective, this would be an extremely useful feature if the site had a massive user base.
That's because then it makes sense to make specific, parameter-based searches.
If you do that on a site with a fairly small membership, you will receive fewer returns if you add too many parameters.
I am not saying it can't work for you, but if search returns start to diminish, rather cut some parameters instead of adding them.
The most needed key feature on any dating site, messaging is unlimited for all premium members.
That means you don't have to hope someone will reply.
It doesn't matter if they don't because you can just carry on sending to any potential matchup that meets your eye.
3. Large pictures/view all
When you compare SexyBlackPeople to other dating sites, you will find that here you cannot view profile pictures in their full size.
And the default size on profiles is extremely small as it is.
As a member, you can not only view the person's profile picture in its full size but you also get access to all the other pictures they have uploaded to their profile.
4. See what kind of relationship people want
Now this is a key feature I think is something to highlight.
Not everybody wants the same kind of relationship as you do.
And while people might be flexible, for me, it's really helpful to note what they are actually looking for before you reach out to them.
5. Sharing pictures and videos
Members of the site can share both pictures and videos in chat messages with other users.
While this seems something simple, it's actually a pretty useful feature.
All members of SexyBlackPeople can expect premium support should they ever have a deal with an issue.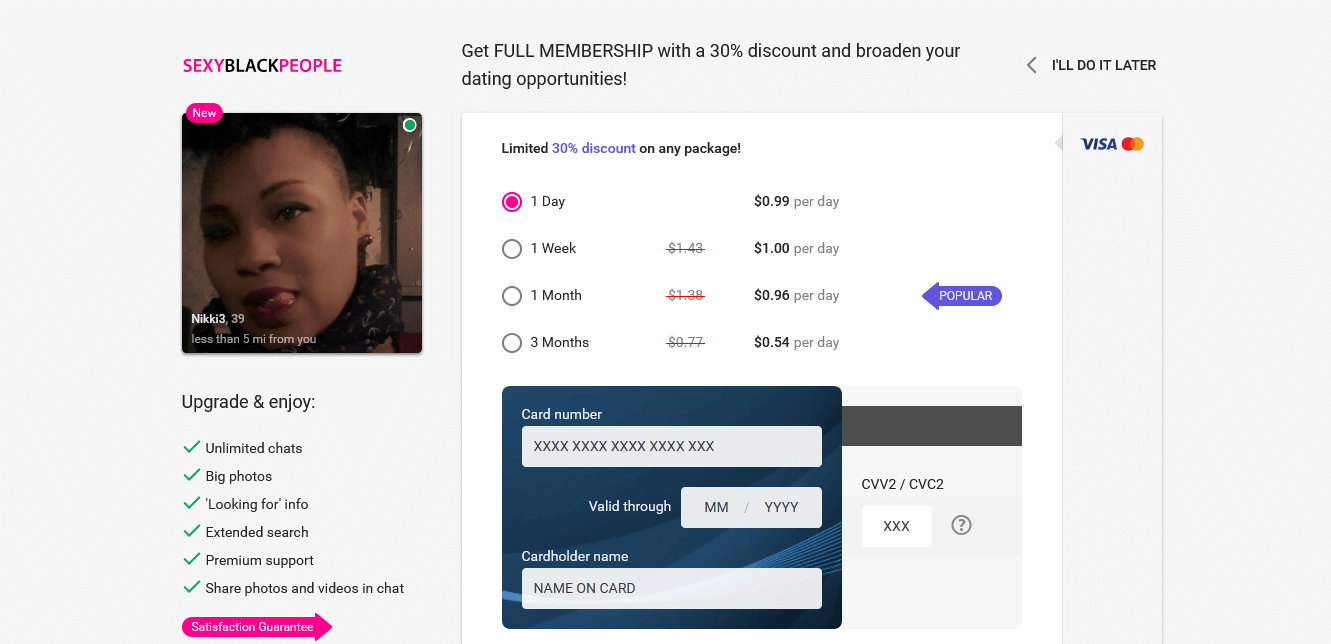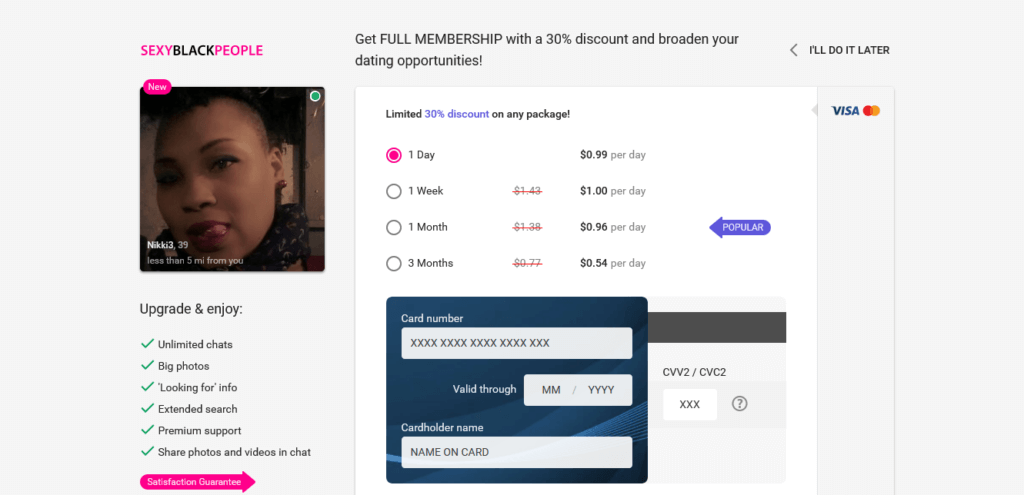 So just how much is monthly paid membership going to set you back?
And what options are available to those thinking about signing up for membership when it comes to contract lengths?.
One of the strengths of the site over many others is the fact that it has several options available.
Here's a full breakdown:
1-day: $0.99
1-week: $6.99
1-month: $27.99
3-month: $49.99
Please note that there was a special running on the site when we reviewed it, but it seems like prices fluctuate often.
A common critique I often have with dating sites is that they don't have short-term membership options.
But here you have two, a one-day and a one-week.
Even if you can afford the one-month options, you should always trial a site first if you can.
That's where I would start.
For the features offered by SexyBlackPeople.com, the one-month membership option at this price isn't bad.
As for paying for your membership should you sign up, well you can do that with your credit card.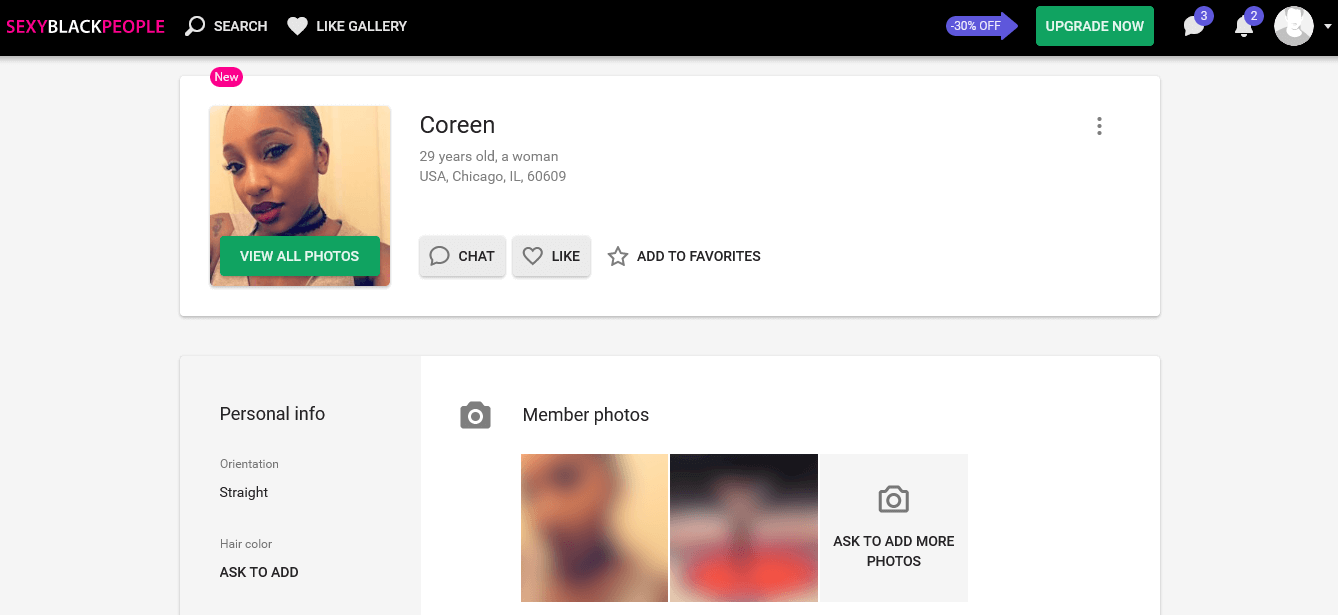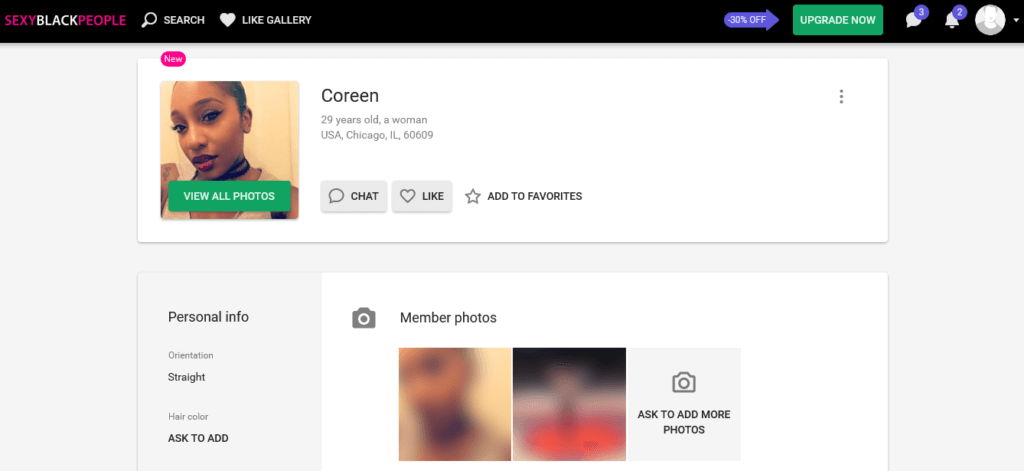 Conclusion and Overall Rating
And that concludes our SexyBlackPeople.com review.
Let's summarize what we found out about this black dating site.
Are there people using fake profiles?
I found more than enough real women looking for all kinds of relationships, from casual dating to serious relationships.
I don't believe it to be a dating scam at all but having said that, you will find people trying their luck, so be aware of that.
Also, there are some automated messages but you'd be able to spot those as I did.
What's really holding this site back is the fact that its user base is so small.
It simply can't compete against more established sites such as BlackPeopleMeet, BlackSingles and others.
But nothing is stopping you from registering for a profile and seeing if there are others near your location.
Plus, it has a trial membership so you can give the site a good workout without paying too much before making a final decision.
For an overall rating, SexyBlackPeople gets 3 out of 5.
At Onlineforlove we tested SexyBlackPeople and concluded that it could be an effective dating site for black singles but the user base is still very small.
Our review approach saw us giving a star rating for the critical criteria that we judge the site by during our extended review.
The final evaluation was based on the following factors: membership pricing, how easy it is to use, success rate, the size of the user base and key features, amongst others.