If you are going to visit or have visited Thailand and other Asian countries, no doubt you've come across Asian ladyboys.
These are transgender or transsexual individuals that are extremely popular in the sex industry in these countries.
Whether it be for online dating (like Tinder or eHarmony) or hookups (like BeNaughty or Ashley Madison), Ladyboykisses covers shemale dating, transwoman and crossdresser dating.
So if you were wondering how to find a ladyboy, then this review might just be the perfect piece to read.
OFL Top Recommendations based on 100,000+ Survey

"Serious Relationships"
"Discreet Hookups"
"Best Course for Men"
"Quick Flings"
"Normal Hookups"
"Our Quiz"
We cover many things in this Ladyboykisses.com review including:
So let's just straight into our Ladyboy Kisses review.
Is your dating app giving you the best chance for success?
Make sure to take our online dating site/app quiz to find out.
It's a fact that people who follow our dating site suggestions have on average 2 extra dates per month.


Ease of use – 3.5/5
Effectiveness – 3/5
Key features – 2.5/5
Pricing – 3/5
Find ladyboys from across Southeast Asia including Thailand and the Philippines.
Comprehensive profiles
Large user base
Social media login in options
You may have to wait 24 hours before your profile is approved
Membership needed to send any form of messaging


Who Is It For/Demographics?
Thailand, the Philippines and other countries in South East Asia are often a place where people look online for tranny dating and ladyboy sites.
Many people from Western countries try to find free ladyboy sites before they embark on their holidays to these countries.
But if your question is "how to meet ladyboys", then free websites aren't the answer.
They just aren't reliable enough.
And in truth, even with a regular dating site, how many of them are free and effective?
OFL Top Recommendations based on 100,000+ Survey

"Serious Relationships"
"Discreet Hookups"
"Best Course for Men"
"Quick Flings"
"Normal Hookups"
"Our Quiz"
So with a niche market like ladyboys, you want a site that can offer testimonials and success stories to show that it can help find you the right kind of matchups.
The numbers behind

Ladyboykisses
While this is a ladyboy dating app and site that's obviously not the only people that you will find on the site.
Yes, ladyboys dominate but there the second biggest group of users are those that want to date them.
You will also find women on the site as well and that's a group that you can search for as a potential matchup if you'd prefer.
While exact user numbers aren't available, it's clearly into the millions with most users coming from Thailand and the Philippines.
Here are some other interesting facts and figures:
Around 50 000 users are active each week on the site
That's 7 000 per day and 200 000 per week
The gender ratio on the site is 65% female and 35% male
Most ladyboys on the site are between 18 to 30 years old, most males on the site are between 25 to 50.


If you are an Android user, there is a Ladyboykisses app but it's not officially endorsed by the Google Play Store.
It's in the form of an APK that you can download but that's your call to make.
For this ladyboy review, we've registered personal details through the website and then used it from that point onwards.
That process allows you to register as either a man, woman or ladyboy.
Those are all preferred genders for your potential matchups as well, so yes, the site has gay and LGBT options.
You will have to provide a fair amount of information to start the registration process but there's nothing new here at all.
You can also register through your Facebook account if you wish and that's the route I took to simplify things.
Whichever you choose, before you can access the site for the first time you are required to fill in your profile.
This includes:
Why you are using the site (for fun, friendship, serious relationships)
Your first name
Last name
Nationality
Height
Weight
Hair color
Eye color
Marital status
If you have children
Your job
Your education
Your profession
If you smoke
If you drink
Your religion
If you are willing to relocate
Languages
Following that, you must provide information about what you are looking for on the site in terms of matchups.
You can select from man, woman and ladyboy.
Or you can select all three if you'd like.
Other information that needs to be filled in here includes:
The age range of matchups
Height
Countries you don't want matchups to be from
After that, you will need to:
Describe yourself
Determine your priorities in a relationship by ranking common hobbies, intimacy, harmony/trust, common friends and romance.
State your priorities in life (for example family, friends, sport, etc)
Finally, as part of the security procedures on the site, you will need to upload either a photo of you holding your handwritten email address or a scan of your passport or identification card.
If you don't do this, you cannot access the site.
Note, you can wait up to 24 hours before your profile is cleared.
Once you do get permission, it's interesting to note that the website is run out of Germany and the address changes to Ladyboykisses.de.
Before we get into finding your way around the site, let's talk a little bit about the design.
Well, if there was only one word that I could use to describe it, it would be unique.
I don't think I have ever seen a dating site quite like it, that's for sure.
There is a lot going on here that's for sure.
Having said that, once you've taken your time to settle in, it's not difficult to use at all.
You will notice that your profile and other information related to it are found on the right-hand side of the screen.
There's a fair amount of information here but it's all self-explanatory, so I don't want to go into it too much.
The main menus through which you will navigate the site are found at the top of the screen.
These are:
Browse: Here are a selection of profiles based on your gender and age range parameters
Search: You can search for your own matchups here
Mailbox: You can find your sent and received messages here
My photos: Control all your photos user
My contacts: This is a list of people you've made contact with on the site
Visitors: See who has visited your profile
Galleries: Find photos of other users here
Statistics: Various statistics can be discovered here
Success stories: View success stories from other users here or write your own if you'd like
Contact us: If you'd like to contact the admin team at Ladyboykisses you can do so through this menu.
That's a fair amount of menus the but two most important are without a doubt the search and mailbox menus.


When it comes to searching for a matchup, Ladyboykisses lets regular users make use of all search features.
To start, there is the basic search engine.
This allows you to conduct searches using the following parameters:
Gender
Age
If the user must be online now
If the user must have a profile photo or not
That can be effective enough to turn up a bunch of matchups for you to search through but in reality, you are going to also want to use the advanced search engine.
That's because it allows searches with many more parameters, most of which are based on user profile details but also location.
One of the best tools you have at your disposal while using the site is to favorite someone you might be interested in.
If you do that, you will go onto their admired list and they will be alerted.
Often, by doing this, they will get into contact with you.
That's free for ladyboys on the site to do, however, if you want to contact them back, you will need to consider membership.
Here are the key features that you can expect if you become a member of Ladyboykisses.
But first, let's just take a recap of what it is a free member can do on the site.
They can:
View user profiles
Search
Read and write their own success story
Browse photo galleries and like other users' photos
Add favorites
Becoming a paying member opens up more features.
Communication on Ladyboykisses isn't possible if you don't take out membership.
That means that the site won't really be that effective for you at all if you cannot send messages.
It goes a little deeper than that though.
Because as a member, you can unlock the personal contact information related to other users.
Yes, you can include your WhatsApp number as part of your profile and members of the site can see it with your permission.
That means conversations can be taken offline if you'd like to.
Note, however, that messaging works a little differently here.
Depending on the package you take out for membership, you are given several contacts.
This allows you to send messages to other users but only so many depending on the package.
So if membership allows 300 contacts, you can only use those during a month.
Once you run out, you will still be allowed to message those that have replied to your initial contact.
Instead of relying on sending messages which can be a bit of a slow process, you can rather chat directly with other members.
This is more immediate and it's the perfect way to get to know someone far quicker than having to wait for them to reply to an email message that you sent.
Initiating a chat session also counts towards the contacts mentioned above.
Because many of the users on this online dating site are from Thailand and the Philippines, often their English is not the best.
That's why you can access translators to help you when speaking to other users if need be.
And that's it.
Compared to other online dating sites, that's not that many added extras for members to make use of, right?
So how much does membership to the site cost?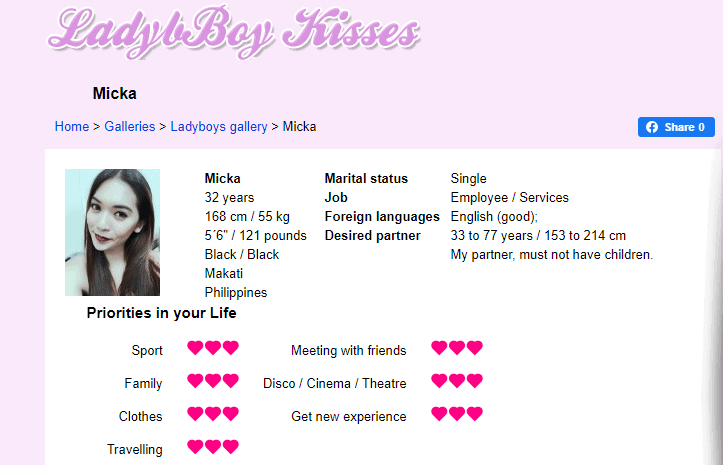 As we found out earlier, it's important to note that while ladyboys can use the site for free.
That means that other users, like males from the West looking for hookups in Thailand, for instance, subsidize the fact that a large percentage of the user base doesn't pay.
And that makes Ladyboykisses pretty expensive for a one-month membership, especially when you look at the few key features that are available to members.
Luckily, the extended plans offer reasonable discounts
Here's a breakdown of the membership prices:
1-month membership with auto-renewal and 300 contacts: $31.27
1-month membership with 300 contacts: $40.54
3-month membership with 900 contacts: $81 ($27.00 per month)
6-month membership with 1800 contacts: $121.61 ($20.27 per month)
12-month membership with 3600 contacts: $162.15 ($13.51 per month)
Also, it's important to remember that you can take your conversations offline by getting the contact details of members.
So you might not need a membership for an extended period of time if you take this approach.
But that's going to be up to what each individual wants from the site.


Conclusion and Overall Rating
Thanks for taking the time to read our Ladyboykisses profile.
It's an interesting online dating site, that's for sure.
But it serves a niche that plays a prominent part in online dating in South East Asia.
There is no doubt that when you compare Ladyboykisses to other dating sites, it operates a little bit differently.
Essentially the fundamentals are the same, however.
You are going to have to register your profile, search for potential matchups and get into contact with them.
And if you are the one looking for ladyboys, well then you are going to fit the bill.
If I am honest, the pricing is pretty expensive but as I already mentioned, male users are subsidizing many of the other users on the site.
Luckily, this is offset by the fact that you can take the conversation offline in many ways, for example by getting someone's Whatsapp details or even their email address.
I do like the fact that all profiles are checked out thoroughly before they are approved, although it's a little bit annoying that this can take up to 24-hours.
It does help protect from scams, however.
But not, let's give Ladyboykisses an overall rating.
Today it gets 3 out of 5.