Nowadays finding true love is quite difficult – it is all about swipes, superficial connections, and one-night-stands.
There are only a few dating websites that offer real and meaningful connections, and Marriagemindedpeoplemeet is one of them.
If you are ready to settle down and find your lifelong partner, then marriagemindedpeoplemeet can help you achieve just that!
On this website, only deep connections are made and these often lead to marriage.
OFL Top Recommendations based on 100,000+ Survey

"Serious Relationships"
"Discreet Hookups"
"Best Course for Men"
"Quick Flings"
"Normal Hookups"
"Our Quiz"
In today's review, we'll cover:
Let's dive right in to see what this unique website has to offer!
Is your dating app giving you the best chance for success?
Make sure to take our online dating site/app quiz to find out.
It's a fact that people who follow our dating site suggestions have on average 2 extra dates per month.
MarriageMindedPeopleMeet Review in Video Form
Audio (podcast) form for those of you on the go
But first, the ratings!
Effectiveness – 3/5
Features – 3/5
Ease of use – 3.5/5
Price – 4.5/5
Diverse member pool, with the same goal – deep connection and marriage
The dating platform suitable for all generations
Low-priced, so premium membership is accessible to everyone
Verified profiles, and the low percentage of scammers
Great search filters
Messaging features aren't available to standard members
There isn't an official app

Who is it for/ Demographic makeup
Now that I've covered the basics, let's get familiar with the demography of the website.
This dating site is by no means a hookup site (like BeNaughty or Ashley Madison), it is rather a site for those seeking serious relationships (like eHarmony) and those interested in marriage – as the name implies.
That said, this is the smallest dating website – its member base isn't so large, but it is quite diverse.
Now, the website counts around 600 000 singles from different parts of the world.
Still, the majority of users are either Canadian or American – about 15 thousand users are Americans.
OFL Top Recommendations based on 100,000+ Survey

"Serious Relationships"
"Discreet Hookups"
"Best Course for Men"
"Quick Flings"
"Normal Hookups"
"Our Quiz"
Since the website is slowly growing into an international dating platform, all ethnicities are welcome and creators believe that distance shouldn't stay in the way of true love.
Speaking of gender distribution, I noticed that it is slightly unequal – the ratio of female to male users is 3:2.
This means that women are more active, so male users do not have to work hard to get their attention.
Women are more dominant, and more likely to initiate contact on the website.
Men are bombarded by messages, and they have a say in whether the conversation will continue or not.
When it comes to the average age of users, this website is mostly for senior dating.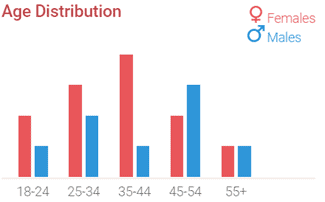 Around 25% of users are between 35 and 44 years old, and this age group is mostly dominated by women – only 5% of male users are in this category.
The 45-54 age group also gathers 25% of all users, but in this group, men are more active.
Still, the difference in percentages between female and male users is small – there are only 5% more men than women, so even in this category men do not have to do much to get female attention.
If you are in your early 20s, you might struggle with finding a match, since only a few members belong to this category – only 15% of users are in their early 20s and one-third of users are males.
Even though the website is quite open to different cultures, ethnicities, and races, homosexuals aren't present in a large percentage.
Members of the LGBTQ+ community aren't banned from the website, but since there aren't many like-minded people on the website, they use different online dating platforms to find love.
If you are gay, I recommend that you skip on marriagemindedpeoplemeet.com and find a dating website with a higher number of homosexual users.
When it comes to the interest of members, there really isn't much to say – as you can conclude from the website's name, this is the website for singles that hope to settle down shortly and are only looking for deep, meaningful, and long-term connections.
So, after getting to know the member structure, you might start questioning its effectiveness – can singles from all over the world find love on Marriagemindedpeoplemeet?
How well it works for the target group?
The target group of this website is singles that are ready to meet their lifelong partner and start a serious relationship.
Since all members have one goal – relationship leads to marriage, they can all find just what they want.
As said, the website promotes diversity and believes that distance doesn't stay in the way of love.
If you aren't ready to travel for love, you can meet people from your area as well.
The search filters will help you with excluding all of the profiles that don't meet your criteria.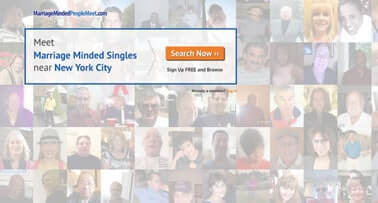 These are quite basic filters (for age, location, and gender), but can narrow down the search significantly.
One thing that should be noted is that fake profiles are inevitable, but there aren't many of them on the website, so you shouldn't worry about getting catfished.
Every day you will get five recommended profiles – these profiles are picked by the website, and according to its algorithm, they have a high match rate.
Besides these five profiles, you can contact all of the members you've found via search.
However, many messaging features are unavailable to standard members, so before you click on that "Message" button, upgrade your profile.
The easiest way to show interest is by flirts – these are free to everyone.
Besides flirts, you can also join live chat rooms or send private messages.
In live chat rooms, you are communicating with members in real-time – all members are online, so conversation runs smoothly in the chat rooms.
If you have created a connection with someone then you can start exchanging private messages as well.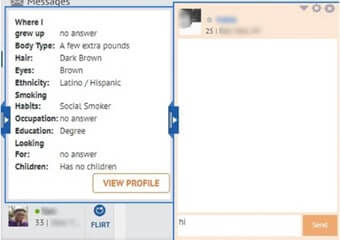 There is also an option for voice or video calls for more personal and intimate conversations.
Since you are reading this review, you are probably ready to tie the knot and settle down with one person, and the chances of finding someone like-minded are quite high.
As stated, there aren't many members on the website – it isn't overcrowded, so it is easy to get the attention of other users.
For males, it is even easier to meet someone new, because women are more active and willing to make the first move.
There is also a way to boost the chance of success.
The website throws real-life events from time to time – just check whether the event has been organized in your area.
Marriagemindedpeople doesn't offer a variety of features.
Is this good or bad?
Well, this depends on your age – the younger audience loves to try and play with different options, so most of them aren't too satisfied with available features and would prefer for creators to add a few modern ones.
On the other hand, seniors (the most active group on the website) love the features available – they are super simple, so they do not need to be computer geeks to learn how to use them.
What are the marriage minded people meet special features?
Let's learn more about them:
This is one of the easiest ways to start a conversation or show interest.
Contacts initiated with flirts, often lead to better connections and get more responses in general. So, if you want to make sure that you get a reply, approach with the flirt.
The feature is super easy to use – all you have to do is click on one button and the members will receive a notification that you wish to flirt with them.
If they find you attractive, they will most likely respond with the flirt as well, and that is your green light to send a message.
To see which members flirted with you, just open the list – then decide to which you would like to respond and start making connections.
Marriage minded people com has one quite interactive feature – on the website you can play a game called "Who do you like".
So, how to play it and what will you get in return?
In this game, a bunch of profiles is displayed, and all you have to do is choose between yes or no – if you find someone attractive, tap on the yes button.
You can enter the game as many times as you want.
The displayed profiles are the ones that you haven't stumble upon on the website already – these are either members that you didn't match with or the ones you didn't find during browsing and filtering the results.
So, each time you play a game, you have a chance to see and meet entirely new profiles.
Other members might stumble upon your profile while playing the game, and you can see all of your Yes votes in one list.
You will notice that conversation runs smoothly with some members and that you enjoy talking to these members a bit more than with others.
With the Faves list, you can keep track of the profiles that you have connected with or others that have just caught your eye and you want to contact them in the future.
All you have to do is bookmark the profiles you are interested in, so you can easily find them whenever you want.
If you are a premium member, you will also be able to see who bookmarked your profile – this is a great way to expand your search and get in touch with even more members.
Lastly, let's talk about the website navigation, marriage peoplemeet.com app, and most importantly, marriagemindedpeople.com login process.
How much effort will all of this take?
How to become a marriagemindedpeoplemeet member?
The registration process of marriagemindedpeoplemeet.com is quite simple and fast – on average, around 5 minutes are required to create the account.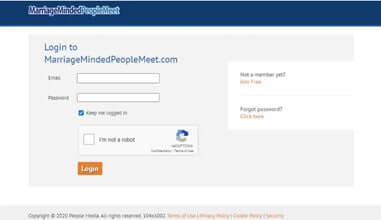 It consists of two steps – providing general information and the introduction part.
Firstly, you will have to state what you are looking for – this means which gender you prefer.
Once this is done, you can share some of the general information such as birthday, zip code, name, password, and email.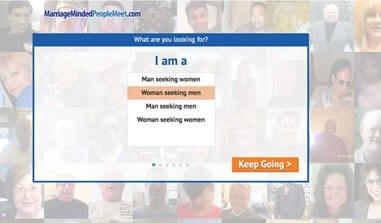 Some of this general information such as name and date of birth will be displayed on your profile, while other information is entirely private.
Email is only needed for the confirmation link, and other members won't be able to see it.
When the first part is completed, you can move on to the second one.
During the second step, you can create a more detailed profile.
It consists of an introduction paragraph, a personality test, and two short essays.
Not all of these are mandatory, but it is recommended to complete all of them since the complete profiles get more attention – responses, bookmarks, and Yes votes.
The introduction paragraph is mandatory – all you have to do is write a few short sentences about yourself.
Mention some of your best qualities and what you are looking for. Keep in mind that this paragraph should be interesting to read, but also informative.
Then, you can move on to the personality test – there are several questions about your hobbies, preferences, and romantic interests.
This part can be completed whenever, but it is better to do it immediately.
Members get five matches per day, and the quality of the matches is determined by the answers to the personality quiz.
If you do not complete it, the quality of suggested matches will probably be quite low and finding someone like-minded will be a bit more difficult.
Another thing that can help you get high-quality matches are two short essays – in these, you have to describe what makes you a great partner.
If you aren't good with words, just keep them short – again, talk about all of the advantages of dating you. It can be even simple things such as a good sense of humor.
In the end, you should upload a profile picture.
These aren't mandatory, but profiles without photos are often considered fake, so they do not get too much attention – to increase your popularity on the website, upload your best photo.
Make sure that the only person on the photo is you because members won't be too excited to guess which one on the group photo they are talking to.
Marriagemindedpeople.com website navigation
Married minded people.com has a straightforward interface that seniors find pleasing, yet still keeping it modern to attract a younger audience.
It has a blue theme – light and dark blue are mixed with white, and quite an intuitive design as well as a clear font.
You can easily guess which icon means what, so you can hop from one page to another without any difficulties.
On the website's home page you can find information about the privacy policy, safety, and terms of use, so you can get acquainted with the website's rules and know who to turn to if you are experiencing any troubles.
If you are struggling to find what you need, just go to the website's map – it is a great guide!
The one night that isn't so appealing is dead space – since the page isn't maximized, you will notice that there is a ton of free space.
Still, this dead space doesn't affect usability and easy navigation.
Every profile is organized in several tabs, so they are easy on the eye and you get a great overview of all information.
The tabs are basic information, essays along with introduction paragraph, answers to personality quiz, and profile picture.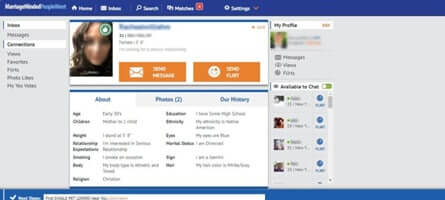 With just a glance at someone's profile, you can easily decide whether they are the right person for you or not.
If you want to Bookmark a profile, there is a Save button on top of the screen – just click on it and it will go to your Favorites list.
Marriagemindedpeoplemeet app
As far as the marriage peoplemeet.com app goes, unfortunately, there isn't one.
The creators probably haven't made an app because of the large percentage of senior users – these members aren't so tech-savvy and do not spend so much time on their phones, thus do not care about the mobile version or app.
Because the number of younger members is increasing, the creators have promised an official marriage minded people com app, but the release date is still not announced.
If you want to stay in touch with happenings on the website while you are away from the desktop, you can always use the mobile browser.
The website doesn't look as appealing on mobile as it does on the big screen, but it offers all of the same features, so you can still match, browse, and chat on-the-go.
Because marriagemindedpeoplemeet is a budget-friendly dating website, upgrading the account is highly recommended.
With a standard membership, you have access to quite standard features – registration, likes, flirts, and browsing.
If you choose the upgrade the profile, you will get access to all messaging features – live chat, and private messages, video and voice call, and if you choose one of the additional upgrades, you can unlock the emails as well.
Also, premium members can see who flirted with them and voted "Yes" for their profiles.
The prices are:
1 month – $13.99
3-month – $26.97
6-month – $38.94
Payments are only accepted via credit card.
Overall Rating – 3.5/5
What is my final verdict?
I gave this website a score of 3.5/5.
Members with standard membership can't enjoy the website, because almost all of the features are entirely unavailable to them.
However, since the price of the premium membership is quite low, everyone can easily unlock the messaging features and others.
The creators should also develop the mobile app, to attract a younger audience.
Currently, the design and features are more appealing to seniors – the website works well for people over 40 that are hoping to find their soul mate.
Before you go to the marriagemindedpeople.com to create the profile, read the FAQ – I have answered some of the most important questions, so you have all of the needed information.
Here are the answers to some of the most common questions about marriagemindedpeoplemeet.
They are separated into several categories: facts, usability, and account.
1. Is Marriagemindedpeoplemeet safe?
Yes, this is a safe dating platform for anyone who is looking for a deep connection and long-term commitment.
You can find many safety tips on the website to additionally protect your identity and personal information.
2. Is Marriagemindedpeoplemeet free?
Some of the features of the website are free such as creating a profile, browsing, and sending flirts.
If you want to chat with members in real-time or send private messages, you have to buy a membership.
The prices are low, and payments are accepted via credit card.
3. Is Marriagemindedpeoplemeet legit?
Yes, this is a legit dating website – fake profiles are present, but in a low percentage, and this is a trustworthy dating platform.
4. About Marriagemindedpeoplemeet company?
The website belongs to People Media Incorporated, that has the headquarter in Dallas.
It was created in 2013 and now counts more than 600 thousand users.
The dating platform is slowly turning into an international dating website, but it is still available only in the English language.
1. How do I join Marriagemindedpeoplemeet?
To join, you have to provide some basic info along with an email address for confirmation.
The registration process consists of about me paragraph, two short essays, and a personality test.
While this quiz isn't obligatory, the introduction paragraph is.
2. How to cancel Marriagemindedpeoplemeet?
Before you cancel your subscription, keep in mind that the refund isn't available.
You can only turn off the auto-renew option and enjoy the benefits of premium membership until it expires.
To turn off this option go to Settings and choose My Account.
There you will find the Account Status and Account Status Changes.
By choosing the Remove Automatic Renewal, you are canceling the subscription.
3. How to delete Marriagemindedpeoplemeet?
If you want to delete your profile, go to Settings, and choose My Account.
Scroll through the menu until you find the Remove my profile option.
You can also only Hide your profile, without deleting it – in My Account choose Hide My Profile.
4. How to contact Marriagemindedpeoplemeet?
You can contact the support team either via the website or the phone number provided on the website.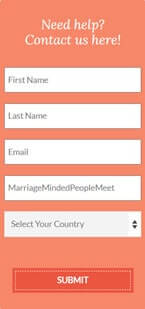 1. How does the Marriagemindedpeoplemeet algorithm work?
The website uses answers to a personality test to find you the perfect partner.
Five profiles are requested daily, and you can also browse by using search filters.
2. How do I block people on Marriagemindedpeoplemeet?
If somebody is acting disrespectful, go to their profile and click on the Block icon.
3. How do I report people on Marriagemindedpeoplemeet?
When someone is harassing you, or just acting inappropriately, you can report a concern.
The button can be found on all members' profiles.