Hi there.
Our extensive review is going to tell you all you need to know about a dating portal Right Stuff that calls itself the ivy league of dating sites.
It's one where graduates can meet up and hopefully find love.
But what type of dating experience is it going to provide?
OFL Top Recommendations based on 100,000+ Survey

"Serious Relationships"
"Discreet Hookups"
"Best Course for Men"
"Quick Flings"
"Normal Hookups"
"Our Quiz"
Well, by the end you'll know if this online dating service is all it's cracked up to be.
We will also answer the following:
So if you're are looking for a dating site, and not a hookup site (like BeNaughty or Ashley Madison), that's just a little different in terms of its target market than say, eHarmony or Tinder, you've come to the right place.
At the end of this Right Stuff dating review, you will know if starting a profile on this niche dating site is worth your while or not.
Is your dating app giving you the best chance for success?
Make sure to take our online dating site/app quiz to find out.
It's a fact that people who follow our dating site suggestions have on average 2 extra dates per month.

Ease of Use 2.5/5
Effectiveness – 3/5
Key Features – 2.5/5
Pricing – 4/5
A niche site for graduates
Very cheap membership
Small membership base
Dated website design and operation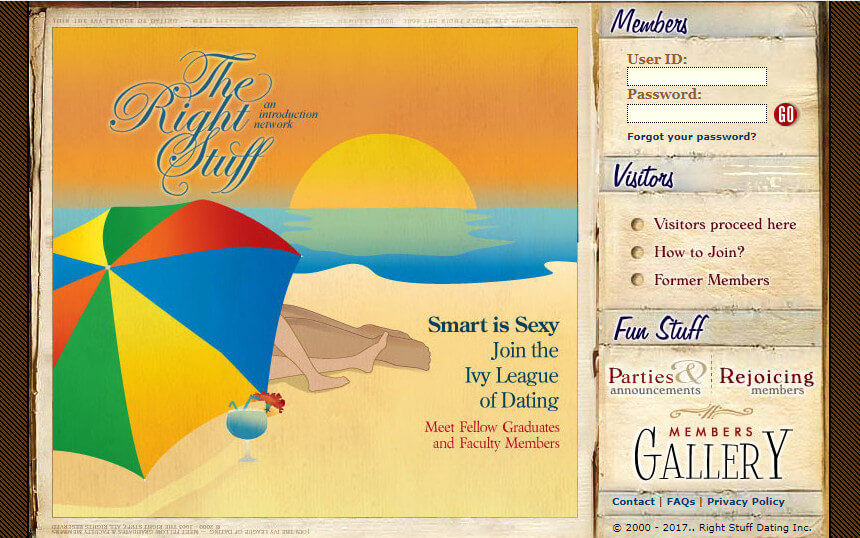 Who Is It For/Demographics?
If you want to talk about a niche dating site, then it doesn't get more niche than this.
OFL Top Recommendations based on 100,000+ Survey

"Serious Relationships"
"Discreet Hookups"
"Best Course for Men"
"Quick Flings"
"Normal Hookups"
"Our Quiz"
The Right Stuff is not new.
In fact, it started out in New Jersey way back in 1993.
Aimed at users in the United States but also with some from Canada and Europe, the Right Stuff is purely aimed at people who have graduated from college.
The target audience doesn't want to use regular dating sites to find their matches.
They don't want to be swiping on a dating app looking for a potential matchup.
In fact, you can probably show them the best dating apps available today and they won't be interested.
They want a dating site that going to put them into touch with members of the opposite sex just like themselves, those that have graduated from college.
So can see just how niche it is.
And while it's not going to have the biggest user database as we will see in a bit, it's popular within the target market it serves.
The Right Stuff has even appeared in the Harvard magazine.
Most of its advertising is done by word of mouth though.
You know, former members who have found love using the site or friends of friends joining up.
In a way, it's similar to The League but certainly doesn't have the same kind of user numbers and isn't as modern.
But more on that later.
The Right Stuff | By the numbers
This is a pretty exclusive site and not just anyone can join up.
And that impacts the numbers, that's for sure.
So just how many users does the right stuff have?
Well, as it's not a free website at all, they are not into the tens of thousands.
According to the Right Stuff website:
Around 5 000 people are current users on the site
Over 600 people have met through the site and tied the knot (just over 300 marriages in total).
So yes, when I said this is an extremely niche dating site, user numbers of around 5 000 back that up.
But it is what it is.
This isn't a commercial dating site where you are going to look through thousands of profiles, firing off messages left and right trying to get the attention of somebody… anybody.
While the user base is small, if you are a graduate looking for like-minded people, then this is one of the best dating sites for you.
Next up, we are going to look into the signing up process which is very different from what you may be used to on other dating sites.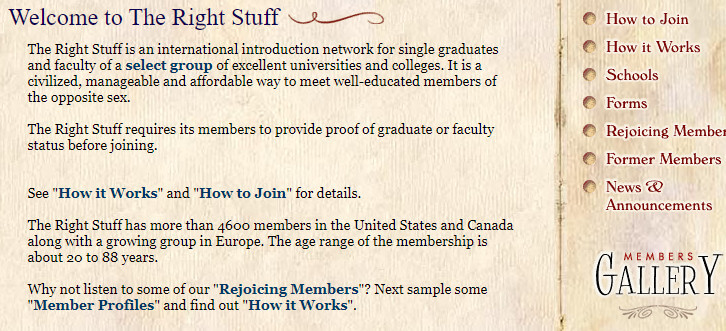 So the first thing you will notice about the Right Stuff sign up page is that it's not very modern-looking.
In fact, with a "recommended screen resolution 1024 x 768" advisory, I would guess the site has changed little from around 10 to 15 years ago.
Of course, site design isn't everything but don't expect to speed up your login using social networks here.
Also, the Right Stuff is never going to feature under an app review either, because there is no app for it at all.
So if you want to register your profile, the only place you can start filling in your contact information and other necessary details is on the Right Stuff landing page.
But there is a catch.
The Right Stuff only takes people who have graduated from a set list of schools around the United States, around 70 in total.
You can find a list of the schools here.
There are two important things to note about this list.
If you are from overseas, you can apply for the foreign school you attended
Those who attend medical schools can apply from any such school in the United States
Providing proof of your qualification
Not only do you have to have attended one of those schools, but you will have to provide proof that you did as well.
If you don't provide the proof, your status will be verified by the admin team at the Right Stuff through the school itself.
This is what is acceptable as proof that you did attend a specific school (note these can all be verified copies, not original documents):
Your diploma
A letter addressed to you from the school while you were a student there
An alumni or faculty directory that has your name in it
Your student/alumni/faculty card
Your address label from an alumni magazine
Email from the college or university showing you as a graduate
Email sent from your school account
As I said, if you cannot provide any of these, you can ask the Right Stuff to validate the fact that you attended a certain college or university.
The proof that you've attended a certain college or university is just the first step in the process of getting online as a member of the Right Stuff.
There are three more.
The second step is pretty time-consuming and involves you filling out a large amount of information.
You can do this on the site itself.
These forms are similar to the information you would fill in on a regular dating site.
So there is an administrative section as well as your profile which must be filled in.
For the administrative section, the following information is necessary:
Gender
First name
Full location
Contact numbers
Email address
That's followed by a short profile section were you need to fill in the following:
Password
Alias
Cell phone number and service provider
Five destinations you've traveled to or will travel to meet other members of the site
If you are willing to relocate for a relationship
Next up is the page biography section which requires:
First and last name
Nickname
How you would like to be contacted (email, postal mail or phone call)
Your occupation
The school you attended
The degree you studied
Year you graduated
Then follows your background information:
Your marital status
Your age
Your height
If you have children
Religion and if your potential partner should share that religion
Ethnicity
This also includes sections where you can describe your physical appearance, interests, social and political views and more.
Not all of these fields are compulsory but the more complete your profile, the better in helping to find potential partners.
This can be a pretty long process, especially if you are going to fill in everything, even the fields that aren't compulsory which I would recommend.
Set aside at least 30 minutes to complete it.
Also, you will need to provide photos for your profile.
Believe it or not, you can mail photos if you'd like or send a jpeg instead.
While that's most of the admin side of things covered, you cannot have a profile on the site if you don't pay membership fees.
There is no free site here at all.
You cannot start a profile, browse through matchups and then decide if you want to get into contact with someone.
For your profile to feature on the site, you must pay first.
We will get into the cost of membership a little later in this review.
Once all the checks are made regarding your diploma and your membership is paid, your profile will now be placed on the Right Stuff dating website.
And because everything has been very different with this dating site so far, you are probably wondering how it works from this point onwards.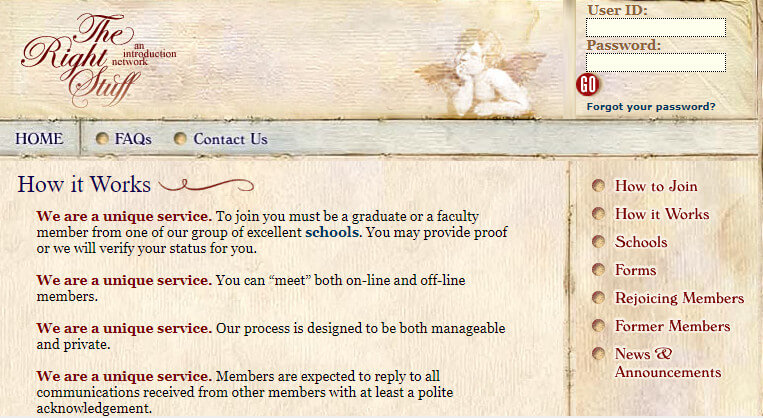 It's all good and well that your profile appears on the site, but you also need access to be able to find a matchup.
Don't worry.
The admin team at the Right Stuff will send your necessary login credentials so you can access the site and look around.
The site itself is very unique, but you've probably guessed that already.
Searching through profiles on the Right Stuff
There is a search feature by which you can look for a more specific type of matchup if you'd like to.
You can also browse the other profiles onsite.
Simply access them and start your search for that perfect matchup.
There is a little bit of a catch here.
You will only be able to see the short biographies just like the one that you wrote for your profile when signing up.
Many users too don't actually use a profile picture for their short biograpy.
But what about all that information that you filled in when registering?
There must be a way to see that, right?
Yes, there is but you are going to have to pay an additional fee.
For every full profile that you'd like to see, you must pay $3.30.
They need to be ordered of the site as well which certainly fits in with the unique way in which it operates, right?
But why does the site work this way?
You are probably thinking that if you've paid a membership fee already, why do you need to pay for a full bio as well?
Well, it's explained on the Right Stuff site.
Many people who have signed up for profiles are in the public eye and high-profile individuals.
The payment system for more information about someone is to protect their identity as best possible, says Right Stuff.
I suppose I can understand where they are coming from and by now, we are used to things that are different here from other dating sites, aren't we?
Once you have a full-bio of a potential matchup, you have the chance to contact them.
Reaching out to someone on the Right Stuff
So you've found someone that's spiked your interest and that interest has grown since you saw their full bio.
In fact, they seem like someone that you'd like to get into contact with.
Well, you have a few options on the Right Stuff for reaching out to someone.
First up, it's the in-site email system.
If you have a full-bio of someone then you can send them messages using it.
It's pretty simple to use and you should have no problem with composing a message and sending it off.
Then the wait begins to see if they will reply, right?
Of course, they will!
This is very similar to how messaging systems work on other dating sites, so if you have used them before, you aren't going to have any problems.
Even if you haven't you'll work it out in next to no time.
But what's the other way of contacting someone?
Well, in their full-bio, users may leave contact details like an address or even a phone number.
If they've don't that, then you are free to contact them that was as well.
Again, this is something that you won't see on many other dating sites, that's for sure.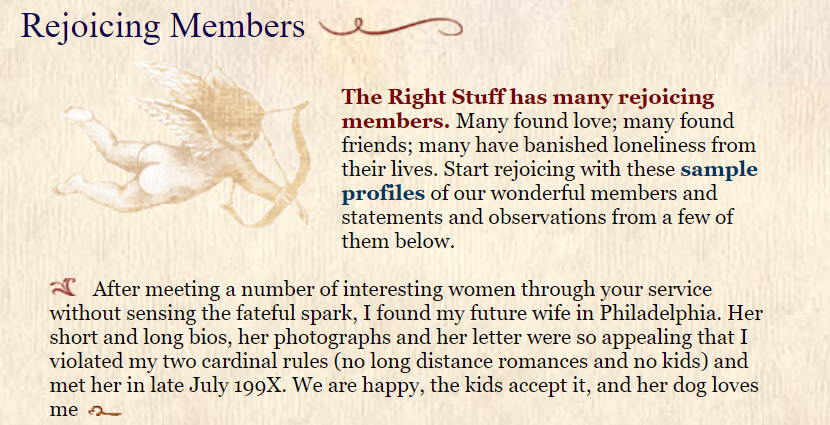 We've already seen that membership is to be paid upfront for the Right Stuff.
While there isn't any real extra key features that the site offers, there are a few things that I would like to bring your attention to.
Yes, even if you don't have an internet connection, you can still be a member of the site.
That's because of you don't really need the site to be able to contact someone.
Most people include other ways to contact them in their full-bio, so you have that option.
Also, you can register for the site via mail as well by downloading forms just like the ones you would have filled in online if you chose that route.
In today's day and age, I am not sure who doesn't have access to the internet but at least this option is available if need be.
2. Suspend your membership
This is a feature that other dating sites sure could learn from.
At any time you want, you can opt to suspend your membership on the Right Stuff.
Say you've found someone on the site and you start dating but you are only a month into your membership.
You don't want to waste the next five months that you've paid for, do you?
You don't have to.
Simply contact the admin team and have your membership suspended for however long you want to.
3. Other ways to find potential matchups
There are a few other ways that you can find a potential matchup on the site other than a regular search.
These include:
Smart searching
Viewing travel lists and itineraries of other users
Special interest lists where you can find people that have similar interests to yourself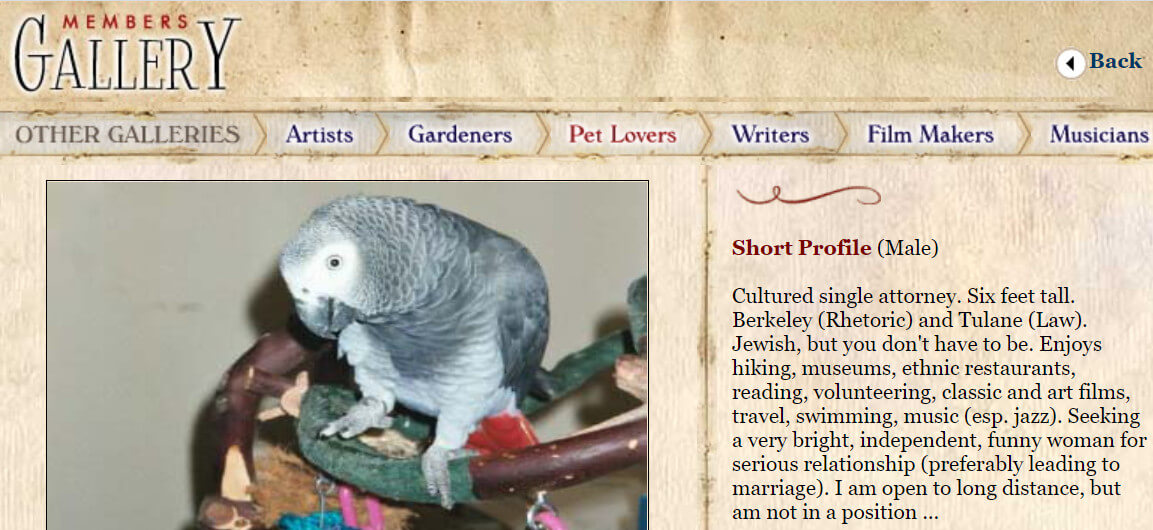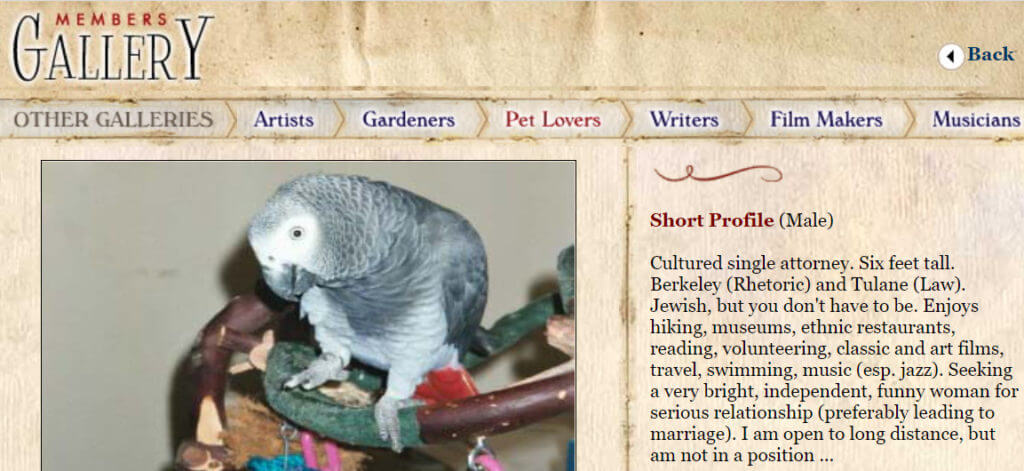 So let's get to pricing.
There is only one membership option available:
That works out just $12.50 a month.
It really is inexpensive when you think of the niche target market that is at your disposal and the price that other dating sites charge for their services.
Very little of them would ever work out to be $12.50 per month, even for their extended membership options.
All of a sudden, having to pay that $3.30 for a full-bio doesn't seem like a terrible idea.
That's especially true when you consider the savings you are making on your membership fee, right?
But there's even better news.
If you are a full-time graduate or undergraduate you only have to pay $35.
That's just $5.80 per month!
And if you are studying in Canada, Florida, Texa, Georgia, North Carolina, Oregon or Washington State then membership is totally FREE.
What a bargain!
From a pricing perspective, you are going to struggle to find a site with a similar target audience at a cheaper price.
Note, these prices are subject to change.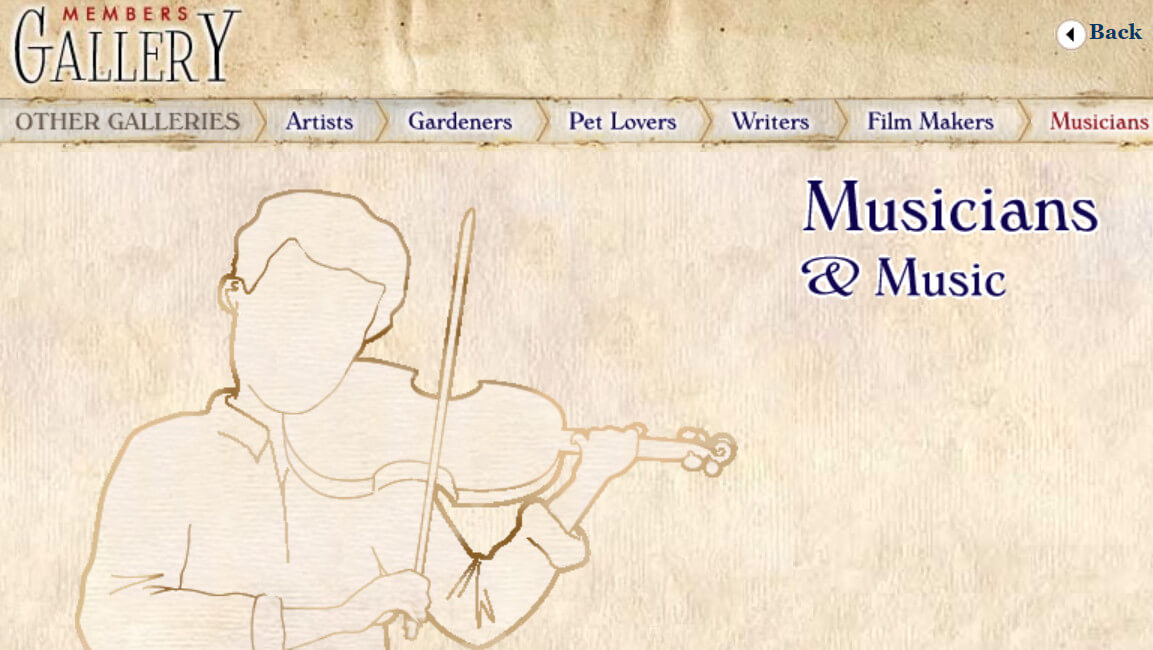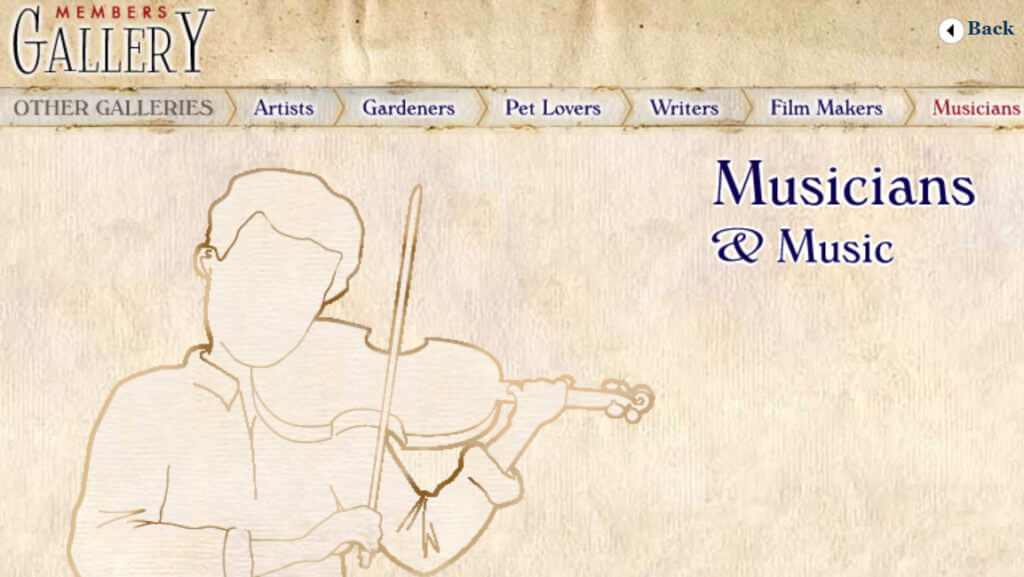 Conclusion and Overall Rating
Thanks for taking the time to read our Right Stuff Dating service review.
This niche dating site really does have potential, but it hasn't passed our test with a magna cum laude.
First of all, there is such a tiny user base here.
While that's not necessarily a major problem when we look at who the site is for, it still does cut down on your options for matchups.
For example, perhaps you don't even find anyone within 100 miles of where you live.
And what then?
Also, it's clear that the way the site operates and from it's overall appearance, nothing's probably changed here in the last 15 to 20 years.
Online dating certainly has moved on over the past decade, but the Right Stuff has sadly been left behind.
Again, is that a major problem?
Probably not.
You have everything you need here to find you a like-minded graduate for a matchup.
It's just a nice refresh of the site and the way things operate (I mean who actually uses the real mail anymore), wouldn't be a bad idea.
Having said that, if you are looking for highly-educated people to date, this is a good place to start to find them.
It will be quicker than going through thousands and thousands of profiles on more commercial dating sites that's for sure.
And although it's not free, it really isn't an expensive dating site to use at all, so it's worth a tryout in my book.
Perhaps you will finish top of the class.
Today, the Right Stuff gets a rating of 3 out of 5.