Blued is one of the most popular gay dating apps on the planet.
And in today's review, we are going to analyze just about every aspect of it.
So if you've used all the regular dating sites like Grindr to find your gay hookups and you are looking for something different, perhaps Blued is the dating platform for you.
It certainly offers a social networking aspect as well with live streaming and more.
OFL Top Recommendations based on 100,000+ Survey

"Serious Relationships"
"Discreet Hookups"
"Best Course for Men"
"Quick Flings"
"Normal Hookups"
"Our Quiz"
In our evaluation of this mobile app for the gay community, we will look at:
So let's start then.
Is your dating app giving you the best chance for success?
Make sure to take our online dating site/app quiz to find out.
It's a fact that people who follow our dating site suggestions have on average 2 extra dates per month.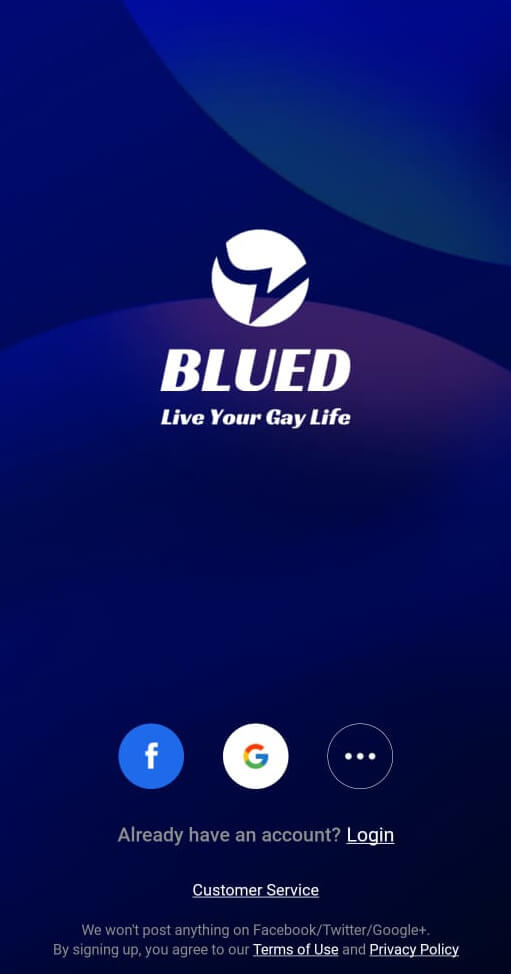 Ease of use – 4/5
Success rate – 3/5
Key features – 3/5
Price – 4/5
40 million users worldwide
Over 4 million users in the United States
Messaging if free
Advertising is very annoying
The social networking aspect, while clearly popular, has nothing to do with dating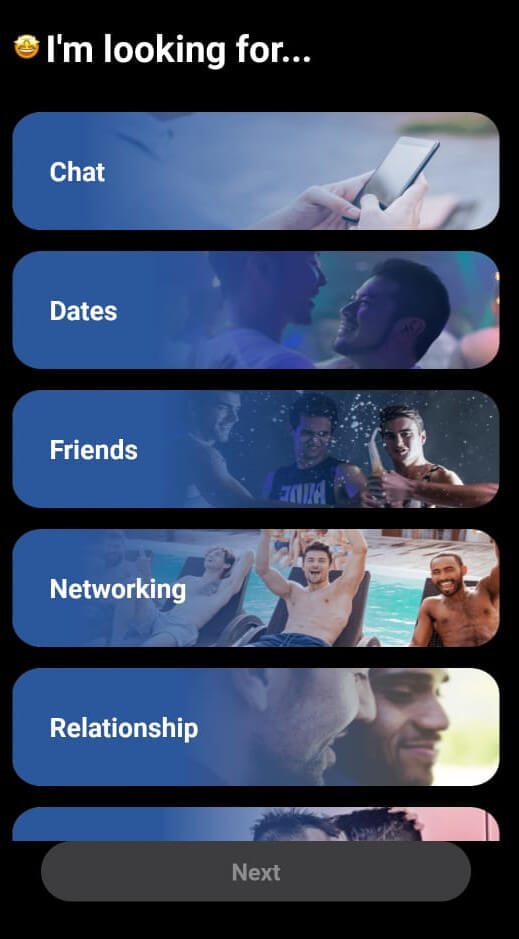 Who Is It For/Demographics?
Blued has one of the largest gay communities in online dating.
Here you will find millions and millions of users the world over to date (like Tinder or eHarmony) or for casual hook up (like BeNaughty or Ashley Madison)
Head out to Blued.com and they happily tell you that over 40 million gay guys have signed up for profiles since the app was started by BlueCity Holdings around a decade ago.
Let's clarify some more demographics, facts and figures about this dating service:
Around 4 million users are based in the United States
8000 gay men log into the site each day
That's over 50000 per week and 200000 per month
Around 70% of the user base is found in major cities in Asian countries like Hong Kong, Beijing and others
Dating apps are the domain of those of us that are younger generally.
The most popular ages found on this app are from 25-34 years old with 43% of all users in that group.
But let me just clarify that if you are looking to make new friends, no matter what your age, you will find someone on Blued.
Here's a full breakdown of the user age ranges that I collected for this Blued review from most popular downwards.
25-34-year-olds: 43% of all users
18-24-year-olds: 28% of all users
35-44-year-olds: 16% of all users
45-54-year-olds: 7% of all users
55 and over: 6% of all users
Now if you are older, you probably observed that for users from 45-54 years old and then 55 and older, it's single-digit figures.
Despite that, when that user base is 40 million strong, you have to remember that 6% of that is still 2.4 million people.
So yes, this is one busy gay dating app, that's for sure.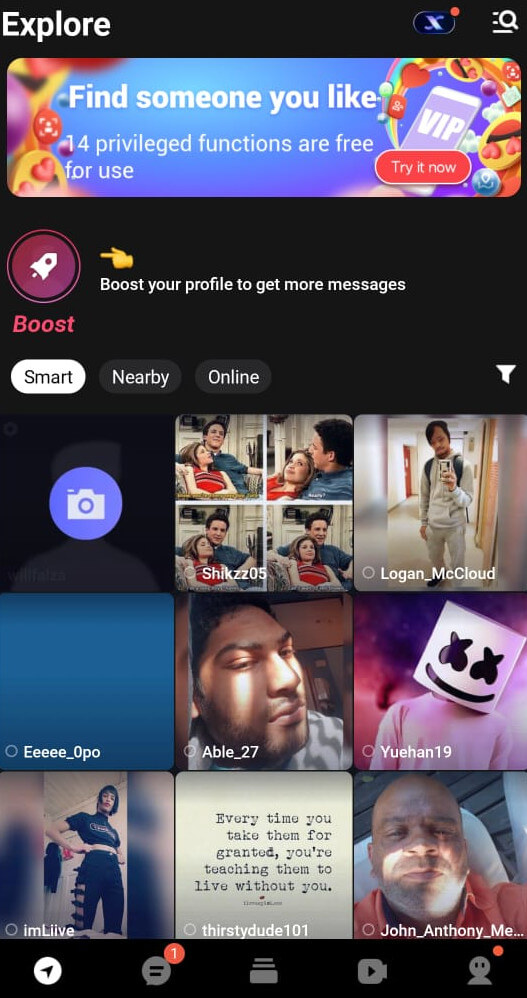 While Blued does have a website (and you are welcome to explore it), it's only for informational purposes only.
If you want to register as a user, you are going to have to download Blued from either the App Store or Google Play.
When you compare the registration process to other social networks and dating apps, your Blued login has a range of options.
You can register as a user in one of the following ways:
Using a social media account like Facebook
Using your phone number
Using your email address
While using a social media account is quicker, I would like to demonstrate the process of using your email address which features a few extra steps but still won't take long.
You will need to provide the following information:
Valid email address (I can confirm that you will be sent an authorization code to access the Blued dating site for the first time).
Password
Nickname
Date of birth
Height
Weight
Role (Top, Vers Top, Versatile, Vers Bottom, Bottom)
What type of relationship you are looking for (choose from chat, dates, friends, networking, relationship and more)
A profile photo
Once you've received the access code and entered it, you gain access to the app.
Finding your way around the Blue Gay

Social Networking

and

Dating App
As with most dating apps, Blued provides you with profiles near your location right from the start.
So you are welcome to look through them to get to know the app a little better.
While I like how the app looks overall, one area that I think they could improve is just how cluttered it is.
You will get used to it, but as a new user, I found it a bit overwhelming at first.
Before we get into how you can search for a potential matchup, let's first assess how you would navigate your way around the site.
The primary way to do this is using the menu system you will find at the bottom of the screen.
These are just icons at first but if you click on them, you will see each does have a name.
Here's what they do:
Compass icon (Explore): This is the "home page" of Blued so to speak. Here you can find matchups under the following secondary menus; Smart, Nearby, Online. You can also change various filters to hone in on the exact kind of matchups you are looking for.
Chat Bubble icon (Message): All messages that you send as well as the ones you receive can be found here.
Rectangular icon (Post): This is where the Blued gay social networking aspect comes in. If you follow other users, you can find what they post displayed here.
Video camera icon (Blued Live): Here you find hundreds of free gay streams from Blued users.
Person icon (Profile): Here you can access your profile, site settings and more.
Each of these menus has secondary menus that you will find in the top-right of the screen that are related to them.
For example, under the Live menu, you will find the live broadcast button if you'd like to live stream yourself and broadcast to others.
It's pretty easy to work out what all these secondary menus do, however, so there is no real need to explain them.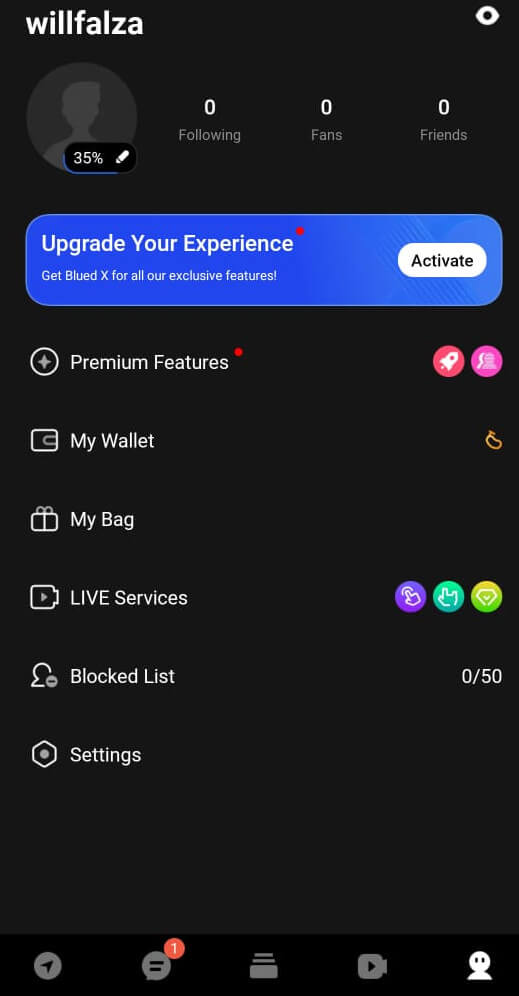 No, it's not complete.
Some of it was processed during your registration but there is yet more to add.
Here's what you still need to complete:
An About Me section
Your body type
Your ethnicity
Your language (there are many different languages spoken on the Blued)
Your location
Your relationship status
What you are looking for
Your preferred place to meet
Special interests
It won't take you long to complete but the information that you add is priceless I feel, so it's worthwhile doing.
You can also upload more pictures to your profile if you'd like and make private photo albums.
On your profile page, you can see who has viewed your profile and even add a shadow.
Now, what's a shadow you may ask.
Well, it is a unique aspect of the Blue dating site that lets users set up another profile in a different location in the world "to bring in more guys" according to the app.
For me, this is something they've got wrong.
Why do you want a second profile in another location?
Ultimately, it's a lie because you don't live in that city.
It just a bit silly and a major critique I have of the site.
I would steer clear of a shadow profile, that's for sure, but ultimately that's a decision for each individual that downloads the app.
Others can see your location
There is a feature on Blued where you can see the exact location of other users.
This uses GPS to track them.
From my perspective, this is something that I turned off.
I don't feel that it's safe at all.
If you'd like to turn your location off, you can do so under the Profile menu.
Just go to the settings and find the option there.
Another gripe that I have about the app is the amount of advertising on it.
Now this isn't something new and you will find advertising on most dating apps, but generally, it doesn't get in the way.
On Blued, however, you are going to have to get used to sitting through 10 second, full-screen adverts from time to time.
Membership to the app takes this away, of course, but it really is pretty annoying for regular users.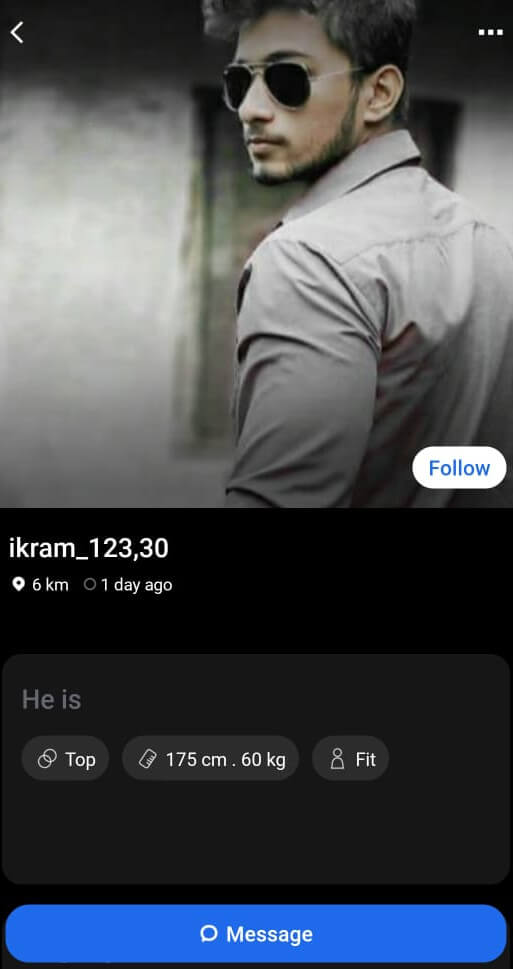 Now it's time to turn our attention to how the app operates in helping you to find matchups for a quick chat, video call, messaging and perhaps more.
Conducting your own searches isn't possible here.
Instead, you are going to have to rely on the app and the matchups that are sent your way.
These are generally based on your age and obviously your location.
You can click on the Explore menu to see them.
Click on the Nearby menu to see those that are close to your location or the Online menu to only show matchups that are currently online at the same time as you.
But how do you manipulate these matchups?
Are there parameters that you can change to narrow them down or to search for something very specific, for example only users with blonde hair?
Well, the good news is that you can select specific parameters.
It just took me ages to work out how.
You will notice a slider and magnifying glass icon at the top of the screen.
And while that might seem like the obvious place to start adjusting search parameters, it isn't.
If you click on this, it does have a search option but you can only do that if you input a username which isn't very helpful first up, is it?
Instead, you will have to find the Filter button which is on the right-hand side of the secondary Smart, Nearby and Online menus.
Once you have clicked on it, you can change the following.
Height
Weight
Age
Language
Ethnicity
Face pics only
If you take out either a VIP or X membership on the site, you have a few more parameters added:
Role
Distance
Time last online
Return only member profiles
You may not think there are that many parameters here.
But for me, they have included the ones that count, even for free users.
So the good news here is that you are free to send messages to other users on the app as well as reply to any messages you receive.
I find that a pretty interesting way to handle communication on the app.
But I was able to send messages to multiple users and reply whenever I had to.
Sadly, in my region, although there was a ton of profiles as matchups, the reply rate wasn't always the greatest.
I guess that's because some of the users haven't been active on the app for a while.
But yes, this is going to be different for everyone, and with free messaging, you'd be silly not to at least give Blued a tryout.
Blued has two membership options, X and VIP.
They offer different key features but if you click on the payment link in the app, it's easy to see what these are.
I am going to highlight a few of them to you now before we looking at pricing.
1. View more top-rated profiles
While Blued does show you top-rate profiles near your location, with membership you can access more of them.
2. Make your profile invisible
Many dating apps have an incognito mode but Blue allows you to set it up quite specifically.
This means that you can make yourself invisible to some users but not others which I guess could be useful from time to time.
I found the advertising on Blued to be very annoying.
This certainly is a useful key feature and removes all adverts from the app.
4. Advanced search filters
Blued members get extra search filters.
This includes preferred role, distance from your location, the last time they were online and the ability to only search for other members.
5. Hide your distance and online status
While I do get the need that some users have for extra privacy, I don't see the need to hide your distance and online status from a potential matchup.
Surely distance is one of the main factors in someone reaching out to another user?
I mean, if they are closer to you, then it's easier to hook up right?
As a member, you get an exclusive badge for your profile.
Flying comments allow you to interact with other users and their audience while they stream.
This is an intricate part of the live streaming aspect of the site which really doesn't fit in with the dating site of things, I feel.
But they are there to use if that's your kind of thing.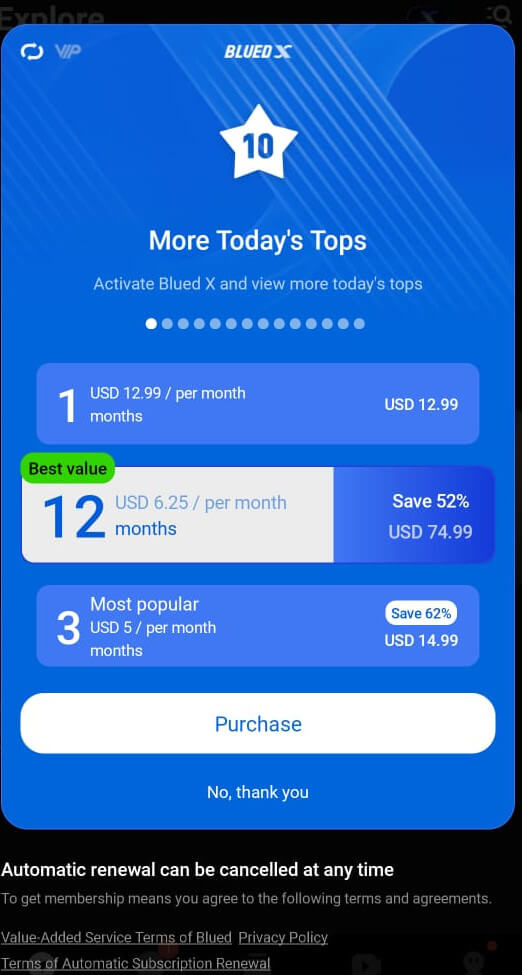 So with two different kinds of membership, there are two separate sets of pricing to look at for Blued.
The one that will provide all the features is Blued X.
Here's a breakdown of what it costs:
1-month: $12.99
3-months: $14.99 ($5 per month)
12-months: $74.99 ($6.25 per month)
Without a doubt, if you are going to sign up for Blued X membership, the three-month option is the best.
I can't understand why the longer 12-month option has a higher cost per month than the three-month option.
You would think it would be lower.
Now let's look at the Blued VIP options prices.
Here's a breakdown:
1-month: $3.99
3-months: $7.99 ($2.66 per month)
12-months: $23.99 ($2 per month)
Of course, this is cheaper because you won't get access to all of the extras that you do for Blued X.
I think I would start off here first because, at $3.99, the pricing is spot on.
For me, the most critical thing about any dating site is the ability to message other users and that's a free feature on Blued.
You really couldn't ask for more.
In fact, if you didn't want to take out membership, you could use the app pretty effectively without it I feel.
The last thing I would like to talk about under this section of the review is profile boosting.
It's something you can use to get your profile out there but it does cost a fee.
There are three Boost options:
1 Boost: $1.99
5 Boosts: $7.99
15 Boosts: $17.99
If you buy a Boost, you can use it at any time that you choose.
Conclusion and Overall Rating
Thanks for taking the time to read through this review of Blued.
To summarize, this is one of the top dating apps for gay men in the world, that's for sure.
And 40 million users around the globe only substantiates that.
It is important to note that many users are from the Far East, over three-quarters, in fact.
But if you are from Europe or the United States, you will certainly find matchups near your location thanks to the sheer amount people who have signed up for a profile on Blued.
The dating aspect of Blued works well.
I like the fact that it doesn't use swiping to match up with others and that you can browse through profiles on the site based on your location and other parameters.
Regular users too can adjust a range of parameters to get the kind of matchups they prefer.
And then, you are free to message them as well without having to sign up for membership.
That said, membership brings extra features some of which I think are useful.
Don't forget the social networking aspect of the site with live streams and more.
It's extremely popular but I am not sure how it benefits dating overall.
Blued isn't the first site to add this aspect to their app and won't be the last as it's something users in the Far East clearly love.
But let's get onto an overall rating for Blued.
It gets a solid 3.5 out of 5.
If you are a gay man looking for a new dating app, it's something you should at least try out.
Onlineforlove's review team tested the Blued gay dating app over the period of a few months.
We have concluded that for those who love dating apps that include social networking aspects, Blued is worth your time, especially seeing it has 40 million users.
Our testing approach included rating important criteria as we reviewed the app while we used it.
Our team's evaluation of Blued was based on the following critical factors: price, ease of use, success rate, user population, and key features, amongst others.