One big hello to all online dating lovers, especially those who have always been searching for an online dating site with no boundaries.
Finally, here's an online dating app where you can find everything and everyone for free. Here's the site that you will love the most if you vote for nudity, or you support sincere people who don't hide their dirty thoughts.
Among a few Mixxxer reviews, check out this one that will reveal to you everything about the site with a triple x:
Let's get right into it!
OFL Top Recommendations based on 100,000+ Survey

"Serious Relationships"
"Discreet Hookups"
"Best Course for Men"
"Quick Flings"
"Normal Hookups"
"Our Quiz"
Is your dating app giving you the best chance for success?
Make sure to take our online dating site/app quiz to find out.
It's a fact that people who follow our dating site suggestions have on average 2 extra dates per month.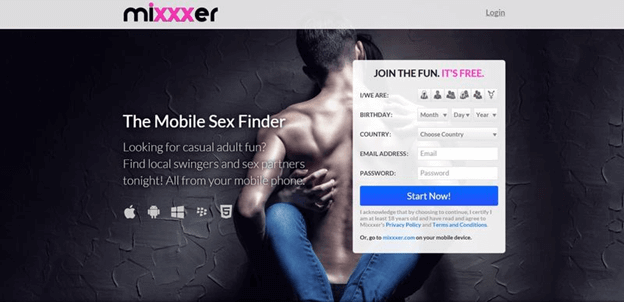 Effectiveness – 3/5
Features – 3/5
Ease-of-use – 3/5
Price – 2/5
All sexual orientations and genders
Easy to navigate
Many features are free
Many single members
Many younger members
You can use it on mobile phones
There is no a mobile app
Who is it for/Demographic make up
Since it first appeared in 2014, the Mixxxer online dating site has been considered as one of the online dating sites where you can please all your sexual needs.
This sexy site is also known as the best mobile sex finder tool. It is an open – mind site, and there are no boundaries.
Many active users come from the States, but the Mixxxer dating site is used in France, Germany, India, Canada, and Australia too.
The average age range is from eighteen to forty years old. More than 70% of members are men, and they are all looking forward to hunting a sexy partner.
Based on finding someone who is from the same area, the Mixxxer dating app is perfect for those who travel a lot, or for those who want to find a hookup opportunity in a short time.
There are many different profiles. You can find students, business people, a couple of swingers, married couples, and much more.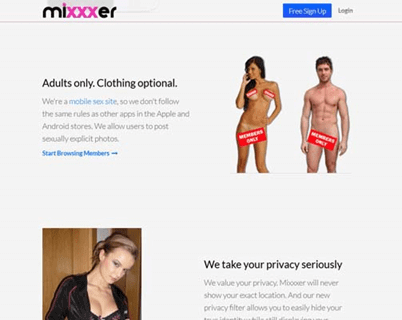 This online dating app is for all the people who are looking more than an innocent flirt. You can find a one night stand out, hookup kind of lovers, and all those who want to experiment with their sexuality (like BeNaughty or Ashley Madison).
The site is very open-minded to all sexual orientations and kinky stuff.
However, if you want to find a stable, emotional partner with whom you could spend the rest of your life then this app definitely isn't your choice number one (like eHarmony or Tinder).
OFL Top Recommendations based on 100,000+ Survey

"Serious Relationships"
"Discreet Hookups"
"Best Course for Men"
"Quick Flings"
"Normal Hookups"
"Our Quiz"
The Mixxxer effectiveness can be viewed from many different aspects. First of all, there is price effectiveness. Many of its features are free to use, and you can start to use this online dating site with not many limits.
The other great aspect is that you can use the site in all its nudity and sensibility. There are no restrictions for that. Now you can show your personality in all its visibility.
The last but not less important fact is that this online dating app functions pretty well for its target group.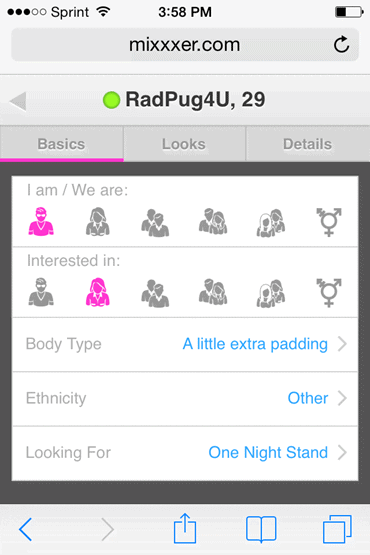 How well does Mixxxer work for the target group?
It depends on how big your appetite is. If you are looking for someone with who you want to spend your free time for the rest of your life, then it isn't the best option for you to use this online dating app.
On the other hand, if you are there to pick up someone to fill in your sexual desires, and you want to have a fun and unforgettable night, then you are in the right place where you have always had to be.
How to initiate Mixxxer contact?
Many ways can help you to initiate contact on Mixxxer.
Most of the members post daily their private info on their profiles. It means that you can contact a person you like privately and not use the site at all.
If you decide to make your first move using the site's features, you can use chat options, the Blackbook feature, and the Tease feature. More details about these features you can read in the special features section below.
As an online dating site that has no mobile app to use, Mixxxer can't offer you many features either.
Considering that this is a functional online dating site that has its purpose, the team in the Mixxxer community hasn't worked on expanding its features yet.
There are some options you can use for free, such as site navigation, registration, looking through other people's profiles, and searching for users in your area.
At the end of the day, those things can be quite enough if you know what you are searching for and for how long.
These are the most used features on the Mixxxer platform. The only flaw is that you have to become a premium member if you want to use the first two of them.
This feature represents something similar to a Facebook feed where you can keep all the information about the profiles that you are the most interested in.
The only difference is that this feed is private, and nobody can see it except you.
When you enter the feed, it automatically shows just news about the profiles you like the most. In that way, you can always be in indirect touch with your precious ones.
If you want to make your first move and start a conversation with your match, sending one or two teases is a great way to start.
When you tease someone on Mixxxer, it means that you consider that person more important than other members.
Everyone likes feeling special and important, especially if it comes to a user on Mixxxer.
You can tease somebody by sending a wink, a smiley, or a big red heart.
3. Personal details option
Adding personal details to your Mixxxer profile is something that you can do for free and as long as you want to.
Many users leave too many personal details such as their nude or sexy picture in the laundry, their private number, or even their address.
If you are open-minded and you are feeling comfortable with that, you can leave whatever you want on your profile because everyone can see it.
Maybe your freedom will attract many people, who know.
The Mixxxer dating app has got a very simple interface, and using it is the real piece of cake.
The Mixxxer design is simple, and all the options on the site are very well placed, and you can find them easily.
There is nothing complicated about making first moves on the site.
The signing up process is super easy and super-fast. Many key features are free to use.
Though, the site could look much better and more interesting than it is now. It looks a little bit boring, but users don't complain because they are still there cause of its effectiveness.
Besides the advice to upgrade Mixxxer's visual look, it would be great to upgrade its communication options.
Just premium members can use chat options while other basic users can make contacts using only other members' information.
At first thought, it was really awkward that the target group is the younger population because the site is nothing special, and there are no cool options they can use.
But, if you think carefully, that is Mixxxer's clever trick that its team uses all the time. The catch is in functionality, not in interface visual beauty.
2. How to become a member on Mixxxer app?
You can become a member on the Mixxxer app by completing the signing up process that is super easy.
To complete the signing up process, you have to visit Mixxxer's official page, but it is possible only when you use it on your mobile phone.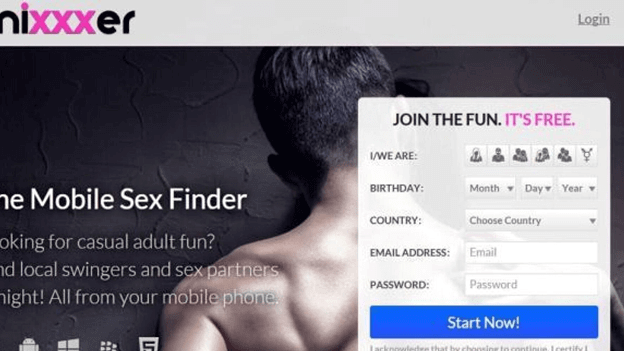 There is no app, so you have to use it through your browser.
There is an option to create a Mixxxer's account using your desktop computer, but there is no possibility to log your account unless you log in using your mobile device.
The first step is to find a browser on your phone. When you enter the site, you have to add some personal details like your age and your date of birth. Choose your gender and who are you interested in.
The next step is to enter the email address that you use because you will need it to confirm your registration process.
Then, think about the password options that you have to create.
If you don't have enough time to arrange your Mixxxer profile, you can do it after the same registration process.
When you finish with all those steps, you will be ready to use Mixxxer as a dating app.
4. How can you start with Mixxxer dating?
It is very tricky to explain how you can start using Mixxxer as an online dating app.
It is difficult to explain it because chat options, messages, and many other features that are related to the conversation with members, are limited.
The conversation on Mixxxer starts pretty much by itself.
Profiles are arranged till every single detail, and on the profiles, you can find phone numbers that people usually leave. You can make a contact with them easily.
They can also leave the names of some other social platforms they use.
That's why Mixxxer is the most popular ''free online dating site" because profiles are opened, and you can make your first move out of Mixxxer.
People often compare it to a digital photo album where you just pick someone you like the most, and voila! You've already arranged a date!
One of the best things that you can find on Mixxxer is its profiles.
Profiles are well-sorted by age, gender, sexual orientation, location, and users' interests.
You can see at any time what users on the site are searching for, and you can also see what they are expecting from you, and vice versa.
People who are using Mixxxer are open-minded, they don't care about other people's opinions, and they are very honest.
That's why they put everything on their profiles.
Mixxxer scam is everywhere, so be aware of fake profiles and professional stalkers that you should avoid.
As an online dating app that is much different than other dating apps, it is also pretty different in its benefits. Read more about some of them in the next paragraph.
If you have always wanted to join a site that doesn't' forbid nudity at all, then Mixxxer is the right site for all nudity lovers, and for all those who have always felt comfortable in their skin.
When you access the Mixxxer site, most of the profiles you will see are profiles with explicit pictures and descriptions. Many people are naked, or they are showing their intimate parts.
Even profile descriptions are full of dirty words, sexual ideas, or kinky suggestions.
Mixxxer is great for those who don't want to have extra charges.
Joining the site is free, and its navigation, too. You can add as many photos as you like for free.
Profiles on Mixxxer are pretty detailed profiles, so there is no need for additional features that you have to pay for them.
Chatting with other members is limited, and if you want to know someone better, not just through profiles, you have to pay for extra charges.
3. Confidentiality benefits
Unlike the other online dating sites, you can't use your Mixxxer account by matching through another social network. It shows that Mixxxer is very similar to Tinder though.
That is how you can keep your privacy far from other members. The same thing is with the location that Mixxxer uses to find the right person for you.
There is no exact location that Mixxxer uses for its algorithm.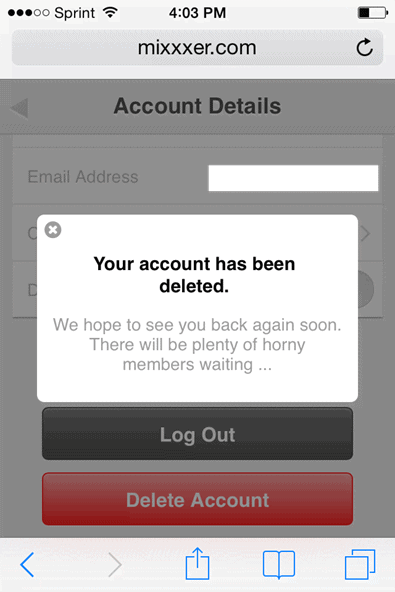 Unfortunately, you cannot find Mixxxer mobile app because it doesn't exist yet.
Besides the fact that there is no other way to use the Mixxxer online dating app on your mobile phone, its navigation is very easy, and many important features are free to use.
All the necessary features that can help you to find your kinky match are free, and there is no need to become a premium member at all.
As we have already mentioned before, a goal you want to achieve has to be clear before you even start to use this online dating app.
If your goal is to get a little sexual excitement, then you don't have to become a paid member.
But, if you are shy and you think that some paid features can help you to break the ice, then go to your premium membership immediately.
As a basic user, you can get for free to create your account, to have authorization to other members' profiles, and to make conversation with members nearby.
As a premium member, you will be able to remove all those boring ads that bother you, chat as long as you want with other members, and send as many messages as you wish in a minute.
The site price isn't too expensive, but it isn't too cheap either.
You can register for monthly use, or three months use.
If you decide to be a premium member for a short time, you will pay almost 8 US dollars for that honor.
If you decide to use Mixxxer for a long period, then you will have to pay almost 20 US dollars.
We have to underline one very important thing for you. Paid memberships work automatically. It means that you have to cancel your registration as a premium member before a new period that can be charged.
You can cancel it by sending a request to Customer Services.
Conclusion and Overall Rating
We have to admit that Mixxxer isn't my cup of tea, but I can't deny that it is one functional dating site with good matching results.
You will get what you are looking for, that's for sure!
Its overall rating is lower than you will find in other reviews, but hey, that's just our opinion that is based on the fact that for 8 dollars per month, all you get are chat options and three special features.
The final score for Mixxxer is 2,75.
But, if, somewhere deep in you, there is a wild animal that can't wait to go to a hunt, just release it and let it free.