ILikeYou.com is a dating site that aims to bring people together that share similar interests.
This dating website doesn't have the greatest reputation and gets negative reviews, with many claiming it's a scam filled with fake profiles and chatbots.
And that's just one of the things we are going to evaluate as we assess ILikeYou in full.
But that's not all we are going to cover.
OFL Top Recommendations based on 100,000+ Survey

"Serious Relationships"
"Discreet Hookups"
"Best Course for Men"
"Quick Flings"
"Normal Hookups"
"Our Quiz"
During our I Like You review, we will also analyze the site, particularly in terms of:
So let's start and reveal all ILikeYou has to offer as a dating platform.
Is your dating app giving you the best chance for success?
Make sure to take our online dating site/app quiz to find out.
It's a fact that people who follow our dating site suggestions have on average 2 extra dates per month.
I Like You Review in Video Form
Audio (podcast) form for those of you on the go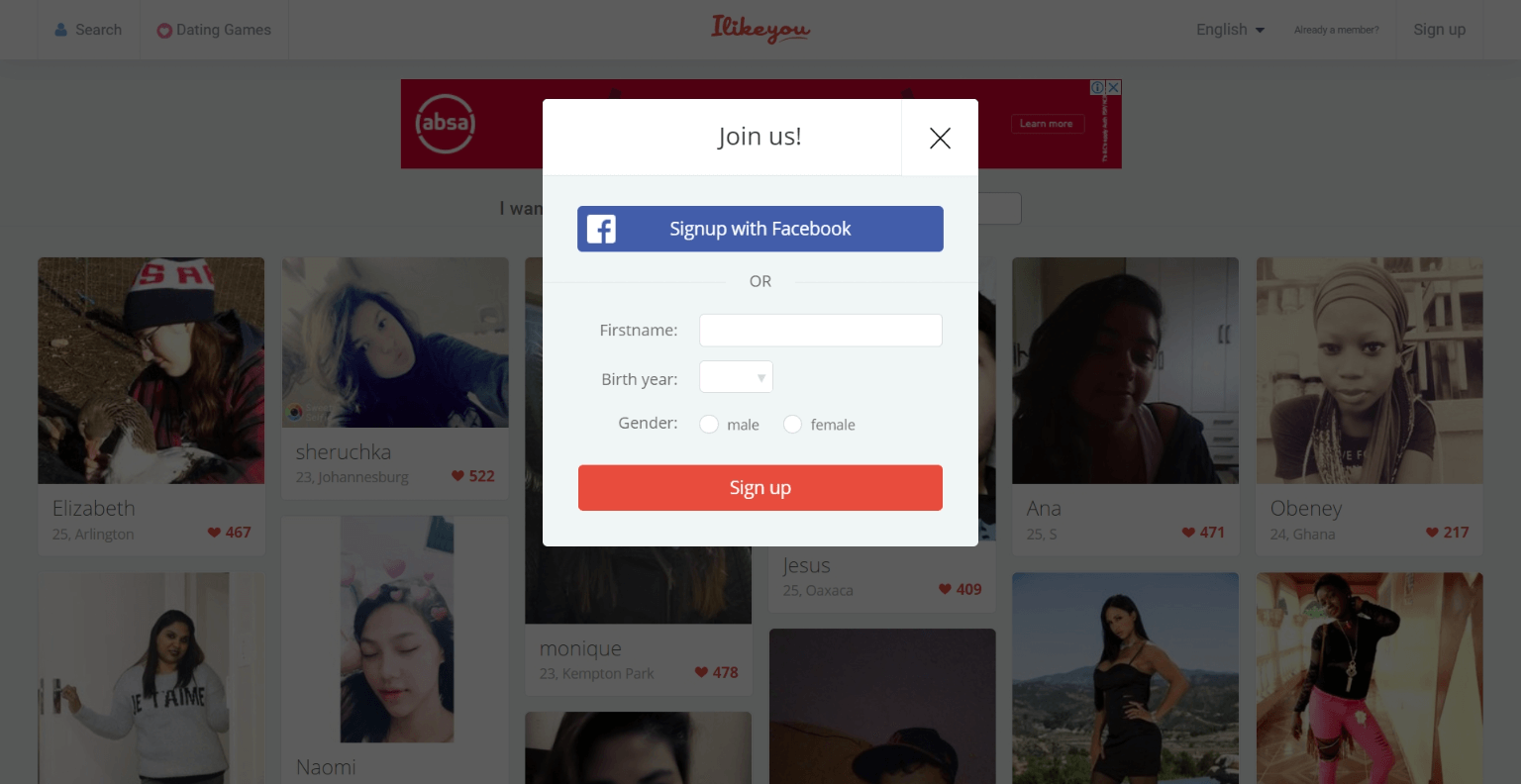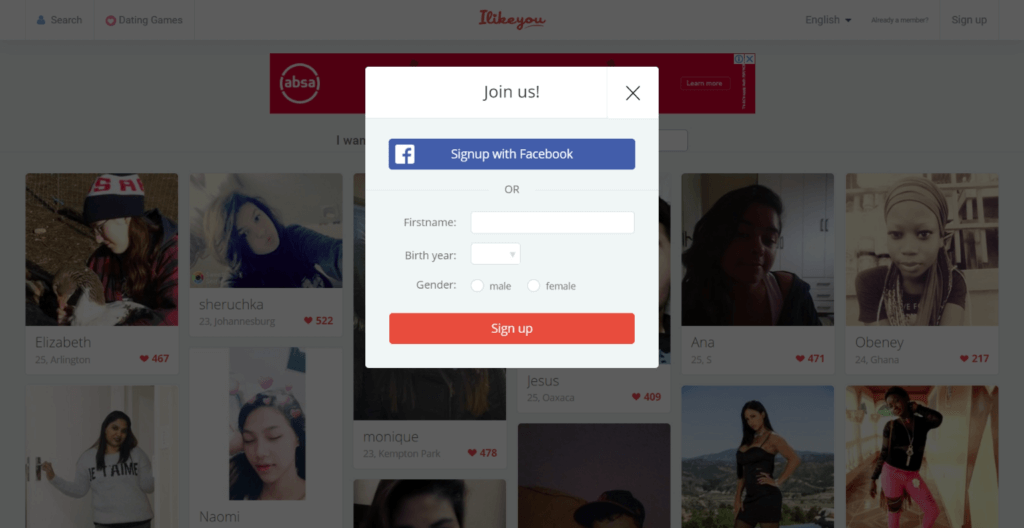 Ease of use – 3/5
Success rate – 2/5
Key features –2.5/5
Price – 3.5/5
Around 400000 active users a month
Three dating games to help find matchups
Cheap membership
Only an APK mobile app
Fake profiles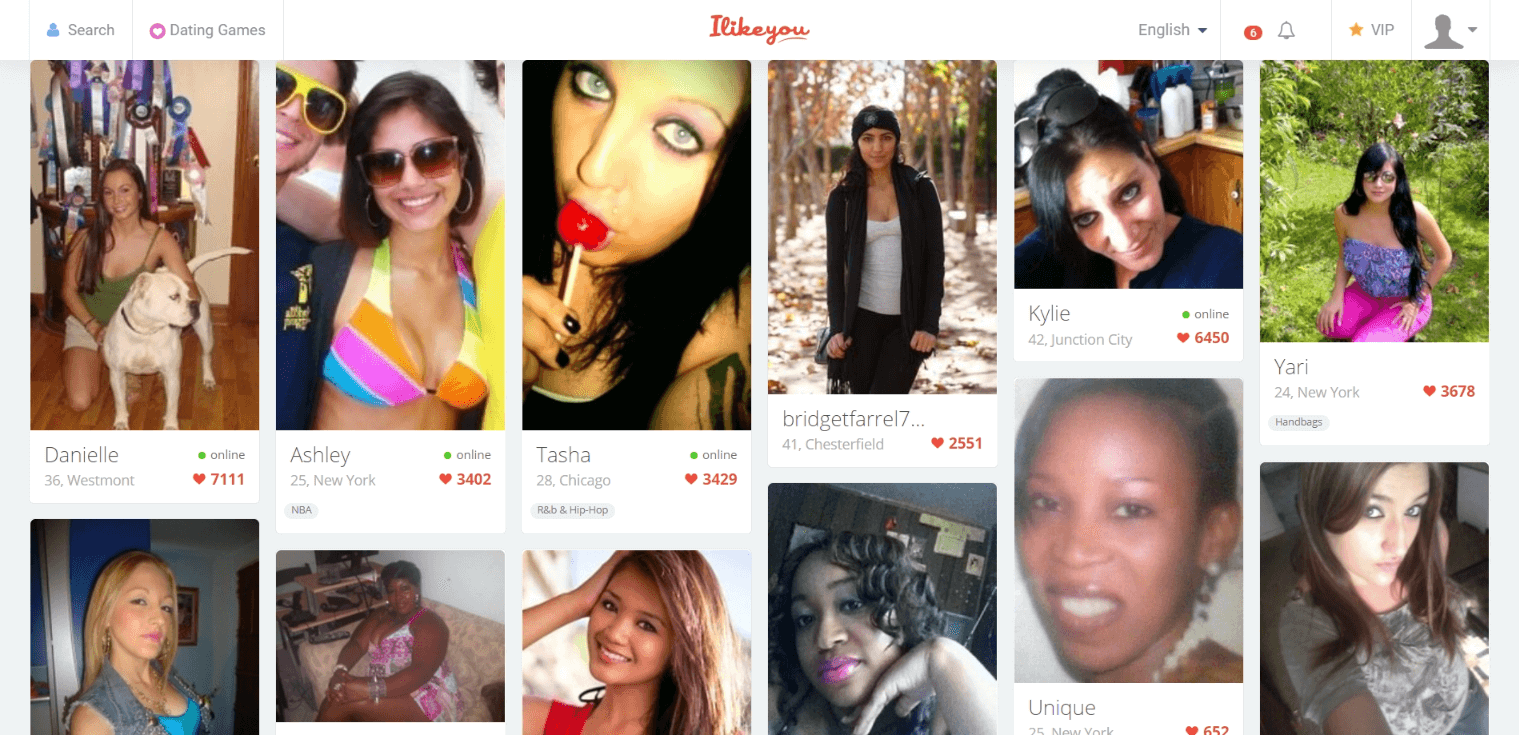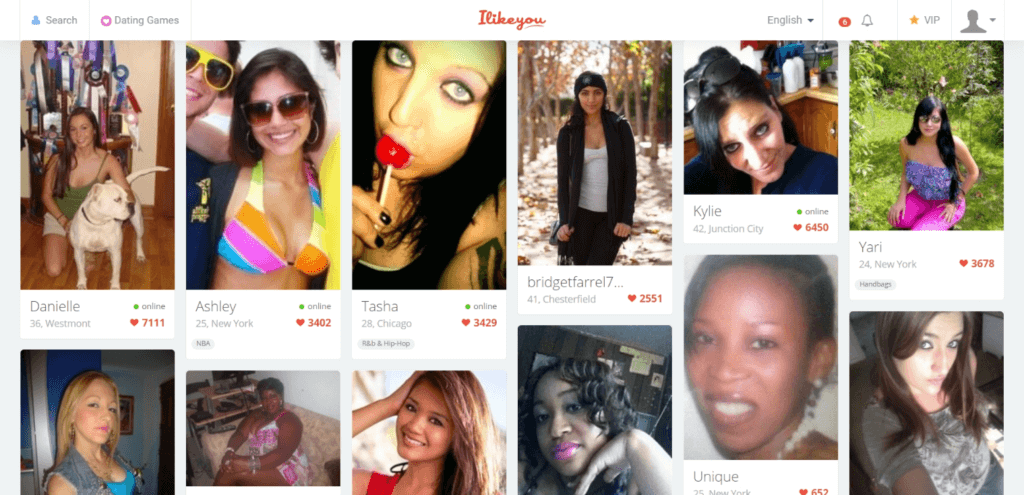 Who's It For/Demographics?
If you head off to the ILikeYou landing page, it's clear that the site is aimed more at younger groups of users.
But what can we learn about the demographics behind the site?
Well, it has users all around the world, in over 60 countries in fact.
That equates to around 5 million users, which although not the biggest user base you'll see on a dating site, isn't too shabby, nonetheless.
Here are a few other stats and facts to consider about the site:
OFL Top Recommendations based on 100,000+ Survey

"Serious Relationships"
"Discreet Hookups"
"Best Course for Men"
"Quick Flings"
"Normal Hookups"
"Our Quiz"
Over 1 million users are from America
Around 40000 users are active on the site each day
That's over 1.2 million each month
Other than the States users come from many countries in Europe including the United Kingdom, Germany, Czech Republic and others
Gender ratio and user age ranges
With half the user base under the age of 35, many of those who have started profiles on this site are looking to date and meet new people as well as use it to find hookups (like BeNaughty or Ashley Madison).
Yes, you will find those who want a more serious relationship (like eHarmony or Tinder), but research indicates that they are in the minority.
With sites where hookups and more casual dating are common, when it comes to gender ratio, you will find men have more profiles on-site than women.
That trend continues with ILikeYou as well.
But what's the gender ratio breakdown look like?
65% of all users are male
35% of all users are female
We also know that this is a site where younger users dominate, particularly in two groups: 18 to 24 and 25 to 34.
Here's a full breakdown of all the user age ranges from those that contribute the most users to those that contribute the least:
25-34 year-olds: 28% of all users of which 18% are male and 10% are female
18-24 year-olds: 24% of all users of which 15% are male and 9% are female
35-44 year-olds: 21% of all users of which 13% are male and 8% are female
45-54 year-olds: 15% of all users of which 10% are male and 5% are female
55 and above: 12% of all users of which 7% are male and 5% are female
Yes, this is clearly a site that's popular with the younger generation, as I've mentioned.
But if you consider the data gathered on user ages and the size of the user base, even the smallest group of users (55 and older) will amount to over 500000 users.
So all is not lost if you are in the older age groups and want to try the site out.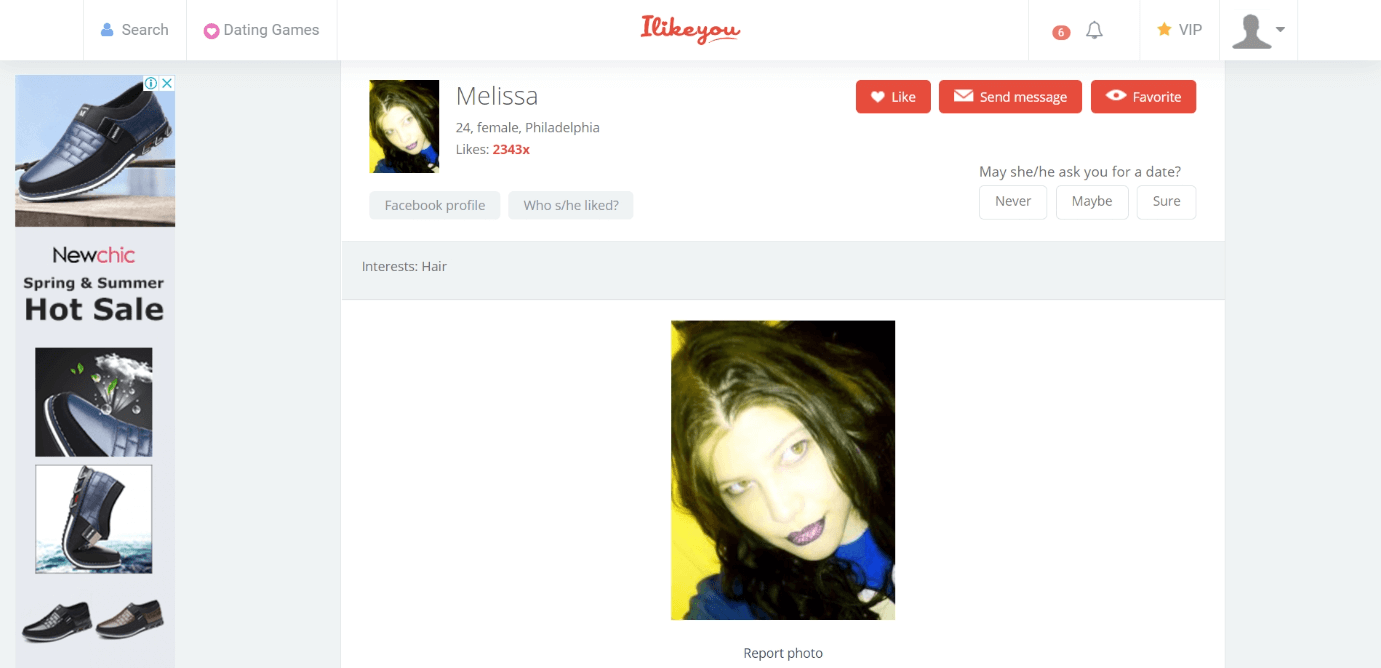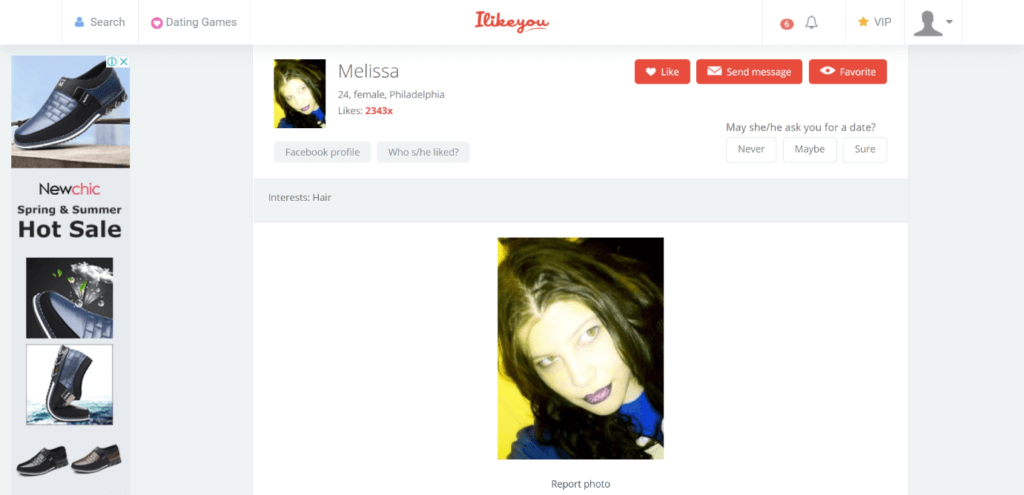 While ILikeYou advertises the fact that you can find their dating app on Google Play and the App Store, their links don't work.
A search for the apps on either store proved fruitless as well.
That leaves registering as a user through the website, which allows you to start the process using social media credentials, in this case, your Facebook account.
If you choose not to use that, regular registration needs the following information:
Name
Email address
Password
The year you were born
Gender
Your location
Once you've completed those details, you are taken right to the site and it's I can confirm that it's pretty different from most other dating sites you might have used.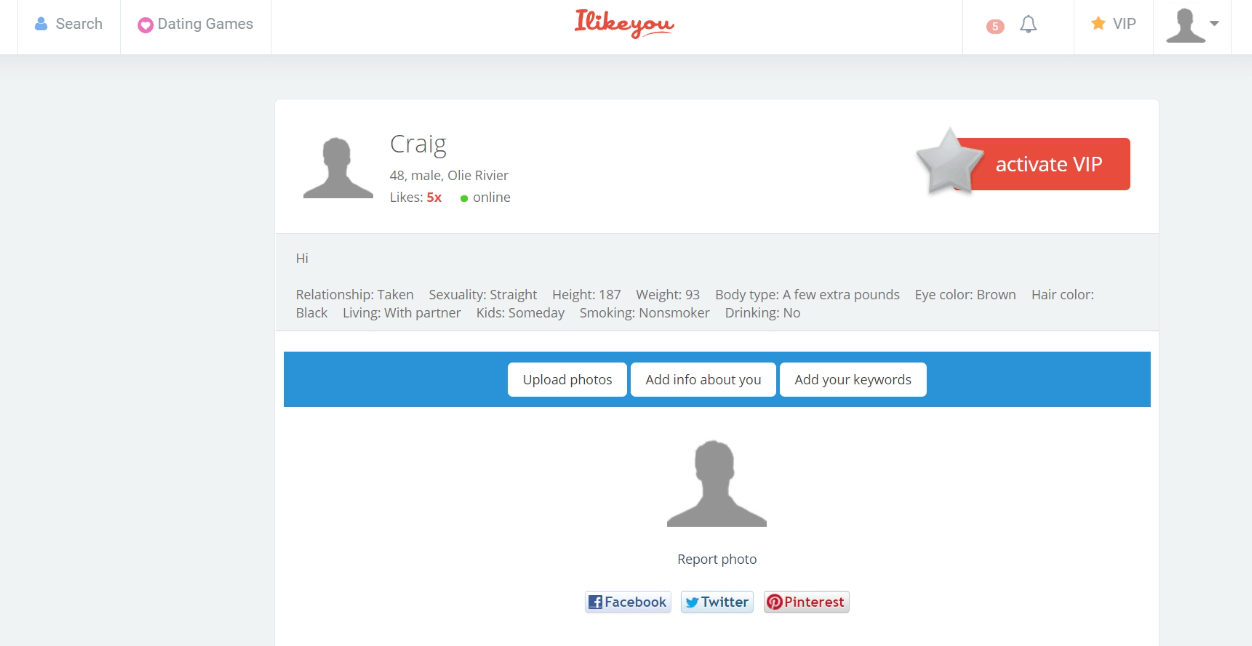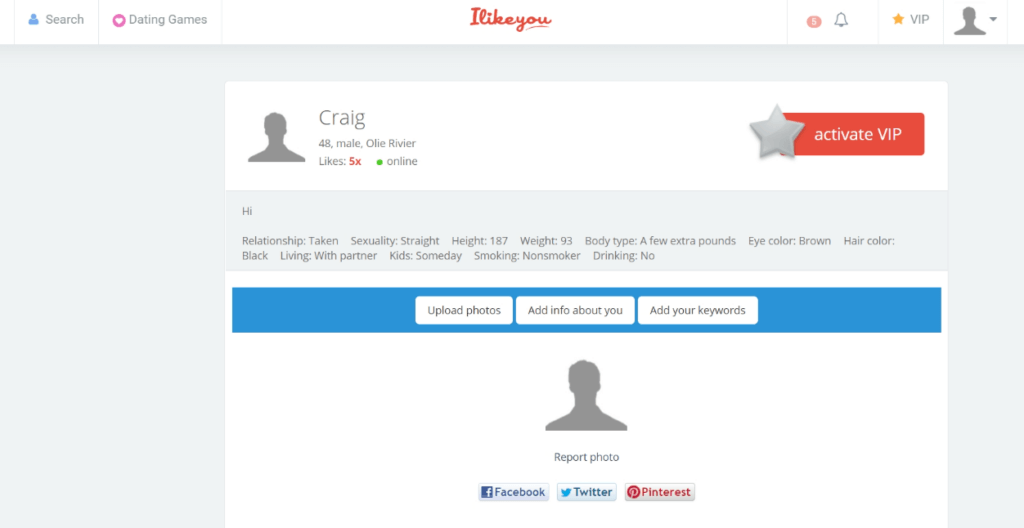 The registration process doesn't include filling in any parts of your profile, so my suggestion is to do that next.
It's critical as well if you want to see information about other users.
Yes, if you don't complete almost all of your profile, details on other users' profiles won't be able to be seen.
There's quite a bit of information you need to provide and I do like the fact that you can disallow other users from seeing your Facebook profile, if you choose to.
Interestingly, you also have the option to set privacy here, including browsing other user profiles invisibly.
But that is a membership feature only.
So what information can you add?
Well, here's what's required:
Name
Location
An About Me section
Your current relationship status
Your sexuality
Appearance parameters (height, weight, body type, hair and eye color)
Current living situation
Next up, ILikeYou allows you to add keywords to your profile.
For example, people add keywords that describe them like caring, shy or something similar.
But you also use keywords to describe the things you like, such as music, football, ice hockey, or other similar ideas.
It's really just left to your imagination.
Also, check your profile photo.
If you used Facebook to log in, the site will use your photo from them.
But if it's not a profile picture of your face, then the admin team will disapprove it and you will have to upload another.
And that's it for your profile on the site.
It's not packed with massive amounts of information but the right kind, that's for sure.
When you compare it with other dating sites, I think ILikeYou has got the balance just right when it comes to what you want to have in a profile and read about others.
Now that we have clarified what you need to do to finish your profile, let's talk a little about the site itself.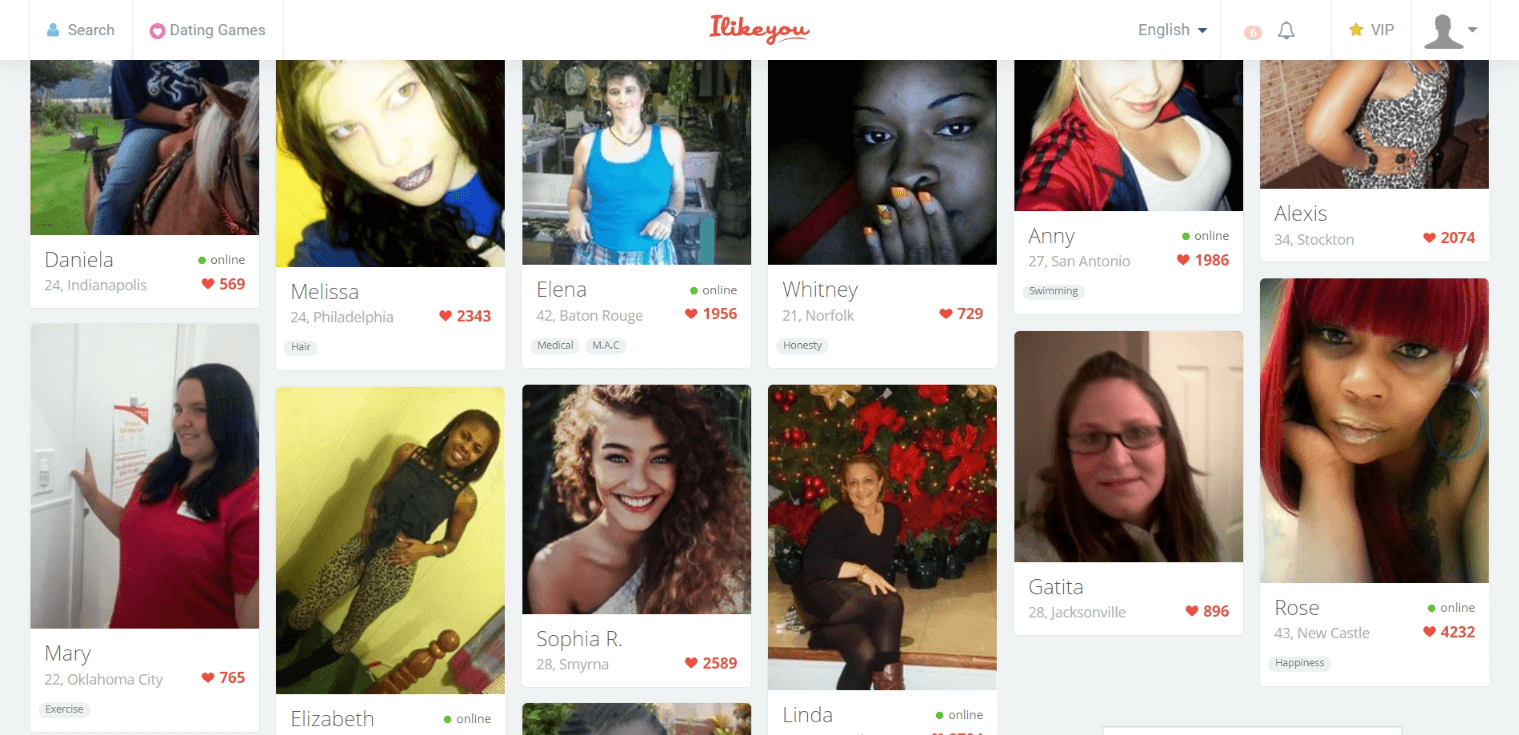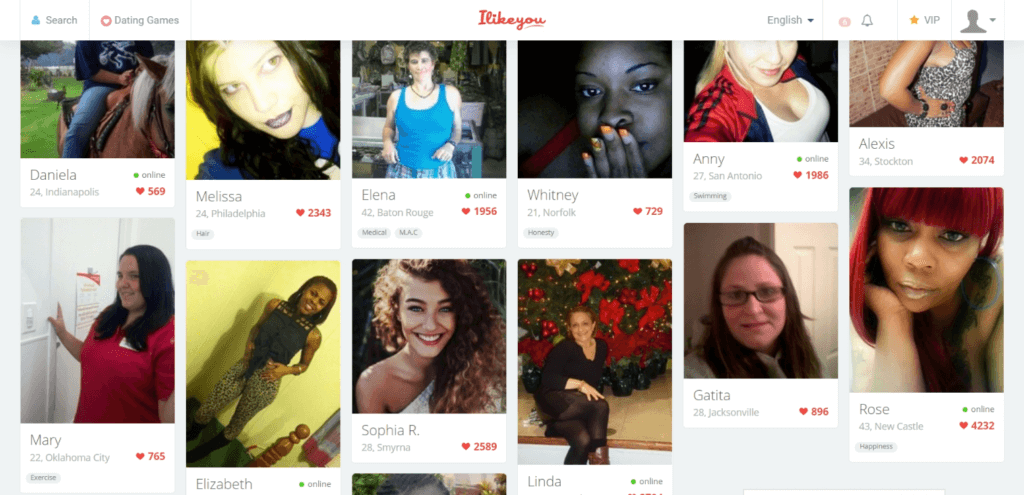 Site design and finding your way around
So first up, ILikeYou is packed with advertising.
And it's pretty much in your face as well, often dominating large sections of the screen.
It mostly annoying though, it won't affect how the site operates at all.
Speaking of the site, the design is really modern with white the predominant color.
You will notice a distinct lack of menus, however, which one of the things I like.
It just proves that dating sites don't need menu after menu to get the job done.
So here are the menus that help users find their way around:
Search: The search menu has a few sub-menus as well. This includes People Nearby, All Users, Top Users, New Users.
Dating Games: A big part of ILikeYou is the dating games they offer. These are Rate, Like and Match. We will talk more about these a little later in the review.
ILikeYou: The quickest way to find potential matchups on the site is to click on this menu. You can edit the parameters as well to adjust what's returned here.
Bell icon: This is a notification icon and the place where you can access the messages you receive, see who likes you, how have favorited your profile, and more.
VIP: Click here if you want to sign up as a member of the site
Your picture: Click on your profile picture to edit your profile, upload more photos, or adjust various site settings.
And that's it for the menu system.
It's simple, efficient and super easy to use.
You won't be digging around to try and find what you are looking for, that's for sure.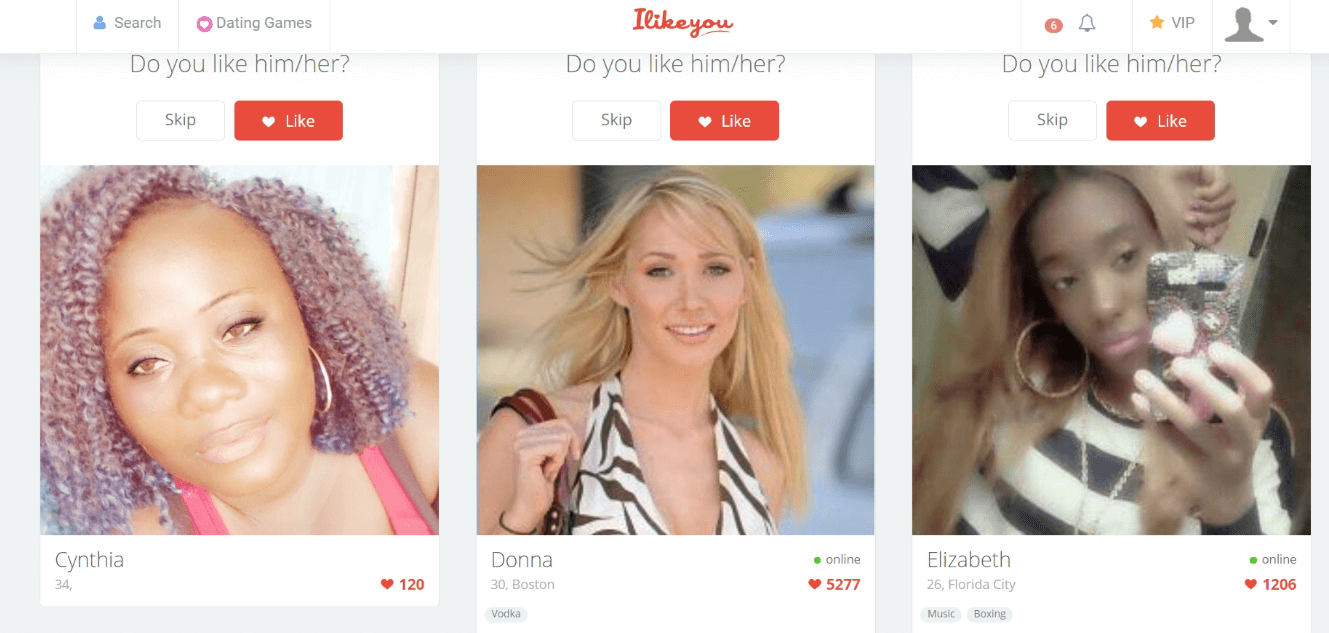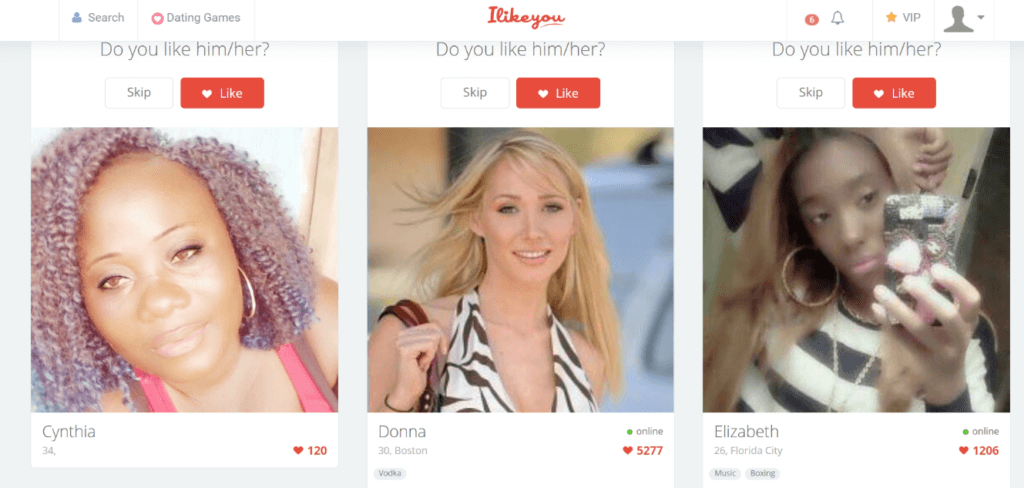 For me, one of the strengths of this dating site is the fact that it offers you numerous ways to help find a matchup.
Some of them are a little different from what you might be used to, while the more traditional methods are there to use as well.
As I mentioned earlier, you can start by looking at the matchups the site assigns to you.
To do that, you can click on the ILikeYou logo at the top of the screen.
That will present matchups in rows of six at a time with a fairly large profile picture, something I like on dating sites.
Why?
Well, there is no doubt physical attraction is the main reason why you'd click on a profile, right?
There's nothing worse than dating sites that present matchups with small profile pictures where you can hardly make out what the person looks like.
Now you are free to check out these profiles but you can also edit certain parameters too.
So what can be changed?
Well, here are your options:
The gender you'd like to see
The age range
Location (and you can browse outside of your country)
The type of relationship you are looking for
There's not a lot of tweaking that you can carry out here but it has the basics, for example, the age range you'd prefer as well as the types of relationships you are looking for.
So let's then move on to one of the most popular ways that users find a potential matchup on the site.
And that by trying out the three dating games that the site offers.
These games are:
This game shows you a bunch of users profiles based on your preferences and then asks you to rate each person between 1 and 10 (the highest rating you can give).
If you rate someone, they will see your rating on their profile and have the opportunity to rate you back.
So let's say you rate someone a 9 and that rate you a high number as well, then obviously there is a mutual attraction on either side right.
You'd be silly not to follow that up if the person hasn't reached out to you already.
This game is similar to roulette-style matchup games that you will find on other dating sites and apps.
Here you have the option to either like or skip on others users' profile pictures.
If you find them attractive, then like them, if not skip.
If you do like them, that user will receive a notification.
Keep a lookout to see if they like you back.
Again, if they do, it's certainly worth pursuing.
Despite the fact that they have different names, these games are pretty similar, right?
Finally, let's take a look at the Date game.
This presents you with profiles and asks the question: "May she/he ask you for a date?"
Now your options are: Never, Maybe, Sure.
If you click on Maybe or Sure, that user is notified.
Perhaps they will act from there and message you.
These types of games really appeal to the younger crowd, that's for sure and that is one of the reasons you will find them on sites like this.
I prefer traditional ways of finding a matchup and that's by using a search engine.
ILikeYou gives you that option as well.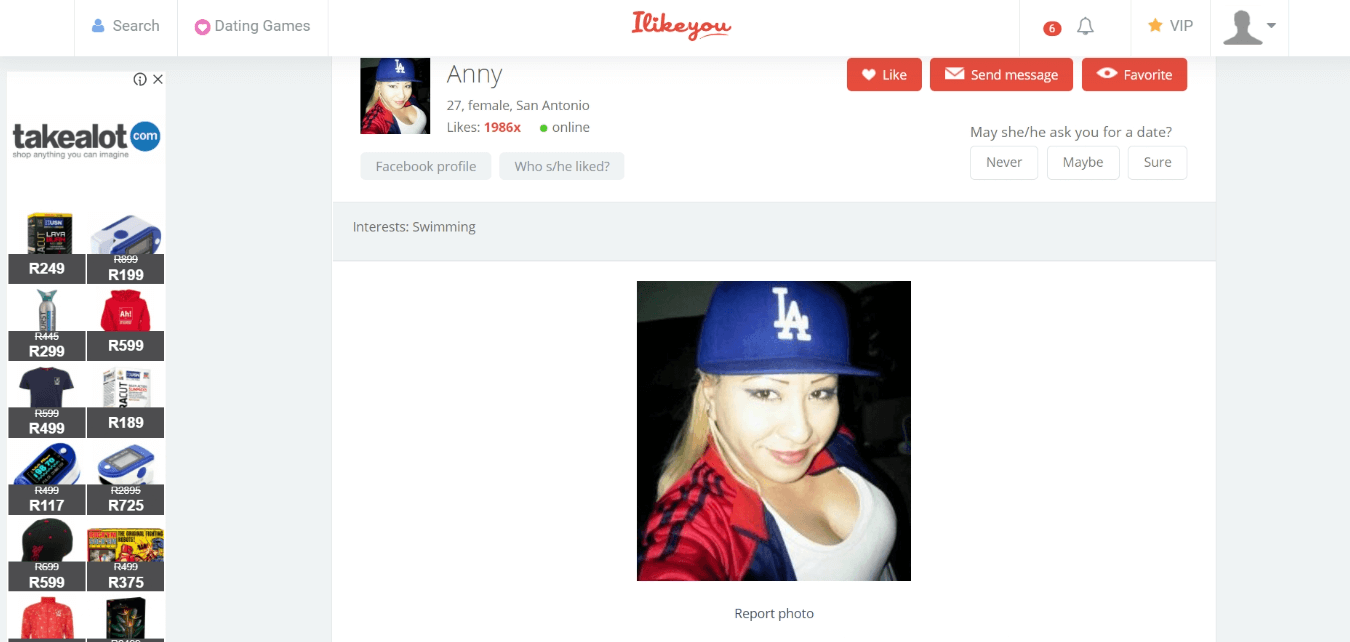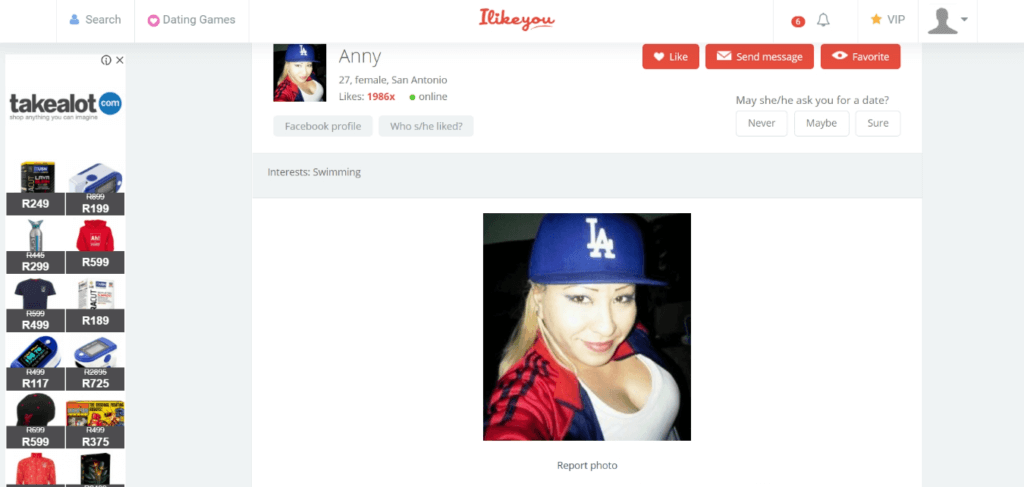 Searching for your own matchups
Searching for your own matchups is achieved via the Search menu on the left-hand side of the home page.
What I like about it is that it offers quite a few search options and these are:
People nearby
All users
Top users (via likes and being rated by others)
New users (this is a search option for VIP members only)
One thing that could be improved here is to allow you to edit your search settings.
Believe it or not, you can't.
To do so, you would have to click on the ILikeYour logo and edit them and then return to the preferred search you are trying to carry out.
Reaching out to a potential matchup can be carried out in a number of ways.
You can like their profiles, add them as a favorite or indicate if they can ask you on a date (as per the Date game).
If you are a member on the site, you can see the profiles they have liked as well as their linked Facebook profile (if they have that option turned on in their privacy settings).
Can you message them?
Unfortunately, you cannot as a free user.
Only those with VIP members can send messages.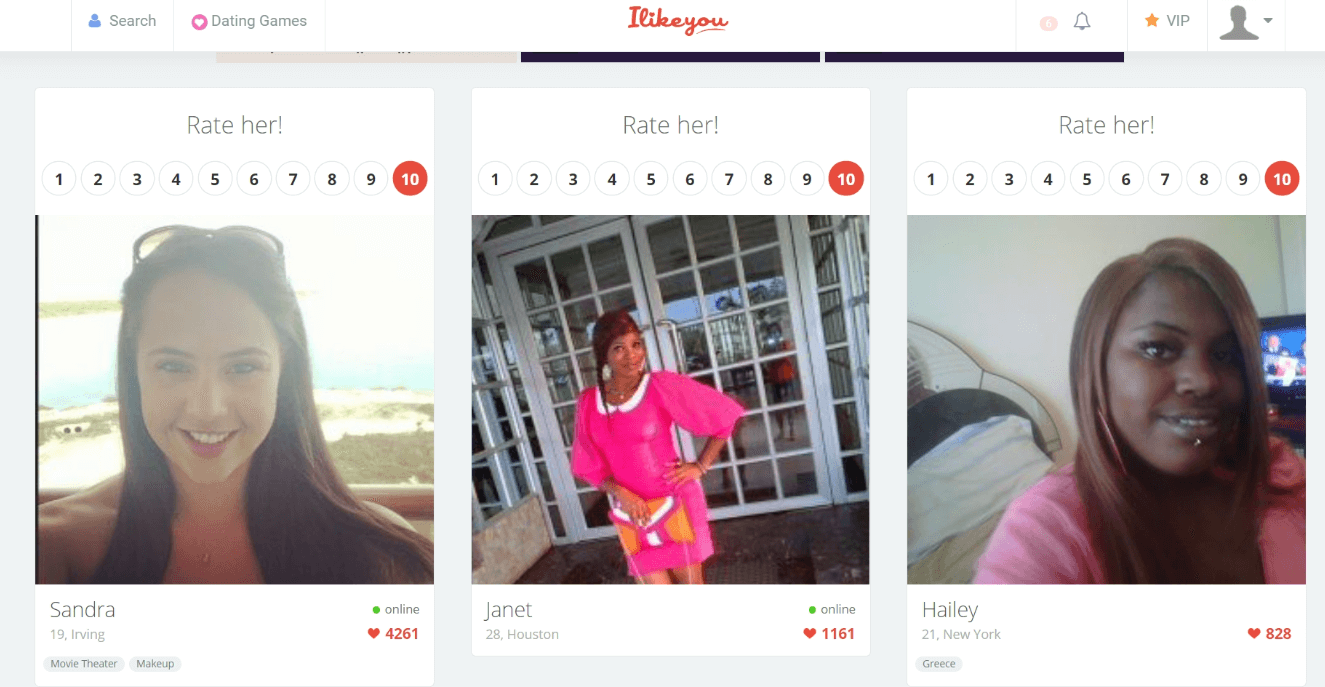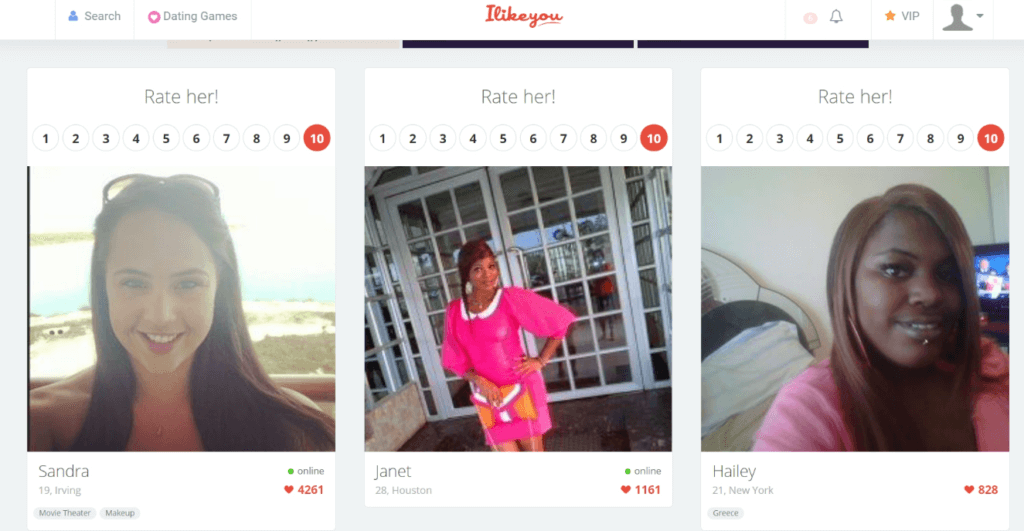 Membership to this site brings with it a number of extra features that you might like to consider.
As a member of ILikeYou, you can send unlimited messages to all other users.
There is still a catch, however.
You need to have at least two pictures uploaded to your profile and they both need to show your face.
2. See who wants to date you
The Date game is a little bit of fun on the site but it can also give you a clue as to who is interested in you.
This is something only members can see, however.
3. See users' Facebook profiles
Now, this is a welcome addition to the site and I think it's a pretty useful tool for members to find out more about a potential date.
Just remember, the privacy of their Facebook profile is something each user can control.
So if they have the option switched off, even if you are a member, you won't be able to view their profile.
If you would prefer to browse other users' profiles without leaving a trace that you have, well you can.
I've never really understood this setting which you will find on many dating sites.
Surely you want people to know that you are interested in them, right?
But I guess some people like to be in total control and only reach out to others when they think the time is right.
5. See who other users like
As a member of the site, you can see who others users have liked.
I am not really sure how this is an advantage to you, however, because if you are a male looking for a female, generally they would have liked other male profiles.
But you aren't looking to date males, right?
I suppose it could give you an idea of the type of people they are into and if you fit that bill.
While there are a few search options for regular users, as a paying member, you have one more.
And that's the ability to search through new members that have joined the site.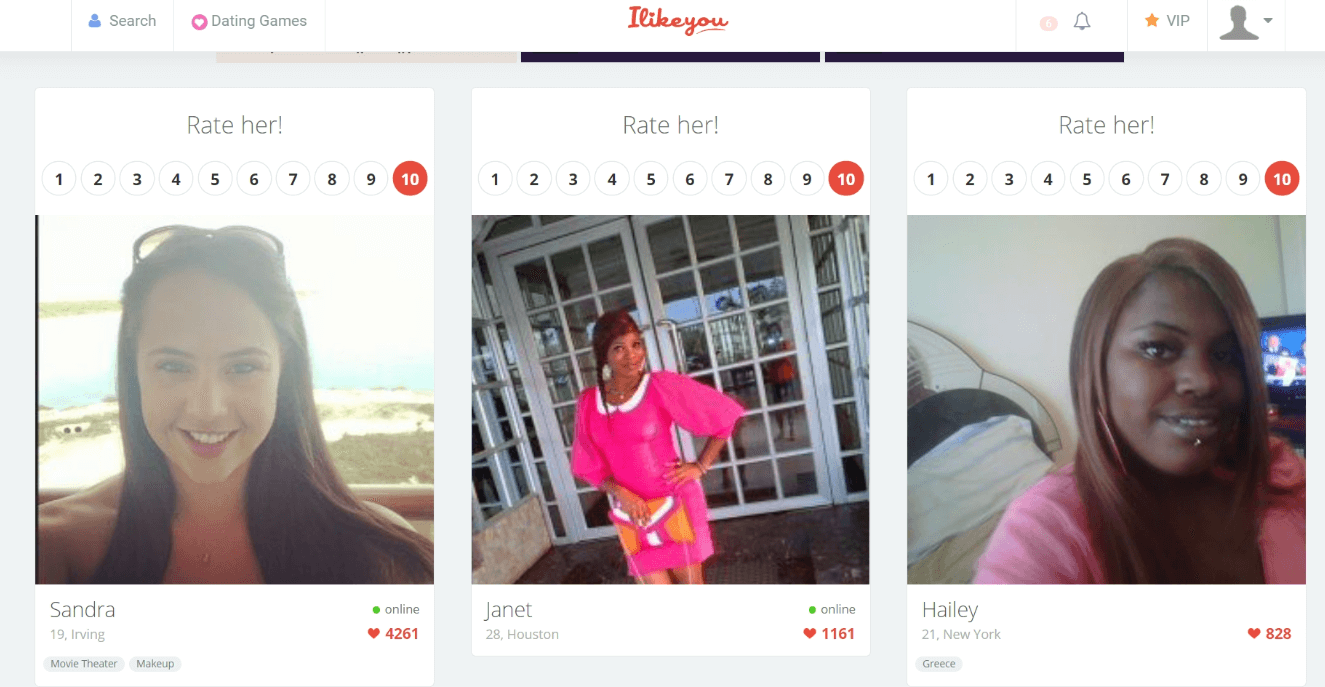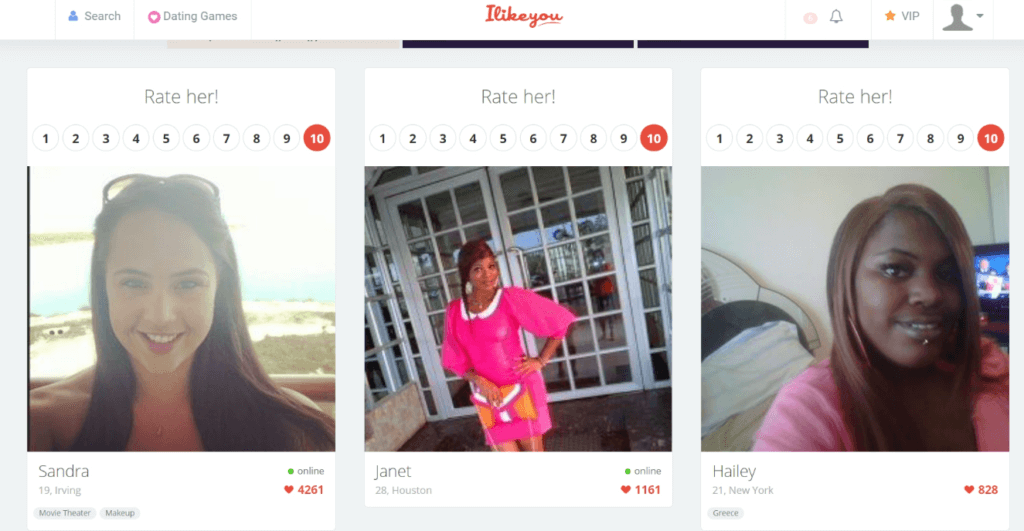 For me, the extra membership options are a little hit and miss, to be honest.
But luckily, the ILikeYour dating site doesn't charge that much for a monthly membership.
And that's not the only option you have to choose from.
There is also a three-month and six-month VIP package.
Here's a breakdown of the prices for all three options:
1-month: $7.95
3-months: $19.00
6-months: $23.70
All around, the site is pretty cheap when it comes to membership and it's needed if you want to message other users in an effective manner.
Another positive is that there is more than one payment option other than a credit card.
You can also pay PayPal if you'd like.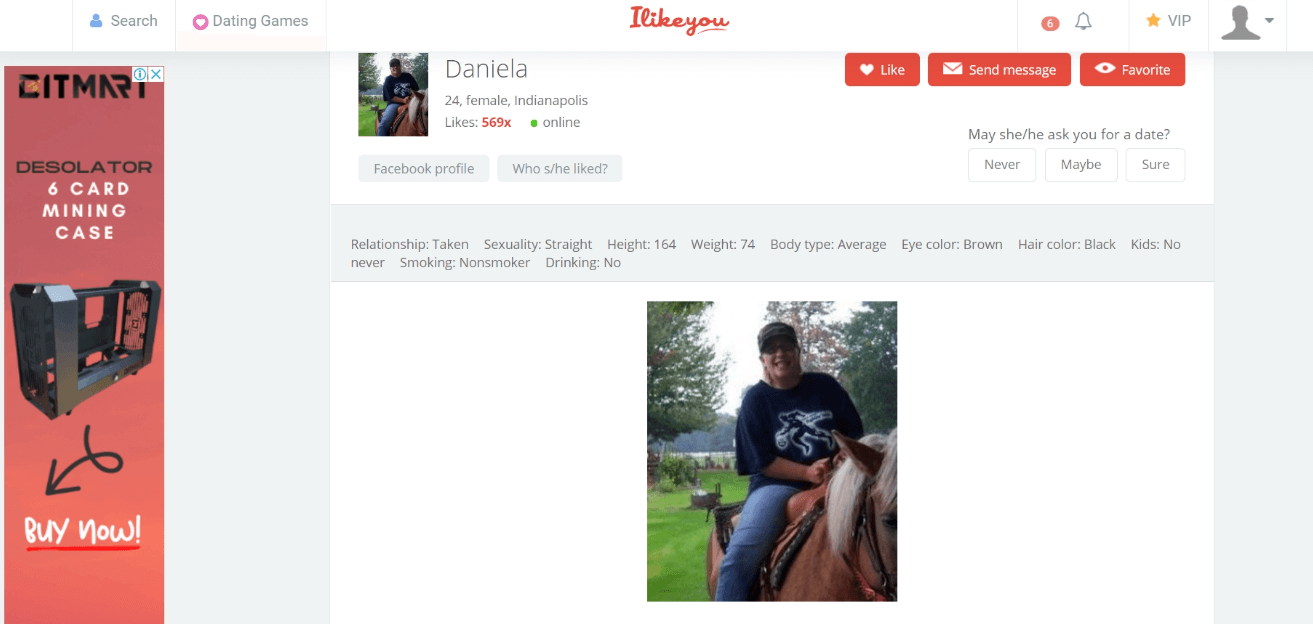 Conclusion and Overall Rating
Thanks for taking the time to go through this ILikeYou.com review.
As mentioned in our introduction, there are many complaints about this site when it comes to scams, chatbots and fake profiles.
And yes, there certainly was evidence of those on the site.
But there were clearly regular users as well, those who had signed up for accounts on the site just like I had.
This was particularly clear to me because, in the city where I live, the ethnic diversity is huge.
And that was clearly shown on the site and in terms of the people I spoke to while using it.
They even used local colloquialisms that a chatbot wouldn't know.
But I would be wary when using this site, that's for sure.
And to be honest, there are better dating sites out there if you are looking for something that's a little more reliable.
As for a rating, the ILikeYou dating site gets 2.75 out of 5.
The team at Onlineforlove evaluated ILikeYou.com for an extended period to evaluate its potential as a reliable, safe dating site.
Our review approach included providing a star rating for the critical criteria that we judge all dating sites by.
That final evaluation of ILikeYou was based on the following factors: membership pricing, ease of use, the success rate in terms of matchups, the size of the user base and key features, amongst others.