FaceFlow is a video chat app that was launched in 2010. A decade into its existence, it is still known for being a unique video chat app in its own right. Combining the best video and messaging elements, FaceFlow motivates its users to have unlimited conversations. Boasting millions of active members, there is no dull moment on this chat site. Even better is the fact that FaceFlow comes with no limitations. As long as all members log into the website, there is no minimum or maximum number of video call participants. This is the best way to bring members of the platform together as they can engage in meaningful ways. If you want to learn more about this chat site and what it has to offer, read this FaceFlow review:
Pros:
Free to use
Comes with an 18+ age restriction
Large user database
Easy to navigate, with a user-friendly interface
Comes with a handful of features
Seamless video calling interface
Having an account on the chat site is not required as you can choose to chat as a guest
Cons:
Lack of appropriate security measures which attracts plenty of scammers and fake profiles on the site
Website pages are riddled with ads
Member Information
The member structure on FaceFlow is diverse as the site itself. Most of the members are male (65%), with fewer females to be seen (35%). Male or female, I had lots of fun engaging with those who were online. However, I realized that the female members were more open to serious conversations than males. There are 60,000 active members from the United States, while the rest of the members come from other corners of the world like Peru, Kenya, Brazil, Ecuador, and many other countries. Weekly, I came across 20,000 active members. Some members do not create accounts and choose to chat as guests. As such, they do not count towards the total number of FaceFlow members. The chat site accommodates the younger demographic (24-34 years) more than it does mature adults. Many of the members are single and looking for fun and casual encounters. There are also a select few who are looking to make connections.
Sign Up Process
RATING
OFL Top Recommendations based on 100,000+ Survey

"Serious Relationships"
"Discreet Hookups"
"Best Course for Men"
"Quick Flings"
"Normal Hookups"
"Our Quiz"
3.5/5
Registering on FaceFlow is as easy as it gets. First, you should be 18 years of age and above to sign up for a FaceFlow account. If you are younger, your sign up will not be successful. I had my account up and running in under five minutes. I only provided my basic information like a valid email address, a username, and gender. If you do not want to go through the hassle of filling in your profile, you can choose to sign up with your Facebook account. Thus, the information on your Facebook account will end up on FaceFlow.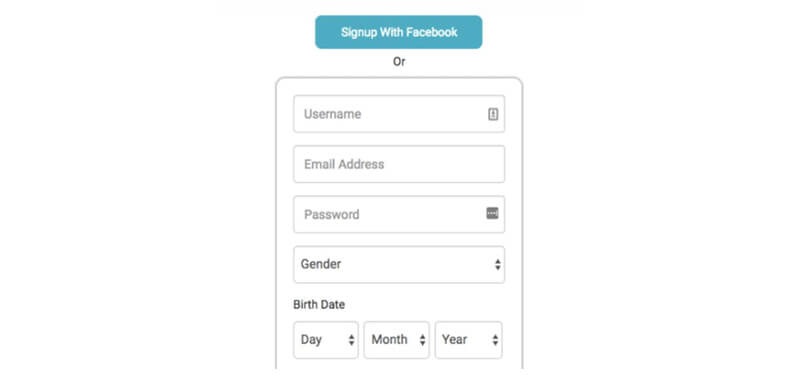 You should use a valid email address because the site is strict on this requirement; however, email verification is not required on FaceFlow. Once I filled in the required details, I found that I could upload a profile picture or forego it entirely. Because there is no profile verification system in place, anyone can sign up for FaceFlow, which makes safety and authenticity a bit of an issue here.
The last part of the sign-up process is adding members to your friend list.
Contacting People
RATING
3.5/5
Contacting people on FaceFlow is done in two ways; through browsing the member list and contacting those that catch your fancy, or through the "Find Random Partner" feature. With this feature, FaceFlow randomly matches you with a stranger from anywhere in the world and motivates you to create a connection with them. When you identify the members that you want to converse with, you can strike up a conversation. This is exactly what I did!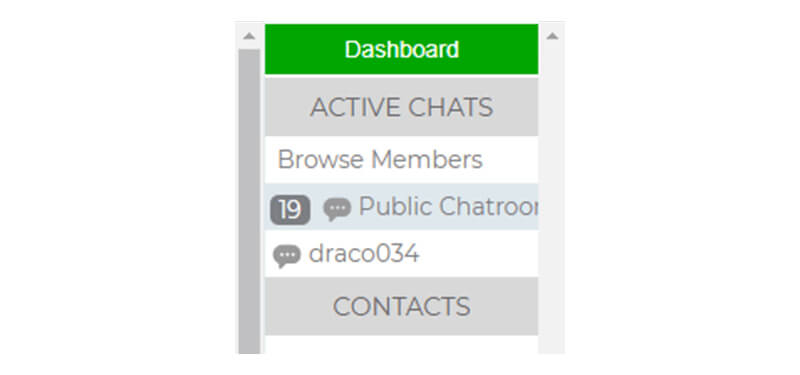 When I added members to my friend list, I found that it was easy to make contact. Honestly, contacting people was (and still is) my favorite part of my experience on the chat site. There is nothing more exciting than getting to know others.
Finally, there is a public chat room that is available for everyone to join. I was able to gain access to the chat room and partake in the ongoing conversations.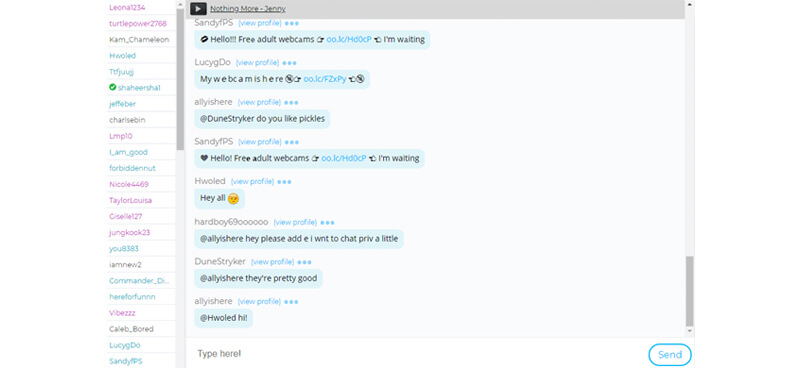 The only catch is that these chat rooms are location-specific, and you can only join one with users near you.
Profile
RATING
3/5
The profiles on FaceFlow are basic. They do not contain any information whatsoever, apart from a profile picture, YouTube videos, and your list of friends. Users are not required to fill out their profiles completely. Therefore, you can leave the sections on your profile blank.
This is my FaceFlow profile: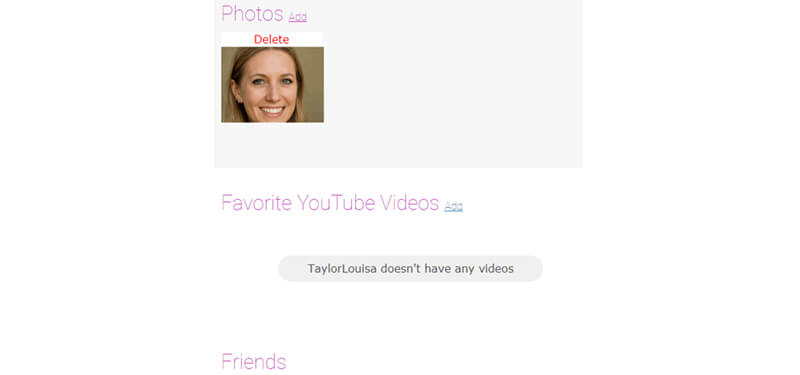 Unfortunately, because FaceFlow does not carry out profile checks, some users have adult content in their profile photos. I found that many members disregarded the "photos" section on the profiles. Most users also have fake profile photos. Be careful; it's up to you to take the time to know exactly who you are chatting with.
Mobile App
RATING
OFL Top Recommendations based on 100,000+ Survey

"Serious Relationships"
"Discreet Hookups"
"Best Course for Men"
"Quick Flings"
"Normal Hookups"
"Our Quiz"
3/5
Although FaceFlow has been in existence for several years, the chat site developers have not provided a downloadable app for users on the go. Therefore, if you have an Android phone or an iPhone, you cannot visit the Google Play or Apple Store and download the FaceFlow app. However, this is not to say that you cannot access FaceFlow using your mobile phone.
Through your phone's browser, you can log into faceflow.com because the chat site is well-optimized for mobile devices. This way, you can still chat and video call at your convenience. The good news is that the mobile site is just as fast and intuitive as the site's desktop version.
Membership Options
RATING
3.5/5
With all the perks and features that come with FaceFlow, it was interesting to find out that the site is completely free. There is no subscription-based service that puts some users a notch above the others. Instead, all members of the platform communicate using their free accounts.
FaceFlow is neither cheap nor expensive because it is free of charge. Then again, this may be the reason why the site lacks an active mobile app. Since FaceFlow does not earn any revenue from its members, it may be difficult to channel funds into the development of an app. The fact that I could access the site for free made it easy to live with the fact that FaceFlow does not have an app. The former compensated for the latter.
The Bottom Line
To sum things up, FaceFlow is a reliable video chat and messaging app for anyone who wants to enjoy out of the box conversations. It is truly a solid alternative to popular messengers that come with hefty subscription fees as it is free of charge. Even better is the fact that there are no limitations to the number of people that you can have in a call. It's up to you to decide whether you want every person on the site to join in on the fun. Granted, you will meet many new people on FaceFlow, but your encounters here will be relatively casual because many people on the platform use it to pass the time. Therefore, you will not meet serious relationship candidates here. But if you are only looking for lighthearted chats with people from all over the world, sign up.
Frequently Asked Questions
Is the FaceFlow video chat app safe for teens?
The conversations on FaceFlow are monitored. This is as safe as the site could get for teens. This is because users can still share private information as this is in the user discretion. There are also pedophiles and scammers who are reported on Faceflow. Therefore, parental control should always be practiced.
Where can you easily download the FaceFlow for Android app?
Facebook does not have a mobile app; therefore, you cannot download it on your phone. However, the website is mobile-optimized and can be accessed using Android phones. Simply go to your phone's browser (Firefox, Chrome, or Opera browsers) and in the search box, type faceflow.com. You will be redirected to the site where you can sign up for an account or log into your account and engage in video chats.
How do I video call another member using FaceFlow for iPhone?
You can enjoy FaceFlow video calls on your iPhone by logging into the FaceFlow website using your phone and clicking on the "video call" button. That is located on the upper left side of the chat box. However, you can only make video calls using your iPhone when you are on the "Find a random partner" part of the site.
Is FaceFlow free download?
FaceFlow is a free video chat and instant messaging service, but it does not come in the form of an active app. Therefore, FaceFlow cannot be downloaded as an app to your phone.
What are FaceFlow unblocked accounts?
These are FaceFlow accounts that were previously on a blocked user list but are currently unblocked. Remember, your FaceFlow account can be blocked if you violate the terms of service or if an active user does not want to interact with you.
FaceFlow random chat: Can anyone join?
Yes. Anyone who is above 18 years of age can freely join FaceFlow.