Polyamory dating sites have become extremely popular in online dating as people look for relationships beyond traditional monogamy.
And if you and your partner are looking for someone else to add to your relationship dynamic, or if you are single and looking to join others, then using regular dating sites like Tinder, OkCupid, Bumble doesn't make sense.
You'd rather use a dating application like Feeld, one that's geared toward non-monogamous relationships, or polyamorous relationships as they are called.
In today's review, we explore MoreThanOne, a dating app that's fairly new to the game but one that promises an easy way to organize meetups and threesomes.
OFL Top Recommendations based on 100,000+ Survey

"Serious Relationships"
"Discreet Hookups"
"Best Course for Men"
"Quick Flings"
"Normal Hookups"
"Our Quiz"
In this review, we will gather information and research MoreThanOne in great detail, which ultimately will indicate if you should start a profile here or not.
We will reveal the following:
That's just some of the areas we will analyze conduct this review.
Is your dating app giving you the best chance for success?
Make sure to take our online dating site/app quiz to find out.
It's a fact that people who follow our dating site suggestions have on average 2 extra dates per month.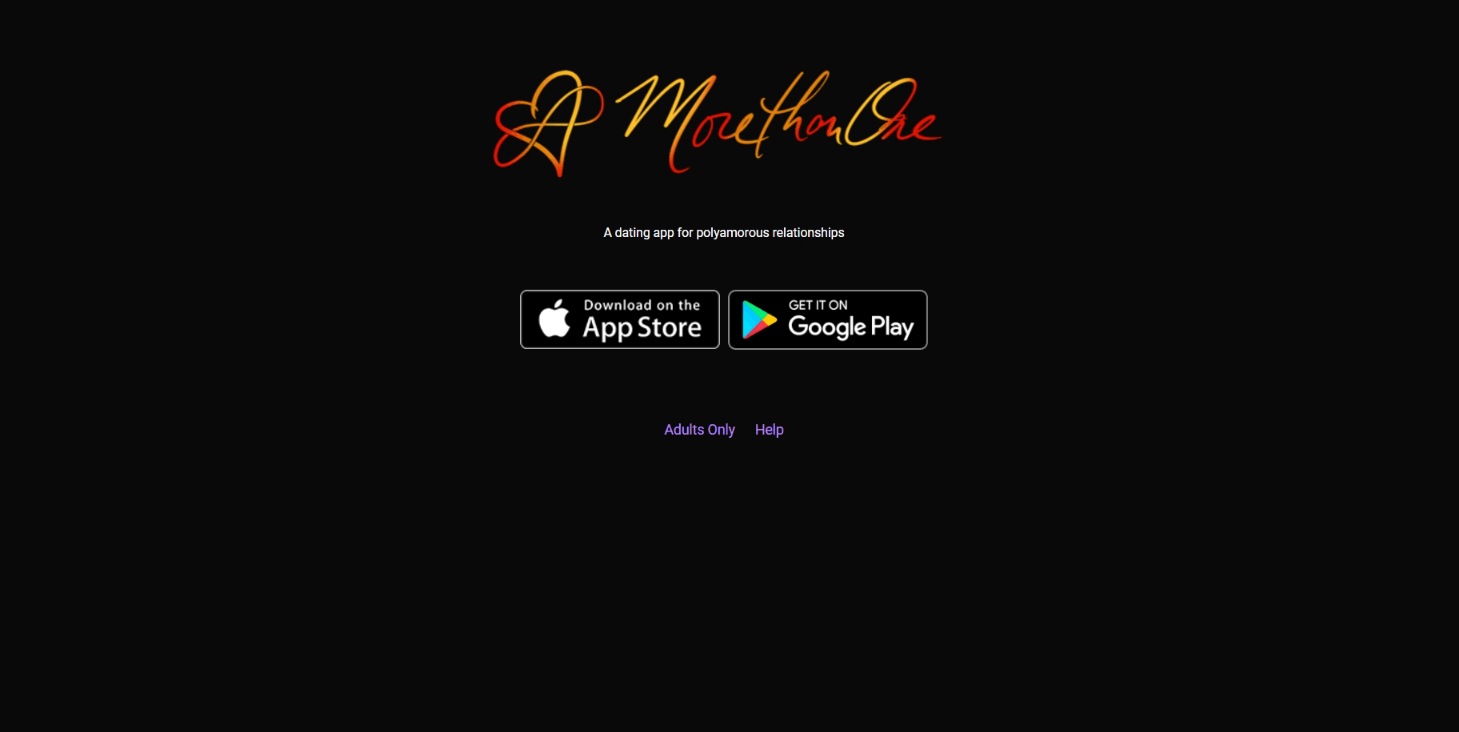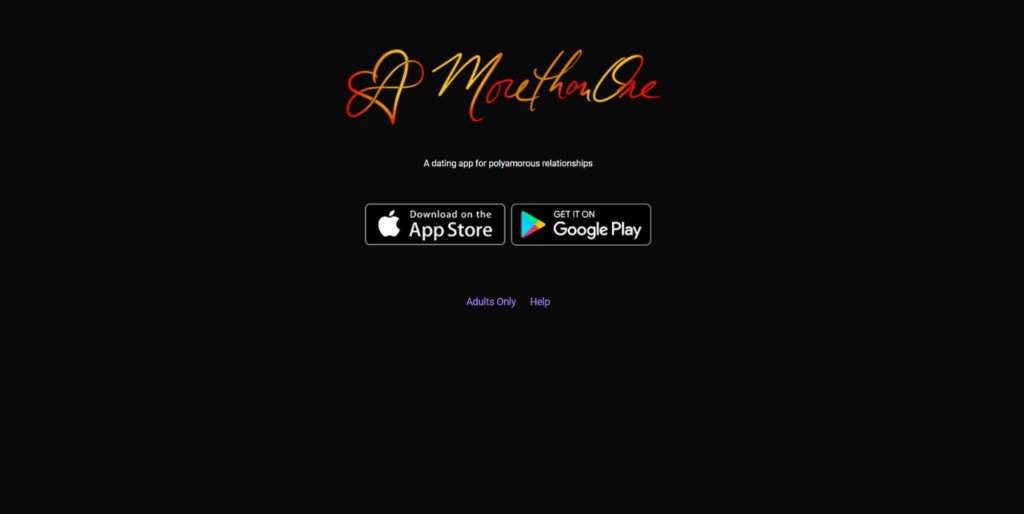 Ease of use – 3/5
Match Success – 2.5/5
Features – 2.5/5
Pricing – 5/5
It's free to use
Well-designed app
Quick registration
Small user base at present
Some users have reported registration problems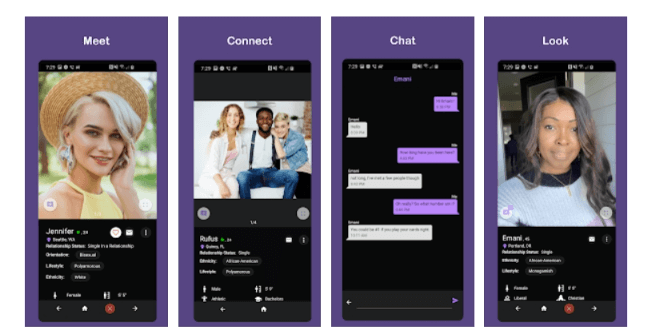 Who Is It For/

Demographics

?
If you are into monogamous dating, you know, the regular stuff, boy meets girl, boy dates girl, then you aren't going to be interested in MoreThanOne.
As the name suggests and as we mentioned in the introduction, this is a site for those of us who in real life want more than one partner.
You could be currently single or already part of a couple.
It doesn't matter to those on More Than One who are wanting a dating life (like eHarmony or Tinder) or experience that holds more thrills than social norms (like BeNaughty or Ashley Madison), and that from the first date too!
OFL Top Recommendations based on 100,000+ Survey

"Serious Relationships"
"Discreet Hookups"
"Best Course for Men"
"Quick Flings"
"Normal Hookups"
"Our Quiz"
But just how busy is this app?
Well, I can reveal that it's still pretty much in its infancy in terms of a user base.
Most of the users are based in the United States and the figures that I collected put them at just over the 30000 mark.
And yes, if you aren't in the USA currently, I don't think you will get much luck on this app, although there is always room for growth.
Here's some more information that I was able to find:
The app is only available in certain countries at the moment, most notably the USA, United Kingdom and Canada.
The gender ratio is pretty even with 51% of the profiles are men and 49% women
By far the biggest group of users on the site are aged between 35 and 44 years old (40%).
The smallest group, unsurprisingly, is the 18-24-year olds at just 5%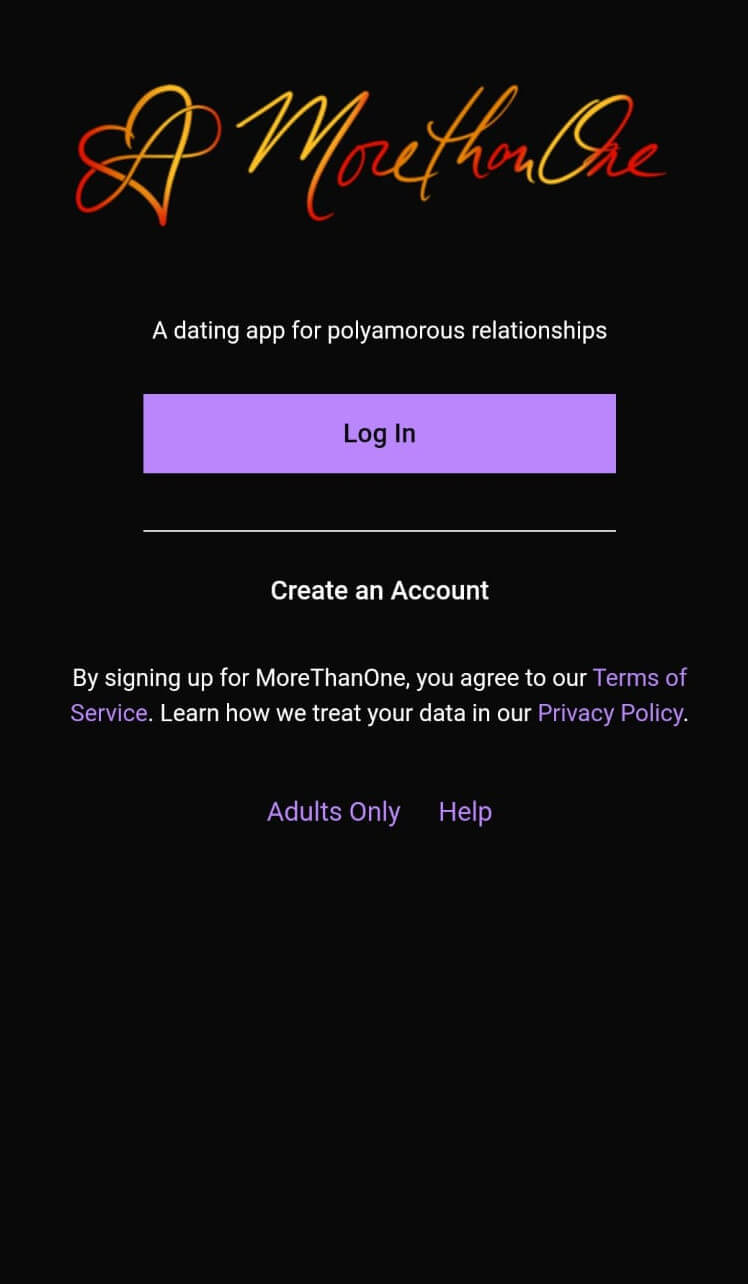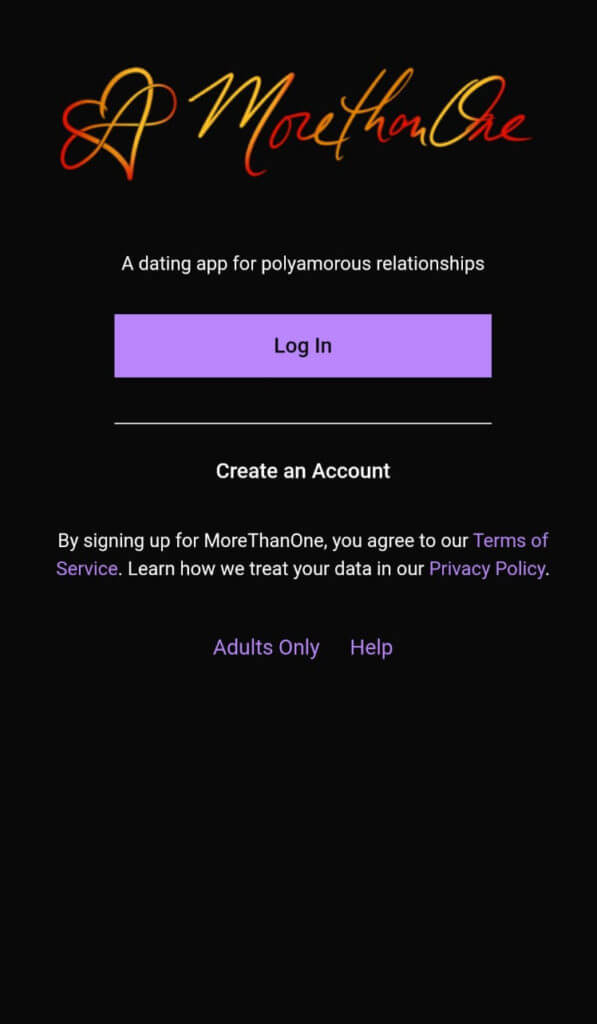 Head on over to Google Play or the App Store to download the latest version of the MoreThanOne app.
Registration doesn't take long although you will need your phone number to register.
That's the only way you can complete the process, although you will also need to have a valid email but no need for a social media account.
The registration process starts with inputting your phone number and then entering a code that is sent to you in a text message.
Following that, you will need to provide the information below:
What you are dating as (individual, couple)
Your name
Your email address
Your sexual orientation (13 to choose from)
Your current relationship status
Your gender
What you are looking for a (16 options available)
Your age
Your location (which it detects and you confirm)
Once you've done this, you will need to verify your email address.
That means clicking on a link that's sent to you by the admin team.
Which led to a major problem for me.
When I clicked on the link, it took me to the MoreThanOne landing page and said that that the code I entered was invalid.
Looking at the reviews of the site, it seems that this is a problem other users have experienced too.
But I found a workaround.
I opened the app and clicked on the "Reset Password" option.
Once I reset my password I was able to log in with my new password and using my email address.
My major critique here is that perhaps some users didn't think of trying this route.
That means they simply would give up and go elsewhere, right?
And that doesn't help an app with an already small user base does it now?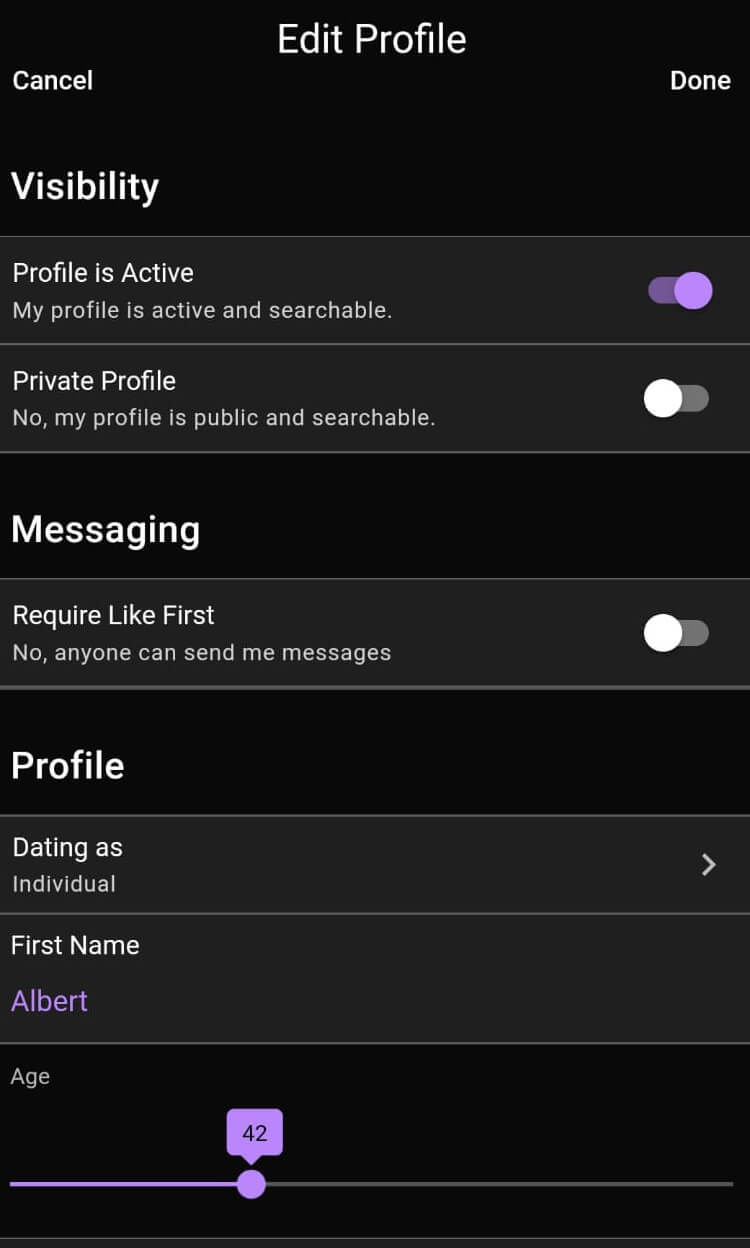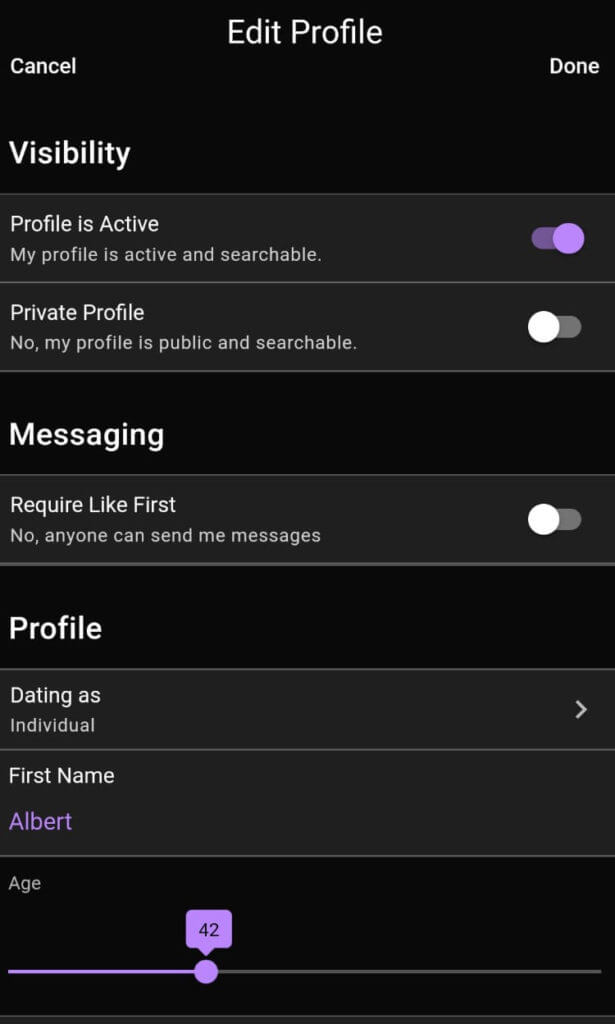 Your profile on the app is not yet complete and you will be encouraged to finish it off.
If you don't upload a profile picture, for example, your profile won't form part of other users' search returns.
Although the registration process did account for some parts of your profile, you will still need to add things like:
Your hometown
Your ethnicity
Your fetishes (11 to choose from)
An About Me section
Your height
Your body type
If you have kids or want them
Your education
Your religious views
Your political views
If you are 420 friendly
If you drink or smoke
Your hobbies
Your favorite movie, song, musician, food
The profile on the app certainly exceeded my expectations that's for sure.
Often, dating apps have profiles with very little information, so it was nice to come across one that takes them seriously.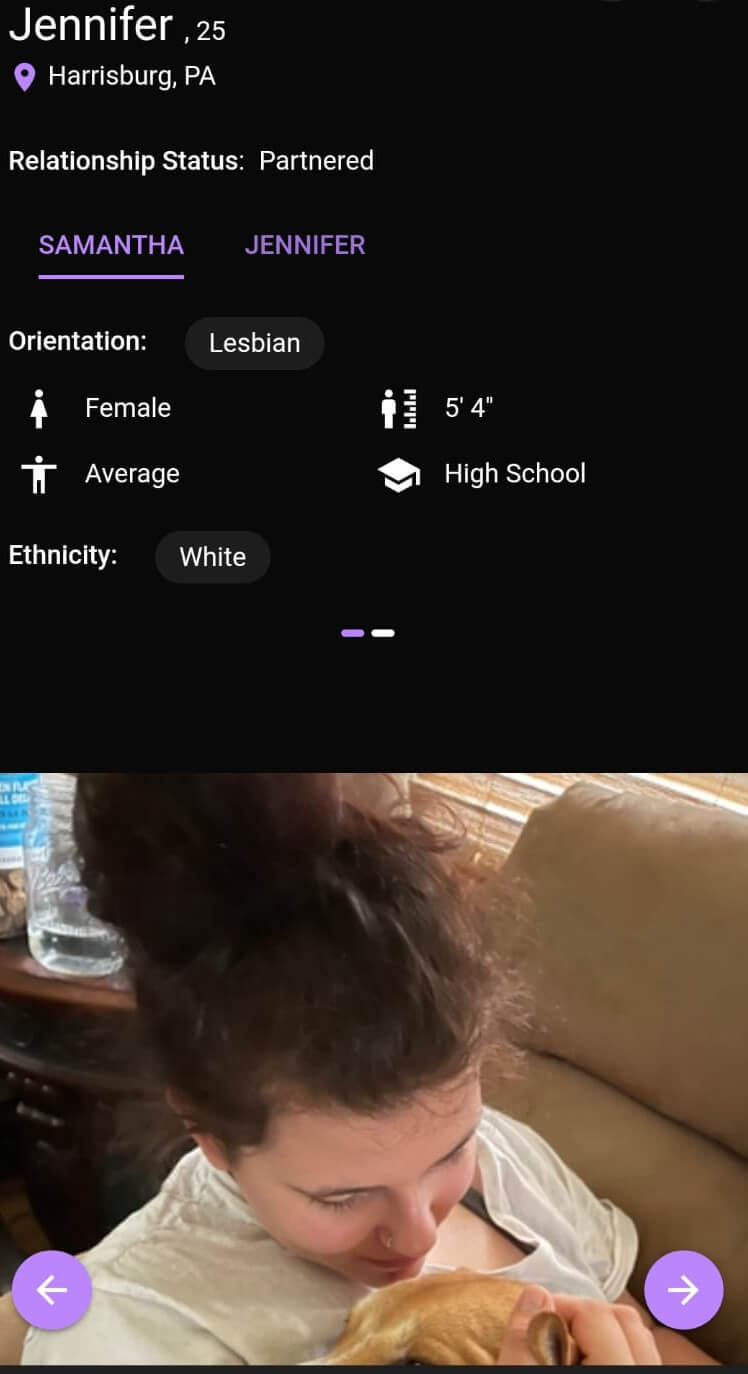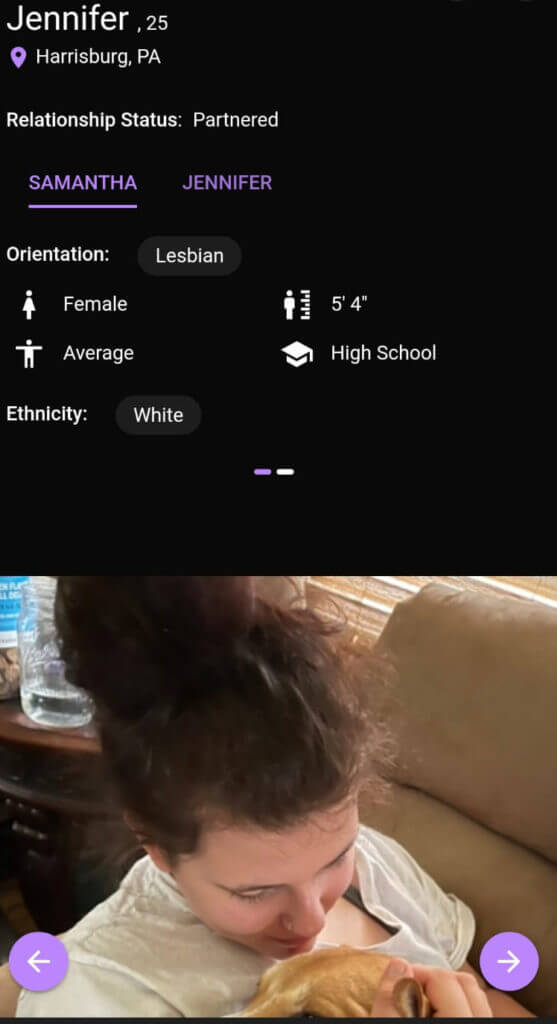 Finding your way around the app
MoreThanOne is a beautifully designed app that keeps things simple.
You'll love the way it looks with its clever use of black, purple and white coloring.
As for keeping it simple, well there are just four main menus and you can quickly tell what they do before you click on them.
But let me identify what they are anyway:
People icon (Profiles): This is the profiles page where you can view other users and what they have to offer
Envelope icon (Messages): Here you will find your messages received from other users
Heart icon (Likes): Here you can see who's profiles you are watching (more on that later, who has accepted a "like" you have made on their profile and who has "liked" your profile.
Person and cog icon (Profile and settings): Here you can change app settings as well as edit your profile. You can find various statistics about the site too in terms of most popular users, pictures and more. These statistics are a highlight for me on the app.
And that's it for the main menus.
There are a few secondary menus under the main Profile menu that I will get to a bit later in the review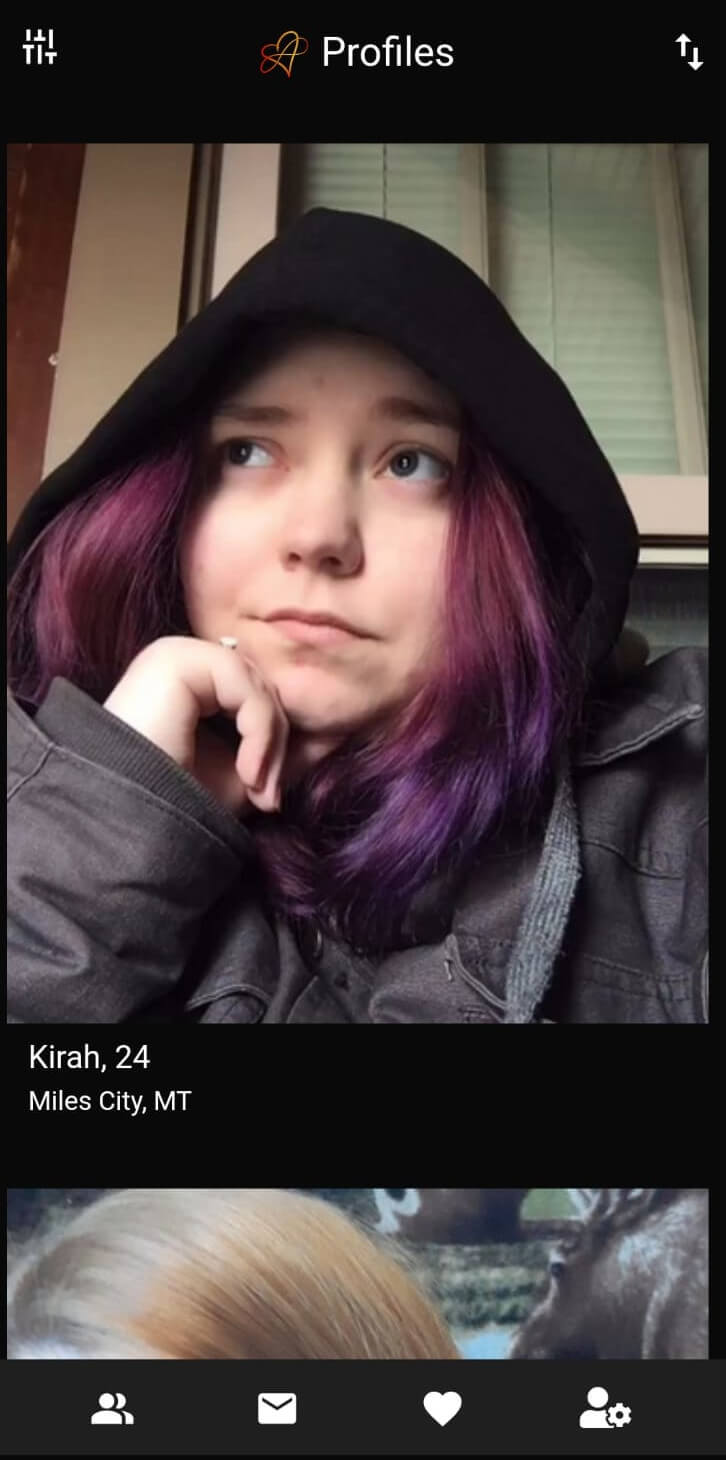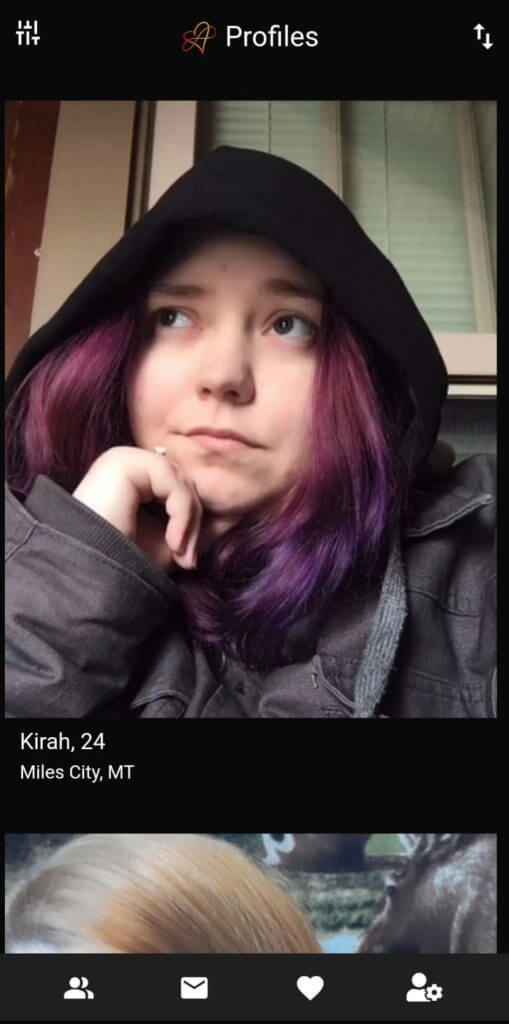 So let's talk a little about how to use the MoreThanOne app to find and reach out to other polyamorous users.
Well, it's a little different from regular dating apps as you don't have to swipe right or left here.
Yes, there is swiping involved but that's just to look through the pictures someone has on their profile for example.
So how does it all work then?
Well, during the registration process, you would have set some matchup parameters.
You can easily check on these by clicking on on the Profile and settings menu and then Matchup Preferences.
Now you can adjust the following:
The gender you are looking for
If they are dating as an individual or couple
Their relationship status
Their orientation
Their distance from your location
Their ethnicity
Their age range
Their body type
Their height
Their political affiliations
Their education
Their hobbies
If they have or want kids
Their habits
There are lots you can adjust here but a word of warning.
Because the app has a small user base at present, keep things simple at first otherwise you are going to get too few matchups, possibly even none.
You can always experiment with it later of course, especially if you do find plenty of matchups near your location.
Then you can try adding the non-negotiable parameters that you'd want in a potential matchup and see what that does to your returns.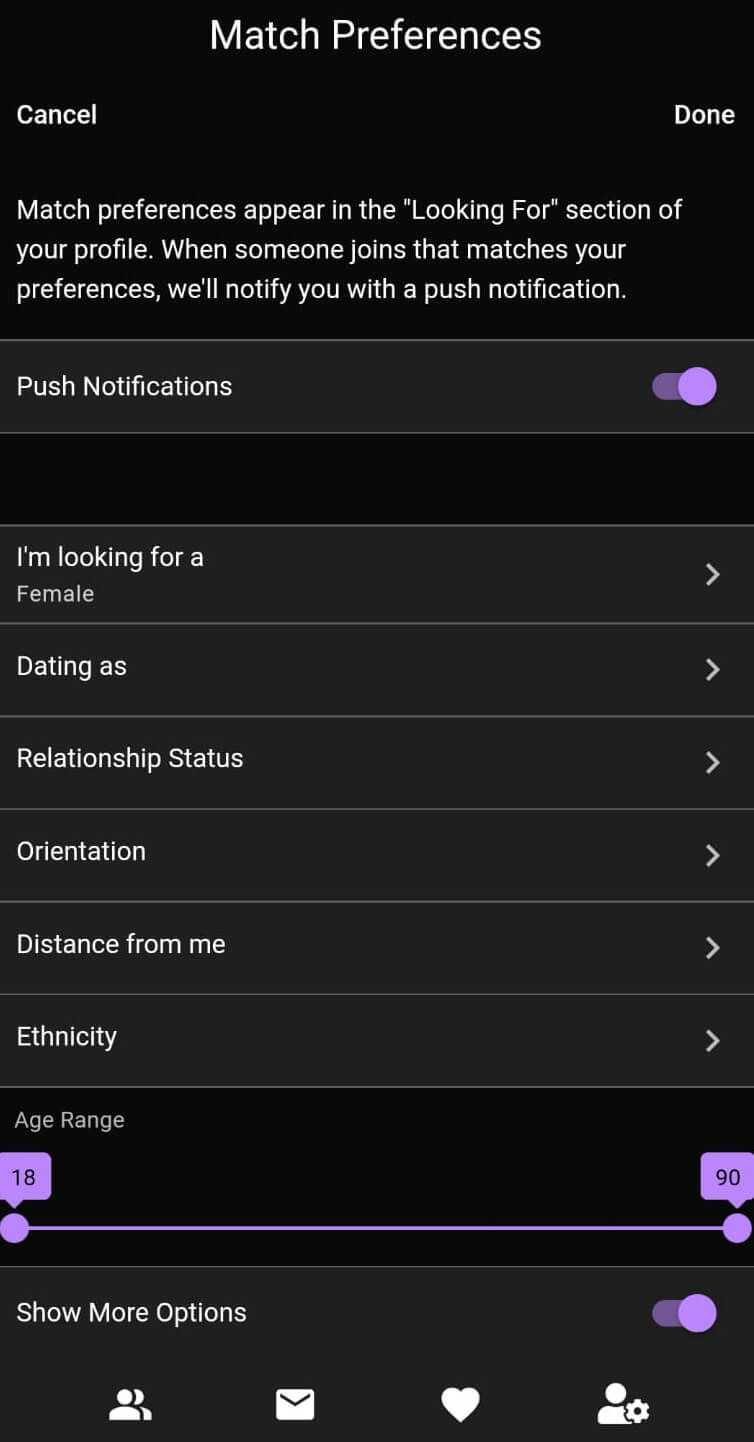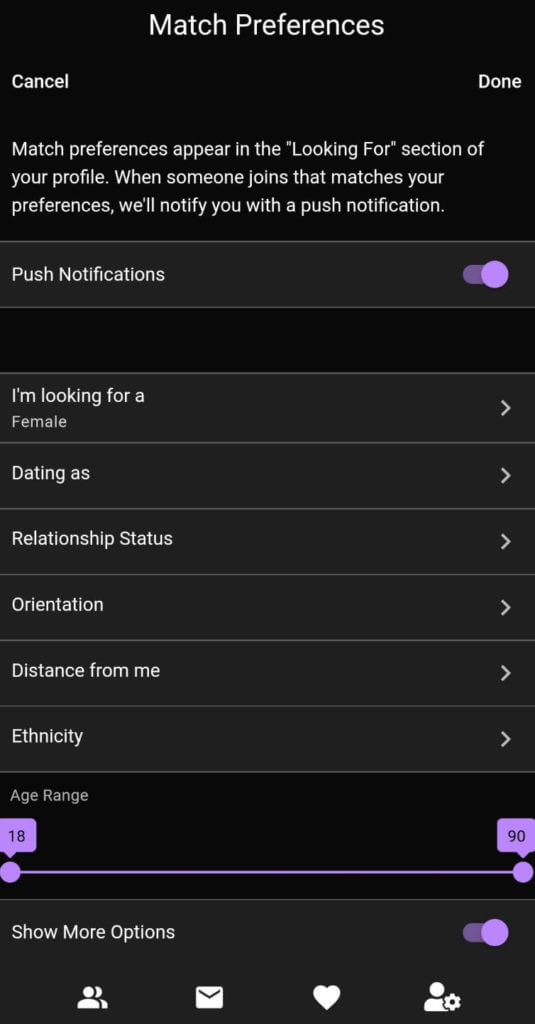 Searching for potential matchups
So you probably wondering how you would go about looking for potential matchups?
It couldn't be easier.
Once you've set your matchup preferences, all you need to do is click on the Profile menu (that's the first one) and see what comes up.
Profiles of other users take up the full-screen of your phone which is nice as you can have a real good look at their pictures.
You can also immediately see the ages and location of each profile plus how many have been returned by the specific search based on your matchup preferences.
You will notice two arrows in the top-right of the screen, one pointing up and the other down.
Click here to sort your searches according to:
Distance closest to you
Distance furthest away from you
Age
The date they joined
If you'd like to find out more about a potential match, be it an individual or couple, simply click on their picture.
That takes you into their profile.
Now see more information about the person or couple.
Simply swipe up to read through their profile in full to learn more about them.
It seems like most of the people using MoreThanOne have taken the time to fill in their profiles so you can learn a lot about someone from that.
If you just want to look through the pictures they have uploaded before reading their profile, swipe right to go through them all.
That's of course if they have uploaded more than one.
So that explains how to check out someone's profile.
But how do you see all the profiles returned based on your matchup parameters?
Well, all you need to do is go back to the Profiles menu and start swiping up.
Find another profile that you like and click on it to find out more.
It really couldn't be a simpler system and for me, it's one of the things they've got right on this app.
If you'd like to change your match preferences quickly then all you need to do is click the slider icon on the top-left of the screen.
This allows you to set parameters quickly without having to move to the Profile and settings menu, which is very useful.
Once you've found someone or a couple that you'd like to get to know better, you are naturally want to reach out to them, right?
The good news is that it's totally free to do so.
Yes, that right, at this point, messaging is free on the app.
In fact, the whole app is free to use.
But there is something you should take note of.
If you or any of the other users want to control who messages you, you have that power in your hands.
It's a simple setting that you can toggle when you edit your profile.
What it means is that instead of allowing anybody to message you, they first have to like your profile before they can send a message.
While it gives you the power to control who reaches out to you, I think that because the app has a small user base, for now, I would rather accept messages from anyone.
If someone gets out of hand or rude, you can then just block them.
But it's reassuring to know that this feature is part of the app.
You can also easily see who you can message while browsing through profiles.
If you can message someone, you will see an envelope on their profile.
Click on that, write your message and send.
If they have a heart icon, well then you have to like their profile first.
Also, note that you cannot click on the heart to like them unless your profile is complete.
And that's a clever feature by the admin team behind MoreThanOne to get people to complete their profiles.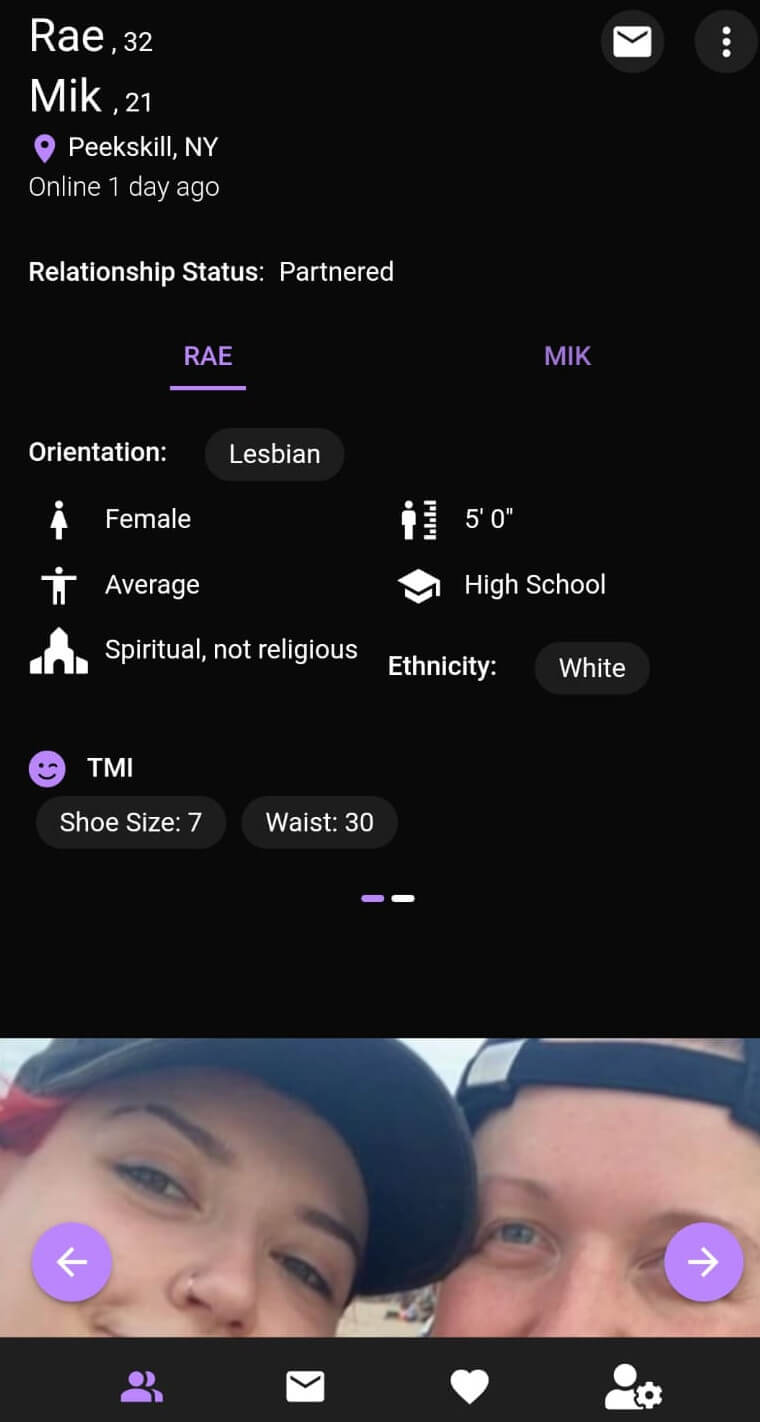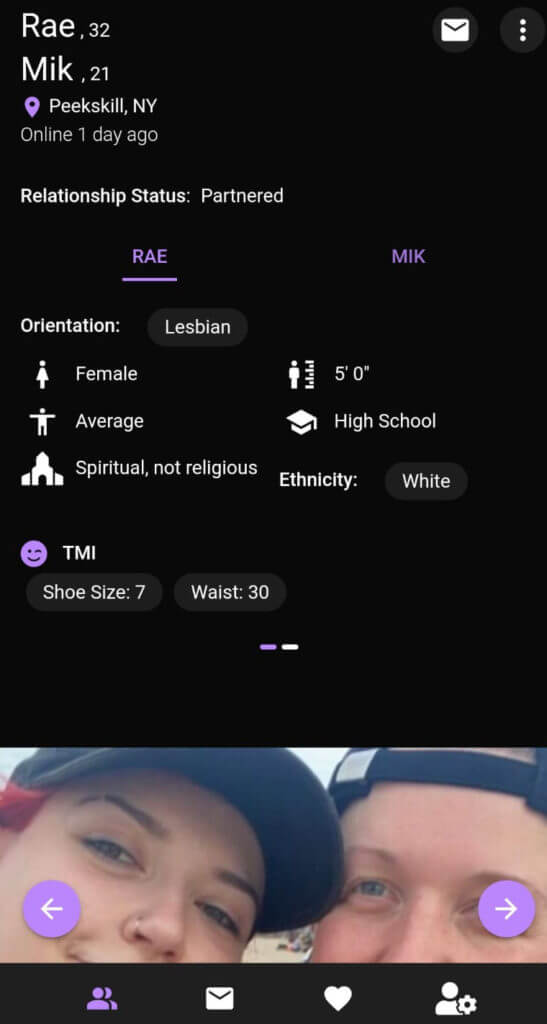 Well, without paying for a membership, there aren't any extra key features to talk about.
I will recap on a few things that are of critical importance when using this dating app.
This is a powerful tool with many parameters that you can adjust.
Of course, there are the regular things like gender, distance from you and age range, but the extras could easily be a key feature for paying members.
But instead, it's free to use.
As said earlier, start with more wide-range searches to get a feel for the kind of returns you want and then add non-negotiable parameters at a time, for example, if you don't want people who smoke.
As the app user base grows, these match preferences will come in really handy to pinpoint the perfect matches for you.
This is a toggle switch that can be found when you edit your profile.
But what does it do?
Well, if you toggle it on, you will receive a notification anytime someone joins the app that matches your current match preferences.
How awesome is that?
These notifications are sent via the app as well as to the email address you registered with.
MoreThanOne also allows you to change the location of your searches.
This is useful if you are moving cities, or going on holiday perhaps.
You can then search in other locations to see if there are potential matches for you there.
To change the location, click on the Profile and settings menu and then select the Location sub-menu.
As mentioned earlier, at this point, MoreThanOne is free to use.
I am not sure how long that will continue for but make the most of it.
There are many things on this app that could easily have been used as a member-only feature, for example, messaging and match preferences.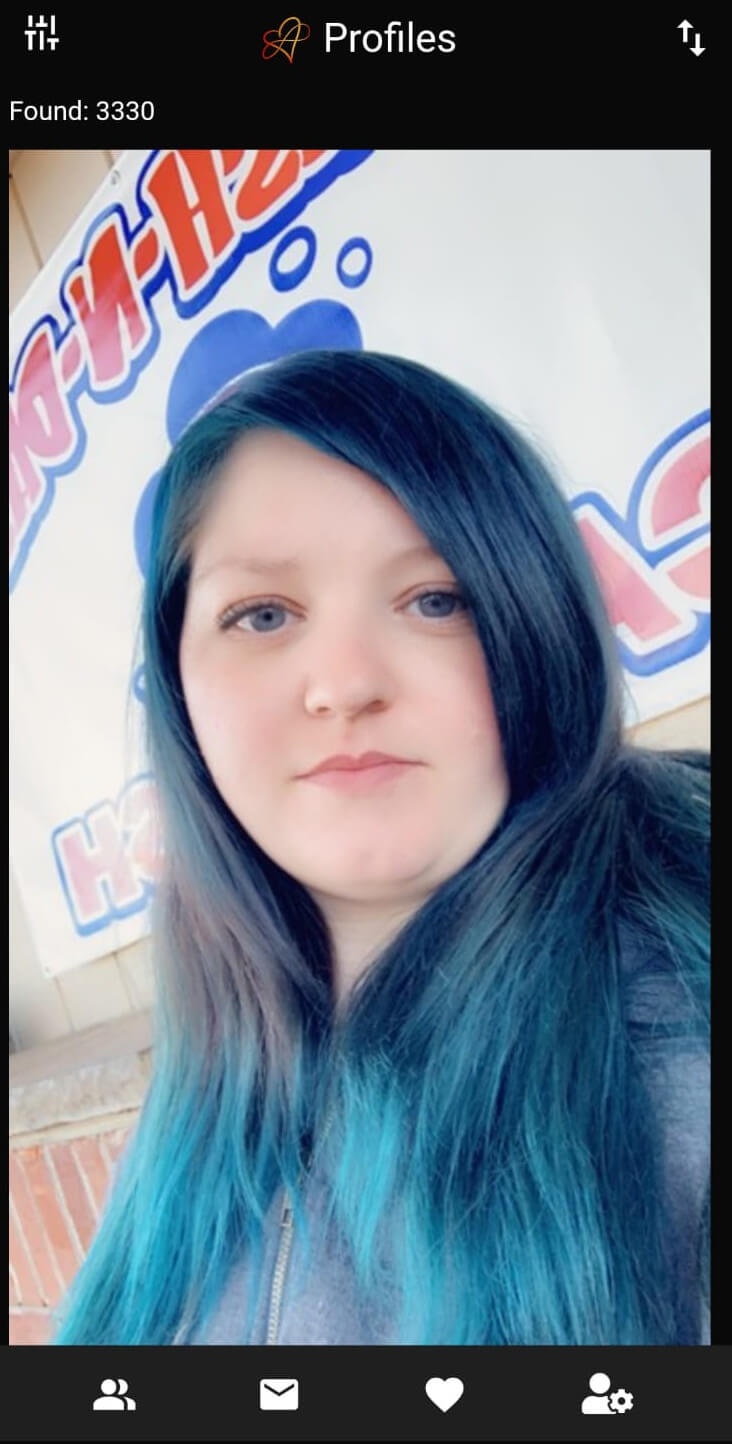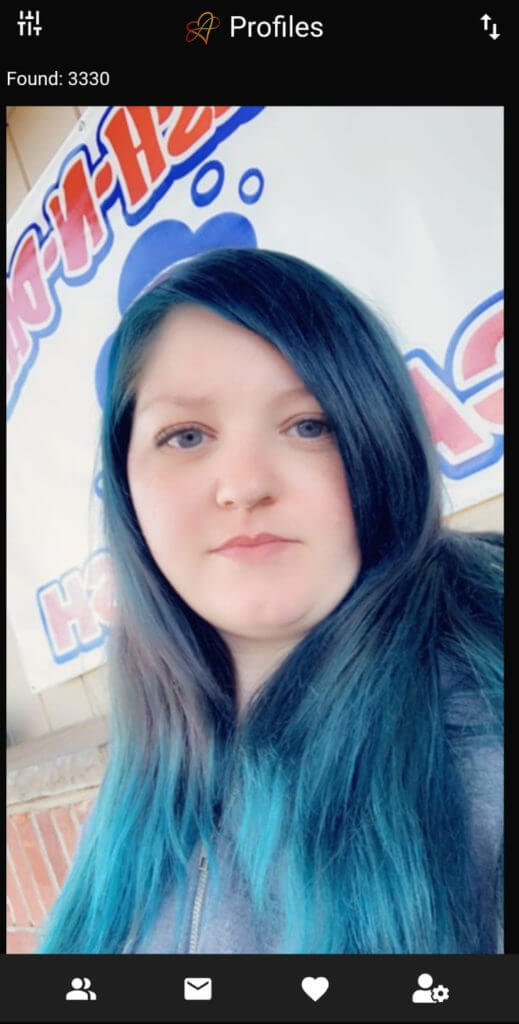 Conclusion and Overall Rating
And that's it for our review of MoreThanOne.
To summarize my experiences with the app, I would say that while it certainly has huge potential, for now, the user base is holding it back.
But it's free, so you can easily try it out and see if it can work for you.
Obviously, that's going to depend on the chances of finding potential matchups near your location and that's where the smaller user base hurts at this point.
But with the app not costing a cent, I am sure that it would continue to grow, and if you live in a large American city like New York, for instance, you are going to find people who use the app.
I love the fact that you can change match preferences easily and that messaging is free but also that you have control over who can message you or not.
Without a doubt, there is lots of potential here, that's for sure.
It scores a solid 3.25 out of 5.
MoreThanOne was tested by the Onlineforlove team over a long period.
At the end of that testing period, our review approach saw us give a star rating for various criteria that we use to rank dating apps.
And therefore our evaluation of MoreThanLove was based on these critical criteria.
This included pricing, how easy the app is to register for, install and use, the features it offers, the size of the user base is and success in finding matchups.