Because of their busy schedules, plenty of people do not have time for dating and turn to dating websites.
For people of color, it might be even harder to find the right person and EbonyFlirt dating site is here to bring them together.
In this EbonyFlirt review, we'll cover:
OFL Top Recommendations based on 100,000+ Survey

"Serious Relationships"
"Discreet Hookups"
"Best Course for Men"
"Quick Flings"
"Normal Hookups"
"Our Quiz"
Wondering what ebonyflirt has to offer?
Well, this ebonyflirt review is here to answer all of your questions.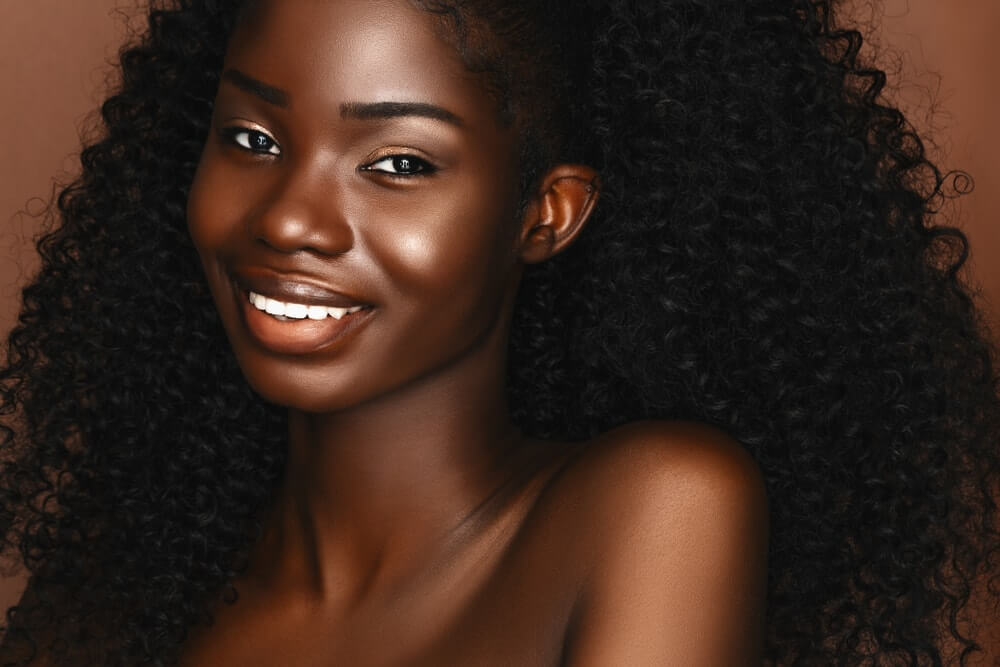 Ebony Flirt Review in Video Form
Audio (podcast) form for those of you on the go
Firstly, check out the ratings of ebonyflirt.com.
Effectiveness – 4/5
Features – 4/5
Ease-of-use – 3.5/5
Price – 3.5/5
You can turn on Safe mode to block messages from fake profiles
Profiles are detailed and informative
The website has a great search engine
Every member gets five free chats per day
The app is work-in-progress and the official iOS version isn't released

Who is it for/ Demographic make up
The main goal of ebony dating sites is to bring together black people.
These users are mostly from Africa and South America.
However, the website is welcoming to other races as well, so everyone can join it.
It is quite popular among Western men and women, and you will get the chance to meet people from Canada, the UK, Poland, Russia, France, and the US.
Upon registration, every user has to state their race and there are also plenty of subgroups for stating preferred race.
As you can see, ebonyflirt.com is an international dating website, so 90 thousand weekly logins aren't such a surprise.
OFL Top Recommendations based on 100,000+ Survey

"Serious Relationships"
"Discreet Hookups"
"Best Course for Men"
"Quick Flings"
"Normal Hookups"
"Our Quiz"
The website counts millions of users, and around 150 thousand are Americans.
As far as gender distribution goes, males are more present on the website than females.
The percentage of men is 67, while only 33% of members are women.
The difference between the number of female and male users does sometimes negatively affect online dating for men – competing for female attention is present, especially if you prefer Latinas, that love affection and male attention.
Ebony flirt is the proof that online dating is for all ages – you can stumble upon someone who has just turned 18, but also find someone in their late 60s.
Furthermore, most members are looking for a heterosexual relationship.
However, if you are gay, lesbian, or bi, this shouldn't discourage you from joining the website.
Homosexuals are just as welcome to join as heterosexuals, and since gender preference has to be stated as well, you can easily filter out all the heterosexual profiles
Ebonyflirt.com isn't a hookup website (like BeNaughty or Ashley Madison) – the website is a place to meet different cultures, and find love and a new partner (like eHarmony).
Ebonyflirt is one of the most popular dating websites for people of color – it helps them with finding real love in the comfort of their home.
Let's get familiar with the most basic way of initiating contact – free ebony chat rooms.
How well does this basic feature works and what are your chances of meeting someone great?
How well it works for the target group?
Since the highest percentage of users are black people, this group has the highest chances of success and the website does its job incredibly!
Both black men and women have the same chances of finding someone new, and they are most interested in meeting other black people.
People of other races can also find love, but they will have to apply more search filters to get to others with similar interests.
Luckily, ebonyflirt offers plenty of them.
Some basic search filters include age, gender, location, and online status – these are always recommended to apply because otherwise you might feel overwhelmed by the number of displayed profiles.

Then you can apply other advanced filters that relate to one of the subgroups – for example, you can choose to only view profiles of black women or Latino men.
By narrowing down the search, you are only seeing profiles that fulfill all of your criteria and thus increase your chances of meeting someone great.
Your success on any dating website will mostly depend on communication features.
If they are locked, you won't be able to create so many connections.
Well, ebony is all about simplicity and their chatting features aren't an exception.
They want their users to go on that ebony date as soon as possible, so they allow everyone to enjoy texting on their website.
However, free members, do not get an unlimited number of messages – with a free membership, you can start up to 5 chats each day.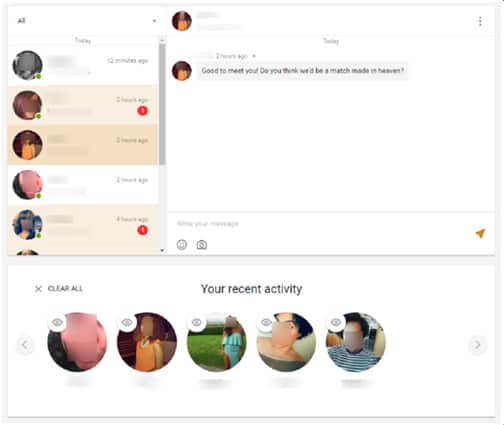 Chats are used for sending photos as well, so you get to know someone well online before meeting in the real world.
The website is quite strict when it comes to fake profiles and the safety of its members.
Every member can turn on Safe mode and restrict some of the messages.
There are two options:
Basic safe mode – blocks messages from suspicious accounts
Full Safe mode – blocks all messages and only verified profiles can reach you.
Besides chat, there are also Likes.
You will notice that many refer to this feature as a "Cute or not game".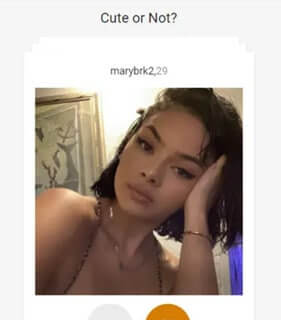 This game is available to everyone – each member can like or dislike a profile picture of another member.
If you find someone attractive, click on the "cute" button – it might lead to a conversation and a great date.
Lastly, you can send likes outside this game – whenever you are browsing and someone catches your eye, show your interest by liking their profile.
So, will you find an ebony date easily?
If you apply everything you've learned through ebony online reviews, you will easily arrange a date offline.
Black people have a bit of an advantage over others – this dating platform is designed for them, and most members are black.
But others can succeed as well!
Remember, use the search filters, send likes, and participate in "cute or not" games.
Free ebony chat rooms are there to help you connect with other members and possibly go on a date.
Keep in mind that there are people that use online dating platforms such as ebony flirt to create new friendships, and online communication never transfers to the offline world.
If you are looking for something more than a friendship, then I advise you to be transparent about your intentions.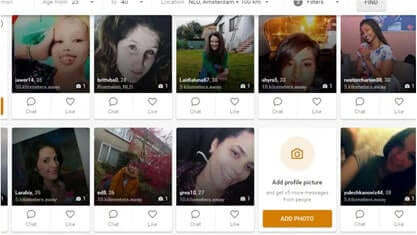 There are plenty of users that want to find love, and since people do not like scammers, always tell openly what you are looking for.
Another thing I will cover in the ebony flirt review is some of the key features.
This website chooses quality over quantity – there aren't many features to try out (even when you upgrade the profile to premium), but they are quite helpful.
Also, you will notice that features are quite simple – quite intuitive and easy to use, so even their older users can enjoy them.
Let's check them out!
I will first talk about one of the most popular features – the Flirtcast.
Keep in mind that this is one of the premium features, so you will have to purchase a membership to try out, but it is worth every penny.
So, what is flirtcast?
With this option, you can send one of the pre-written messages to multiple accounts at once and initiate a bunch of conversations.
The more conversations you start, the bigger are chances of succeeding.
Also, flirtcast messages are sent only to profiles with the highest match rate.
When you choose the search filters and apply them, out of all displayed profiles, the website will pick out the ones that have the highest match rate and allow you to initiate contact with them.
Just one pick-up line can lead to numerous dates!
With status, you can easily catch someone's attention.
All you have to do is share what you are thinking about at the moment – someone can find your post interesting and use it as a conversation starter.
Like Gallery is the free-feature, available to anyone.
With this option, you can browse through profiles and vote "hot" or "not" on pictures of other members.
The "hot" voices often lead to new matches and connections, so make sure you are browsing through Like Gallery regularly.
If you are busy and do not have plenty of time to browse, let the website search for you.
Even when you are offline, the website will browse through profiles and add the best ones to your favorites list.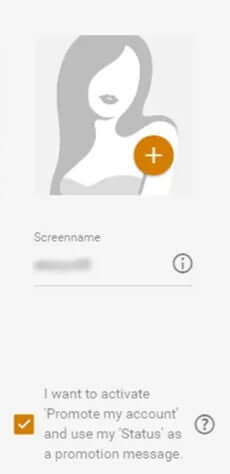 Later, when you login, you can text one of the suggested profiles.
To use the feature, all you have to do is add one picture and state what you are looking for.
How can you start with ebony flirt dating?
Ebonyflirt reviews will guide you through the registration process step-by-step and also tell you more about the website navigation, and some perks of the ebony flirt app.
How to become a member of ebonyflirt?
Ebony flirt is all about simplicity – the process is quite straightforward and all of the mandatory fields are marked, so you can provide all of the necessary information.
Even though the process is simple, it is a bit lengthy and will take about 10 to 15 minutes.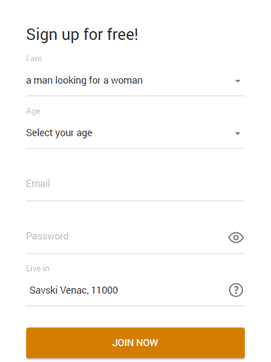 If you want to create a more detailed profile, it might even take a bit longer.
The first form consists of five fields – these are questions about your gender, age, location (ZIP Code is required), email, and password.
If you are using a mobile app to sign-up, the location will be automatically determined via GPS. Of course, if the GPS doesn't recognize your location, you can type it in yourself.
Then tap on the "Join Now" button – the terms and conditions, and privacy policy will automatically appear, so just tick the "I agree" box to continue the process.
Before you start adding more details to your profile, you will have to verify the email address.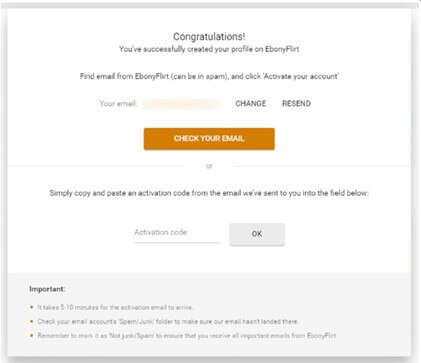 The email for verification is typically stored in the "Promotions" part of the email inbox.
If you can't find it, always check the Spam section.
Once your email address is verified, you can continue with creating your ebony flirt profile.
Firstly, you will have to upload a profile picture – it should be a picture of your face, and the one in which you are posing solo.
Group photos are deleted by administrators, and since they have to approve all uploaded photos, do not upload any nude selfies or pictures of yourself in underwear.
The one thing I have to mention in this ebonyflirt review is profile quality.
Most profiles are quite detailed, so you should really take your time when creating a profile.
Since search filters include a bunch of subgroups, always give details about your ethnicity, education, hair and eye color, body type, and height.
You can include information about any tattoos or piercings.
Also, habits and some interests are always welcome, since many users use them as conversation starters.
Ebony flirt website navigation
Ebony features a simple and modern website.
Every feature can be accessed through the main menu which is located at the right, top corner of the screen.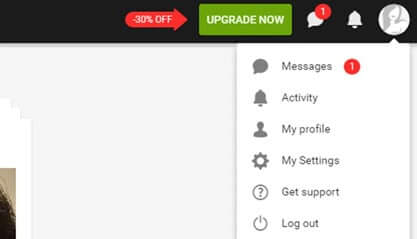 When you open one of the profiles, you get a brie
f overview of the member's general information.
If you wish to contact them, just choose the icons for wink, chat, or friend.
All of the icons are quite intuitive, so you won't have to wonder which button means what.
If you do not use your computer as often, then try out the app version.
The app has the same features as the desktop version and offers the same, straightforward design.
All features are located at the top part of the screen, and they are represented as icons – again, they have a quite clear and intuitive design.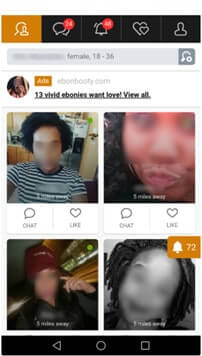 However, the official app is only available for Android smartphones.
If you own an iOS device, you can access the beta version of the app – there is a download option on the website page.
Keep in mind that this beta version might lack certain features and it could easily crash.
You can use the mobile browser to access the website until the official iOS version is released.
Ebony online reviews evaluate the price of Ebony Flirt's premium membership as average.
What will you get if you decide to subscribe?
Premium membership does unlock some helpful, matchmaking features.
Flirtcast and an unlimited number of messages will help you to meet more members.
Also, with Promote me, you won't have to spend time searching and all of the best profiles will be automatically added to your favorites list.
Premium membership allows access to full profiles, so you can learn more about someone before contacting them.
The prices are determined by the length of the subscription period – let's check them out:
Full Member
1 month – $28.80
3-month – $48.60
6-month – $79.20
You can pay for the membership only via credit card.
Ebony Flirt is part of a big dating network, and you might have more luck on one of their other websites.
If you have been using Ebony flirt for more than 3 months and still haven't met anyone new, you can contact Ebony Flirt – they have a Satisfaction Guarantee, which you are probably entitled to.
Before you contact them, make sure that you meet the terms of the Satisfaction Guarantee.
If the Ebony flirt team approves it, you will get a free 3-day trial on one of their dating websites.
Overall Rating – 3.75/5
Considering everything mentioned in ebonyflirt.com reviews, I gave the website an overall rating of 3.75/5.
For its target group, black people across the globe, this website works marvelously.
Since black people are present in the highest percentage of the website, they have the highest success rate on EbonyFlirt.
Stunning black singles also get a chance to meet people of other races – the website is promoting versatility, so it is great for international dating as well.
Furthermore, ebony flirt's design is amazing also – the users won't be overwhelmed by information, pictures, and features.
However, entering the website via Safari is quite impractical so the app compatible with Apple smartphones should be developed as fast as possible.
If you have already tested the website, share your experience with other readers in the comments!
Best of luck!
Wait… this isn't everything!
There some valuable information in the FAQ section.
Check it out!
Yes, even though fake profiles are present on Ebony Flirt, this website is safe.
Firstly, the fake profiles are easily discovered and immediately banned.
Also, the website encourages other members to report any suspicious accounts and actions.
If you do not want to be contacted by fake or suspicious members, you can turn on the Safe mode.
Basic Safe mode will protect you from fake profiles, will Full Safe mode will allow only verified members to text you, thus increase your safety on the website.
Some features on the website are free, while others can only be accessed by purchasing the membership.
Creating an account, browsing, and starting up to 5 chats are free-services.
Flirt cast, full profile access, and unlimited chatting are premium features.
When it comes to prices, they are considered average.
Also, there is a Satisfaction Guarantee, so anyone who doesn't meet someone on Ebony flirt gets free 3-day access to other dating sites of this network.
Yes. Ebony flirt is a legit dating website, dedicated to black people.
Other races are welcome as well, and it is popular among Western singles also.
4. About Ebony Flirt company?
Ebony flirt was created in 2013 and it is part of the Together Networks Holdings.
Together Networks Limited is making sure that the website runs smoothly, and they are responsible for 238 brands in total.
Their websites are available in many different languages and in multiple countries around the world.
1. How do I join Ebony Flirt?
Joining this website is easy – there are a few forms and once these are filled, you will be an Ebony flirt member.
The first form asks for a few general information and email verification is needed to continue the signup process.
Also, when a profile picture is uploaded, it needs to be approved by Ebony flirt's team.
All provided information can be altered at any moment.
2. How to cancel EbonyFlirt?
Ebony Flirt's subscription is automatically renewed.
You can turn off the auto-renew option at any moment.
Also, when you cancel the subscription, you can use the premium membership until it expires.
Before you become a subscriber, you should be aware of two things.
Firstly, EbonyFlirt doesn't have a refund policy.
If you purchase a membership and aren't happy with the results, you can cancel whenever, but your money won't be refunded.
Another thing to keep in mind is that deleting an account doesn't automatically delete you from the billing list – before you delete your account, cancel the membership.
3. How to delete EbonyFlirt?
If you haven't found what you were looking for on the Ebony Flirt, you can delete your account whenever.
All you have to do is go to Settings and find the Remove Account button.
Once your account is deleted, you won't get access to your EbonyFlirt profile, won't receive any updates from Ebony Flirt, and your data will be deleted from the website.
4. How to contact EbonyFlirt?
Ebony Flirt has great customer service – the team of EbonyFlirt is quick to respond to any problem you are facing on the website.
If you have any questions or need to report something suspicious, write an email to [email protected].
1. How does EbonyFlirt algorithm work?
Ebony flirt has an amazing search engine – besides standard search filters, the website has plenty of different categories and subgroups, so you can narrow down the search.
When you find someone attractive, you can either like their profile or send them a message.
If you are a premium user and turn on the Promote me feature, the website will use your profile information and find you people with similar interests and habits.
2. How do I block people on EbonyFlirt?
If a user is insulting you, you can report them by writing an email: [email protected].
Messages from suspicious members can be blocked by turning on Safe mode.
3. How do I report people on EbonyFlirt?
The website encourages their members to report any suspicious activity and profiles – if somebody is asking for your personal information such as address, or credit card number, write an email to [email protected]
These reports are taken seriously by ebony flirt's team and the issue is quickly resolved.