Hello there!
As the title itself says, this article will be dedicated to a detailed Livejasmin review.
It is one of the most famous adult webcam sites in the world and it offers thousands of models and all kinds of activities!
If you are reading this, you are probably bored from hundreds of dating sites where you have to spend so many hours trying to meet someone, take them out on a date, or get asked on a date to get physical.
OFL Top Recommendations based on 100,000+ Survey

"Serious Relationships"
"Discreet Hookups"
"Best Course for Men"
"Quick Flings"
"Normal Hookups"
"Our Quiz"
And I bet, that even after much effort often nothing happens and you are just left annoyed.
In this review, we'll examine:

Well, with Livejasmin you have complete control of the situation and of what cam models do, so you can have as much fun as you wish!
Is your dating app giving you the best chance for success?
Make sure to take our online dating site/app quiz to find out.
People who follow our dating site suggestions have on average 2 more dates per month.
Let's begin with the ratings.
Effectiveness: 4.5/5.0
Ease of use: 5.0/5.0
Features: 4.5/5.0
Price: 2.0/5.0
One of the best and most awarded camming websites
High-quality features that provide an amazing experience
Free 10 minutes to check out a live broadcast
Very simple and quick registration
A credit card is not needed unless you wish to purchase virtual coins
Thousands of models to indulge any of your sexual wishes
Modern, sexy, and alluring design
Paid features are a bit expensive
The app is impossible to find on any mobile store except on the website itself
Users in some countries aren't offered a full variety of payment methods
All girls are clothed and strip only when you pay for it
Who is it for / Demographic Make up
There are many great things about Livejasmin and we will cover them all, but the first and the most important one is the fact that it is made for anyone.
Yes, you read it correctly.
Livejasmin is not your everyday hookup site (like BeNaughty or Ashley Madison) nor is it for serious relationships (like eHarmony).
This adult camming site has a rather large target market since it offers live performances that suit anyone's needs and wishes.
You can enjoy watching male, female or trans models who perform all kinds of sexual acts and have fun.
OFL Top Recommendations based on 100,000+ Survey

"Serious Relationships"
"Discreet Hookups"
"Best Course for Men"
"Quick Flings"
"Normal Hookups"
"Our Quiz"
Do you like younger or older girls, sexy guys, couples, live orgasms, group acts, amateurs, or maybe real adult movie stars?
No matter what the answer is it can be found on livejasmin.com.
Most of the models are between 18 and 40 years old, thus, no matter if you enjoy watching young girls and boys or mature ones, you will be able to find the perfect fit.
When it comes to user activity, LiveJasmin rocks with millions of users who visit each month – there are 87 million people who visited this website and more than 12 million happy active members each week!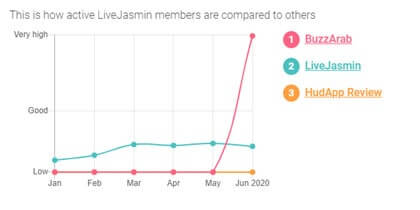 However, the member activity and their age aren't what matters on this web service, since you don't visit it hoping to interact with other users, but with the models.
When it comes to models who perform online and are just a few clicks away, they come from various backgrounds.
No matter if you want them to be of a certain nationality or speak a certain language, have certain hair and eye color, body shape, sexual preference, or any other feature, you will find it.
Finding certain models is made even easier thanks to the many categories they are divided into, so searching is pretty fun and effective.
When it comes to the effectiveness and the question of whether people are satisfied with this service, the answer is pretty simple – it is as effective as you want it to be!
Let me clarify: if you register for a regular dating website, such as Tinder, you never know how good and effective your experience will be, especially if you want to have sex only because things don't depend on you solely.
Compared to that, on Livejasmin you are the only person who controls the experience and you can have all the fun with the models – when you pay for it, that is.
Once you find the model who has the same sexual preferences, you can have an amazing private experience where you will be the only guest in the private room or even have fun by turning on your camera as well.
This website is especially suitable for all individuals who may have some hidden sexual wishes that they may not want to disclose to their partners or are simply afraid to do so due to the potential bad reaction or judgment.
We always get surprised when we hear how many people with that concern walk around us and how many hidden wishes there are, but unfortunately fear is a rather powerful inhibitor.
Still, some wishes that may include brutality, alcohol, blood, or other types of violence are strictly prohibited, so this isn't a place for them.
Thus, if you have certain wished, that don't include the forbidden ones, there won't be even 1% of prejudice, because models understand that we are all different, and even some of them are quite into certain niche sexual actions, so you can rest assured that no one will look at you judgmentally and will be more than happy to make you happy.
Key Features of Livejasmin Dating Site
Livejasmin.com offers some pretty amazing and quite effective features thanks to which you can have fun and pretty interesting (s)experience.
Many people tend to be a pretty skeptic when it comes to visiting webcam performance websites, since often recorded videos are played, or they just aren't safe, however, this site is a true pioneer in its field.
Here are some of the most interesting features:
This is a revolutionary feature that offers the most realistic and interactive online sexual experience, that is, as real as it can be in the given circumstances. Not all of the models have this option since they have to apply for it (maybe even purchase it), but those who possess it will have a sign on their profile.
What this vibrator "toy" does is that it lets you control it while a model plays with it. It is connected via Bluetooth to the model's computer and you can control it by moving your mouse, making it rotate or vibrate.
However, this "game" is paid for additionally per minute.
If you don't wish to interact by talking to a model or by texting, but still wish to let them know that you are there and like them, you are left with another form of communication and that is sending gifts.
The virtual gifts are similar to those on other social media and range from a bucket that for example costs one virtual coin to a car that costs 5000 virtual coins.
This is the most "intense" experience you can get on Livejasmin since it plays out between you and the model only in a private chatroom with both of your cameras on.
In case you like a model or just want to vent and have some fun you can purchase this experience and have them all for yourself.
Most often cam2cam experience is used for virtual sex but isn't limited to that only. During that private time, you can talk to the model about anything you wish and enjoy your time with them.
In case you don't want to be part of the show and turn on your camera, but only look at the model and enjoy their sensuality and experience their nudity or more explicit content that they don't offer to the wide audience who watches them live for hours, you can pay for the private show.
This private show goes on in a private chat room and is for your eyes only or of those users who pay for it as well, and no one else who watches but doesn't pay can see it.
Many men have favorite female models whom they often pay to have private shows and act as their patrons.
In case you don't want to have a carnal experience only and wish to meet a model better or interact in a fun way, there are many games available that you can play together and have fun.
In case you often purchase virtual coins and spend them on various options, you can activate this feature that will automatically buy them without you having to repeat the process every time, once their number gets down to 7.
The next section of this Livejasmin dating site review is dedicated to its functionality.
If you feel inspired to become a member and wish to give it a go, then I have some very good news for you!
The registration process is pretty simple and consists of only 3 steps – the only things you need to do is to create a username and password and add your e-mail address.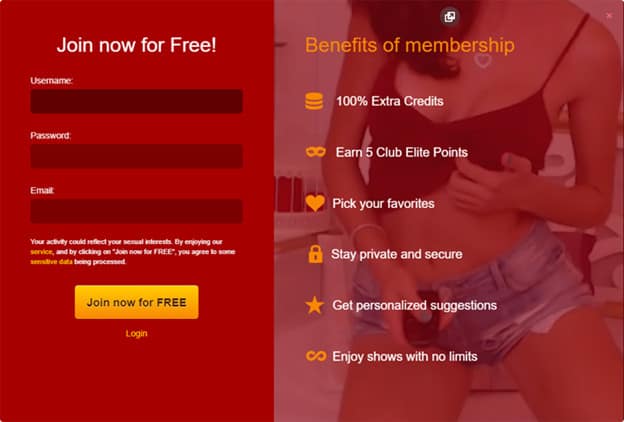 On top of this, there isn't an e-mail verification, nor you have to add any personal info or a photo, so you are good to go as soon as you fill out the form.
However, in case you have been thinking about being a model and been wondering what it takes to become one, you might find this useful.
Models are required to add more information and they go through a screening process since they work online and more of their private information is needed.
Firstly, you can decide whether you want to sign up through an individual account or a studio account in case you would like to perform with one or more people.
Secondly, after you add your username and password, you should also choose a category that would fit your performance the best, then your ethnicity, nationality, birthday, gender, country, and full name.
After this, you will also be asked to give information on your physical appearance, such as hair and eye color, breast size, height and weight, sexual preference, etc.
Lastly, you will need to upload a photo of a valid document to prove that you are who you claim you are, such as national id, driver's license, or passport, and then wait for 24 hours to be contacted in case you have passed the screening process.
Even though this might seem a bit strenuous, the good news is that you will have a chance to earn a decent amount of money – around 80% of all earning goes to you, and all of that depends on work and its quality.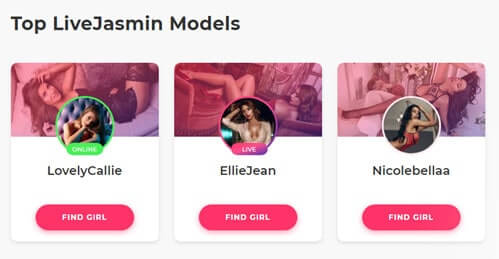 Now, that we have covered model registration, let's go back to what it is like to be a regular user.
As we have said, once you have registered you can browse models and this can be done based on many criteria: their nationality, sexual preference, hair color, category, show type, specialty, age, and so on.
Thus, you can rest assured that you will find what you are looking for.
Once that happens you can enjoy a live performance of every model for 10 minutes for free and simply check it out. The creators realized it would be crazy to charge from the minute you enter it because people first want to see if a certain model suits their wishes.
But, once those 10 minutes expire, you will be charged for watching. Also, if you come to like a certain model and their performance, you can add them to your favorites list, have a cam2cam experience, a private show, or use any other feature.
When it comes to interface, this website features and amazing one! We were more than surprised with the very modern, sleek, and elegant design and the way that its signature deep red color balances well all the nudity.
Thus, even though models are pretty naked, this website doesn't seem distasteful and cheap as many others of this kind do, but very sophisticated and high-quality.
When it comes to enjoying it on the go, we are pretty pleased to say that there is a mobile version of LiveJasmin, however, we found it after we had spent a decent amount of time searching for it.
The app isn't available on the App Store, nor Google Play, but on the website only, so that is the place where you can download it for free!
When it comes to Livejasmin dating app review, we must say that it offers the same interesting experience as the website itself and is very well developed. So, don't worry that you will miss out on anything.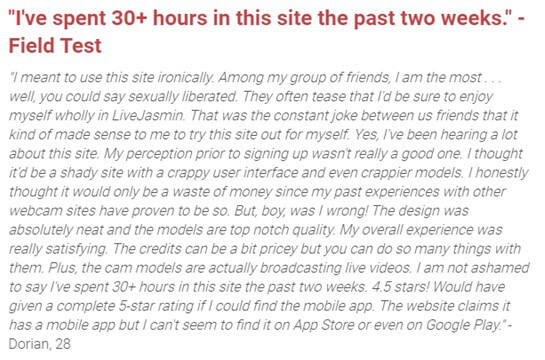 Now, let's cover the pricing section since you probably wish to know how much the above-mentioned virtual coins cost and are LiveJasmin worth it.
The price structure is the following:
28 credits = $33.99 ($1.21/Credit)
68 credits = $75.99 ($1.12/Credit)
98 credits = $106.99 ($1.09/Credit)
158 credits = $169.99 ($1.08/Credit)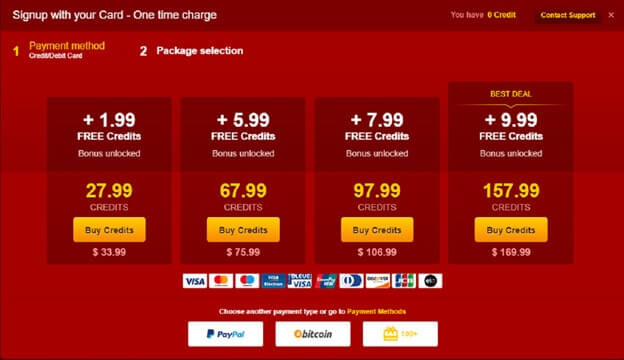 As you can see coins are sold in bulks and depending on the features you would like to purchase, certain amounts are needed.
Also, the Livejasmin cost is much higher compared to other regular dating sites, but on the other hand, they also offer much more fun right away. So, the choice is yours.
There are also many payment options, including the bitcoin one, so you can rest assured that you won't have any trouble with this, even if some may not be available in your country, there is still enough methods.
To sum up, certain actions such as registration, watching broadcasts for 10 minutes, adding models to your favorites list, viewing their galleries, and chatting during broadcasts can be done for free.
But, other features like sending surprises, having private shows, playing games, enjoying the cam2cam option, or turning on your mic for models to hear are all fee-based.
There is one way to enjoy features at lower prices and that is by being very active. Even though there is an official premium membership, there are levels of activity, thanks to which you move up the ranks and get more benefits thanks to the multiplier that increases them witch each higher level you reach.,
But there is a catch, even though your rank can increase drastically pretty fast, it also decreases with every day of inactivity.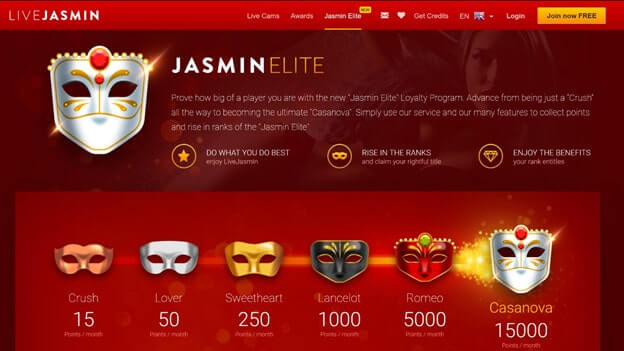 Conclusion, Overall rating, and CTA
Based on several criteria we look at when we grade dating websites, Livejasmin received an overall grade od 4.0/5.0 and the only thing that lowered it from 4.5 was the features' higher price since this website isn't budget-friendly at all.
Other than this, Livejasmin is one of the best cam websites in the world. They offer hot and classy models, a user-friendly and modern interface, a free mobile app, many payment options, and fun features to improve your user experience even more.
Thus, in case looking at live broadcast and having online sex is your thing, you should try to give it a go.
Frequently Asked Questions