Hello and welcome to today's review of Milftastic.com
Hot milfs…
Do you know what those are?
It stands for "mothers I'd like to f***".
OFL Top Recommendations based on 100,000+ Survey

"Serious Relationships"
"Discreet Hookups"
"Best Course for Men"
"Quick Flings"
"Normal Hookups"
"Our Quiz"
You can fill in the blanks, right?
These are older women that younger men are attracted to and want to hook up with for some casual encounters.
Over the past few years, milf dating sites have exploded in online dating circles.
Many young males signup for these sites in the hope of meeting local milfs, perhaps even a sugar mommy.
Milftastic is a hookup site where all of these scenarios play out as matchmaking algorithms bring the various parties together.
In this review you will find out:
So what are you waiting for?
Is your dating app giving you the best chance for success?
Make sure to take our online dating site/app quiz to find out.
It's a fact that people who follow our dating site suggestions have on average 2 extra dates per month.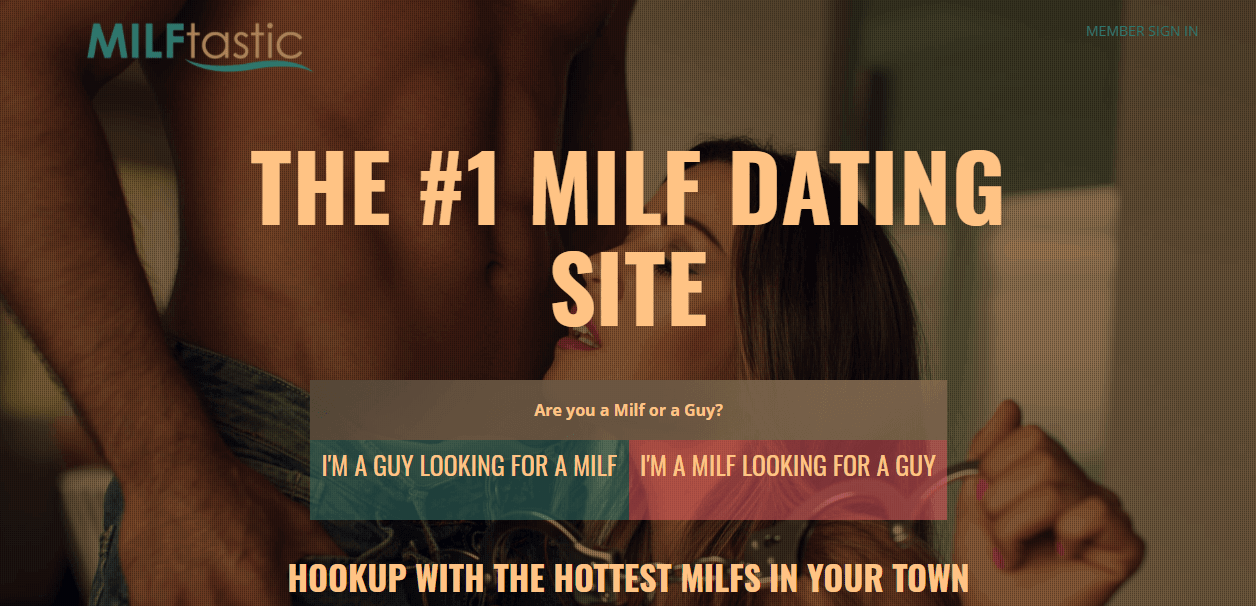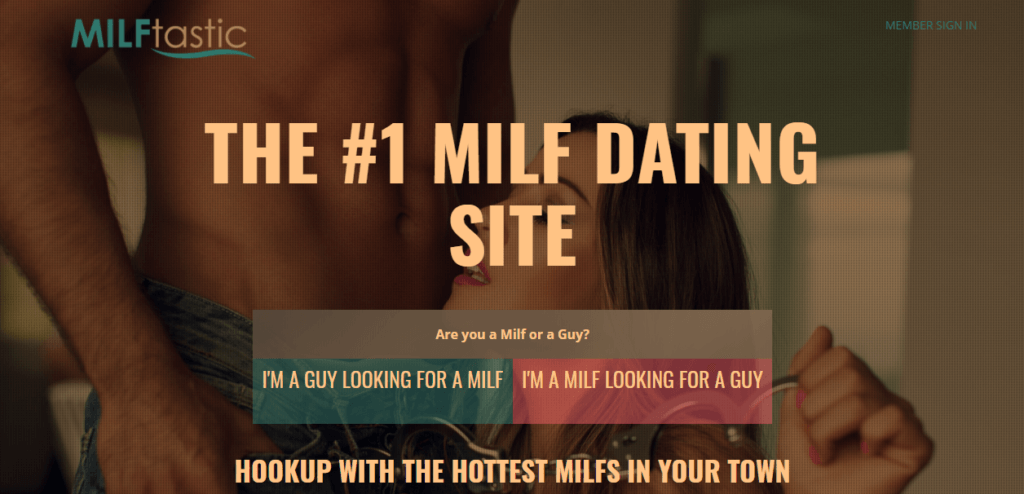 Ease of use – 2.5/5
Effectiveness – 1.5/5
Key features – 2.5/5
Pricing – 1/5
Fun, clean design
Quick registration process
Lots of fake profiles including milf stars who work for the site to promote it
Misleading free membership
Constant bot messaging
Annoying advertising including pop-ups that you have to close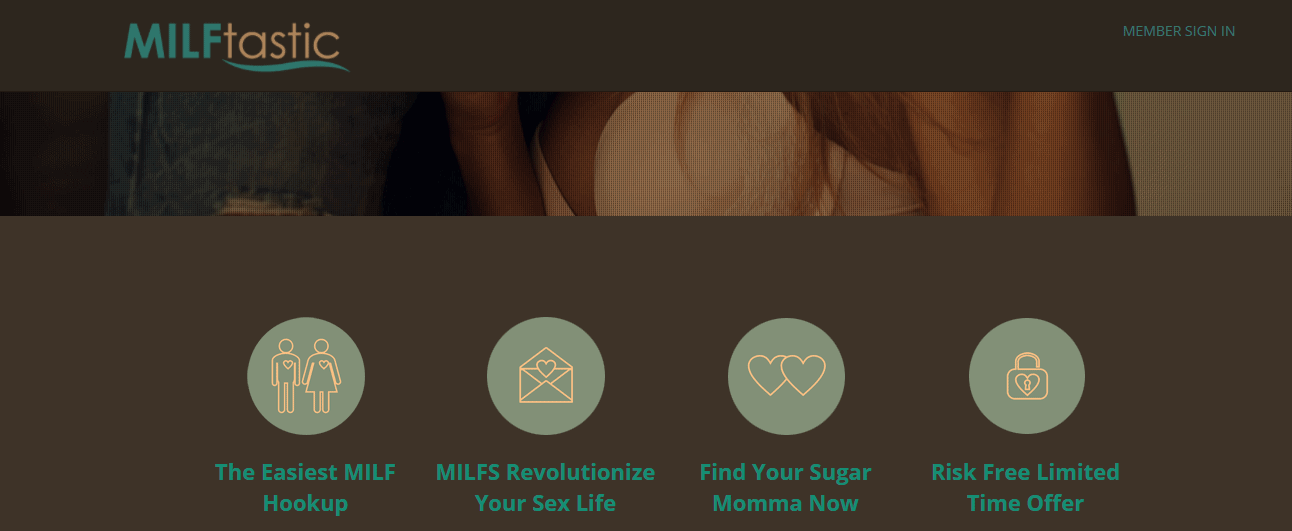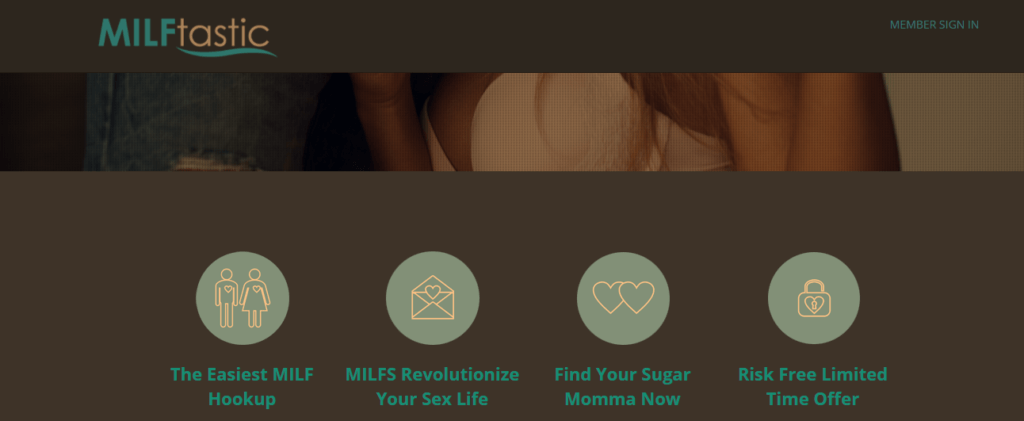 This isn't a site that going to feature males much over the age of 35, although you probably will find some who try their luck.
Also, younger females, well, if you want to get with them, you better off hitting a genuine hook up site (like BeNaughty or Ashley Madison). And, if you want a serious relationship, you better visit eHarmony or Tinder.
As for user numbers, well, the claims are that this is a very popular adult dating site with around 20 000 new users every day.
That's more like to be marketing mumbo jumbo.
I mean, you do the math.
140 000 per week, that's 1.4 million in 10 weeks.
No dating website, even the most popular commercial sites can do those kinds of figures.
There are no other indications, however, as to just how big the user base is in total.
And it's a difficult call for us to make as everyone that registers for a profile live in different locations.
Are you going to find real women near you if you are a young man looking for a milf hookup?
Or as an older woman, is there a young milfaholic living around the corner to hook up with?
The only way you truly will know is if you start a profile on the site, right?
And that's super simple to do because it's a free account, to begin with, although we will cover that in greater detail later in the review.
Gender ratio and age ranges of users
Again, sometimes these bits of information present themselves easily and other times, even with in-depth research, it's difficult to turn up any information.
And in this case, it was the latter.
If we base the gender ratio figures on other similar dating websites then it will be the younger males that are in the ascendency over the older women.
That means, if you are a young man, you've got serious competition.
And if you are a milf, cougar or sugar mommy, you have so much choice available to you.
As for age ranges, based on the fact that there are more male profiles on the site than females, it's the younger age groups, from 18-30 that will have the most users.


Now that you know the ins and outs of just who is using the site, let's look a bit deeper into what you expect as part of the signup process.
And that begins with starting your own profile.
How do you log into

Milftastic.com

?
Well, you can't do it through an app, because there isn't one as of yet.
I tried contacting some staff members at the site inquiring about whether there would be one in the future, but my emails weren't returned.
It's a pity because as you will see, the site format could work in-app quite easily.
That means if you want to log in and start your own profile, the only way to do that is by starting from the Milftastic registration page.
And to begin the process, you will need to provide some basic information:
Are you male or female?
Your birthdate
Your location (country, state, city)
Your valid email address
A user name
A password
It's important to note that in some parts of the world, you won't be able to access the page at all.
That's because Milftastic only works in certain countries.
If you'd like to still try it should you live in a country where it doesn't operate, you will need to run a VPN.
But the chances of finding someone near you are slim.
There are always online hookups, I guess if that is the route you want to take.
​Finding your way around the site
Once your registration is complete, you are taken to a membership sign-up page.
I don't want to get too much into this now, because the membership, pricing and some underhanded tactics by Milftastic are handled later in this review.
You can simply move away from this page by clicking on the Milftastic logo on the top left of the screen.
If you haven't validated your email, you need to do that first, however.
You won't get access to the site until you do.
If you can't find any email from staff members at Milftastic, simply request for it to be resent.
Also, check your spam folders as well, I found mine there.
Once you have access to the site, no doubt you will be very impressed by the overall design.
Milftastic mostly uses a light blue and white color scheme which is very easy on the eye.
It also has a modular design with distinct viewing panes.
For example, the left-hand side viewing pane is smaller than the rest but it contains all the menus you will need to navigate the site.
The right-hand side is far larger and on the home page it includes the following:
Local matches
Who is online
Who is on camera
Hottest members
Member videos
And more
Let's talk a little about the menu system.
Some parts of the home page are duplicate here but if you click on the specific menu, you get an extended view.
So say you click on "Local Matches" then you will only see other users near you.
The menus you will find here are:
Home
Local Matches
Whos On Came
Member Videos
Hottest Members
New Members
My Friends
You will also notice another menu bar below the first.
This includes other information that you may find important.
For example, here you can see a newsfeed, if you've had profile views, if you've received any messages and more.
There is also a secondary menu system at the top of the screen where you see your username.
Here you can edit your profile, adjust various site settings or log out of the site.
Unlike some other cougar datings sites, profiles on Milftastic need to be completed when you log into the site for the first time.
At no point during the registration process did you provide the required information needed to do this.
And as I will discuss later, incomplete profiles on the site seem to be a real problem, that's for sure.
I understand the excitement of wanting to see what matchups are near you when you try out a site like this.
But your profile is critical too.
Don't you get mad when you trying to find out a little more about someone you might want to hook up with and their profile is blank?
So set aside a couple of minutes and just get it done.
What are some tips for using

Milftastic

?
Well, I've mentioned an important one above.
But let's list a few more critical tips you can consider when using the site:
Complete your profile before anything else.
Start your search for a hookup by looking through your local matches. The closer the better, right?
Use profile views to your advantage. If someone has viewed you, follow up on that and see if they want to meet.
You can send friend requests to other users. Follow up on those who respond.
Don't take up the free offer of membership (see more later in the review).
While it doesn't have an app, if you'd like, you can view the website on your phone through a browser.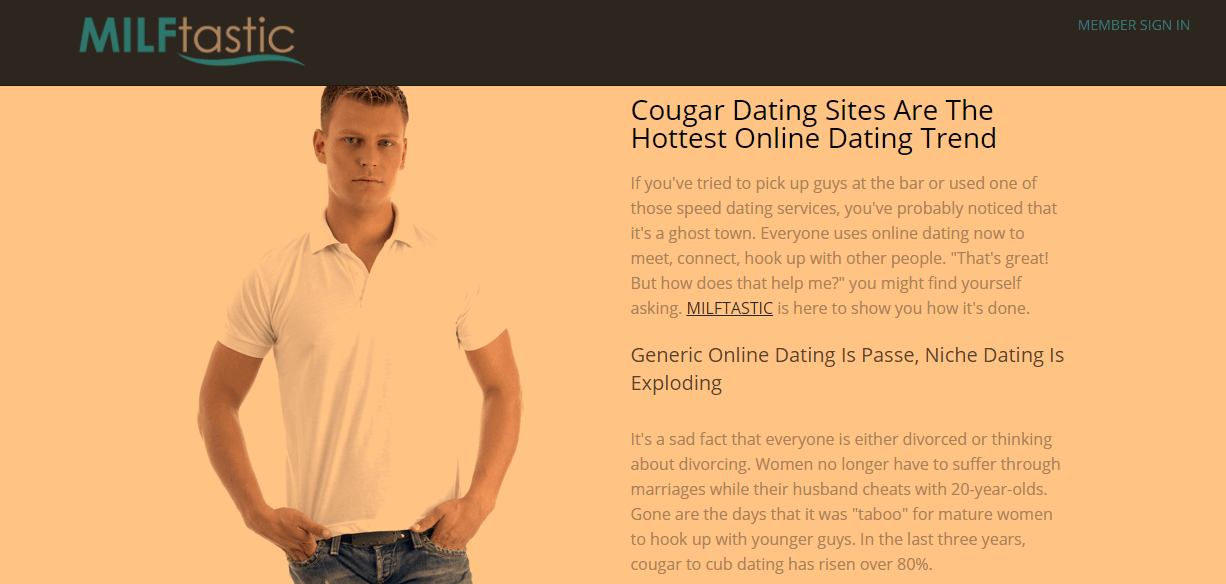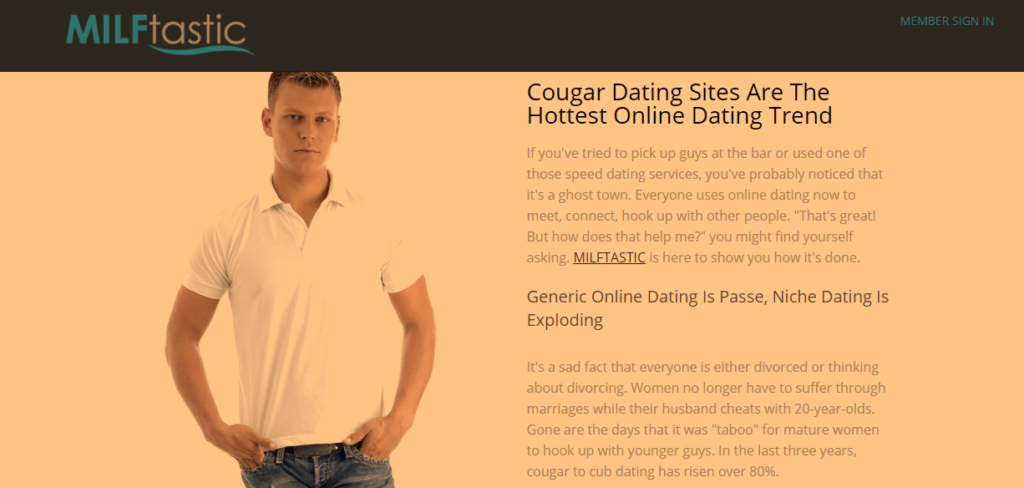 So having found your way around the site, you are going obviously want to start trying it out.
I mean you are here to meet young men or milfs, right?
But you will soon notice that using Milftastic can be a little annoying.
For all its overall design excellence, it's got some annoying quirks.
The site is very slow. When you click to load other sections, it takes ages even though I have a fast connection.
It also likes opening multiple browser windows, which is something I hate. Click on something and another browser window.
Milftastic loves popup ads. They are all over the place and while I don't mind on-site advertising, you have constantly close these pop-ups which quickly gets annoying.
Staff profiles. Yes, Milftastic seems to use fake profiles to try to get unsuspecting users to sign up. These are called milf stars.
If you can get over those annoying quirks, then you are going to want to start looking at potential matchups, right?
Well, there are tons on the home screen for you to go through including local matches.
If there are other users close to your location, this is where you will find them.
You can filter these as well according to various profile parameters.
That's if they filled them in of course.
If you are looking for an online hookup, you can look further afield than local matches.
For example, look through "Hottest Members" or even "New Member" menus to see if there is anyone that you'd like to contact.
​What is

Milftastic.com

's procedure for sending messages?
Ok, so when it comes to messaging, membership is going to be the only real way that you can make the most of this site.
New users do have limited messaging abilities but those are quickly used up.
So to try to get into contact with other users via messaging or if you want to send someone an instant message, you need to become a member of Milftastic.


So with paid membership a prerequisite to use this site efficiently, what kind of features do members get over regular users?
1. Send and receive messages
For me, the most critical key feature is the ability to send and receive messages.
There is just no other way of communicating with other users.
As a paid user, there is no limit on the number of messages that you can send either, something many other sites choose to do.
While regular users are restricting in terms of profile views, that's not a problem for paying members.
That's right, no matter how many returns you receive from a particular search, if you'd like to, you can click on every profile and see all the details.
Should this really be a member feature?
Most other dating sites allow regular users to see full profiles.
Milftastic, however, has decided that this is a privilege only for those willing to pay to use the site.
Without a doubt, this a key feature that's worth it.
That's because, perhaps you don't want to meet up with someone but you do want to have some fun online.
In today's day and age, that's just as popular as the physical side of a hookup.
But there's something more webcam chat gives you.
And that's the ability to really check out someone before you agree to meet up with them.
Even as a male, it helps you to ensure that you can play things safe.
And trust your judgment.
That can help protect you from scammers too, especially if they start asking for things like your phone number and other personal information.
4. Full-sized pictures of other users
There is no denying it.
With sites like this, where hookups are the end game, we are going to go for someone that we are physically attracted to.
There's no shame in admitting that.
So the ability for paying members to see full-sized pictures of other users can be a real plus point in that regard.
So we've already established that there are generally more male profiles on a site like this than female profiles.
And if cougars really want to refine their searches, especially as they have more choice, then an advanced search really can come in handy.
This includes several extra search options, many of them based on appearance aspects.
So if it's blond and blue eyes you want, it's blond and blue eyes you can get.
A little bit of a hit-and-miss extra for me, if live cam shows are something you love, well then Milftastic has you covered.
Personally, I would just avoid these because it takes time away from the real reason you should be using the site.
If you want to see live camera shows, there are so many other ways that you can find them outside of an adult dating site.
Take note, however, not all shows are free, so don't click on anything before checking the details beforehand.
Members are allowed to send a friend request to others on the site.
Is this a killer feature?
Probably not, but it adds a bit of a social networking kind of vibe.
That's a fair amount of key features with some infinitely more useful than others, that's for sure.
But each of us is different, so what some might find unnecessary, you might love.
Note also that not all of these key features are available across all the membership packages.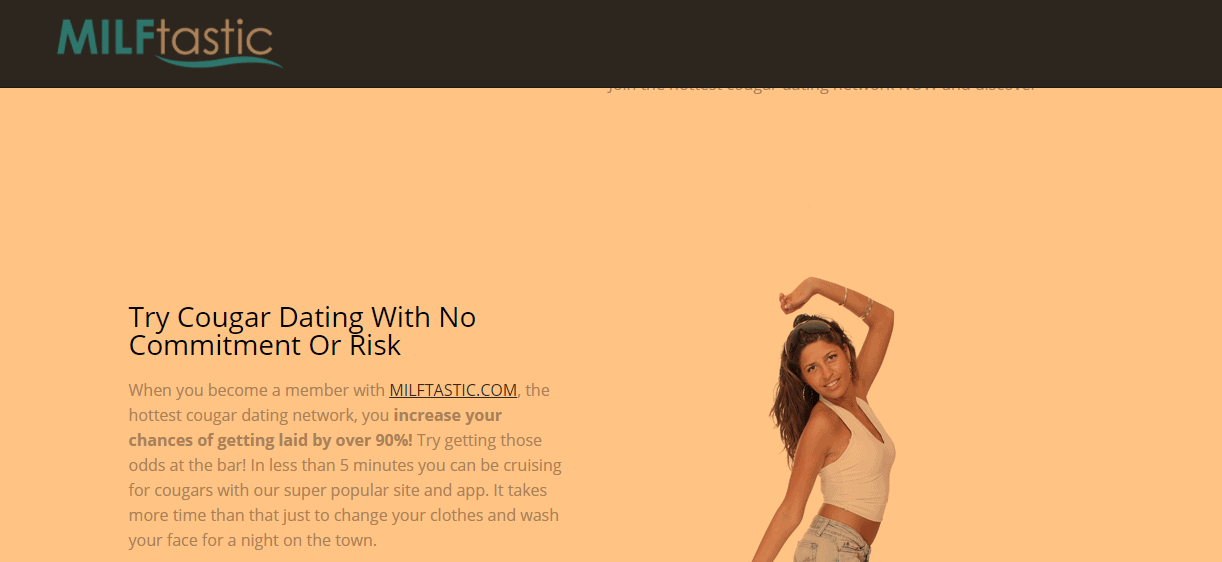 Ok, so when it comes to membership, things get a little fishy for me.
Milftastic offers a free lifetime membership that won't cost you a thing.
Except to access it, you have to give your credit card details.
Now my question to that is why?
On reading the fine print, it seems as this free membership gives you a 24-hour trial to the site.
That's nice, but if you don't cancel it, you are automatically signed up for one of the membership packages.
That will cost you $49.95 per month if you don't cancel.
But there's more.
Belonging to that membership also includes membership to Hookup Cloud (at $1.95 per two days and $39.95 if you don't cancel).
There is another bonus membership to PickUpAnyGirl as well.
That's free for 14 days but then costs $29.95 per month if not canceled.
Can you see the problem here?
While this is written on the free membership sign-up page, it's not easy to find unless you really look.
People think they are signing up for free membership but if they don't cancel all of the above, they are hit for over $100.
Scam?
No, because they have declared it.
But it is very devious.
As for the membership options if you do choose to sign up they are as follows:
1-month membership – $39.95
3-month membership – $69.95
The one-month membership option is pricey but it does include the webcam chat option, something not a lot of dating sites actually have.
If you think the site could work for you, it makes sense to rather go for the three-month option at $69.95.
That clocks in at around $23.30 per month.
As for payment, well the only option you have is to pay by credit card.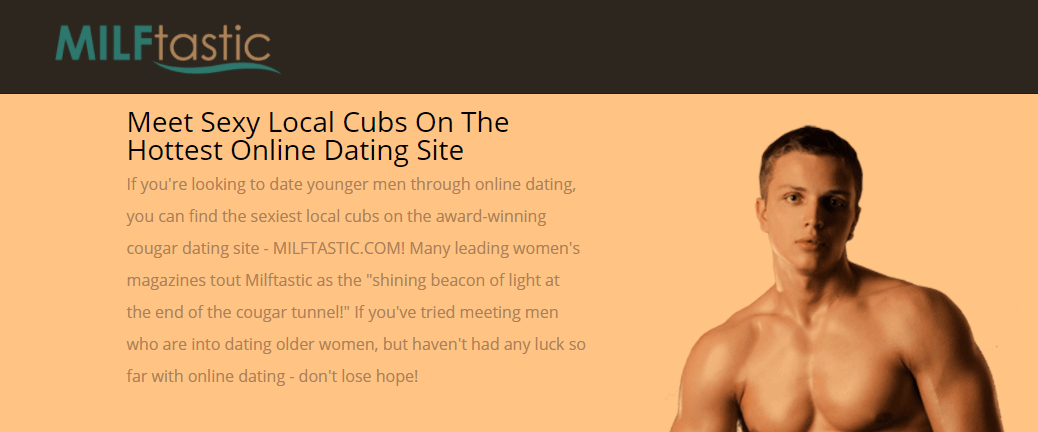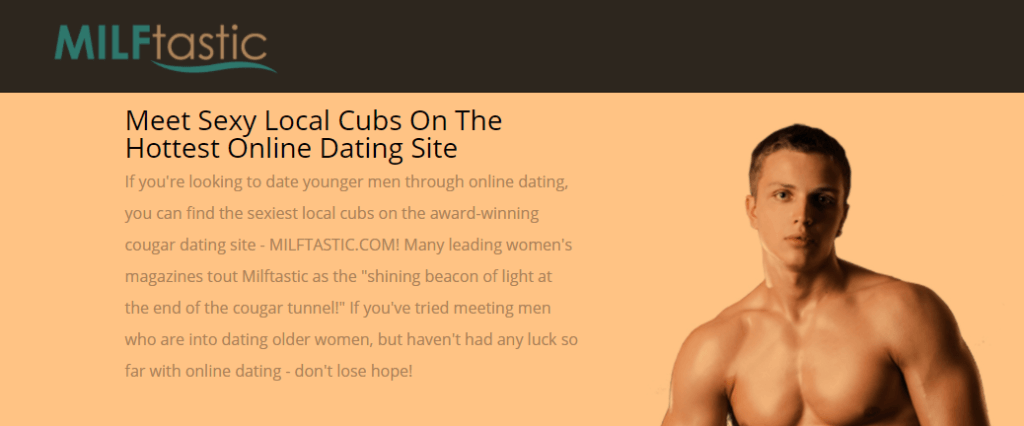 Conclusion and Overall Rating
Thanks for taking the time to read our Milftastic review.
To be honest with you, for all its potential, there are too many underlying factors here that make Milftastic a site I would avoid.
Is it a scam?
Well, you'd have to make up your own mind at the end of the day.
I certainly don't like the devious attempts to get people to sign up as we outlined above, however.
For me, that's enough of a warning sign to never use my credit card here at all.
The thing is, there are other sites online that you can try, but that's going to end up being your decision.
As for an overall rating, Milftastic gets 1.8 out of 5.
I really would look elsewhere if I were you.
Frequently Asked Questions