Today, we are looking at a niche dating site that caters to lovers of the Far East, but specifically Thailand.
For anyone who has spent time in Thailand, you will know that Thai women are some of the most beautiful on the planet.
That's where ThaiFriendly, the biggest Thai dating site in the world comes in.
This review will provide you with all you need to know about the website including:
OFL Top Recommendations based on 100,000+ Survey

"Serious Relationships"
"Discreet Hookups"
"Best Course for Men"
"Quick Flings"
"Normal Hookups"
"Our Quiz"
So if you are looking to hook up with someone before you visit Thailand, this review will give you the answers you need.
Thailand, here we come!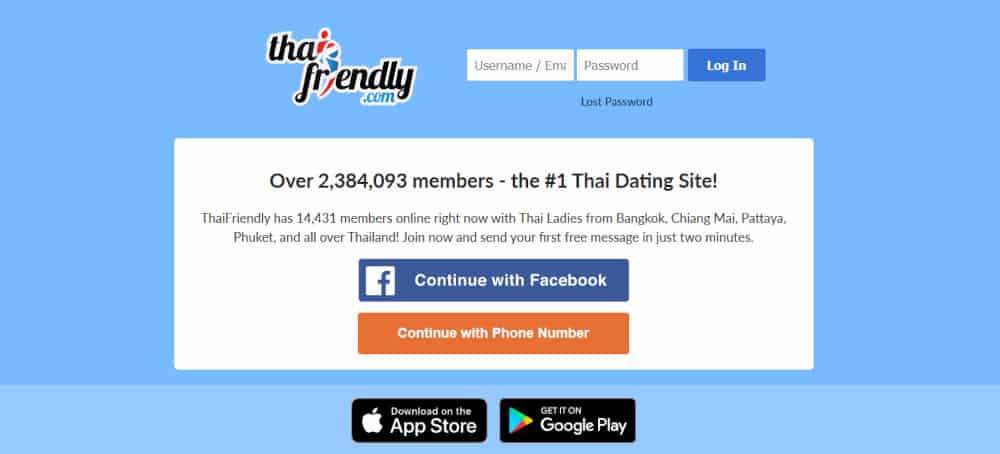 Is your dating app giving you the best chance for success?
Make sure to take our online dating site/app quiz to find out.
People who follow our dating site suggestions have on average 2 more dates per month.
ThaiFriendly Review in Video Form
Audio (podcast) form for those of you on the go
ThaiFriendly is not a purely casual hookup site (like BeNaughty or Ashley Madison), nor is it solely about serious relationships (like eHarmony), it covers both categories of people.
Effectiveness 4/5
Features 4/5
Ease of use 4/5
Price 4/5
You can search for profiles by city or region, perfect to meet people in places you might visit on your Thai holiday.
It's a very active site with and lots of the people you meet will want to talk to you.
There are a number of features that you can make use of as a paying member to find the right match.
The website and app have clean interfaces and they are easy to use.
No matchmaking algorithm, you have to search by yourself for your ideal matchup
You need full membership to see your favorite list on the app but you can't see if it using a web browser.
It's not that cheap.
Not everyone speaks fluent English
Who Is It For/Demographic Makeup
So with niche dating sites like this, it's not difficult to work out who the site is aimed it.
That's obviously for anyone who has an interest in dating Thai women.
But that's not all you will find on the site.
Yes, you will find both male and female profiles here.
Many of the male profiles are set up by people who plan on traveling to Thailand on holiday and who hope to hook up with someone when they get there.
A dating site is only worth it if it's active, right?
There's no point in making a profile on a dating site without many active users, is there?
Don't worry, that's not going to be the case with ThaiFriendly, that's for sure.
Here's a breakdown of what to expect in terms of how many people use this dating site:
As the number one dating site in Thailand, ThaiFriendly has over 2.3 million profiles.
The site is growing still, with around 1,000 new members joining each day.
Of course, it's one thing claiming a huge number of profiles but the true measure of a dating site is just how many of those profiles are active.
Well, ThaiFriendly is right up there in this regard with well over 1 million profiles showing constant activity.

User numbers are important when deciding on what dating site to try, but a gender ratio breakdown is just as critical in my book.
So what's the breakdown for ThaiFriendly?
There are more women using the site than men, but the ration is not that far apart with a 60/40 split.
Note that some of the men profiles on the site are what Thai people call "ladyboys".
Simply put, a "ladyboy" is a transvestite or transgender person.
The site includes a system where searches can be made leaving "ladyboys" out of the results if that's not what you are into.
When it comes to age ranges, here's a breakdown of the biggest users of the site from an age perspective.
25-34 years old
18-24 years old
35-44 years old
45-54 years old
55 years old and above
And that distribution of ages makes perfect sense.
That's because many of those making use of the site are young travelers exploring the world and wanting to make a connection with someone before they visit Thailand.
Or they are Thai people wanting to meet those travelers.
It's worth noting that ThaiFriendly does not only include profiles from Thailand, for example.
You will find people wanting to meet others from all over the world.
That said, the vast majority of female profiles will be women from Thailand or other places in Southeast Asia.

So we already know that when it comes to dating or wanting to hook up with people in Thailand, then ThaiDating the biggest website online to help you.
But just how effective is the website in doing that?
Well, let's just clear up a few things first.
When it started out, ThaiFriendly was certainly more of a site for hookups more than serious dating.
And while you might have to wade through a number of profiles to get what you looking for you can find people with various intentions.
Some might just want a casual fling while you come out on holiday while others are searching for long-lasting love.
Often, when it comes to female profiles, those wanting to dissociate themselves from a casual hookup will make that very clear in their profiles.
Depending on what you hope to find, if you put the time in, you will hook up with people with similar intentions.
And finding an effective match?
When it comes to finding a match, well that's all based around an effective search engine, right.
And here, ThaiFriendly is certainly let down a little.
Why?
Well, that's because ThaiFriendly:
Doesn't have a matchmaking algorithm to help searches on both the app and online
Have very limited search criteria if you are not prepared to pay for membership
So what does that mean for you?
Well, if you are not prepared to pay for a membership, you are going to have to sift through many profiles to find what you are looking for.
Yes, there are search criteria that you can input to narrow the field, but those are expanded so much more if you are prepared to pay a membership fee.
Basic search filters include:
Gender
Height
Weight
Age
Location
For the membership search filter, there are a few added extras.
The most important of these, I feel is the chance to see when the user profile was created and when the person was last active.
That alone can help cut down your search time in trying to find someone to hook up with.
Depending where you are in the world, take note of the timezone difference.
For example, if you are in the United States and want to chat on a Saturday morning, many people from Thailand will already be getting ready for bed.
Just bear that in mind.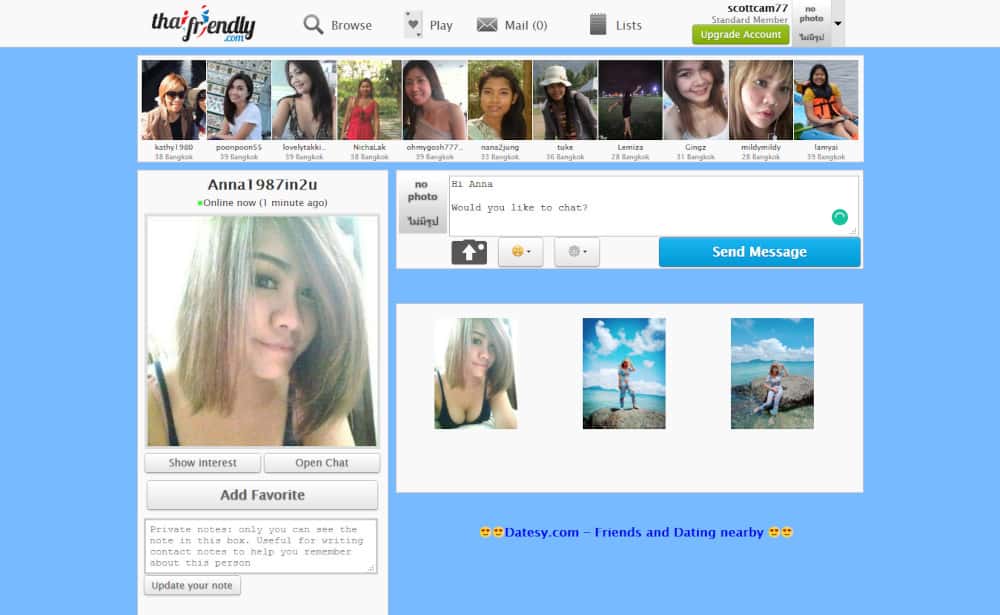 Again, you are limited if you are not prepared to pay membership.
While you can send messages, its a case of only sending one message every ten minutes.
While that might seem okay starting out, it can be a little bit frustrating when you want to have a serious conversation with a possible match.
We've already established that for the most part, ThaiFriendly is a website used by people who intend to visit Thailand and want to make connections with locals before they get there.
It's not like trying to hook up with someone in your city, right?
And because of that, if that's how you intend to use the site, you've got to make sure you don't fall prey to any scammers.
At times, ThaiFriendly (and lots of other dating sites) are mentioned when someone gets scammed.
But it's a simple case of using common sense.
If you do so, you won't be scammed.
Many people have used this site and had success specific to their intentions.
That said, there are plenty of fake profiles on the site, so again, use your common sense when communicating with someone.
With a modern, clean look, ThaiFriendly is pleasing on the eye if you looking to use the website.
The makers of this site also have a clean mobile site that's easy to use from your smartphone.
If you'd prefer to use an app instead of browsing the site online, you can download one for your Android or Apple device.
For me, the app stands out and I would suggest using the app over the browsing profiles online.
For me, there are a few reasons for this.
The app offers a far more streamlined browsing experience
It includes a messaging system that's simple to use compared to the website
The monthly subscription plan is cheaper to purchase using the app than on the website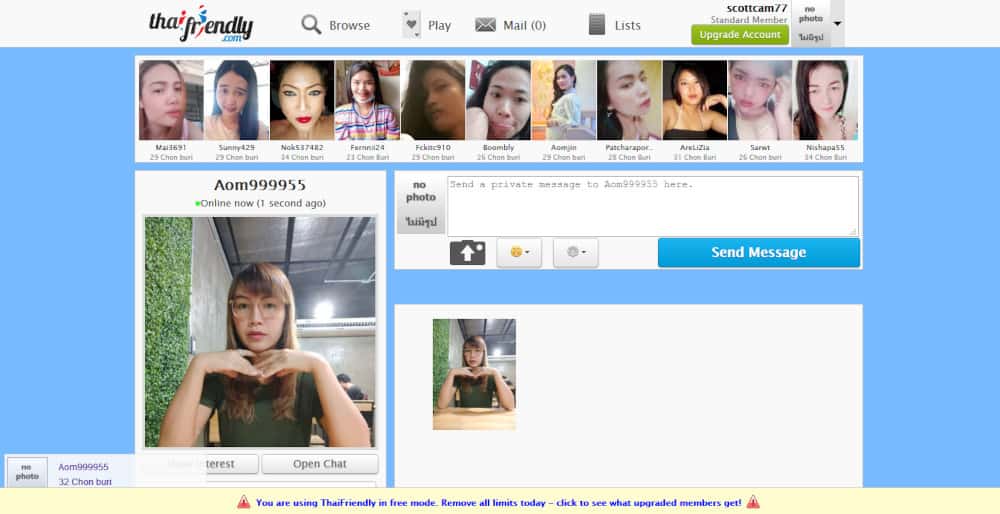 Let's get on to the key features that you will find on the ThaiFriendly website and app.
Similar to a Facebook like, the "show interest" allows you to show someone that you like their profile and have an interest in them.
And it's easy to do.
Simply move over their profile picture while online and wait for a heart symbol to appear.
Once it does, you can click to and the owner of that profile will be alerted to your interest in them.
This "show interest" option is a great way to make initial contact with someone.
You also have the ability to see who has shown an interest in you when you were offline.
Those that have shown an interest in you will also have their online status visible, so if they have, you can immediately message them.
Or simply wait till the come back online to do so.
So this is a feature that's only available for paying members.
It allows you the ability to favorite profiles that then appear in a specific favorite list.
It's simple and quick to do.
If a profile catches your eye, simply click the star icon.
This is located below each and every profile picture and appears as an option to click for paying members.
You can visit your list of favorites at any time.
Feel like a casual chat with someone once you've established contact with them?
Well, that's possible through ThaiFriendly's chat interface.
Available on both the website and the app, this chat interface allows you to immediately connect with other users that are online and to chat with them in real-time.
It's the perfect way to get to know someone better once you've made initial contact with them through the messaging system.
Take note, however, not everyone you speak to is going to be fluent in English so it can be a little hit and miss in that regard.
This feature is for paying members only.
Messaging on ThaiFriendly operates in a unique way.
It works like this.
Once you've found someone, you can simply message them straight from the app or online.
When you do, you are immediately taken to their profile page and it's there where you will enter your message to them.
That's pretty neat because it gives you the chance to take a deeper look at their profile before you fire off that message.
Perhaps by doing so, you might see something that changes your mind about messaging them or find something more you like about them.
Remember, as a paying premium member, you can send unlimited messages.
As a regular member, you can only send one message every 10 minutes.
Play search is an interesting feature of the ThaiFriendly app.
It uses selection methods that you would associate with other dating apps when it comes to searches.
Based on your preferences, the app will show you a range of potential matches that you will then either hide, like or even message.
This member only feature is the perfect way to get your profile noticed in other member searches.
If you opt to make use of it, you can bump your profile higher in searches.
This means it is placed above profiles belonging to non members effectively bumping you up in the search returns of other members.
It's maybe not as useful if you are doing more searching than hoping someone comes and finds you.
ThaiFriendly has a few other member features that I'd also like to point out.
These include:
The ability to hide your profile from non-members
The ability to see who has viewed your profile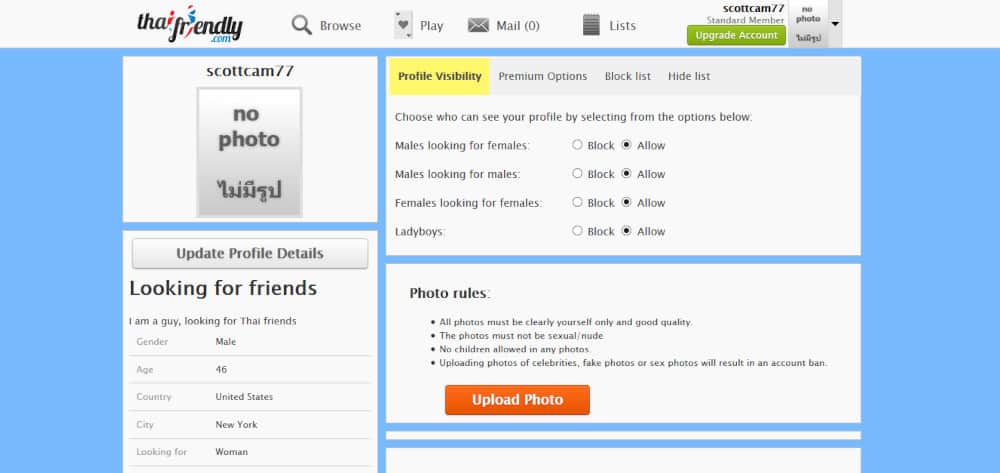 When signing up for a dating site, the last thing you want to do is spend hours filling in all sorts of random details, right?
Luckily, ThaiFriendly makes the signing up process quick and simple.
You have two options here:
Signing up by using your phone number and a few other details
Signing up using your Facebook account
Both of these will see you entering a few details to complete the process including:
A username and password
Gender
Age
Date of birth
Height
Weight
Profile details
Demographics pertaining to your preferred matches
Once you've completed the formalities, you can fine tune your profile further.
If you've used a dating website before, you shouldn't have any problems completing it.
Remember to have a picture ready because a profile without one simply isn't going to generate much interest, if you are looking for possible matches more so than them looking for you.
Once everything is set up, you can begin your search.
As I've mentioned already, if you are not a paying member, your search criteria are limited to the regular parameters like gender, age, height, weight and a few others.
That, together with the fact that the site doesn't use a matchmaking algorithm means searching can take some time, especially if you have very specific characteristics in mind when it comes to a match.

I think you'd agree when I say that ThaiFriendly isn't your average dating site.
That's thanks to the fact that it has a very specific kind of target market in mind.
And because of that, you are going to pay a little more to use the premium member services than a dating site that's going to help you match up to someone in your home town.
So what's the price breakdown for ThaiFriendly then?
$24.95 per month
$49.95 for 3 months ($16.65 a month)
$69.95 for 6 months ($11.66 a month)
$119.95 for 12 months ($10.00 a month)
It's pretty pricey, right?
But overall, I think it's worth it, especially if you are looking for local Thai people to hook up with when you vacation in Thailand.
And you can make it work for you.
While signing up for a year might be worthwhile, especially if you are going to make use of the service, perhaps a three month option works better.
For example, before you visit Thailand, sign up for three months to find someone that you can hook up for.
Many people use this app not only form a dating/hook up point of view but also to meet locals and have them show them around instead of doing the "touristy" kind of thing.
While it's pretty pricey, you have options available in the way you can use ThaiFriendly if you choose to pay.
Also, payment can be made by credit card, or if you prefer, PayPal.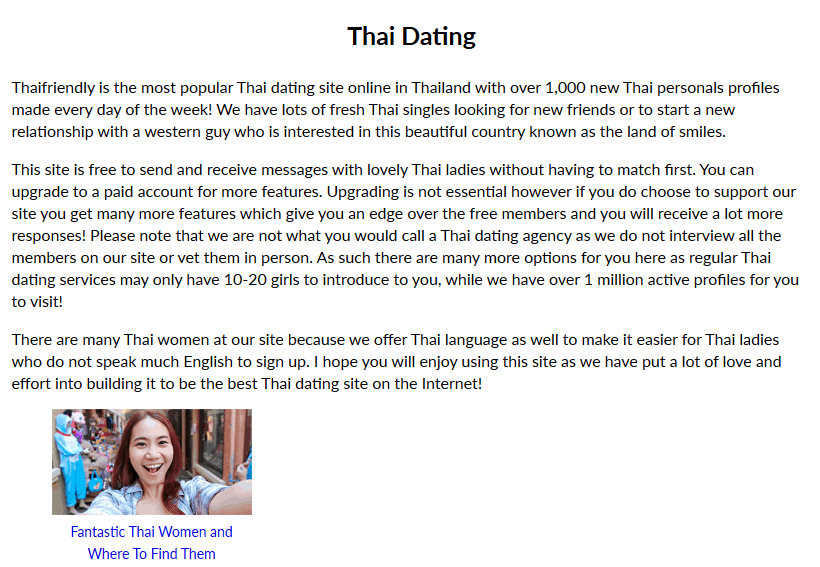 Conclusion and Overall Rating
So would I suggest ThaiFriendly as a dating site?
Well, not as a regular dating site, but certainly if you want to visit Thailand and hookup with someone while you are there, then ThaiFriendly is certainly a site that you should consider.
In fact, I would give it a score of 4/5 overall.
It has its competitors, that's for sure but with the sheer number of users registered on the site, and that fact there are so many active users, makes it an excellent choice.
What I also like about ThaiFriendly is the fact that its extremely simple to use, either on the web or by making use of the app.
The website design is modern and certainly doesn't remind you of a dating site from a decade ago, while the app runs fast, is readily available and works like many other similar dating apps.
If you are serious about meeting someone before your holiday to Thailand example, you probably going to want to take out membership.
One message every 10 minutes on the non-membership packages isn't the best way to communicate especially as many of the people you talk to won't be very fluent in English.
Membership allows you to see when a user was last active which means you don't make the mistake of trying to connect with someone who hasn't been online in the last three years.
Expect those people who you do chat with to be friendly but yes, you should watch out for scammers.
Frequently Asked Questions