In today's review, we are going to look at a dating site that is considered to be one of the best Dominican dating sites online.
It's the perfect place to meet Dominican singles, with a lot of them looking for serious relationships (like on Tinder or eHarmony), it's a small percentage of those looking for hookups (like on BeNaughty or Ashley Madison).
It's on these sites where beautiful women start profiles to meet men from all over the world, including the United States.
Our review of the Dominican Cupid dating site will look into:
OFL Top Recommendations based on 100,000+ Survey

"Serious Relationships"
"Discreet Hookups"
"Best Course for Men"
"Quick Flings"
"Normal Hookups"
"Our Quiz"
There are lots to get through, so we better get started.
Is your dating app giving you the best chance for success?
Make sure to take our online dating site/app quiz to find out.
It's a fact that people who follow our dating site suggestions have on average 2 extra dates per month.


Ease of Use – 4.5/5
Effectiveness – 3/5
Key Features 4.5/5
Pricing – 3.5/5
One of the best sites if you want to date Dominican girls
Simple registration
You can download an Android app for Dominican Cupid
Excellent member features
Lots of ways to search for a potential matchup
No IOS app
You need a membership if you want to send a message to someone


Who Is It For/Demographics?
Dominican women from the Dominican Republic.
That's the most obvious group of users that you will find on the site.
But you will also find male members are from all over the world, including the United States.
They have made profiles here because they want to date Dominican girls and possibly even find their soul mate.
And that's a simple breakdown of who uses this dating site.
OFL Top Recommendations based on 100,000+ Survey

"Serious Relationships"
"Discreet Hookups"
"Best Course for Men"
"Quick Flings"
"Normal Hookups"
"Our Quiz"
Dominican Cupid| By the numbers
Once you know just who a site is for, the demographics behind it become the next critical bit of information.
That's especially true if you are interested in the site and want to become a paying member that's looking at messaging others.
If there's just a handful of users on a dating website, you are simply going to look elsewhere instead of wasting your money, right?
So I thought we would start by first looking at the overall user numbers.
Remember, this is a niche dating with a very specific target audience.
At this point, the user base of Dominican Cupid is close to 500 000 users.
Here's some extra demographic information and facts that you need to know:
Of those almost 500 000 users, around 150 000 of them, just less than a third, are from the United States
Around 1 200 people log into their accounts each day on the site.
That's 8 400 per week and over 30 000 a month
The app for Dominican Cupid has been downloaded over 100 000 times on Google play
Listen, if you aren't that impressed with the demographics behind the site, you got to remember a critical point.
And that's the fact that this site is not like a commercial dating site.
In fact, with half a million users, Dominican Cupid is actually doing really well for itself.
I've seen similar types of websites that with female members from a specific population group that does far worse than this one does.
And often, they have a high percentage of male users over female users.
But that's not the case on this dating site.
Here, there are more male users than female users but the ratio is closer together than on similar types of sites in the Cupid Media network.
On Dominican Cupid:
60% of users are male
40% of users are female
Now that's easier to work with than an 80/20 split, that's for sure.
If you are a male user, yes you will have competition but it's certainly not as bad as it could be.
Let's also look at age ranges.
By far the largest user group on the site are those aged between 35 and 44 years-old.
They account for nearly 40% of the user base.
The smallest group is 55 and older.
Just 2% of all users are in this group.
Below is the full breakdown, along with the gender ratio percentages of each age group.
This is ordered from most popular to least popular.
35-44-year-olds (38% of user total. 23% of this group are male and 15% are female)
25-34-year-olds (33% of user total. 15% of this group are male and 18% are female)
45-54-year-olds (38% of user total. 20% of this group are male and 5% are female)
18-24-year-olds (3% of user total. 1% of this group are male and 2% are female)
55 and older (2% of user total. 1% of this group are male and 1% are female)
It's interesting to note that in two groups, the female users are more than the male users.
That's the 18-24-year-olds and the 25-34-year-olds.
They are that much in the ascendency but it gives a good indication of the age ranges of half the Dominican women on the site.

Starting your Dominican Cupid account is straightforward.
If you have an Android handset, you could even do it from there by downloading the Dominican Cupid app.
You've also have the option of a one-click log-in through Facebook.
Ok, it's not just one click, you still will need to provide some information as you register.
But it sure is faster.
So what's the information that Dominican Cupid will need first up?
Well, you are going to have to come up with a username, password and provide a valid email address.
See, I told you it was straightforward, right?
You are also going to have to select a gender that you would like to matchup with and yes, if you are gay or lesbian, you are welcome to register on the site as well.
Registering as a user on the site is super simple but at no point during the process will you fill in any part of your profile.
And because the profiles on the site are so extensive – it's not Tinder, you know – you should make that your first mission before you start your quest for love.
Please make an effort.
There are far too many users that think profiles aren't important and their hot profile picture will do all the work for them.
But while your profile picture is what grabs the attention of someone, they stay around to find out more from your profile.
If it's not filled in, the chances of them moving on to someone else are pretty high, that's for sure.
It's not like it's going to take an hour of your time either.
15 minutes and you should be done.
The information you need to give is divided into various sections that relate to basic information about yourself as well as your appearance, your lifestyle and habits, your background and your culture.
Finding your way around the site
Cupid Media dating sites all feature the same design.
There's a reason for this.
It's because it works so well.
So if you've ever used one of their sites, you know what to expect.
The design is super neat and just so easy to use.
Everything is clearly laid out and if you spend the first couple of minutes on site looking around, you will soon know where everything is, espcially all the important bits that will help you find love.
From the outset, Dominican Cupid will provide you with potential matchups.
They are based on the gender and age ranges that you gave when starting your profile.
These will also improve overall accuracy in terms of what you are looking for when you fill out your profile.
That's because the matching algorithm will use information from it to provide you with what you are looking for.
Let's talk a bit about the menu system you will find on the site.
This is something that you are going to be using often to navigate the site.
It's pretty self-explanatory though:
Matches: Click here to see all the matches the site has come up with for you
Search: Here you can launch your own searches for love
Message: All messages can be found under this menu
Activity: This can be a useful menu. It shows the profiles you've visited, favorited and liked. But you can also see which users have done the same back to you.
If you don't search using the menu, you will notice that there is a quick search bar on the home page as well.


Now that we know the nuts and bolts of the site, let's get into ways that you can use it to find potential matchups.
And there are lots of tools at your disposal.
Using the search tools of Dominican Cupid
So you have a few options when it comes to finding love on the site.
First up, you can look through the matchups provided by Dominican Cupid.
There are there, so use them to your advantage.
If you've given all the information you need to in your profile, you will find these matchups are well worth exploring.
Obviously, however, you are going to want to make your own searches as well.
Just use the quick search bar or the Search menu to do that.
Even for regular users, there are a few parameters that you can manipulate to ensure the best search returns.
You can also search via:
Keyword
First name
Member identity number
Cupid Tags
Of those, you've probably never heard of a Cupid Tag search.
These are searches using a special system on Cupid Media sites.
It's words that you can associate with yourself, for example, gentle, serious, sexy and friendship are all Cupid Tags.
​Searching using these can help you find people that associate certain tags with themselves.
It's a fun way to look for matchups, that's for sure.
For Platinum membership, there's even another way to search.
And that's via mutual and reverse matchups.
A mutual matchup is someone that is looking for a matchup just like you.
They meet all your requirements too.
A reverse matchup means that they don't match exactly what you want, but you are the perfect match for them.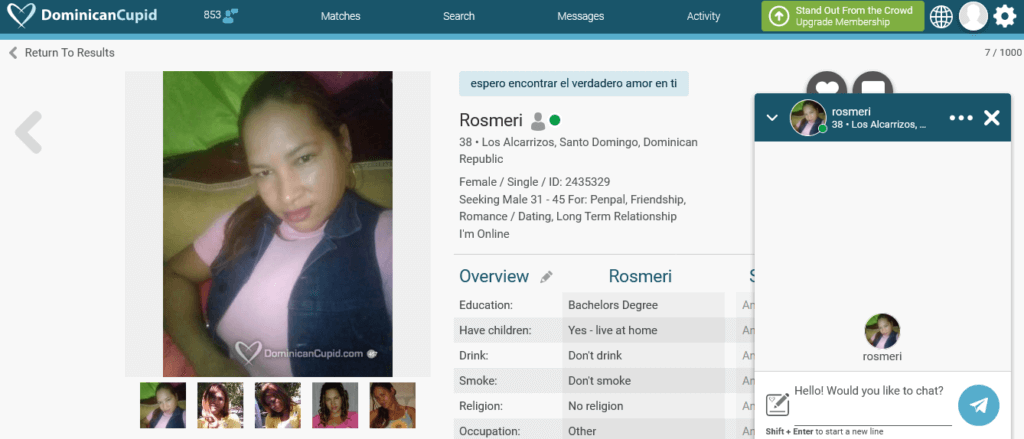 How can I message someone?
Well, unless you have taken out membership on the site, you can't.
Regular users can reply to messages, however.
So if a member sends you a message, at least you can send a reply back.
But if you find a matchup that you want to contact, other than liking or favoriting their profile, you cannot send message to them.
That's a membership feature of Dominican Cupid.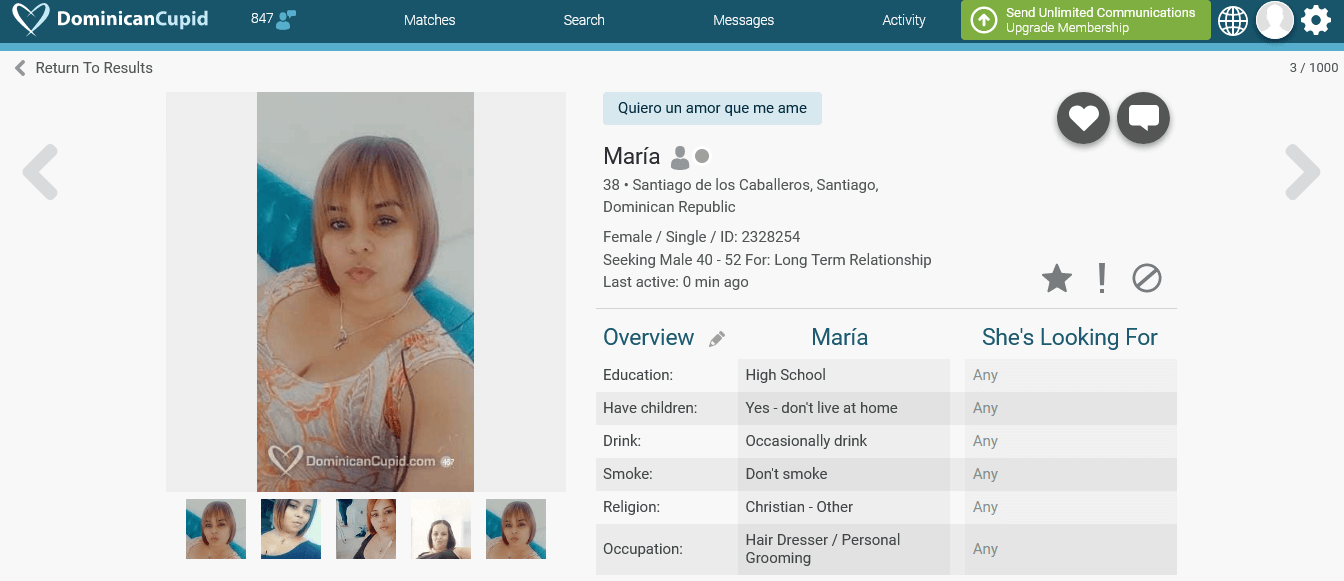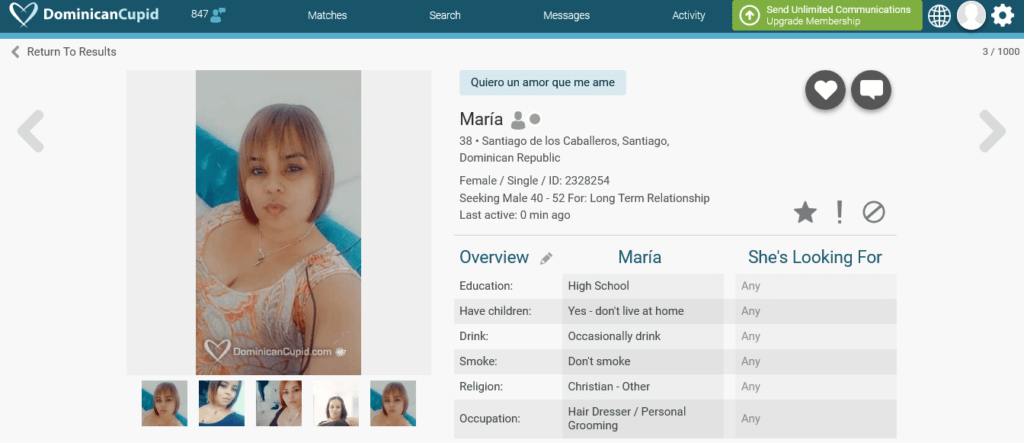 Cupid Media sites provide regular users with so many extras that other sites like to hide behind paywalls.
So before we look at what a paying member is going to get in the way of key features, let's just recap what you can as a normal user.
You can register for a profile on the site through either the registration page or the free app
Use the basic search engine which includes numerous parameter filters to search for a matchup
Look through the matchups suggested to you by the site
Reply to members who send you messages
Like other user profiles
Favorite profiles
See full profiles of other users and view as many as you'd like to
But what can you expect if you opt for membership on the site?
Well, before we get to those features, there are two membership types on the site: Gold and Platinum.
Platinum is the most expensive and includes all the features that we are going to cover below.
Having said that, there are only two extra matching features that Platinum members get over Gold members.
They are pretty useful though.
So let's see those features then.
​1. All advertising removed
Advertising on dating sites can be super annoying.
Luckily, on sites operated by Cupid Media, advertising actually isn't that bad.
But it is still there.
If you are anything like me, even though it might not be invasive or in your face, it's better when it's not around.
That's what membership will bring.
As soon as you confirm your membership, all advertising on the site disappears.
And that leaves you to focus on the task at hand – finding matchups worth contacting.
Speaking of contacting, that gets us onto the next member feature.
Without being able to send messages, how effective can a dating site be?
Not very, is your answer.
The thing is, while you can reply to a message from a member as a regular user, you are having to wait for them to contact you.
And yes, people do use the site in this manner.
But what happens if you never receive a message?
It's really is just down to luck if someone loves what they see and reaches out to you.
And if you are a male, for the most part, on this site that's never going to happen.
That's because many of the females on the site aren't going to buy into membership but instead wait for someone to message them.
So how do you see why membership is critical for messaging?
Also, instead of the email-style messaging system, there is a more instant version as well that members get access to.
This literally speeds up communication which is a good thing when trying to get to know someone a little better in my book.
3. Even more search options
This is something you will find on all Cupid Media sites.
I am not just talking about an advanced search engine that uses details from user profiles.
There's even more than that for Platinum members.
And we talked about them earlier, the mutual reverse matchup searches.
If you've looked through all the matchups that Dominican Cupid has provided for you and you've searched on your own as well, give these a try.
While the mutual matchup might turn up profiles you have seen before, the reverse matchup should provide a few extra options worth looking for.
For some who are more security concious, having a profile on a dating site can be a little daunting.
But not too worry, Dominican Cupid provides some extra security options for Gold and Platinum members should they wish to use them.
For example, if you didn't want your profile to appear in other users' searches, even if you matchup the criteria they are looking for, well you can set it up that it won't.
Also, if you are viewing someone's profile, you can adjust a privacy option that means you don't leave a trace that you did.
While these measures are useful if you value your privacy, it does mean the chances of someone reaching out to your on the site are low.
That means you have to do all the work in finding your soul mate.
Members of Dominican Cupid also get extended profiles over that of regular users.
6. Make your profile stand out
If you are a Platinum member, you can make your profile stand out in other user searches.
This is achieved in two ways.
First up, if you meet the parameters and appeare in the search matchups of a user, your profile is going to be at the top of the queue.
Also, it's going to be marked with a diamond which indicates that you are a one of the paid members of the site.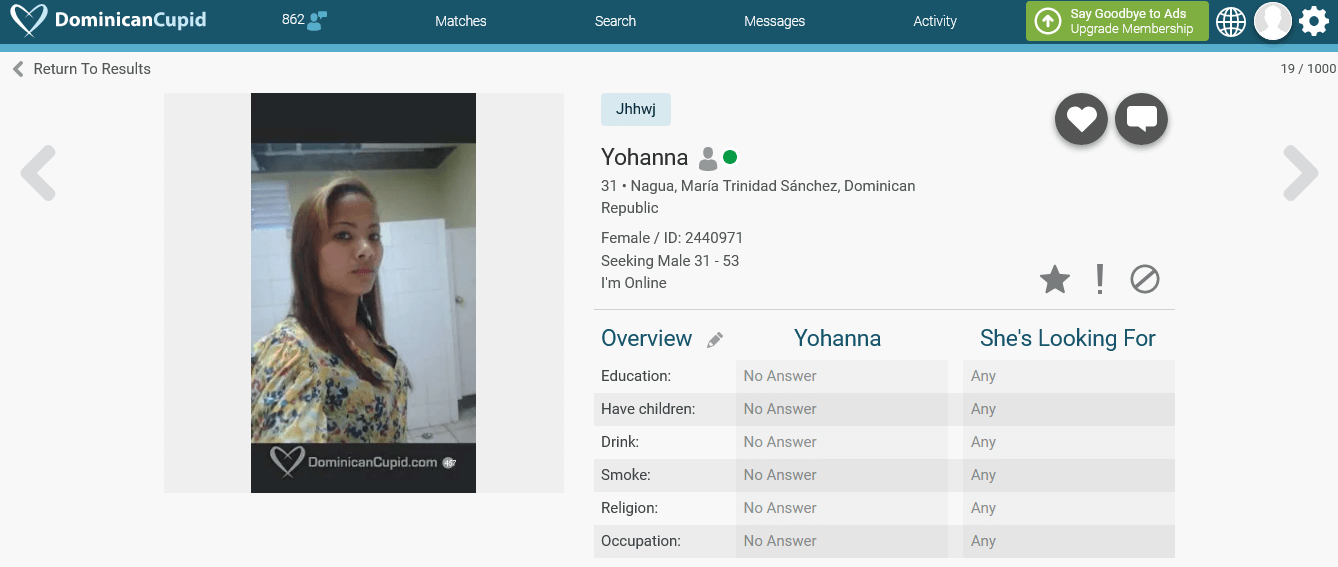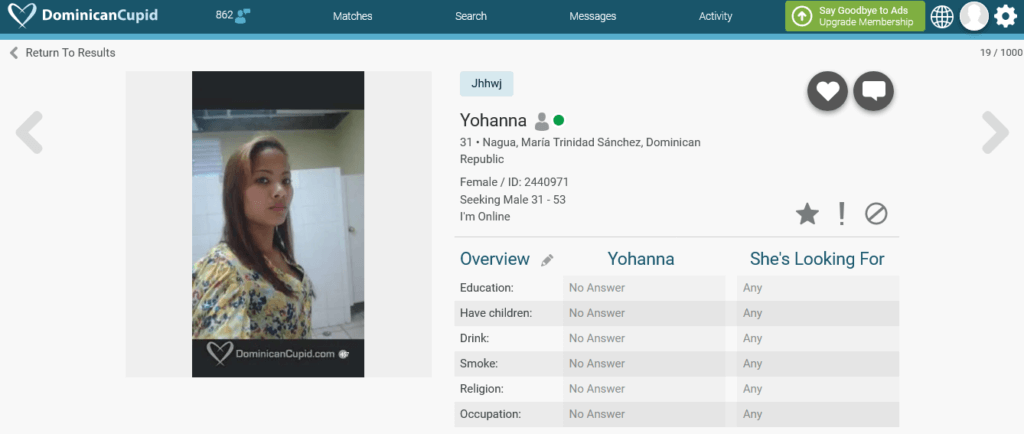 That's a lot of pretty cool key features, that's for sure.
In fact, like all Cupid Media sites, Dominican Cupid has much more key features than a lot of other dating sites, even the big commercial ones.
And you probably thinking because there are that many of these features, membership is going to cost you plenty, right?
Well, that's another thing about Dominican Cupid and its sister sites.
The membership pricing is so well considered and more often than not, right on the money, so to speak.
Ok, so enough talk then, let's see just home much membership costs.
Remember, you have not one, but two options.
These are Gold membership and Platinum membership.
Both of these have a one-month, three-month and twelve-month payment plan.
And here's how much those are going to cost you.
Dominican CupidGold membership
1-month membership: $29.99
6-month membership: $59.99 (which is $19.99 per month)
12-month membership: $119.99 ($9.99 per month)
Dominican Cupid Platinum membership
1-month membership: $34.99
6-month membership: $69.99 (which is $23.33 per month)
12-month membership: $149.99 ($12.50 per month)
When it comes to membership, the only real difference between Gold and Platinum is that reverse and mutual matches unlock if you are prepared to take the higher option.
I feel that those can be invaluable and it's effectively only $5 per month more on the monthly package.
But without a doubt, these prices are phenomenal when you think back to the key features that you get.
Conclusion And Overall Rating
And that's it for our DominicanCupid.com review.
Cupid Media sites are so fun to use and this really is no different in that regard.
There's just so many fun tools at your disposal to help you find that perfect matchup.
Did I find any Dominican Cupid scams?
Not in my time on the site but that doesn't mean malicious users haven't set up fake profiles.
​For the most part, these will probably be looking to fleece you of your money.
If anyone asks you to send them money, report them and block them straight away.
But back to the site.
While it has a small user base, it is for a very niche dating market, so that is understandable.
The thing is, you are are looking for beautiful women from the Santo Domingo and elsewhere in the Dominican Republic, this is the website to find them.
Also, it's just a joy to use with many tools at your disposal that can make the task of finding someone for a serious relationship that much easier.
From matchups provided by the site to numerous ways to find your own, this website is the real deal.
So let's rate it then.
Today, Dominican Cupid gets a well-deserved 3.8 out of 5.
I'd recommend that you try it out.
If you have any questions about the site, then leave them in a comment below and we will get back to you as soon as we can.