There are hundreds of dating sites and apps for gay men.
But even in the gay community from New York to London, there is a need for specific niche gay dating apps.
And that's where Daddy Hunt comes in.
The DaddyHunt app and dating site is one where younger daddy lovers can meet older men and vice versa.
OFL Top Recommendations based on 100,000+ Survey

"Serious Relationships"
"Discreet Hookups"
"Best Course for Men"
"Quick Flings"
"Normal Hookups"
"Our Quiz"
For those looking for gay chat, hookups (like BeNaughty or Ashley Madison), long-term relationships and networking (like Tinder or eHarmony), our DaddyHunt review will collect the information you need to know about the site and then analyze it in great detail.
So during this review, we will evaluate the following:
And once we've done all that, we will bring you our conclusion to that research and provide an overall result and rating for DaddyHunt.
Is your dating app giving you the best chance for success?
Make sure to take our online dating site/app quiz to find out.
It's a fact that people who follow our dating site suggestions have on average 2 extra dates per month.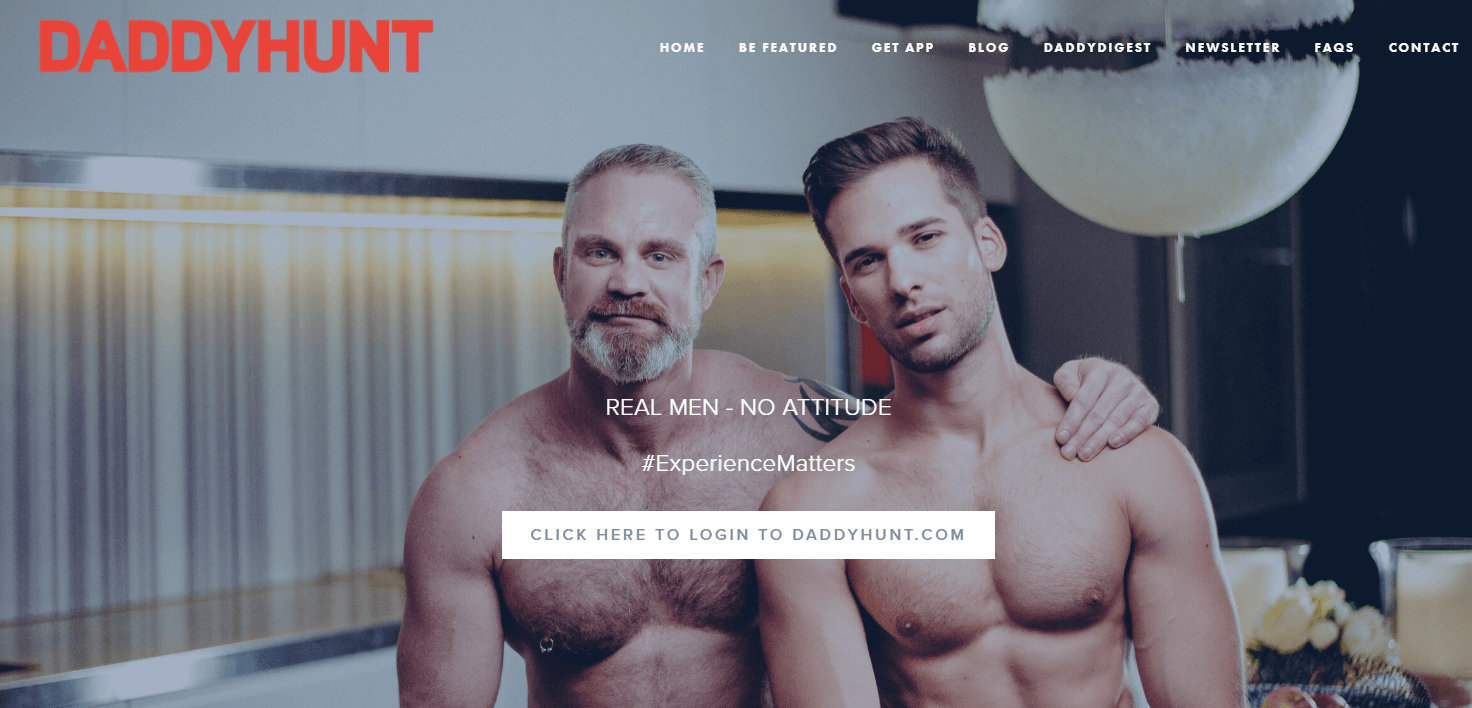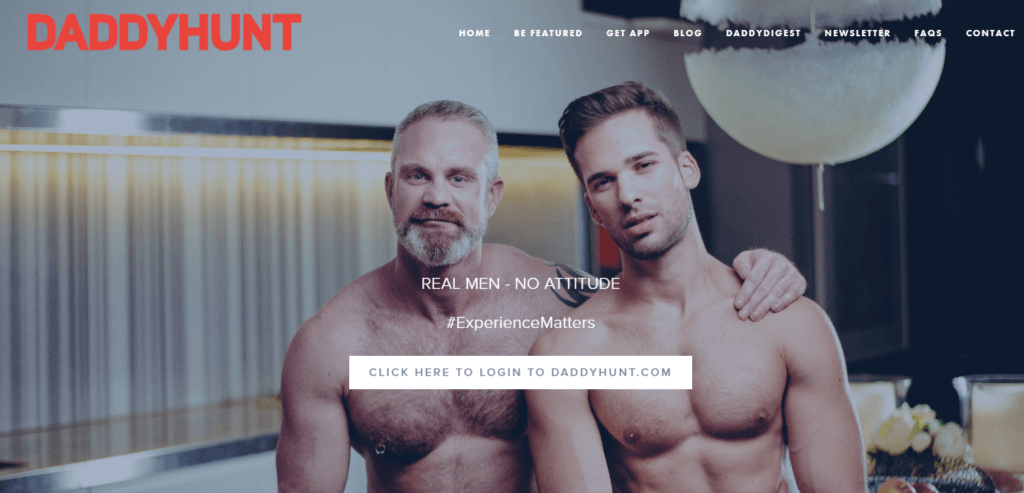 Ease of Use 4.5/5
Effectiveness – 4/5
Key Features – 3.5/5
Pricing – 4/5
A user base of around 5 million members
Both the site and dating app (for Android and IOS) are easy to navigate and use
Messaging is free (if you verify your phone numbers)
Excellent matchup and search features
Added privacy features
The design of the site is a little dated but it still works extremely well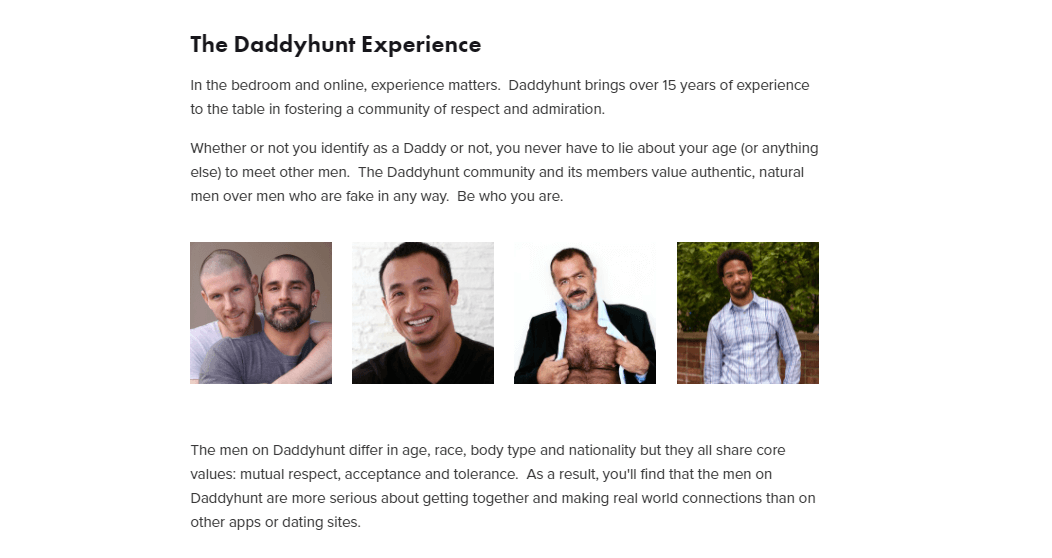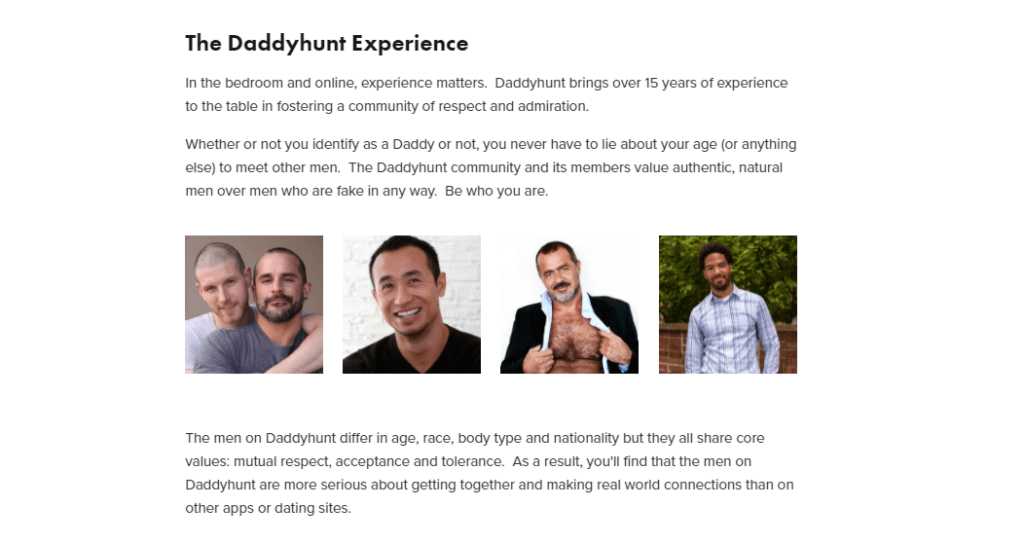 Who Is It For/Demographics?
The DaddyHunt community is filled with both older men and their younger counterparts.
Here, as the site suggests, experience matters.
So if you are looking for a daddy this is where you go.
The same can be said if your preferred role is that of a gay sugar daddy.
OFL Top Recommendations based on 100,000+ Survey

"Serious Relationships"
"Discreet Hookups"
"Best Course for Men"
"Quick Flings"
"Normal Hookups"
"Our Quiz"
But it is not only aimed at gay men but those who are bi-curious as well.
So yes, it's a niche site but a popular one at that.
In fact, my findings suggest that over 5 million men have signed up for profiles on this site.
That's a massive gay community that's for sure.
The great thing is that there is no restriction on where you can sign up from either.
This site is truly global.
Another excellent positive about the site is the fact that it has been around for over a decade and a half.
This is no flash in the pan that's for sure.
Here are some other interesting facts and figures I found out about the site.
Many users are based in the United States
Over 1 million users have installed the app for Android devices on Google Play
Around 200000 users visit the site each month
That's around 50000 a week and 7000 each day
Depending on when you access the site, there can be over 10000 people online at any one time
The most popular age groups are those in their 20s and then 40 and above
Obviously, this is a site for the male members of the LGBT community but as you can see, it's a pretty active one that's for sure.
Now let's explore a little further as I reveal how you can go about creating your own profile.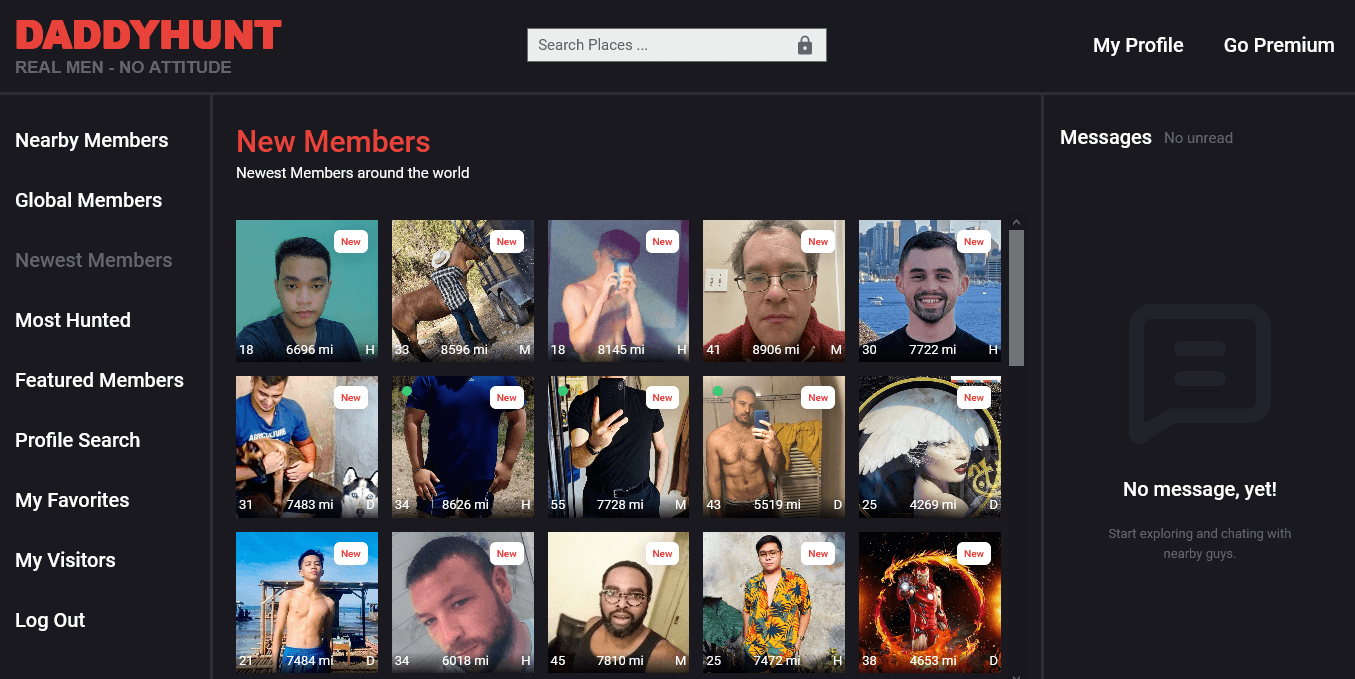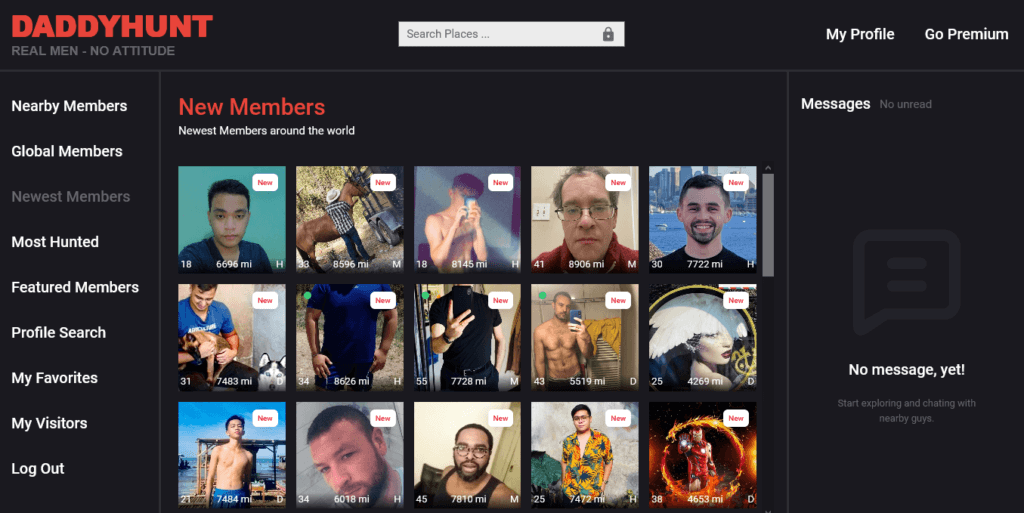 If you prefer doing your online dating on your laptop or your mobile phone, DaddyHunt has you covered.
You can download the app through Google Play or the App Store or simply visit DaddyHunt.com to conduct the registration process.
I am going to talk you through the website because it seems more popular than the app at this point.
I can clarify that through the fact that only around one million people out of five million users of DaddyHunt have downloaded the app for their Android devices.
To be honest, though, you can use the website or the app to start the registration process, whatever you prefer.
You will notice that when you do register, there isn't an option to speed up everything by using a social media account.
But the process isn't slow at all and this is the information that the site wants to gather from you:
A valid email address
Your first name
A password
Your date of birth
Your preferred role (for example, top, bottom, both and more)
Note that you won't have to upload a profile pic as yet.
That's something you need to do when dealing with your DaddyHunt profile later on.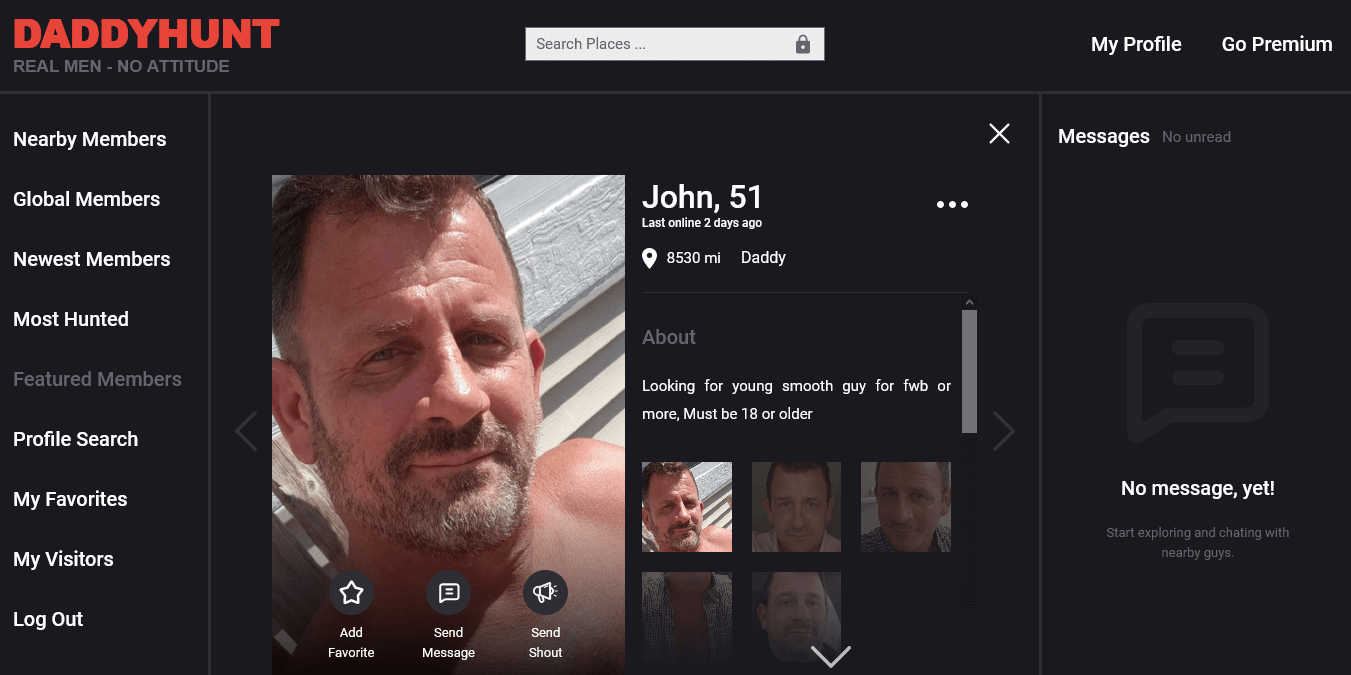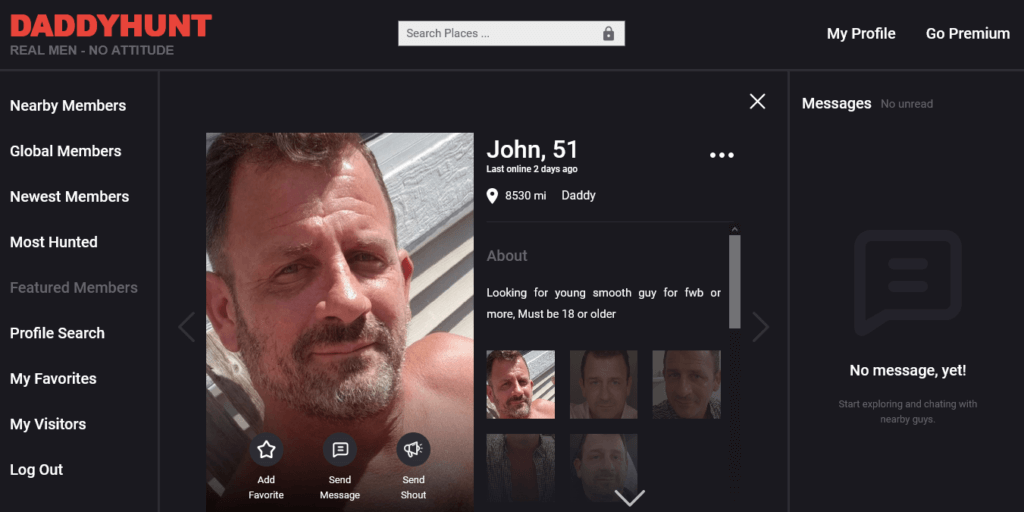 Your profile on

DaddyHunt
Now you can already determine from the registration process above that you have not yet filled in much of your profile.
So that's the place I would highlight as the most critical to making the right start on the site or the app.
You will see that you can upload not only a profile pic but other public photos too, six in total.
Also, you have a section of your profile where you can add four private photos.
These you can give other users access to in private chat.
Once you've added all the photos you want, it's time to fill out the rest of your profile
The registration process would have taken care of the appearance side of things, so let's identify what you have left:
Your preferred sexual positions
Your HIV status
Your safe sex practices
An About Yourself section
When you were last tested
If you'd like to receive testing reminders from the site
Where you live
If you follow the DaddyHunt code (this means you act with integrity, are safe, respect others and more)
If you are Stigma free (for example, you are open to dating people that are HIV positive).
I like the fact that they added the Stima Free and DaddyHunt codes to profiles as it may play a massive part in who you approach on the site, especially if they don't have those two selected, for instance.
You also have certain extra privacy settings on your profile.
For example, you can choose to:
Hide your age
Hide your distance
Or activate invisible mode where you won't turn up in other members' searches even if you meet their parameters.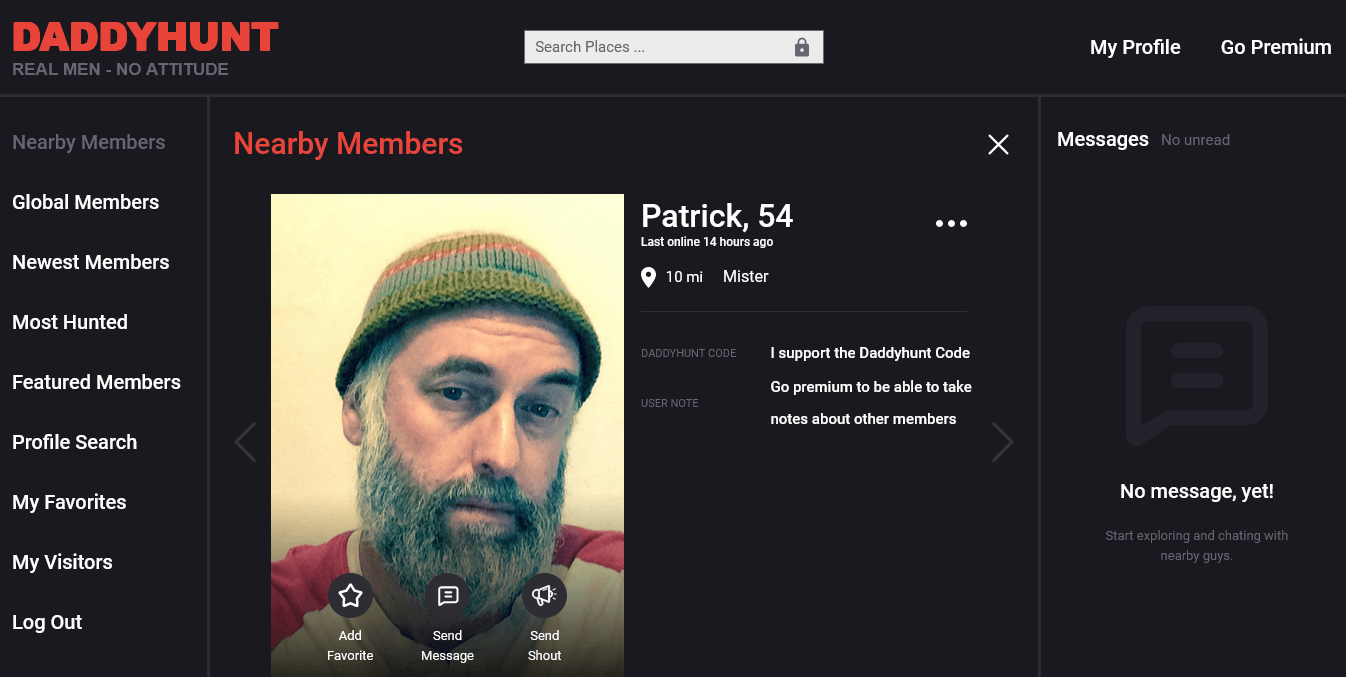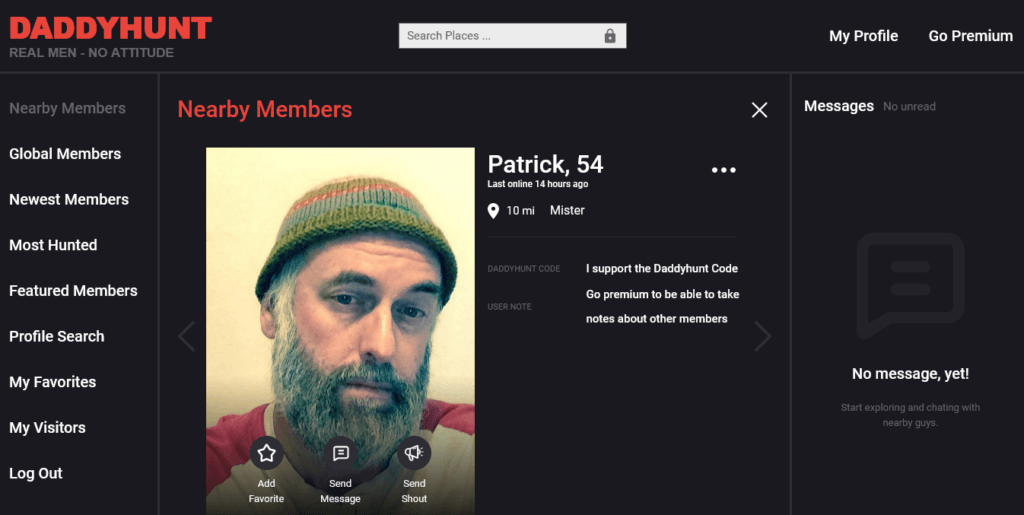 Finding your way around the site
While the app is a little more modern, as one would expect, the DaddyHunt site is a little dated in its overall looks.
I was skeptical about the site at first from a design point of view but it actually works perfectly.
It took me less than five minutes to work out where everything is and I found it super easy to navigate in the time that I tested it.
What I love about it is that it's simplistic.
And sometimes on a dating site, that's all you need.
The menu system is found on the left-hand side of the screen:
These menus are:
Nearby Members: This is the default homepage
Global Members: The site allows you to search for others outside your immediate location
Most Hunted: The most popular profiles on the site
Featured Members: The site will pick random profiles to feature under this menu
Profile Search: This is where you can launch searches of your own using various parameters
My Favorites: Any user profile you have favorited will appear here
My Visitors: Any users who have visited your profile will appear under this menu
Log Out: Click here to log out of the site
There are two more menus on the right-hand side of the page.
The first will take you to your profile and click on the second if you want to sign up for premium membership.
Note that the site has no social networking aspects at all.
So there isn't a homepage where you can see what photos others have uploaded or if they've changed their profile header.
But I believe that things like that aren't necessary really.
This is a dating site after all, not Facebook.
As mentioned earlier, there is a DaddyHunt app and it's available for both Android and IOS devices.
However, it only scores a rating of 2.8 (after 9000 reviews) on the Google Play Store and but 4.0 on the App Store.
I guess, if you prefer dating via your cellphone, there is no harm trying it out, that's for sure.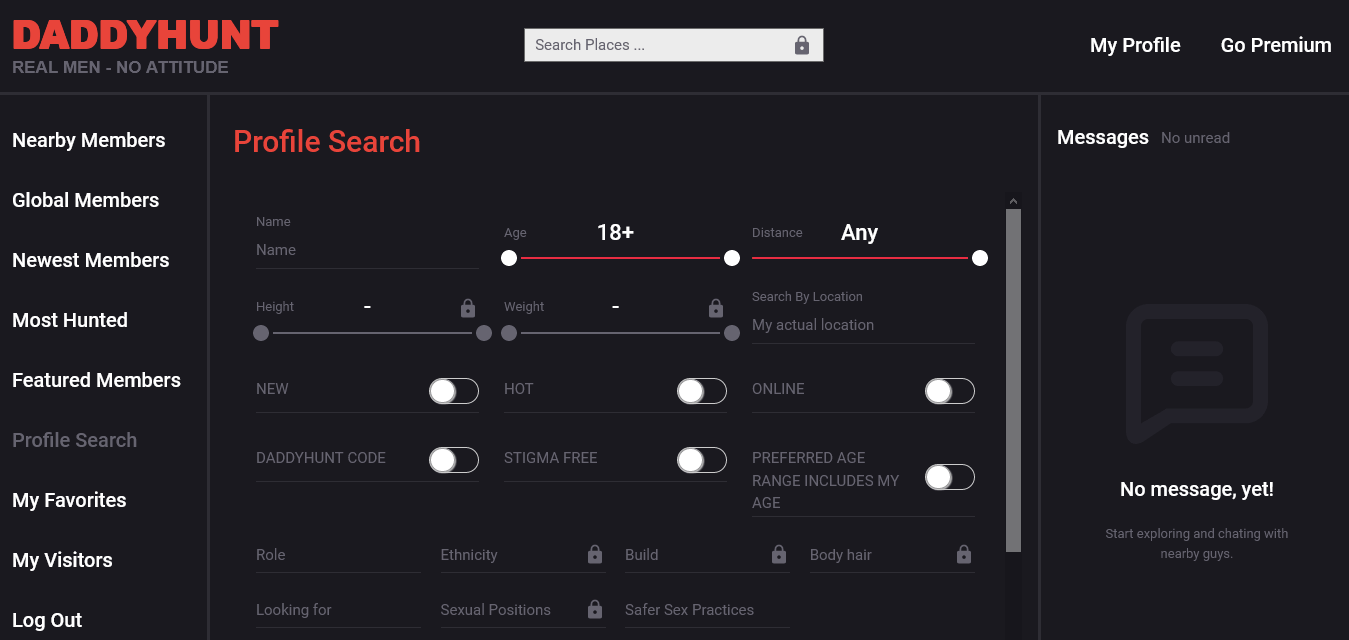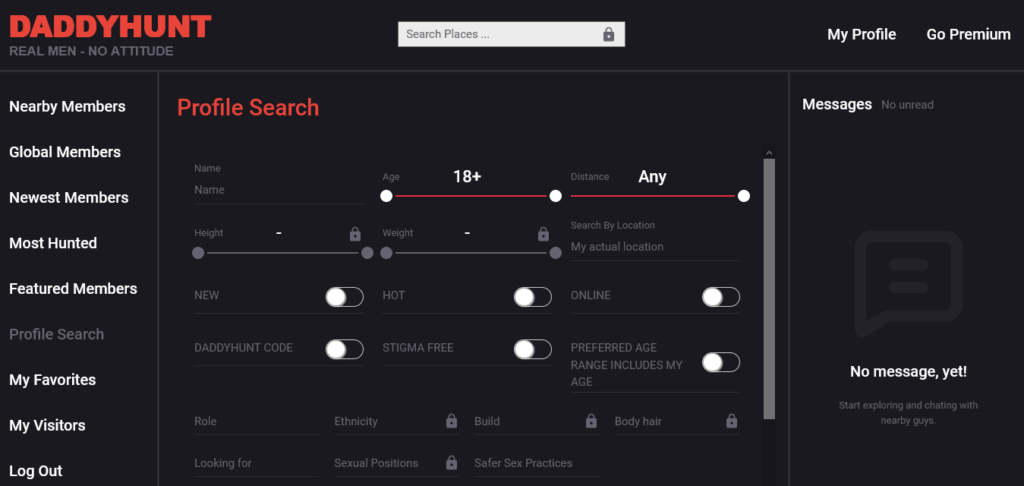 So just how effective is DaddyHunt?
Can you find potential matchups near your location and what's the reply rate like to messages that you send out?
Well, first of all, while DaddyHunt does have a premium membership with tons of features, searching and sending messages is totally free.
There is one proviso, however.
You will need to verify your phone number on both the site and app.
It's not a major thing and takes a couple of seconds.
And then you can send unlimited messages which obviously is a major strength of this site.
But before you send a message, you have to spend some time searching for the right person to send it to.
While you can check out global users, those that are most popular and even new members, the two systems you are going to use to find potential matchups most are:
Searching for those that are nearby
Using the search engine to look for your own
To look for matchups near your location, simply click on the Nearby Members menu.
These are showing in terms of distance from your location, from closest and then heading further out.
I must say, the site turned up many matchups for me within a 50-mile radius even though I live in a small town.
Those results were certainly better than I expected.
But you can launch your own searches as well of course.
To do that, just click on the Profile Search menu.
The search engine on DaddyHunt certainly exceeded my expectations.
There are lots for you to play with here to set up your preferred search criteria.
And then you can even save your searches as well which is a useful tool indeed.
So what parameters can you change?
Well, you can adjust the following:
Name (search by name if you'd like)
Age range
Distance from your location
If they are new members
If they are part of the Most Hunted group
If they are currently online
If they follow the DaddyHunt code
If they are Stigma Free (as discussed earlier)
If you want to include your own age range in the search
Their preferred role
What they are looking for
Safe-sex practices
That's a ton of search filters, especially as regular users can access all of theirs.
As a premium user, however, you will get a few more parameters that can be added.
These are:
Preferred height range
Preferred weight range
Ethnicity
Build
Body hair
Sexual positions
It's not that much extra but some people might find these parameters critical in their search for a potential matchup.
There are a few ways that you can let other users know that you have shown an interest in them.
All users can see who has visited their profiles, which is something that's normally behind a membership paywall on other sites.
You can also favorite someone to keep track of the profiles you'd to look a little more in-depth at.
Or you can send a Shout to other users as a way to indicate your interest.
But as I mentioned earlier, messaging other users for free, as long as you verify your phone number.


Usually, messaging is the one reason people would sign up for a membership on dating sites.
It's almost always behind a paywall.
But not on DaddyHunt.
So what extras are there to consider should you want premium membership?
Well, there are a few actually, so let's observe what those are now.
Although the site doesn't have very much advertising, if you sign up for membership all of it is removed from the site.
For some people, that's a must.
Profile notes allow you to keep track of various things about each potential matchup and save those notes on their profile.
While this might not be important for all, if you are anything like me, you like to check out the field thoroughly before you jump into contact with someone.
Making notes about each of these potential matchups and then saving them on their profile is more than useful in this regard.
While there are quite a few privacy features available to all users, for members you can make use of even more.
4. Advanced search filters
I've already mentioned these above but you do get a few more critical advanced search filters.
For those who want to include various appearance parameters in their searches, this is a must.
5. Request and send photos easily
As a member of the site, you can easily request private photos and videos from other users as well as send them to others.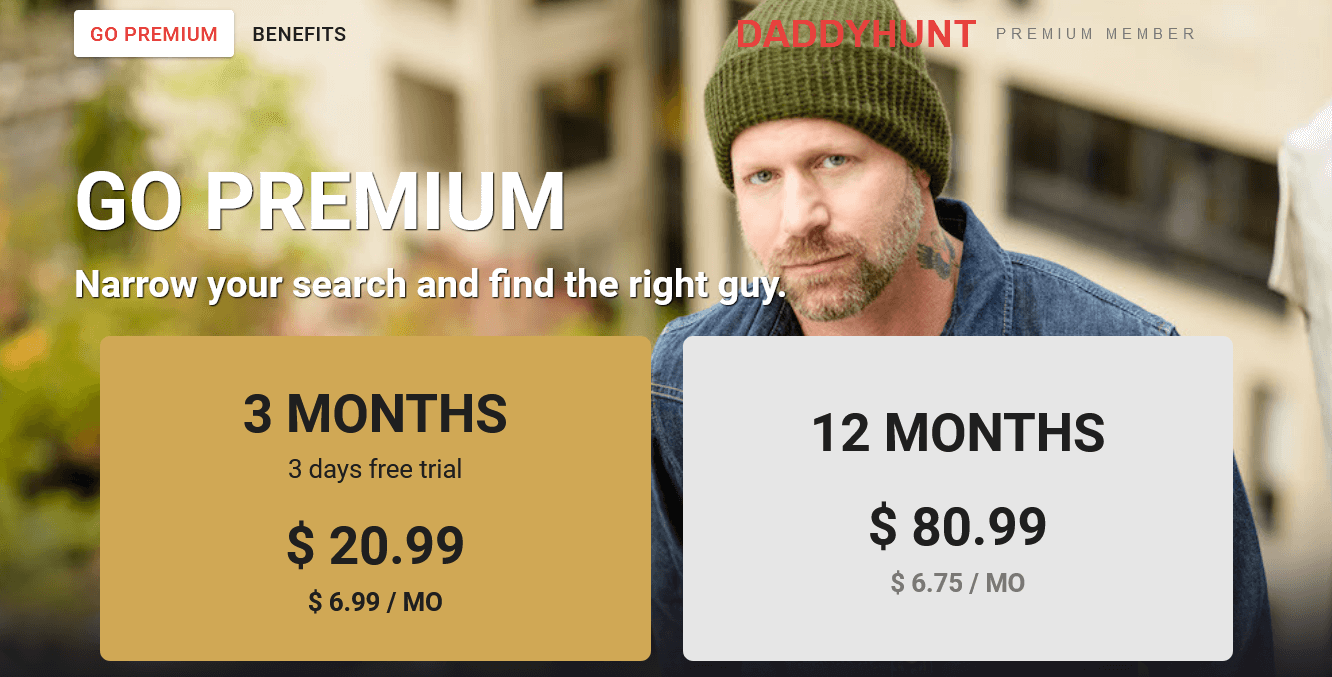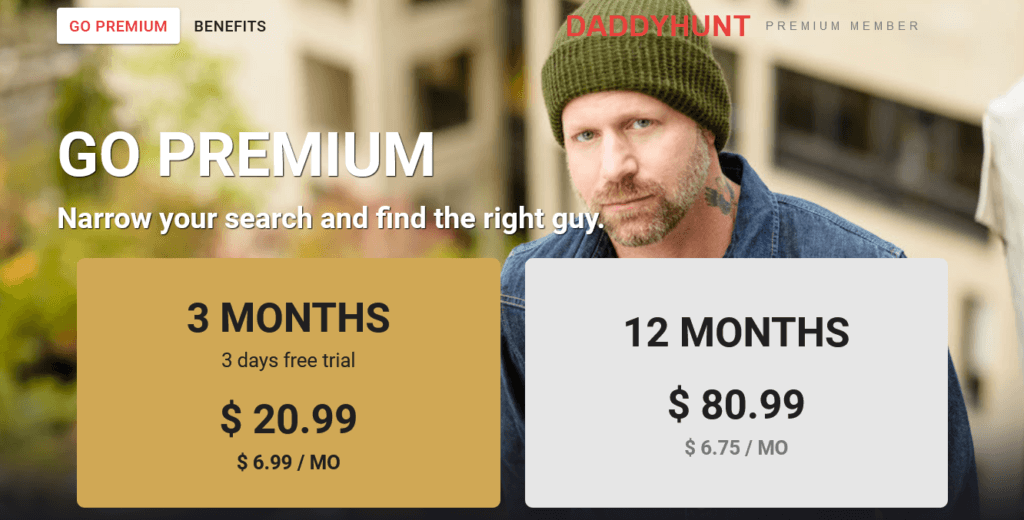 There are some excellent features here but seeing that messaging is for free, I would expect the pricing of membership to be a bit lower than other similar gay dating sites.
And it is.
Also, DaddyHunt offers a three-day free trial.
Here's a breakdown of the membership prices:
3-month membership: $20.99 ($6.99 per month)
12-month membership: $80.99 ($6.75 per month)
There aren't any major savings to be made with 12-month membership so my advice would be to try out the three-month option first.
And while some users might actually want a 30-day membership option, it's not really necessary when the 90-day option is going to cost you just $6.99 per month effectively.
As for payment, you can use your credit card (both Visa and Mastercard accepted).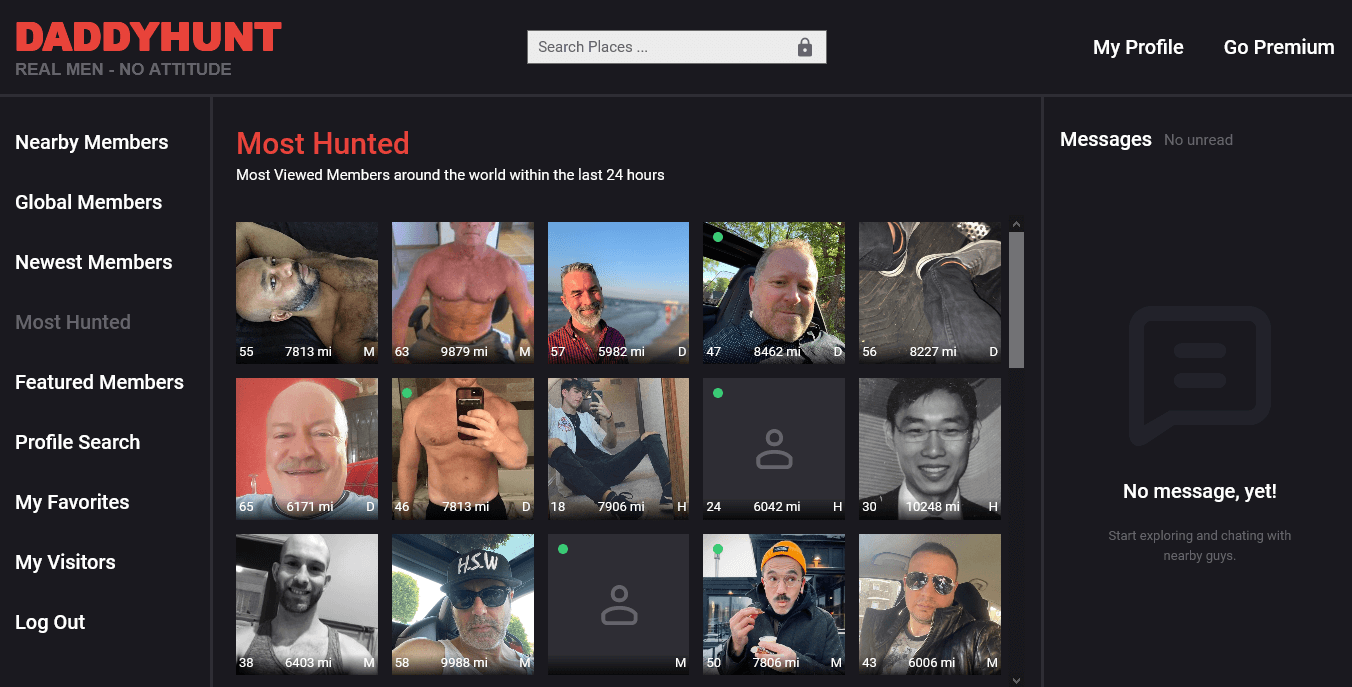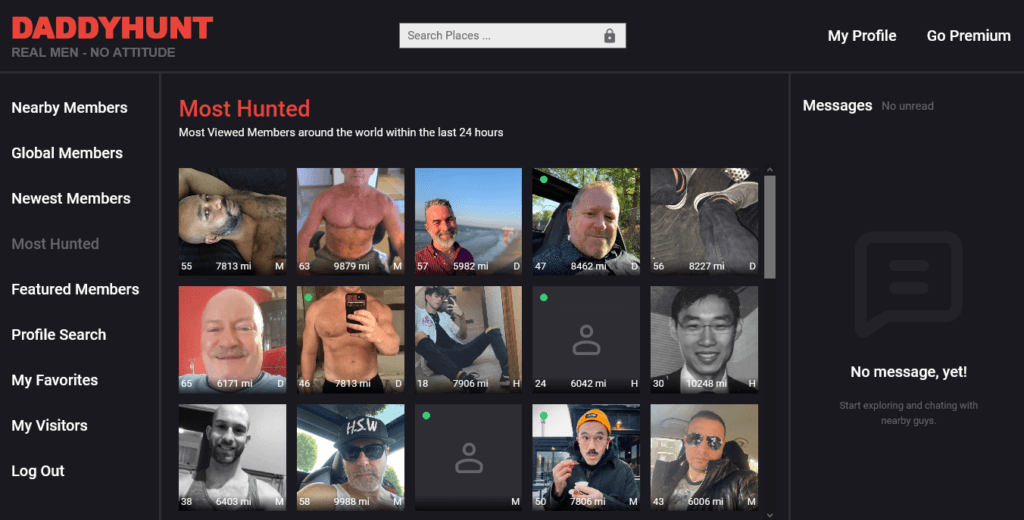 Conclusion and Overall Rating
Thanks for taking the time to read this DaddyHunt.com dating site review.
For me, this is a standout gay dating community and it's easy to see why it has 5 million members.
It's so easy to register for a profile, navigating the site is super simple, there are excellent privacy features, membership prices are low and regular users can search effectively and message for free.
Over the last decade and a half, DaddyHunt has continued to go from strength to strength and I only see that continuing.
For a rating, today, DaddyHunt gets 4 out of 5.
The Onlineforlove team studied and tested the DaddyHunt dating site over a number of weeks.
The approach we used was to give an overall star rating to the critical criteria we applied to all dating site reviews.
Our final evaluation was then based on factors such as: cost of membership, overall ease of use, key features, the size of the user base, and its overall effectiveness in helping to find matchups.