Hello, single bros!
If you are looking for an app where you can find other single bros with the same interests as yours, continue reading this review, and find out why the Bro App is one of the best online dating apps for men in the whole world.
During this review, we will analyze the strength and weaknesses of Bro App, collecting key information regarding:
If you have just begun exploring your sexuality, and you are not ready to practice your sexual boundaries yet, then, you are in the right place.
OFL Top Recommendations based on 100,000+ Survey

"Serious Relationships"
"Discreet Hookups"
"Best Course for Men"
"Quick Flings"
"Normal Hookups"
"Our Quiz"
Is your dating app giving you the best chance for success?
Make sure to take our online dating site/app quiz to find out.
It's a fact that people who follow our dating site suggestions have on average 2 extra dates per month.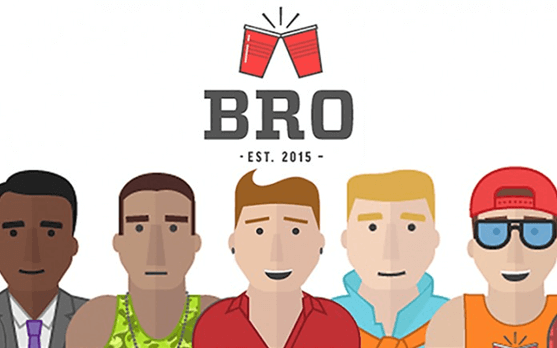 Effectiveness – 4,5/5
Features – 3,5/5
Ease of use – 4,5/5
App – 4,5/5
free gay dating app
more than just an online dating app
easy to use
making contacts through social media
safe space for bro-ing
Demographic Makeup/ Who is it for
The Bro dating app was made in 2015, and since then it has represented a safe place where the gay community, or those who would like to explore their sexuality, can be free and open-minded.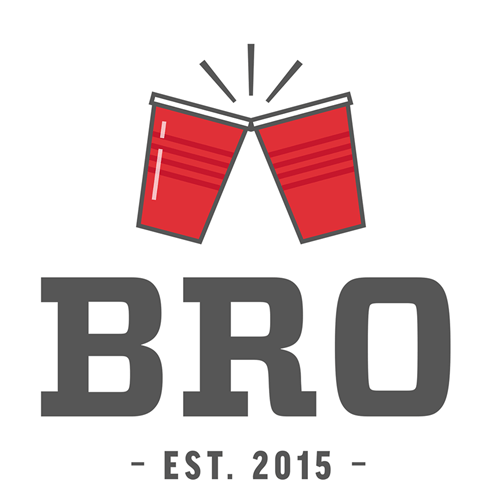 This bromance app offers many great opportunities for LGBTQ+, transgender men, gay men, and for all those men who are exploring their sexuality, and who haven't been ready to step out of their closets yet.
It is one safe space for bro-ing, which means that sexual intentions are not on its priority list.
This bro gay app quickly became the synonym for a place where you can find new friends and long-term bromance (like Tinder or eHarmony).
An occasional hookup is very welcome too, but it is not necessary (like BeNaughty or Ashley Madison). Bro hookup became an alternative for gay hookups, but without any judgments, pressures, or guilty.
The Bro App is used by the young population. Most of its members are between 18 and 24 years old.
The app is globally popular, but it is the most popular in the UK, Australia, and South Africa.
OFL Top Recommendations based on 100,000+ Survey

"Serious Relationships"
"Discreet Hookups"
"Best Course for Men"
"Quick Flings"
"Normal Hookups"
"Our Quiz"
How the gay dating app bro was first made?
It was just a year before the Bro App was officially revealed.
Its founder and owner, Scott Kutler, had been looking for an app where he could start to explore his sexuality because he had been feeling bisexual for years and didn't know a single place where he could test his personal, and, then, his physical boundaries.
He was hopeful because each bro-type dating app and site offered more physical than emotional pleasure. It wasn't too convenient to jump into something unfamiliar just like that.
He needed some time to accept the fact that his body, mind, and soul are struggling with unusual feelings that could bring him many judgments and rejections.
That's why he made a decision, and created casual bro free dating app where you can find new friends first before accepting something more.
He created a place where you can be a part of a bromance, a very close relationship between two men without sexual expectations.
The Bro App became a social app that connects all single men worldwide and encourages them to communicate safely and free.
The Bro App teaches you a hookup culture that develops too fast, but on the other side, it can bring you just friends who will support you in this cruel world.
The Bro App design is very simple and clear.
Its original blue color represents something new, fresh, and innovative. The name of the app is in the first plan, and it is written in large white letters.
Above the name of the app, two red beer plastic glasses define the app's goal.
Its goal is very clear: find single men with the same interests and put your mutual friendships over occasional sex romance. Be united, unique, and free!
When you enter the app, and when you start swiping, the main color is red. Red is for love and true friendship, and you can see confetti over members' profile pics.
Under the name of the app, there is the year when the app was originally launched.
Besides the app's successful functionality, the Bro App logo and design speak for themselves, and they have been doing a great job for many years.
The Bro App developed from a free alternative hookup app and fwb to a bro lifestyle and social network.
This bro app gay service is available both on Android and iOS devices. It won the Grindr app a long time ago.
It can be easily downloaded on the App Store for your iPhone or Google Play for your Android.
The Bro App gives you real pleasure, online and offline.
It became truly social networking hang-out style all over the world.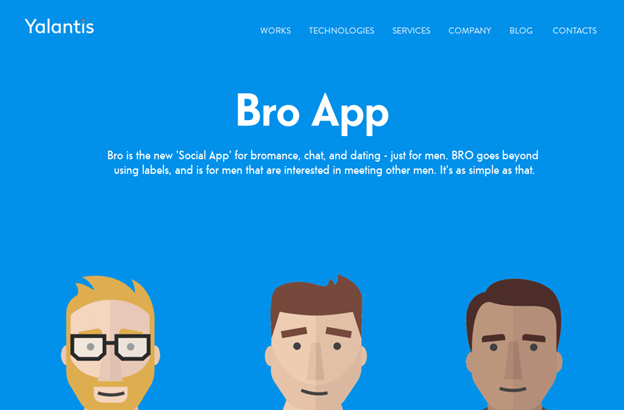 The Bro App registration process is done in just a few minutes, and less. The app uses your Apple ID, your phone number, or your Facebook account to collect all information needed for the app's algorithm.
In that way, the app secures other members' profiles to protect safety and privacy and to avoid fake profiles either.
All information is kept private, and they are not available for non-verified members.
During the registration process, the app will demand your location to match you with local members.
Matches will be suggested by your mutual interests.
The next step is creating your Bro App profile.
Creating a Bro App profile is easy and it lasts a few minutes.
When you finish the registration process that can easily be done in three different ways, the app will use all your private information.
That information stays private, and it cannot be used by scammers who can hurt your safety and privacy. The Bro App uses a special verification system that protects all your private information.
The most important thing about creating your profile is to select your profile preferences.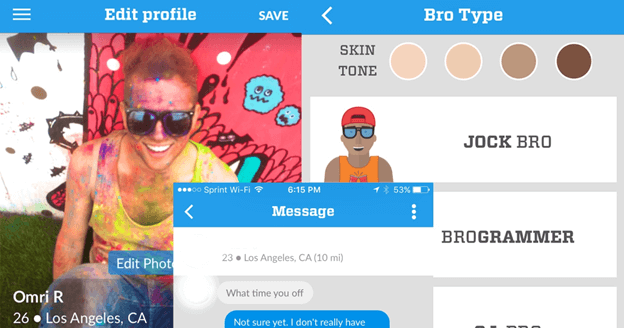 You have to choose a bro type that represents you the best. Then, you can choose your skin color, too.
Bro types are shown as avatars, and just for a second, the app reminds us of a video game, that can be interesting for the male population who are using the app at the moment.
Once you upload your profile pics, all important information will be visible for your potential bro matches.
They can swipe your profile pics, your username will be visible on the bottom of the picture, as well as your location.
Under the profile pictures, there are four options that other bros can use. There is a message icon, a fistbump icon, a star, and a block button.
In the option Stats, other members can see your personal information and preferences.
Some of them are height, weight, age, what bro type are you, and who are you looking for. These stats help the Bro App algorithm find you the same or similar-minded people as you are.
However, if you haven't decided yet what you really want and what you expect from other users, you can always select the option "whatever."
You don't have to be under the big pressure to define your sexuality immediately and for good because that's not something the Bro App will ever demand.
After all these first steps, it's time for making contacts, and for a little bro-ing.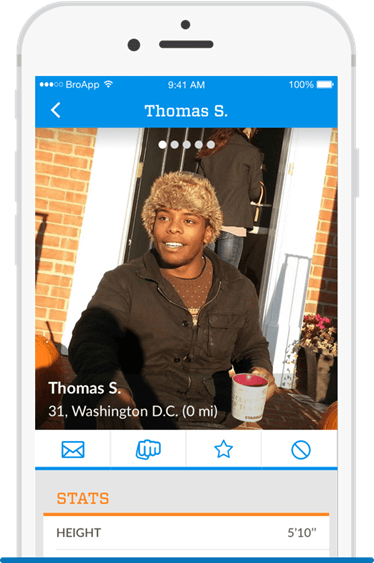 Making contacts using the Bro App is even easier than making contacts on well-known social media.
Meet up with other bros is simple and what is most important, it is fast.
The Bro users can see all the Bro profiles which are online, and which are nearby.
If you are interested to take a closer look at a Bro profile, you can show your interest by choosing one of the cute options that this app offers.
To make your very first contact with the bros you are interested in, you can use options that are similar to Facebook options.
These options are similar to likes or pokes. If you change your mind about your choice, you can always continue to swipe and check out the other Bro profiles.
The most popular contact option on the Bro App is a fistbump. The fistbump is mutual, and once you send someone a fistbump, and another user sends you back, it means an automatic match.
The fistbump then offers you an opportunity to open a private chat where you can start an intimate and totally private conversation with your match.
The Bro App users can see twenty profiles per day, and they can send the same number of the fistbump.
These options are free to use for every single bro member.
Don't be too shocked if you see that many of the bro's users are on the move. Sometimes they travel a lot, but they also want to be in touch with their matches.
In that case, they can always choose the Travel Mode feature, and find the Bro users in the area.
All these features that can help you to get in touch with other bro users are free to use.
However, if you want to upgrade your profile, and if you want to get more chat options and more members, you can choose the Bro Premium package at a reasonable price.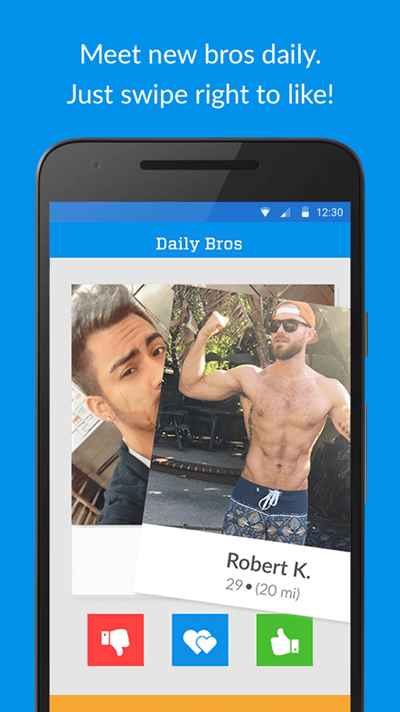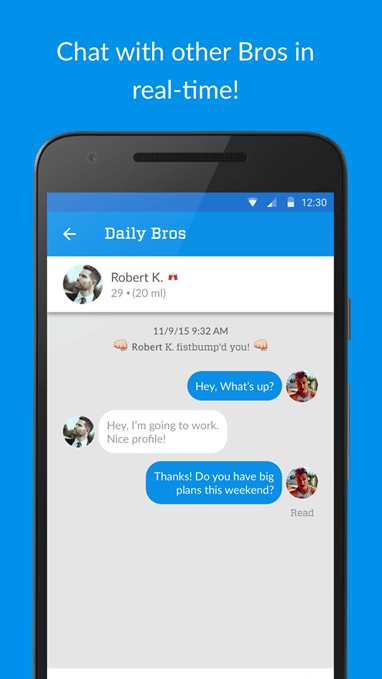 1. The Fistbump Bro App Feature
The Fistbump Bro App feature is the same thing as likes on Tinder, Grindr, and many other online dating apps. The Fistbump has to be a mutual reaction between two users to be a match.
As a Bro App user, you get forty fistbumps every week, and you can use twenty fistbumps daily. Users who activated the Travel Mode feature can use more fistbumps than basic bro users.
2. The Travel Mode Bro App Feature
The Travel Mode Bro App feature is one of the many popular and free features that you can use. It allows you to get more matches than a basic bro member because you always travel and change your current location.
The Travel Mode Bro App feature allows you to meet up with other Travel Mode members or regular bro members in your current area.
3. The Checkmarks Bro App Feature
The Checkmarks Bro App feature always gives you feedback related to your chat options. It is based on two colors and one neat status.
The orange checkmark means that a bro user received your message, but he hasn't opened it yet. The grey checkmark means that your message has been sent. The "Read" status means that the user you sent a message to hasn't responded to it.
He didn't have time to respond to it or he's been avoiding you. You will see it eventually. There are many swipes you can use to make your love life much better.
4. The Blue Paper Airplane Bro App Feature
This feature is related to the Travel Mode feature. It is placed right next to members' names on their profiles. If next to the user's name is the blue paper airplane, it means that he is traveling at the moment and that you can meet him if he is in your area.
5. The Bros and Stuff Bro App Feature
This is one of the best features, but many users who are beginners haven't heard about it.
The Bro App and Facebook platform made a deal and a big marketing move in social networking.
The Bro App team has sponsored a famous group on Facebook, The Bros, and Stuff. It was a huge step forward because it allows all the Bro App members to use social media to connect people globally.
You can use social media to start conversations for free and to chat as long as you want through your Facebook account with other Bro App users around the world.
The Bro App team plays smart, and we have to respect it. Hat off!
Basically, the Bro App is free to use and download for any type of mobile device. It is free to use many of the app's features that are primarily based on making contacts with other bros all over the world.
Making contact works like any other social networking, and there are no limits.
However, if you want to upgrade your profile, and start to use more chatting features, and get more fistbumps and matches, you can always start to use the Bro Premium package.
The Bro Premium package is available for one month or a longer period. The price goes from 5.99 USD to 29.99 USD.
The most interesting fact is that more than 50% of the Bro members are using the premium package at the moment.
It isn't very unusual because the Bro App is more than just another online dating app. The app created a pretty unique bro lifestyle, and it collected excellent reviews and ratings.
The app has been growing constantly, and frankly, I can't see its near end, just prosperity.
The overall Bro rating can be sum up in 4,25/5.
The app works flawlessly, you can find your matches in no time, the design is modern and attractive, the app is easy to use, most of its features are free, and the app is more a lifestyle than a simple online dating app.
The only bad remark refers to its number of features. But, hey, I have to be subjective and say that I completely believe in the Bro App team. Well done, bros! Just keep bro-ing!
The Bro App is a place where men socialize first, and where they are exploring their sexuality without any pressures and judgments. The app puts a long-term relationship, friendship, and fwb over just simple physical and sexual contact.
For the next year, the owner of the Bro App will start a huge online campaign to increase members rate, add video chat features and increase the conscience that men just wanna have fun.
This is the one and only men app that is trying to change the fact that single men who are exploring their sexuality are not sex tools, they are just humans, and they don't have to be ashamed of it.